Get connected with our daily update
Editor's Note: Shea Morenz is the chief executive of Morenz Group which provides strategic guidance and expansionary capital to privately held companies. He earned an MBA from the University of Michigan in 2002 and a BBA in finance from The University of Texas at Austin where he lettered in both football and baseball and received Southwest Conference Academic Honors, graduating in '97. He was a first draft choice with the Yankees in '95, where he played professionally for five years.
College football conference realignment and the controversial "Fair Pay for Play" ruling seems inevitable when you consider that eight of the top 10 biggest outdoor stadiums in the world host Saturday College Football games where the athletes on the field are paid $0. As a capitalist, I can get behind both of these concepts. As a former collegiate and professional athlete, I struggle mightily with their implementation and, importantly, with the reality that amateur sport as we know it will no longer exist.
---
Amateur football is a sport that touches most of our lives and shapes many of our communities. It brings us together for local Friday nights under the lights, tailgates and fan-filled stadiums and bars supporting our favorite teams on Saturdays. Students are likewise attracted to large public universities with winning football teams, and all benefit from the strong university programs supported by those revenues. To wit, The University of Texas Athletic Department transferred $12.2 million to the university for a range of services benefitting students and faculty alike last year, gapping a difficult time for all. We are all drawn to this uniquely American game of football for its complexity (as an aside, memorizing John Mackovic's playbook was as hard as any class I took in the Business School at UT), elite athletes, and inclusive and electric environment.
(Shea Morenz)
At the university level, we all know that athletic departments struggle to turn a profit but for a successful football program, and it's also arguably true that individual players can be behind certain teams' iconic success. Think Vince Young and Johnny Manziel. In this context, I'm saddened by the reality that many great universities will be left behind if they don't join one of what looks to be four power conferences, left with no ability to compete for big bowl games or championships—think Texas Tech where I have so many long-time friends. And, I'm conflicted by the reality that star players want more than they currently get from their college experience, which in most cases includes tuition, room and board, a fair living stipend and that intangible, hard-to-measure thing: a college education and a lifetime network.
To value what we can, let's put a roughly $60,000 annual price tag on the measurable parts. State legislatures across the country are evaluating not if, but how athletes are to be paid for the use of their name, image and likeness (NIL), as well as how to hire agents and sign endorsement deals. There is currently no federal standard, creating an uneven playing field from state to state and university to university. Combine this with the recently approved player portal, which is the ability for NCAA athletes to freely transfer from one school to another without penalty, and potential abuse of the structure's intent could run rampant.
I've always believed that the optimal solution here is to let any and all athletes go pro any time if they want to get paid, creating a true value proposition for the students and their sport. The reality is that the universities effectively serve as the minor leagues for the NFL, and the money in college football has pushed this ship far from the dock. I can also appreciate some of the arguments for paying college players. Advocates say that many are from low-income homes for which they are often providing support. While their NIL's may be valued in the millions of dollars, many have reported living below the poverty line and are unable to take on a part-time job.
Those against direct payment for players point to a college education as being enough. The hard truth is that most college athletes will never make it to the pros, and those football players who do train mainly in the university setting. Meanwhile, many of these young adults will be busy building a social media presence rather than a resume that will help them compete for high-paying jobs that go to college graduates. Also, paying players will make the strong teams and the university systems they support stronger, and the weaker teams and colleges weaker. In other words, it further consolidates power in the hands of the most powerful, and with conference realignment underway, we should take pause. Maybe it's all for the better. Maybe it isn't. I am still thinking this through myself.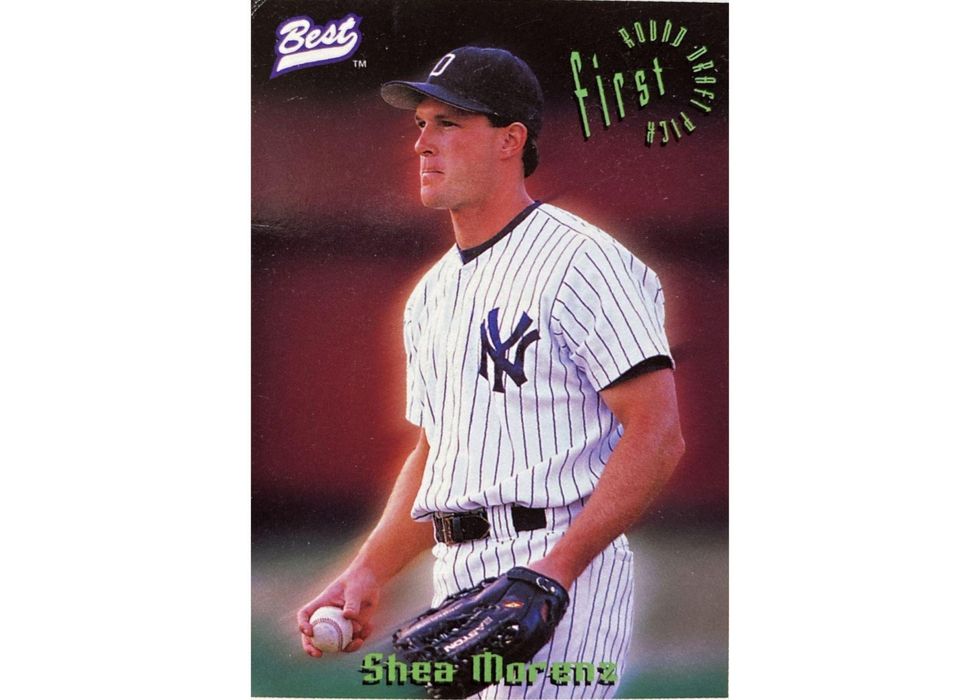 (Shea Morenz)
As a student-athlete, I played football and baseball for the University of Texas, and I had to keep up my grades to play. Despite being offered a potentially life-changing Derek Jeter-size signing bonus by the Toronto Blue Jays, I chose college over playing professional baseball straight out of high school. I would go back to that, but after my education was underway. My father made a similar choice, opting to play hockey at the University of Denver over professional hockey, which he eventually did. Education prepared us well for professional lives and not just lives in sports.
For the vast majority of student-athletes who are not lucky enough to make a career out of professional sports, the financial benefits of NIL sponsorships during college can be extremely attractive, albeit short-lived, and may very well derail or, at the very least, dilute the focus on academics and job preparation.
This shifting world of the "athlete-student" model versus the "student-athlete" model is raising important questions: Just how professional should the traditionally amateur college sports world be? And what's the appropriate age for professional marketers to approach our sons and daughters? I was honored to have Bill Walsh sitting on my couch recruiting me to Stanford as a high school senior, but I'm at a loss to consider the impact on my life if instead, we were hosting free agents not associated with any school or education in our home starting much earlier. In situations like this, very young men and women could be pushed down a specific sports path, limiting their exposure to and involvement with other athletic, educational and social opportunities.
The NCAA has clearly lost control and, unfortunately, there does not appear to be a coherent plan coming from D.C. anytime soon. As college football becomes more professional and less amateur in this environment, we necessarily get away from playing because we want to… because we love our alma maters and are sharing with the student body a common educational experience. There is some purity and innocence lost. And in my view, it could take us one step, which leads to bigger steps, away from the love of the game.
Whether you became a home chef when the pandemic began or have always enjoyed crafting delicious meals, it's undeniable that no home is complete without a cozy kitchen.
Not only do these luxurious homes have enviable amenities like natural light, sky-high ceilings and land to grow into, they also boast extraordinary kitchens. These are not your mom's kitchens—we're talking wine fridges, Miele appliances and wet bars.
Take a peek at these five gems on the market now.
In the South Austin Parten community, this castle-like four-bedroom, three-and-a-half bathroom stunner puts you just minutes from Austin, Dripping Springs and other nearby communities. Stark white and black contrasting features give the interiors a clean look, while a large curving staircase serves as a centerpiece for the ground floor. The chef's kitchen is spacious, facing the living room and multiple windows, and immediately draws the eye. Upstairs you'll find a spa-style bathroom, game room with a wet bar and Hill Country Views.
This listing is held by
Adam Zell and Lexie Zell.
This hyper-modern, 3,300-square-foot Scandinavian-styled home is a paradise for natural light in Hyde Park. With four bedrooms and three-and-a-half bathrooms spread across one story, the home rests on concrete columns to protect from extreme climate conditions. Inside, you'll find crisp, clean trim in the open-plan kitchen with built-in luxury appliances and a walk-in pantry. Lofty 12-foot ceilings and gigantic windows set the tone, with a wet bar and second living room for entertaining. When you retire to the master bedroom, enjoy a warm bath in the soaking tub or enjoy the multi-output shower.
This listing is held by Austin Stowell.
In the heart of Westlake, this stacked three-story new build is a sprawling 4,483 square feet with five bedrooms and four-and-a-half bathrooms. The home is centrally located and full of natural light, especially on the open concept first floor, which includes the kitchen, casual dining space and living area. The third floor has a bedroom and loft, perfect for the at-home worker.
This listing is held by Jen Templeton and Cheryl Albanese.
This 3,539 square foot, three-bedroom, three-and-a-half bathroom Tarrytown townhouse is newly remodeled but still holds on to its vintage charm. Bright white cabinets, a green accented island and quartzite countertops in the kitchen give the space a cheery feeling. Entering on the second floor, you'll have to walk downstairs to get to the bedrooms, which include ensuite baths and walk-in showers. The third level bonus room is the perfect place for an at-home office.
This listing is held by
Cindy Fowler
.
​Just outside Austin in the sleepy town of Wimberley, the Backbone Ridge Ranch is one of the city's most "iconic and pristine" properties. On nearly 50 acres of land, the house takes you into nature without getting too far from nearby cities. With 4,369 square feet, six bedrooms and six-and-a-half bathrooms, floor-to-ceiling windows effortlessly light the entire space. You'll feel like a celebrity chef while cooking in the kitchen, even more so entertaining from the outdoor kitchen and living space. The 33,000-gallon quarried limestone pool is perfect for those hot Hill Country summers!
This listing is held by
Nicole Kessler.
Sample some spirits
When: 11:30 a.m. Friday, Saturday and Sunday
Where: Desert Door, 211 Darden Hill Rd. Driftwood
What: Attend Desert Door Distillery's first Explorer Series of 2022. Guests will be able to sample Caliber on its own or in a delicious cocktail.

Eat some chili
When: 12 p.m. Saturday
Where: Sagebrush, 5500 S. Congress Ave.
What: Enjoy great chili and great music at the 14th Annual Chili Cold Blood Chili Cook-Off. All proceeds will be donated to Health Alliance for Austin Musicians in memory of Nick Curran.

Enjoy some local art
When: 4 p.m. Saturday
Where: Neill-Cochran House Museum, 2310 San Gabriel St.
What: The Neil-Cochran House Museum will host a multi-media art exhibition by Austin artist Nell Gottlieb, titled "Land as Persona: An Artist's Journey." Gottlieb works in multiple media to reexamine her coming of age, white and female in the Jim Crow South.

Catch some improv comedy
When: 7 p.m. Sunday
Where: GameOn! ATX, 1515 Dungan Ln.
What: ColdTowne ThrowDowne is an improv comedy tournament between troupes that will take place in front of a live studio audience and streamed live to the world on Twitch.

Catch a Johnny Cash-style show
When: 7:30 p.m. Sunday
Where: Georgetown Palace Theatre, 810 S. Austin Ave.
What: Experience music history with a unique musical about love and faith, struggle and success, rowdiness and redemption, and the healing power of home and family set to the tune of the legendary Johnny Cash.