Get connected with our daily update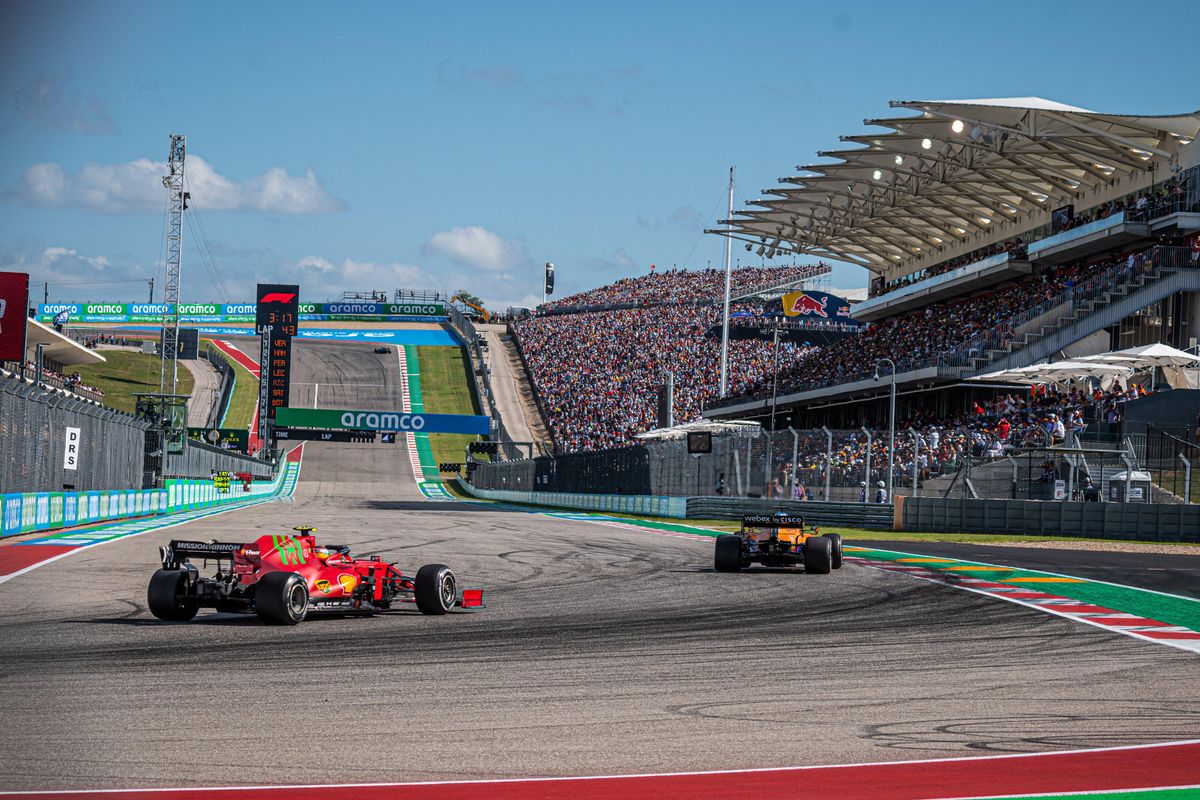 With an estimated 300,000 expected to pour into Miami for the freshly-minted Miami Grand Prix race this weekend, Austin's Circuit of the Americas will no longer be the only F1 race in the States.
---
COTA, which was the U.S.'s sole F1 headquarters for a decade, has new competition in Miami as the fellow up-and-coming tech hub gears up for the inaugural Grand Prix at Hard Rock Stadium May 6-8.
Here's a side-by-side comparison of the two Grand Prixs:
The venues
While Austin's track is still the only permanent purpose-built F1 track in the United States, Miami's temporary track has also been custom-made for Formula 1's open-wheel racecars.
Here's a look at the two tracks:
Circuit of the Americas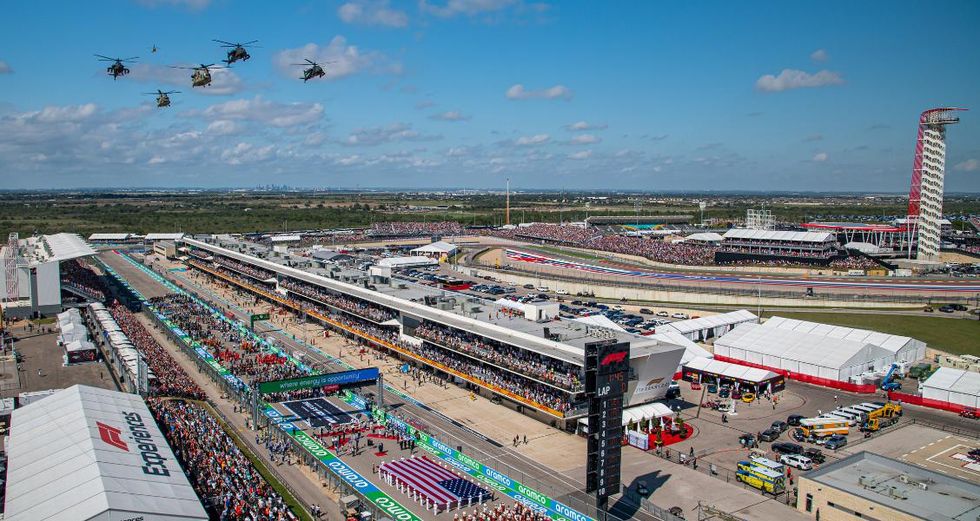 New amusement park to bring rollercoasters to COTA
Built on an 890 acre-plot in southeast Austin
20 turns
3.41 miles
Holds a weekend attendance record of ~400,000
Miami International Autodrome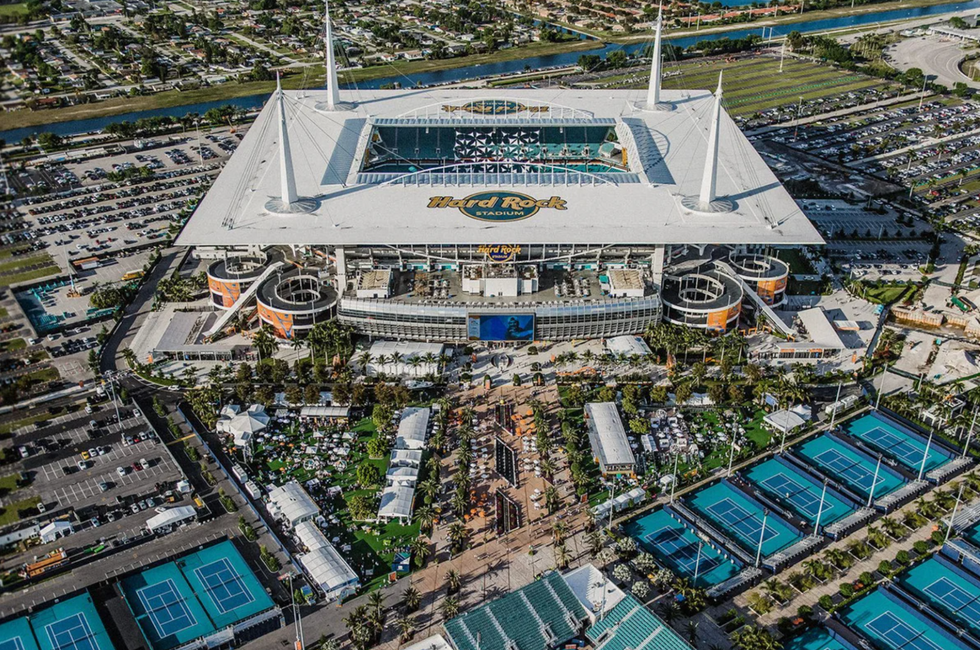 Built around the Miami Dolphins' Hard Rock Stadium
19 turns
3.36 miles
More than 300,000 are anticipated for the first Miami Grand Prix
The pricing
While F1 is known for its popularity among the wealthy, Austin's brand of F1 has become the people's F1 race. General admission tickets for each of the first two race days, which include preliminary races, entertainment and more, are on sale for as low as $59, while tickets to the Sunday U.S. Grand Prix are yet to go on sale. Single-day Sunday tickets started at $210 in 2021, while sold-out 3-day grandstand tickets started at $724 for the 2022 race.
Miami, however has embraced the luxury appeal of the global racing sport. Raceday tickets are averaging at $2,179, three times more expensive than Austin's 2021 race, according to SeatGeek. Some immersive packages are being resold for upwards of $25,000, while the lowest Friday ticket is selling for around $100.
The rest of Miami is bracing for the surge of wealthy ticketholders, with spending expected to exceed the 2020 Super Bowl's $571.9 million in revenue. Price tags over $100,000 are dotting the city over the weekend, with some hotel suites and exclusive nightclub tables priced at six figures each.
"This is going to be the biggest week in Miami history," Jeff Zalaznick, managing partner of Major Food Group, told NBC. "It's going to be a very hedonistic experience."
Meanwhile, COTA claims it brings in almost $1 billion each year as hundreds of thousands file into Austin for one of the city's biggest travel weekends of the year.
The events
To the good old days ✨ #USGPpic.twitter.com/B2zlULj55W

— Circuit of The Americas (@COTA) October 23, 2021
While on the throne as the U.S's sole F1 experience, COTA has sought to bring a festival-like atmosphere to each USGP. Every year, celebrities from Megan Thee Stallion to Ben Stiller and Gordon Ramsay dot the Austin event, while famous performers including Billy Joel, Shaquille O'Neal and Twenty One Pilots took to the stage at last year's race.
The 2022 event will feature Ed Sheeran as its headliner, with more announcements to come. And if it's anything like last year, the event will come packed with dozens of local food venues, musical guests, and amusement park-style entertainment from the Major League Eating Championship to stilt walkers and on-site tattoo artists.
"Austin is such a great host city, and an absolute highlight of the sport's global tour," COTA Chairman Bobby Epstein told Austonia. "With the campgrounds, the entertainment, and the themed villages, the grand prix at COTA takes on an unrivaled atmosphere. The COTA experience is much more like that of a historic, traditional Formula 1 track."
Under the helm of Epstein, the track is also expanding to include luxury "car condos" and a new amusement park dubbed COTALAND as early as 2023.
Among others, Miami's race is expected to host celebritiesLeBron James, David Beckham, Michael Jordan and Serena Williams, who attended the 2021 USGP. The event will also last for three days and include local food, music and entertainment, including a Miami-style beach club zone with poolside views of the race in the center of the track. And just like the hoity-toity Monaco F1 race, the luxe Miami GP will include a "Yacht Club"—one that the landlocked venue has created entirely from scratch with a faux marina and about a dozen dry-docked yachts.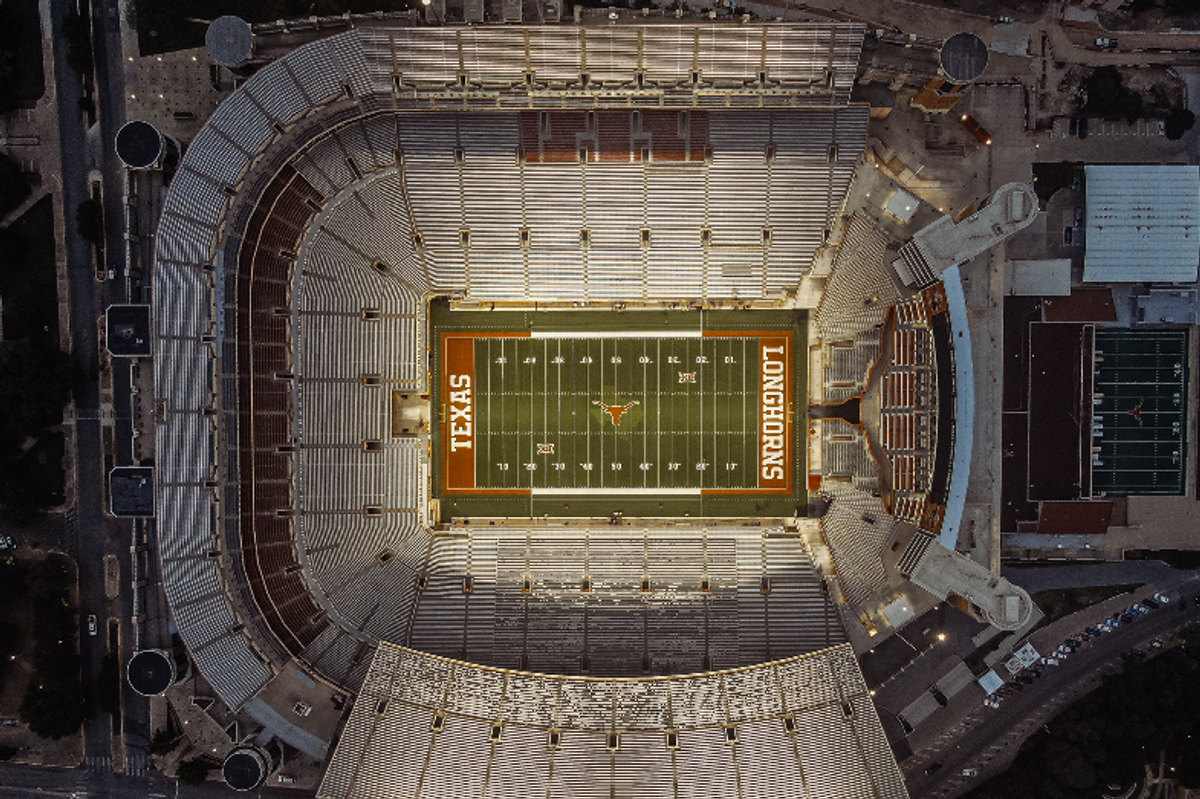 🗓 All weekend
Enjoy summer music with lakeside views all weekend long at longtime Lake Austin hangout Mozart's Coffee Roasters. Free acoustic performances kick off Thursday and run throughout the weekend.
All weekend | 📍Mozart's Coffee Roasters, 3825 Lake Austin Boulevard
🗓 Friday
Swing by Jo's Red River for a coffee and pet some pups along the way to start your weekend. All pets are adoptable, and 20% of drink sales go to the Austin Humane Society.
9-11 a.m. | 📍Darrell K Royal-Texas Memorial Stadium, 2100 San Jacinto Blvd
🗓 Saturday
Texas football is back! The Longhorns are kicking off their 2022 season with a home matchup against the Louisiana-Monroe Warhawks.
7 p.m. | 📍Darrell K Royal-Texas Memorial Stadium, 2100 San Jacinto Blvd
The final showing of the Screen on the Green summer series will feature a screening of Luca, $4 happy hour and popcorn and cotton candy.
8:30 p.m. | 📍 Fareground Austin, 111 Congress Avenue
🗓 Sunday
Celebrate (or mourn) the symbolic end of summer with a Pre-Labor Day party at the oldest bar in Austin. Entertainment includes food, drink and old-school jams from Stretch Musik Band.
7 p.m. | 📍 Historic Victory Grille, 1104 East 11th Street
Seven hours of live music, local brews, cigars and BBQ. It doesn't get more Texan than that.
3- 10 p.m. | 📍Fair Market, 1100 East 5th Street
Wind down from the weekend with a free, donation-based sunset yoga session beside the Barton Springs pool. The event wraps up with a post-yoga night swim dip in the pool.
3- 10 p.m. | 📍Barton Springs Municipal Pool, 2201 William Barton Drive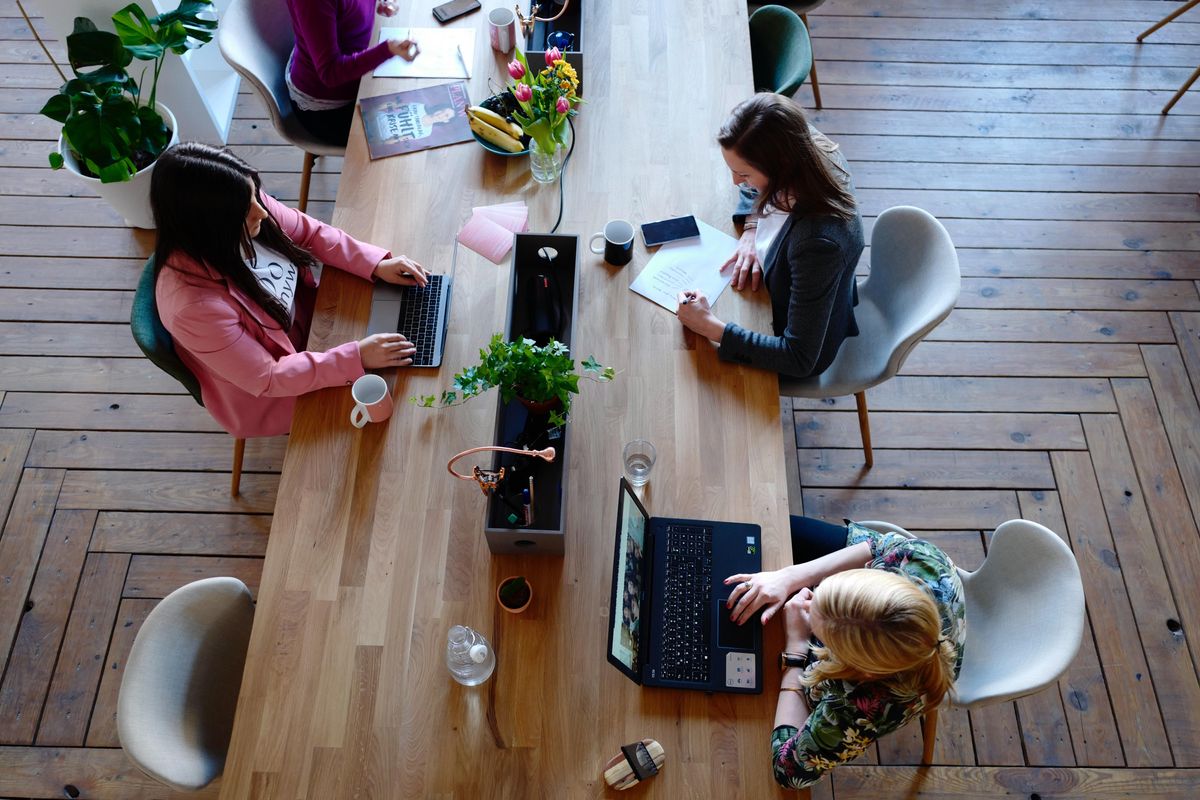 Downtown views might not cut it anymore for getting workers back into the office.
According to real estate agency CBRE, the U.S. downtown office vacancy rate topped office vacancies in the suburbs in the second quarter.
It's the first time it's happened in more than 20 years and reveals that companies might be making a shift out of city centers whether it's to get a better deal on office space or to save workers on commute time and make a return to the office more attractive.
But even with this flip nationwide, it hasn't appeared to reach Austin just yet. In the first quarter of this year, office vacancy rates in downtown and the suburbs were even at nearly 20%. Then in the next quarter, CBRE reported the suburban vacancy rate just above 20% while downtown's was 15.5%.
It could just signal that the trend is slower to catch on in Austin as nationwide momentum for suburban office space carries on.
This week, commercial real estate agency Workspace Property Trust announced it had acquired approximately eight million square feet across 53 suburban office buildings in a deal valued at $1.1 billion. It includes Texas metros like Houston and Dallas, as well as Austin's tech competitors like Silicon Valley and Seattle.
Workspace described the deal as creating convenient and attractive locations for the workforce.
"Driven by the redefinition of work as a result of the pandemic and the continued and unabated demographic shift to the suburbs, more and more Fortune 1000 corporations are rethinking their presence in downtown markets and relocating many of their office needs to suburban locations across the U.S." Roger W. Thomas, a Workspace founder said. "Workspace is poised to lead this transformation."
Thomas went on to note a few major corporations who have announced moves to suburban markets like Intel, Oracle, Tesla, Honeywell and more.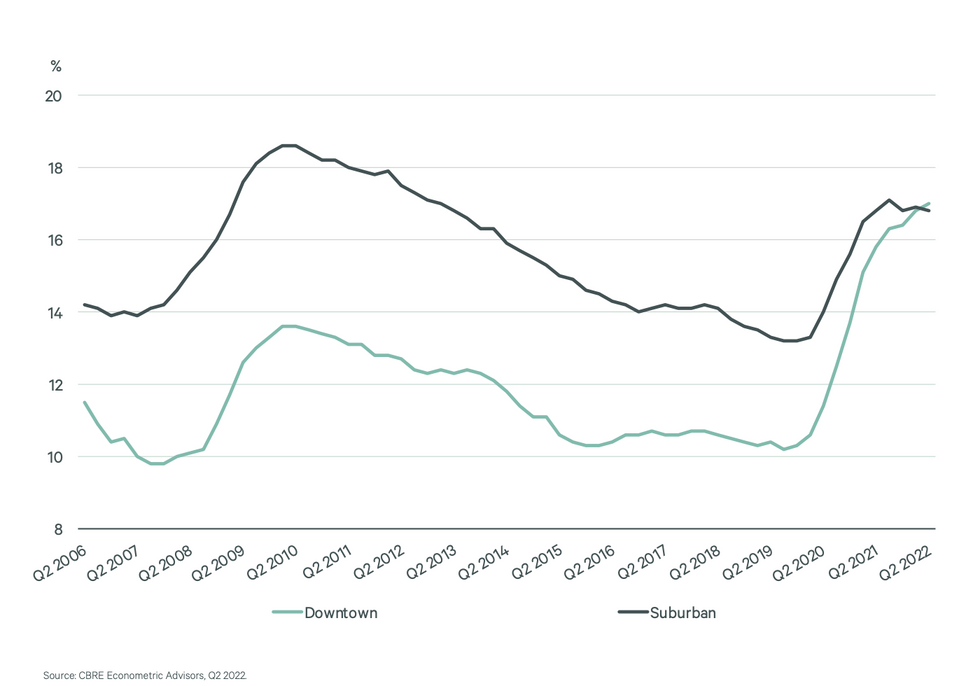 Vacancy rates in U.S. offices (CBRE)
Austin's suburbs have become an ideal spot for some, including Leander which has reigned as one of the fastest growing cities in the U.S. for two years in a row as people are drawn to its more affordable cost of living.
More and more companies are looking at the suburbs too, even if it's not strictly for office space. This spring, Meta announced an $800 million data center in Temple. And recently, Skybox Datacenters and Prologis partnered to purchase 200 acres in Hutto for a data center and are planning for another $548 million data center in Pflugerville.
Downtown and city limits can still flex its growth, however. CBRE notes that Austin joins Nashville, Charlotte and Boston as having the most space under construction as a share of their existing inventory. At least part of that excitement is set in downtown with several projects expected to break ground by the end of the year. Among those, CBRE reports, is the skyscraper poised to be the tallest tower in the state that would add another 700,000 square feet of office space to the construction pipeline.