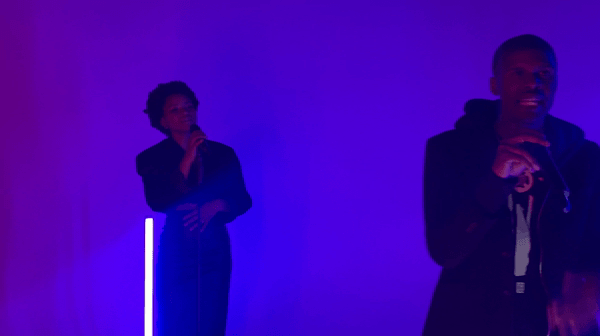 As part of a commitment to uplift local artists, three resident creators debuted new collections of work spanning three different mediums through FotoHouse's Artist-In-Residency program.
---
The program is a quarterly "incubating" affair—each resident is selected by "leading photographers, videographers, and tastemakers in the Austin scene," paired with a local mentor artist from their field and then given guidance and FotoHouse, 1701 Guadelupe St., resources to execute the project.
Artists received monthly check-in meetings to help solve problems and lend support. According to a release from FAIR, the program allows artists "to pursue new ideas and take provocative risks to expand their artistic practice," while giving them the eyes they need on their work.
Closing out the first artist residency program of 2022, FotoHouse showcased the work of Carla Taylor, a makeup artist and photographer; Ron Wayne, a model and musician; and Luke Lidell, a filmographer, with a mid-February viewing.
Carla "CT" Taylor | Makeup artist and photographer
A photographer and makeup artist by trade and first-generation American by heritage, Carla Taylor's showcase focused on a multimedia display that put Black women at the forefront.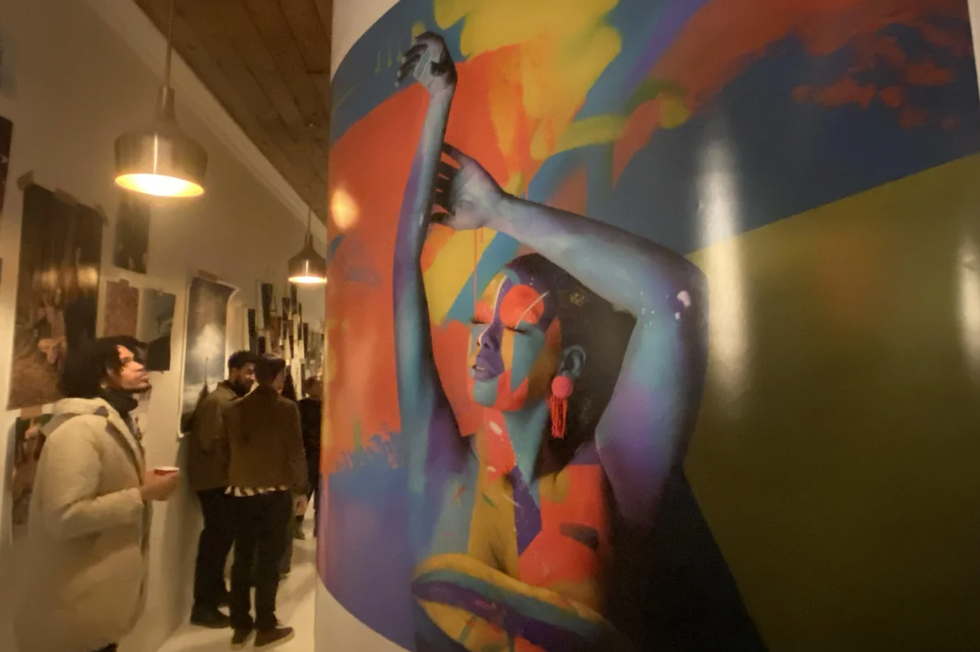 Paired with local artist Matthew Trujillo, the project was composed of constructed portraits, with Taylor executing both the makeup and the shutter while Trujillo created the colorful backdrops. The end result draped colorfully-painted photos over FotoHouse's rounded walls.
Luke Lidell | Film maker
After most recently getting his name out there with his film "Devexity," which starred Black Pumas frontman Eric Burton, Luke Lidell premiered a proof-of-concept trailer that will be used to generate interest in creating a full-length feature.
Called "Eyes," Lidell's film follows the true story of a "UFO" sighting by 60 schoolchildren at Ariel School in Zimbabwe in 1994. During a Q&A for the premiere, Lidell said the trailer was filmed on an exotic wildlife ranch in Texas over the course of two days.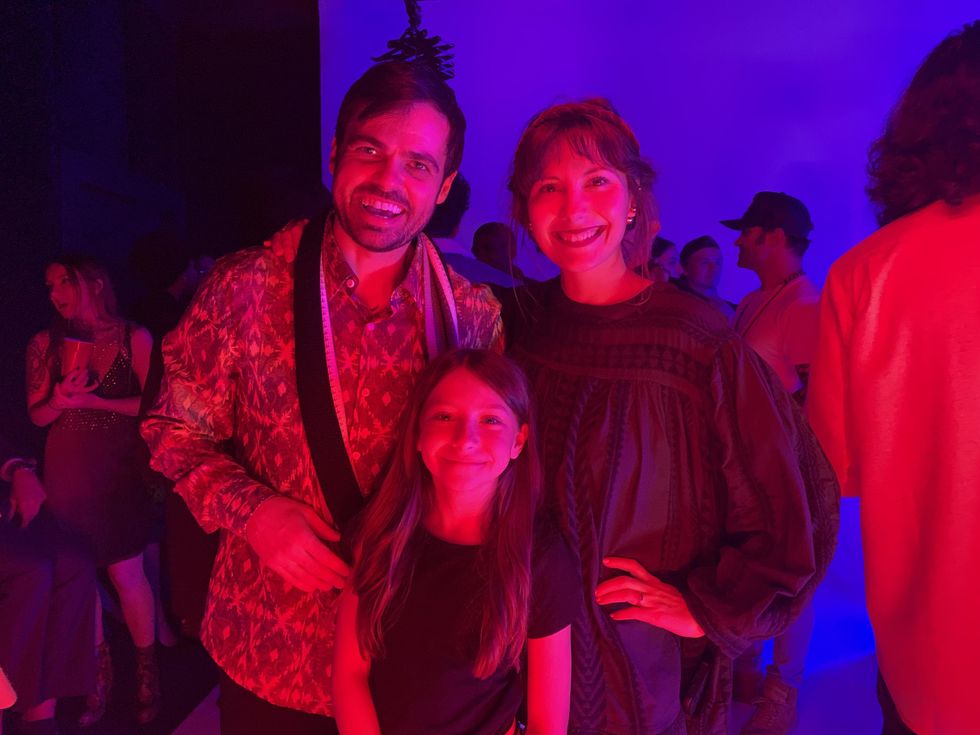 Lidell pictured with "Eyes" actors Stella Wren (center) and KarieAnn Randol (right). (Laura Figi/Austonia)
"I really wanted to show these characters just going about a natural day, casually hearing about it in the news," Lidell said. "Then something very dramatic happens to these children that they will never change their story on or forget the change all their lives, forever."
Working with a small budget, Lidell said he wants to get the proof-of-concept video in front of as many people as possible—especially Dan Aykroyd, who Lidell said has a vested interest in the story. Since his proof-of-concept focused mostly on the incident, Lidell said he wants to focus more on the interactions between parents and children in the full-length film.
"I think the main thing would be diving into some of the character's dynamics—some of their parents don't believe, some of them do," Lidell said. "I just think it's an amazing story and they ended up here like going back to their original school later, as adults, and talking about their experience so I'll maybe show that in the film as well."
Ron Wayne | Rapper and model
Leveraging his talents in both performance and modeling, Ron Wayne used his residency to create his first rap music video "One in a Million." Though he has already found success in modeling for Urban Outfitters, Fila, Vogue Magazine and New York Fashion Week, Wayne is making the shift toward music.
The music video, which splices the audio in and out as Wayne transitions in and out of two different versions of his own life, is meant to show vulnerability while chasing aspirations and breaking the cycle of what you were given.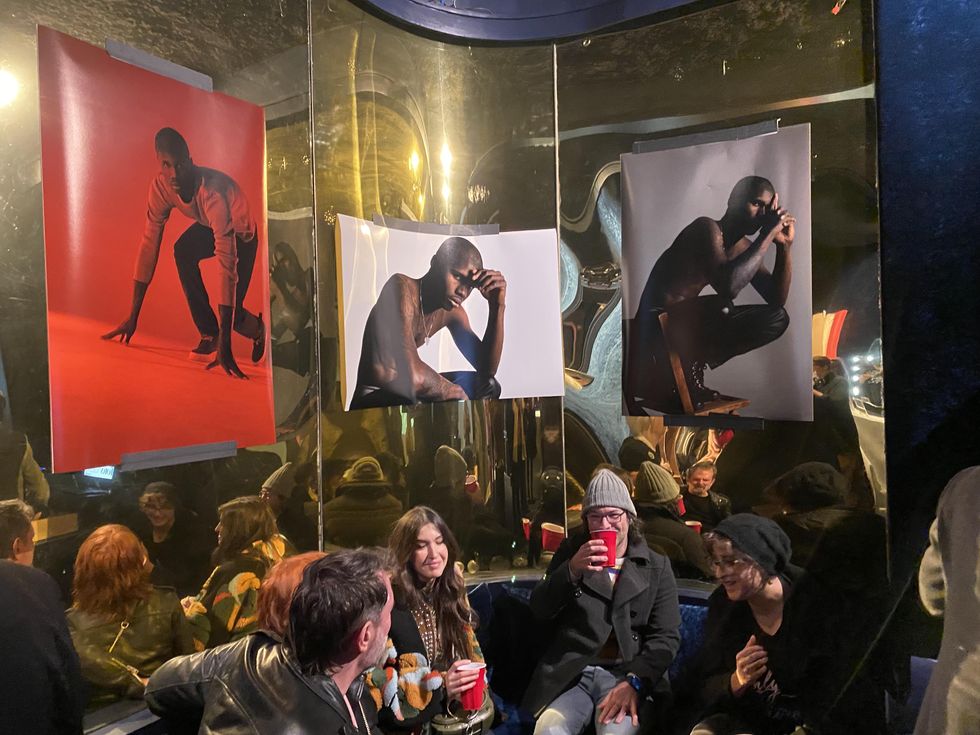 "Everyone wants to chase their dreams, whether there's anything that's stopping internally or externally outside yourself, you don't want to let anything block you," Wayne said. "So if you have a dream, believe in it."
In conjunction with FotoHouse's support, Wayne will debut his EP and career as a musician at SXSW 2022.