Get connected with our daily update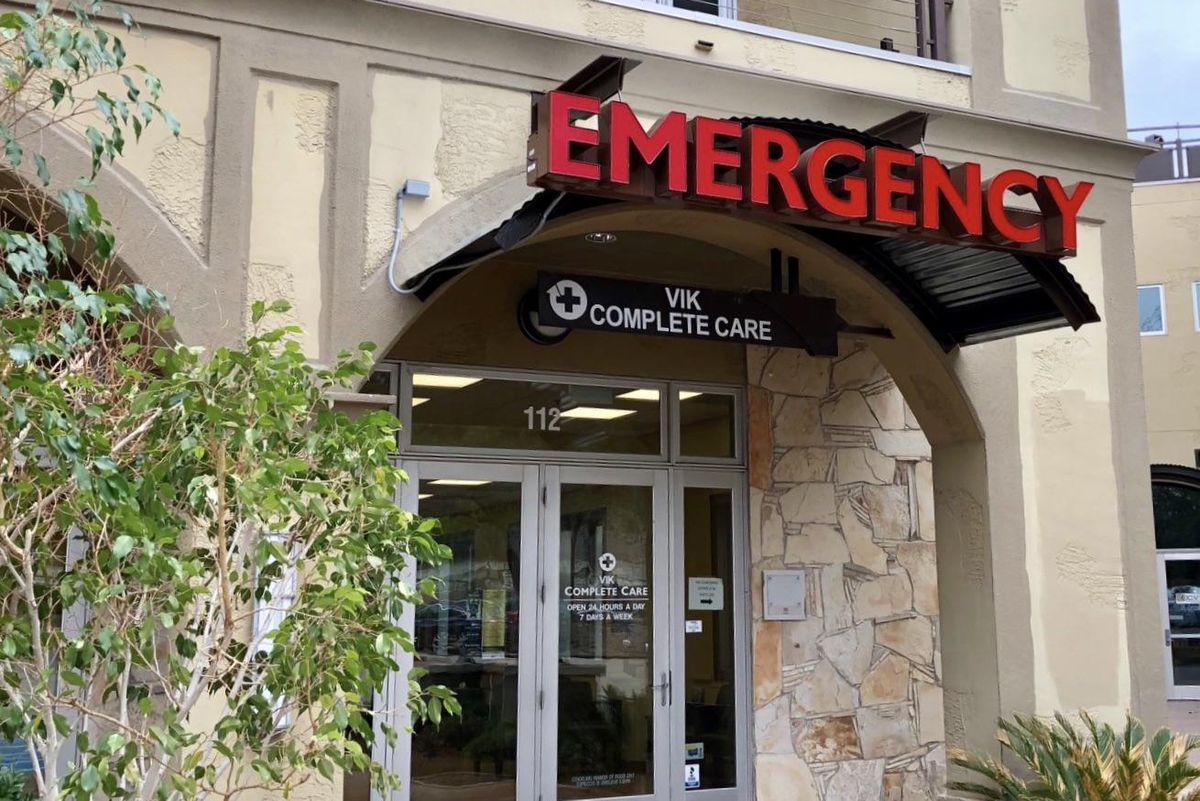 (Vic Complete Care)
COVID-19 vaccines have already been delivered to healthcare workers throughout the state of Texas. However, none of those allocations went to freestanding emergency rooms physicians and nurses.
---
Texas Gov. Greg Abbott announced yesterday that more than 220,000 doses were doled out to medical personnel this week. In accordance with the state's two tier plan, freestanding emergency room staffers are in the program's second tier and won't begin to receive the vaccines until next week or even until the end of the month, a delay some medical personnel say is dangerous.
The allocation plan laid out Dec. 4 by Texas Department of State Health Services Commissioner Dr. John Hellerstedt, listed "protecting health care workers who fill a critical role in caring for and preserving the lives of COVID-19 patients…" as the top basis for distributing the initial limited supply.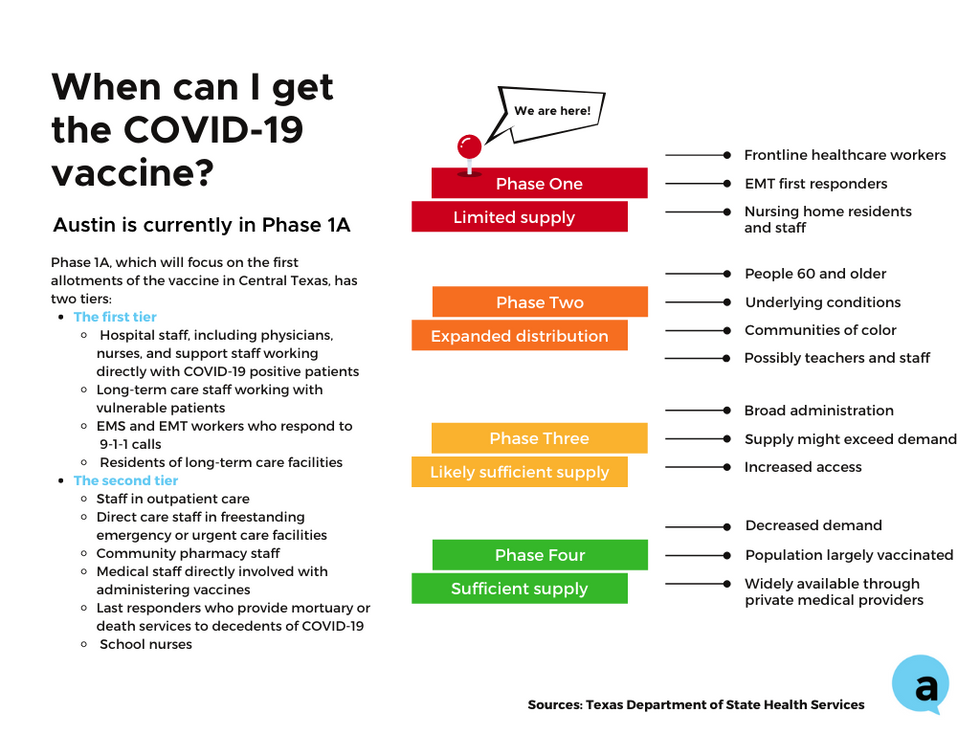 Although the process included hospital staff working directly with patients who are positive or at high risk for the disease to be included in the top tier of allocation—such as hospital emergency room personnel—the care staff of freestanding emergency medical care facilities was linked with urgent care clinic employees under Tier 2.
Freestanding ERs are emergency rooms that aren't physically attached to a hospital, said Dr. Daniel Roe, the medical director for Vik Complete Care, a company with 16 freestanding emergency rooms throughout Texas, including two in the Austin area. There are 200 freestanding ERs in the state, he said.
DSHS Director of Media Relations Chris Van Deusen said the vaccine distribution tiers are not rigid requirements but "just rough groupings" to help organize the first allocation phase. He said freestanding ERs "will begin getting vaccine(s) next week."
"There's a common misperception among both civilians and medical people that freestanding ERs see a lower acuity or lower volume of patients," said Roe, a 26-year veteran of the medical field who is board certified in emergency medicine. "And, that's just not true."
The staff of those facilities sees a range of patients, from motor vehicle accidents to heart attacks and stroke, he said. And, they are seeing a lot of the coronavirus.
Complete Care has performed 25,000 COVID-19 tests in the past few months, and is on track to perform 30,000 such tests by the end of the year, Roe said. Within the company, he said the rate of positive results for those tests is 19%, or about 4,500 positive tests, a statistic that comports with or is greater than the positivity and testing rates for hospital emergency rooms, he said.
Roe said the tier system adopted by the state for vaccine distribution priority is erroneously based on facility types instead of provider roles.
"As emergency physicians and as emergency nurses and emergency techs, we should have access to the vaccine at the same time as employees that provide care at hospital-based ERs," he said. "We've really put ourselves out there, on the front line, and we feel like we should have access to the vaccine."
Texas Emergency Care Center CEO Rhonda Sandel agrees. The registered nurse not only heads the freestanding emergency room company but is also a founding member and immediate past president of the Texas Association of Freestanding Emergency Centers, an organization that advocates for fair regulation within the field, along with serving as the current president of the group's national organization.
Along with several TAFEC affiliates, Sandel penned her name to a Dec. 16 correspondence sent to the DSHS panel that drafted the tier guidelines, urging its members to include all emergency medical personnel in Tier 1.
"I think the State absolutely got it wrong and they did a disservice to many, many healthcare providers across the state," Sandel said of excluding freestanding ERs from Tier 1. "Any emergency room personnel, whether it's in a hospital-based emergency room or a licensed, freestanding emergency room have the same exact exposure to COVID patients."
She echoed Roe's sentiments that freestanding ERs across Texas are seeing thousands of COVID-19 patients daily, with many transferred to a hospital's intensive care, or COVID-unit, without the patient ever entering the hospital's emergency room. Freestanding ER personnel are intubating many COVID patients, a procedure that helps a patient breathe but presents a high risk for passing the infection on to assisting healthcare workers, Sandel said.
"Certainly, we are not at any less risk than those physicians or those nurses working in hospital-based emergency rooms," she said.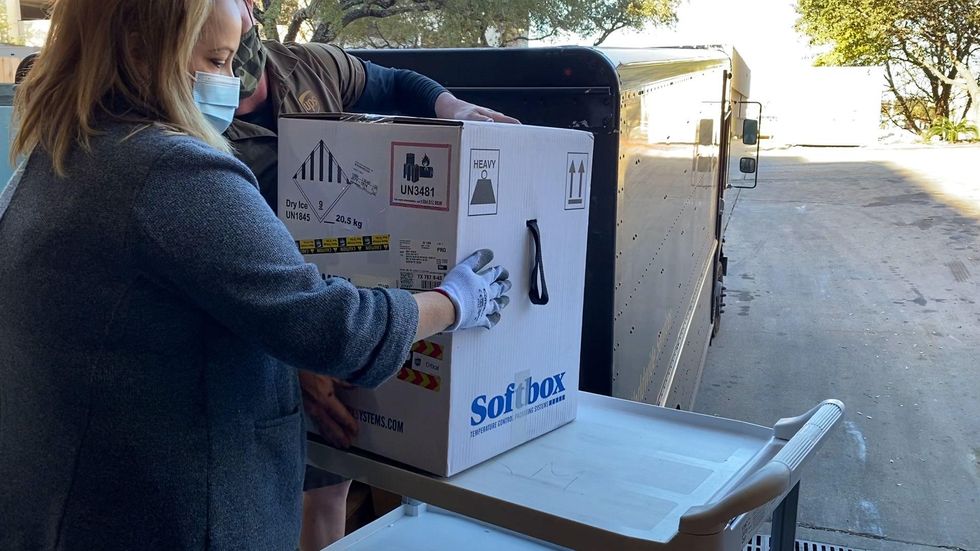 St. David's Healthcare staff unpack the first few shipments of its initial supply of the COVID-19 vaccine on Thursday.(St. David's Healthcare)
Additionally, a freestanding ER owned by a hospital group falls under the hospital's Tier 1 designation and is among the first group to be vaccinated, Sandel said. But a freestanding ER owned by an independent source, such as Vik Complete Care, is classified as a Tier 2 facility, whose staff will be vaccinated later, she said.
St. David's HealthCare maintains freestanding emergency centers in the Austin area, including Bastrop, Bee Cave, Cedar Park, Leander and Pflugerville. According to a St. David's spokesperson, each emergency center serves as an extension of a St. David's HealthCare hospital, hospitals that are classified as Tier 1 facilities for vaccine purposes.
"Employees of our emergency centers who meet the Tier 1 guidelines will be immunized during the first wave of COVID-19 vaccinations," the spokesperson said.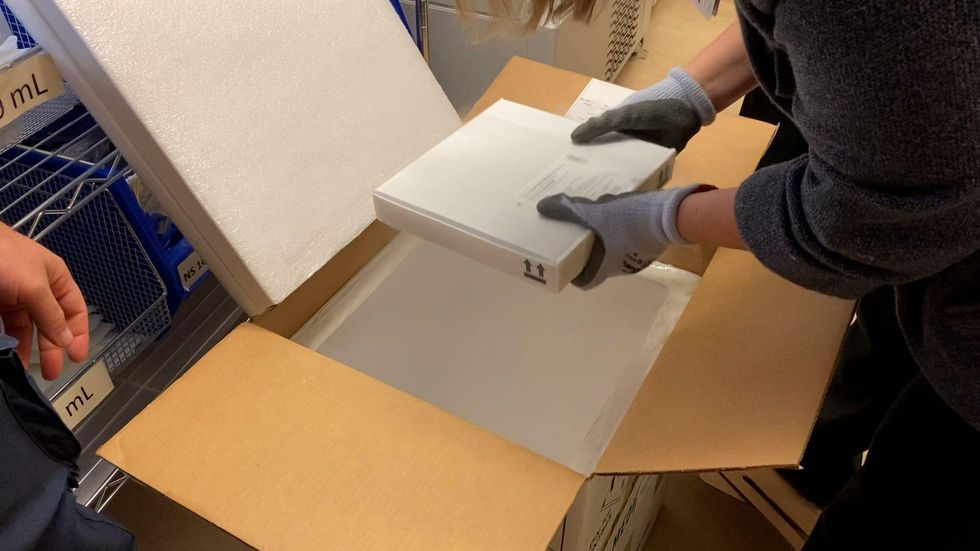 St. David's Healthcare staff unpack the first few shipments of its initial supply of the COVID-19 vaccine on Thursday.(St. David's Healthcare)
On Thursday, St. David's HealthCare received the first few shipments of its initial supply of the COVID-19 vaccine and personnel were slated to administer the vaccine to its employees and medical staff on Friday.
Carol Campbell, spokesperson at local freestanding ER group Austin Emergency Center, said she's hopeful there will be enough doses of the COVID-19 vaccine to administer to her personnel in the first round of distributions.
"The health and safety of our frontline workers who go above and beyond every day remains a top priority for our company," she said in an email to Austonia.
The danger of delaying COVID-19 vaccines to freestanding emergency room workers is that those employees could contract the disease, compromising their ability to continue to treat high numbers of patients and shunting more patients to hospital emergency rooms, Roe said.
"If there's an ethical priority and a pragmatic priority to protect frontline healthcare workers, we are in that group," he said.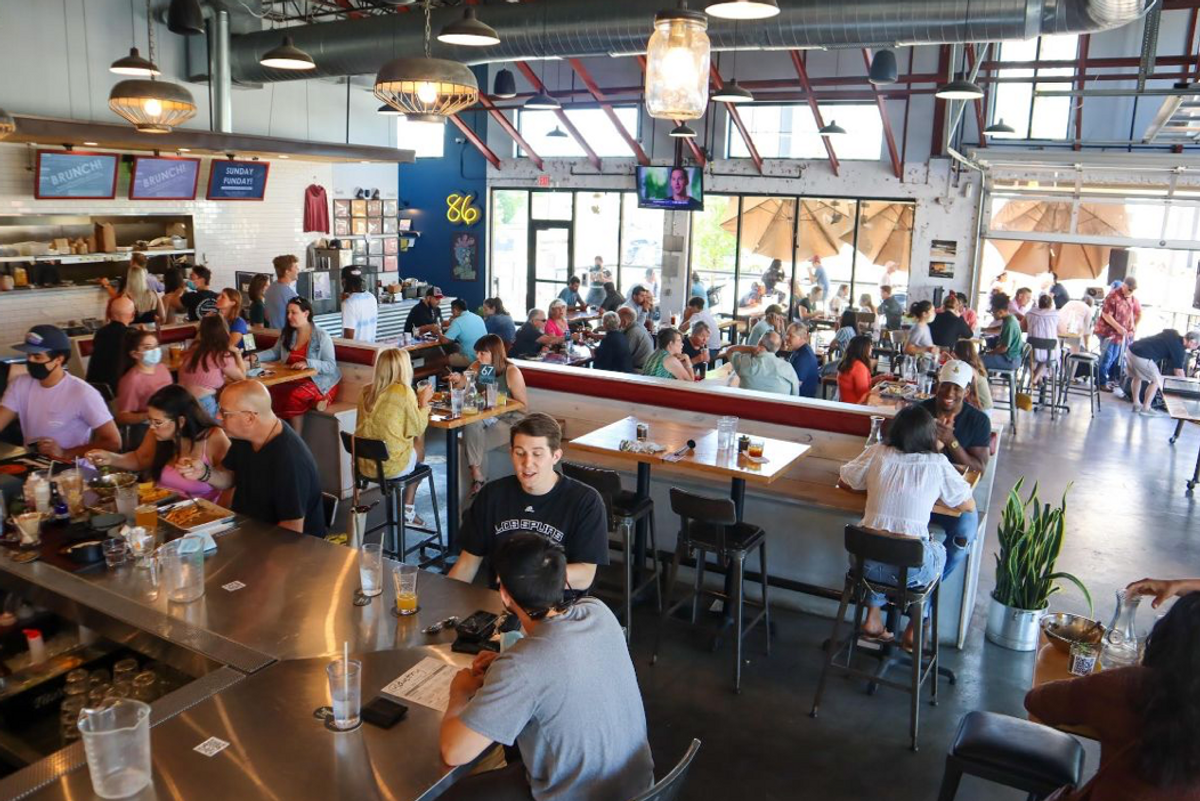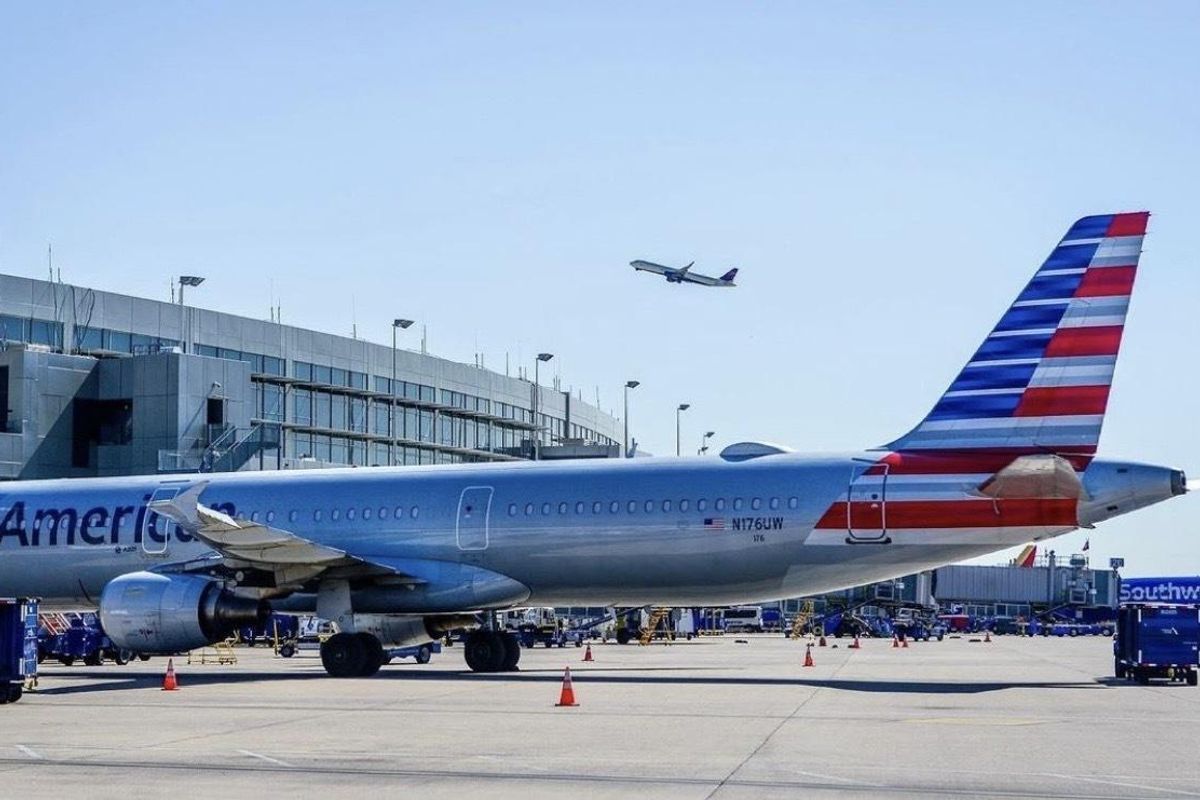 With major entertainment events slated for October, the Austin-Bergstrom International Airport is gearing up for a busy month.
Artists and music lovers are set to pack into Zilker Park for The Austin City Limits Music Festival in the coming two weekends. Following that, Formula One will bring racing fans to the Circuit of the Americas.
For those two events, the airport is anticipating high passenger days with 30,000 or more people departing flights.
ABIA recommends arriving at least two and a half hours in advance for domestic flights on those days. For ACL, it's expected on both Sundays of the festival along with the Monday and Tuesday after. The F1-driven high passenger days are expected on Oct. 20-21 and Oct. 23-26.
\u201c#AustinCityLimits visitors, you\u2019re in for a weird and wild ride \ud83e\udd18\u262e\ufe0f \n\nFlying in or out of our airport? We got firm and fun tips for you: https://t.co/RawVRalOXN\u201d

— Austin-Bergstrom International Airport (AUS) (@Austin-Bergstrom International Airport (AUS)) 1664894083
F1, especially, could draw in loads of travelers as the three-day event saw 400,000 attendees last year. ABIA warns that highways leading to the airport may see even higher traffic than usual around the event and that travelers should plan their route accordingly.
Bailey Grimmett, a spokesperson for ABIA, said travel numbers come in 24 hours in advance. So, it's hard to predict if the airport will see travel volumes at the same levels that have happened around previous F1 races or if it'll top ACL's flight traffic.
Still, she says historical knowledge points to a chance for it.
"We've had that Monday after F1 break the record for single busiest in airport history," Grimmett said. "So context clues I would say yes, but I can't confirm that. But the historical background points to that."
In anticipation of the high volume of flyers, the airport received additional TSA officers for security screening through the end of October. To prepare even further, the Department of Aviation and partners hosted a job showcase and hiring fair to address the continued labor shortage the airport has experienced.
Relief from hectic travel days is on the horizon with November likely to see a slowdown.
"I don't anticipate it will be as busy as October just because we don't have as many events going on," Grimmett said. "Thanksgiving is kind of our primary holiday that we see a lot of passengers coming in and out of the airport."