Get connected with our daily update
We've seen UT athletes making sponsorship deals with restaurants, retail and even crypto-created NFTs—and soon, a $10 million fund will help athletes further profit off of their name, image and likeness.
The Clark Field Collective is a $10 million fund set up by former Longhorn athletes, donors and sports marketer Nick Shuley to "ensure college athlete success year after year,", according to the funds' website. For the first time, Texas collegiate student-athletes have been able to profit off of their hard work and clout after a Texas bill was passed this summer. The Wednesday announcement is the latest in opportunities for UT athletes to make a profit off their name, image or likeness.
According to its site, the fund will look to accomplish four things: to "cultivate relationships with businesses, donors and fans," facilitate "opportunities in a compliant fashion," educate "college athletes on business" and protect "eligibility of college athletes." The fund was aided by former UT stars including former NBA player TJ Ford, who will serve on the board, former NFL safety Kenny Vaccaro and former professional volleyball player Juliann Johnson.
At the helm is new CEO Shuley, who has experience marketing for ACL and Bo Jackson.
"The University of Texas at Austin maintains the largest, wealthiest alumni donor base in the entire country," Shuley said. "It's time a network like this existed to support our college athletes. The Collective is being established to make that happen."
Collegiate athletes haven't hesitated in securing deals from T-shirts to chain restaurant sponsorships. Football star Bijan Robinson has done both with sponsorships by Centre Apparel and Raising Cane's, and he's also the first current Longhorn to create his own NFT—a kind of digital collector's item that serves as trading cards for the crypto world. More NFTs are on the way with NiftyHorns, which has created these digital cards for two Longhorn athletes and hopes to add the whole athletic roster in the future.
As of Oct. 25, Axios found that 175 NIL agreements had been disclosed with the university across a variety of sports—and perhaps surprisingly, softball sat at the lead with 33 signings thus far. The university has pitched in with a LEVERAGE program designed to educate student-athletes with "comprehensive programming around name, image and likeness to equip them with the knowledge and tools necessary to maximize their brand and platform."
The program also hosts a directory to connect athletes with potential companies. Meanwhile, a SurlyHorns program has introduced all tight ends to guaranteed four-figure earnings—even for walk-ons—through its new "Burnt Ends" program.
The Clark Field Collective will look to provide equal opportunities to all athletes and spread its funds to all sports.
"Our goal is to create something that becomes both the gold standard in the field, and a one-stop fund to be disseminated amongst all sports for NIL activities activated through: endorsements, autographs, appearances, and more," Shuley said. "Through a multi-tiered approach beginning with the donors, followed by major brand participation and ultimately brand building, we will create something that allows for stability, sustainability and growth over the years at Texas."
It's a fund they hope will extend far into the future—and in turn, attract new athletes to the university as schools across the country look to attract prospects with more than just what's on the field.
Unlike similar crypto groups, people in the Austin scene aren't trying to purchase a copy of the U.S. Constitution or an NBA team. But members of a new Austin crypto organization still have high ambitions for investment goals.
"In the future, we want to be able to invest in the community," said Jon Gregis, a member of the ATX DAO. "If we can invest in Austin and grow Austin, that's our main goal."
A DAO, or a decentralized autonomous organization, is a group that pools together capital and goes on to make investments or take on blockchain-based projects. They can act similar to VC firms but have looser structures. With the ATX DAO, there are currently 25 members, all with equal voting rights cemented through a non-fungible token.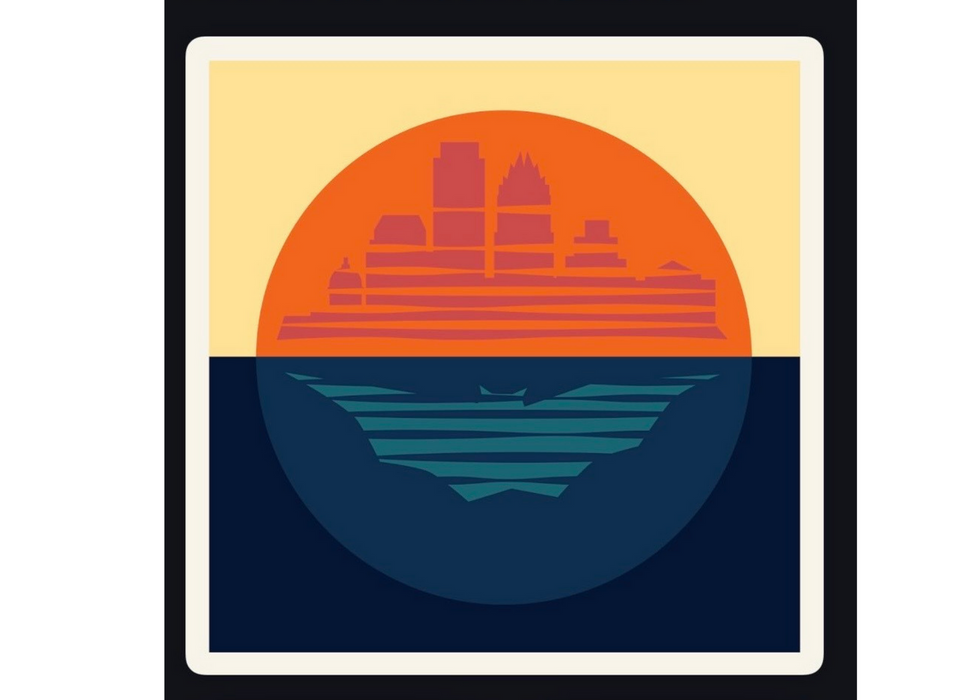 The NFT that members received during the first mint. (ATX DAO)
This makes them slightly different from other DAOs, which aren't often governed by NFTs. And because they're a city DAO, they want to represent Austin as much as possible since their launch two months ago. So they say they've engaged with Hope Outdoor Gallery, want to find local artists to design NFTs, and had initial members join at the cost of .512 Ethereum.

"We're still at that point of growing pains because we don't have a blueprint to follow as a DAO," Gregis said. "We're kind of picking and choosing from all different types of DAOs."
DAOs have faced some criticism for their operations. In 2016, the first DAO was hacked, resulting in millions of dollars lost. They also wade through a murky legal status.
Members of ATX DAO are conscious of these factors and have established some priorities as they grow, saying they'll have pillars for engineering, marketing, finance and legal.
"We're trying to take it very slowly and figure out from the legal aspect what we should and shouldn't do," Gregis said. "Even though it's a super gray area, as of now, there have been problems with other DAOs who have tried to be an investment DAO and are getting hit by some type of government organization for doing something illegal. We're trying to cross our T's, dot our I's before we start doing that."
Members said the group blossomed after growing a community of "crypto natives." "Which just means you can talk the lingo and have a little bit more educational conversations and discussions that are not necessarily introducing Bitcoin for the first time," one member said.
Now that they've had their first mint—the process of the NFT being delivered to members' wallets—in October they're trying to grow. Mason Lynaugh was one of the first people brought on during the group's genesis round, the minting process that created the DAO.
"You don't have to be a crypto native or even part of anything to do with crypto," Lynaugh said. "It's more of if you're curious, come join us."
Lynaugh grew up in Austin and mentioned that he doesn't work or trade in crypto, but thought he could work well in the DAO given his background in event planning and project management.
"Crypto sometimes gets a bad rep for being exclusive or a not welcoming community, but I would like to dispel that myth," Lynaugh said. "Everyone is super excited about crypto and excited to share stuff. It's not the way that some people paint it to be."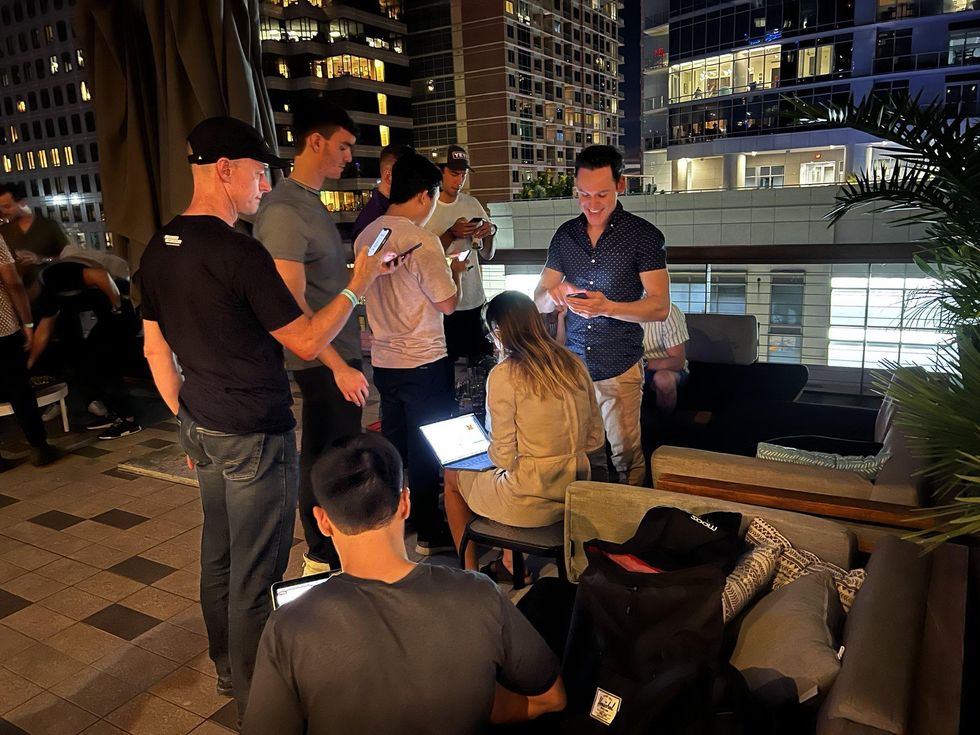 Crypto enthusiasts gather during the genesis mint party in October. (ATX DAO)
Interest in having a role in the DAO is high, members say. Their discord group has over 200 people with more joining every day. New people introducing themselves display varying proficiency in crypto and all kinds of day jobs: professor, Tesla employee, a startup worker.
"Our last event, we had somebody going around asking to buy them (the NFT) from all the members because they wanted to be a member," Gregis said.
On the ground, there's a clear interest in appeasing those involved in cryptocurrency. But when it comes to government, the relationship can be more strained, though ATX DAO members say they want to lend their expertise to state and local officials. Member Joseph Fluckiger pointed to initiatives in Singapore and El Salvador to be more crypto-friendly.
"What's really going to happen is you're going to get an intellectual drain from talent to other countries and other states if the United States and Texas don't step up and make policies that are friendly to innovation," Fluckiger said. "We haven't really been politically active, but certainly that's an opportunity that we could do."
He imagines that banking and government are going to be disrupted with the rise of crypto, the NFT boom and Web3.
"It's incredibly exciting. It's incredibly new," Fluckiger said. "ATX DAO allows us to be at the forefront of that revolution that is just starting, but is going to grow in steam."
Tesla has officially moved its headquarters from Silicon Valley to its under-construction Gigafactory in southeast Travis County.
In October, CEO Elon Musk had announced plans to uproot the HQ from California during a company shareholder meeting. The company's filing with U.S. securities regulators on Wednesday locked down the move.
It's unclear whether the 10,000 employees in Palo Alto will be required to move. An analyst told the Associated Press that while many may be given the option of staying, up to 50% could make the move with some motivated by a lower cost of living in Austin.
"It's tough for people to afford houses, and people have to come in from far away… there's a limit to how big you can scale in the Bay Area," Musk had previously said. Regardless of the HQ move, the company plans to increase production at its California plant.
The HQ swap is the latest development on Giga Texas, the approximately 1,700-acre factory that Tesla received at least $14.7 million in tax breaks for. The factory is on track to start production of its Model Y vehicles by year's end.
Musk has hinted at making the move for some time. Last year, while California health officials were concerned with the spread of COVID-19, Tesla's push to reopen the factory in Fremont set off a spat. During an earnings call in April 2020, he'd described the state's health orders as "fascist." Recently, Musk relocated his own residence from Los Angeles to Texas, bringing almost each one of his companies along with him, including the Boring Company, Neuralink and his foundation.
At the cutting edge of tech, music and business are many successful leaders who not too long ago weren't old enough to drive or vote.
These wunderkinds were honored in Forbes' prestigious "30 under 30" lists, which highlights hundreds of top young entrepreneurs in categories from social media to science, in the 2022 rendition of the list on Wednesday. Some of the Class of '22 were as young as 14, while the average honoree was around 28 years old. Thirteen of these burgeoning business moguls were from Austin, which has seen such distinguished 30 under 30 alumni as former UT basketball player Kevin Durant get top spots on the 10-year-old list.
Here's a look at the 13 Austinites who made the cut: