Get connected with our daily update
(Mike Mareen/Adobe)
Texas is the home of the pickup truck—roughly one in five sold in the U.S. is bought here. But the next model to be made here may be one unlike any seen before.
---
If Tesla decides to bring its next factory to Austin, the unique-looking Cybertruck would be one of two models produced, and the electric carmaker is pitching it as a natural fit.
"I think you guys will really enjoy it down in Texas," Rohan Patel, Tesla's director of public policy and business development, told Travis County commissioners.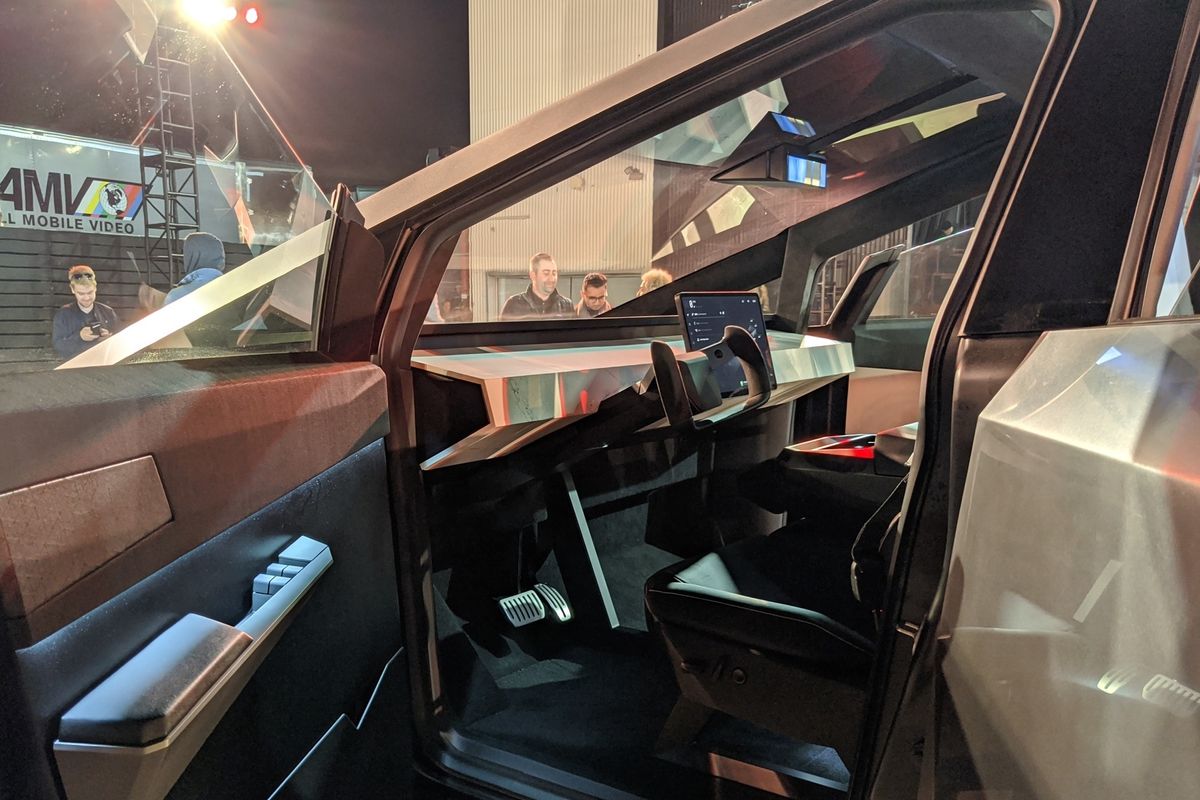 Both the Del Valle ISD school board and Travis County Commissioners Court are considering tax breaks for Tesla, which has proposed the $1.1 billion "Gigafactory" for a site in Southeast Austin and plans to hire 5,000 people to work there.

Cybertruck
The vehicle features "a nearly impenetrable exoskeleton" made of stainless steel, "vault-like storage" and an "ability to pull near infinite mass," according to the company's website.

Now available for preorder, production of the Cybertruck is expected to begin in late 2022. The price ranges from $39,900 to $69,900, depending on the motor type, with a self-driving add-on available for $8,000.
When Tesla CEO Elon Musk unveiled the Cybertruck on Nov. 21 at an event in Los Angeles, it prompted much feedback on its design.
I don't understand what the fuss is about the Tesla #Cybertruck. It looks ok to me. https://t.co/8vBl1jS74T

— dave appleby (@dave appleby) 1574401722.0
But others are enamored with the vehicle.
First, I thought it was a joke, then I thought it was ugly, then I thought it was interesting, then I was obsessed… https://t.co/3SINCp1fhd

— Michael Fink (@Michael Fink) 1593316630.0
A Cybertruck recently went on display at the Petersen Automotive Museum in L.A.
We are honored to have @mayemusk and @ToscaMusk, and @drsabrinakay visit the @Tesla #Cybertruck during our reopenin… https://t.co/0qeawgWMaL

— Petersen Museum (@Petersen Museum) 1592864729.0
The proposed factory would also produce the company's Model Y, a midsize SUV, for East Coast markets, Musk tweeted on March 10.
Scouting locations for Cybertruck Gigafactory. Will be central USA.

— Elon Musk (@Elon Musk) 1583885524.0
If approved by DVISD and Travis County commissioners, construction could begin on the factory as soon as this fall.
Downtown may be recovering from the pandemic but the priorities residents want in their city center are changing, according to the City Pulse Survey done by design firm Gensler.
After studying 7,500 people in 15 global markets, including Austin, Gensler found that life in COVID has pushed city-dwellers to want more outdoor activities, social spaces and entertainment venues in bustling business districts.
Post-pandemic, the highest-rated downtown activities were shopping, visiting parks and just "hanging out." The need for more public spaces like parks jumped from sixth on the list to second this year.
Although globally people view downtown as a business district for task-based activities, across the U.S., downtown districts are viewed more as a vehicle for entertainment. This is especially true for Austinites, where people surveyed said they would rather see more entertainment and cultural venues than shopping or public transit downtown.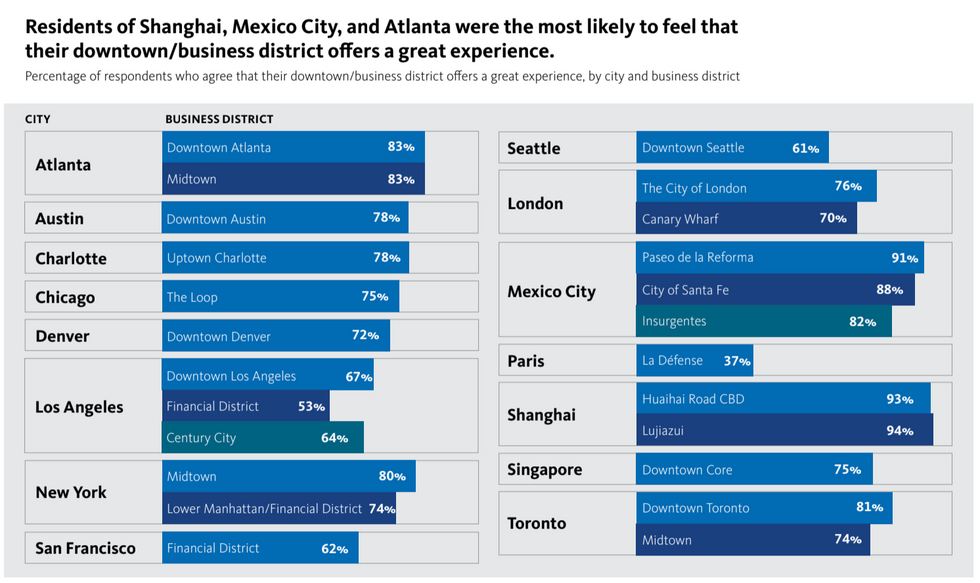 (Gensler)
For Melanie Gartman, a manager at construction software company Levelset who has been living in Austin for most of her life, the needs and wants of the average resident closely align with her own.
Austin clocked in second-most desirable downtown, tied with Charlotte, North Carolina. Like the 78% of Austinites in the survey, Gatman said she thinks Downtown Austin is hanging on to its lovable charm.
"Even now with fewer people out and about it's still very vibrant and lively. I feel like I saw life come back to downtown a lot sooner than I expected it to," Gartman said. "It's still holding on a bit that Austin vibe and with the high rises coming in, it's scary that we could lose that. I think it's holding on better than I would have expected, especially within the last two years of everything that happened."
As Austinites eased back into downtown, the first stop Gartman made was to go see music again. Since venues opened back up, Gartman and her loved ones have seen live music at their favorite venues: Moody Amphitheatre, Mohawk, The Parish and Empire Control Room.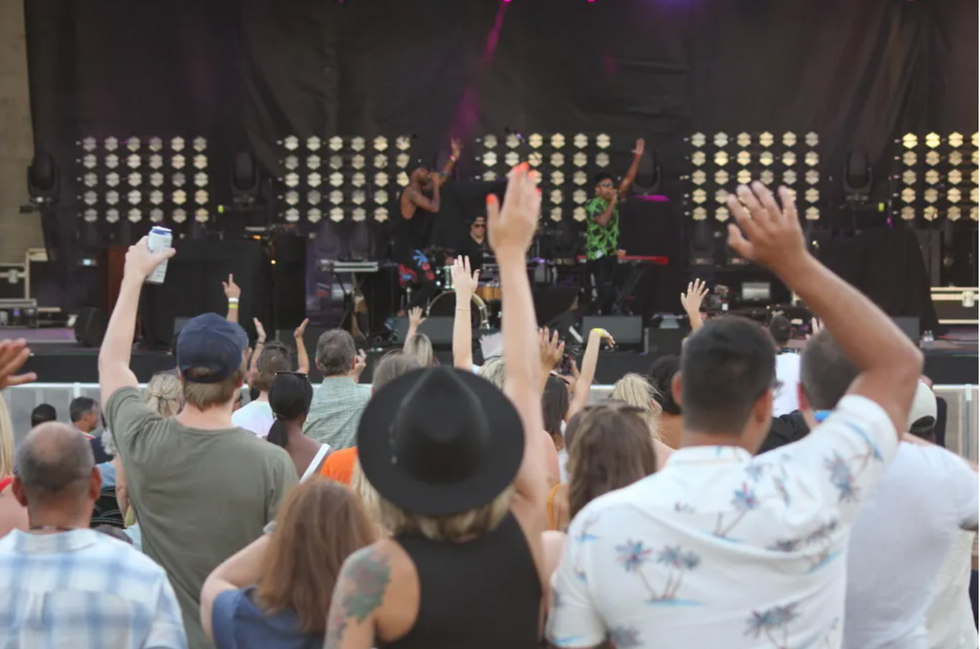 Blackillac opened for Gary Clark Jr. at the Moody Amphitheater's first show back in August. (Laura Figi/Austonia)
Entertainment is most important for Gartman's life in Austin—seeing Gary Clark Jr. in August brought normalcy back into her routine—and said our local downtown is the ideal out of other cities in Texas.
"I've always noticed that between Houston's downtown and Austin's, Houston's is so Monday to Friday, eight to five, maybe a post-work happy hour," Gartman said. "Growing up, downtown (Austin) was always the place to go. It has always been the hub and I think Austin is unique in that way."
Traffic in downtown areas is way down overall, even though concern over pandemic safety has taken a backseat. Shopping traffic has decreased by 28%, dining out and entertainment attendance dropped by 33% in the post-pandemic sphere.
Even though her office is located downtown, Gartman usually works from home. Her downtown visits tend to be for the purpose of entertainment and she said the lack of parking sometimes becomes problematic.
"I feel like all these high rises are taking over all the parking," Gartman said. "It used to be for go-to parking, I would just park under I-35. No big deal. But now, that's kind of scary, especially if you're by yourself. The party parking is a barrier to actually making it down there."
But with the rise of the hybrid work model, it's likely that the downtown sphere is going to change all across the U.S. For now, survey participants said they would like to see their downtown reduce traffic, add more green space, improve the cityscape and increase parking capacity as we shape the future of cities.
Akins Early College High School, 10701 S. 1st St., was on lockdown Wednesday morning as district police investigated a report of an "armed subject." The three students, which a witness said they saw with a weapon, have since been identified and located.
The lockdown took place just after 10 a.m., when someone reported three students in the restroom with a possible handgun. The three were then identified and located in different classrooms. One of the students had two magazines, one with ammunition. A weapon was not located by police.
The district deescalated the lockdown to a hold at 12:25 p.m., which meant students could go to the restroom and be picked up if parents chose to do so. No shots were fired and all students and staff were safe throughout the whole lockdown, according to police.
The three students will not be returning to school tomorrow. Austin ISD police said the students' punishment with the school or charges have not been identified since the investigation is in the early stages. Additional officers will be on campus this week to investigate.
"We take these events seriously and we prepare so that at the end of the day, everyone can go home safe," Austin ISD Police Chief Ashley Gonzalez said.
The Taylor Police Department is investigating an apparent murder-suicide that left four people dead on Tuesday.
Officers responded to a call at around 1 p.m. for a welfare check at 616 Symes St. in Taylor, Texas, where the Taylor Fire Department helped force entry into the home since it was locked, police said. Once inside, officers found four dead bodies: 57-year-old Anthony Davis, 45-year-old Araceli Lopez Davis, 20-year-old Cynthia Abundiz and 18-year-old Pedro Navarro.
Police believe the deaths to be a murder-suicide with Anthony Davis shooting the other three victims before himself. TPD is investigating with the help of the Williamson County Sheriff's Office and the Texas Rangers.
Later that day, another murder was reported in Taylor, which police say is unrelated.
Police responded to a shooting at 2100 Whistling Way around 4 p.m. Tuesday. They said a family member found 33-year-old Jonathan Hitch with a gunshot wound to his head. It is being investigated as a suspicious death.