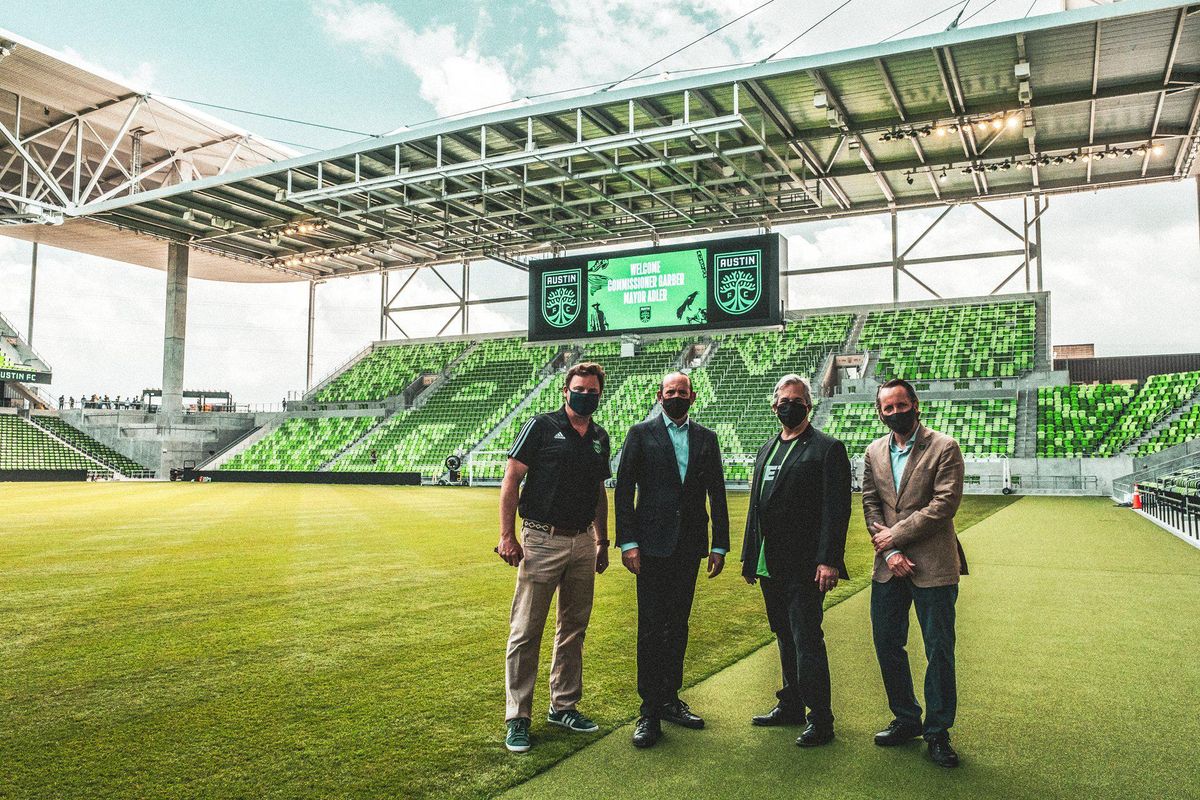 (Austin FC/Twitter)
In his first-ever visit to Q2 Stadium, MLS Commissioner Don Garber said he was "thrilled" to help bring Austin its first-ever team.
---
The commissioner, who sits in a council with global league leaders and has already had a chat with Austin FC part-owner Matthew McConaughey about the program, took a stroll on the Verde stadium grass with Austin FC owner Anthony Precourt and Mayor Steve Adler.
"Stadiums are the centerpiece of players and fans creating great memories," Garber said. "What I love about the plan here is that they thought about every last detail, and it's very open. I think that reflects this community, it kind of feels like you're in your backyard."
Garber was most impressed with the MLS's highest ceilings, which are designed to amplify the sound of fans, announcers and La Murga, Austin FC's own fan band.
"This outdoor, open environment is going to create almost a gladiator-like den where the sound is going to reverberate off that steel," Garber said. "People are going to hear it downtown."
With Austin restaurants and sponsorships dotted around the stadium, Adler said he was most impressed with Austin FC's dedication to representing the city.
"A food booth... is going to have rotating local food vendors that differ every day," Adler said. "I mean, it just doesn't get more Austin than that, except for the Austin vendors that are also part of the stadium. I really do think that Austin FC embraced the city."
For Austin FC owner Anthony Precourt, the weeks leading up to Austin FC's first match are hectic but a sign of a job well done.
"I'm not sleeping much, I'm super excited," Precourt said. "What's kept me ticking over the last three years has been visualizing this today, standing here in the stadium."
As Garber spoke with media, Austin FC geared up for their first-ever away scrimmage at FC Dallas as part of La Copita. The cup is the first time that the now-three Texas teams will see each other in action, and Garber says that having a soccer trinity in Texas is going to bring a lot of excitement to the teams and the league as a whole.
"You're going to see people traveling and caravan, and you're going to start seeing a lot more energy around the sport here in Texas," Garber said. "This has always been a very diverse state. And I think that diversity is important, historically for the game of soccer."
With 30 clubs either completed or in the works, Garber said that the MLS is becoming a bigger influence than ever around the world, a trend he hopes will continue.
"We're by far today the largest league anywhere in global football," Garber said. "We go across two countries. So far, we're the only league that does that. I'm intrigued by the fact that professional soccer is exploding in North America."
Austin FC will house their first MLS match against the San Jose Earthquakes on Saturday, June 19.