Get connected with our daily update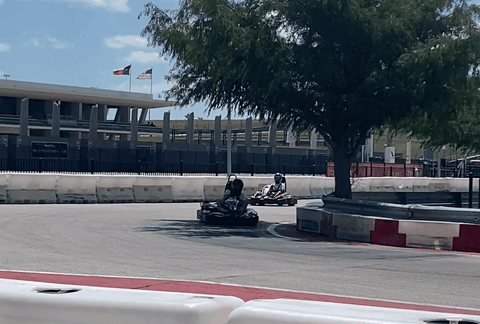 Few of us will ever feel the thrill of whipping through Circuit of the America's 23-turn track at the 220+ mile per hour speeds of Formula 1 racers. But thrill-seekers still rev their engines at COTA thanks to its go-kart track and ziplining service.
---
Here's what to expect when go-karting at COTA firsthand from Austonia's Claire Partain.
1. Go for the package deal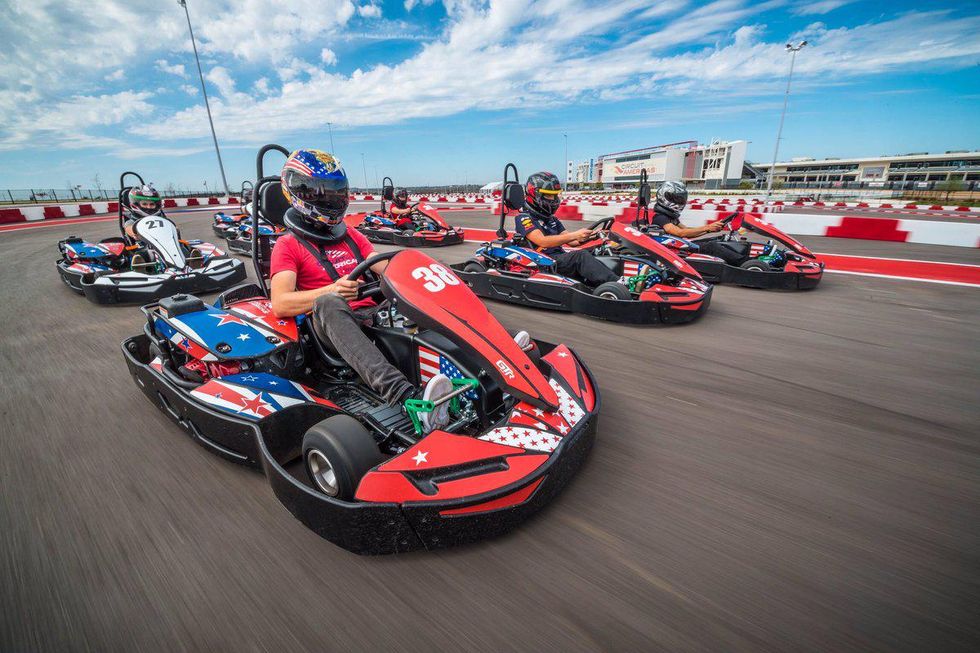 (COTA Karting/Twitter)
Schedule ahead of time online. A 10-minute race at COTA's karting track is $35, and tacking on a ride on the zipline is just $5 more. Go big or go home.
2. Get your gear on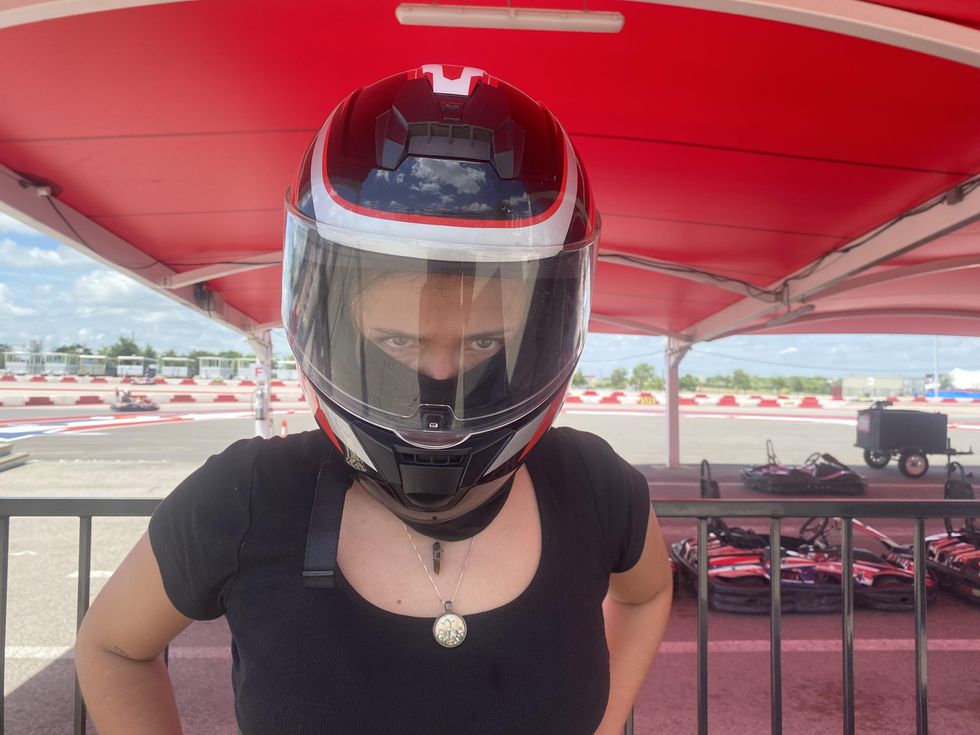 Go-karting gear includes a head sock and helmet. (Laura Figi/Austonia)
The track is located just off the COTA Boulevard entrance near the main course. Get to the track before your race is scheduled to start so you can watch the training video and try on a helmet and a head sock, which functions like a ski mask and goes on under your helmet. It's somehow even less cool-looking than it sounds.
3. To the track
Head to the track! Attendees will pick out a kart for you and make sure you're all strapped in. The first round is a slower round, but people start slamming on the gas pretty much immediately.
4. On the track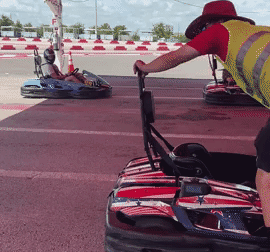 Track time! (Laura Figi/Austonia)
These go-karts go up to 55 mph, and some turns (including the traffic-inducing second-to-last curve) were kind of tough to navigate. Other than avoiding barriers, the most unexpected obstacle I had was avoiding other go-karters who had crashed. Passing people is exhilarating, but don't be the annoying driver who passes people on a hairpin curve either.
When crashes happen, all of the karts are programmed to sputter and slow down, so don't panic like I did and ask why your kart has stopped going fast. Move to the side and wave your hand to get help if your go-kart malfunctions otherwise.
5. Revel in your victory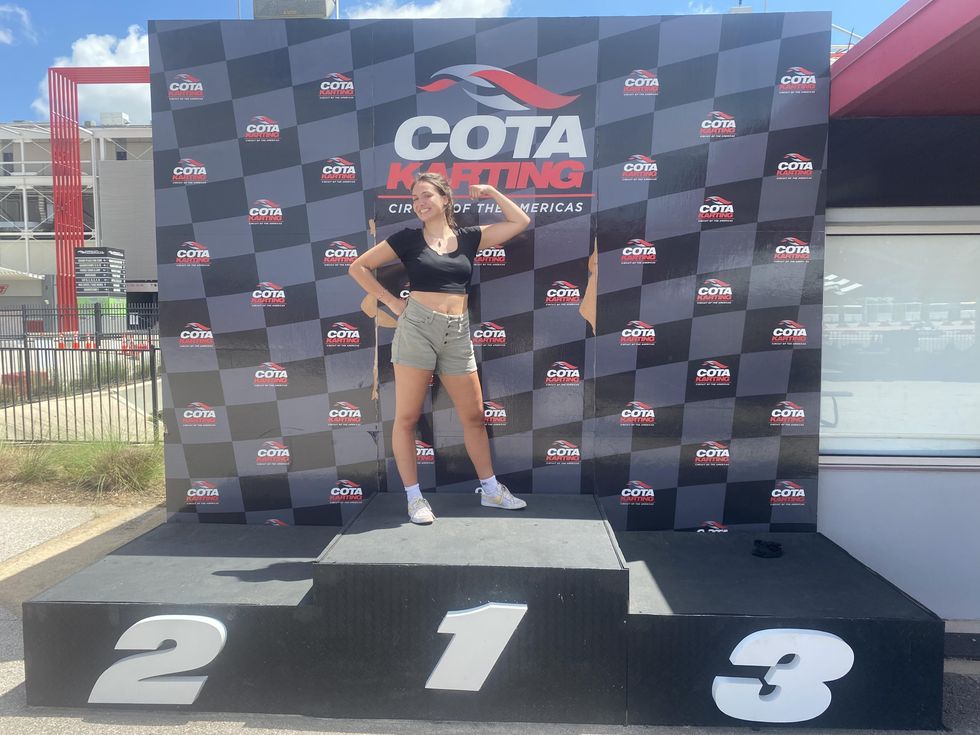 (Laura Figi/Austonia)
Karting is a great way to find out who's the Lewis Hamilton of the family. At the end of the race, COTA will email you your results and give a breakdown of your fastest lap times. There's also a podium for those of us who win the race (I got sixth).
5. The zipline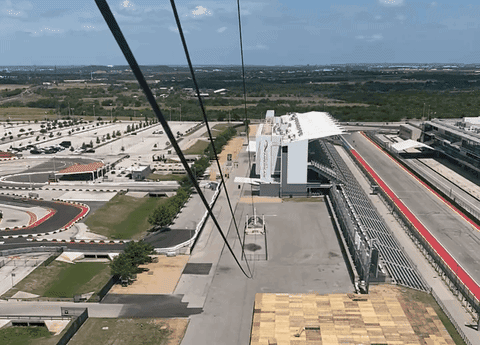 The zipline takes you up above both the COTA and karting track. (Laura Figi/Austonia)
After you've had your taste of adrenaline, get some more at the nearby zipline ride. Unlike traditional ziplines, this route has two seats that take you up and backward before bringing you back down. Grab some quick views of the entire track and hold tightly onto your phone while up top. Other than that, it's a pretty smooth ride.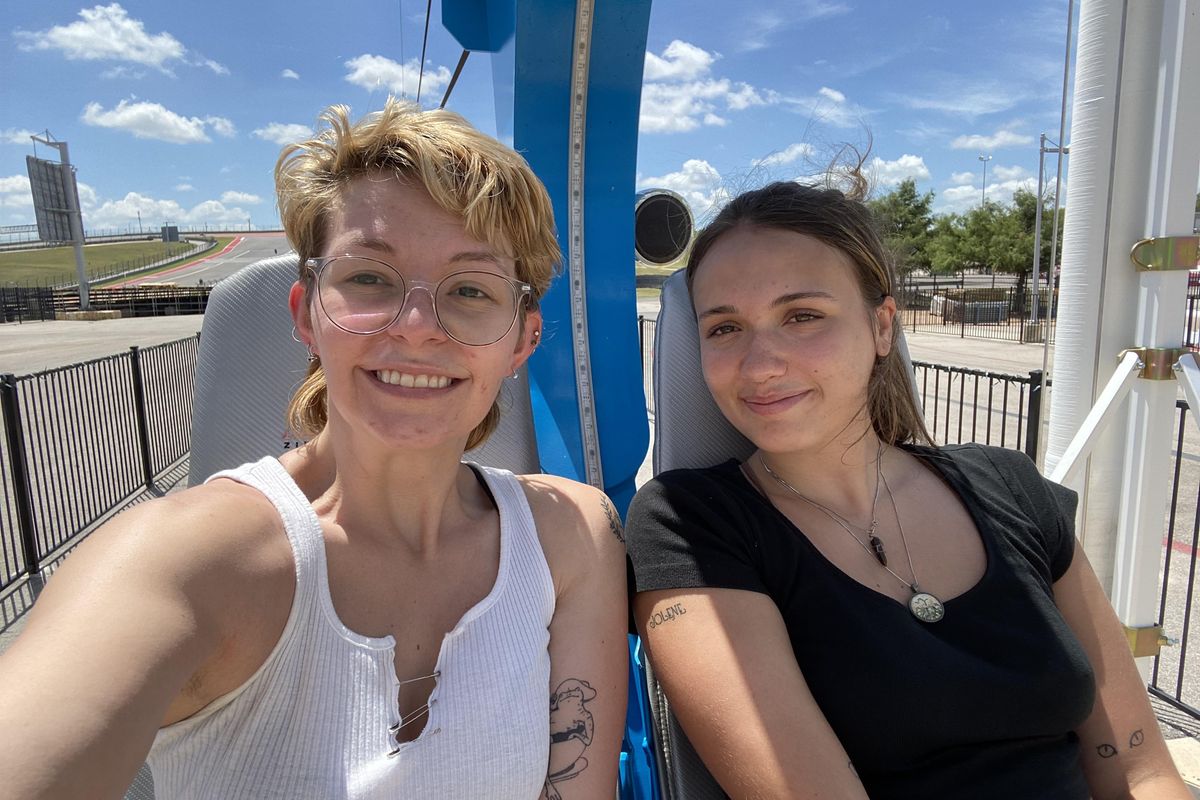 (Laura Figi/Austonia)
Happy karting!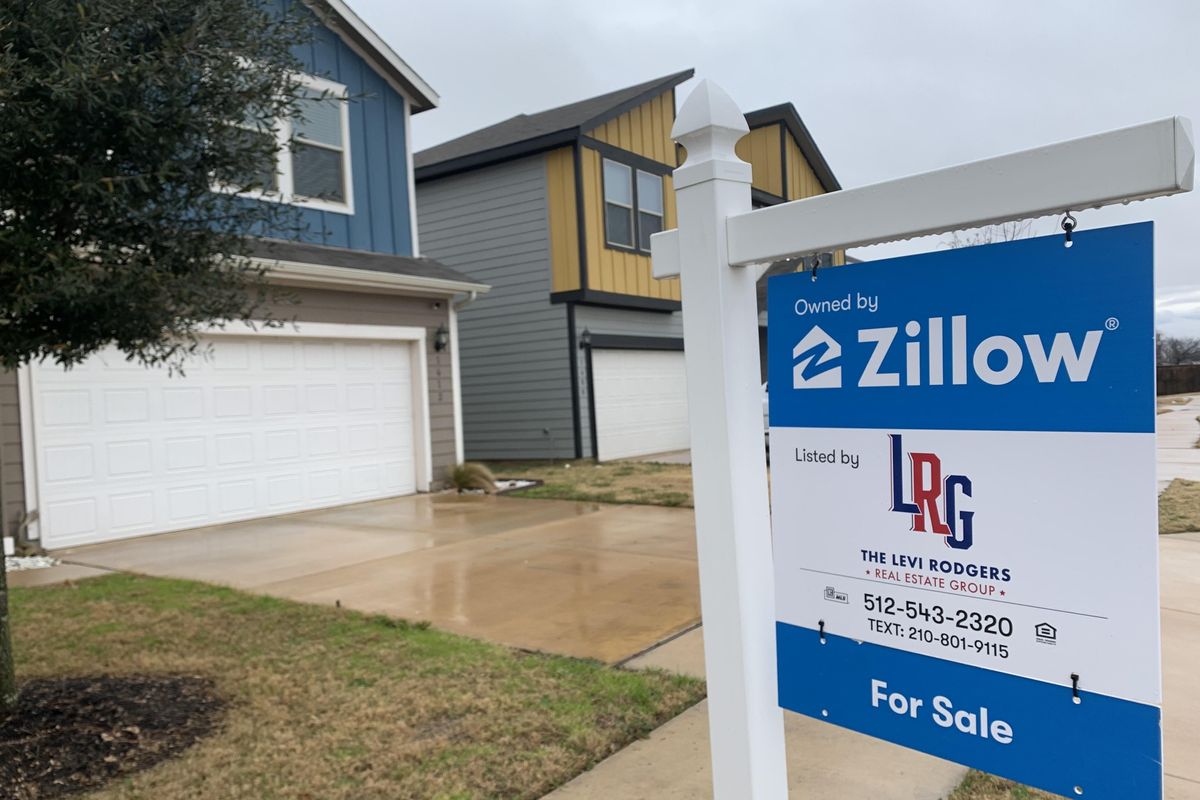 Austin is one of the top metro areas where homebuyer income saw the greatest surge during the pandemic and it came at a cost to locals.
A new analysis by real estate services firm Redfin reports that affluent out-of-towers have contributed to surging home prices in metros like Austin. Due to this trend, Redfin notes, many local buyers with lower incomes have been priced out.
"For white-collar workers earning high salaries, remote work is a huge financial boon," said Sheharyar Bokhari, Redfin senior economist. Jobs with that flexibility, Bokhari says, enable them to move from a tech hub like San Francisco to a more affordable part of the country where they can get more home for their money and even put some toward a rainy day fund.
"It can have the opposite effect on locals in those destinations–especially renters–who are watching from the sidelines as home prices skyrocket while their income stays mostly the same," Bokhari said.
In Austin, the median homebuyer income surged 19% from 2019 to 2021, ultimately reaching $137,000. In that time, the median home price growth was 48%, just behind Boise, Idaho which was more than 50%.
But the housing market is starting to slow. Redfin says high mortgage rates and unsustainable price growth have driven demand down. In fact, Austin is among the 20 housing markets that have cooled the fastest in the first half of this year.
"People are still moving in from California and they still have enough money to buy nice homes in desirable neighborhoods, sometimes with all cash," said Austin Redfin agent Gabriel Recio. "But the days of homes selling for 25% over asking price with multiple offers are over. Buyers are no longer as eager now that mortgage rates are up and there's buzz in the air about the slowing housing market."
As a result, Recio says, local and out-of-town buyers have an opportunity to buy a home at the asking price or even under.
Redfin carried out its analysis using data from the home mortgage disclosure act to review median household incomes for homebuyers who took out a mortgage, though it doesn't include buyers who paid using all cash.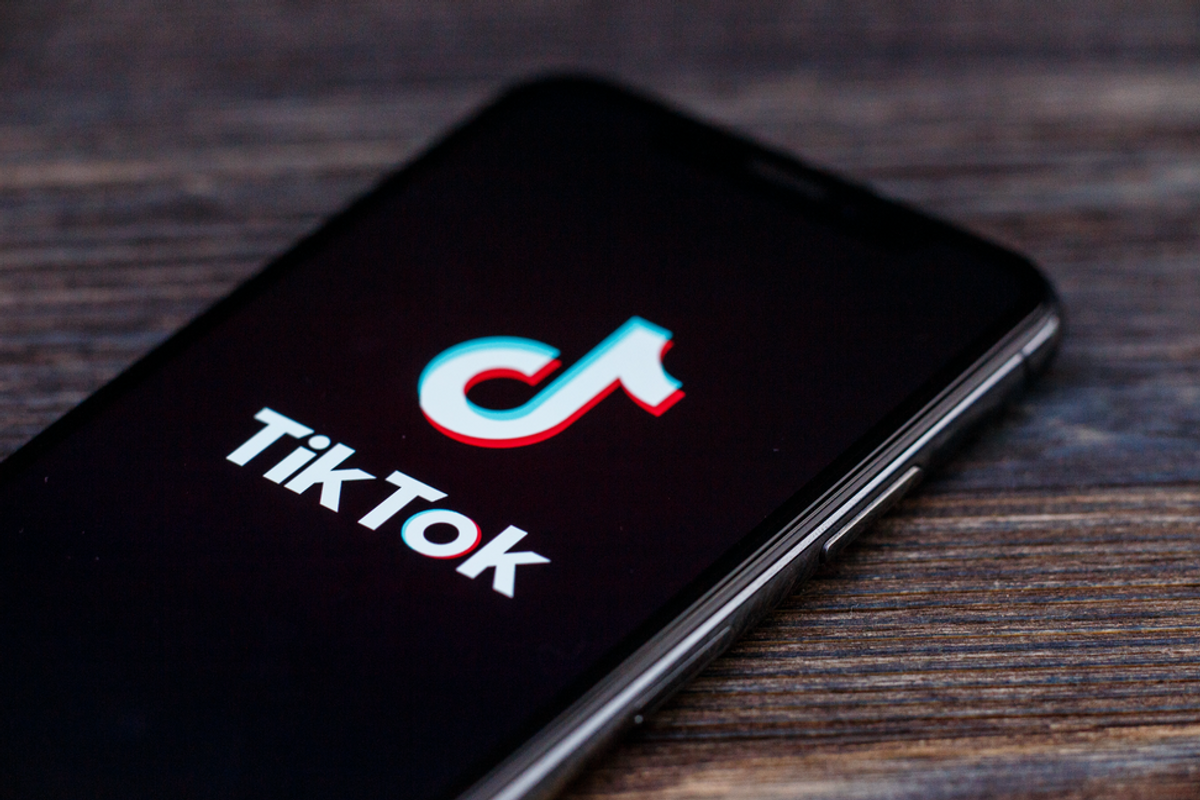 School is back in session—do you know the latest TikTok trends?
With Austin ISD resuming session on Monday, school officials are keeping tabs on the newest TikTok trends that could pose classroom disruptions and property damage.
TikTok trends swept through Austin-area schools last year with the "Devious Lick" challenge, which encouraged students to steal from school property and reportedly caused $15,000 in damages at Round Round ISD; and the "slap a staff member" challenge.
On the distraction end, a substitute teacher was dismissed from Bowie High School in December after bringing in a karaoke machine to class and singing Britney Spears' "Toxic" for the class on TikTok.
Officials told KXAN they are staying aware of the trends as they change during the 2022-2023 school year and the district will investigate perceived threats. Since TikTok trends vary in severity, they will also evaluate to see which trends could cause harm or not.
Finally, the school district said it does not tolerate violence or bullying and will focus its efforts on protecting students both physically and digitally.