Get connected with our daily update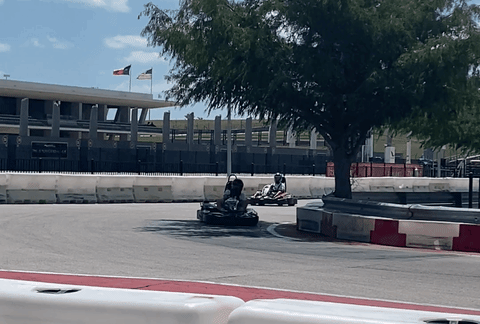 Few of us will ever feel the thrill of whipping through Circuit of the America's 23-turn track at the 220+ mile per hour speeds of Formula 1 racers. But thrill-seekers still rev their engines at COTA thanks to its go-kart track and ziplining service.
---
Here's what to expect when go-karting at COTA firsthand from Austonia's Claire Partain.
1. Go for the package deal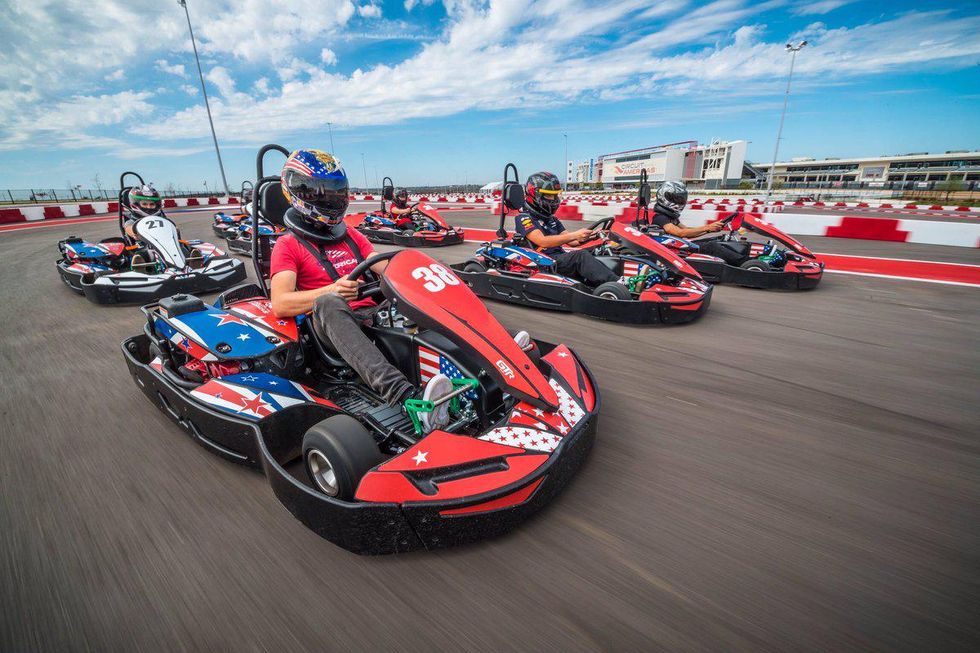 (COTA Karting/Twitter)
Schedule ahead of time online. A 10-minute race at COTA's karting track is $35, and tacking on a ride on the zipline is just $5 more. Go big or go home.
2. Get your gear on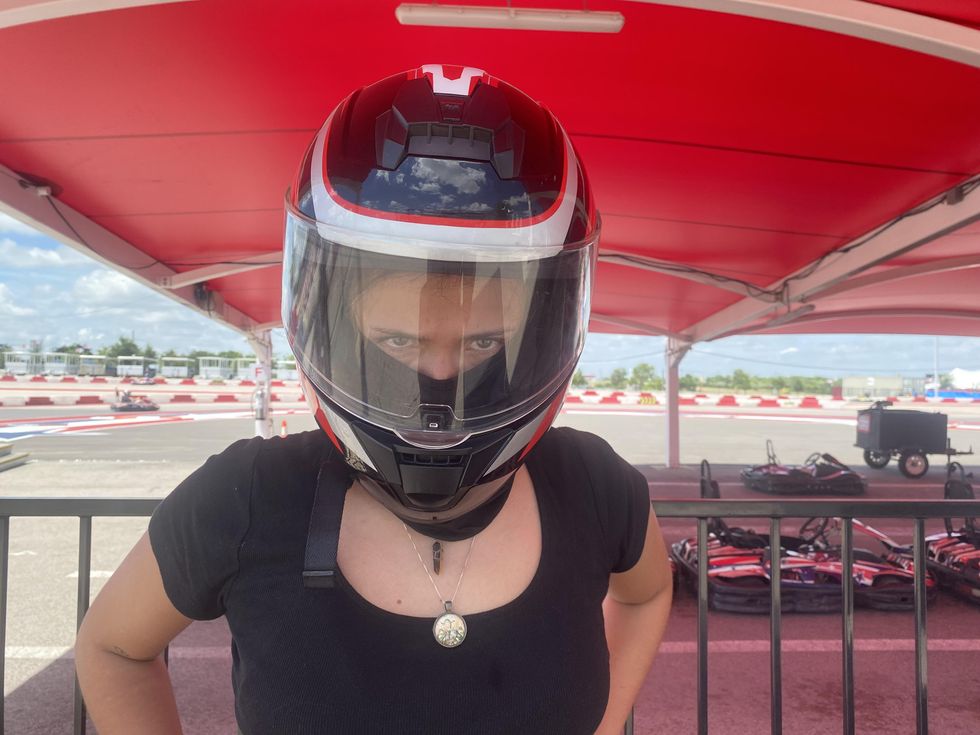 Go-karting gear includes a head sock and helmet. (Laura Figi/Austonia)
The track is located just off the COTA Boulevard entrance near the main course. Get to the track before your race is scheduled to start so you can watch the training video and try on a helmet and a head sock, which functions like a ski mask and goes on under your helmet. It's somehow even less cool-looking than it sounds.
3. To the track
Head to the track! Attendees will pick out a kart for you and make sure you're all strapped in. The first round is a slower round, but people start slamming on the gas pretty much immediately.
4. On the track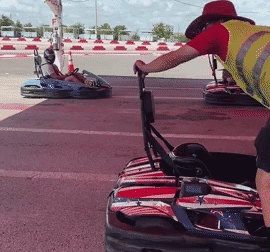 Track time! (Laura Figi/Austonia)
These go-karts go up to 55 mph, and some turns (including the traffic-inducing second-to-last curve) were kind of tough to navigate. Other than avoiding barriers, the most unexpected obstacle I had was avoiding other go-karters who had crashed. Passing people is exhilarating, but don't be the annoying driver who passes people on a hairpin curve either.
When crashes happen, all of the karts are programmed to sputter and slow down, so don't panic like I did and ask why your kart has stopped going fast. Move to the side and wave your hand to get help if your go-kart malfunctions otherwise.
5. Revel in your victory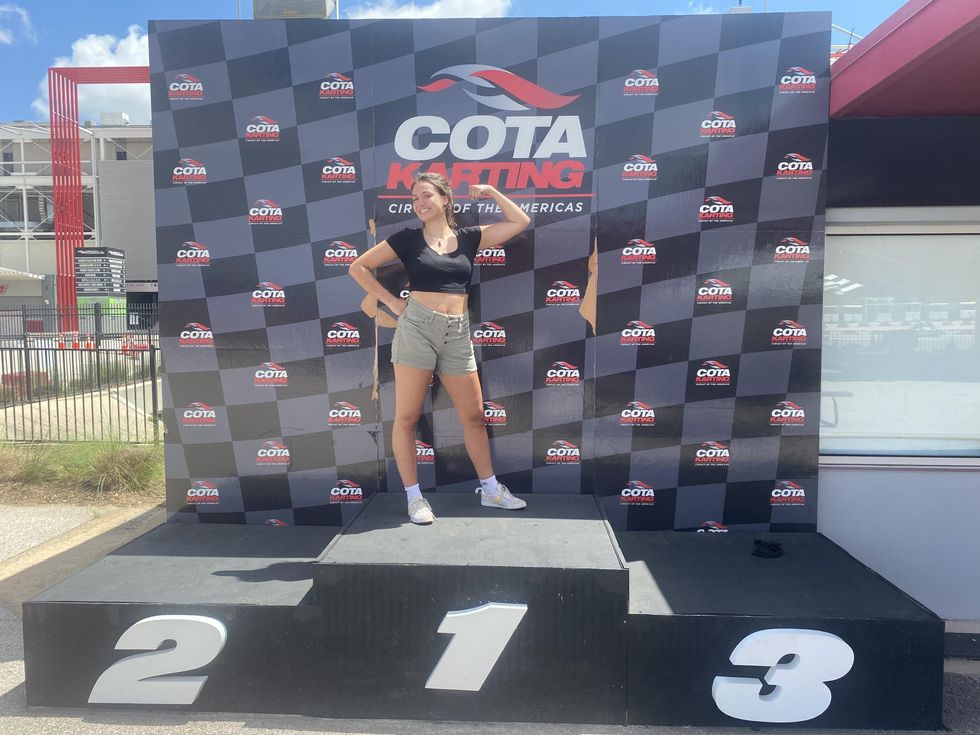 (Laura Figi/Austonia)
Karting is a great way to find out who's the Lewis Hamilton of the family. At the end of the race, COTA will email you your results and give a breakdown of your fastest lap times. There's also a podium for those of us who win the race (I got sixth).
5. The zipline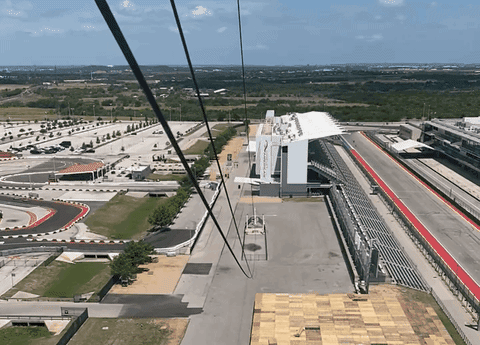 The zipline takes you up above both the COTA and karting track. (Laura Figi/Austonia)
After you've had your taste of adrenaline, get some more at the nearby zipline ride. Unlike traditional ziplines, this route has two seats that take you up and backward before bringing you back down. Grab some quick views of the entire track and hold tightly onto your phone while up top. Other than that, it's a pretty smooth ride.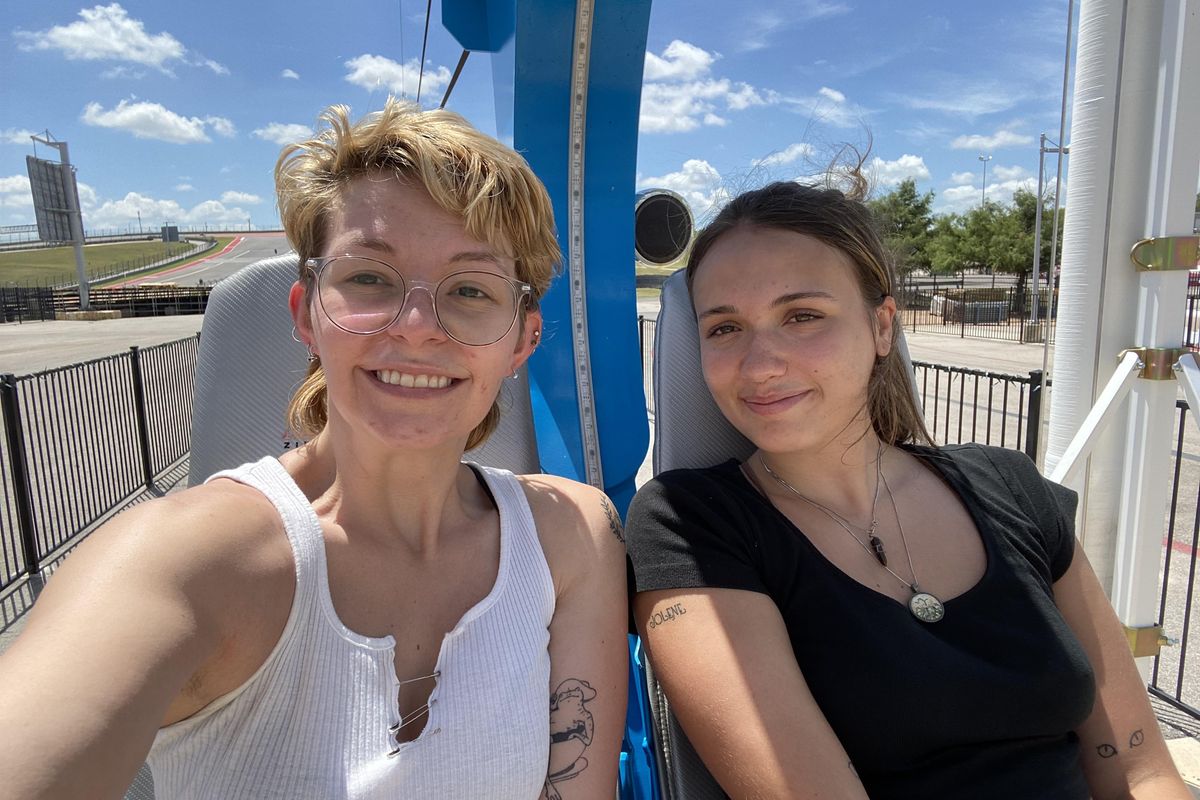 (Laura Figi/Austonia)
Happy karting!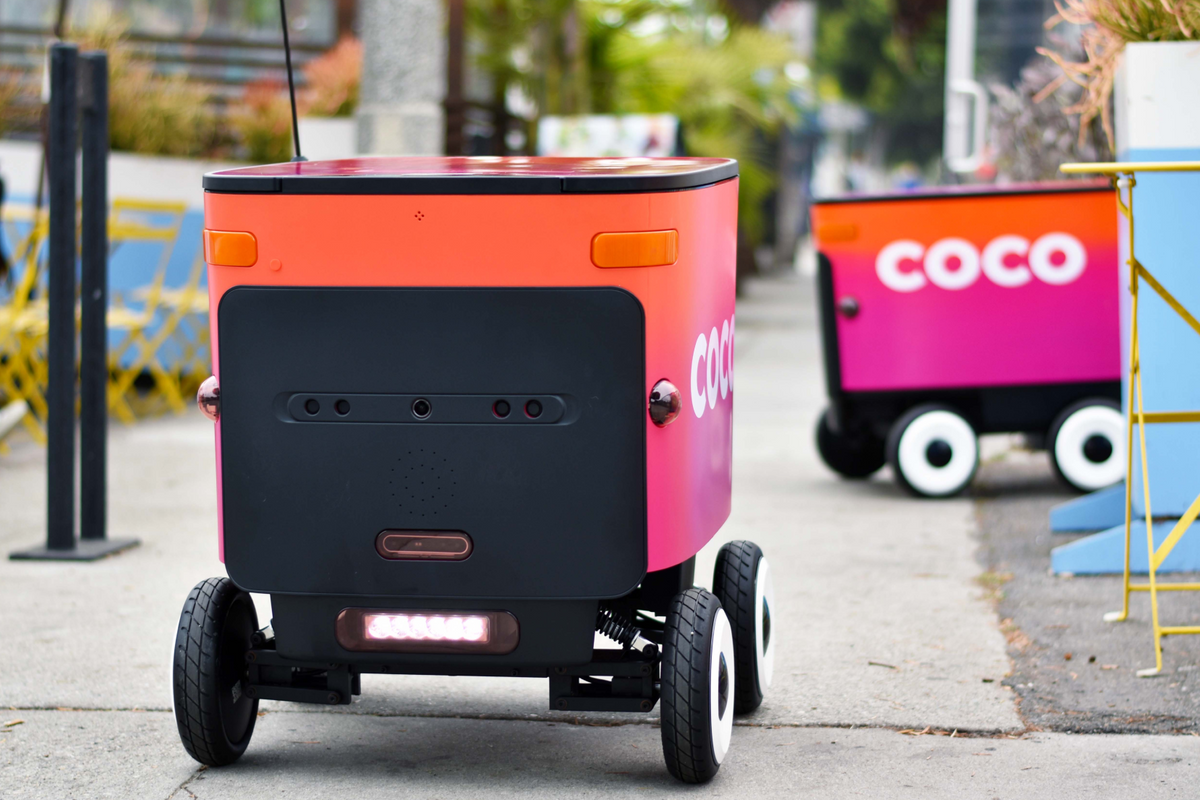 The colorful little robots roaming the streets of Austin, delivering burritos and fried chicken, are likely not going anywhere soon. If anything, this might only be the beginning of the era of robotic delivery.
At least that was the sentiment at the City Council Mobility Committee meeting Thursday when the Transportation Department gave a presentation on the future of personal delivery devices, or PDDs, in the city and outlined the rules they must follow.
PDDs are defined as automated devices operating in pedestrian areas, like sidewalks, or on the shoulders, such as bike lanes. They are currently piloted by employees with a 360-degree view of the road via the cameras built into the machine. Think remote-controlled car but bigger.
PDDs were first seen in Austin in July 2016. In 2019, Senate Bill 969 went into effect, enacting statewide regulations for the robot delivery drivers. The robots aren't permitted to exceed a speed limit of 10 miles per hour on a sidewalk and 20 miles per hour on a shoulder of a road, according to Texas code. They must have a braking system, front and rear lights if operating at night, and must display the operating company's information on the device.
"I just see (the delivery robots) as a pretty effective way to get people some of the things that they need in a timely manner. And from everything that I can tell, it's pretty safe," Council Member Mackenzie Kelly said.
Currently, only two companies, Coco and Refraction AI, are using PPDs in Austin, but other PDDs on Austin streets or even in the air are on the horizon. One delivery robot, developed by Ford, takes parcels from trucks to customers' doors, and Uber and Amazon Prime are preparing to deploy – or have deployed – drone-like devices.
"These are not currently in Austin, but these are things that have been developed and are operating in various parts of the world," said Jacob Culberson, division manager of mobility for the Transportation Department.
Transportation has partnered with Coco and Refraction AI to ensure they are operating in compliance with state rules. The department is currently working with the companies to create best-practice guidelines, with rules such as prohibiting the use of parkland or avoiding state Capitol grounds.
"We think that transportation is important from the standpoint of getting things places more efficiently and more sustainably," said Luke Schneider, CEO of Refraction AI.
Though the reception was mostly positive, Council Member Natasha Harper-Madison raised concerns that automating delivery services could take jobs away from people who might deliver items by bike, car or foot.
"Is there some sort of counterbalance for the workforce when we start to automate?" Harper-Madison asked.
"We are hiring, and we are hiring fast. We have plenty of places for these people to work who would ever be displaced by such a thing," Schneider said.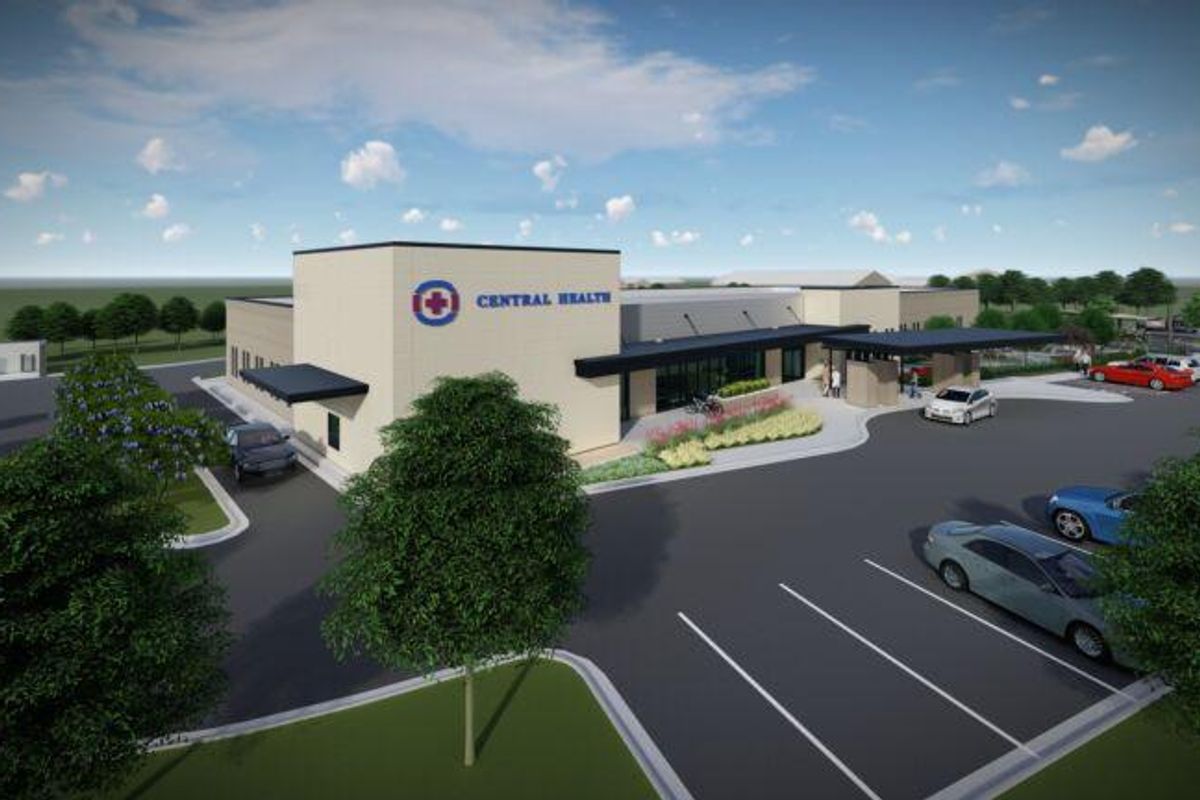 The Travis County Commissioners Court voted unanimously July 26th to require that Central Health undergo an unprecedented independent performance audit. Commissioners voted again August 2nd to go with the tougher of two proposals for the scope of that audit.
A key goal of the audit is to obtain nitty-gritty details about what medical services Dell Medical School has provided to low-income Travis County residents in return for the $35 million annual payments from Central Health—$280 million so far. Over the initial 25-year term, payments will add up to $875 million and every penny of it comes out of the pockets of Travis County property taxpayers.