Get connected with our daily update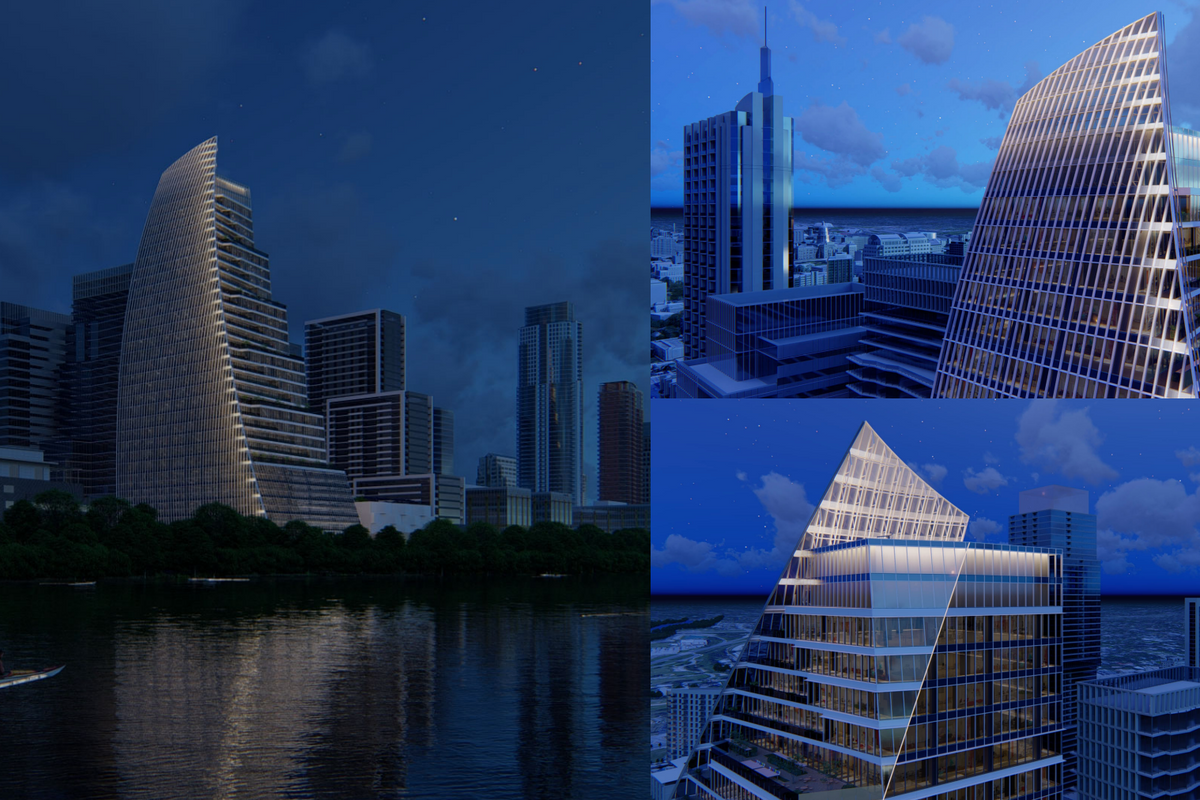 Soon, Googlers will head to their workday at the sailboat skyscraper in Downtown Austin, right at the edge of Lady Bird Lake.
The tower, also known as Block 185, is nearing its completion of early summer. In the works for nearly five years, the project came together through grit and calculated design work.
---
For starters, the project involved digging 30 feet below the water line of the lake, making it the largest below-grade excavation ever done in Austin. On the building itself, a two-story mockup underwent wind and rain tests in Dallas to check for leaks and other possible issues. And finally, with workers designing the building from all over and construction starting right as COVID-19 first ramped up, an "army of drones" circling the building helped the team stay up to date even if they weren't in Austin.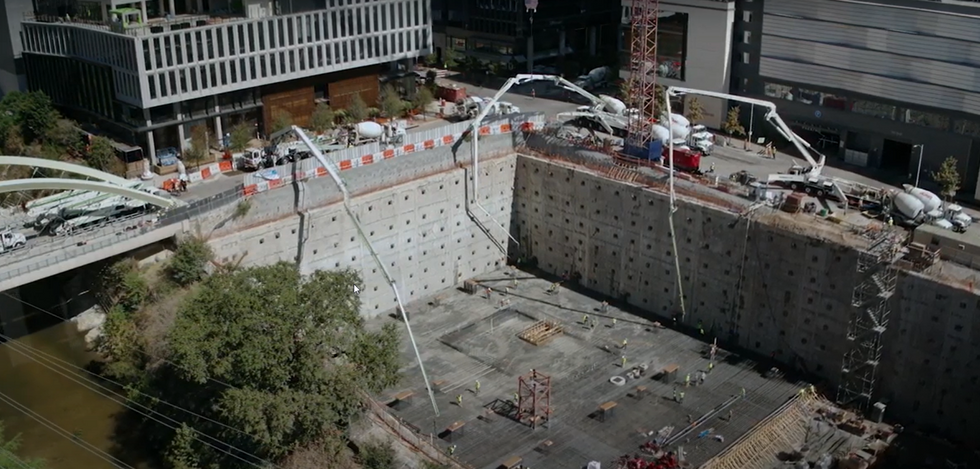 Excavation for below the tower. (DPR Construction)
The unique shape has gotten a lot of buzz, but the shape was a necessity. The previous land development code for the city required that any projects in that area up against a body of water like a creek, lake or river needed to have a slope down in the form of a 40-degree setback to preserve solar access.
"So because we were in the unique position of being on both (the creek and the river), we had to lay that envelope restriction over the building and that's what created that interesting sort of pyramidal shape," Principal of STG Design Jim Stephenson told Austonia.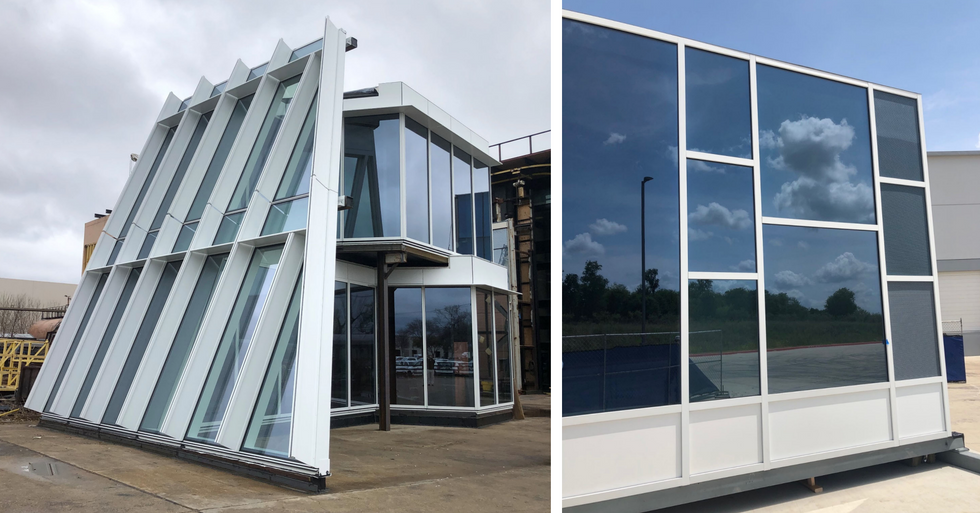 Mock ups tested for withstanding harsh weather conditions in Dallas, Texas. (STG Design)
Austin-based STG Design paired with Pelli Clarke & Partners, Trammell Crow and DPR Construction in 2017 to start planning the tower—before Google even came on as a tenant of the building. STG Design worked with tech giants in the past, including Oracle, where they just completed work on the new headquarters in Austin.
"As Austin matures, we're starting to see a lot more of that sophistication that's been prevalent in New York City, San Francisco, Chicago," Stephenson said. "So all those ideas and all the specialty that goes into high rises are starting to trickle into the Austin market because obviously, you're seeing Austin bloom right before your eyes."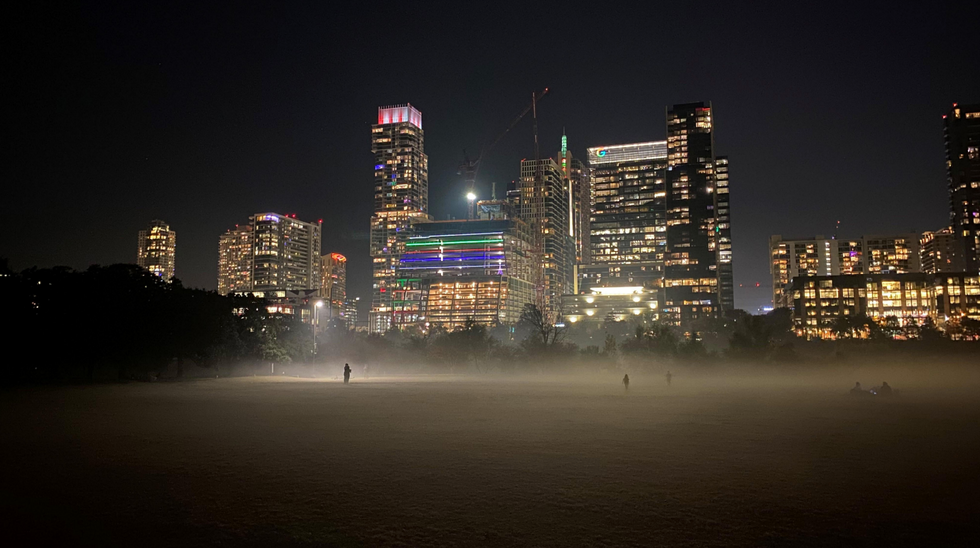 Downtown Austin while the tower was in the works. (DPR Construction)
With Google coming on as a tenant last year, they were drawn in by the outdoor spaces like the terraces, but there were some details and personal touches to add.
For one, minimizing harm to birds. When birds see an opening less than two by four inches, they know their body won't fit through it, Stephenson said.
Since the building looked to be all glass, it needed lines of frit. That's the name for an acrylic coating put on the perimeter of the building that will help prevent birds from flying into it.
Construction on the Google tower in February 2021. (Austonia)
The design team also had to consider the Texas heat, which they handled with automatic shades plus solar sunscreens on the curved portion facing west. Sustainability has also been a priority for the building and a LEED Platinum certification is being considered for it, which would be the second downtown tower with this sustainability certification.
With nature handled, Google had other plans for customizing the office space.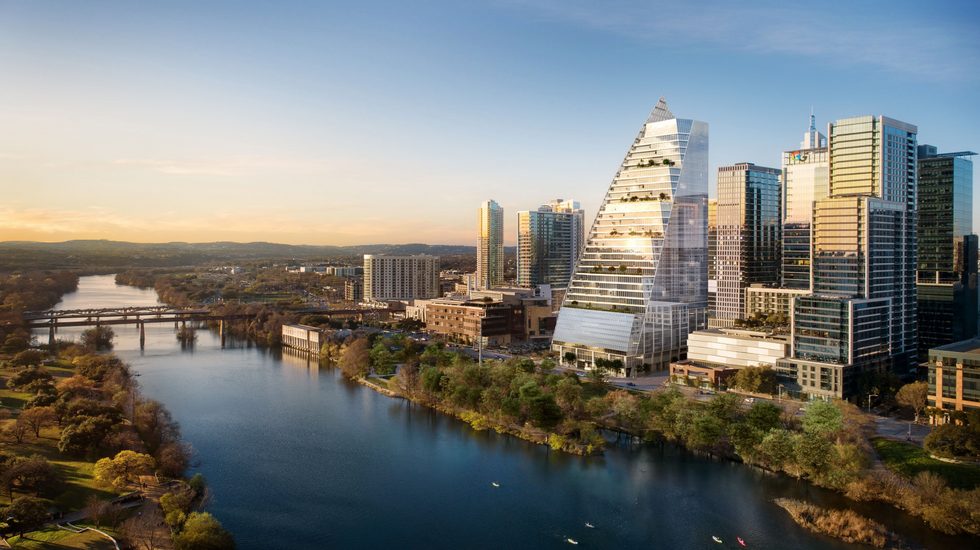 Rendering of the complete Google building. (Steelblue)
Originally designed to fit about 1,600 parking spaces, Google decided to use some of the space differently. Instead, it went with the office perks tech giants are famous for: A two-story fitness space with creek views.
Making it easy to get to the office was also a must. They added a bike storage area with showers and e-bikes. The garage is also filled with EV charging stations. And there are transit monitoring stations where people can view bus traffic and someday light rail schedules.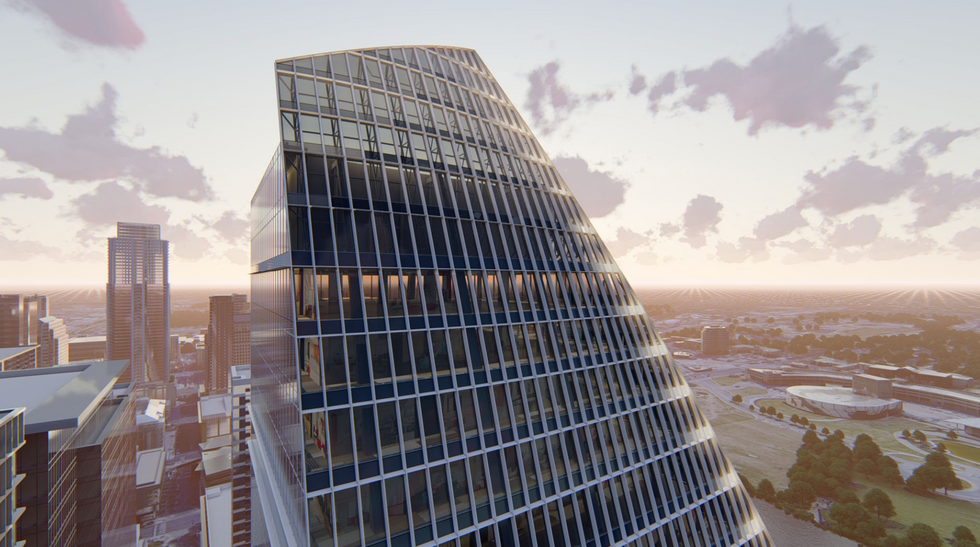 The top of Block 185. (Pelli Clarke & Partners)
Stephenson, who came to college in Austin in the 90s, mentioned the city hadn't even put up its first big tower by the time he returned just a few years later. He lit up talking about the details of the building and how being part of shaping the Austin skyline has felt like an honor.
"It really finishes a very exciting part of the city, kind of fills in that urban fabric. Second Street is hugely popular with retailers," Stephenson said. "So getting to put the punctuation point so to speak on such an exciting area of the city and signpost that Austin is taking the next step to becoming a world-class city has been amazing."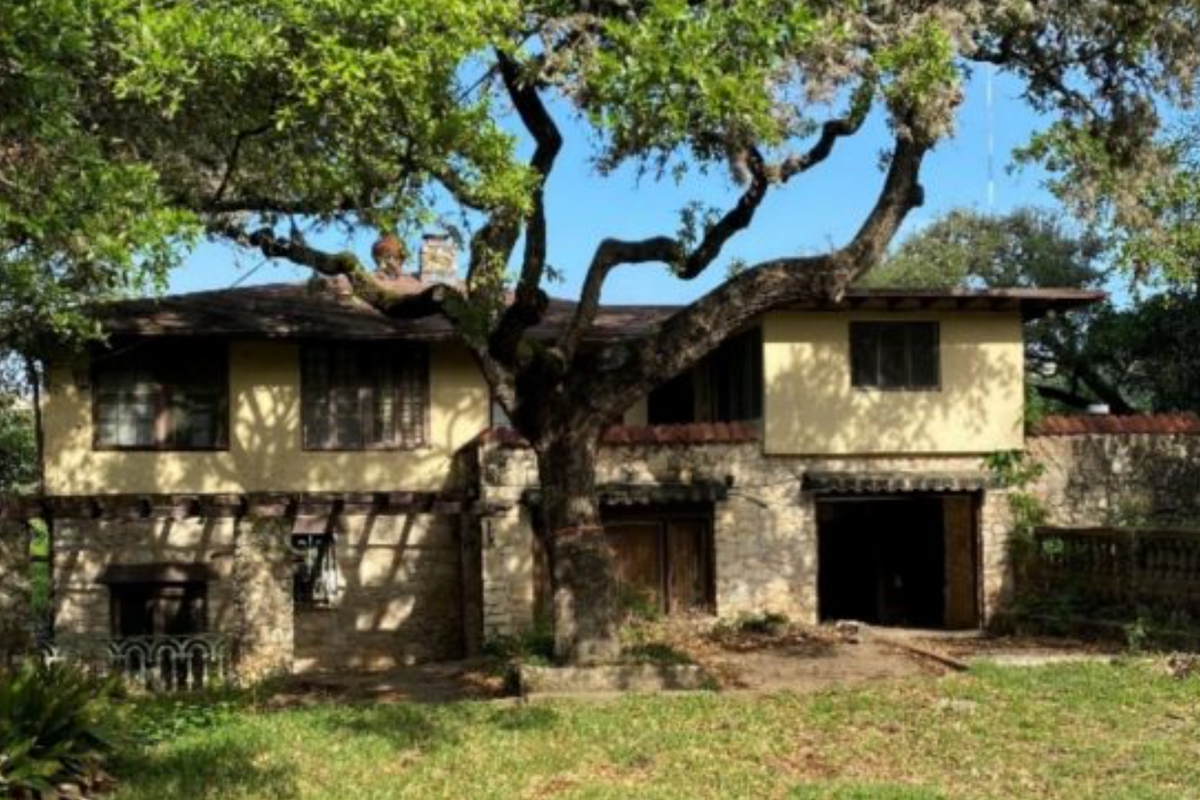 Austin Monitor
By Jonathan Lee
The Planning Commission was split Tuesday on whether to help save an eclectic lakefront estate from demolition by zoning it historic amid concerns over tax breaks and the likelihood that a previous owner participated in segregation as a business owner.
The property in question, known as the Delisle House, is located at 2002 Scenic Drive in Tarrytown. The main house, with Spanish and Modern influences, was built in 1923 by Raymond Delisle, an optician. A Gothic Revival accessory apartment was built in 1946. The current owner applied to demolish the structures in order to build a new home.'
Historic preservationists, for their part, overwhelmingly support historic zoning, which would preserve the buildings in perpetuity. The Historic Landmark Commission unanimously voted to initiate historic zoning in July, citing architectural significance, landscape features and association to historic figures. City staffers recommend historic zoning, calling both structures one-of-a-kind examples of vernacular architecture.
Tarrytown neighbors have also banded together to stop the demolition. Many have written letters, and a few spoke at the meeting. "How could anyone buy this property with the intent of destroying it?" Ila Falvey said. "I think it's an architectural treasure."
Michael Whellan, an attorney representing the property owner, said that the claims made by preservationists are shaky. The buildings are run down, he said, and have had substantial renovations. A structural engineer hired by the owner said any attempt at preservation would involve tearing down and rebuilding – an undertaking Whellan said would likely cost millions.
Whellan also argued that any historical significance derived from the property's association with Delisle and longtime owner C.H. Slator is dubious. "These men are not noted for any civic, philanthropic or historic impact," he said.
What's more, according to Whellan, Slator likely participated in segregation as the owner of the Tavern on North Lamar Boulevard between 1953 and 1960.
A city staffer, however, said she found no evidence to support the claim. "We would never landmark a property where a segregationist lived, or there was a racist person," Kimberly Collins with the Historic Preservation Office said.
Commissioner Awais Azhar couldn't support historic zoning in part due to lingering uncertainty about Slator. "Focusing on that factor is not here to disparage an individual or family. It is not about playing the race card. This is an important assertion for us to consider as Planning commissioners," Azhar said.
Commissioner Carmen Llanes Pulido said that allegations of racism should come as no surprise. "We're talking about white male property owners in the 1950s, in Austin, on the west side – and of course they were racist," she said. But she argued that allowing the house to be demolished based on these grounds does nothing to help people of color who have been harmed by racism and segregation.
The question of tax breaks was also controversial. Michael Gaudini, representing the property owner, said that the tax breaks associated with historic zoning would exacerbate inequality by shifting property tax burdens to less affluent communities. City staffers estimate that the property, appraised at $3.5 million, would get either a $8,500 or $16,107 property tax break annually, depending on whether a homestead exemption is applied.
Commissioner Grayson Cox preferred the commission focus not on tax breaks but on whether the structures merit preservation. "To me, nothing in the historic preservation criteria lists, is this person deserving of a tax break or not?"
Azhar, on the other hand, said he plans to propose a code amendment getting rid of city property tax breaks for historic properties.
The commission fell one vote short of recommending historic zoning, with six commissioners in support and three opposed. Azhar and commissioners Claire Hempel and Greg Anderson voted against.
The odds of City Council zoning over an owner's wishes are slim. Nine out of 11 members must vote in favor, and there have only been a handful of such cases over the past several decades.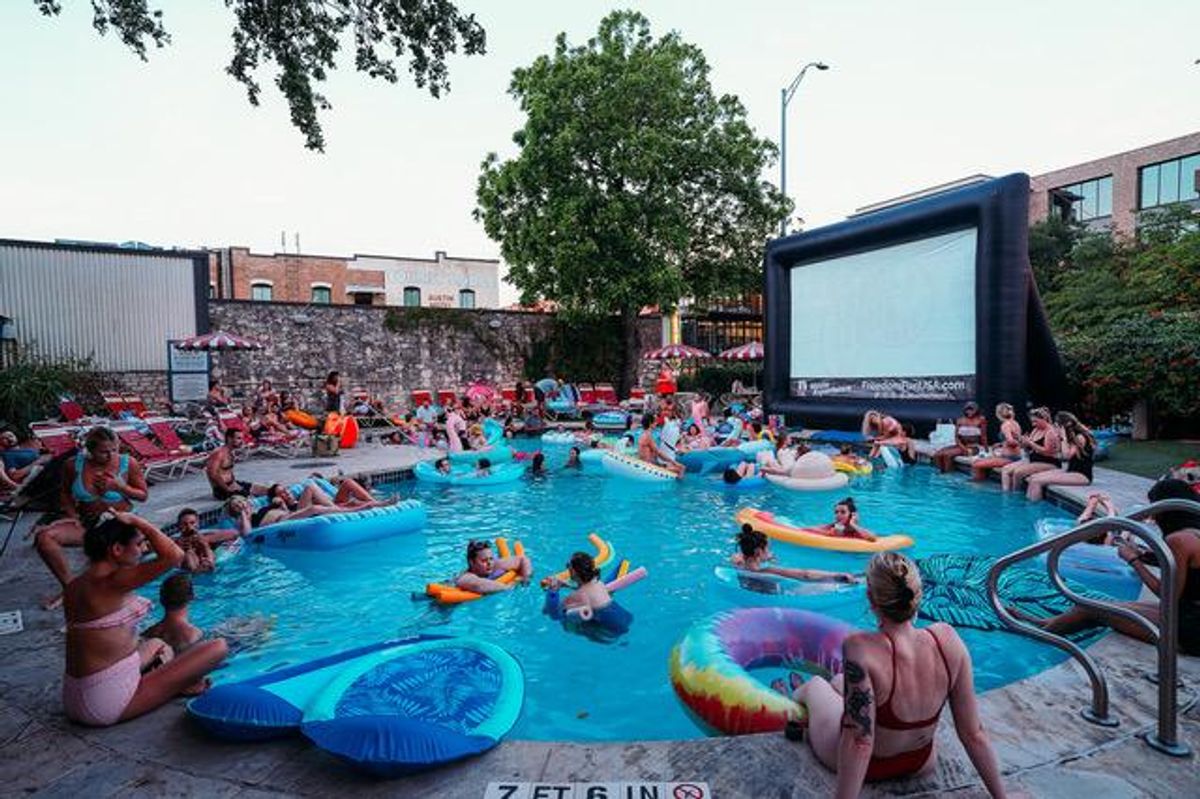 Austin Motel
What's new in Austin food & drink this week:
Nau's Enfield Drug closing after losing their lease. Did McGuire Moorman Lambert buy the building, with its vintage soda fountain?
Nixta Taqueria Chef Edgar Rico named to Time Magazine's Time 100 Next influencer list, after winning a James Beard Award earlier this year.
Question: From what BBQ joint did pescatarian Harry Styles order food this week?
Austin Motel is opening the pool and pool bar Wednesday nights in October for Freaky Floats.
Vincent's on the Lake closing due to "economic conditions and low water levels [at Lake Travis]."
Cenote has closed its Windsor Park location. The East Cesar Chavez location remains open.
The Steeping Room on N. Lamar has closed.
Local startup It's Skinnyscored new financing for its gluten-free pasta business.
P. Terry's opened a new location in Kyle, at 18940 IH-35.