Get connected with our daily update
Austin City Council's decision last month to cut the police budget by 5% continues to rankle.
Texas Gov. Greg Abbott signed a pledge on Thursday opposing police budget cuts and invited candidates in the upcoming election to join him in doing so.
---
"[Law enforcement officers] preserve calm amidst chaos," Abbot said at a press conference, citing the 19th anniversary of 9/11, which is tomorrow. "So it is particularly offensive that some cities are disrespecting and even defunding our law enforcement agencies in communities across the state."
Austin Police Association President Ken Casaday applauded the pledge effort. "I think it is brilliant, and it shows your weak leadership and your weak personalities if you do not sign this," he said.
In a statement issued on Thursday, Austin Mayor Steve Adler called the pledge effort "political theatre intended to scare and distract us from important public safety conversations" about the pandemic response and police reform. He also added that "Austin is the safest big city in Texas and among the few safest in the country."
Full statement here: https://t.co/bPBGpco3Qc https://t.co/U0LOCTKJra

— Mayor Adler | 😷wear a mask. (@Mayor Adler | 😷wear a mask.) 1599768711.0
Chris Harris, director of criminal justice programs at Texas Appleseed and a member of the city's public safety commission, tweeted on Thursday that police unions "are the last folks to trust about what's safe" given their opposition to reform.
Police unions now claiming a minor police budget cut (that hasn't happened yet) makes Austin unsafe saw nothing wro… https://t.co/dlhrBcA4m1

— Chris Harris (@Chris Harris) 1599763455.0
Abbott also announced a legislative proposal that would remove a city's annexation powers if it defunds its police department. "It should leave Austin with no choice to restore the cuts that they have already made to law enforcement," he said.

This is the second such legislative proposal that Abbott has supported. Earlier this month, he tweeted that he was considering a bill that would place the Austin Police Department under state control.
Austin City Council voted unanimously last month to immediately cut approximately $20 million—or about 5%—of the Austin Police Department budget, including eliminating funding from three planned police cadet classes. The APA decried the decision, writing in an Aug. 14 Facebook post that the upcoming—and now canceled—cadet class would have been the first majority-minority in APD's history.
The police academy has come under fire in recent years—prior to the more recent movement to defund police—for its "fear-based" and "paramilitary" approach to training, discriminatory recruiting practices and attrition rates.
Council members also put an additional $130 million into two transitional funds that will allow several of APD's traditional duties to continue while officials work out which responsibilities to move out from under police oversight.
"The recent deaths of Mr. George Floyd in Minneapolis at the hands of a police officer and our own officer-involved shooting death of Mr. Michael Rmaos have amplified the call for justice in our community in ways we cannot ignore," City Manager Spencer Cronk wrote in the proposed FY 2020-21 budget.
Even with the approved cuts, the city of Austin allocates nearly 40% of its general funds to police, more than double what it spends on its next largest expense.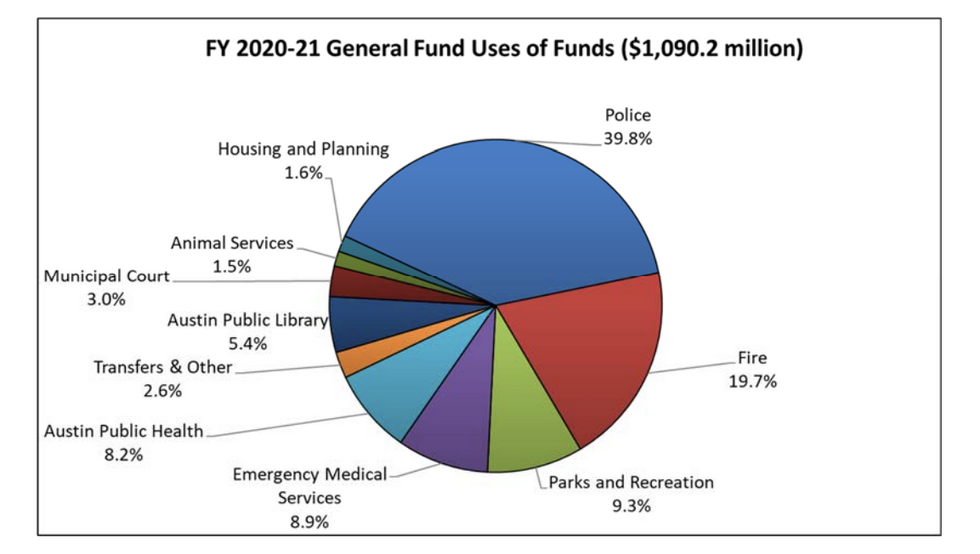 Austin spends more of its general fund on police than anything else.(Austin Finance Online)
Last year, Austin spent more per resident on the police than any of the four largest cities in Texas, according to the Texas Tribune. Between 2008 and 2018, its violent crime rate fell 25%. This year through July, there were 29 homicides, compared with 19 during the same period last year.
The Texas French Bread Bakery, located on 2900 Rio Grande Street, has been completely destroyed after a fire erupted on Monday night.
The Austin Fire Department responded to the fire just before 11 p.m., where they arrived to see flames coming from the roof of the bakery. Firefighters fought the fire for about an hour before the roof collapsed.
While no one was injured in the fire, firefighters say the iconic building was completely totaled.
AFD determined that the fire was accidental and caused by mechanical failure. AFD said the damages amounted to $1.6 million total: $1.1 million in structural damage and $500,000 in damage to the contents of the bakery.

This year, Texas French Bread will celebrate 40 years of business. Before the bakery occupied the building, it was the Rome Inn, a music venue that hosted 1970s artists like Stevie Ray Vaughan.
Austin's first major league team is ready to extend its reach with a new collaborative sports complex The Pitch, an Austin FC destination packed with local food, beverages and Verde fervor is set to open in Northeast Austin in February.
The Pitch, a collaboration between Austin FC and Karlin Real Estate, among other entities, will be located in the 50-acre Parmer Pond District, which already hosts the club's practice facility St. David's Performance Center.
Dubbed a "true destination" for both soccer fans and the community, The Pitch will consist of multilevel shipping containers designed by Mark Odom Studio that will carve out into a 1,200-seat stadium complete with a soccer pitch made of turf, food and beverage options and a five-acre "Parmer Pond" featuring jogging trails.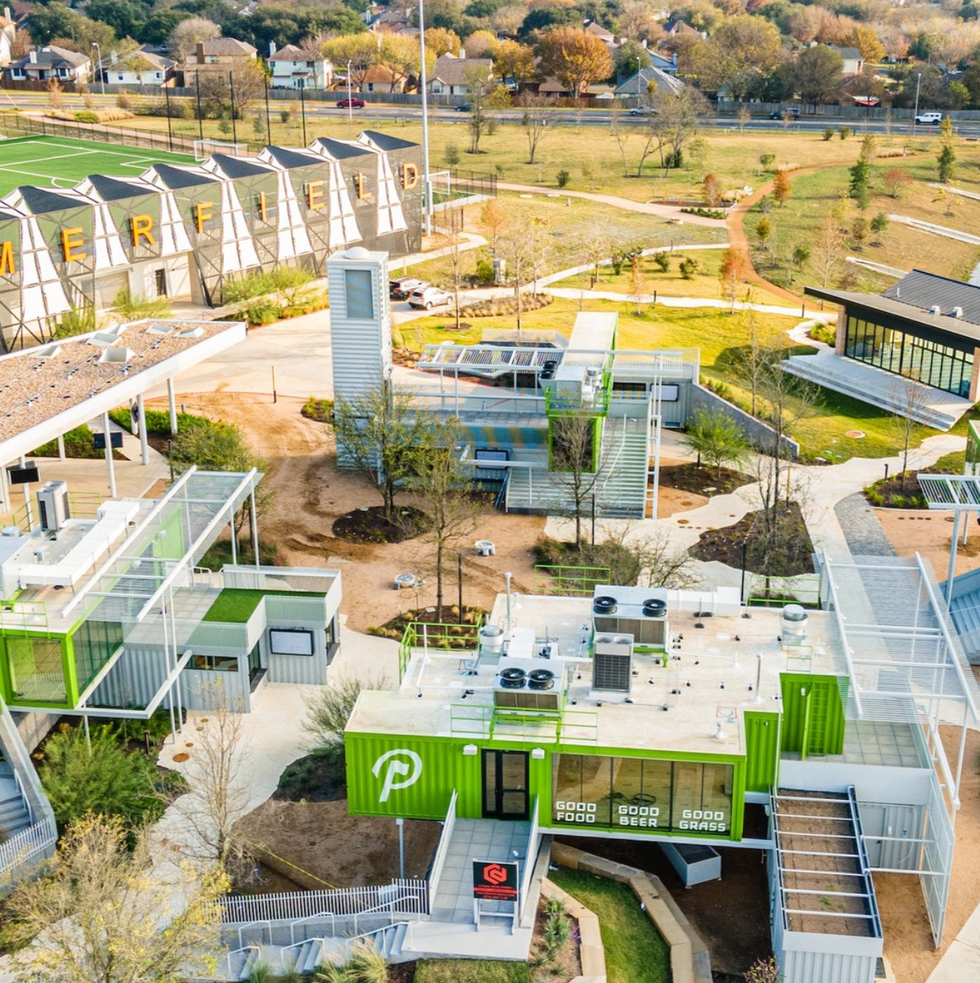 Made from multilevel shipping containers, The Pitch will include food and a 1,200-seat soccer pitch made from artificial turf. (The Pitch)
"The launch of Karlin's new food and entertainment experience will greatly enhance the Parmer development while perfectly complimenting St. David's Performance Center," Austin FC founder Anthony Precourt said. "The Pitch... will offer a strong variety of food options and gathering spaces for guests who will utilize St. David's Performance Center and Parmer Field for a variety of events."
The Pitch project lead Dave Greeley, who helped come up with the concept, is a former president of Austin FC parent company, Two Oak Ventures.
"The vision behind The Pitch at the Parmer Pond District is to be a first-of-its-kind sports, dining and entertainment destination," said Dave Greeley, The Pitch project lead and Team Orbis president. "This will be an unmatched experience for Parmer Austin tenants, Austin FC and club supporters, and the community."
With its proximity to the practice center, the venture hopes to contribute to the growing "soccer city" of Austin during Austin FC matches and youth games with the Austin FC Academy hosted at the St. David's Performance Center.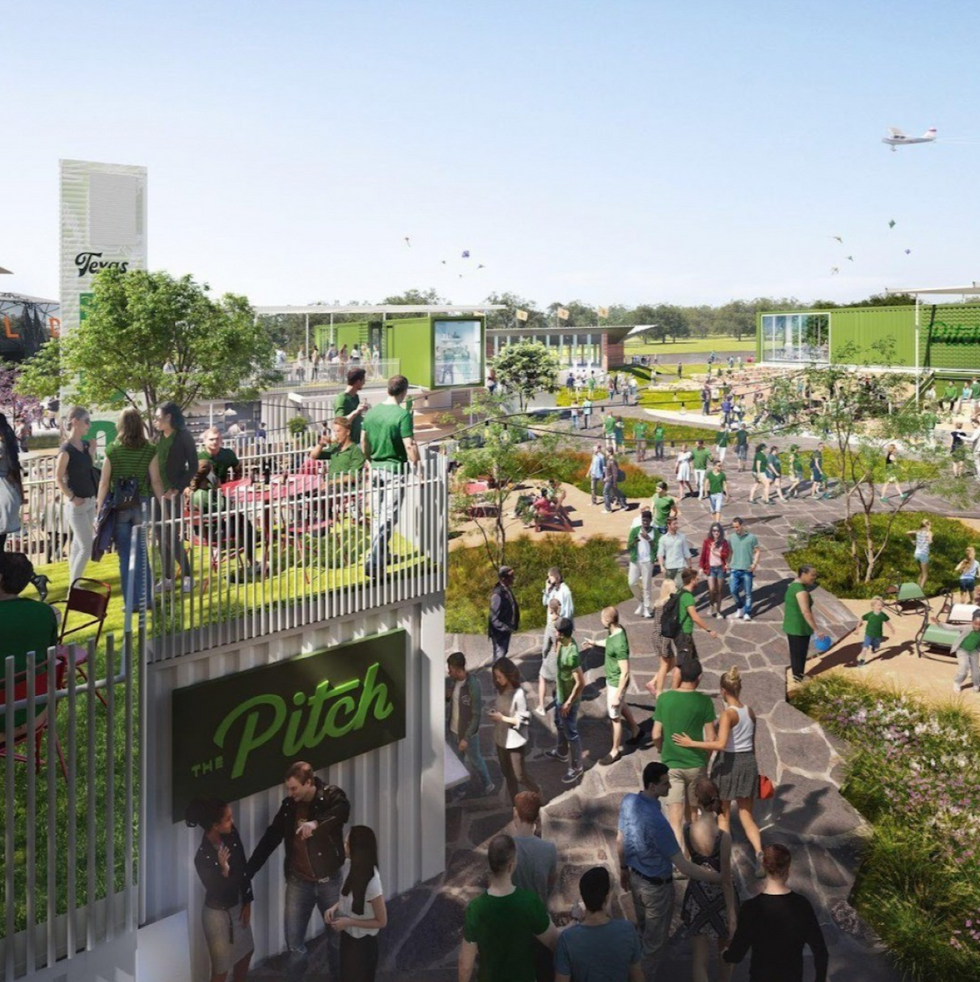 The Pitch hopes to converge both community and club interests with Austin FC. (The Pitch)
In addition to the soccer pitch, stadium and pond, The Pitch will provide a foody experience made by the creative team behind Austin staples like Fareground and Easy Tiger. The complex will offer local bites including:
Ranger Burger, which offers beers and burgers made from highly-coveted Wagyu beef direct from Ranger Cattle in East Austin
Ga Roti, which merges flavors from Northern Vietnam with the culinary techniques of France to create a unique rotisserie chicken joint
Taco Flats, a local taco chain serving Mexico City-style tacos, micheladas and more
Sand Bar, which fulfills its namesake with beauty cocktails, local beers and a sand volleyball court
Coffee Club, a coffee shop and bakery
Corner Kick Bar, the soccer-focused main bar of The Pitch complete with "tunes, TVs and (a) beer garden"
The Pitch will squeeze between St. David's Performance Center and Parmer Pond alongside the southern edge of Parmer Austin, a Karlin Real Estate venture that will eventually include multifamily housing, corporate office space and an aerospace and defense center.