Austonia AM
100% Austin news, info, and entertainment, straight to your inbox at 6 a.m. every morning.
In five minutes, you're fully informed and ready to start another great day in our city.
Get connected with our daily update
Loved by some, hated by many and deeply ingrained into the city, the great-tailed grackle is as synonymous with Austin as Sixth Street.
---
Few topics are more controversial than the grackle, a fearless, crow-like bird that tends to traverse across the city in large flocks and roost in H-E-B parking lots.
The birds evoke so much passion that they have their own Yelp page. Nearly 150 Austinites have written poetically about their great love or disdain for the birds, dubbing them anything from "flying rats" to "the spirit of Austin." One reviewer claimed that grackles "speak truth to power" and are the "final, immovable object in defense in the noblest movement... Keep Austin Weird."
Another believes that the birds are "vaguely evocative of the end times" and a "totem of the decay of our once-great city." While one user has witnessed "daring feats of grackle bravery," another is scarred with the memory of grackles trying to invade their car. Regardless of opinion, many say grackles "feel like home."
Ironically, the one person who seems to have neutral opinions toward the birds may spend the most time on them.
Carly Weaver is an Austin-based artist who is known for paintings of landscapes, bicycles—and grackles. Weaver has painted dozens of grackles on wood surfaces, completed grackle commissions and even sells grackle face masks.
Despite her grackle collection, Weaver hasn't always liked the gregarious Austin birds.

"I used to be one of the haters," Weaver said. "We used to feed our dogs outside and the grackles (would) just be eating their food, so I'm thinking 'this is ridiculous.' They were pooping everywhere too, and I tried all these tricks and nothing worked."
Eventually, Weaver decided to embrace the grackles rather than fight them.
"If you can't fight them, join them," Weaver said. "So I got on a wild hair one day and said, 'I'm going to paint these guys.' It's just a product of being influenced by your surroundings, and it became an interesting study."
Since then, Weaver has formed a sort of neutral respect for the grackle.
"I find myself really kind of in between," Weaver said. "It's kind of like, I guess I like them, but they're still a pest. However, if there was an initiative to rid Austin of all grackles, I might be upset by that."
While some may dislike the birds, Weaver said that her art is bound to start a conversation.
"It's like the greatest conversation starter," Weaver said. "It's a funny thing as an artist to have people come up and basically say that they hate your artwork. It also gives people reflection to think, 'are they really as awful as I think they are?' Then I had one guy recite a poem once because he felt compelled. It's just a funny social experiment."
One of the more special experiences for Weaver has been making art for those who are moving away from Austin to keep a reminder of home.
"I have a lot of people that buy them for a friend that moved away, or they moved away and need a piece of Austin to take with them, which is cool that I can be a part of those memories," Weaver said. "I mean that's what the grackle is, it is Austin."
The great-tailed grackle has inspired more than just Weaver. In a Jan. 11 article with Audubon, a national society that protects birds, Asher Elbein wrote a thousand-word serenade of the bird, labeling them the "patron bird of anarchists and poets." Elbein wrote he admires the bird for their "clownishness" and their song, but his favorite aspect of the grackle was that "they regard humanity with absolutely no reverence whatsoever".
Although the grackle pest control business is alive and well in Austin and in 1990, shotguns were used to scare the birds away from the University of Texas campus, some have done away with the eternal war on grackles.
On East Sixth Street, a bar has been named "The Grackle." A park in a Central Austin neighborhood has been titled the "Grackle Green," and certain sports teams have been named after the iconic Austin bird.
While no consensus can be made on the grackles, they're certainly here to stay.
(Pexels)
Curiosity into cryptocurrency has grown nationwide with 63% reportedly "crypto curious," or those wanting to learn more about it but have not started investing, according to Gemini, a digital currency exchange and custodian platform. The platform reports 14%, or 21.2 million, Americans currently own cryptocurrency with 68% of owners buying within the last two years.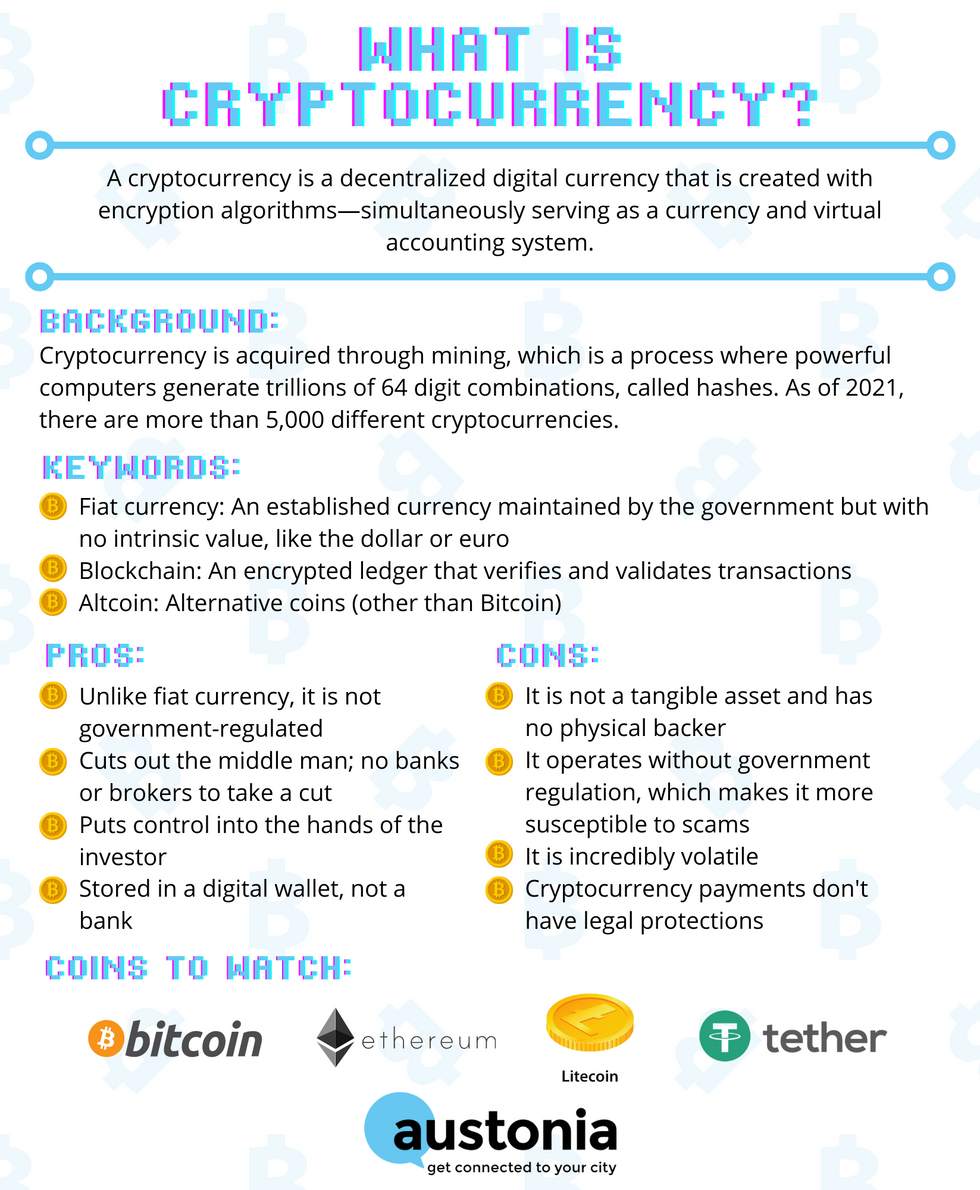 (Laura Figi/Austonia)
Who is buying in?

Sam Nassar, a Texas State University accounting graduate student, started investing in cryptocurrency in July 2020, although he kept up with crypto trends before that. At 23 years old, Nassar said the decision to take the plunge and invest was born from quarantine boredom.
"I've always been intrigued in technology, and I've always been an early adopter, so I just decided to start to invest in it and understand kind of a little bit of behind it," Nassar said. "I do believe in the technology and I know it's so useful and truly is the future"
Since then he has invested over $700 in Bitcoin, Ethereum, Litecoin, Tether, Cardano, Chainlink and Internet Computer.
Cryptocurrency interest is heavily skewed toward younger men with the biggest percentage primarily between the ages of 25 and 44.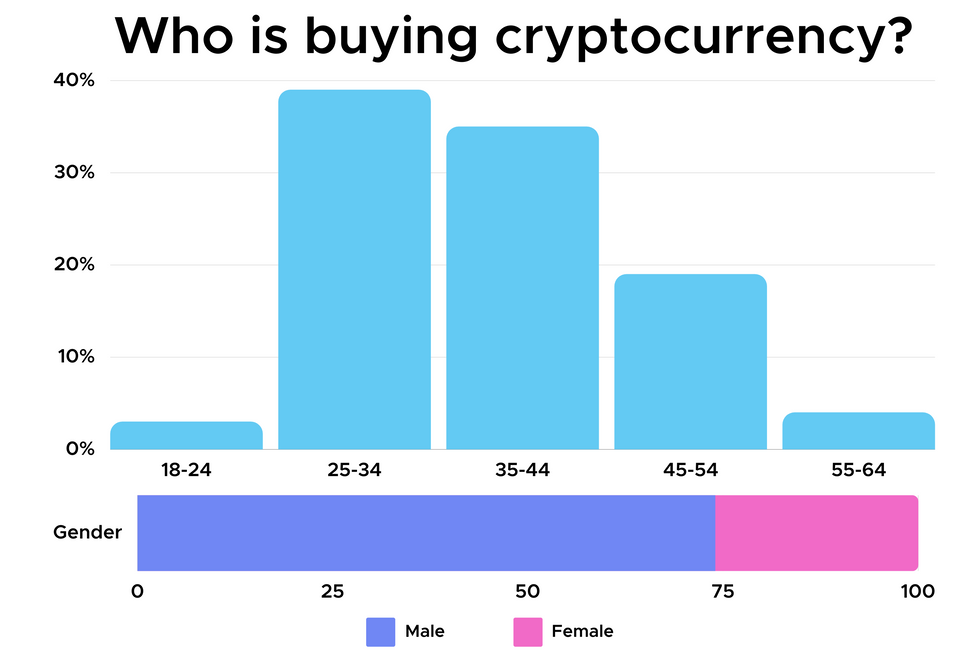 (Laura Figi/Austonia)
Likewise, 26-year-old, Liam Duddy, a South Austin salesman, started to involve himself in cryptocurrency after hearing the buzz about Bitcoin and how much money people were making off of it.

"I was like wow, so you're telling me it only takes me one of these little coins if I can get a hold of them and I have 30 grand," Duddy said. "That opened up a whole different world of all these different kinds of coins you can buy into."
Why are they investing?
For Nassar, cryptocurrency is about being part of the technology of the future. Nassar is studying to be a Certified Public Accountant and believes cryptocurrency, blockchain technology and innovations like smart contracts, or self-executing contracts programs, have the capacity to completely change the industry he wants to work in.
"You're going to have to have specialized auditors that understand blockchain technology in order to truly audit it, otherwise fraud can occur," Nassar said. "I think it really is the future. I really do think that that's another reason I'm investing into it, because I do believe that technology."
Cryptocurrency is about the gains for Duddy, who originally invested $400 and saw a $2,000 return when he invested in Bitcoin and Chainlink. Although he does see value in the future of blockchain technology, Duddy also has fun with it.

"Right now there's not a whole lot (of real-world application), it's not as easy to pay with, but if I have it and it's going up, you have one of them it's worth $50,000 U.S. dollars you can buy a car," Duddy said. "I guess you look at it as something fun to start off with."
What's their advice for new investors?
Do your research before investing
Use a platform meant for cryptocurrency
Don't just listen to Elon Musk's predictions
Look before you leap
Both Nassar and Duddy recommend using an app like Coinbase or Gemini, to track your cryptocurrency.
Finally, don't let the volatility scare you but do make sure you do your research before you sink your life savings into an unregulated currency.
"At the end of the day it's like gambling," Duddy said.
From Your Site Articles
Related Articles Around the Web
Texas Gov. Greg Abbott announced Monday that Texas will opt out of further federal unemployment benefits related to the pandemic effective June 26, citing the number of current job openings and concern about potentially fraudulent unemployment claims. The benefits include a $300 weekly supplement.
"The Texas economy is booming and employers are hiring communities across the state," Abbott said in a statement. "According to the Texas Workforce Commission, the number of job openings in Texas is almost identical to the number of Texans who are receiving unemployment jobs."
TWC listed 837,273 job openings as of Monday afternoon compared to 226,849 unemployment insurance claims filed statewide between March 31 and May 1. An estimated 1 million Texans were unemployed as of March, according to latest estimates released by the state agency.
Some local business owners, including Doc's Backyard Grill owner Charles Milligan, suspect unemployment benefits are deterring Austinites from returning to work. But others agree with economists who say multiple factors are at play, including health concerns and child care availability.
We're seeing lots of posts about how nobody wants to work right now. Just wanted to share our experience.

We received over 60 resumes for a taproom bartender position we posted last week. Every applicant we've set up an interview with has shown up.

People want 𝘨𝘰𝘰𝘥 work.
— Austin Beerworks (@AustinBeerworks) May 11, 2021
Abbott also cited fraudulent unemployment claims. Between March 2020 and April 2021, TWC received 4.48 million unemployment benefit applications, 611,000 or around 14% of which were tagged as suspicious. Most of those tagged were blocked before any benefits were paid out, according to an April 29 press release.

Federal law requires the effective date of such benefits change to be at least 30 days after the U.S. Department of Labor is notified.
From Your Site Articles
Related Articles Around the Web
Is it just us, or is the current Austin mask situation confusing? Are we supposed to wear a mask or not, and where? And should we wear one anyway, even if not requested or required?
Austin health orders requiring masks expire Tuesday. What then?
Take our three-question quiz, and tell us what you're thinking.