Get connected with our daily update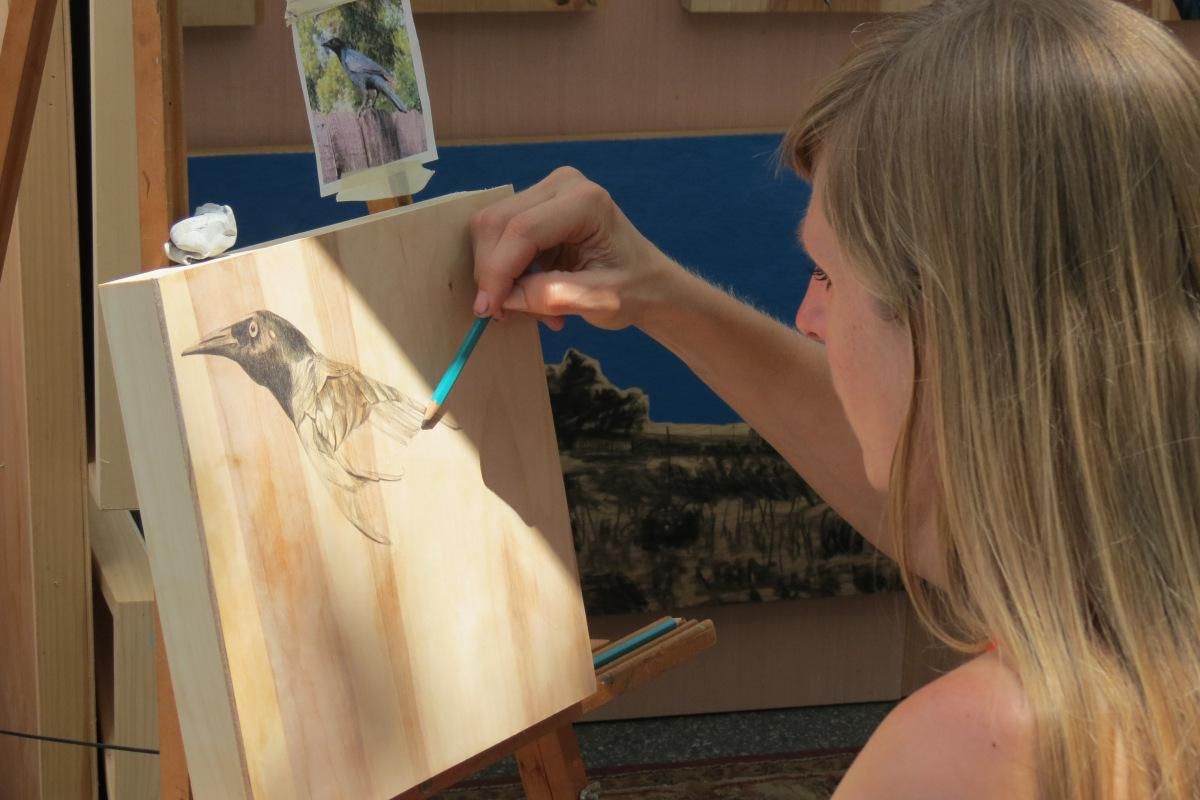 Loved by some, hated by many and deeply ingrained into the city, the great-tailed grackle is as synonymous with Austin as Sixth Street.
---
Few topics are more controversial than the grackle, a fearless, crow-like bird that tends to traverse across the city in large flocks and roost in H-E-B parking lots.
The birds evoke so much passion that they have their own Yelp page. Nearly 150 Austinites have written poetically about their great love or disdain for the birds, dubbing them anything from "flying rats" to "the spirit of Austin." One reviewer claimed that grackles "speak truth to power" and are the "final, immovable object in defense in the noblest movement... Keep Austin Weird."
Another believes that the birds are "vaguely evocative of the end times" and a "totem of the decay of our once-great city." While one user has witnessed "daring feats of grackle bravery," another is scarred with the memory of grackles trying to invade their car. Regardless of opinion, many say grackles "feel like home."
Ironically, the one person who seems to have neutral opinions toward the birds may spend the most time on them.
Carly Weaver is an Austin-based artist who is known for paintings of landscapes, bicycles—and grackles. Weaver has painted dozens of grackles on wood surfaces, completed grackle commissions and even sells grackle face masks.
Despite her grackle collection, Weaver hasn't always liked the gregarious Austin birds.

"I used to be one of the haters," Weaver said. "We used to feed our dogs outside and the grackles (would) just be eating their food, so I'm thinking 'this is ridiculous.' They were pooping everywhere too, and I tried all these tricks and nothing worked."
Eventually, Weaver decided to embrace the grackles rather than fight them.
"If you can't fight them, join them," Weaver said. "So I got on a wild hair one day and said, 'I'm going to paint these guys.' It's just a product of being influenced by your surroundings, and it became an interesting study."
Since then, Weaver has formed a sort of neutral respect for the grackle.
"I find myself really kind of in between," Weaver said. "It's kind of like, I guess I like them, but they're still a pest. However, if there was an initiative to rid Austin of all grackles, I might be upset by that."
While some may dislike the birds, Weaver said that her art is bound to start a conversation.
"It's like the greatest conversation starter," Weaver said. "It's a funny thing as an artist to have people come up and basically say that they hate your artwork. It also gives people reflection to think, 'are they really as awful as I think they are?' Then I had one guy recite a poem once because he felt compelled. It's just a funny social experiment."
One of the more special experiences for Weaver has been making art for those who are moving away from Austin to keep a reminder of home.
"I have a lot of people that buy them for a friend that moved away, or they moved away and need a piece of Austin to take with them, which is cool that I can be a part of those memories," Weaver said. "I mean that's what the grackle is, it is Austin."
The great-tailed grackle has inspired more than just Weaver. In a Jan. 11 article with Audubon, a national society that protects birds, Asher Elbein wrote a thousand-word serenade of the bird, labeling them the "patron bird of anarchists and poets." Elbein wrote he admires the bird for their "clownishness" and their song, but his favorite aspect of the grackle was that "they regard humanity with absolutely no reverence whatsoever".
Although the grackle pest control business is alive and well in Austin and in 1990, shotguns were used to scare the birds away from the University of Texas campus, some have done away with the eternal war on grackles.
On East Sixth Street, a bar has been named "The Grackle." A park in a Central Austin neighborhood has been titled the "Grackle Green," and certain sports teams have been named after the iconic Austin bird.
While no consensus can be made on the grackles, they're certainly here to stay.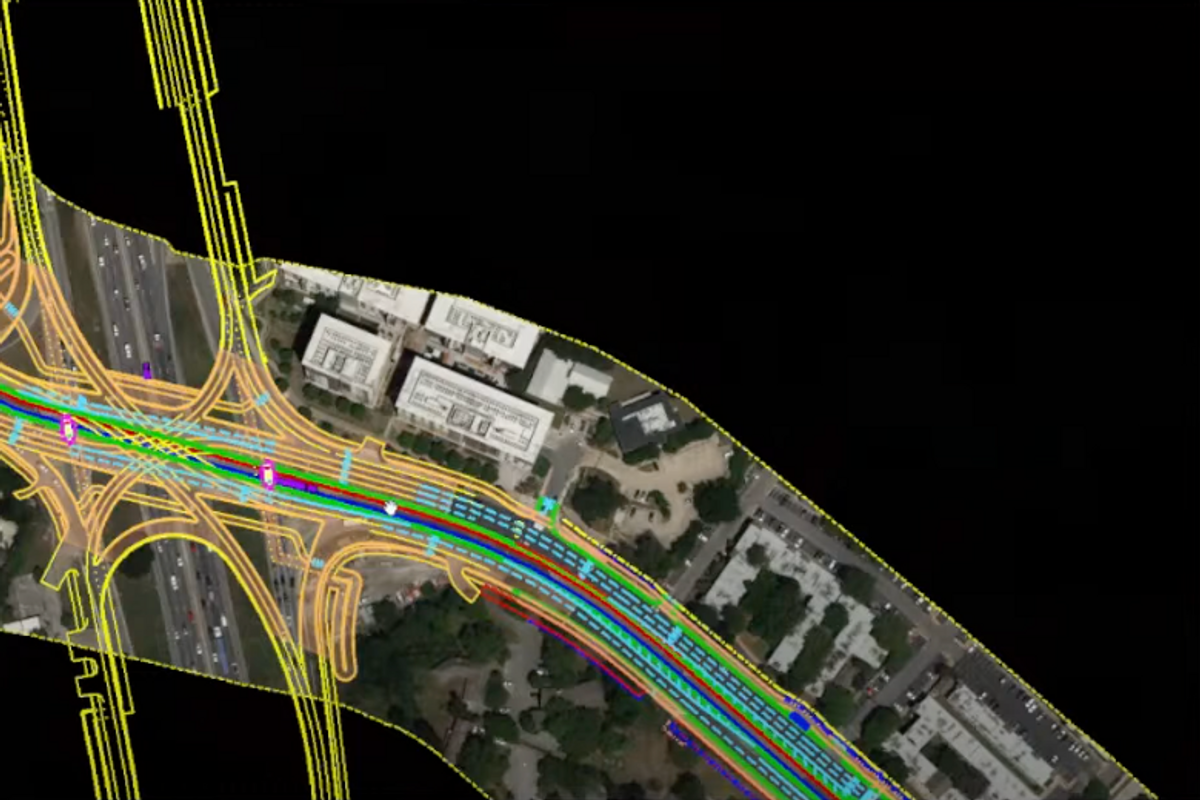 Designs for stations along Project Connect's Blue Line were presented this week, giving a detailed look at what part of the rail system extending from downtown to the airport could look like.
The planned stations that have gotten the latest focus include Waterfront, Travis Heights and Lakeshore stations past Lady Bird Lake.
At the Waterfront station, the preliminary design aims to prevent visual obstructions and save on costs. This is accomplished by a transit guideway that will lower from the bridge to a level station.
Heading onto East Riverside Drive, the light rail faces a curve requiring a slow down to about 10 miles per hour.
The Travis Heights station could involve relocating a pedestrian crosswalk zone at Alameda Drive to Blunn Creek. Since light rails can't effectively operate on a steep grade, this allows the transit guideway to avoid that.
From there, the rail will extend to the Norwood Park area, and though it will reach along the right-of-way zone, the park will be able to remain open.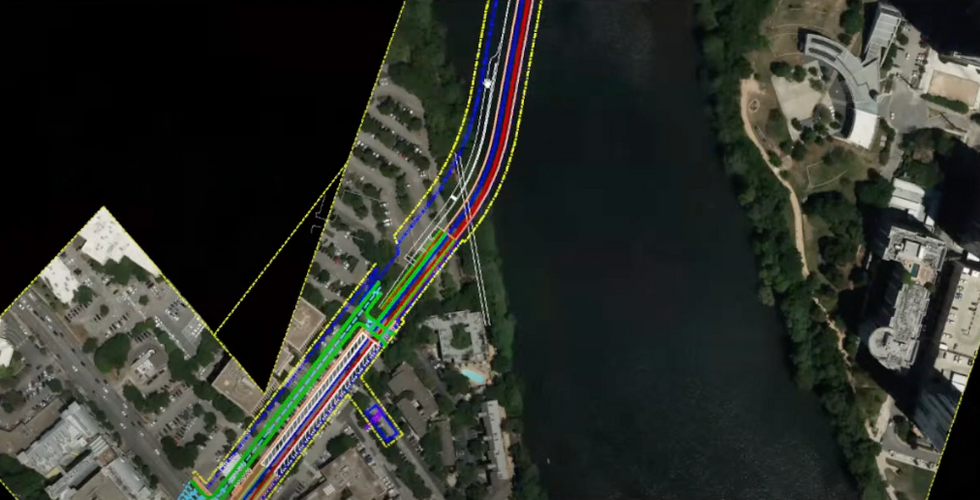 A view of the Blue Line by Lady Bird Lake. (Project Connect)
The line involves some coordination with the Texas Department of Transportation. That's because the department is working on an intersection that will have to be built before the phasing of the section of the Blue Line involving an I-35 crossing.
When it comes to the safety of cyclists and walkers, design ideas include a pedestrian hybrid beacon by East Bouldin Creek that would provide a protected signal to cross. And for the intersection TxDOT is carrying out, Project Connect is working with them on pedestrian access across the intersection. It could involve shared use paths along the street and crossings beneath it.
This summer, the public can expect 30% of design and cost estimates to be released. Though the project was $7.1 billion when voters approved it in November 2020, the latest estimates factoring in inflation and supply chain constraints show it could ultimately be upwards of $10 billion.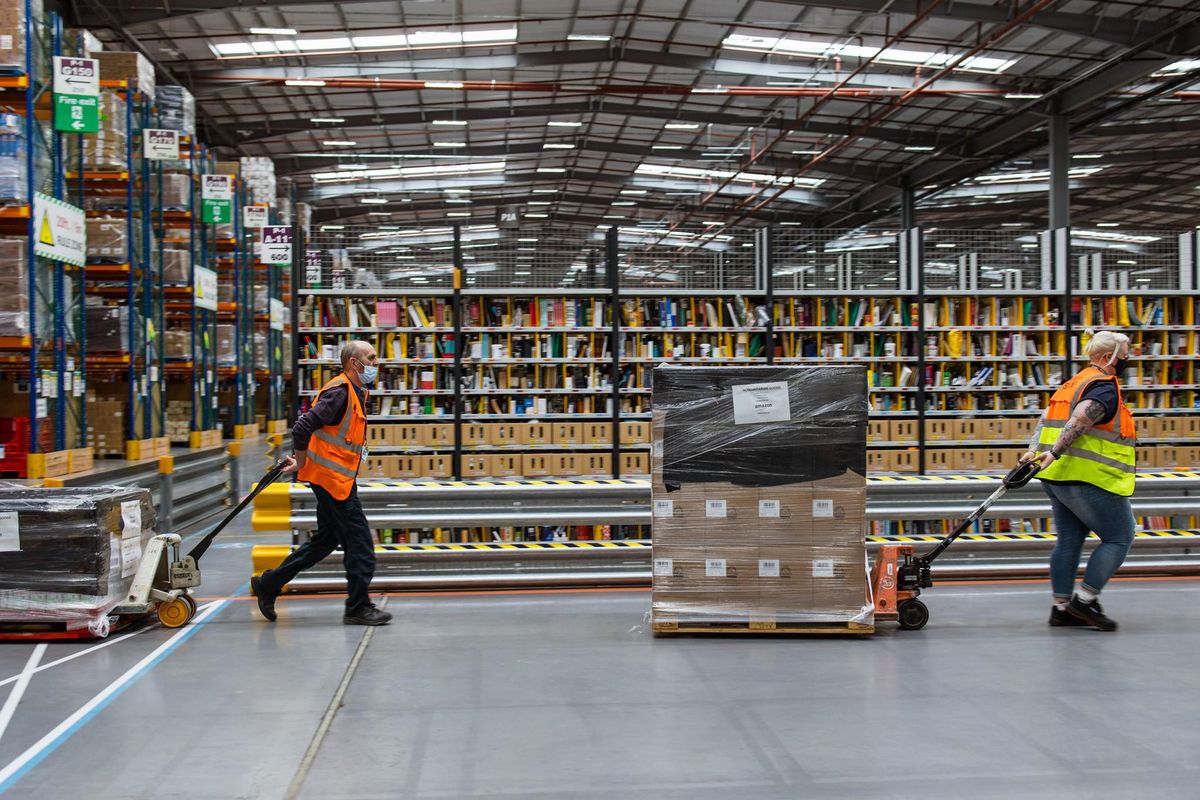 Plans for an Amazon warehouse in Round Rock—a $250 million project slated to be a large distribution center—are on hold.
This comes just after the tech giant had its worst financial quarter in seven years.
The details:
Late last year, it announced an expansion at the Domain adding 2,000 more corporate and tech jobs.
Amazon still owns the site in Round Rock. Plans for it are unclear.
Early this week, the Wall Street Journal reported that Amazon is aiming to scrap warehouse space as it faces a slowdown in its e-commerce operations.
Part of that effort involves exploring the possibility of ending or renegotiating leases with outside warehouse owners. Another aspect is a plan to sublease warehouse space.
"It allows us to relieve the financial obligations associated with an existing building that no longer meets our needs," an Amazon spokeswoman told the Wall Street Journal. "Subleasing is something many established corporations do to help manage their real estate portfolio."