Get connected with our daily update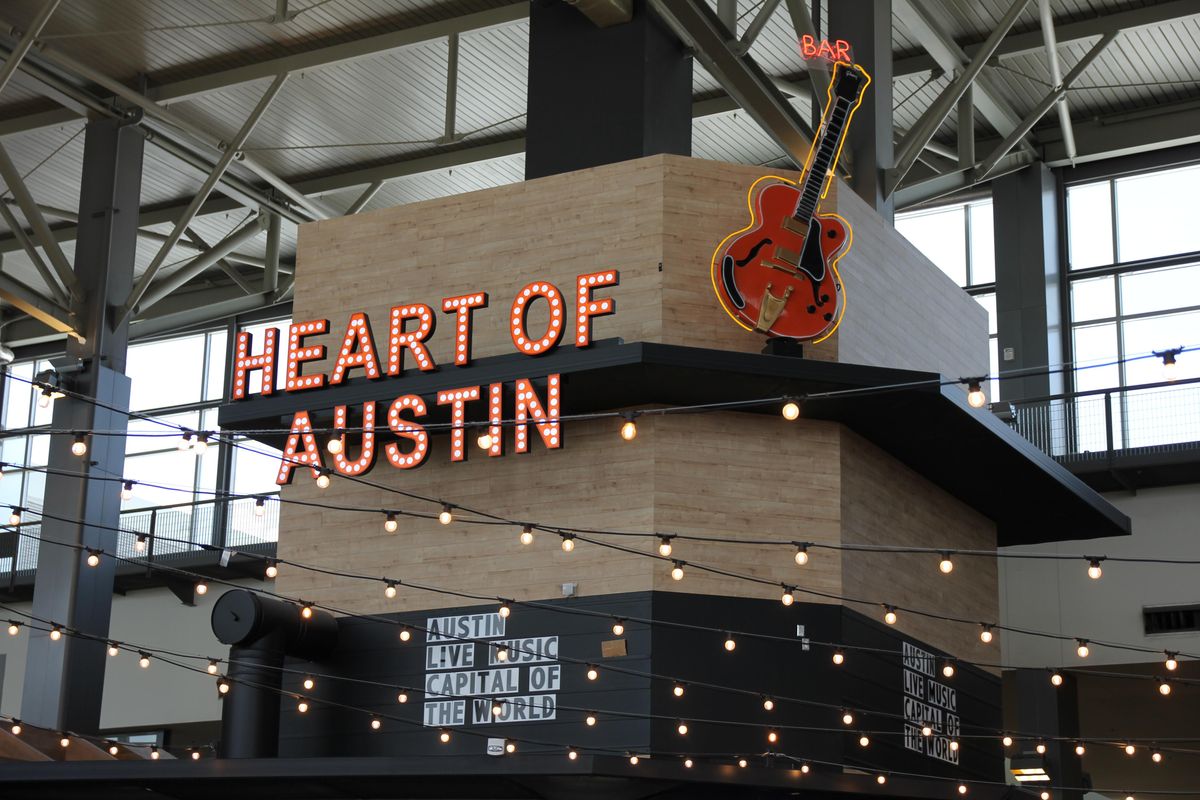 When you visit Austin-Bergstrom International Airport, you'll notice the places and names that make the Live Music Capital of the World famous displayed for all travelers to see. This is no mistake—ABIA is designed to make you feel as though you are right in the heart of Austin proper.
---
In fact, it might even be best to
plan out your airport excursion
ahead of time. So while you visit this mini Austin of sorts, whether it's for the first time or the 50th time, soak it all in—it's likely to have changed by the next time you travel.
Know before you go
Don't miss your flight by not planning ahead. Peak travel times are 5-8 a.m., 11 a.m.-1 p.m. and 3:30-5:30 p.m. The airport recommends travelers during those times arrive up to 2.5 hours before.
🚗Parking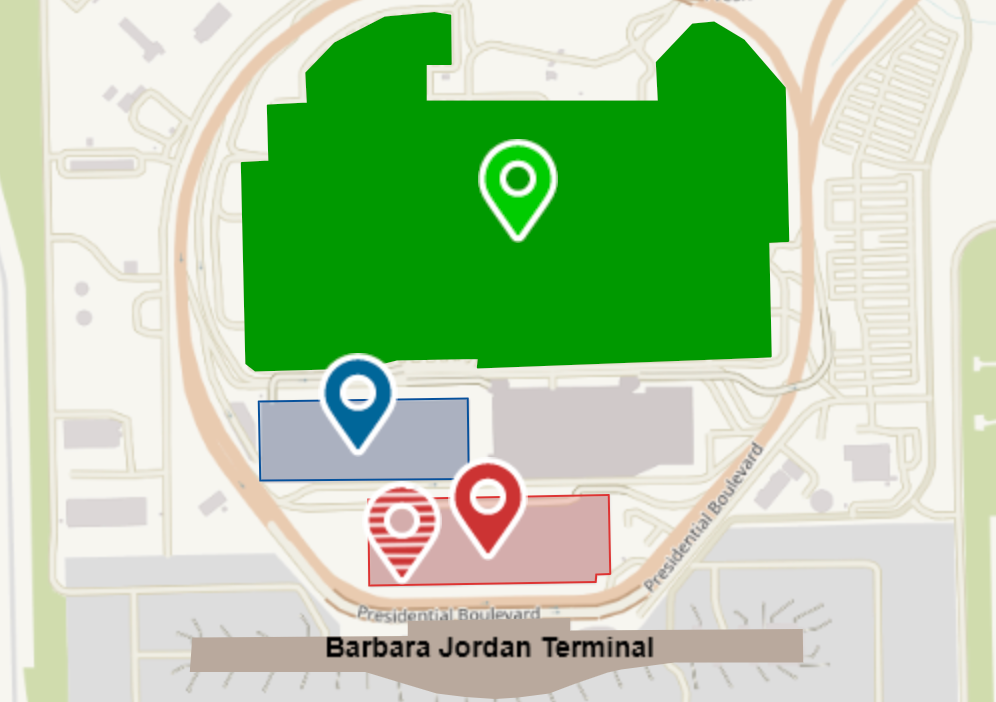 You won't find any free parking here, whether you're hopping on a plane or picking someone up, so plan ahead. If you're heading out on a trip, you're probably better off hitching a ride with a friend or grabbing an Uber rather than paying to park, which can be quite pricey but takes advance reservations.
However, here are how airport lots stack up from closest to furthest away:
Red garage and short term lot: $5 per hour, $27 per day
Blue garage: $5 per hour, $17 per day
Economy lot (green): $5 per hour, $8 per day
You can check ABIA's Twitter account for updates on when the garages fill up
here
.
☕️Coffee
If you want to have the most bean juice options to choose from, try and get to the airport early. If you waltz into the airport at 1 p.m. looking for coffee, like I did on my most recent trip, you're going to have limited options. Yes, there is a Starbucks on deck, but with so many local options in one place, why not branch out?
Caffe Medici, near gate 9, open 4:30 a.m.-12 p.m. daily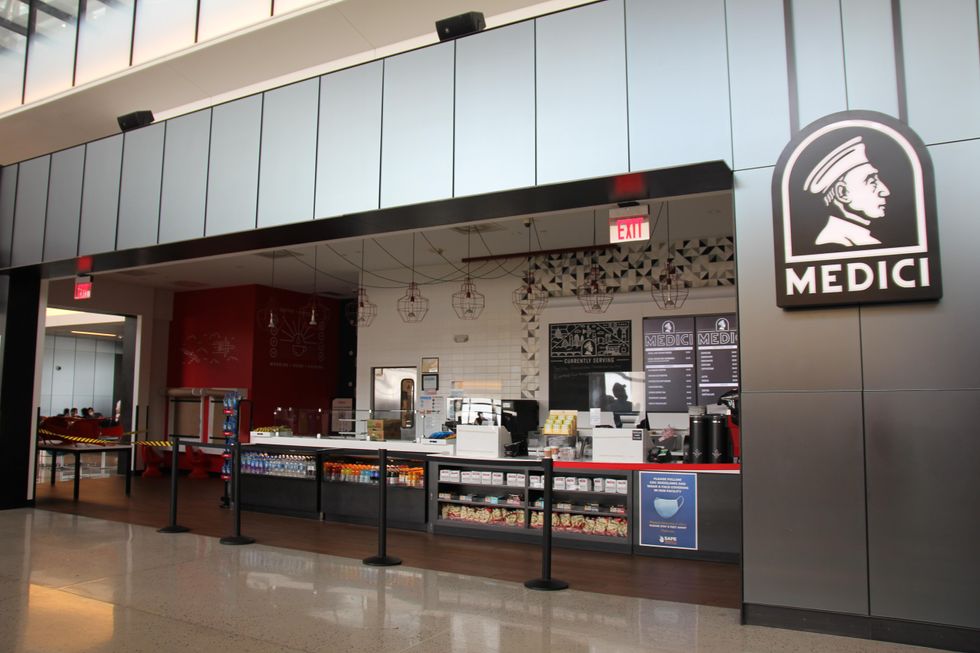 A petite version of the Austin-based cafe is tucked on the far east end of the Barbara Jordan terminal, so get there early and be ready to walk. Caffe Medici, named for the arts patron Medici family of Florentine history, sells traditional coffee that has come to be a favorite among locals and is enjoyed at its six other Austin locations. This location often has long lines so plan accordingly!
Jo's Coffee, near gate 19, open 5 a.m.-5 p.m.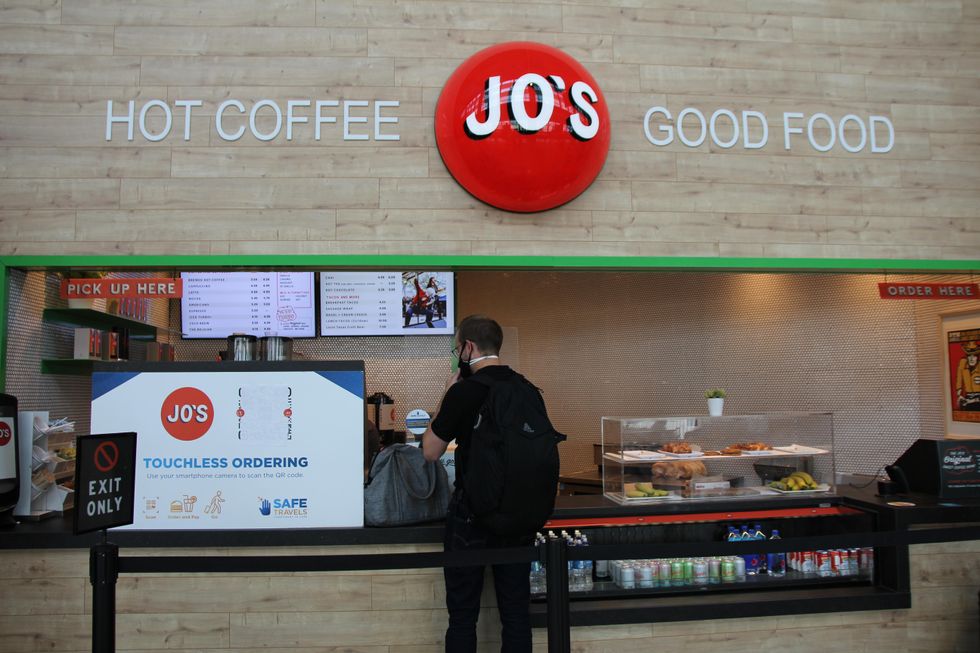 Yes, that Jo's Coffee is available at the airport, minus the "I love you so much" wall. However, this coffee joint is easy to see with its signature red bubble in the middle of the terminal. Not only can you get your coffee at Jo's, it's also a great place to score some breakfast tacos.
​High Brew vending machine, near gate 23, always open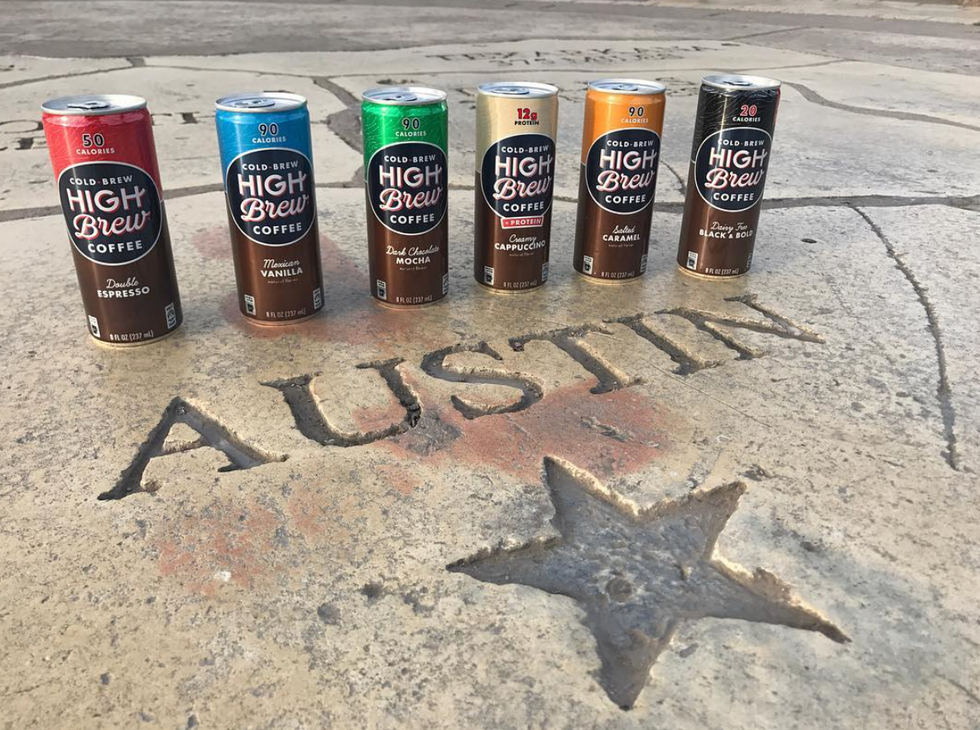 Austin's local canned coffee favorite High Brew is available via vending machine, so you can stock up on caffeine when you're inevitably jonesing for it during a connecting flight. Try the Toasted Coconut or the Bourbon Vanilla Nitro Latte, some of High Brew's best sellers.

🧃Non-coffee drinks
Fewer options than coffee drinks, to be sure, but you can still find your green juice or acai bowl when you visit ABIA.
Juiceland, near gate 17, open 5 a.m.-1 p.m.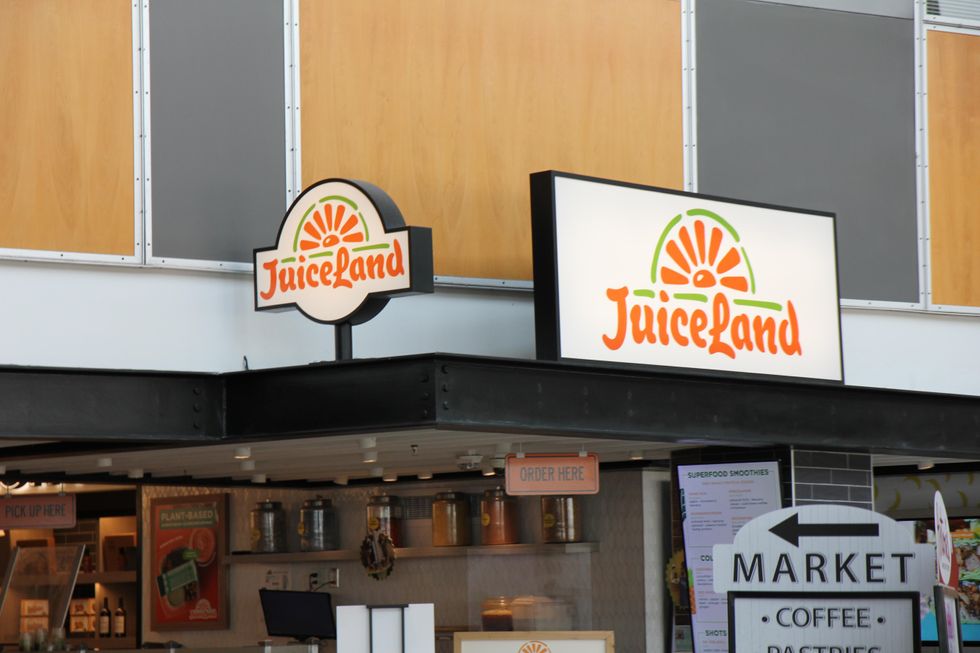 No trip to the airport is complete without a Juiceland visit—if you can make it before it closes. Though you'll find a smaller menu here, like many of the airport versions of local favorites, you can still find a selection of cold-pressed juices, shots, fruit bowls and more vegetarian snacks.
Jugo, near gate 10, temporarily closed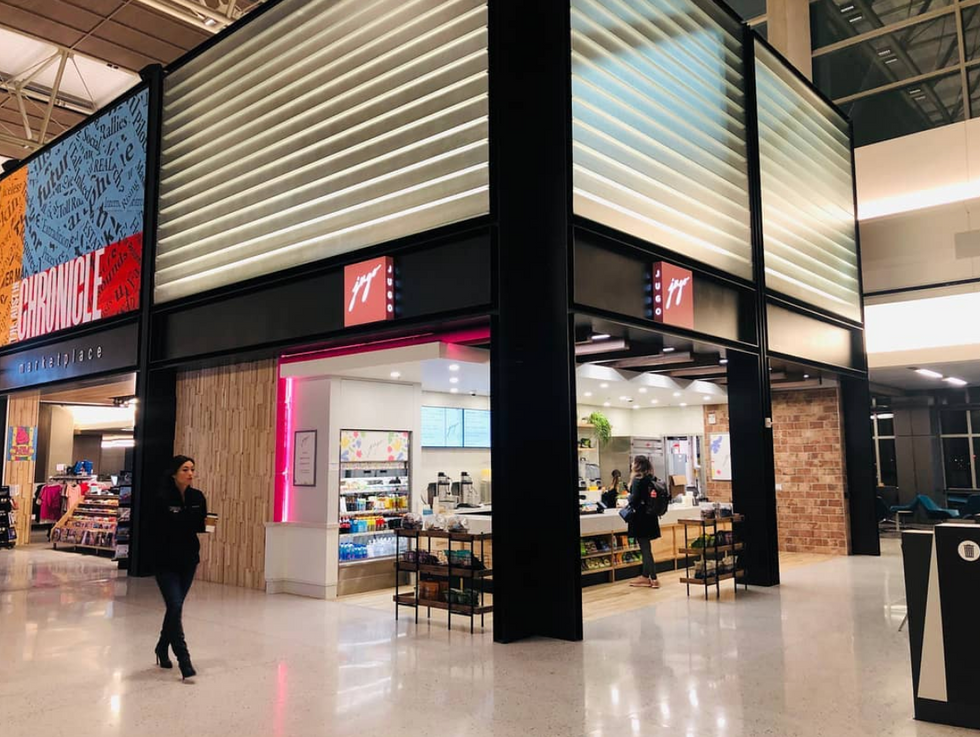 For your local farm-to-table green juices, Jugo is temporarily closed as of Aug. 11 but normally serves juice combinations like carrot, orange, ginger, lemon and turmeric; and pineapple, beet and jalapeno. Jugo is also a great stop for coffee drinks, tea and fresh, healthy snacks.
🥡Food
ABIA really shines when it comes to regional cuisine, packing in as many local franchises as possible.
🌮Best tacos 
The Peached Tortilla, near gate 17, open 11 a.m.-5:30 p.m.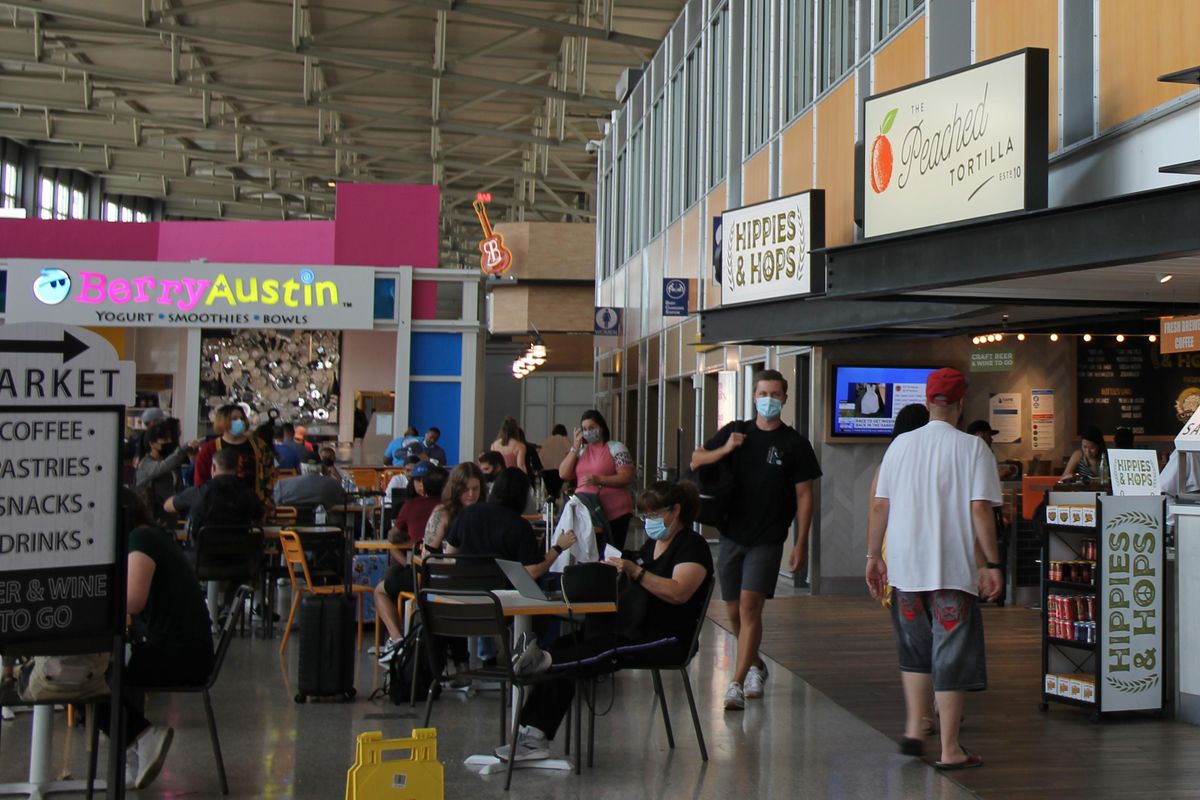 You'll find a much more limited menu at the airport than you would at a standalone location but these tacos are worth it. The restaurant offers only three options, I recommend the Chinese BBQ Chicken, to be served either in tortilla or bowl form and are all made fresh to order.
Tacodeli, near gate 23, open 5 a.m.-1 p.m.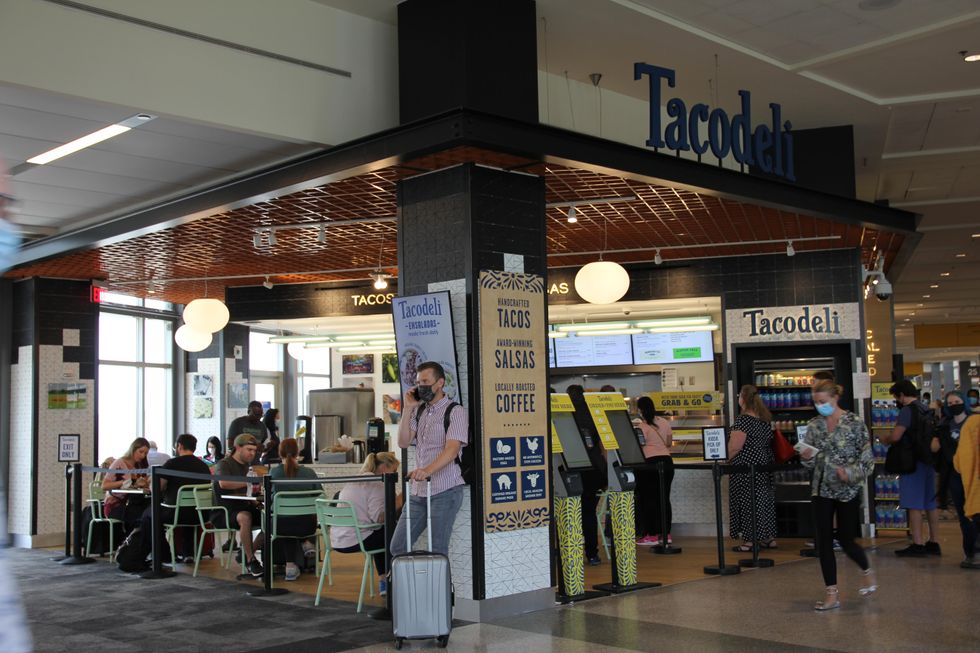 A warning: this Tacodeli's line is not for the faint of heart, so make sure you have time to spare before you commit to a taco. That said, Tacodeli's breakfast tacos are about as "Austin" as you can get—especially if you order with the burn-your-face-off Salsa Doña.
🍔Best burger 
Hut's Hamburgers, near gate 14, open 11 a.m.-7 p.m.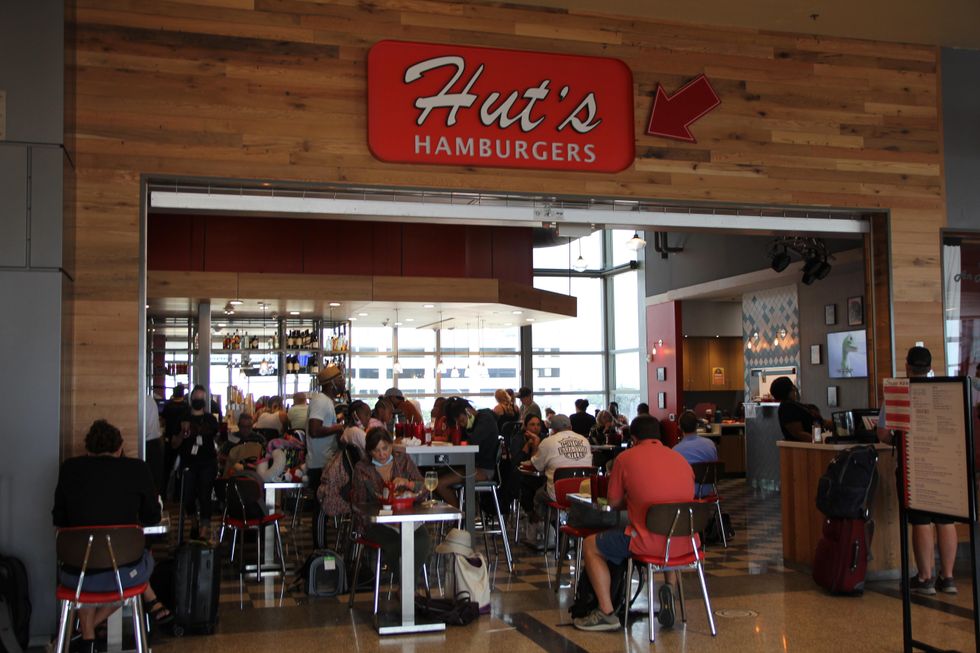 While you can find most of ABIA's grub options outside the airport, Hut's Hamburgers is a special exception. The former West 6th location closed in 2019 and left the airport location behind as its sole successor, so ABIA is the last place you can get one of its famous burgers, which are all available with buffalo or chicken, onion rings or milkshakes.
🍖Best barbecue
The Salt Lick BBQ, near gate 22, open 5 a.m.-8:30 p.m.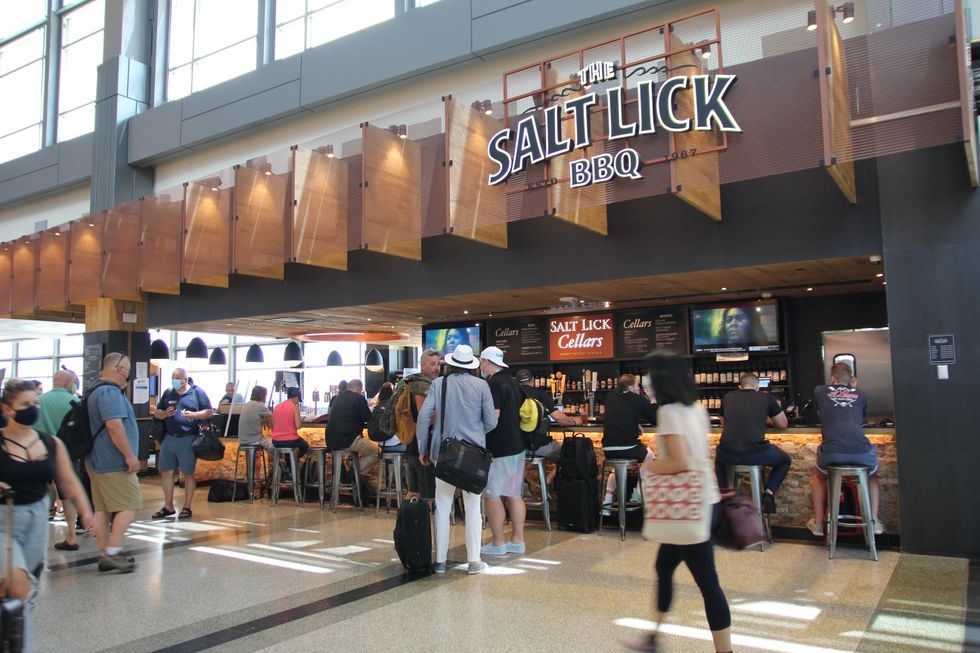 Haven't even left Texas and already missing that smoky Hill Country BBQ? Look no further than gate 22, where a tiny version of the BBQ favorite will sell you brisket, sandwiches, baked potatoes and sides for dine-in or to take on your flight. The next best thing to the real thing, The Salt Lick was voted fourth place in the World's Best Airport Restaurants by the Daily Meal.
🍴Best dine-in restaurant 
Parkside, near gate 3, open 5 a.m.-1 p.m.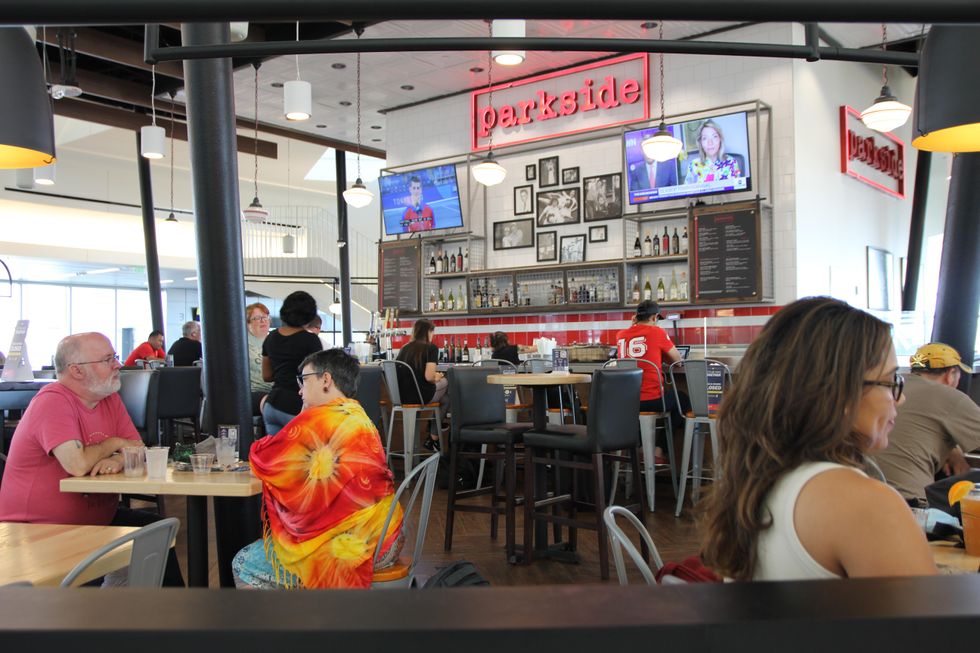 This open-air pavilion is a sophisticated choice for those looking to grab a quality bite to eat before jet-setting away. Serving upscale American sandwiches, salads and cocktails, the restaurant is located in the international wing and tends to be a quieter place to sit down and chat. Don't forget to check out the airport's hidden sky deck located right nearby!

🍸Best bar 
The Saxon Pub, near gate 19, open Monday-Saturday 7 a.m.-8 p.m. and Sunday 10 a.m.-8 p.m.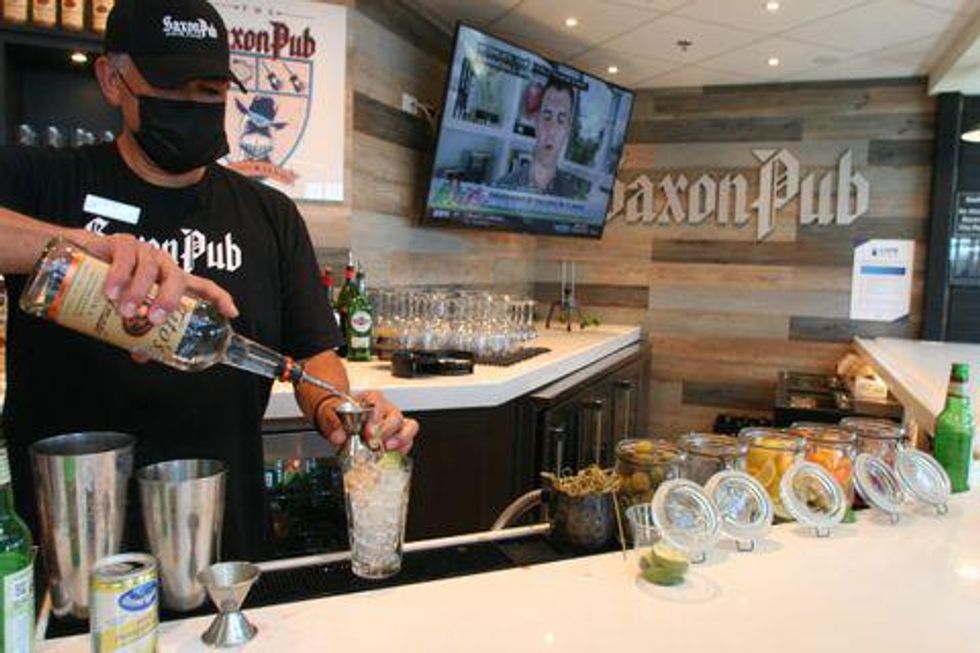 Like its South Lamar counterpart, The ABIA Saxon Pub is carrying on the tradition of keeping live music alive. The bar is perfectly centered in the terminal and right next to the Asleep at the Wheel stage, which is the biggest stage at the airport. While you're there, enjoy a seat in the bleacher-style seating and listen to the band while appetizers and a full bar await at The Saxon Pub.

🍭Sweets
Amy's Ice Creams, near gate 21, 11 a.m.-7 p.m.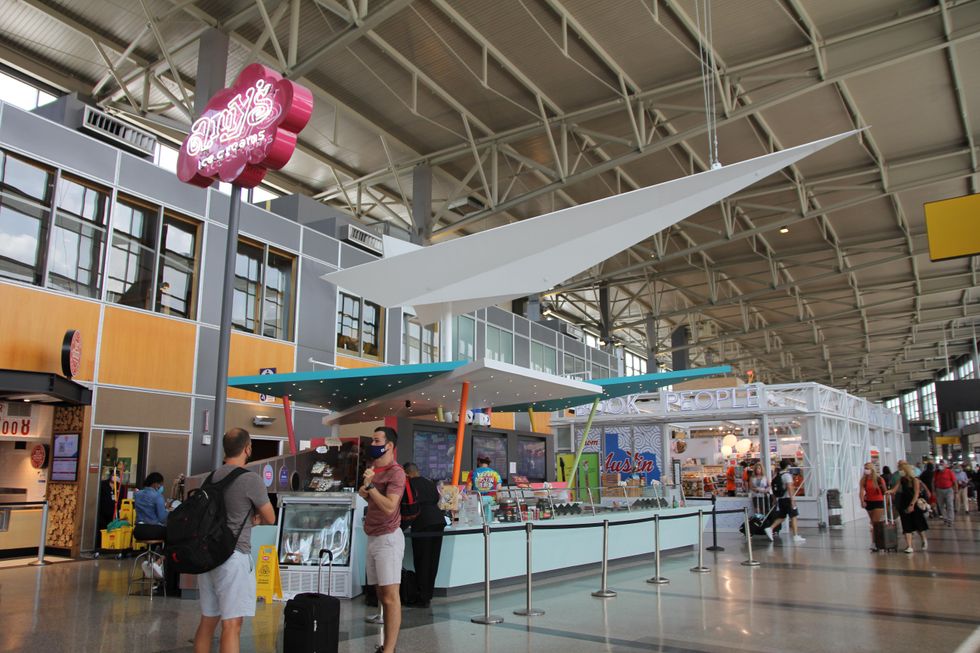 If you're from Austin, you already know what Amy's is all about, but if you're visiting and you haven't tried her ice creams yet—let's just say you're going to get some weird looks. Look up to find Amy's stand because it is located directly underneath a gigantic paper airplane.
Toy Joy & Yummi Joy, near gate 11, 6 a.m.-6 p.m.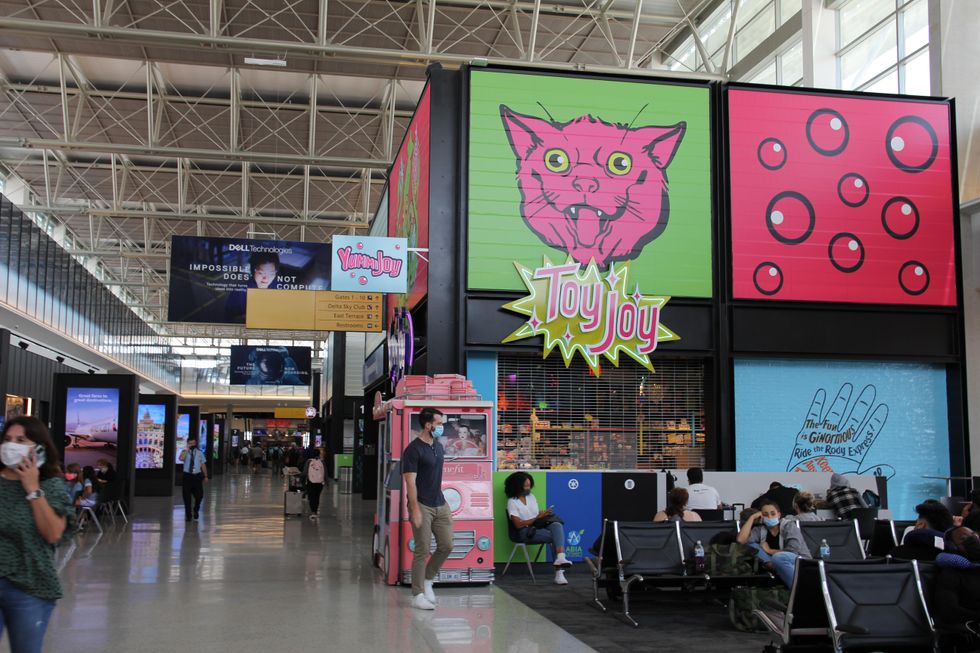 Toys, games and candy, oh my! The whimsical kiosk, where you'll find artisan homemade candy and playthings galore, is impossible to miss with its unmistakable pink cat mascot staring down the hallway. It's easy to lose track of time while wandering this child-like wonderland—keep an eye on the clock!
🤠Austin merch
Forget to grab your loved ones an Austin memento before make it through security. Not to worry, there are so many gifts to choose from that the recipient will be none the wiser of its airport origins.
​Taste ATX, near gate 15, 11 a.m.-6 p.m.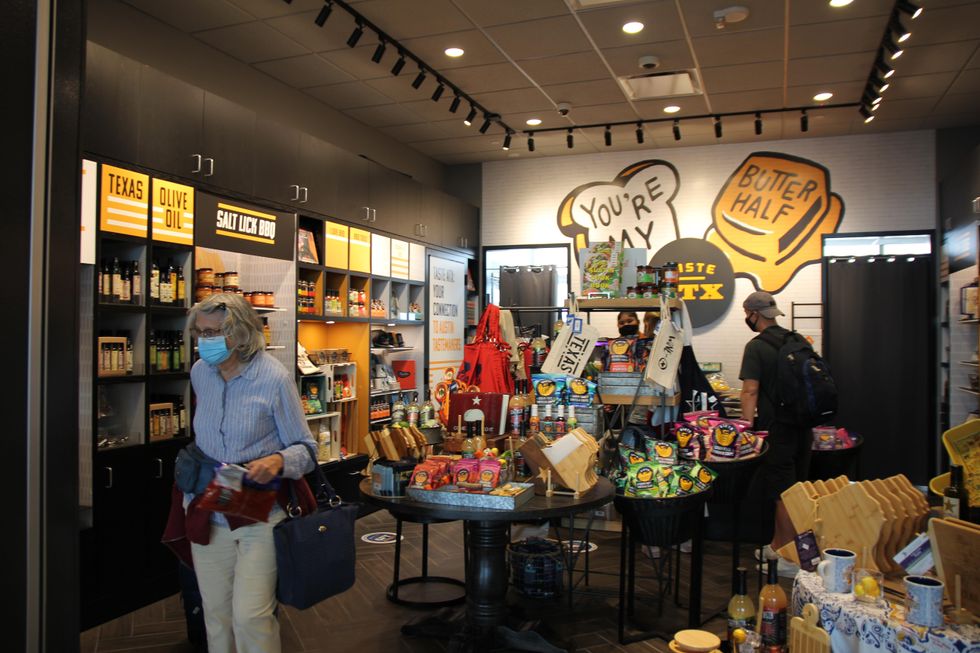 Because the taste of Austin is so paramount to the experience, you can't leave without taking some of the smoky, savory palate with you. With one of Austin's most prominent murals adorning the back wall, some of Taste ATX's inventory includes a wide variety of Texas-shaped cutting boards, Salt Lick BBQ sauces, salsas and Siete hot sauces.
Tyler's Austin Warehouse, near gate 18, 1 a.m.-6 p.m.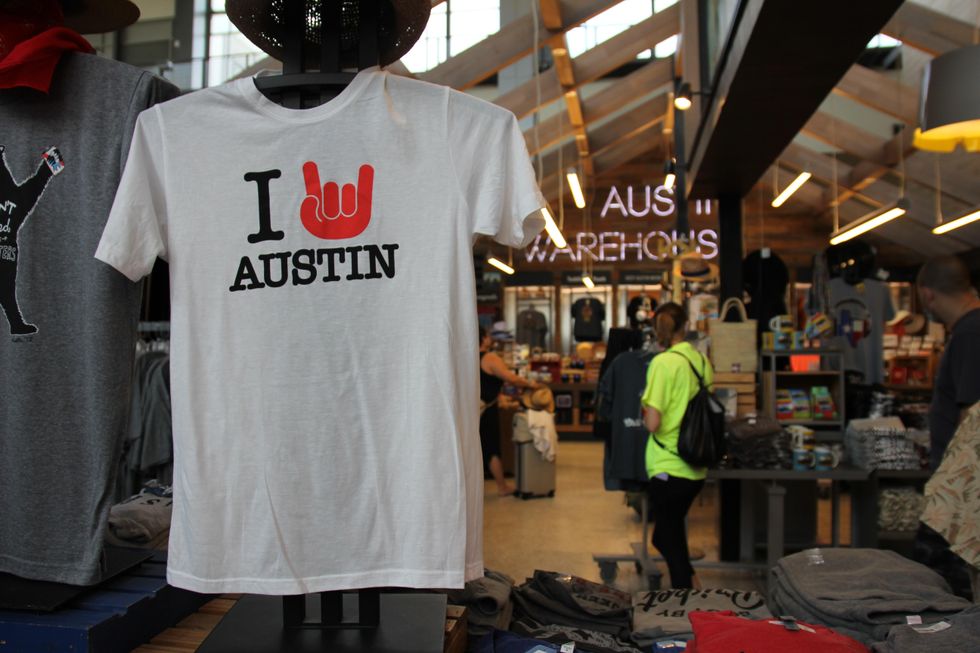 For all your cowboy-hat-wearing, Texas-flag-donning, "Keep Austin Weird" needs, Tyler's Austin Warehouse is the spot to visit. The industrial, high-ceilinged store is a one-stop shop for the souvenirs you might have missed while exploring the city.
​The Scoreboard, near gate 15, 8 a.m.-4 p.m.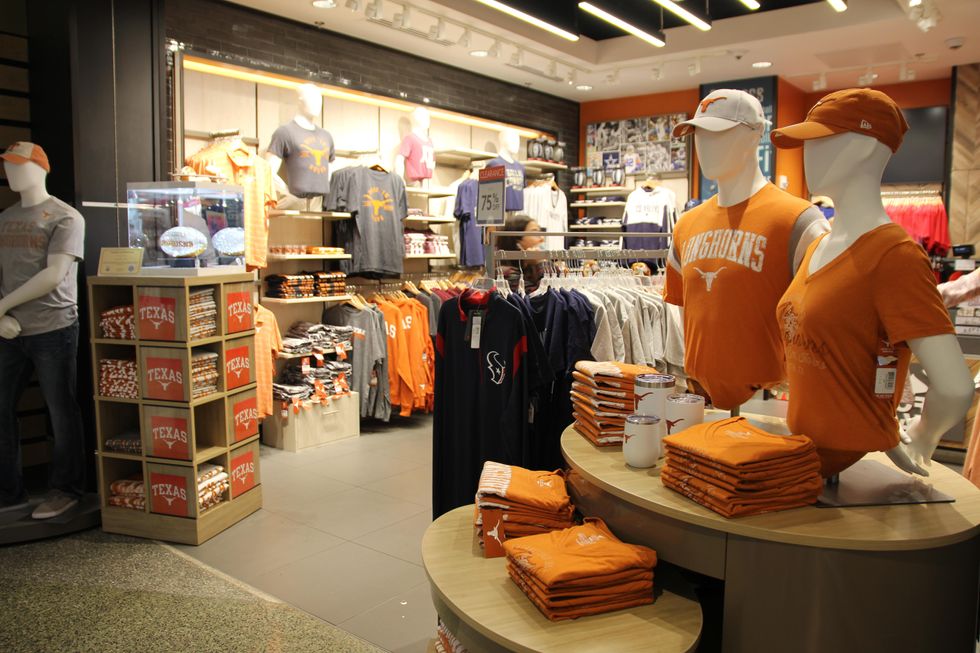 ...but if you're looking for that classic burnt orange attire, trek no further than The Scoreboard, located just outside the security checkpoint. While the shop carries mostly Longhorns merchandise, including a Swarovski crystal-encrusted football, you can also find items for the Houston Texans fan in your life.
🎸Live music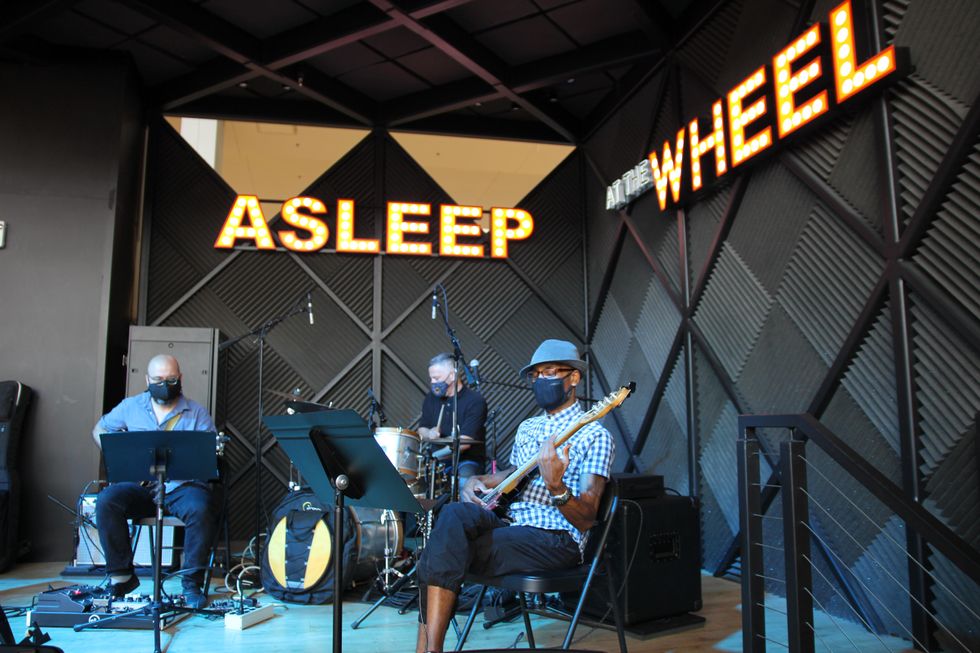 Live music is normally abundant at Austin's airport, with nine stages all around the terminal for performers. Music has been paused again for safety due to the pandemic but not for too long—an ABIA spokesperson said the airport "will continue to monitor the situation and guidance from Austin Public Health in anticipation for its eventual return." The musicians are Austin locals and in its peak, the airport hosts around 30 shows per week.

But for future reference, you can see live music at the Asleep at the Wheel stage near gate 19, the largest stage sandwiched between The Saxon Pub and the airport's only food truck, Earl Campbell's Taco Truck.
Also worth noting are the 24 Diner stage, the Haymaker stage, the tiny Tacodeli stage and the Austin City Market stage, so be on the lookout for a live music resurgence in the near future!
🛍Other must-visits
🍾Duty free
​You'll find only one duty-free store in the airport, EJE Travel Retail, which is located near gate 11 and open from 10 a.m.-6 p.m., selling perfumes and luxury goods from brands like Givenchy, Tommy Hilfiger, Chanel and Cartier tax-free.
​Book People, near gate 20, open 5 a.m.-6 p.m.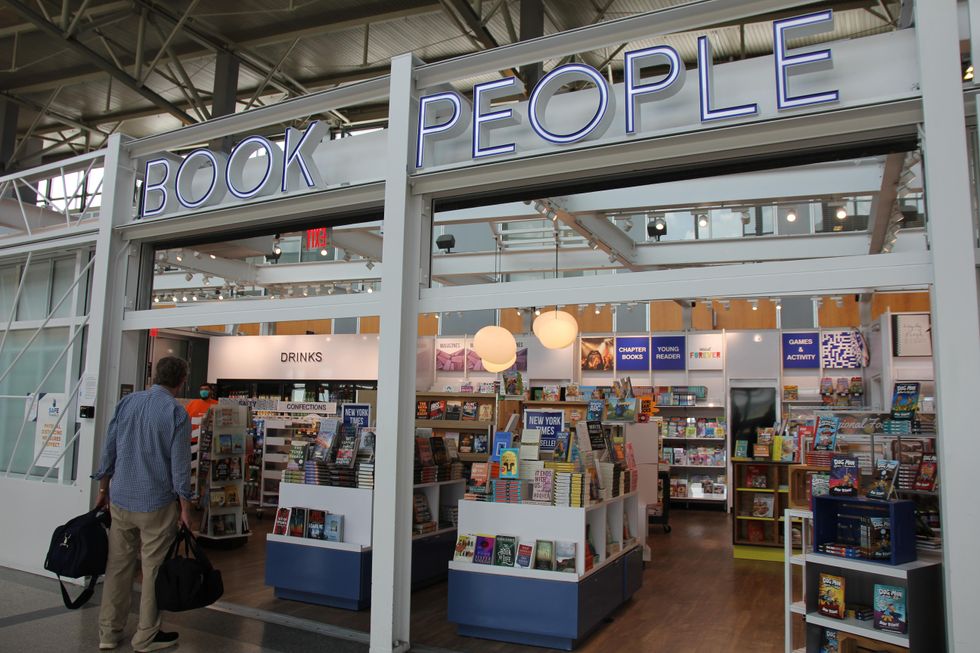 This well-known gem, also the catalyst behind the city's ultra-famous "Keep Austin Weird" slogan, is making sure you are well-read when you fly. We've all forgotten to bring along a book in the face of a long flight, so stop by not only for the Book People clout, but to buy one (or two or three) books.
Sky deck, near gate 3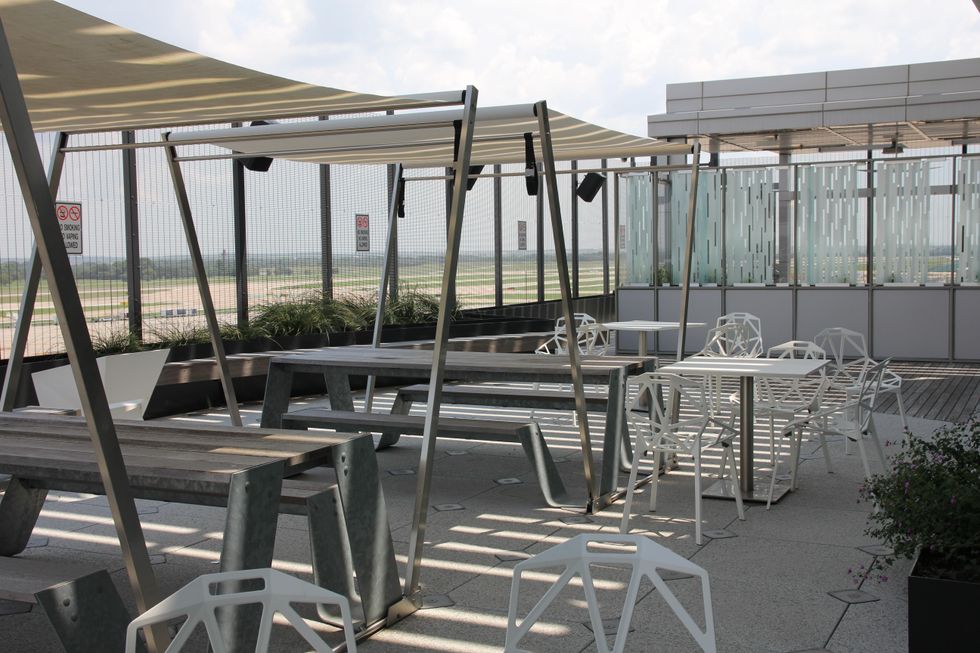 Feeling cooped up while waiting for your flight? Head to the far east end of the terminal, past Parkside and up the stairs and you'll find an open-air sky deck that is open to all passengers. This hidden gem is a great place to go for some fresh air and a relaxing atmosphere. This spacious deck opened in 2019 and is not well known among travelers, and combined with the sweltering heat, it is also pretty quiet most of the time.​
Endless art galleries
ABIA is so filled with local art, the whole thing is practically a gallery. Though most of the pieces you'll encounter around the terminal are permanent fixtures, there are 10 galleries to peruse with plenty of pieces for sale. The exhibits change often and frequently sell out, according to an ABIA spokesperson, but you can peruse the dozens of fixed exhibits if you run into empty glass cases.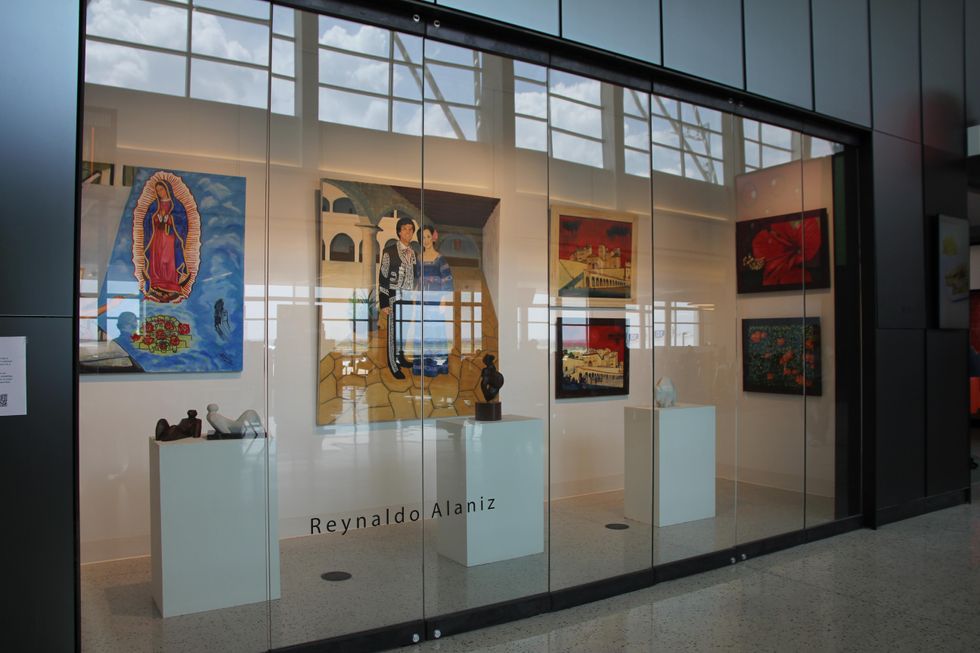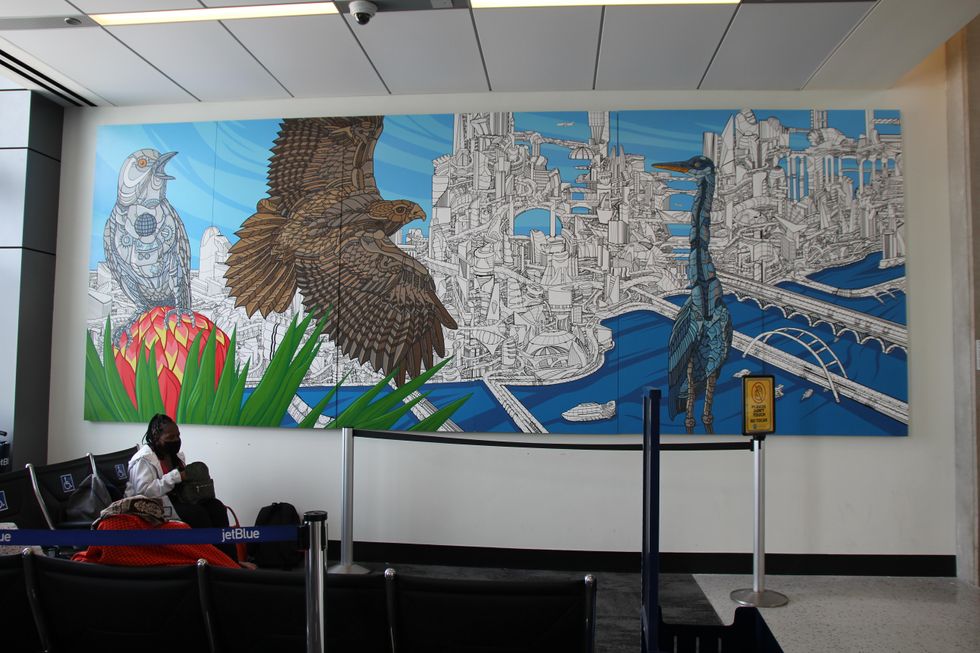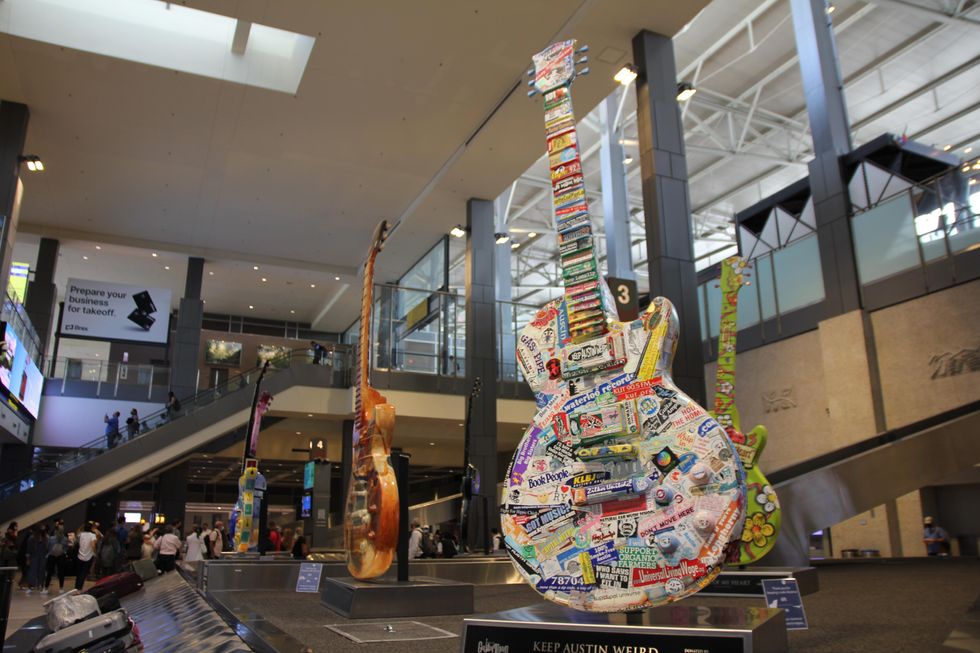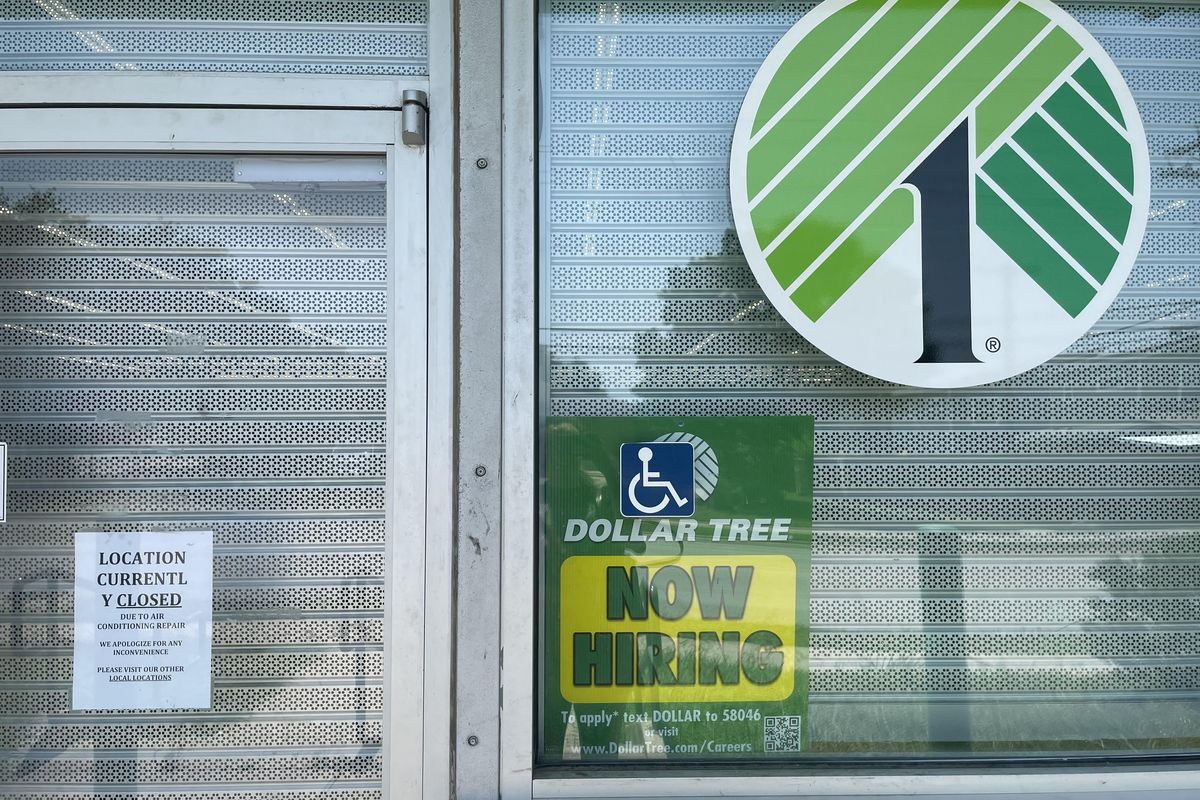 It's been a few weeks since a viral TikTok revealed poor working conditions at the Montopolis Dollar Tree in southeast Austin, and employee Maggie Lopez is still feeling its effects.
Lopez was filmed working alone at the location May 1 in a since-deleted video that saw 2.9 million views and over 450,000 likes.
In the video, stacked boxes littered the floor, shelves were left unstocked and a leaky, broken air conditioning unit welcomed customers into the understaffed storefront.
Lopez, who now works at the dollar store's Springdale location, says she was left with the aftermath of a 90-hour workweek, lost wages and a mystery illness after the store closed a few days later.
"Nobody ever told me... that there was no air conditioning. They didn't tell me there was danger of getting robbed," Lopez told Austonia. "Nobody said anything... they didn't care."
The location didn't shut its doors because of the TikTok exposure: instead, an AC unit specialist doing routine maintenance found employees working in extreme heat and said it was too hot for employees to continue working.
"To operate a business, you have to have your temperature within a certain parameter," Ikaika, the specialist who didn't disclose his full name to protect his job, told Austonia. "As soon as you walk in, you start sweating... it's not good at all."
Lopez said working in 90+ degree heat became the norm in her two months at the location as air conditioning units remained broken for months before the closure. She added some employees, including her former manager and several customers, passed out in the store due to the heat. But she said company leadership remained unresponsive.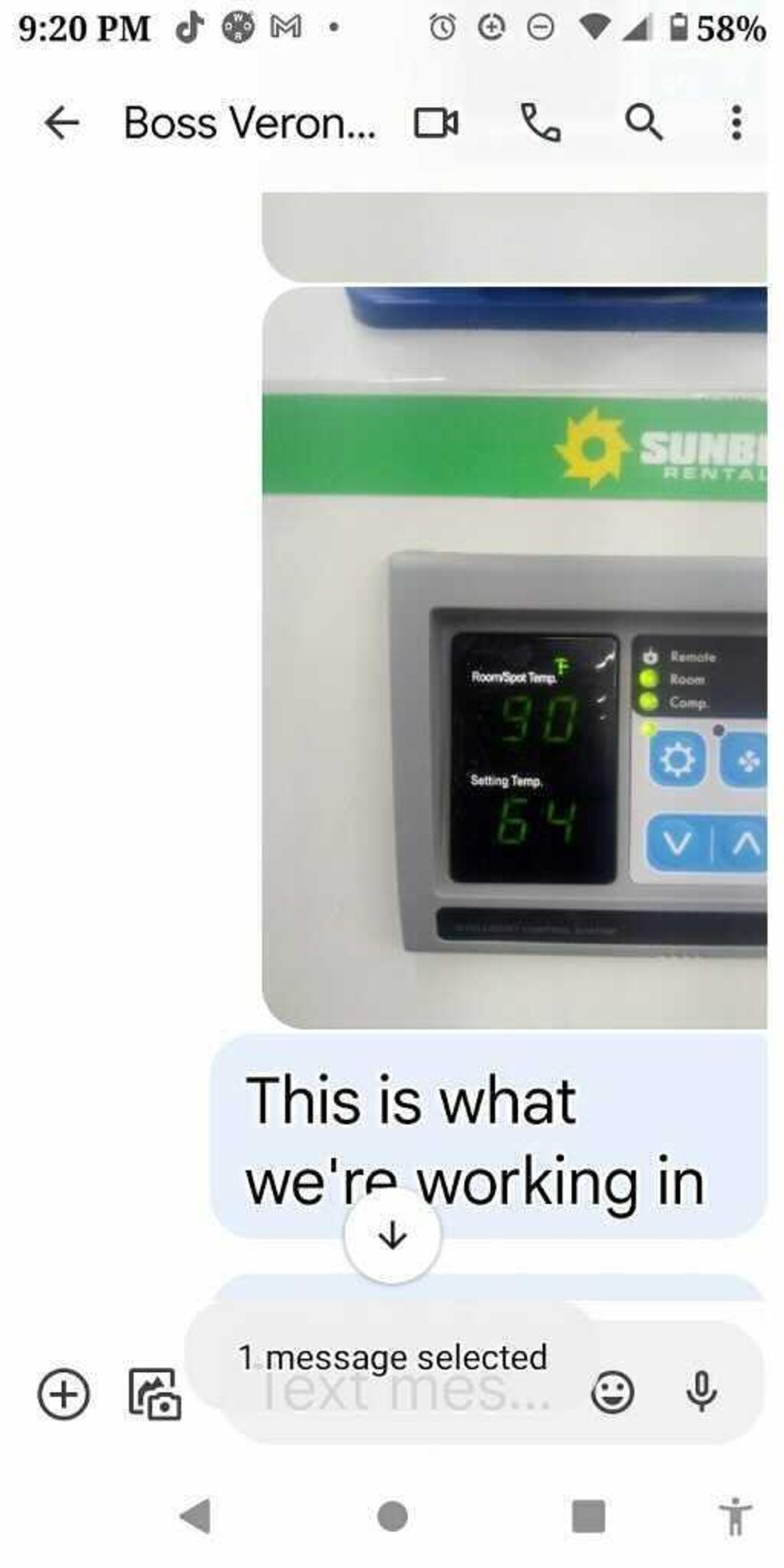 Lopez said she sent her district manager, Veronica Oyervides, screenshots of 90+ degree temperatures inside the store. (Maggie Lopez)
Four days after the air conditioning repairman told employees they should no longer keep working at the store, Lopez said her district manager, Veronica Oyervides, was asking her to come back in to prep the location for reopening. Lopez worked May 8 in the shuttered store prepping it for a reopening, which has yet to happen. Oyervides has declined to comment.
Ever since she started working in the deteriorating Dollar Tree, Lopez said she often wakes up with nosebleeds. She said she's constantly thirsty, her hands shake, and she's experiencing headaches and mood swings—symptoms she believes are due to long-term exposure to mold.
Former assistant manager Linnea Bradley told Austonia she has been hospitalized with symptoms linked to heat and stress after working at the store.
"We are sick and corporate does not give a shit," Lopez said. "What kind of damage did these stupid units do to our bodies?"
Lopez hasn't sought care for her symptoms. She says she makes $13.50 an hour and doesn't have health insurance.
Former employees have more complaints than just the heat: Lopez said that personal safety became a concern in the understaffed store. Catherine, a former employee who wished to only reveal her first name, said she's witnessed large-scale theft and instances of mismanagement in her months as a stocker at the location.

"They have no security, no cameras... they don't want you to have anything in writing," Catherine told Austonia. "It's just complete chaos."
Catherine said that she and other hourly employees were given zero hours for weeks on end as managers, who work on salary, were left to run the store alone from 5 a.m. to 10 p.m. each day. She said some managers became so desperate they were hiring homeless people to help stock shelves in exchange for a drink and a bite to eat.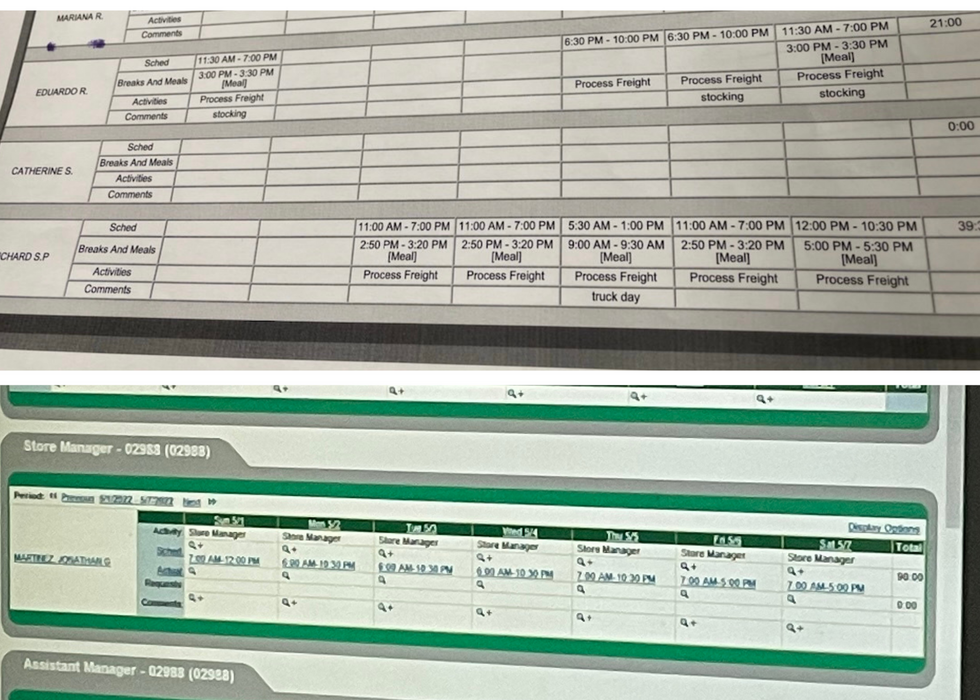 While Catherine (top, middle) often had zero-hour weekly schedules, Martinez, who was paid on salary, worked back-to-back 90-hour workweeks. (Catherine) (Claire Partain)
"They actually did have people willing to work, they just refused to give them hours," Catherine said. "I'm not understanding whether Dollar Tree wants to go under... are they doing this as a tax break?"
Other Austin Dollar Tree locations have reported similar issues. Former manager Jonathan Martinez, who says he was supposed to work 45 hours a week, says he was racking up 90+ hour workweeks and sleeping in the store as he shouldered both the Montopolis and William Cannon locations while his newborn baby was in the ICU in March.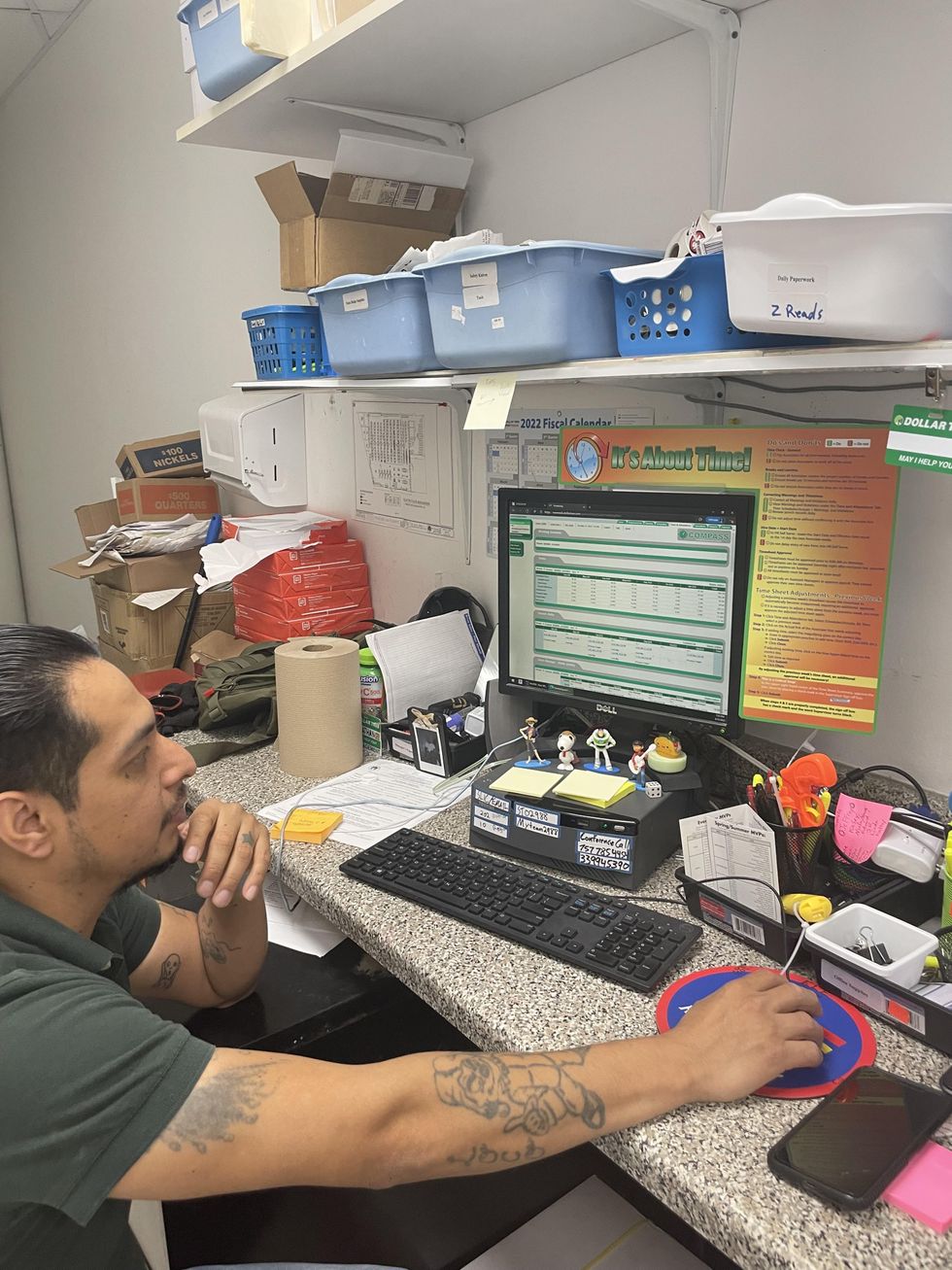 Martinez kept extra clothes in this office after working seven-day weeks at two Dollar Tree locations. (Claire Partain)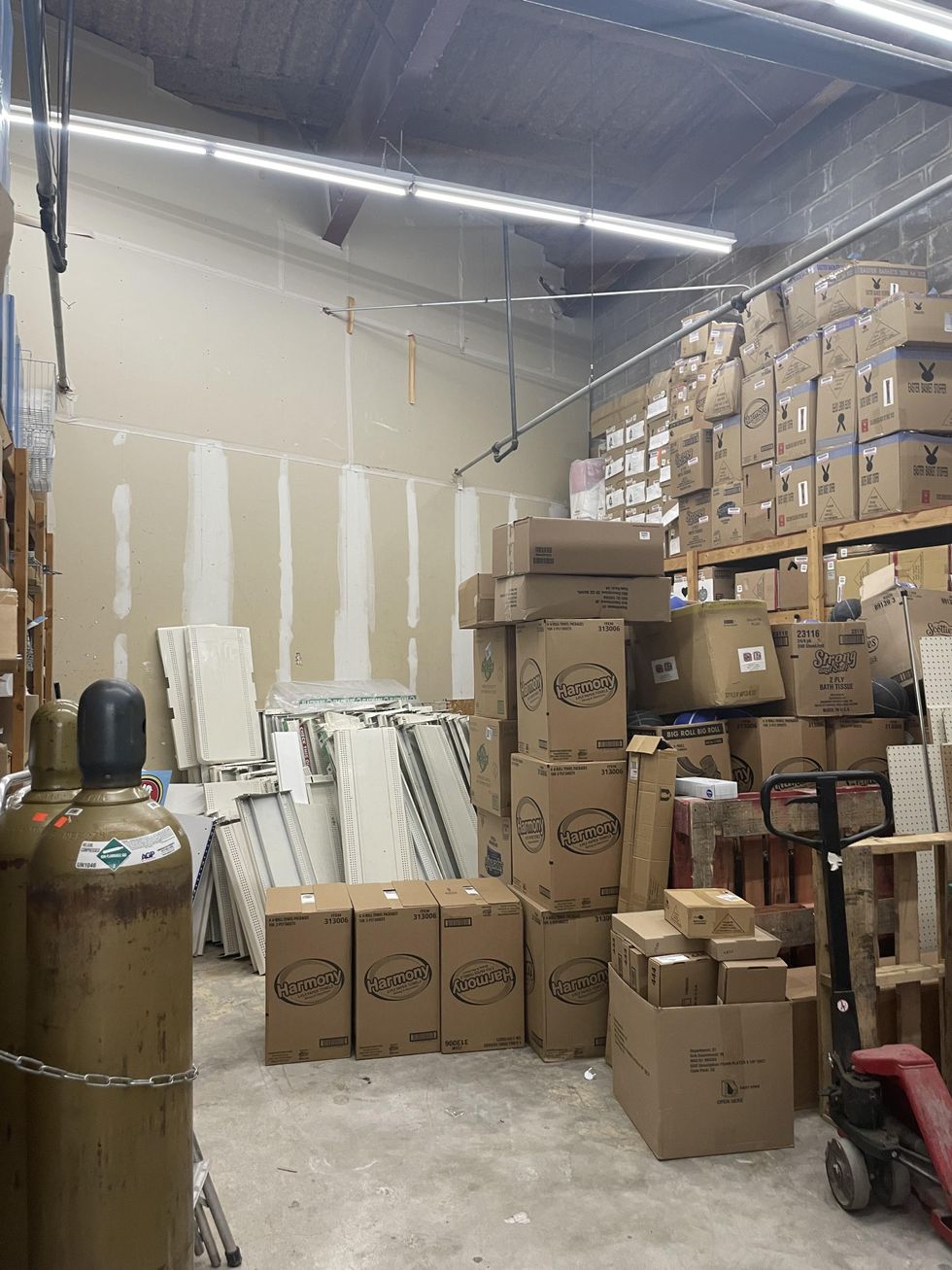 Martinez said he slept on boxes as he juggled the job and visiting his newborn in the ICU. (Claire Partain)
Martinez said he slept on boxes as he juggled the job and visiting his newborn in the ICU. (Claire Partain)
"As long as the store stays open, there are corporate people getting bonuses," Martinez, who quit last week after receiving a $100 annual bonus, told Austonia. "Six months ago, when corporate people had a shitload of bonuses, that's when they upped the price (of everything in the store from $1 to $1.25)."
In the six months since Dollar Tree hiked its prices to $1.25, it's gained plenty of mostly negative national attention. In February, the Food and Drug Administration shut down an Arkansas distribution plant due to a massive rodent infestation, and several lawsuits have ensued. The company has also come under fire for selling allegedly expired over-the-counter medicine and its worker shortage at locations across the country.
One employee, who still works for Dollar Tree and wished to remain anonymous, said that they've seen or heard that many area locations are near their breaking point.
"I've seen the good, the bad, the bad to worse," they said. "And it's always a rinse repeat kind of thing... How many more (stores) will go? And what about the employees?"
"Every time I would tell (Oyervides) 'I'm just going to close, I can't stand it anymore,' she would say, 'No, no, no,'" Lopez said. "And I'd be so upset because why? They have my paycheck. It's just been mortifying... the most horrible year of my life."
Dollar Tree's regional director did not respond to requests for comment from Austonia.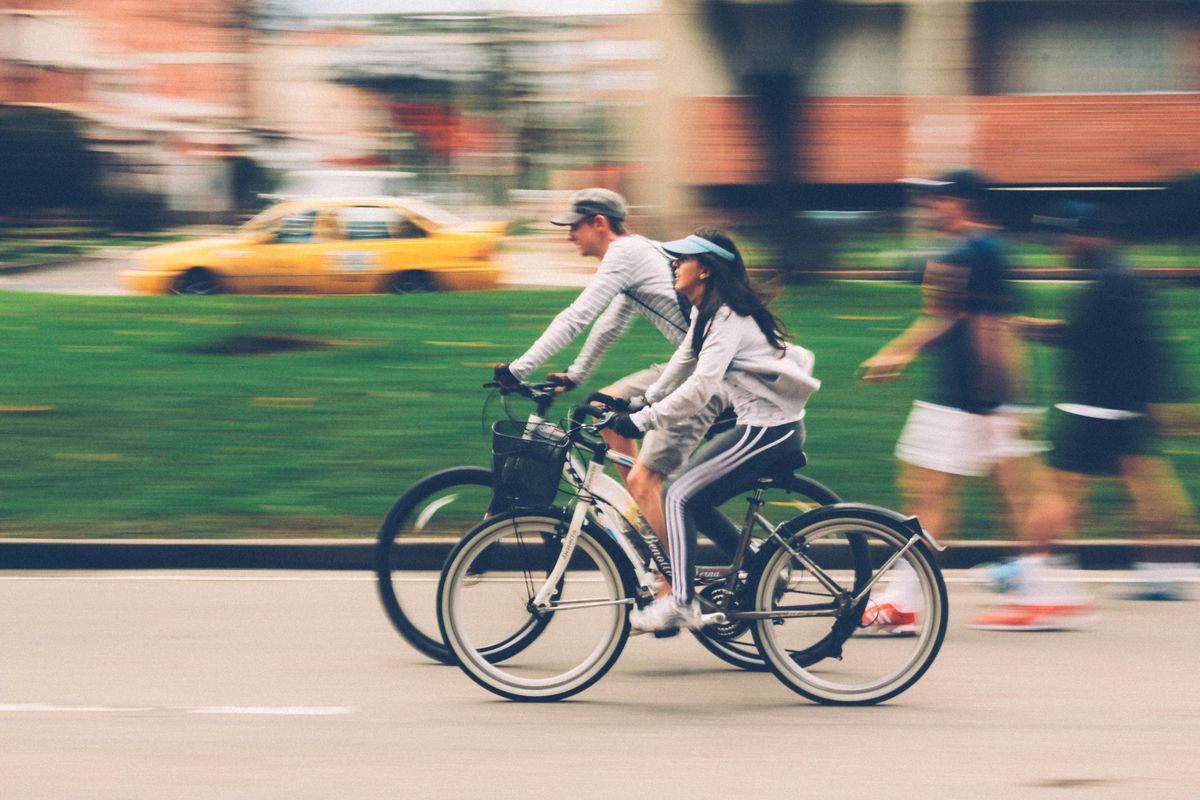 Grab a helmet and get active this morning by celebrating Bike to Work Day alongside the city.
The community will gather for a celebration at Austin City Hall starting at 8 a.m. with free tacos, coffee and giveaways.
A few things to remember around bikes:
Over 80% of bicycle crashes happen at intersections
It's important to wear reflective clothing during dark hours
Drivers should keep a distance—take at least three feet of space when passing.
Residents can find the most comfortable, safe bike routes via the 2022 Austin Bike Map, or rent a MetroBike with the code B2WD2022.