Get connected with our daily update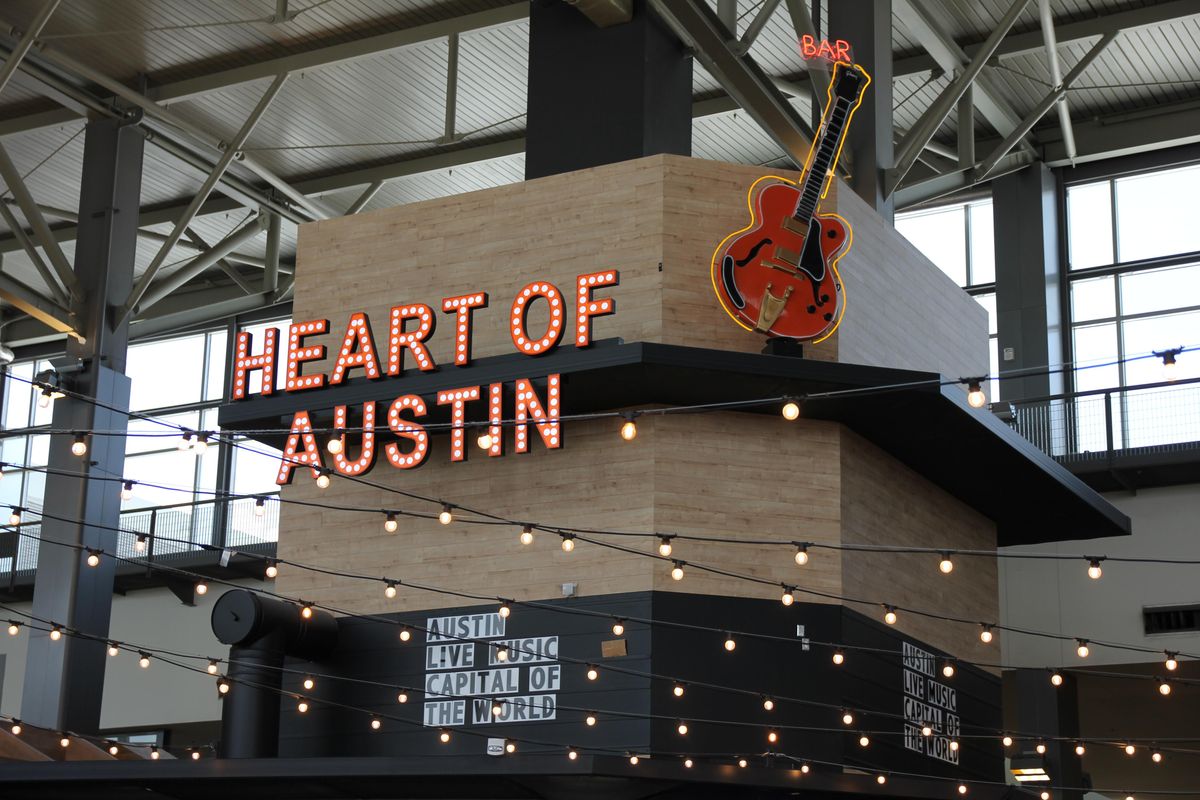 When you visit Austin-Bergstrom International Airport, you'll notice the places and names that make the Live Music Capital of the World famous displayed for all travelers to see. This is no mistake—ABIA is designed to make you feel as though you are right in the heart of Austin proper.
---
In fact, it might even be best to
plan out your airport excursion
ahead of time. So while you visit this mini Austin of sorts, whether it's for the first time or the 50th time, soak it all in—it's likely to have changed by the next time you travel.
Know before you go
Don't miss your flight by not planning ahead. Peak travel times are 5-8 a.m., 11 a.m.-1 p.m. and 3:30-5:30 p.m. The airport recommends travelers during those times arrive up to 2.5 hours before.
🚗Parking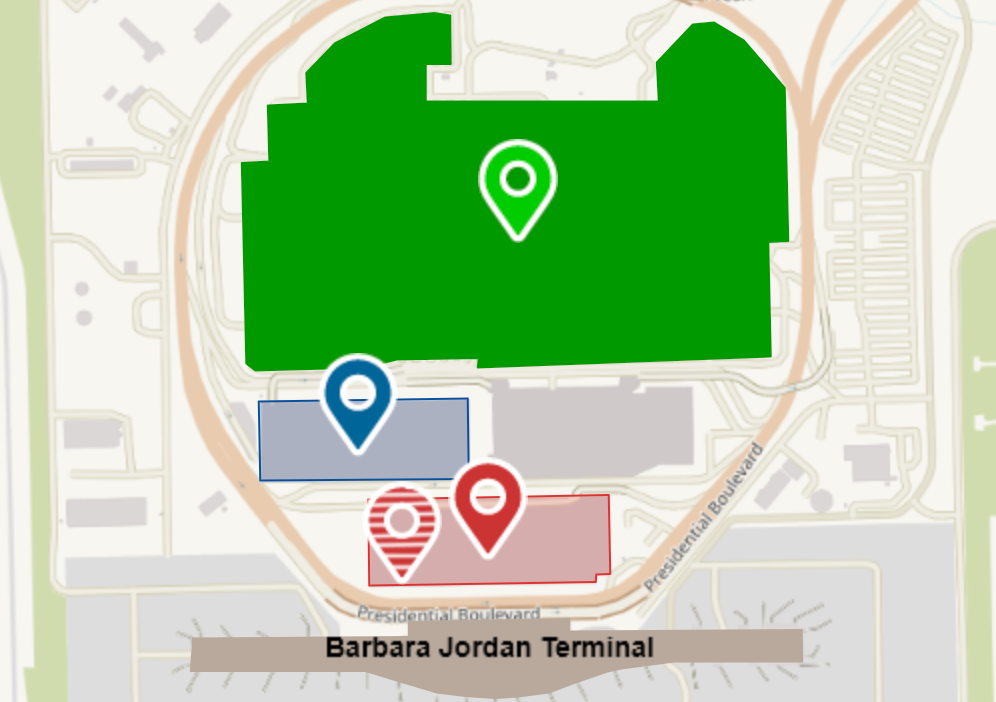 You won't find any free parking here, whether you're hopping on a plane or picking someone up, so plan ahead. If you're heading out on a trip, you're probably better off hitching a ride with a friend or grabbing an Uber rather than paying to park, which can be quite pricey but takes advance reservations.
However, here are how airport lots stack up from closest to furthest away:
Red garage and short term lot: $5 per hour, $27 per day
Blue garage: $5 per hour, $17 per day
Economy lot (green): $5 per hour, $8 per day
You can check ABIA's Twitter account for updates on when the garages fill up
here
.
☕️Coffee
If you want to have the most bean juice options to choose from, try and get to the airport early. If you waltz into the airport at 1 p.m. looking for coffee, like I did on my most recent trip, you're going to have limited options. Yes, there is a Starbucks on deck, but with so many local options in one place, why not branch out?
Caffe Medici, near gate 9, open 4:30 a.m.-12 p.m. daily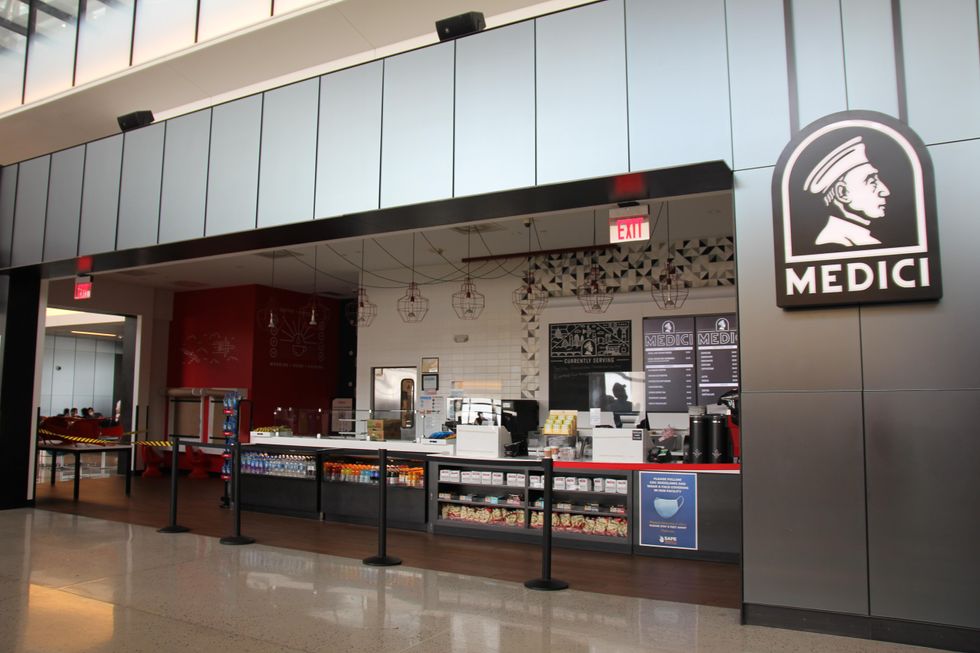 A petite version of the Austin-based cafe is tucked on the far east end of the Barbara Jordan terminal, so get there early and be ready to walk. Caffe Medici, named for the arts patron Medici family of Florentine history, sells traditional coffee that has come to be a favorite among locals and is enjoyed at its six other Austin locations. This location often has long lines so plan accordingly!
Jo's Coffee, near gate 19, open 5 a.m.-5 p.m.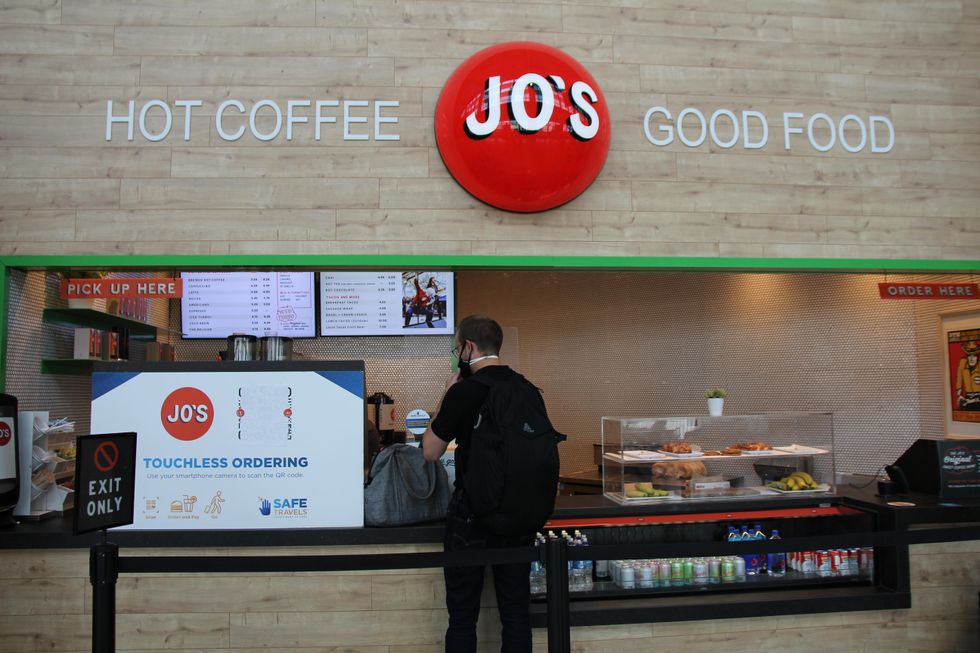 Yes, that Jo's Coffee is available at the airport, minus the "I love you so much" wall. However, this coffee joint is easy to see with its signature red bubble in the middle of the terminal. Not only can you get your coffee at Jo's, it's also a great place to score some breakfast tacos.
​High Brew vending machine, near gate 23, always open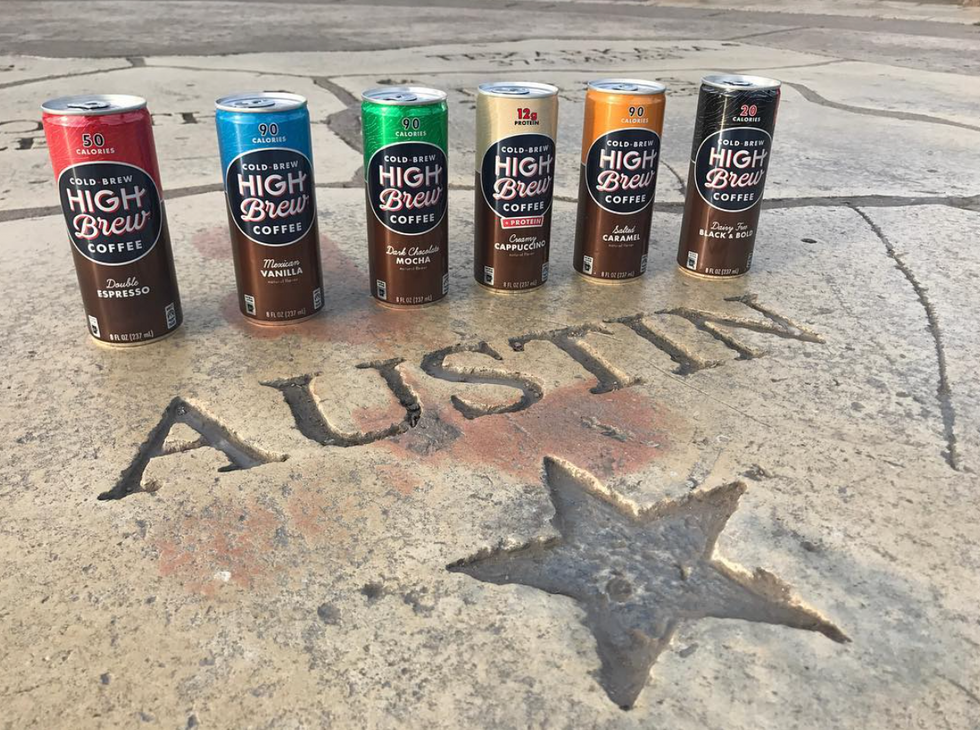 Austin's local canned coffee favorite High Brew is available via vending machine, so you can stock up on caffeine when you're inevitably jonesing for it during a connecting flight. Try the Toasted Coconut or the Bourbon Vanilla Nitro Latte, some of High Brew's best sellers.

🧃Non-coffee drinks
Fewer options than coffee drinks, to be sure, but you can still find your green juice or acai bowl when you visit ABIA.
Juiceland, near gate 17, open 5 a.m.-1 p.m.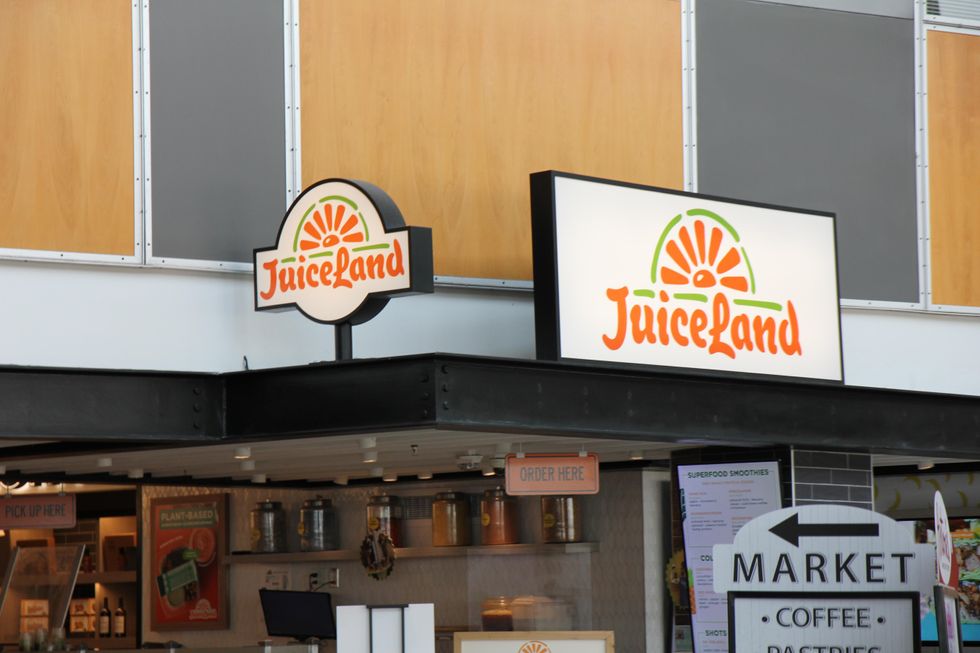 No trip to the airport is complete without a Juiceland visit—if you can make it before it closes. Though you'll find a smaller menu here, like many of the airport versions of local favorites, you can still find a selection of cold-pressed juices, shots, fruit bowls and more vegetarian snacks.
Jugo, near gate 10, temporarily closed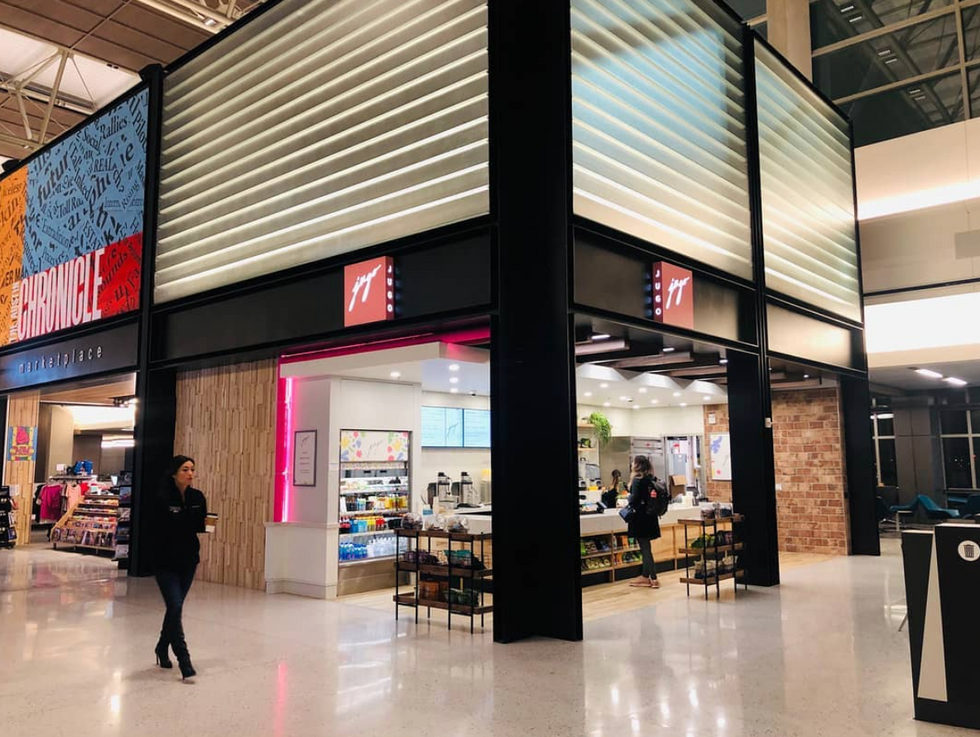 For your local farm-to-table green juices, Jugo is temporarily closed as of Aug. 11 but normally serves juice combinations like carrot, orange, ginger, lemon and turmeric; and pineapple, beet and jalapeno. Jugo is also a great stop for coffee drinks, tea and fresh, healthy snacks.
🥡Food
ABIA really shines when it comes to regional cuisine, packing in as many local franchises as possible.
🌮Best tacos 
The Peached Tortilla, near gate 17, open 11 a.m.-5:30 p.m.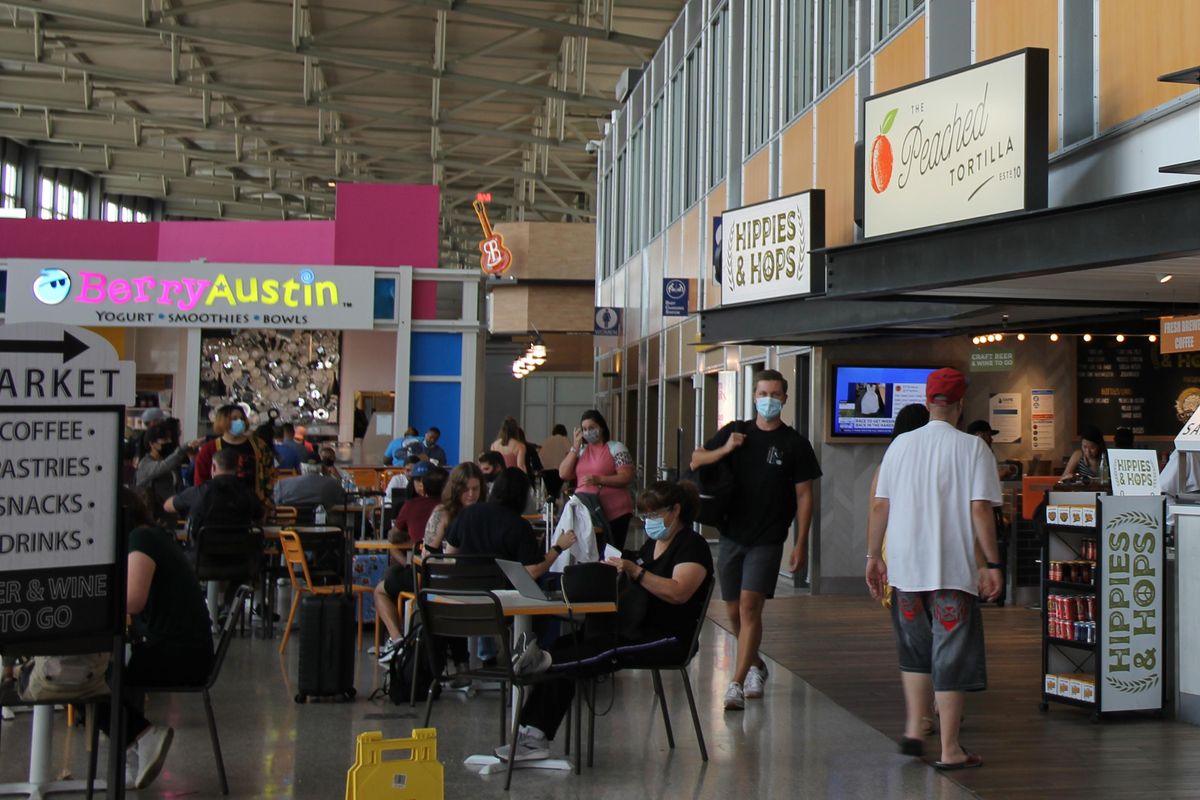 You'll find a much more limited menu at the airport than you would at a standalone location but these tacos are worth it. The restaurant offers only three options, I recommend the Chinese BBQ Chicken, to be served either in tortilla or bowl form and are all made fresh to order.
Tacodeli, near gate 23, open 5 a.m.-1 p.m.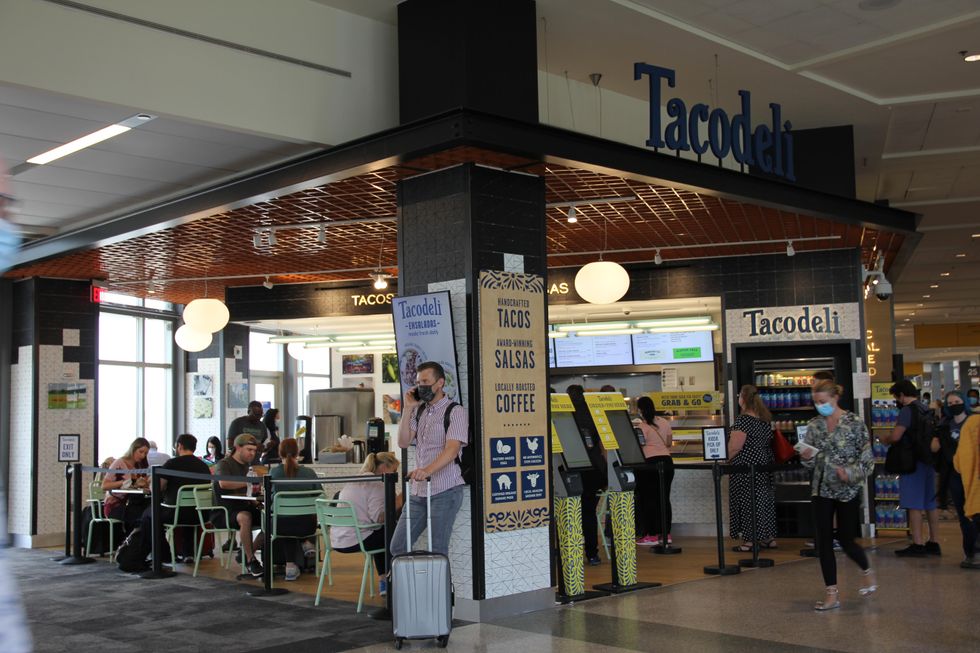 A warning: this Tacodeli's line is not for the faint of heart, so make sure you have time to spare before you commit to a taco. That said, Tacodeli's breakfast tacos are about as "Austin" as you can get—especially if you order with the burn-your-face-off Salsa Doña.
🍔Best burger 
Hut's Hamburgers, near gate 14, open 11 a.m.-7 p.m.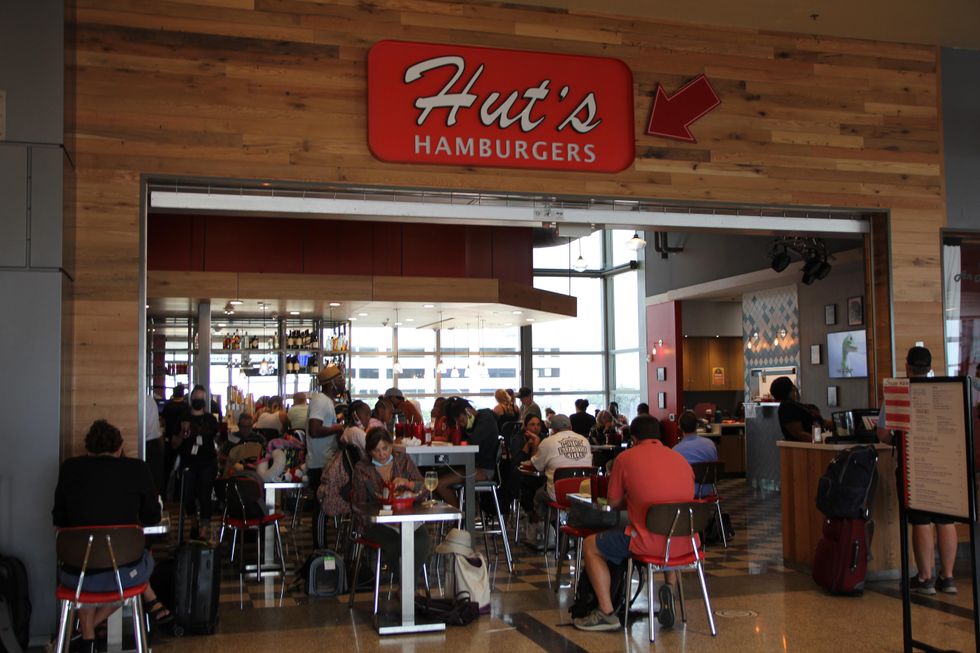 While you can find most of ABIA's grub options outside the airport, Hut's Hamburgers is a special exception. The former West 6th location closed in 2019 and left the airport location behind as its sole successor, so ABIA is the last place you can get one of its famous burgers, which are all available with buffalo or chicken, onion rings or milkshakes.
🍖Best barbecue
The Salt Lick BBQ, near gate 22, open 5 a.m.-8:30 p.m.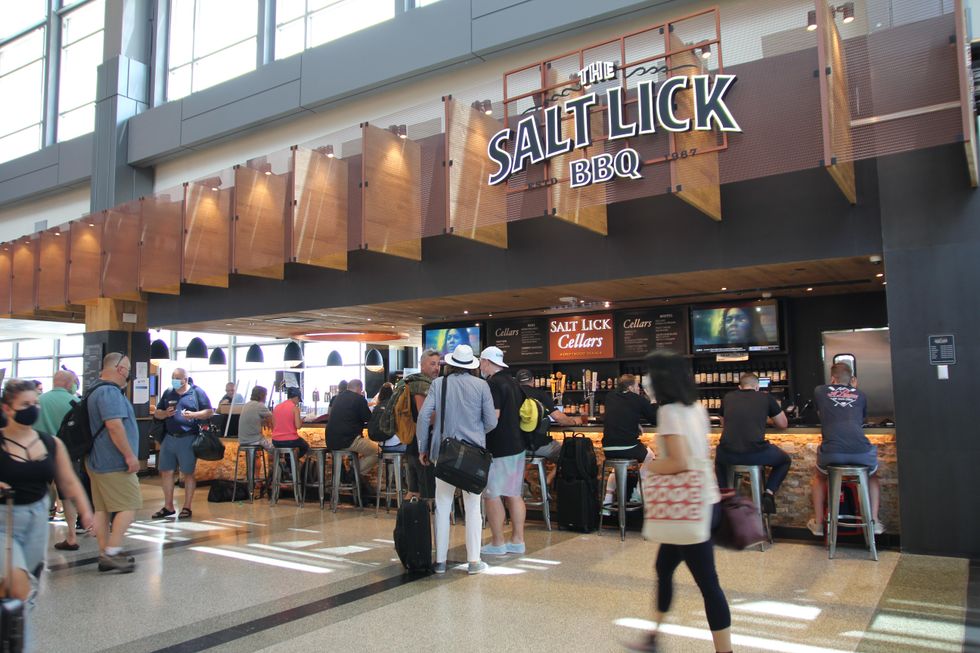 Haven't even left Texas and already missing that smoky Hill Country BBQ? Look no further than gate 22, where a tiny version of the BBQ favorite will sell you brisket, sandwiches, baked potatoes and sides for dine-in or to take on your flight. The next best thing to the real thing, The Salt Lick was voted fourth place in the World's Best Airport Restaurants by the Daily Meal.
🍴Best dine-in restaurant 
Parkside, near gate 3, open 5 a.m.-1 p.m.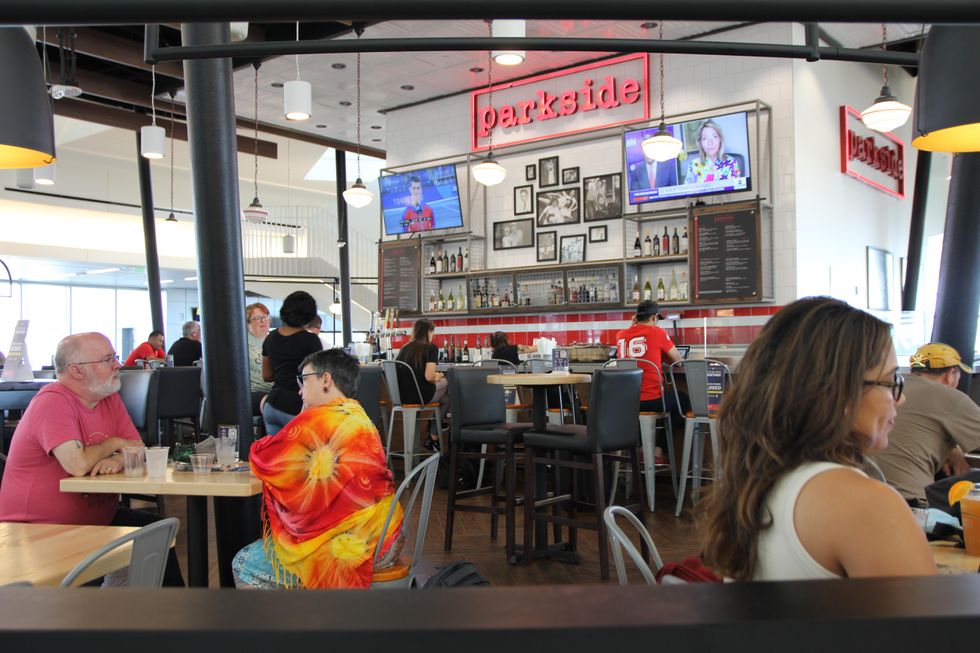 This open-air pavilion is a sophisticated choice for those looking to grab a quality bite to eat before jet-setting away. Serving upscale American sandwiches, salads and cocktails, the restaurant is located in the international wing and tends to be a quieter place to sit down and chat. Don't forget to check out the airport's hidden sky deck located right nearby!

🍸Best bar 
The Saxon Pub, near gate 19, open Monday-Saturday 7 a.m.-8 p.m. and Sunday 10 a.m.-8 p.m.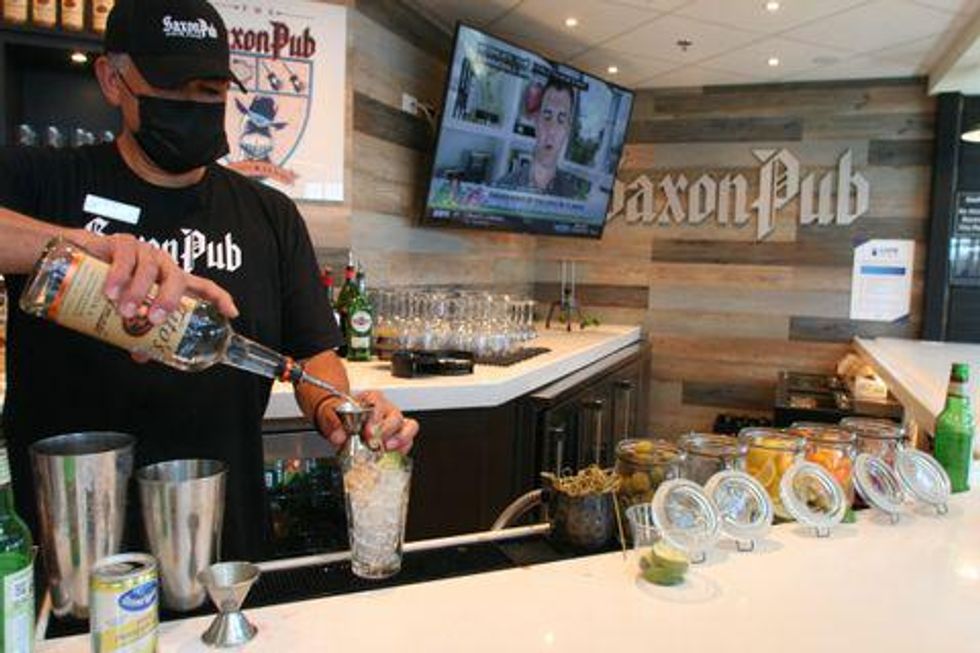 Like its South Lamar counterpart, The ABIA Saxon Pub is carrying on the tradition of keeping live music alive. The bar is perfectly centered in the terminal and right next to the Asleep at the Wheel stage, which is the biggest stage at the airport. While you're there, enjoy a seat in the bleacher-style seating and listen to the band while appetizers and a full bar await at The Saxon Pub.

🍭Sweets
Amy's Ice Creams, near gate 21, 11 a.m.-7 p.m.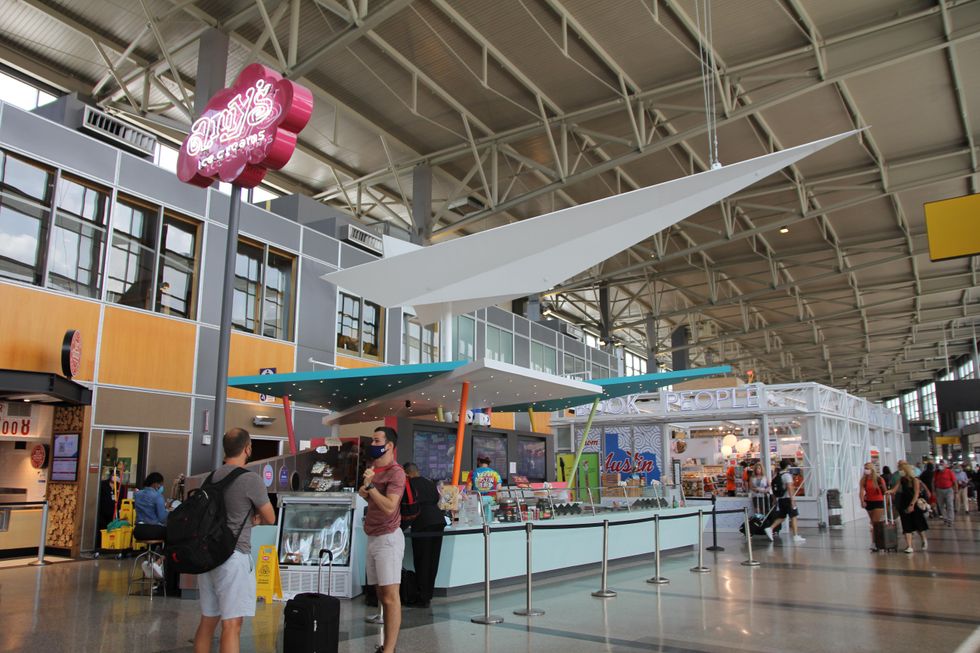 If you're from Austin, you already know what Amy's is all about, but if you're visiting and you haven't tried her ice creams yet—let's just say you're going to get some weird looks. Look up to find Amy's stand because it is located directly underneath a gigantic paper airplane.
Toy Joy & Yummi Joy, near gate 11, 6 a.m.-6 p.m.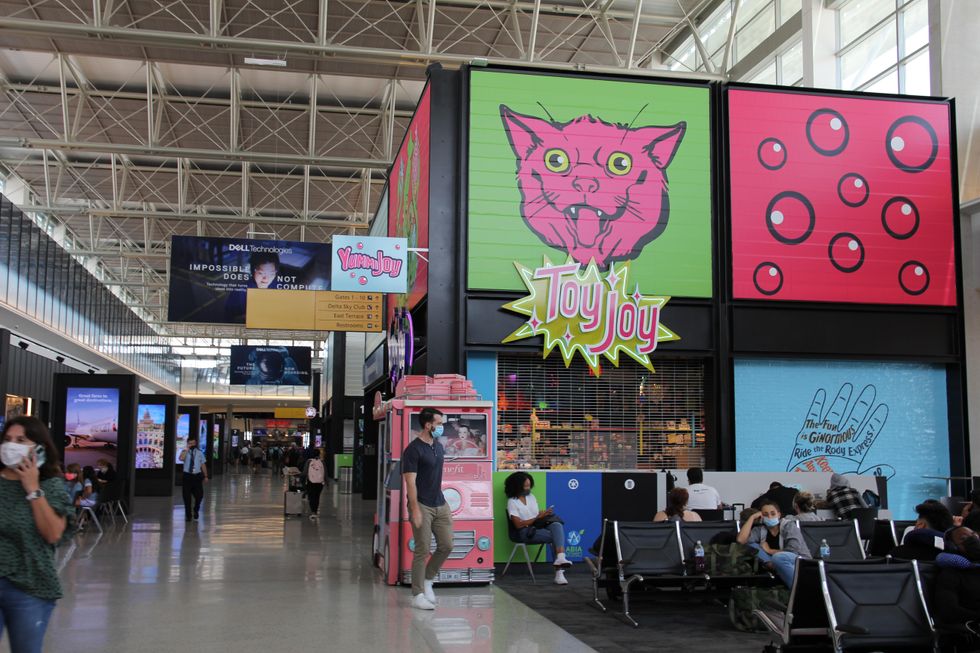 Toys, games and candy, oh my! The whimsical kiosk, where you'll find artisan homemade candy and playthings galore, is impossible to miss with its unmistakable pink cat mascot staring down the hallway. It's easy to lose track of time while wandering this child-like wonderland—keep an eye on the clock!
🤠Austin merch
Forget to grab your loved ones an Austin memento before make it through security. Not to worry, there are so many gifts to choose from that the recipient will be none the wiser of its airport origins.
​Taste ATX, near gate 15, 11 a.m.-6 p.m.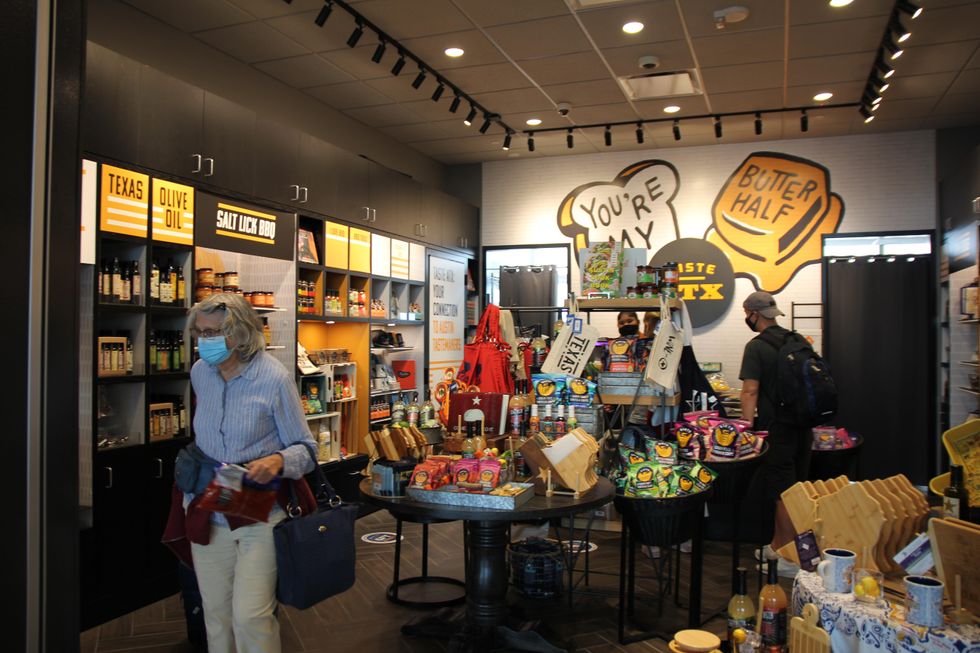 Because the taste of Austin is so paramount to the experience, you can't leave without taking some of the smoky, savory palate with you. With one of Austin's most prominent murals adorning the back wall, some of Taste ATX's inventory includes a wide variety of Texas-shaped cutting boards, Salt Lick BBQ sauces, salsas and Siete hot sauces.
Tyler's Austin Warehouse, near gate 18, 1 a.m.-6 p.m.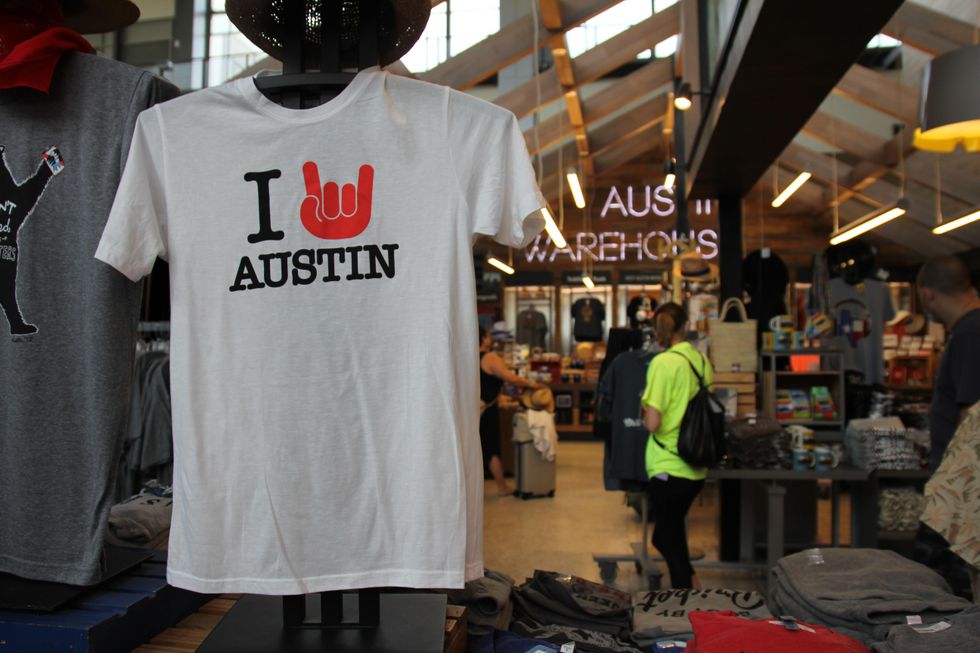 For all your cowboy-hat-wearing, Texas-flag-donning, "Keep Austin Weird" needs, Tyler's Austin Warehouse is the spot to visit. The industrial, high-ceilinged store is a one-stop shop for the souvenirs you might have missed while exploring the city.
​The Scoreboard, near gate 15, 8 a.m.-4 p.m.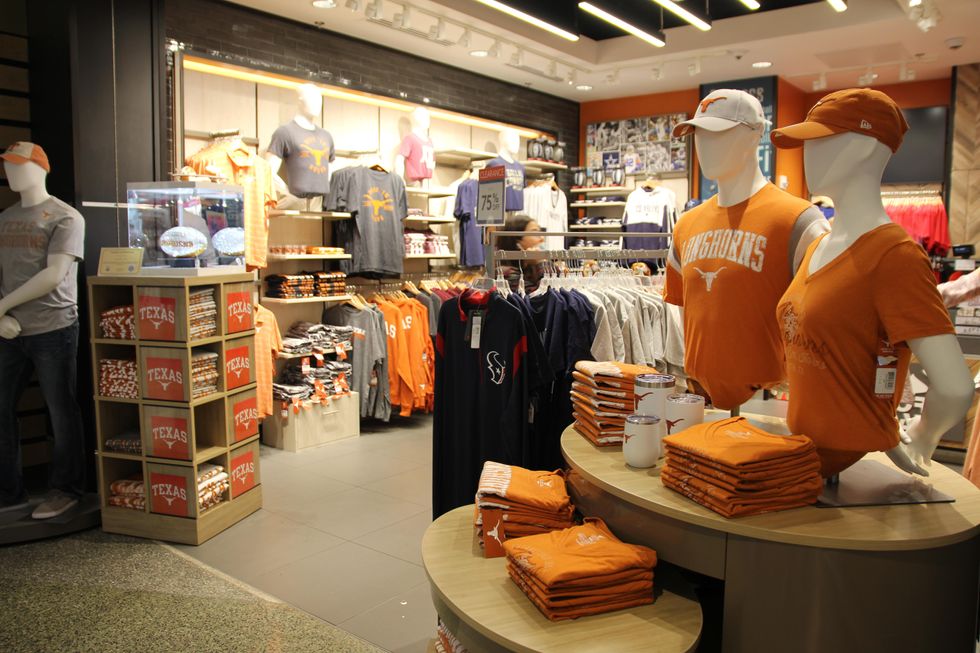 ...but if you're looking for that classic burnt orange attire, trek no further than The Scoreboard, located just outside the security checkpoint. While the shop carries mostly Longhorns merchandise, including a Swarovski crystal-encrusted football, you can also find items for the Houston Texans fan in your life.
🎸Live music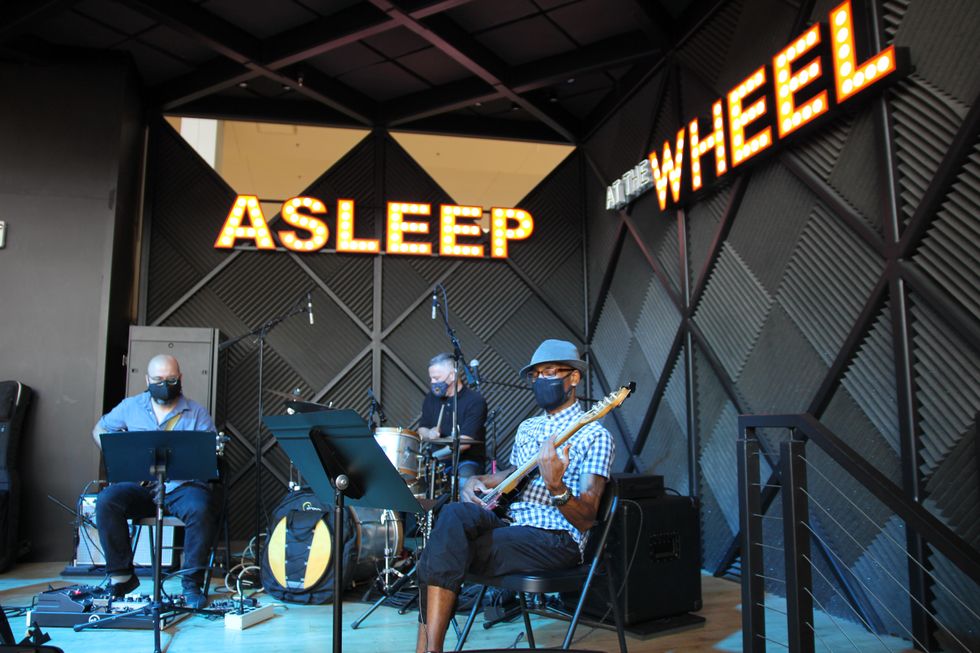 Live music is normally abundant at Austin's airport, with nine stages all around the terminal for performers. Music has been paused again for safety due to the pandemic but not for too long—an ABIA spokesperson said the airport "will continue to monitor the situation and guidance from Austin Public Health in anticipation for its eventual return." The musicians are Austin locals and in its peak, the airport hosts around 30 shows per week.

But for future reference, you can see live music at the Asleep at the Wheel stage near gate 19, the largest stage sandwiched between The Saxon Pub and the airport's only food truck, Earl Campbell's Taco Truck.
Also worth noting are the 24 Diner stage, the Haymaker stage, the tiny Tacodeli stage and the Austin City Market stage, so be on the lookout for a live music resurgence in the near future!
🛍Other must-visits
🍾Duty free
​You'll find only one duty-free store in the airport, EJE Travel Retail, which is located near gate 11 and open from 10 a.m.-6 p.m., selling perfumes and luxury goods from brands like Givenchy, Tommy Hilfiger, Chanel and Cartier tax-free.
​Book People, near gate 20, open 5 a.m.-6 p.m.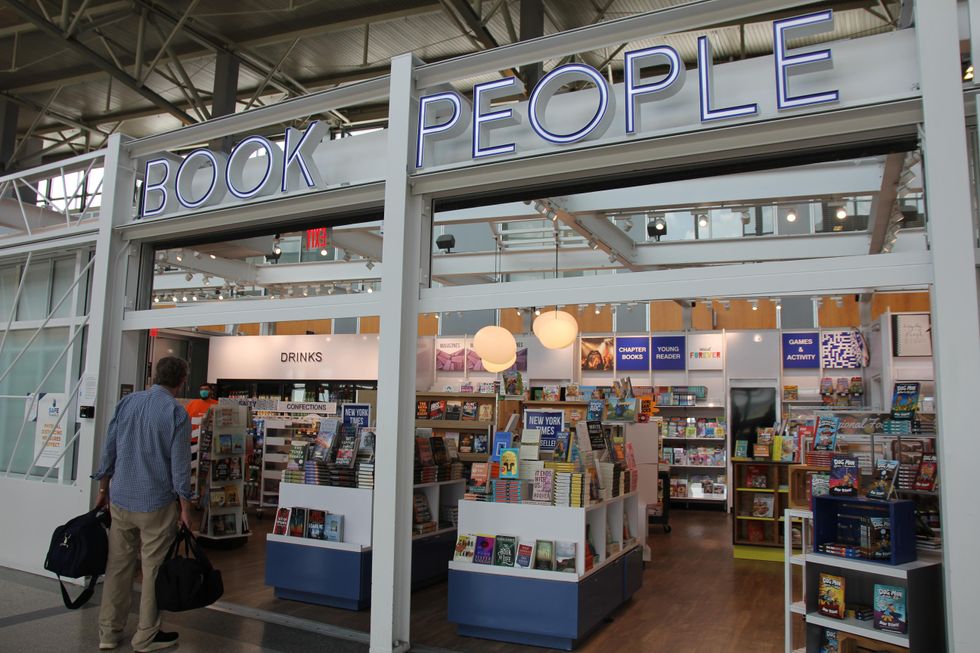 This well-known gem, also the catalyst behind the city's ultra-famous "Keep Austin Weird" slogan, is making sure you are well-read when you fly. We've all forgotten to bring along a book in the face of a long flight, so stop by not only for the Book People clout, but to buy one (or two or three) books.
Sky deck, near gate 3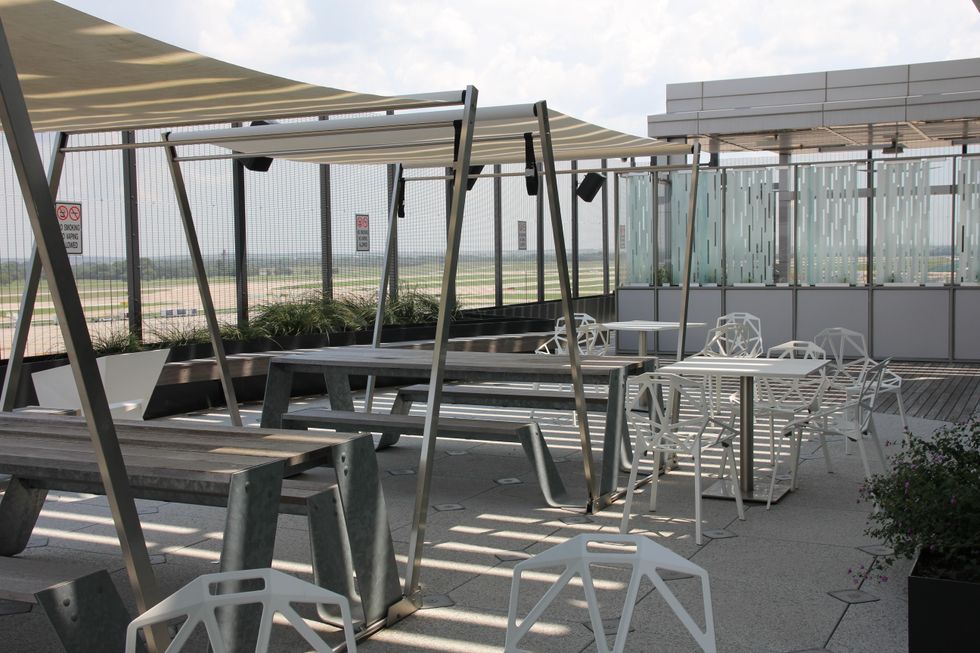 Feeling cooped up while waiting for your flight? Head to the far east end of the terminal, past Parkside and up the stairs and you'll find an open-air sky deck that is open to all passengers. This hidden gem is a great place to go for some fresh air and a relaxing atmosphere. This spacious deck opened in 2019 and is not well known among travelers, and combined with the sweltering heat, it is also pretty quiet most of the time.​
Endless art galleries
ABIA is so filled with local art, the whole thing is practically a gallery. Though most of the pieces you'll encounter around the terminal are permanent fixtures, there are 10 galleries to peruse with plenty of pieces for sale. The exhibits change often and frequently sell out, according to an ABIA spokesperson, but you can gaze upon the dozens of fixed exhibits if you run into empty glass cases.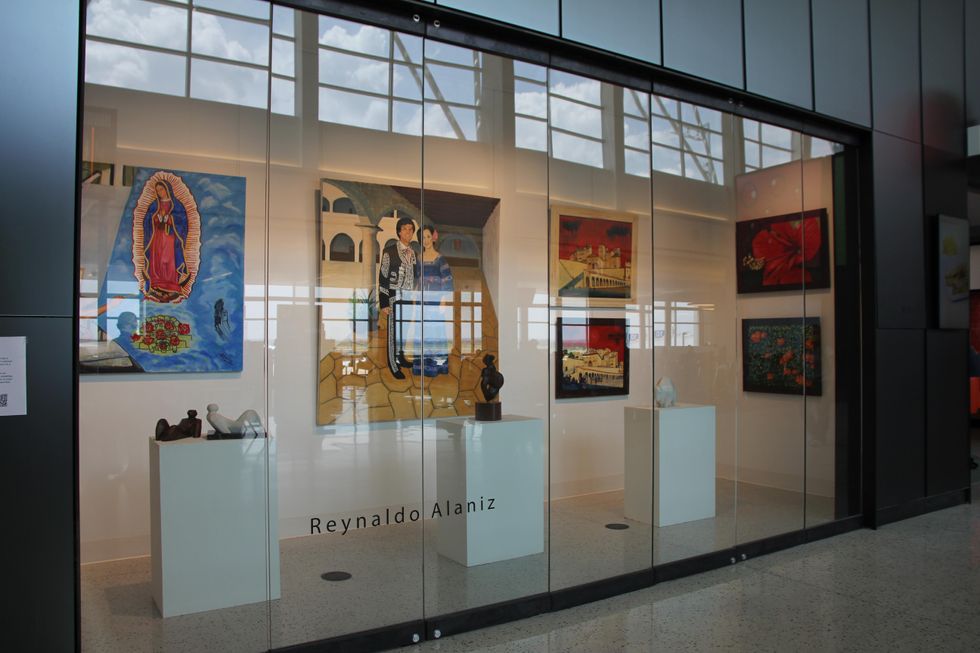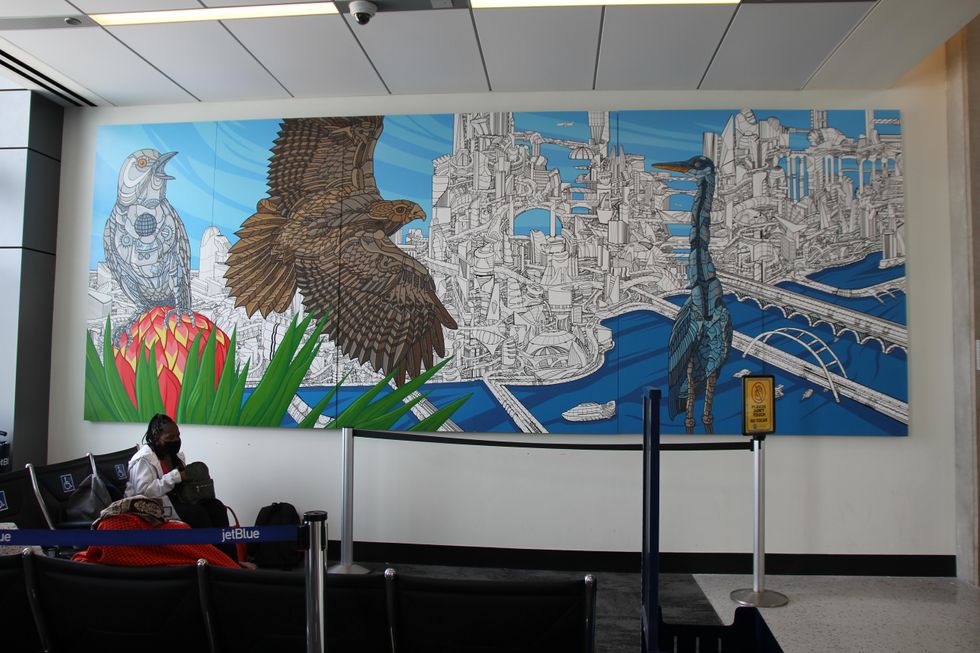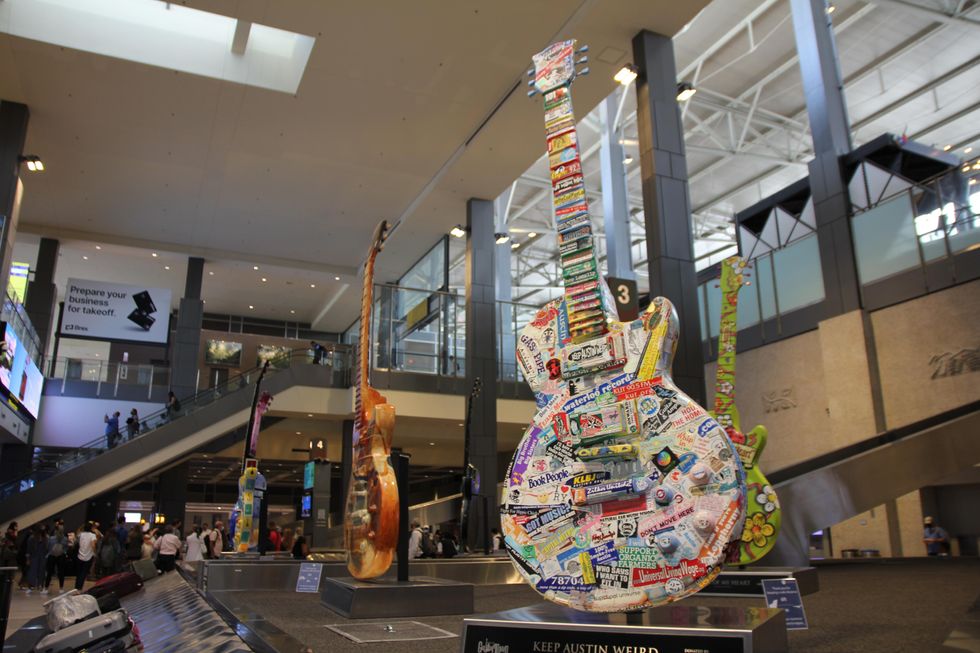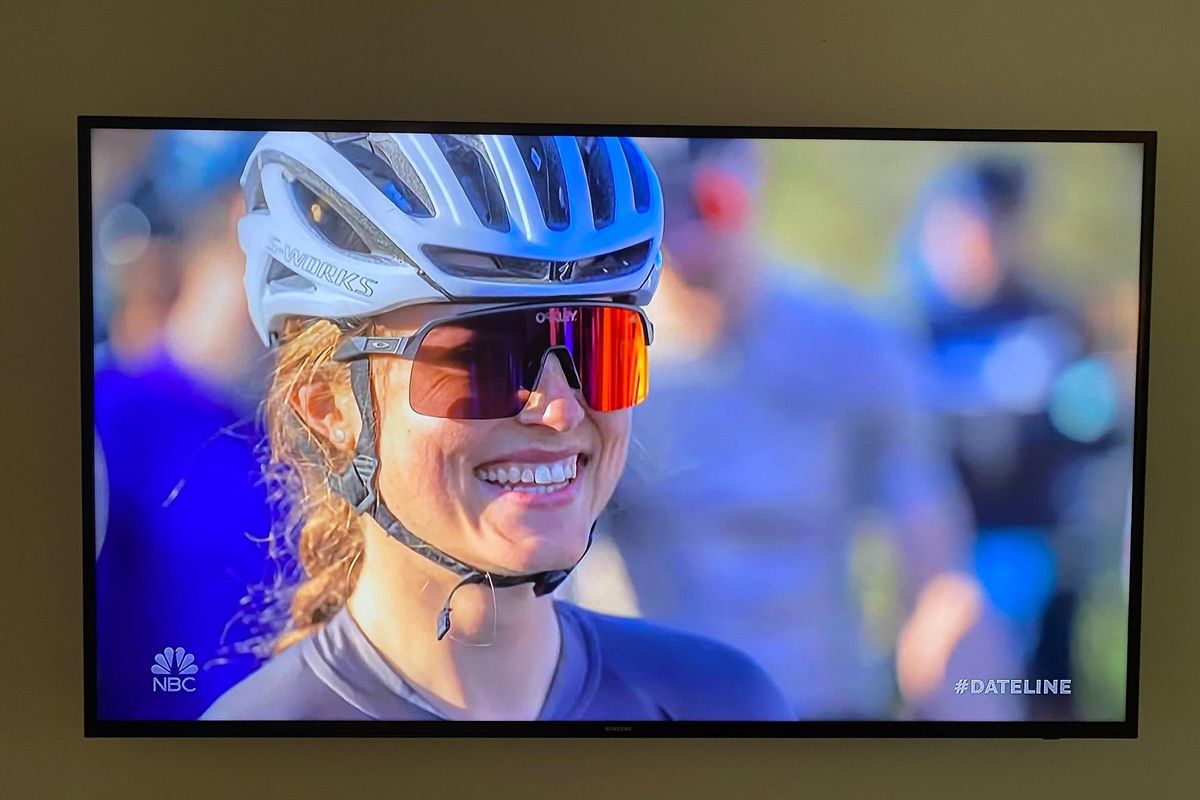 Dateline NBC
(Editor's note: this is part one of a two part Austonia series)
Lester Holt's Dateline NBC has kicked off its new season with a two hour episode, The Last Ride, examining the Austin shooting death of pro cyclist Moriah "Mo" Wilson on May 11.
Hosted by Keith Morrison, NBC brings considerable investigative resources, well beyond the resources and capabilities of local Austin media. They sent producers and crews to Austin, New York, and Costa Rica, interviewing people related to the case and uncovering more information. They collected numerous photos and archival videos. They located and reviewed court documents. And they hired a consulting detective to help analyze evidence.
Woven throughout the segment are on-camera insights from Austin American-Statesman reporter Ryan Autullo, who covered the story for the paper.
Moriah "Mo" Wilson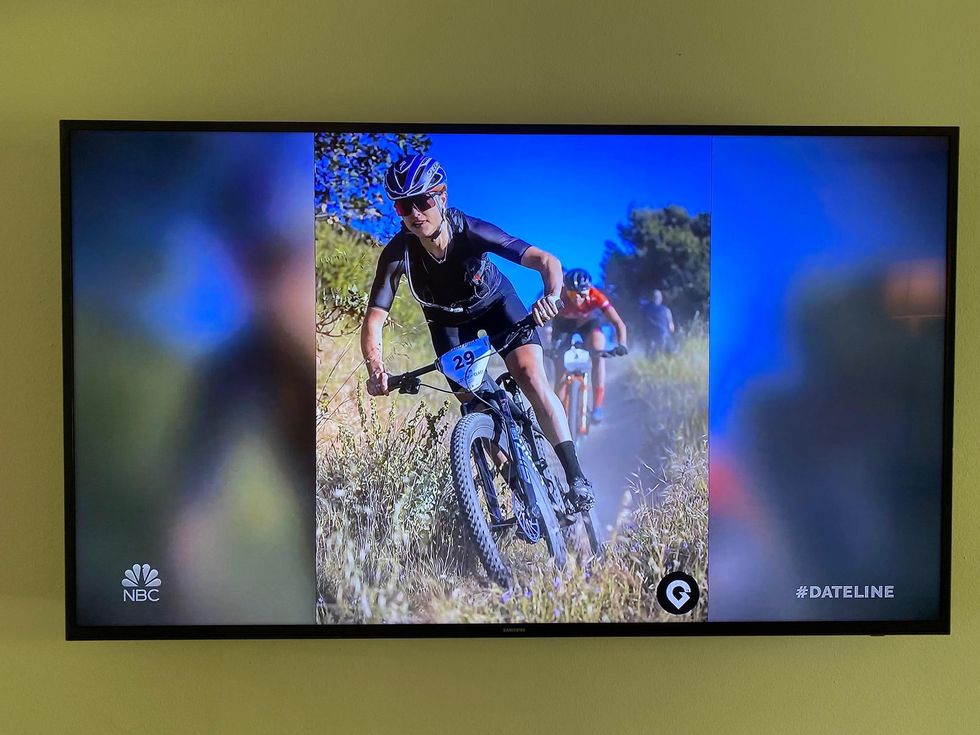 Moriah "Mo" Wilson
Dateline NBC
Wilson is portrayed as a "bright young star," a ski racer from Vermont who moved to California and switched to racing bikes, rapidly rising to the top of gravel racing's pro ranks. Her rise was so sudden that despite being immensely popular among the cycling community, the racers did not know much about her.
Mo Wilson had no real ties to Austin. She was here preparing for a race, staying with a female friend in an alley apartment over a South Austin garage.
On the second night of her Austin trip, her friend came home to find Moriah on the floor, bleeding, with multiple gunshot wounds. The friend called 911 and administered CPR, but was unable to save Moriah.
Police found 9mm shell casing on the apartment floor, and discovered that Wilson's very expensive bike was missing. It was soon found, hidden in nearby bushes.

A witness, the property landlord who was working inside the garage at the time, said he opened the garage door to exit and heard someone running down the exterior stairs from the apartment above. As he left the garage, he said in a statement that he thought he saw someone riding a bicycle down the alley, away from the scene. He did not mention hearing any gunshots.
Colin Strickland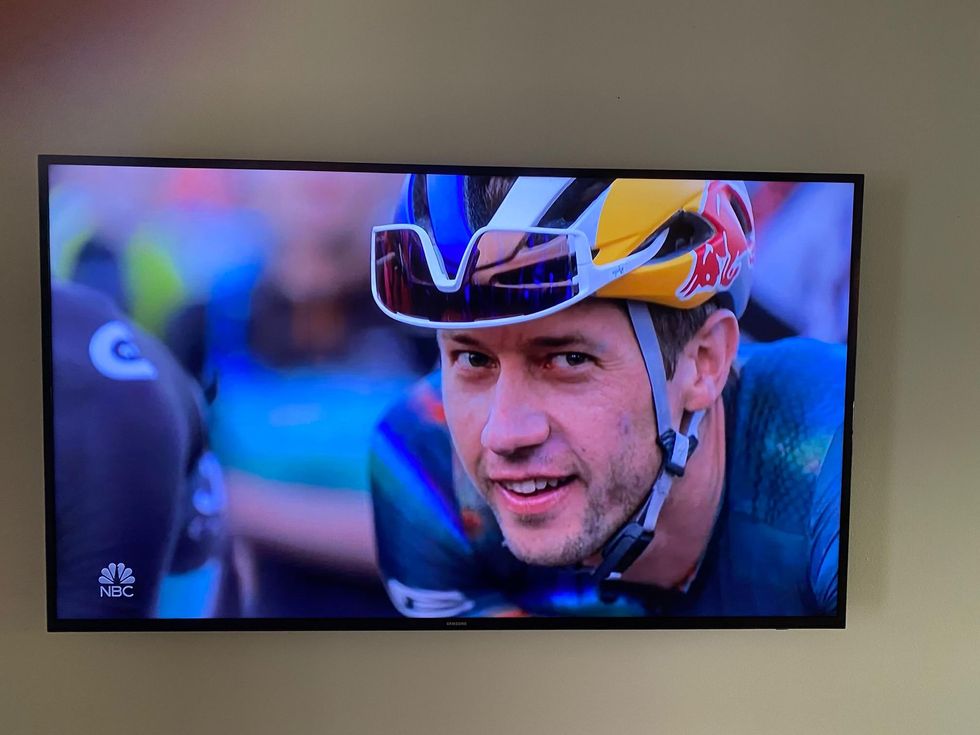 Colin Strickland
Dateline NBC
Authorities focused their attention, initially, on Austin pro cyclist Colin Strickland, at that time a Red Bull sponsored athlete. Police were told that Strickland and Wilson had spent the early evening together, riding on his motorcycle to swim at Deep Eddy Pool and eating dinner afterward at nearby Pool Burger.
The two were well acquainted. A friend said that Mo Wilson and Colin Strickland had met and "hit it off" in July 2021, at a San Diego bike race called the Belgian Waffle Ride.
A few months later, in October, Moriah Wilson visited Austin, staying with the same friend in the same apartment where she died. On that visit, according to NBC, Wilson and Strickland had a "fling."
Not clear, according to NBC, is whether Wilson knew that Strickland was in a long term relationship with Austin real estate agent and amateur rider Kaitlin Armstrong (no relation to cyclist Lance Armstrong).
A few months later, at a race in Fayetteville, Arkansas, Strickland was there with Armstrong by his side. Wilson was confused, and NBC reports that she texted Strickland for clarification, but didn't get it. His vague responses to Wilson's questions, according to NBC, did not directly address the extent of his relationship with Kaitlin Armstrong.
The day after Wilson's murder, NBC reports that Strickland voluntarily spoke at length with police, providing what NBC characterizes as a "precise, to-the-minute" account of their time together on the previous evening.
NBC says there was support for Strickland's timeline from a variety of electronic sources, including security camera video and a time-coded electronic lock on the apartment door that was opened with a special code established only for Wilson.
The door lock recorded Moriah Wilson leaving the apartment at 5:55 p.m. At 8:16, security footage shows Wilson and Strickland leaving Pool Burger on his motorcycle. More data shows when Wilson entered the apartment and documents Strickland riding away.
Based on that data, Austin police ruled out Strickland as the potential killer, NBC says.
Kaitlin Armstrong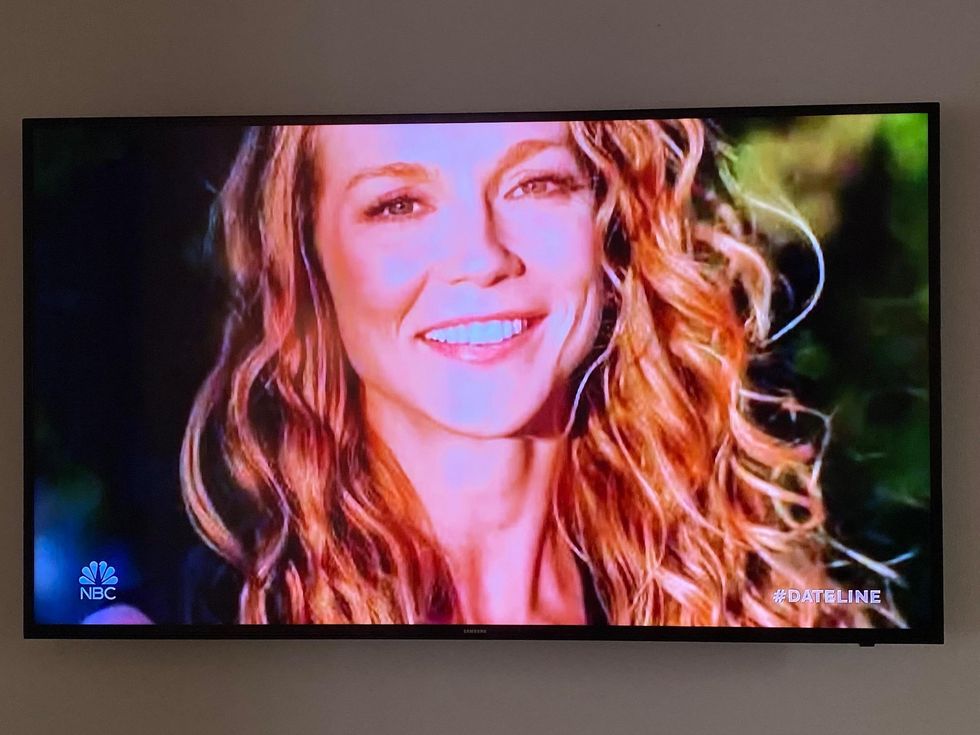 Kaitlin Armstrong
Dateline NBC
But in the data were two important clues.
Ten minutes before Moriah and Colin returned from swimming and having dinner, a Ring camera showed a dark Jeep Cherokee with a "complicated bike rack" driving through the alley, past the apartment.
Eleven minutes later, NBC reports that a different Ring cam pictured what looked like the same vehicle driving slowly by, and then stopping, behind the apartment where Moriah was killed. This was one minute after the electronic lock indicated that Moriah opened the apartment door after being dropped off by Strickland.

"This was somebody that was watching [the apartment]," said DATELINE host Morrison. The car's driver, "an obvious person of interest."

The next morning, when police visited Strickland's home, there was a black Jeep Cherokee with a "very elaborate bike rack" parked by his house.
Who did the Jeep belong to? It was not his. It belonged to Strickland's long-time girlfriend, Kaitlin Armstrong.
(Come back Wednesday night to read the conclusion of our two part series, in which Armstrong disappears, is later found in Costa Rica, and extradited back to Travis County. Read about the interview with her attorney, who goes beyond a "reasonable doubt" defense and says there will be evidence that will exonerate her.)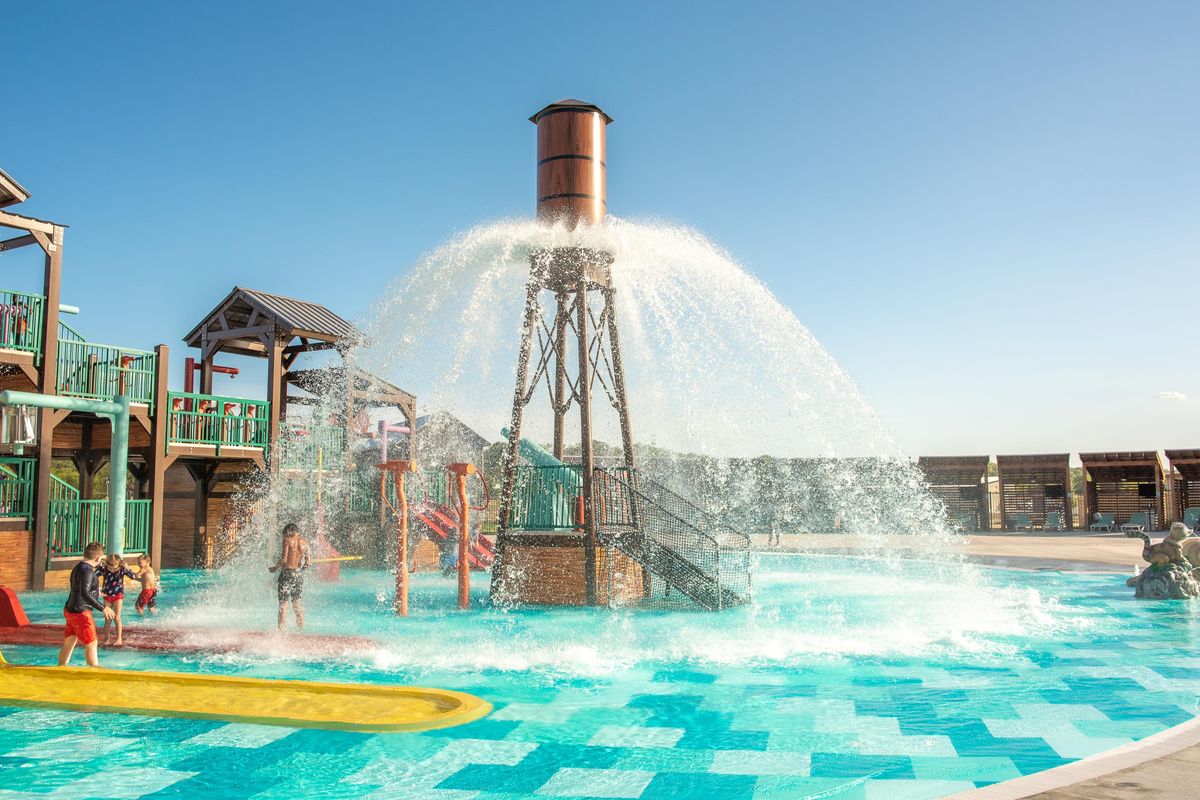 Camp Fimfo Waco
Camp Fimfo Waco, a brand new camping resort, is kicking off football and fall camping season in style! With top-notch amenities, premium accommodations, and 10 weekends of fall fun, there's no better place to have a fall camping getaway, especially if you're a Baylor football fan!
Fall promises to be a one-of-a-kind camping experience. From Sept. 16 to Nov. 24, weekends will be packed with fall-themed activities, including special Halloween weekends in October. Campers can enjoy activities like fall crafts, campground trick-or-treating, costume contests, site decorating, outdoor movie nights, and more!