Never miss a story
Sign up for our free daily morning email...
...and afternoon text update
Get connected with our daily update
(Pexels)
As Austin public health officials warn of the "Thanksgiving effect"—evidenced by a rising COVID-19 caseload and increasing hospitalizations connected to holiday gatherings—many residents want to know how they can minimize their risk of exposure in the coming weeks.
Austonia spoke to Dr. Stanley Spinner, vice president and chief medical officer at Texas Children's Pediatrics and Texas Children's Urgent Care, about how to navigate this holiday season safely.
---
Where is the risk?
First things first, it's helpful to know what is driving the current spike in new cases.
Spinner said the risk extends far beyond essential workers and is not necessarily concentrated where one might expect, such as in school classrooms.
"We see this from a lot of casual gatherings," he said. "That's how we're seeing more and more people getting infected.
Local case investigations bear this out.
"In our discussions with our epidemiology team, there are simply dozens and dozens of examples of entire families being infected based on Thanksgiving holidays in our jurisdiction," Austin-Travis County Interim Health Authority Dr. Mark Escott said Tuesday.
What's the most prudent course of action?
Spinner encouraged Austinites to stay within their bubbles this holiday season. He will be spending Christmas with his wife and their son's family, all of whom have avoided grocery stores and restaurants.
"We feel comfortable with that," he said, adding that the best way to minimize risk is to avoid seeing people outside of your household.
What if I get tested before attending a gathering?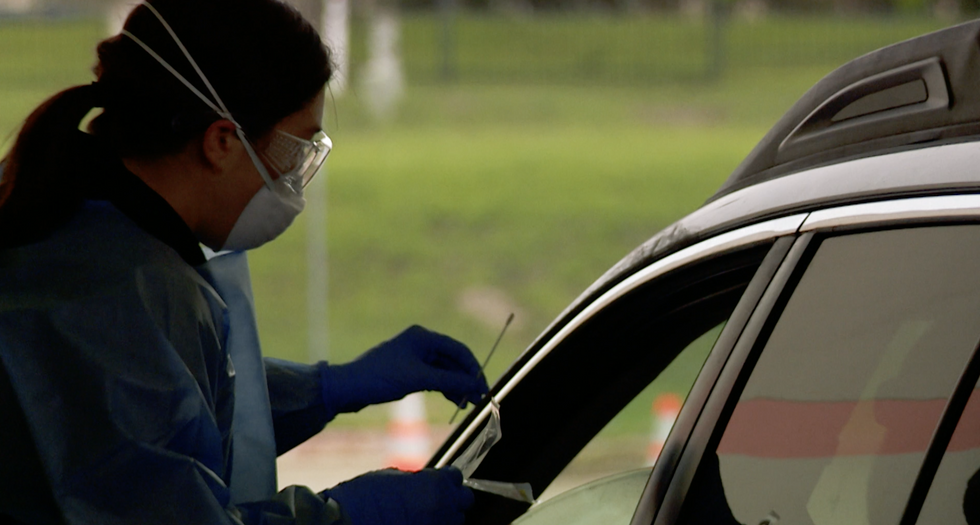 (City of Austin)
Austin Public Health reported a spike in demand for COVID-19 testing the week before Thanksgiving, which officials attributed to people wanting a negative result before attending a holiday gathering.

But this isn't a failsafe method—and may lead to a false sense of security.
"The issue as far as testing … it's a snapshot," Spinner said, adding that a negative result only confirms that a person probably wasn't infected on a certain day.
A more accurate way to rule out COVID would be to get testing every day in the lead up to a gathering, which is prohibitively expensive and time-consuming for most people.
Is there anything I can do to make gathering less risky?
Yes.
"If you're really looking to gather more than your immediate family together on Christmas, one approach is they all quarantine at home for 14 days," Spinner said.
With less than two weeks until Christmas, this method would require groups to have already begun their quarantine period.
The Centers for Disease Control and Prevention recently updated its quarantine guidelines, including a 10-day period as an alternative to their previous recommendation of two weeks.
"Reducing the length of quarantine may make it easier for people to quarantine by reducing the time they cannot work," the federal agency wrote on its website last month.
Although a 10-day quarantine is better than one of a shorter duration, Spinner encouraged Austinites to self isolate for the full two-week period, which he called "the gold standard."
Is it safe to travel?
This depends on how much risk one is willing to take on.
"If you really, really want to be safe, stay home," Spinner said. "That's ultimately the best approach."
For those intent on traveling, he recommended trips that require no more than one day of driving to avoid exposure at hotels or rental properties.
If that isn't an option, he suggested renting an apartment or home to avoid interacting with others. If one is required to stay at a hotel, he urged cleaning the room after checking in as a precaution.
What about flying?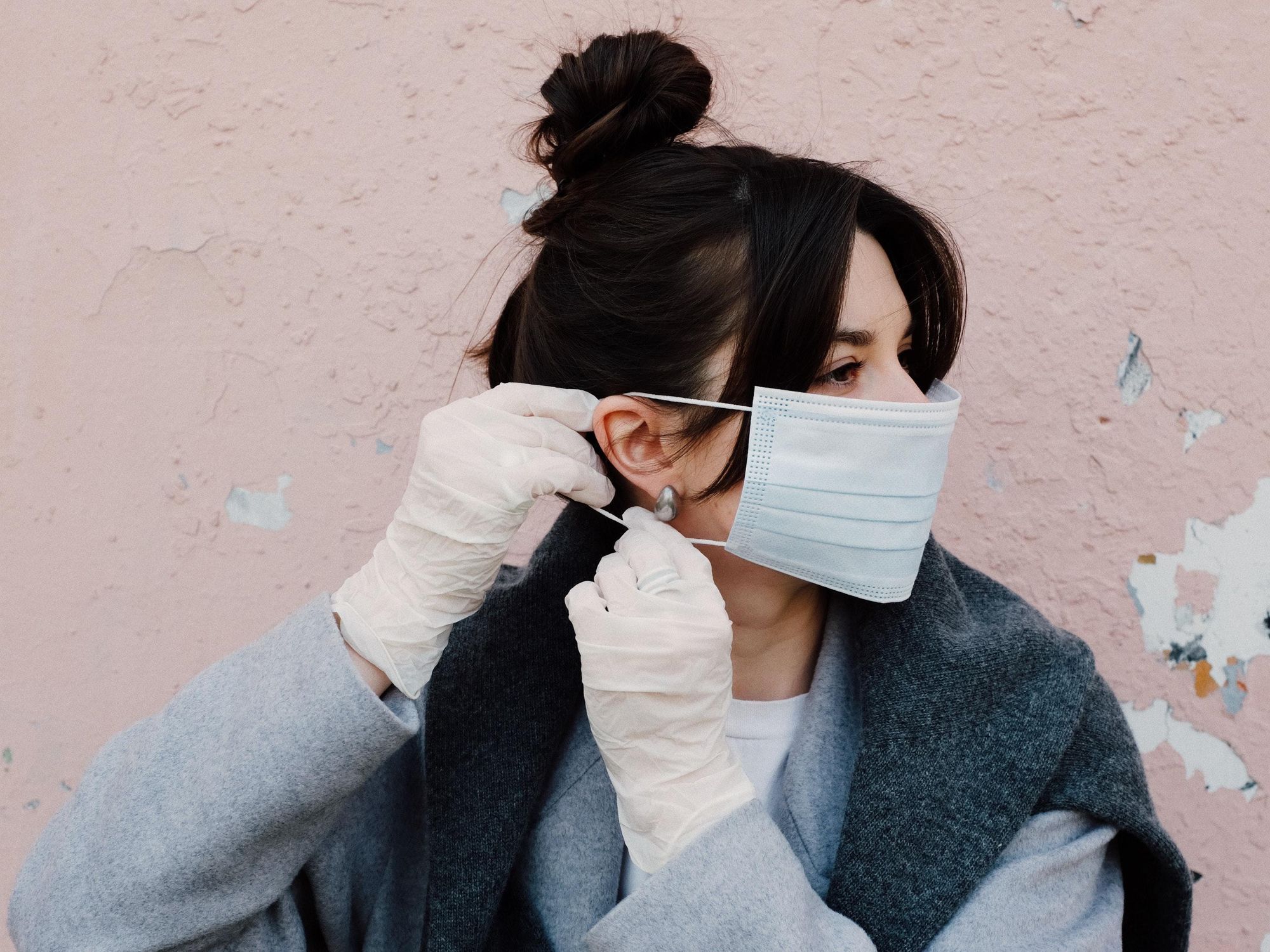 Spinner discouraged air travel but offered some suggestions for how to make it less dangerous.

Most fliers who get COVID while traveling are exposed in their airport, so he encouraged fliers to wear a mask; eye protection, such as a face shield; and gloves.
He also said to avoid any public restrooms, if possible, and wipe down surfaces before using them
Still, he added, "it is a risk."
Who should be most cautious?
"The more people you have (around you) who are higher risk, the closer to the vest you should play it," Spinner said.
High-risk populations include those 65 years of age and older; people with co-morbidities, such as diabetes and suppressed immune systems; and those who are pregnant.
He encouraged everyone to be cautious because of the possibility that they could transmit the disease to others—or get sick themselves with a severe case.
"Who wants to take the chance with themselves or their loved ones?" he said. "Unfortunately, a lot of people do, but they shouldn't."
With a taste of MLS play under their belts, Austin FC is entering the second half of a scoreless inaugural match.
The club has been given some generous breaks from No. 2 LAFC, who had one or both of their star DPs out for the half. While forward Diego Rossi is out for the entire match due to a hamstring injury, Carlos Vela was accidentally pulled too soon on what turned out to be a miscommunication.
"He gave us the sign that he needed to come off," LAFC Head Coach Bob Bradley said on broadcast. "I can't say more than maybe it's my fault."
The two breaks aside, Austin FC has been holding their own against the match favorites. In the signature style of Head Coach Josh Wolff, the team has been quick and intense, nearly connecting on several fast breaks. ATXFC has also kept about equal possession with LAFC, although their shot attempts haven't been quite as nervewracking as the home team.
LAFC has given goalkeeper Brad Stuver some scares with 11 shot attempts, four of them on goal. By contrast, Austin FC has had five shots on goal.
LA has pulled some dramatics and slowly gained more possession throughout the half, but ATXFC's defense isn't as shaky as it seemed in preseason. Jhohan Romana has pulled his weight in getting the ball out of goal, and defensive midfielder Alex Ring has shown the qualities that make him captain as he leads his teammates through their first ever match.
Will Austin FC win against the odds? It's tough to tell, but Austonia will keep you updated!
It's matchday! Austin FC—Austin's first major league sport team—kicks off its debut season in Los Angeles today after years in the making. We know how much this means to our beloved city and are taking you along with us as we journey to LA!
Austin FC writer Claire Partain and I are excited to bring you game-day coverage straight from the City of Angels. Check back here for updates, and visit our socials: @austonianews for the latest.
5 p.m: Kickoff!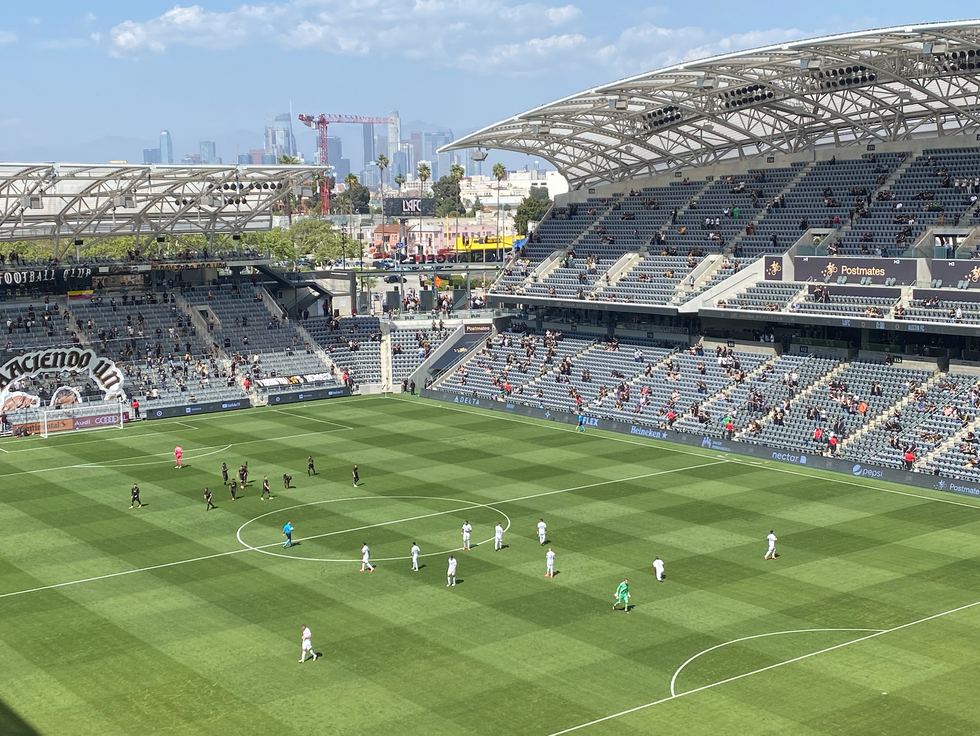 It's finally here! Claire will be updating Austonia's Twitter account live. And we'll post her game recap after the game. Best of luck Verdes!
4:40 p.m: Excitement radiates back home
Watch parties are in plenty supply back home. Austonia's Laura Figi visited Circle Brewing Co. and found a crowd of excited supporters.
4:20 p.m: Austin FC supporters are in the stadium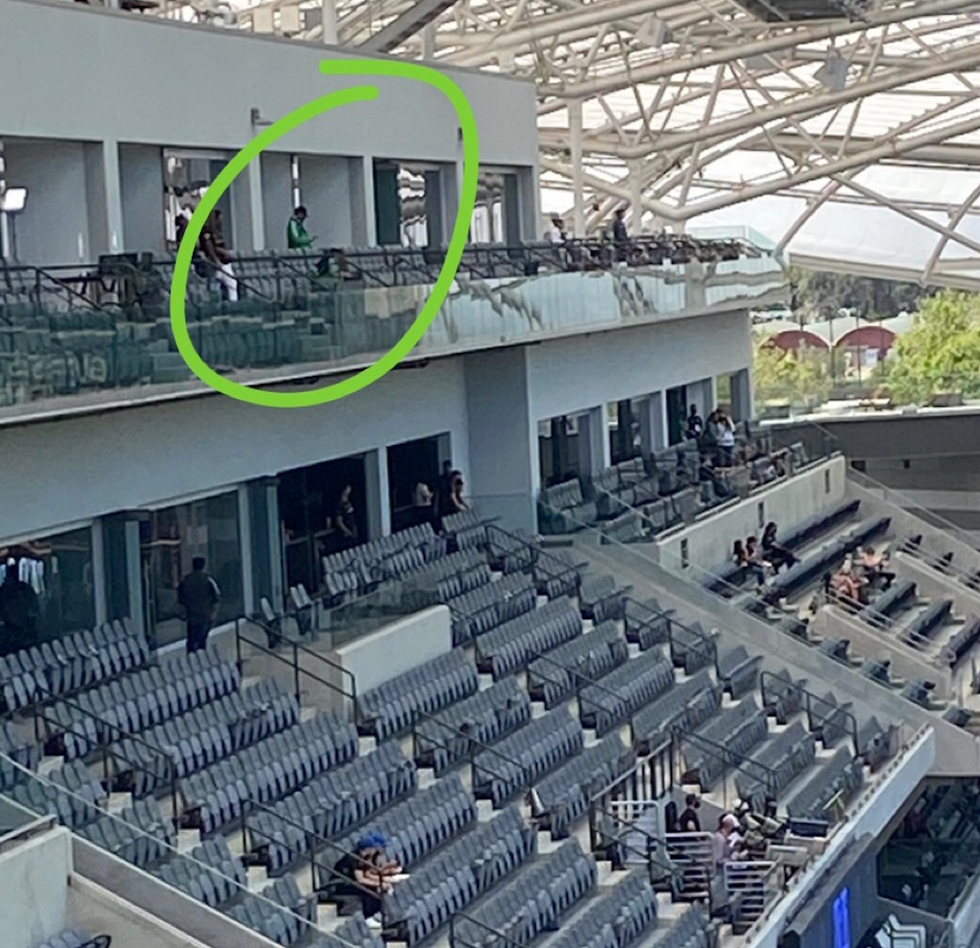 Although the Banc of California Stadium is hosting the match at limited capacity, we see some green in the stands ahead of kickoff. Just moments away from the Austin FC's debut!
~3:20 p.m: Austin FC's team bus enters the stadium grounds
With a warm welcome from Los Verdes, Austin FC players were welcomed into the Banc of California Stadium.
~1 p.m: Los Verdes in LA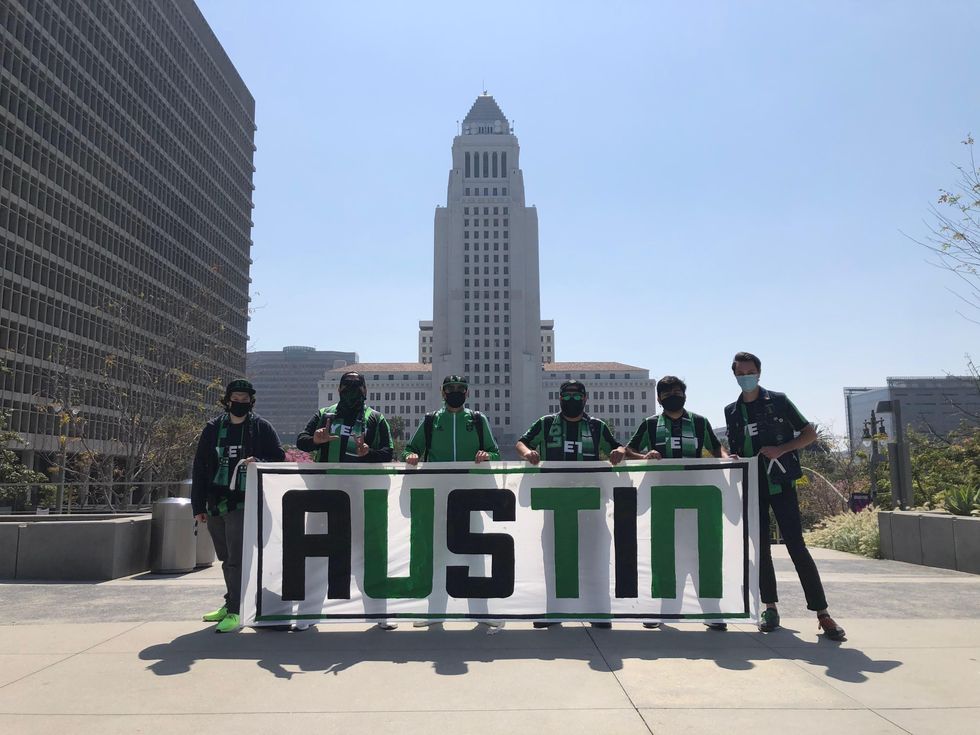 (Rigo Rodriguez/Los Verdes)
Austin FC supporters are making their presence known in LA, including the Los Verdes group.
Los Verdes members started having match-day fun around the area this morning with brunch. We'll be joining them about an hour before the game outside the stadium to share some of their excitement. We'll post immediately to Austonia's Instagram.
11:45 a.m: We landed!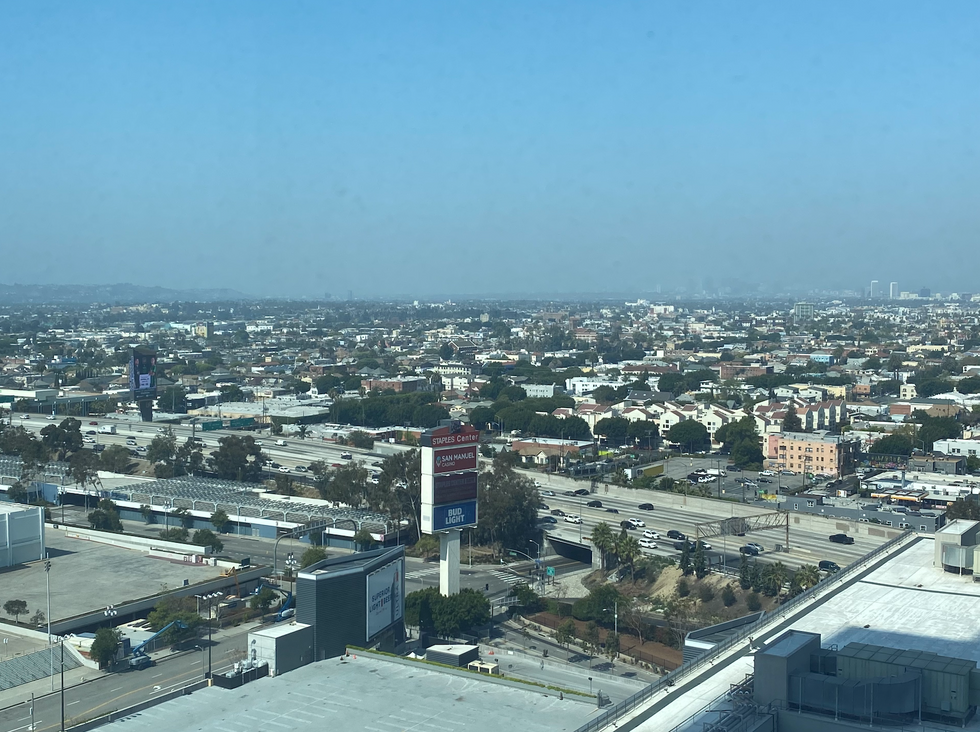 View from hotel room where we're staying; the stadium digital sign can be seen in the right corner. (Sonia Garcia/Austonia)
Switching over to pacific time, we're here and it's almost like no time went by. It's 9:45 a.m. here.
We've been in contact with Los Verdes, an Austin FC supporter group, who is also here in LA counting down to kickoff.
8:20 a.m: LA bound
Like many of you, we've been looking forward to this moment for, let's just say, a very long time. Today, we woke up bright and early, headed to Austin-Bergstrom International Airport and hopped on a flight to LA.
A gloomy day in Austin with a very quiet airport, we're headed to sunny skies in California.
As we wait for the game to start at 4:30 p.m., check out Claire's preview of the game with a predicted lineup and timeline of the long journey to get here.