Get connected with our daily update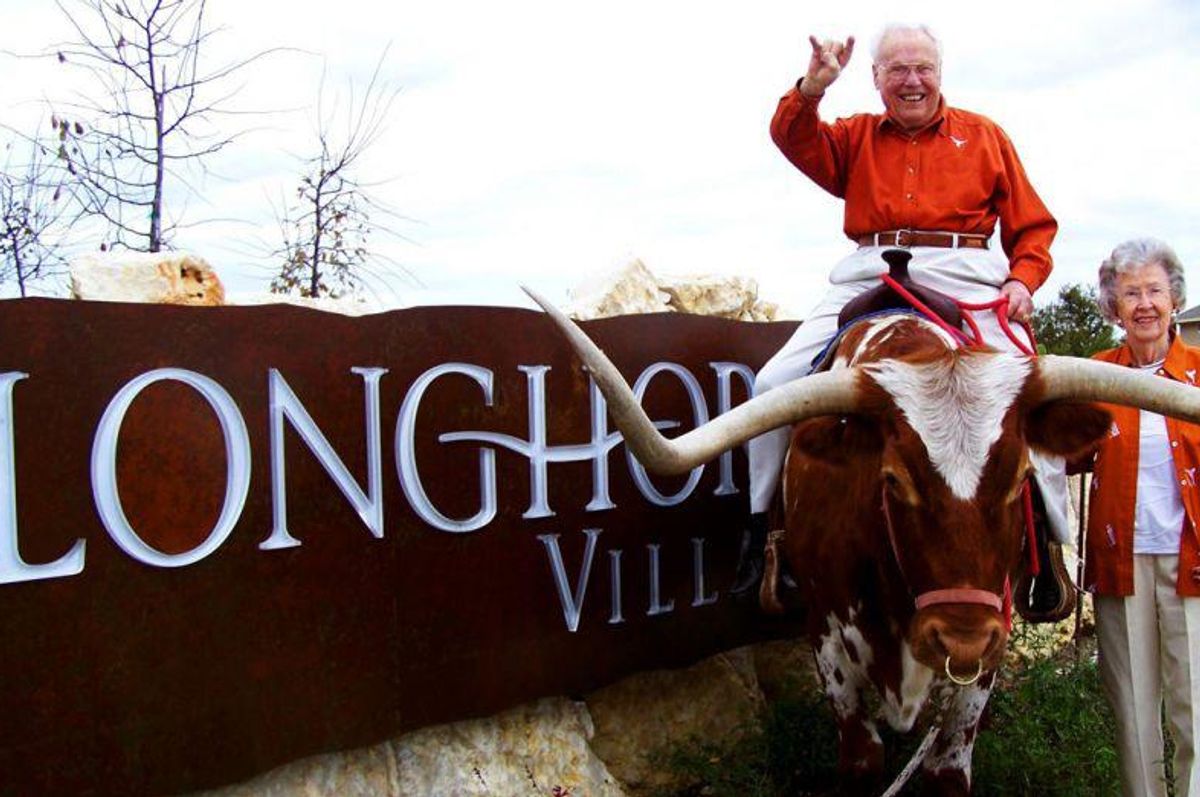 While Oscar winner Matthew McConaughey may forever have Austin's hearts, plenty of other winners live in Austin's city limits, including seven Guinness World Record holders.

---
The books frequented at Scholastic Book Fairs feature past and current Austinites—from speedy burrito makers to ancient felines—that made their mark in their own niche categories.
Here's a look at those record-smashing feats:
World's longest legs (female): Maci Currin (4.4 ft)
Cedar Park teenager Maci Currin strutted into the 2021 World Record book with her record-setting legs. At nearly a meter and a half in length (her longest leg checks in at 53.255 inches,) the 6 ft 10 teenager is no stranger to standing out.
Currin, who said she's been bullied for her height in the past, hopes the recognition will inspire other tall girls to embrace their height as she hopes to move into the modeling industry.
Oldest married couple (2020): John and Charlotte Henderson
❤️🙏🏽 The UT and @LonghornVillage Retirement Community mourning the loss of a legend: John Henderson. You'll remember, he & his wife, Charlotte, set the @GWR for the oldest married couple of aggregate age. The two of them met at UT. He was 107: https://t.co/gVtWrTixGLpic.twitter.com/2YgoptUyEX

— John-Carlos Estrada (@Mr_JCE) October 19, 2020
Not-so-newly weds, UT alumni John and Charlotte Henderson tied the knot before the Guinness Book of World Records had even started collecting records.
Before Austin's skyline featured much more than the Capitol, the two were married in 1939—83 years ago—after meeting in a UT zoology class in 1934. The two were named the oldest living married couple, when adding the two's ages, in early 2020.
At 107, John Henderson was also the oldest living Longhorn football player before his death in October 2020.
Fastest Sandwich made with feet: Rob Williams (1 minute 57 seconds)
Austinite Rob Williams is the ultimate bread-winner.
Williams became the fastest person to make a sandwich with his feet when his nimble toes crafted a bologna, cheese and lettuce sandwich, complete with olives on cocktail sticks, in a minute and 57 seconds. An audience member named Sally was lucky (or unlucky) enough to take a bite out of the record-breaking sandwich after it was created by the Kamikaze Fireflies member at Austin's Zach Scott Theater in 2000.
Biggest dog hair ball: Texas Hearing and Service Dogs (201 pounds)
Texas Hearing and Service Dogs put together a hefty hairball when it gathered fur from over 8,000 dogs to create a 201-pound fur ball. The bundle of fur became the heaviest on record and weighed more than the average weight of even the world's largest dog breeds.
Oldest Cat: Creme Puff (38)
Speaking of hairballs: Creme Puff the cat probably coughed up her fair share in her 38-year life.
The record-setting feline was born in 1967 and lived with her owner, Jake Perry, in Austin until August 3, 2004, breaking the record as the oldest cat on record.
Her secret? Dry cat food, broccoli, eggs, turkey bacon, coffee, and even an eyedropper full of red wine every two days.
Perry, who also had a cat named Granpa Rex Allen live to age 34, kept his home fit for kitty royalty, complete with a movie theater in his garage that played nature documentaries for their entertainment.
Most contributions to a painting: Schlotzsky's (2,643)
Thanks, Austin (all 2,643 of you, to be exact)! You helped us set a new @GWR for Most Contributors to a Paint By Number Mural! pic.twitter.com/hbE33WhTVI

— Schlotzsky's (@Schlotzskys) October 10, 2017
Austin's original sandwich chain earned a spot on the list after a whopping 2,643 residents contributed to a paint-by-numbers mural at Schlotzsky's original location on its 46th birthday in 2017.
Sloke One, the "Mayor of Austin Graffiti Art," crafted a colorful outline of a giant sandwich in front of an Austin skyline to commemorate the chain.
Most lanyards worn at once: Guillermo Rodriguez (300)
Late-night host Jimmy Kimmel paid witness to a world record-smashing moment when the strong-necked Guillermo Rodriguez wore a whopping 300 lanyards at his Jimmy Kimmel Live! SXSW appearance in 2015.
In a performance that was more slow-paced than Rodriguez probably would have liked, Kimmel put on the 300th lanyard as Rodriguez was presented a plaque to commemorate the feat.
Most burritos made in three minutes: London Nichols (10)
After getting plenty of practice as an employee at Austin-based Freebirds World Burrito, London Nichols broke the burrito-wrapping record as she made 10 burritos in just three minutes at SXSW in 2017.
Smallest test tube: UT scientists (2009)
Though it may have been hard to see the accomplishment, scientists at UT made the world record book as they conducted an experiment with a test tube with a diameter equivalent to one-thousandth of human hair in 2009.
Most haircuts in an hour: Ivan Zoot (34)
#OnThisDay in 2008, Ivan Zoot (USA) completed 34 haircuts in one hour, at the Men's Grooming Center in Austin, Texas 💇🏽‍♂️ pic.twitter.com/xu2GevI5Hu

— Guinness World Records (@GWR) August 22, 2019
Customers may have cried after their rapidly-executed cuts were revealed, but barber Ivan Foot still earned respect as he completed 34 haircuts at the Men's Grooming Center in Austin in 2008.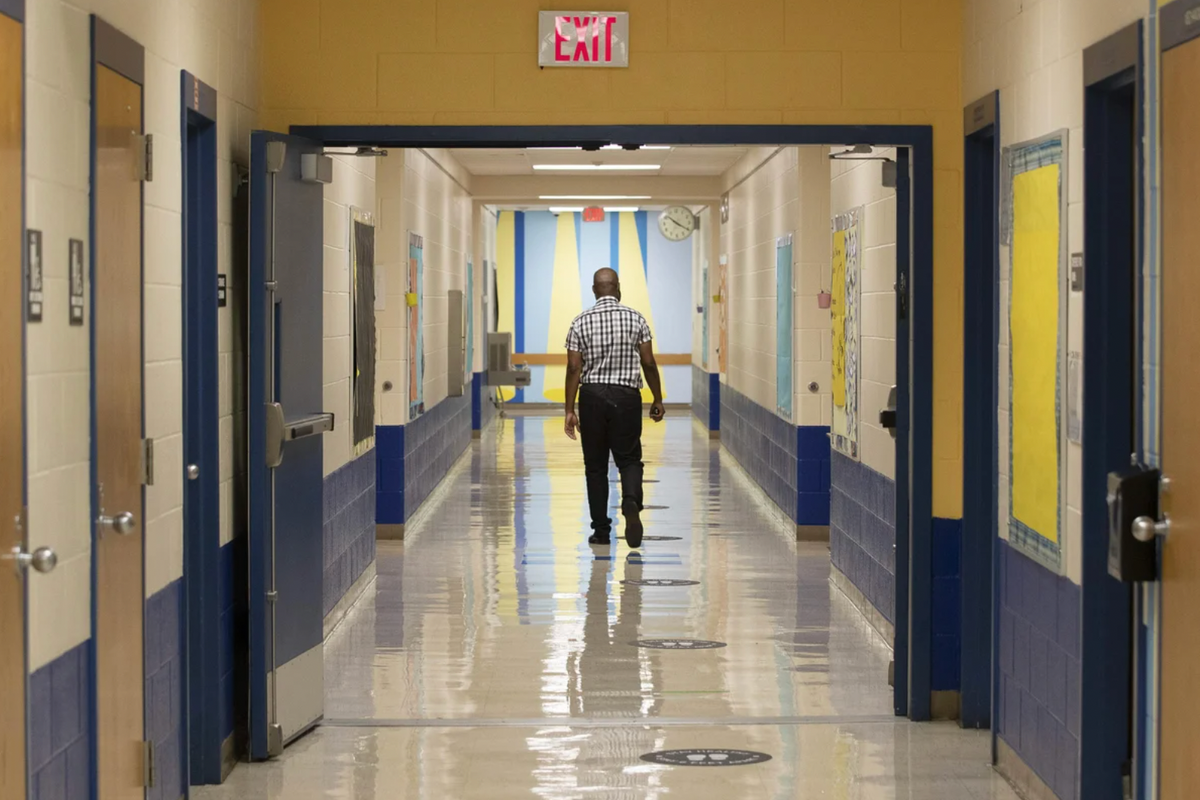 Matias Segura swept his hand across a whiteboard in his office at AISD headquarters, describing how an entrance vestibule works. It might remind you of a sally port at a prison. The vestibule is designed to protect our children from the active shooters who have plagued our nation since Columbine in 1999.
"You start with the signage," he said. "You know exactly where the entrance is, and that's for first responders too. We really want to make sure we keep up with visitor patterns. If they come in, they go through a system. Driver's license, background check, which takes about a minute. We have a software system."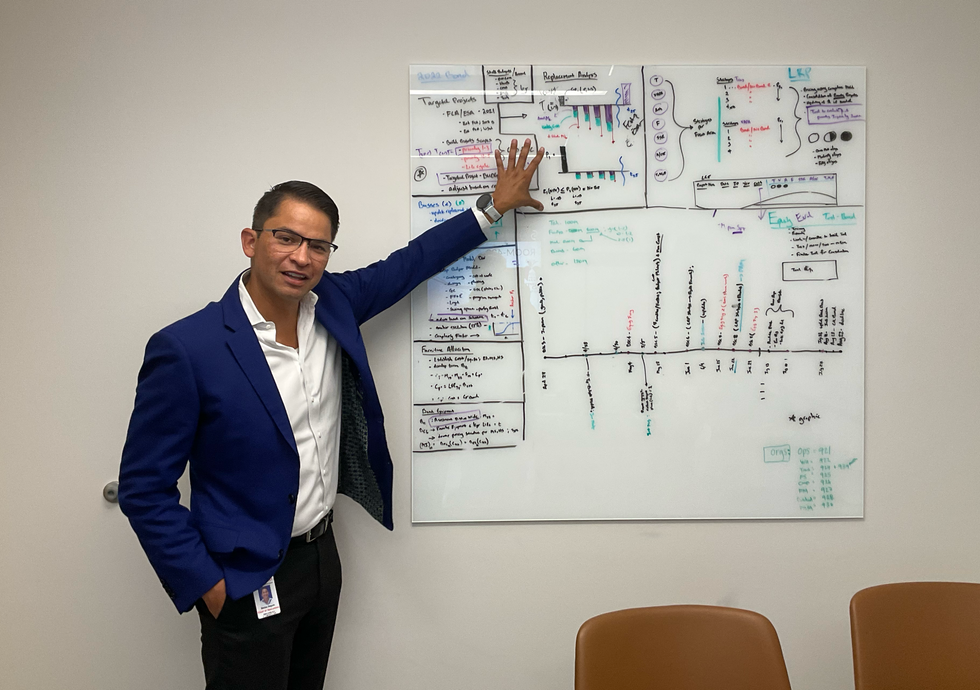 AISD Director of Operations Matias Segura explains the overall school construction and what the entry vestibule looks like. (Rich Oppel)
The vestibule has two sets of locked doors. The exterior set has an audio-visual intercom, operated by a desk officer who has a view of visitor parking, the building approach and the vestibule. If allowed in, a visitor is buzzed through and then faces questioning and clearance by the desk officer. The visitor is given a card-reader pass. If a second person attempts to "trail in" behind another visitor, he is trapped in the vestibule until his status is determined. The second set of doors, into the main school building, remains locked and shut. It is open when students arrive in the morning.
Thus, the days of walking into the school, maybe waving at the principal's executive assistant and strolling off to the cafeteria for lunch with your daughter are gone, a relic of a more bucolic time when "active shooters" were never imagined. But one must ask, what do we give up for greater safety?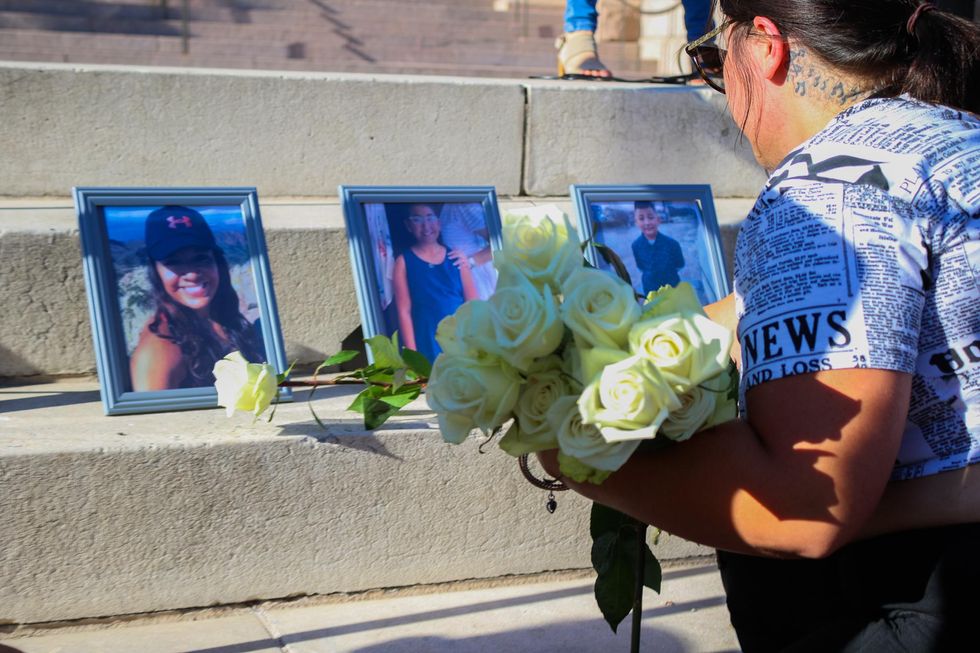 Austinites remembered the Uvalde shooting victims in a vigil at the Texas Capitol in May. (Tony Fuentes)
Some critics argue that we are at risk of losing traditional values in the redesign of schools, courthouses, hospitals, churches and shopping centers. Writing in The Washington Post, architecture critic Philip Kennicott said the nation's gun culture "threatens an essential precondition for democracy: its public space… Ideals of openness, flow, transparency and access will no longer be sustainable."
Segura contemplates the question. At 41, he has held his job as AISD director of operations for four and a half years. Prior to that he was a consultant who led the team to build Austin's new courthouse. His Austin and Texas roots are deep. He was born here, graduated from Bowie High, and went off to Lubbock to earn a degree in civil engineering from Texas Tech. He returned to secure an MBA at the University of Texas at Austin. He and his wife Joy Burson-Segura have two daughters who attend AISD schools. Segura said he and his operations team love AISD, care deeply about their work, and want citizens "to see us as partners."
Back to what we lose in hardening the schools.
Segura says, "We think about students' health. Having daylight, bringing light into a hardened facility, being able to access outdoor learning areas, (which is) hypercritical, especially in what we have learned in the pandemic." Segura doesn't like the idea of moats around schools (exotic, expensive) nor of classroom bomb shelters (what would teachers and students think about their looming presence?), efforts that are being tried elsewhere.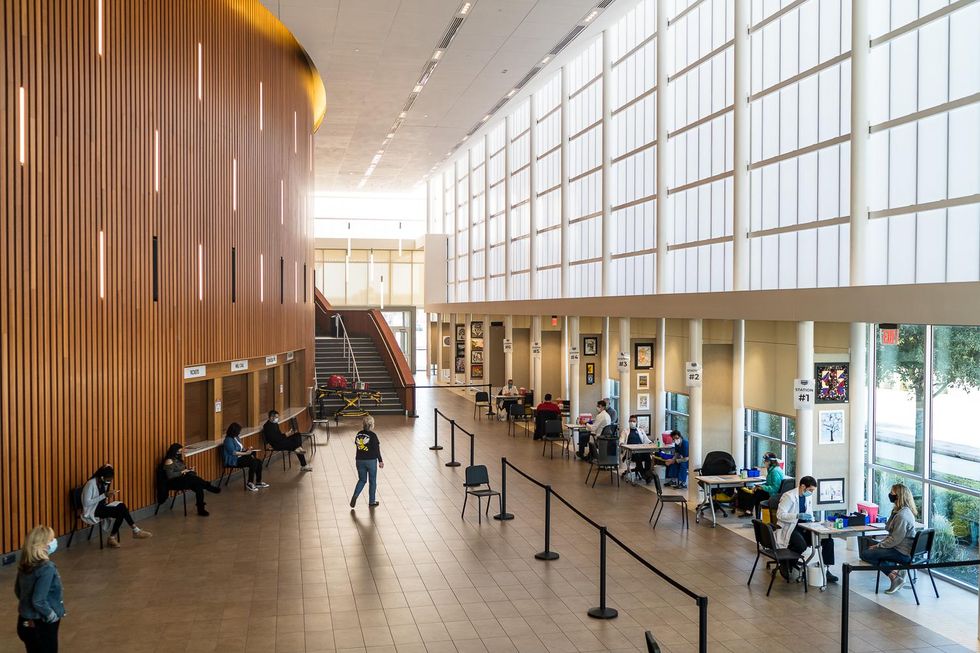 Healthcare workers receive the Moderna COVID-19 vaccine at the AISD Performing Arts Center in Mueller in 2021. (Jordan Vonderhaar)
AISD must juggle school security with the historic use of our schools for other purposes, such as voting, PTA-PTO meetings, community fairs, and, more recently, COVID-19 testing, vaccinations and food distribution. AISD does not want to end those uses, so the challenge is to design schools with separate rooms or places for those uses.
Clearly, Segura has thought about balancing conflicting equities. For him, it's not all locked doors and blank brick or concrete walls. He stresses the importance of building a culture that includes shared responsibility of all school employees where, for example, a custodian could ask a stranger whether they have a visitor's badge. All staffers should be well-trained in security measures, knowledgeable about new technology, and committed to working as a team to protect students, teachers and others. "We are working very, very hard on the culture," he says. "Also, we need (financial) investment if we are going to move the needle."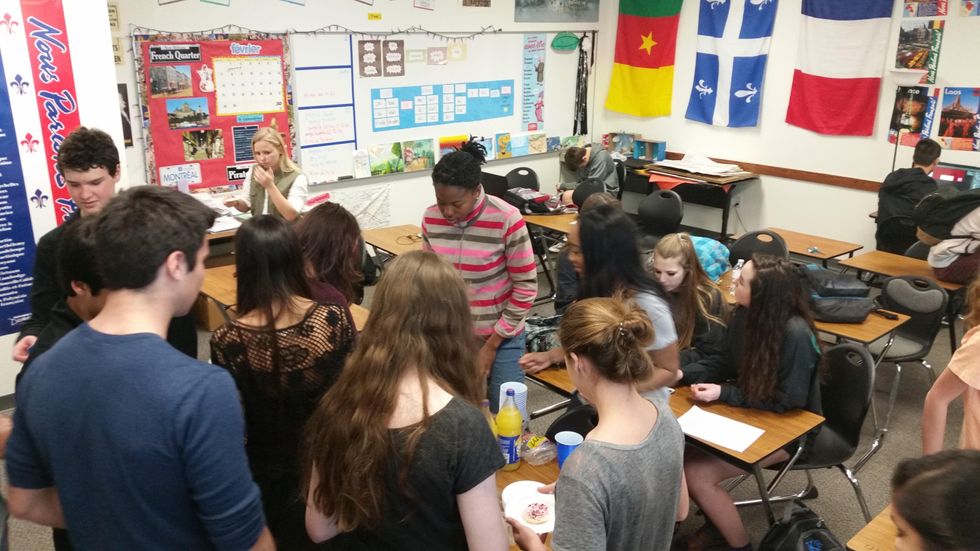 (Laura Figi)
Kennicott, the Washington Post critic, quotes the late Sen. Patrick Moynihan, a sociologist and New York Democrat, who said, "Architecture is inescapably a political art, and it reports faithfully for ages to come what the political values of a particular era were. Surely, ours must be openness and fearlessness in the face of those who hide in darkness."
But that was in 2001. What messages will Austin's new public schools convey to future generations about our 2021 political values?
"First and foremost, these are education spaces that belong to our community. Our objective is to create incredible learning experiences for our students and at the same time ensure that the students and staff are safe." He said he wants people to view schools as "inspired," places where they would want to send their children. "Great things are happening in that space," and that teachers see a place where they want to work and where they feel safe.
Voters in AISD will decide Nov. 8 on a $2.44 billion bond package to provide "funding for improvements to enhance safety, centers on equity, benefits every campus, and addresses affordability," according to AISD officials.