Get connected with our daily update
With local leaders and victims of violent crime alongside him, Travis County District Attorney Jose Garza announced a
four-step plan
on Tuesday aimed at addressing the rise in gun violence in Austin.
---
The plan, which was made by partnering with violence intervention specialists and others, merges different city and county offices to both prevent gun violence before it happens and support those that are affected. Here are the four steps:
Use both traditional and innovative prosecution strategies for sentencing people charged with gun crimes.
Work with community members to prevent gun violence by creating, supporting, and implementing intervention and prevention programs.
Take guns out of the hands of those at high risk for committing an act of gun violence in an intimate partner relationship.
Support programming to help survivors and families of the victims of gun violence.
Gun violence in Austin has led to the highest number of homicides in a single year this year even with a month left in 2021. The Austin Police Department has come under scrutiny as it faces staffing shortages that led to the department limiting their 911 call responses to situations where there is an immediate threat.
The District Attorney's office formed the major crimes and homicide unit, which would ensure those cases are handled by "the most experienced prosecutors." He said the office has secured over 500 indictments for murder, sexual assault and gun violence and that over 70% of firearm-related offenses have been charged or resulted in a conviction.
"If we are serious about ending violence in our community, we have to do more than punish people after they have caused harm. We have to do all we can to prevent violence before it happens," Garza said.
The efforts to prevent gun violence lie in the recently-established Office of Violence Prevention from the city of Austin. Garza said for those efforts to be effective, the District Attorney's office has to support that work by sharing data and resources with the city.
Additionally, the work doesn't just lie in prosecuting and preventing violent crime, but by stopping the cycle of crime itself.
"Too often our criminal justice system fails victims of violent crime, and when we fail victims of violent crime, we perpetuate a cycle of trauma that often leads to future violence," Garza said.
The District Attorney's office established a stand-alone unit of trauma-informed counselors and a trauma recovery center to help victims heal in the hopes of preventing future violence.
"I am confident that through a collaborative approach that we can continue to ensure Austin is a safe place to live," Garza said.
Enjoying Austonia? Signup for our newsletter to get daily Austin news, straight to your morning inbox!
As we gear up for Friday's sales frenzy, shoppers may have one key question on their minds: Which stores offer the best discounts?
According to a WalletHub survey of nearly 5,000 Black Friday deals from 21 of the biggest U.S. retailers, Macy's has the best overall savings with an average 58.5% discount.

Here's how other stores fared based on shopping category:
For clothes & apparel discounts: JCPenney has the best deals with an average 58.8% discount.
For jewelry deals: Belk offers an 80% discount, followed by Kohl's at 75%.
For furniture deals: Office Depot and OfficeMax are your best bet with a 49% discount.
For consumer electronics, toys, and computers and phones: Macy's takes the cake.
Check out the full list here.
New filings with the Texas Department of Licensing and Regulation show Tesla plans to finish construction on its first phase of its new Gigafactory in southeast Travis County by year's end.
Tesla's filings, first reported by Electrek this week, match the electric vehicle company's plans to start production by the end of the year. A timeline on the other phases, which include the production of the cybertruck, have not been revealed yet.
So far the project totals at least $1.06 billion in costs. The budget includes the following facilities:
Body-in-white: $182 million
General assembly: $493 million
Paint: $126 million
Casting: $109 million
Stamping: $150 million
The factory, which Tesla has received a minimum of $14.7 million in tax breaks for, will start off with production of the Model Y, a mid-size SUV that has increased in price eight times this year. Up to 500,000 Model Y SUVs are expected each year from Austin's Gigafactory that will reportedly employ thousands of workers.
Later, the Model 3, Cybertruck, and Tesla Semi will be produced at the roughly 1,700-acre site near the Colorado River.
Tesla is also growing its Austin presence by moving its headquarters to the area. More details on whether the HQ will be on site of the Gigafactory have not been revealed.
The holiday season is upon us, so get ready to celebrate with carols, snacks and light shows galore. Austin is full of holiday festivities spanning throughout all of December so get out and enjoy the cool weather while it lasts.
Don't miss these nine holiday-themed light shows.
Austin's most famous annual light show and a Readers Choice of USA Today's 10 Best Public Displays of Holiday Lights, the Trail of Lights will be drive-thru again this year Nov. 27-Dec. 31. For 57 years in a row, the Trail of Lights has lit up Zilker Park with games, food, local vendors and more than two million lights gleaming for the holidays. The event, as always, is free to the public and you can reserve slots here. The Zilker Tree is already up, so you can already see it if the holiday cheer is too much to bear.
Coming back for the second year in a row, Peppermint Parkway will transport you to COTALAND, where six million lights gleam and Christmas is just a one-mile drive away. The hybrid event will have you drive through the display of lights, dancing elves and unique little villages before you hit the walking plaza, where you can grab a bite to eat and meet Santa. Tickets range from $40-$95, some including a lap around the COTA track, running from Nov. 26-Dec. 26.
Dreamland Dripping Springs has been transformed into a winter wonderland—running throughout the month of December, the venue's first-ever holiday display is taking over with activities for the whole family. Plus, running from Nov. 20-Jan. 4, a pop-up ice skating rink will really bring the holiday cheer for $10 or $5 Monday specials. The lights display will feature half a million lights and warm, festive sips from the taproom.
With events galore for the holiday season, winter is really when the Hill Country Galleria thrives. Starting with its Light Up The Plaza event on Saturday from 6-8 p.m., where visitors can see Santa, gaze at the official lighting of the holiday tree and hear some live tunes from rock band American Authors. The Galleria will also hold a holiday market every Thursday, Friday and Saturday leading up to Christmas Eve and periodic photos with Santa at Buenos Aires Cafe.
Deck the Halls at the Driskill Hotel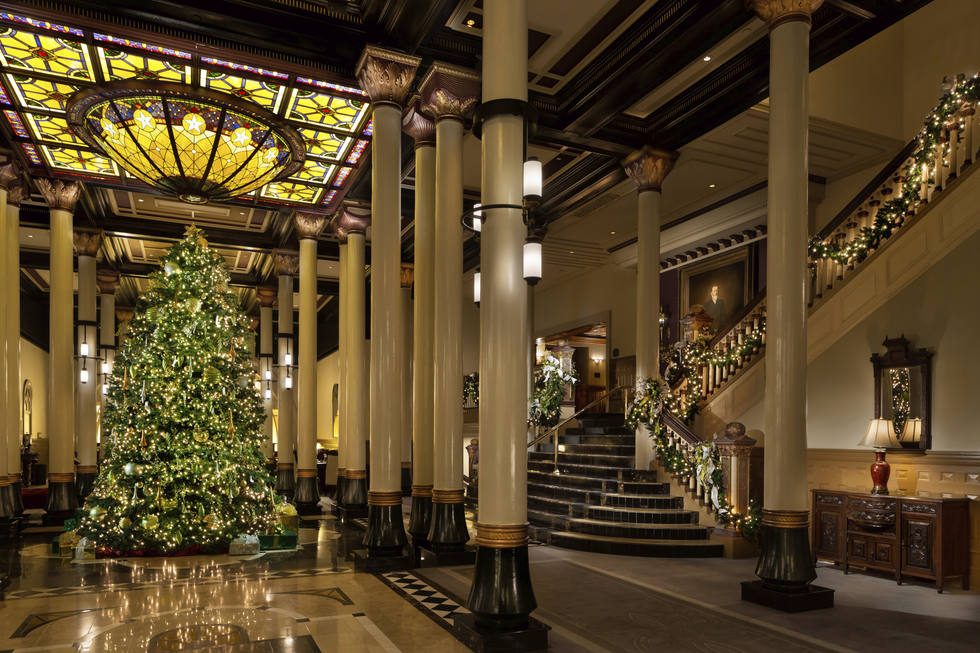 (Courtesy of the Driskill Hotel)
This holiday season, the Driskill will deck out every nook and cranny of the historic hotel from the grand staircase to the 16-foot Christmas tree in the lobby to be lit on a Dec. 1 ceremony that will be open to the public. Touches of Driskill festivities can also be seen at Dell Children's Hospital with a gingerbread village for its annual "Cookies for Caring" event.
Kicking off the lighting of the tree on Saturday, Dec. 4, Austinites will gather on the steps of the Texas Capitol at 6 p.m. to sing the 45-foot tree to life. Afterward, local band Los Coast will close out the night with a free concert. The fun doesn't stop there though as the Downtown Austin Alliance will host the Downtown Holiday Stroll, with "holiday passports" and stamps to collect for local restaurants and stores, and a Frida Friday Holiday Market at Republic Square.
Combining festive holiday lights and the beautiful native plants of Central Texas, Luminations at the Wildflower Center is back with thousands of lights, luminarias and a lit-up look at Fortlandia. This year will also feature an interactive light maze called "silvana" by Ben Busche of architecture firm Brut Deluxe, which will be the maze's first appearance in North America. The event will run Thursdays-Sundays from Dec. 2-Jan. 30 for $10-$25 per person.
Reserved tables are back for Mozart's Coffee Roasters annual Christmas Lights Show for $20 four-person tables and $30 six-person tables—so get your tickets early because these tables are likely to sell out. The light show will also feature a festival-style Bavarian marketplace for those last-minute gifts. If you're too late to reserve a table, don't worry, there will be standing room available for free so come one, come all, and come early for parking.
From Dec. 2-4, Old Settlers Park will light up with holiday displays, family activities, festive refreshments and live music. Watch the balloons hover above the lake as you sip on a hot chocolate or give to those in need, with stands for Round Rock Operation Blue Santa, which is taking toys for kids in need, the Play For All Foundation, which is accepting cash donations for disabled children, and the People & Parks Foundation, accepting cash donations for green space in the community. Admission to the event is free, along with most of the activities in the park.