Austonia AM
100% Austin news, info, and entertainment, straight to your inbox at 6 a.m. every morning.
In five minutes, you're fully informed and ready to start another great day in our city.
Get connected with our daily update
(CC)
Two virtual community meetings scheduled Monday and Thursday about the future of Hancock Golf Course have been canceled because too many people signed up to attend.
---
The city-led meetings were originally scheduled to allow nearby Austin residents the chance to share their desired operational goals for Hancock Golf Course, located in Central Austin about a mile north of The University of Texas campus.
"It's a crown jewel of open space in Austin," said Hugh Bender, president of Hancock Neighborhood Association. "Especially in Central Austin with Waterloo Park under renovations."
But at least 185 people—as of Monday morning—had signed up to attend both meetings, which originally started off as phone calls but were later turned into Zoom meetings, according to Bender. The city ultimately chose to cancel the meetings by early Monday afternoon because "the large group sizes would significantly limit dialogue opportunities for attendees in the online format."
"[The city of Austin Parks and Recreation Department] will be adding additional options for participation, focusing on small group meetings," the city statement read. "[The city] will reach out to neighborhood and community groups to schedule online meetings regarding the course operation proposal."
The golf course has been reportedly losing the city $115,000 per year from the general fund, and the city is considering enlisting a private operator to offset the cost of the nine-hole facility. That is one of three options for Hancock Golf Course recommended in a 2019 report commissioned by the city:
Passive park: stop golf operations and convert to open space
Modify the space: Invest $1.2M-$1.6M to transform course into city-operated golf learning center
Private contractor: Enter into public-private partnership with private group to run and improve golf course
"Due to the initial costs of developing and maintaining a passive park or renovating the course, [the city] is moving forward with the third suggestion," the city website states.
The Hancock Neighborhood neighborhood Association hosted city parks officials back in February to initially discuss the proposals.
"[The city parks department] at that meeting got an eye-opener that people like it the way it is," Bender said. "And then a movement grew from that meeting to have open space—just convert it. It doesn't have to have soccer fields or anything."
The open space proposal has continued to gain support from neighborhood residents, Bender said. Such an idea may be gaining momentum based on the city's presentation it intended to deliver this week. The slideshow suggests a long-term "hybrid model" of golf and parks elements at Hancock Golf Course.
"Even with golf, passive park space is possible," the presentation states.
The community members have used the golf course during COVID-19 quarantine measures as a safe community meeting spot. Residents will have a chance to provide their feedback to the city at a series of yet-to-be-scheduled community group meetings. There will also be a new survey as part of the public feedback process, according to the city.
The smaller meetings may ultimately prove more beneficial in providing that feedback than the virtual meetings scheduled this week, Bender said.
"Given the immense interest, it's probably good just to circle the wagons and see if there's a better way," he said.
After a long, long year without live music, Austin has waited patiently for a return that has finally come. Festivals are planning returns and even venues that adhered strictly to safety protocols during the pandemic are feeling safe enough to gather again in person.
Starting in just a few short days, you can finally enjoy what makes Austin, well, Austin again. Here are a few of the live shows to look forward to.
Remember to jump on those tickets–Austinites have been missing their live music!
We asked you what you wanted and you told us. More newsletter!
Austonia launched its new and improved newsletter today. You can expect:
100% Austin news, info and entertainment
Sent straight to your inbox at 6 a.m. every morning
In 5 minutes or less, you're fully informed and ready for a great day
Sign up here:
For Marco Silvestrini, gelato takes him back to his childhood when he and neighborhood kids in a small Italian town would end their day at the local gelato shop. It was part of what made some of the best memories for him.
He's since been offering that same experience for the past seven years with his artisanal gelato shop, Dolce Neve, in Austin, alongside his sister and her husband.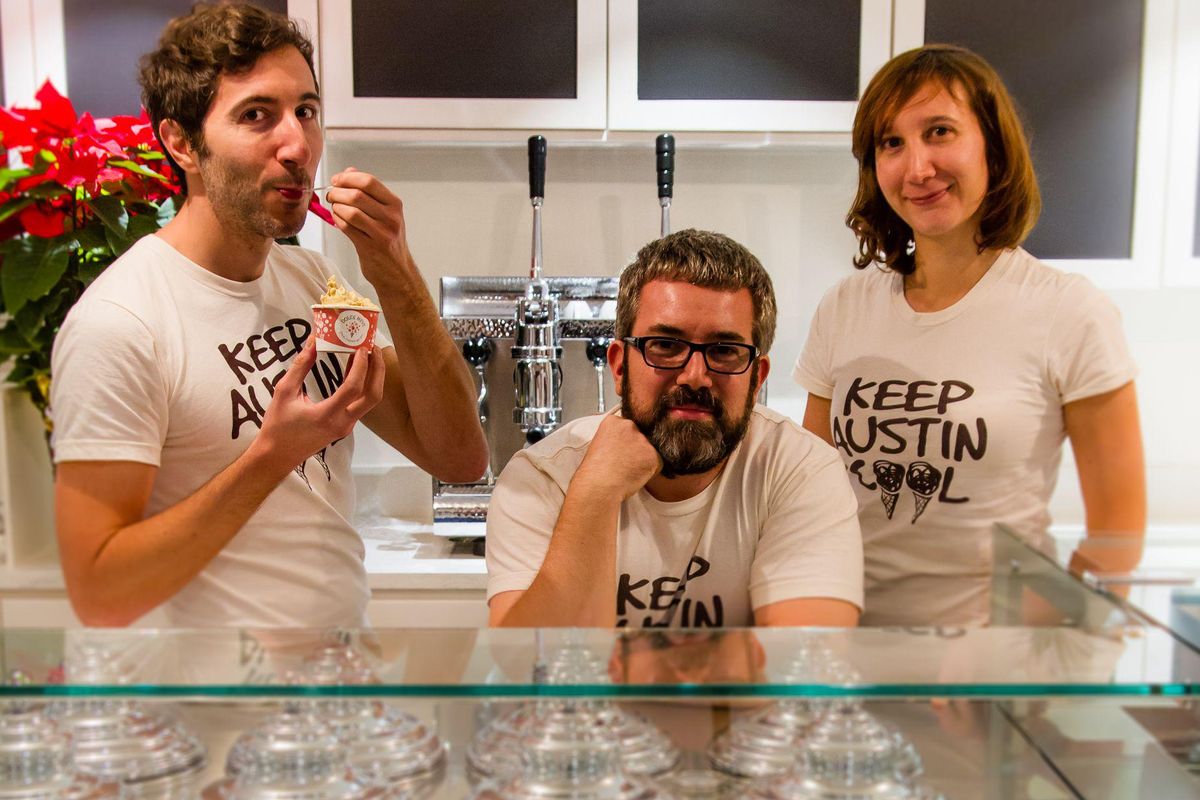 Leo Ferrarese, Marco and Franscesa Silvestrini run Dolce Neve. (Dolce Neve)
While gelato always played a big role in Silvestrini's life, it wasn't in his plans to take on a business with his favorite treat. After a few years in New York working as a management consultant, he felt he was missing out on something. "I decided to take a step back and started thinking, what could... I do to make society better and happier, even just for a moment," Silvestrini said.
He thought back to his childhood and the role gelato played in it and wanted to offer the same experience to Americans.
Once he had the product idea down, it came down to location. Growing up among farmers in a small community in Central Italy, Silvestrini knew he wanted a slower pace of living than New York, so he asked around. The answer he got: "Austin." The only thing he knew about what would become his future home was it had a Formula 1 track.
But after visiting once, he felt a great sense of community he didn't feel in The Empire State. "I felt it was not just a good place for a concept like mine, but also a good place to live because at the end of the day, you cannot just think about your business," he said.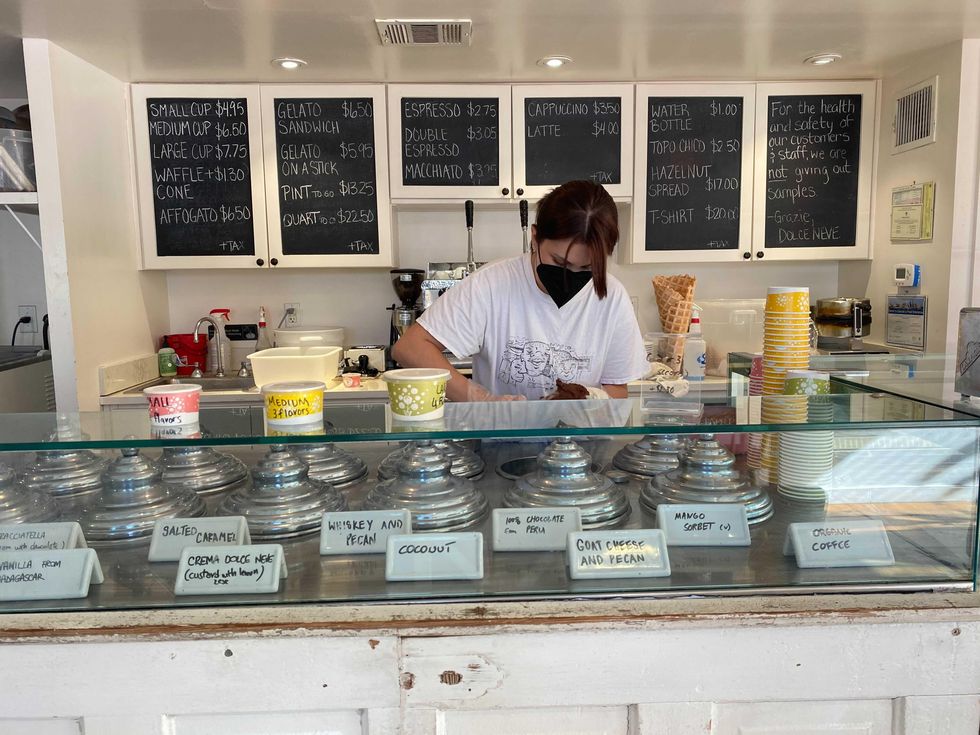 "Dolce Neve" translates to "sweet snow." The shops offers 12-18 flavors at a time. (Dolce Neve)
Similarly, his sister Francesca Silvestrini was experiencing the same feelings while studying for her Ph.D. in Ohio before teaming up with Silvestrini. She went back to Italy to be properly trained in making gelato while Silvestrini focused on the business plan. They brought Leo Ferrarese, her husband, onboard and opened their first shop on South First Street in January 2014. The rest is history.
On the menu, you'll find various traditional and innovative flavors that rotate out. Some of the staples include chocolate, 100% vanilla from Madagascar and salted caramel. Other rotating or seasonal flavors include whiskey and pecan, organic cantaloupe sorbet, goat cheese and pecan, almond custard and tiramisu. They've created over 300 flavors together in the span of the business.
So what's next for the shop? Lately, Silvestrini has been thinking a lot about that. With two locations in Austin, one in Houston—he's just not sure if expanding more is the right move. Maintaining a quality product and good service is of utmost importance that he's not willing to sacrifice.
"In order to be happy, it's not about making money, it's about being an integral part of the community," Silvestrini said. "There have been so many cases in which I think what I did today really made a difference in somebody's life."