Get connected with our daily update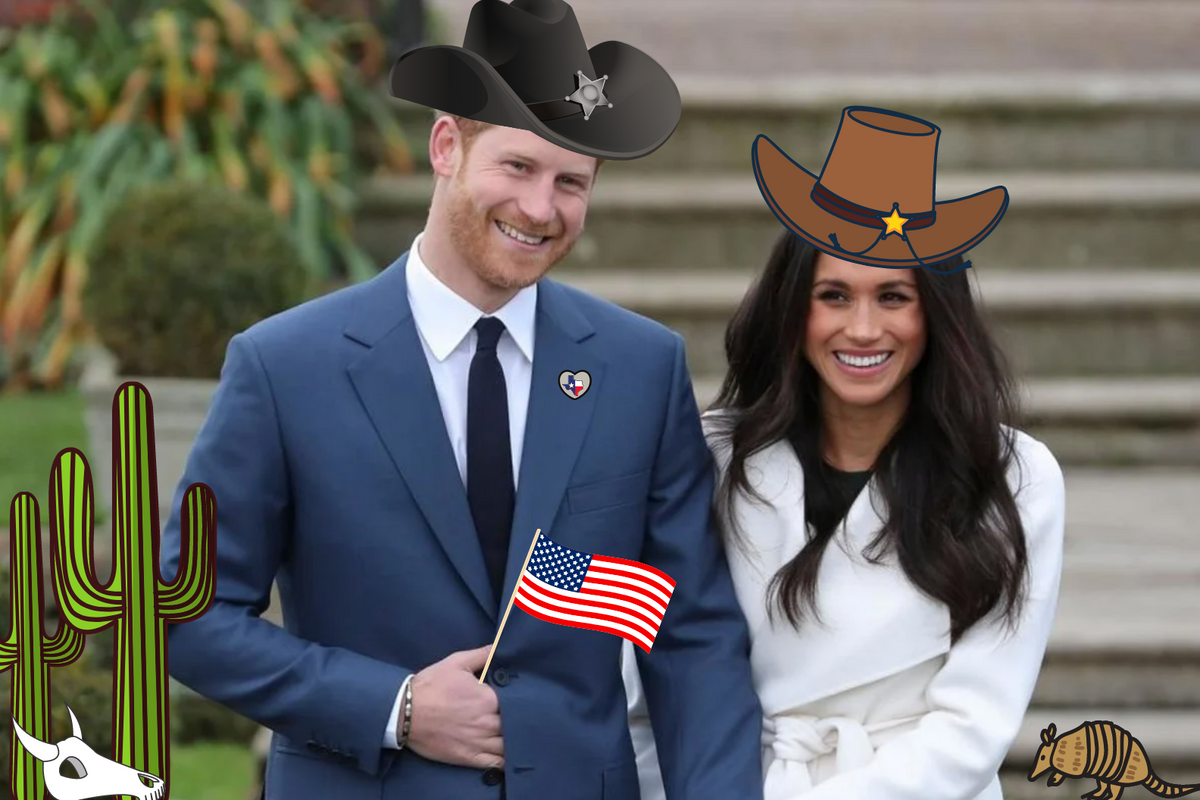 Now that the Sussexes' English home, Frogmore Cottage, has been cleaned out in the dead of night and apparently rented to Harry's cousin, Princess Eugenie, it looks like the Duke and Duchess' move to the New World is one they're 100% committed to. In the words of the British tabloid press, "Megxit" is complete.
---
The two have started their new life in the States, recently signing a deal with Spotify for their podcast to come out next year and launching their audio company, Archwell Audio. Moving across the pond, announcing a new podcast, it seems they've taken control of a new life. So now the question begs to be asked, what else is in store for the royal couple?
There's absolutely no reason, not even a shred of a rumor, to think the Sussexes are contemplating a move to the Lone Star State, or its capital city. But they wouldn't be the first to scrawl GTT (Gone To Texas) on their front door, hitch up the wagon and depart for greener pastures like multi-millionaire dollar podcast Joe Rogan recently did.

Here's why they should.
Money
Harry's blood may be blue, but his household runs on the green stuff, and it always seems like there's never enough—even for the rich.
Harry's net worth is an estimated $40 million and Meghan's at $5 million, according to a wealth tracking site. That may be so, but it's possible to be worth a lot on paper while also short on cash. Much of Harry's worth is tied up in royal trusts that payout over a period of many years.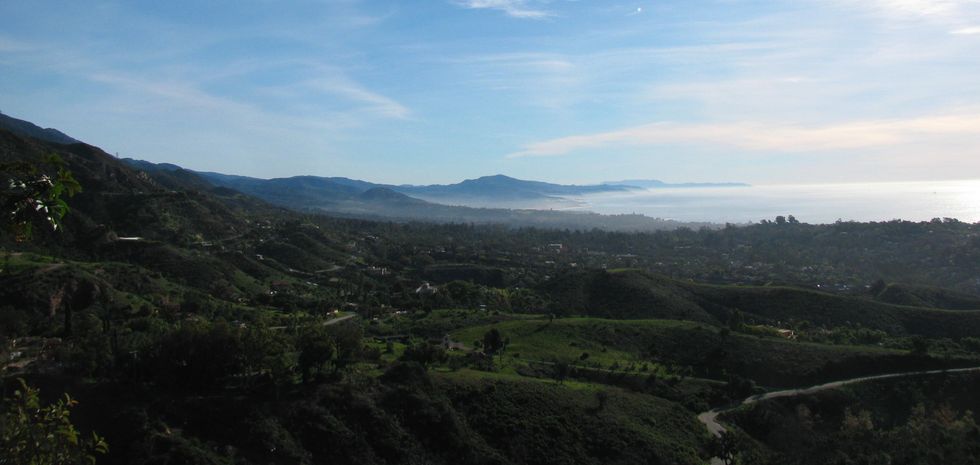 Montecito, California (CC)
Take real estate for example. Everyone knows about their $14.65 million home purchase in Montecito, California, a small town on the edge of Santa Barbara. It's a favorite of Hollywood types like Ellen, Oprah, Rob, Gwyneth, Katy, and George (Lucas).
But did you know the former royals took out a mortgage to buy the place? $9.5 million of borrowed money, reportedly. And the Daily Mail estimates the property may cost them over $4 million a year to maintain. Wow. You don't have to be a mathematician to figure out that their estimated combined $45 million isn't going to last long unless they come up with some sort of side hustle. Meghan used to make beer money doing calligraphy, but there aren't enough hours in the day to address $4 million worth of wedding invitations for wealthy brides who will pay for perfect penmanship.
Taxes
So they'll find Netflix deals and speaking engagements and other ways to make a buck, but making it is one thing and keeping it is another. That's where Texas shines. The state's zero personal income tax compares favorably with California's big-and-getting-bigger tax bite.
The Golden State's top rate is over 13%, and a cash-strapped state government is considering an extra "millionaires tax" and possibly a "wealth tax" on assets, in addition to possibly raising the base rate. The Sussexes, in a hypothetical $10 million income year, would pay a minimum of $1.3 million in taxes to California. In Texas, they'd pay nothing.
With $1.3 million in yearly savings, that's enough to finance regular private jet flights to visit friends in LA, with enough left over to establish a college fund for their son, Archie.
More Taxes
The bigger problem for the Prince is that if he becomes a California resident, the state may try to impose its high tax rates on all of his income, even income earned from his royal trusts in England. There's no hard-and-fast rule for determining residency, but a detailed analysis can be found here.
Enough of that. Let's get to the fun stuff.
Nicknames
California's not a nickname place. Sure, some people have names like Moonbeam and Dweezil but those are their actual names.
In Texas, lots of people go by acquired monikers, from the nickname-dispensing former President George W. Bush ("43" or "W") to beloved homeless Austinite, known simply as "Leslie," a wandering, cross-dressing activist.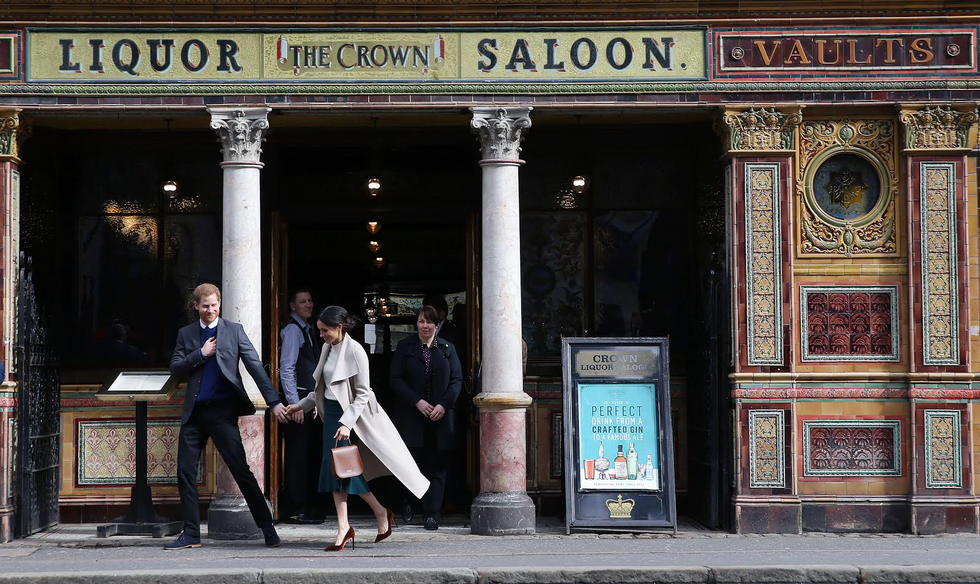 (CC)
Why does this matter for Meghan and Harry?
Because their names are not really Meghan and Harry.

Meghan's name is Rachel. Rachel Markle. Meghan is her middle name, which she utilized when she became an actress.
Prince Harry's name is more complex. He's known by various names in various capacities:
Henry Charles Albert David Mountbatten-Windsor (his given name)
The Duke of Sussex
His Royal Highness
The Earl of Dumbarton (in Scotland)
Baron Kilkeel (in Northern Ireland)
Captain Harry Wales (British Army)
History
History is on Meghan's side. Not the English kind, dating from 1066 and all that, but her history of good times and fitting in, in Texas. Check out her 2017 Austin airport arrival for the Suits 100th episode cast party.
MEGHAN MARKLE Out in Austin 06/10/2017 https://t.co/ulVAFW0J72 https://t.co/npTiKh0MPo

— Celebrities Pictures (@Celebrities Pictures) 1497262925.0
Meghan is pitch-perfect Austin—stylishly torn jeans, sandals, casual white shirt, perfect movie star sunglasses, easy hairstyle and hat in hand. She could be on her way to the Four Seasons, the Oasis or Rainey Street in her attire. Joe Rogan and even Matthew McConaughey could learn some things from Meghan Markle, like how to look effortlessly casual while showcasing taste and style.

Sports and Outdoors
Harry follows the royal tradition of loving sports and the outdoors. If Netflix's "The Crown" is a credible source, even the Queen is nowhere happier than wandering the misty hills of her 50,000 acre Balmoral Estate in muddy "outdoor shoes," stalking deer and shooting grouse. There's talk that, to please Meghan, Harry has sold his guns and stopped hunting, an activity that's generally not accepted in California's coastal culture.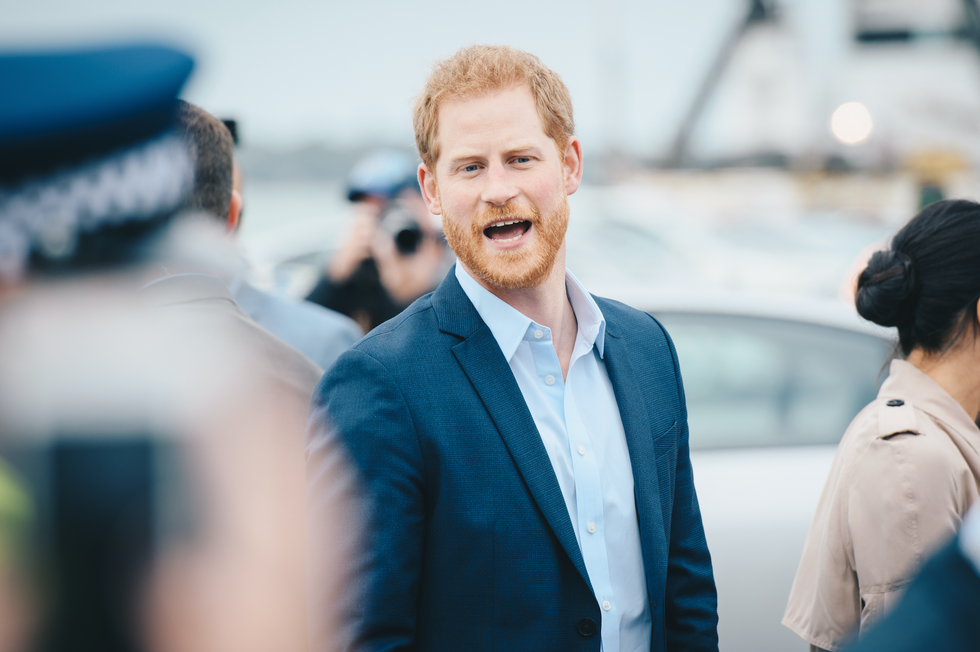 (Shutterstock)
But it may be hard for Harry to give up a sport he's pursued all his life. He's hunted throughout Britain, Europe, South America and Africa, and, like most of the royals, was a fox hunter until the sport was banned in England in 2005.
If Harry wants to pick up the sport again, he'll fit in perfectly in Texas, where hunting is a traditional activity. The Texas Hill Country, adjacent to Austin and San Antonio, is packed with hunting ranches offering native and exotic species. With the similarities between African and Texan terrains and climates, many African species can be seen throughout Texas, including endangered species that are bred and sold on exotic game ranches.
Weirdness
It's debatable whether Austin is really weird anymore. It's unique, with a culture of its own that's distinct from other cities, but how weird can things be in a land of $15 hamburgers and a median Central Austin home price of $625,000?
Still, weirdness is tolerated here and even embraced, perhaps as a treasured symbol of what was. A dying ember of our central civic archetype.

Prince Harry, Meghan and Archie, as perfect and utterly conventional as they appear, are definitely weird—walking away from a life of effortless privilege, universal fame, vast wealth and access to anyone or anything that interests them. They've left it all to wallow, although at the top levels, in an ordinary world where we have to figure out how to pay the bills, find friends and create meaning in our lives.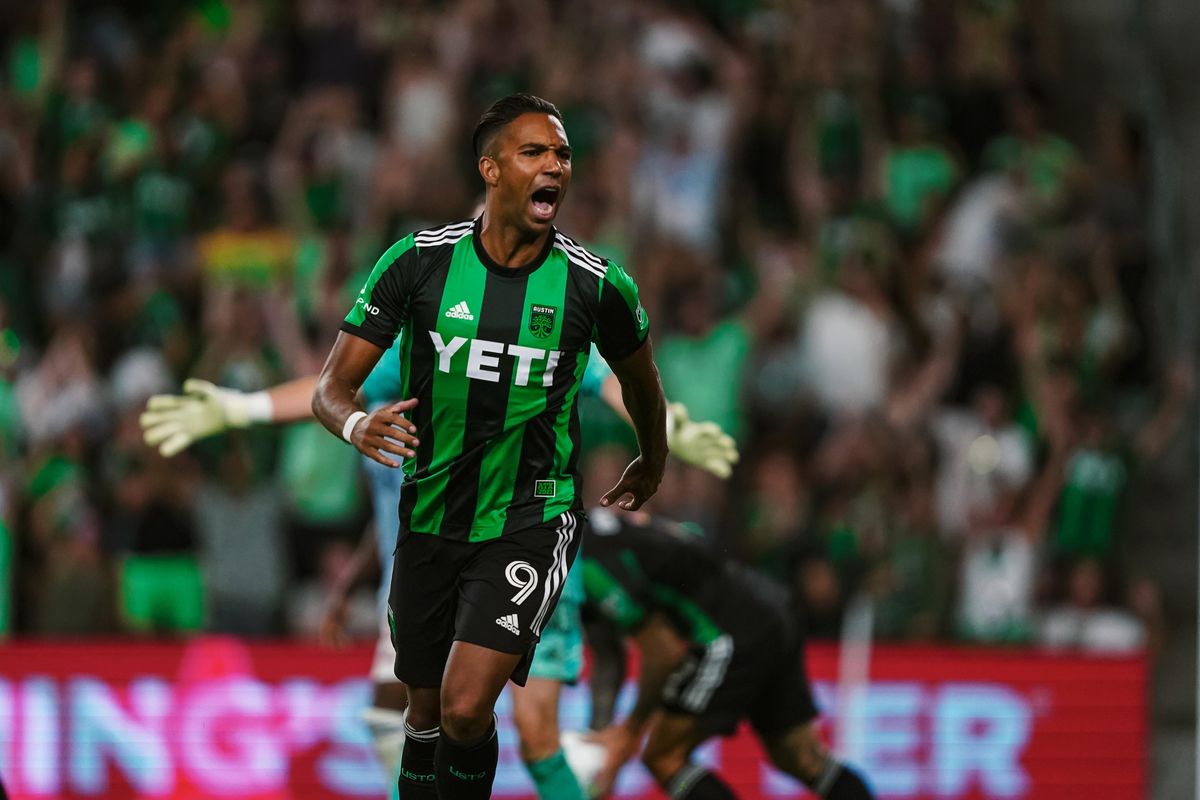 Despite a 2-0 deficit, there was a pot of gold for Austin FC after all as it celebrated its annual Pride Night with rainbows and a 2-2 comeback draw to FC Dallas Saturday night.
After three FC Dallas losses last season, the Dallas derby draw marks the first time Austin FC has tied against its Copa Texas rival. Austin continues to edge over FC Dallas as it sits at 3rd in the MLS West.
Here are the biggest takeaways from the match:
A somber start
¡Ya Basta! Enough! End Gun Violence. #uvaldestrong

📷 @arubiophotospic.twitter.com/3PiVdTPtik

— Los Verdes (@LosVerdesATX) June 26, 2022
Decked out in colorful hues for LBGTQ+ Pride, Verde fans started the match on a somber note as they held up banners to take a stand against gun violence before the match.
As the national anthem began, fans held up banners with the names of each child that was killed in the Uvalde school shooting and a plea to "end gun violence."
The supporters' section was also dotted with Pride flags and a "Bans off Our Bodies" banner in protest of the Supreme Court's decision to overturn Roe v. Wade.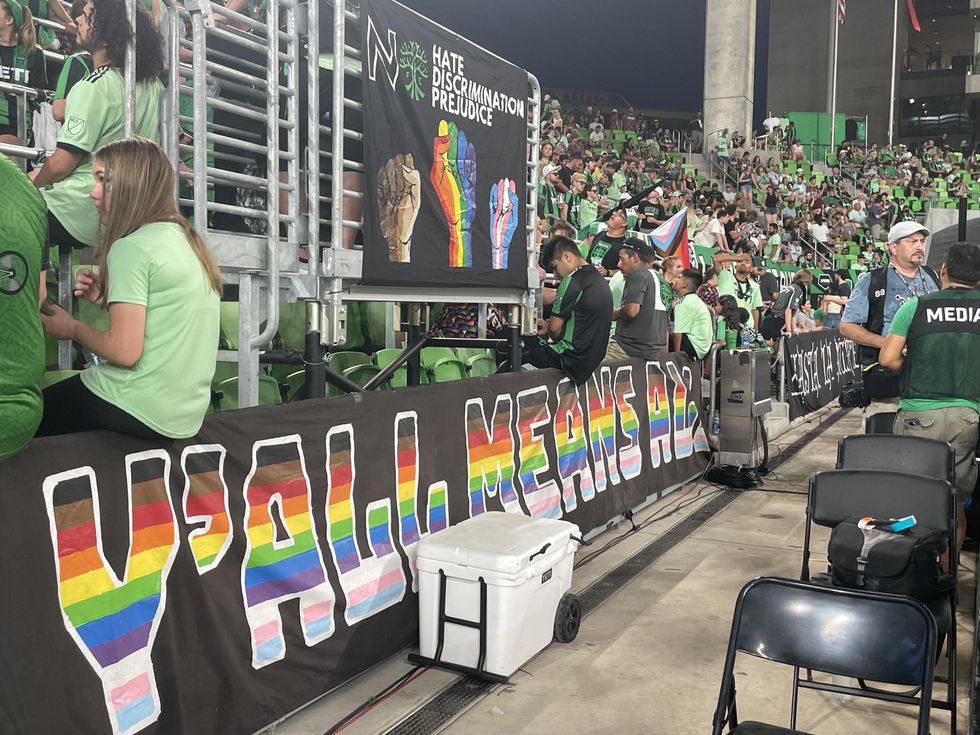 (Claire Partain/Austonia)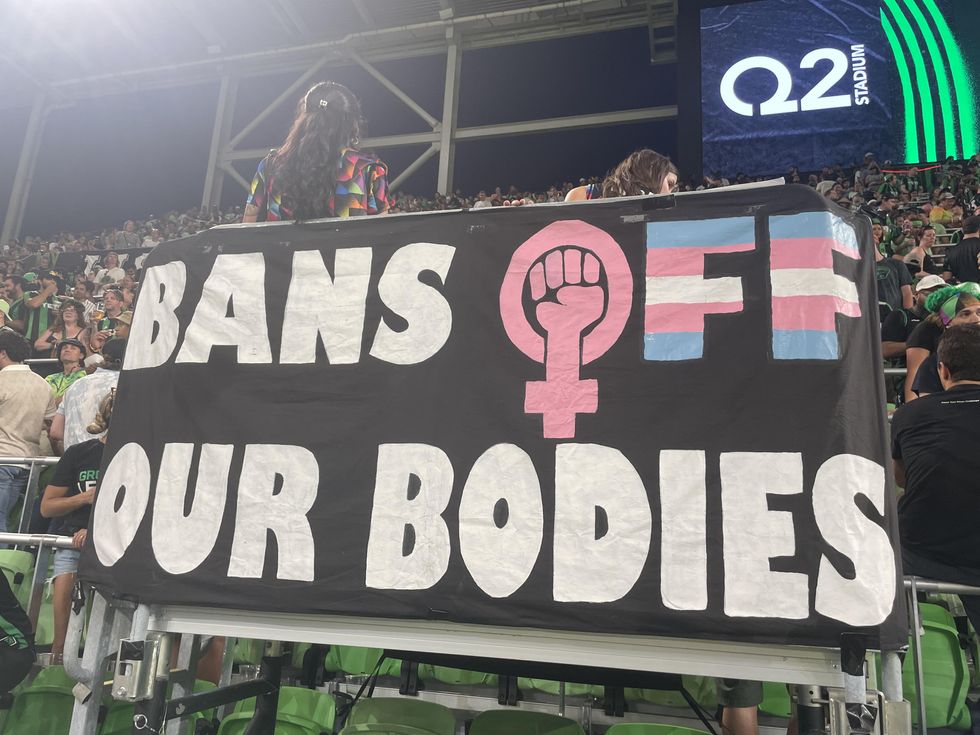 (Claire Partain/Austonia)
FC Dallas earns a 2-0 lead
Paul Arriola is there to put it away and put @FCDallas ahead! pic.twitter.com/Z4AMmM6lp3

— Major League Soccer (@MLS) June 26, 2022
That sober tone continued onto the pitch. With midfielder Daniel Pereira's absence due to a red card, the Verde and Black lost two goals to FC Dallas by the 70th minute of play.
FC Dallas played it sneaky for the first half of the match, giving Austin FC plenty of room to hold possession as it waited to strike on a Verde error. That mentality proved dangerous for Austin as Dallas' Paul Arriola took advantage of Brad Stuver's deflection to score the first goal of the night in the 57th minute of play.
Dallas struck once more as Brandon Servant pushed past the Verde line to score the second goal of the match.
Austin FC strikes back
Sebastián Driussi pulls one back!#AustinFC are still in this one. 👀 pic.twitter.com/Yoi0x768jb

— Major League Soccer (@MLS) June 26, 2022
But energy quickly returned to Austin's favor thanks to Designated Player Sebastian Driussi, who scooted past several FC Dallas defenders alongside Moussa Djitte to snag an unlikely first goal for Austin.
A full Verde comeback
Late drama in this Texas Derby!@AustinFC ties it up, Danny Hoesen with the diving header. 😱 pic.twitter.com/Jk2f4fIEXG

— Major League Soccer (@MLS) June 26, 2022
Austin's subs proved deadly as momentum returned to the home team toward the end of the match. A well-placed cross from Nick Lima—and a diving header from a fresh-legged Danny Hoesen—helped the team secure the draw with a second Verde goal in the 84th minute of play.
Hoesen, who was Austin's first starting striker last season, has now scored two goals with the team after a yearlong injury stuck him on the bench.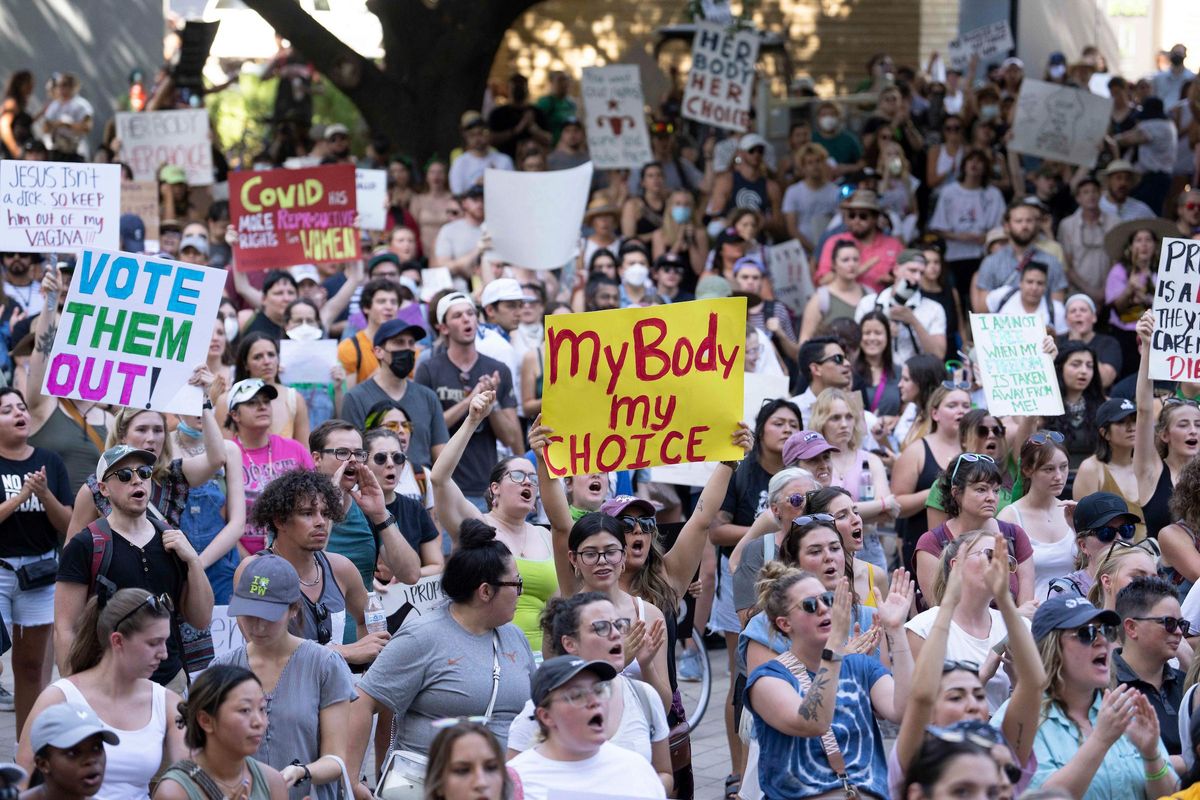 Hours following the U.S. Supreme Court's ruling to overturn Roe v. Wade, the landmark ruling that guaranteed a constitutional right to an abortion, on Friday, about 1,000 people gathered in Republic Square with signs calling for change.
The rally, organized by the group Rise Up 4 Abortion Rights Texas, started at the federal courthouse on Republic Square on Friday at 5 p.m. before the crowd marched to the Texas Capitol. More protests are expected to ensue over the weekend.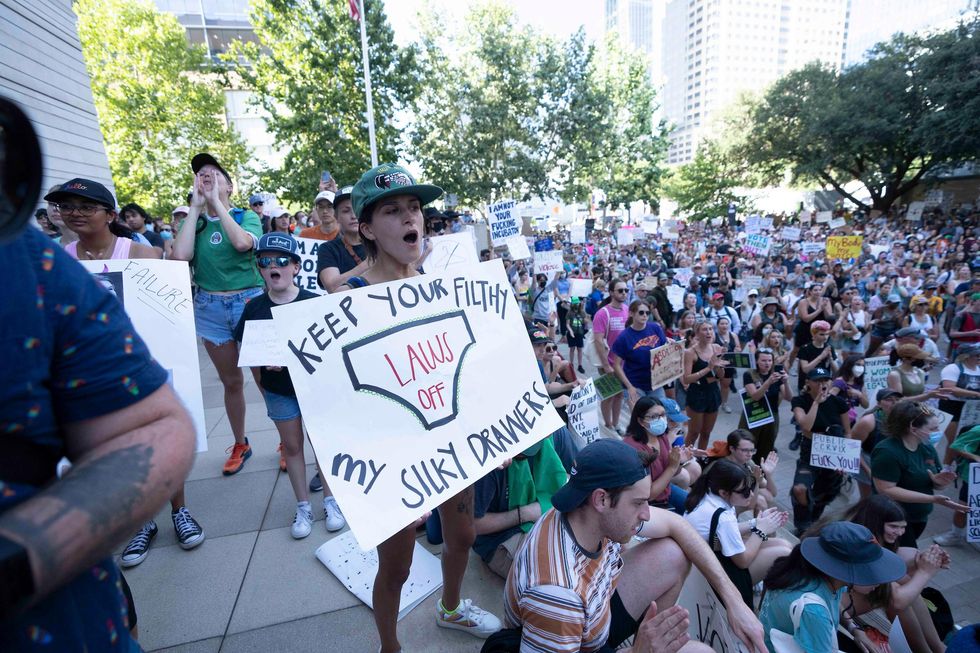 People showed up with all types of signs like Mindy Moffa holding up, "Keep your filthy laws off my silky drawers."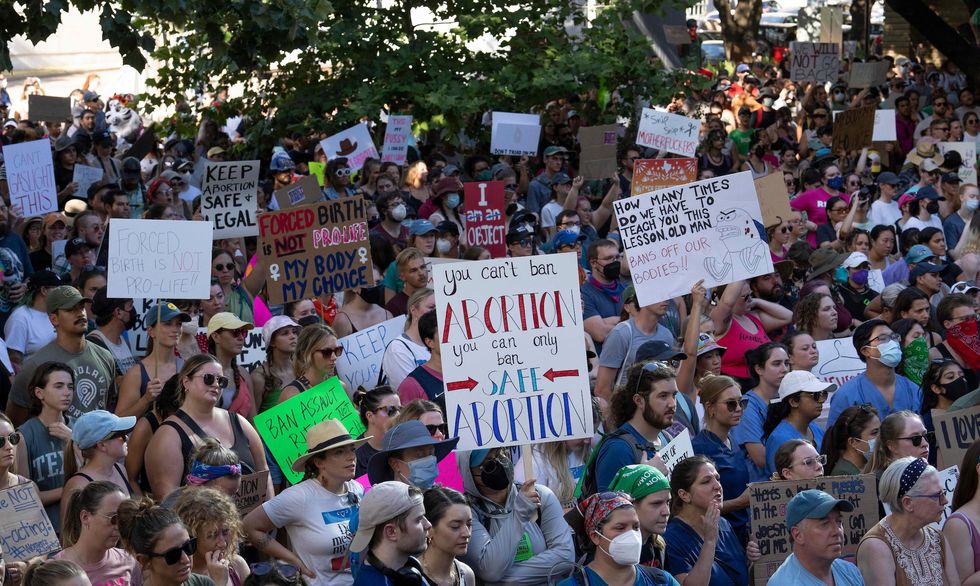 Austin joined cities across the country that saw protests for a women's right to an abortion after the ruling.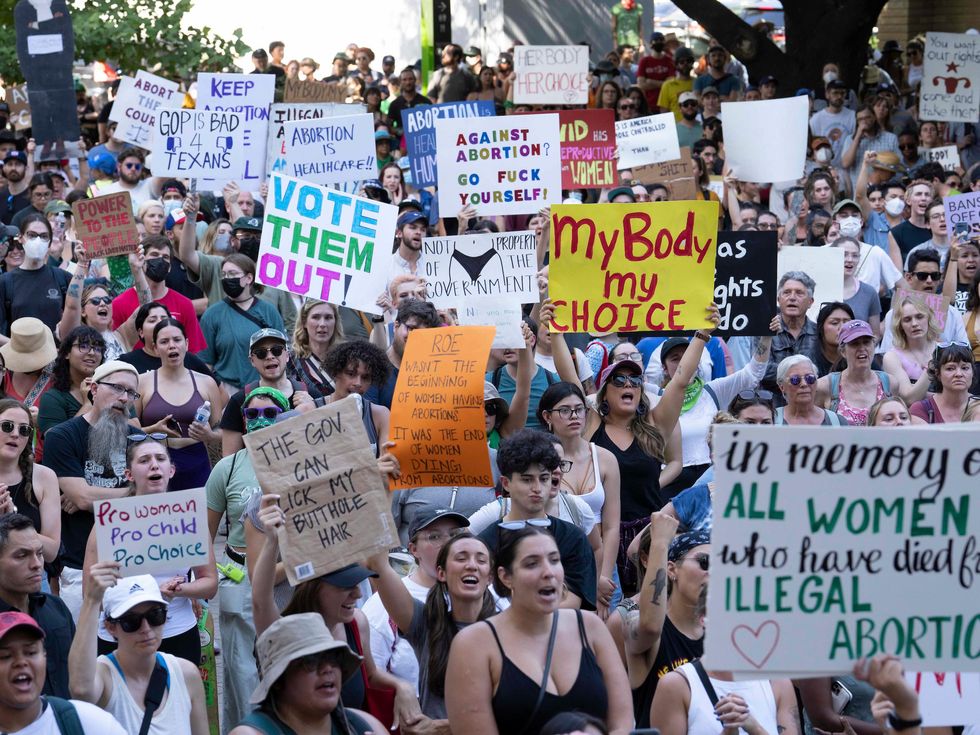 According to a recent UT poll, 78% of Texas voters support abortion access in most cases.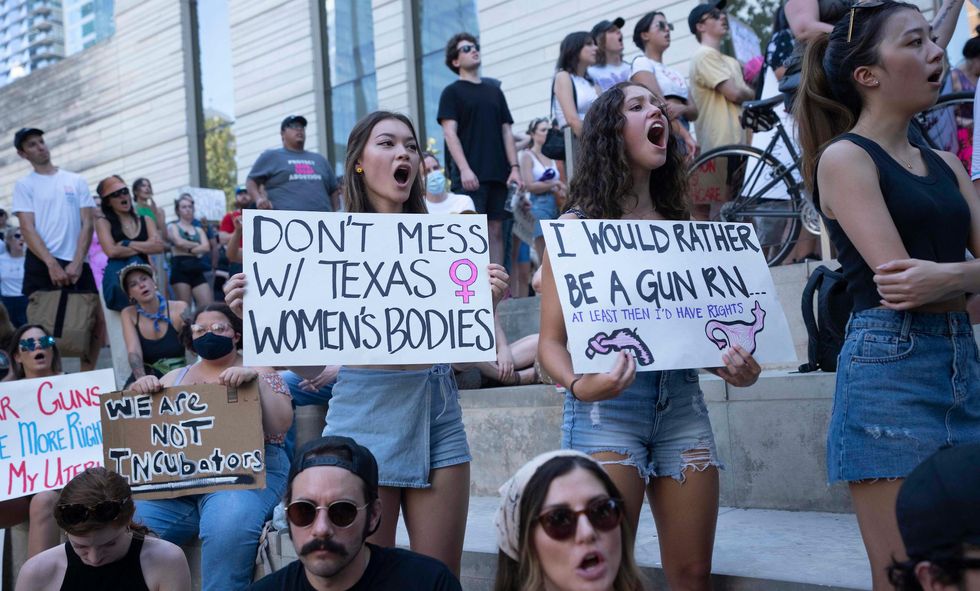 Sabrina Talghade and Sofia Pellegrini held up signs directed at Texas laws. A Texas trigger law will ban all abortions from the moment of fertilization, starting 30 days after the ruling. When state legislators passed the trigger law last summer, it also passed laws for more protection of firearms, including the right to open carry without a permit.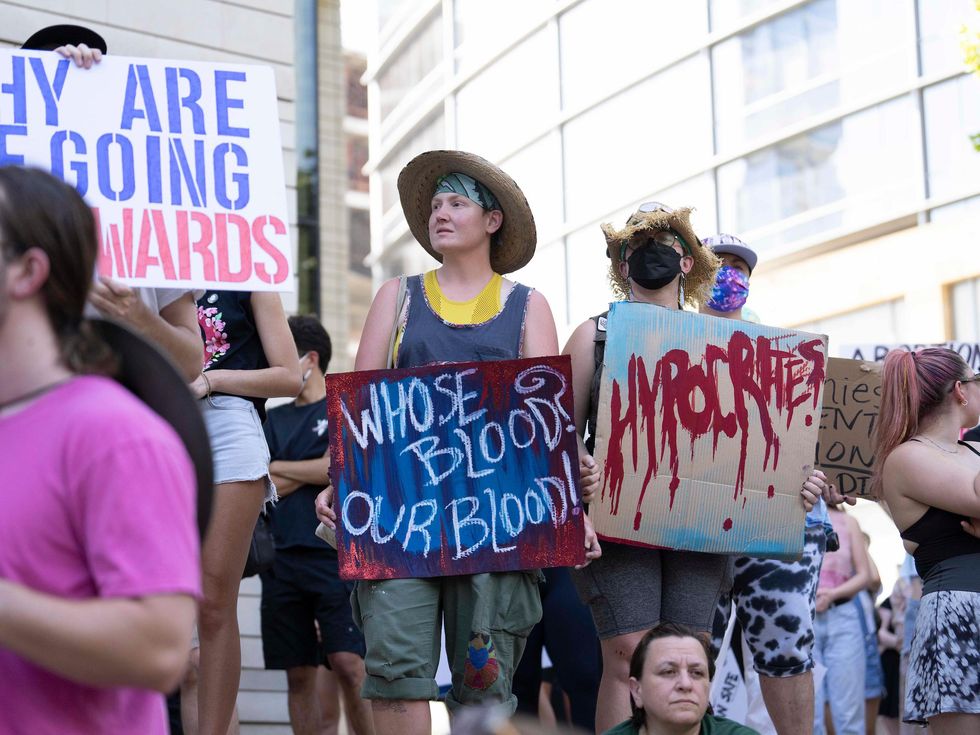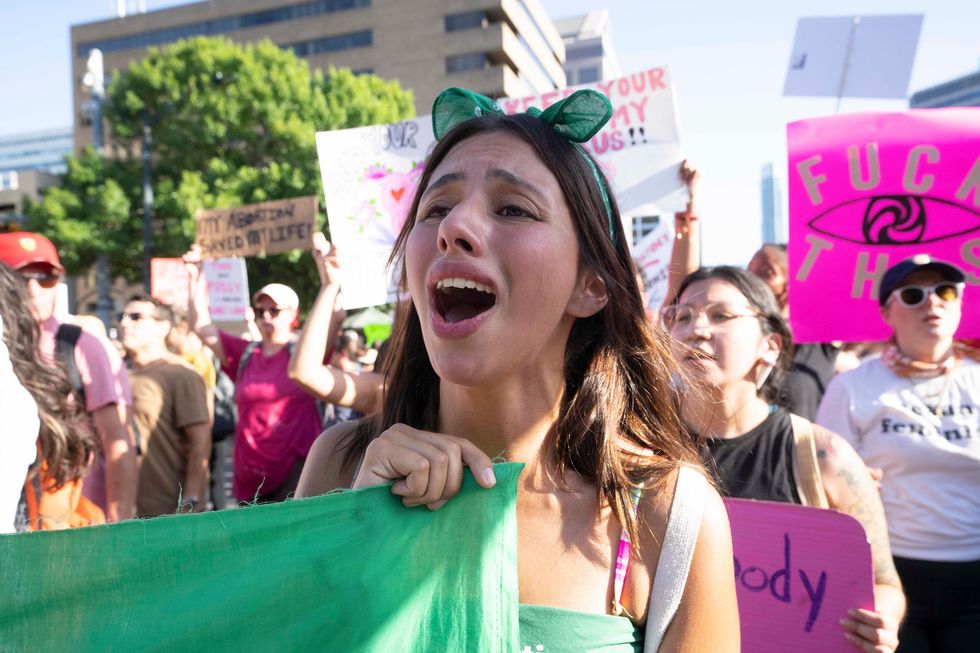 Lili Enthal of Austin yells as around 1,000 Texans marched to the Texas Capitol.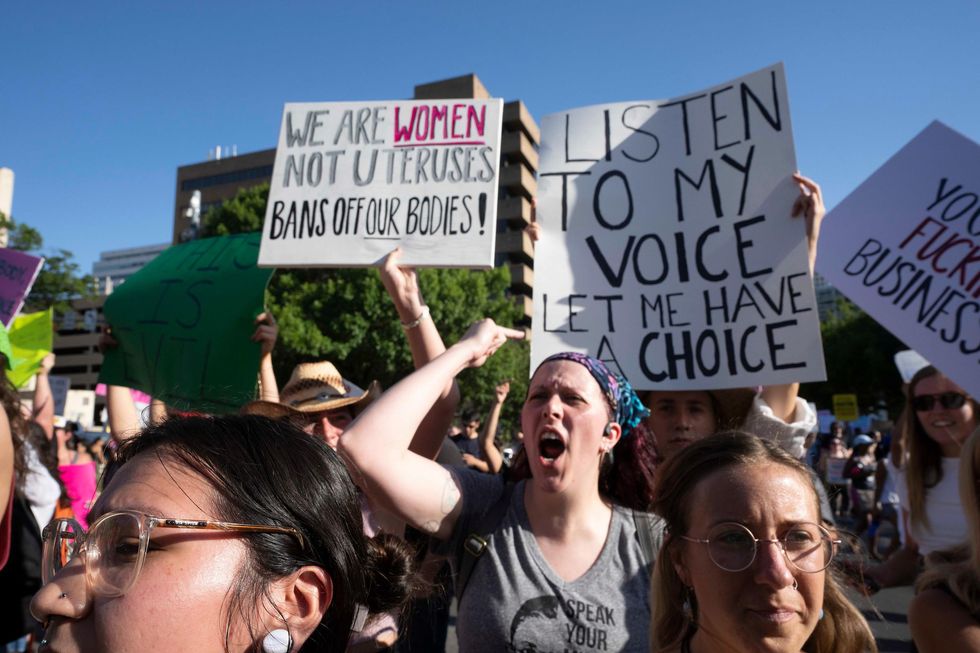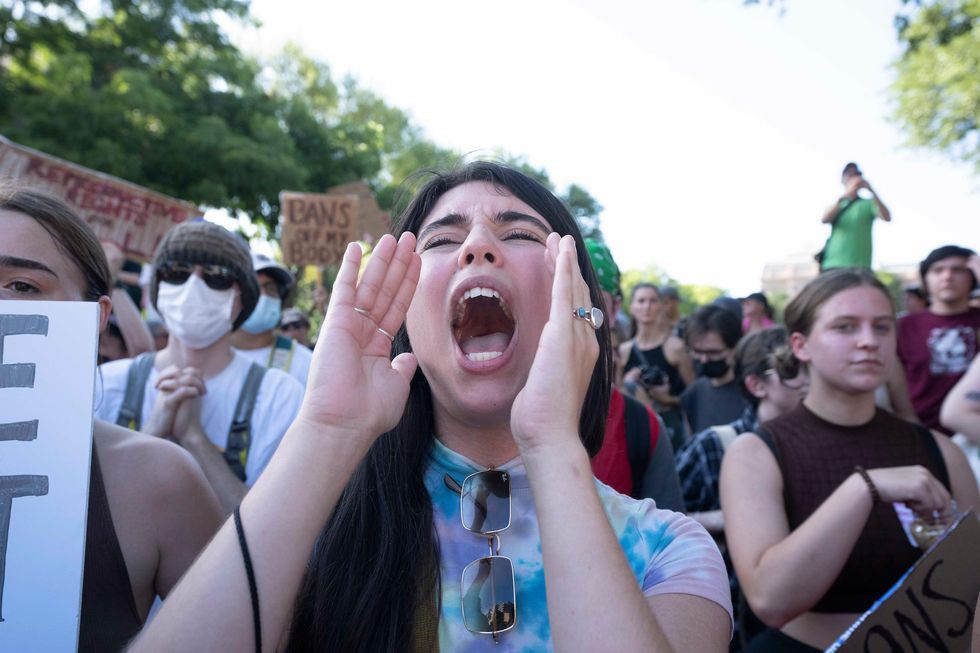 From the Texas Capitol, Zoe Webb lets her voice be heard against the Supreme Court ruling.