Austonia AM
100% Austin news, info, and entertainment, straight to your inbox at 6 a.m. every morning.
In five minutes, you're fully informed and ready to start another great day in our city.
Get connected with our daily update
Now that the Sussexes' English home, Frogmore Cottage, has been cleaned out in the dead of night and apparently rented to Harry's cousin, Princess Eugenie, it looks like the Duke and Duchess' move to the New World is one they're 100% committed to. In the words of the British tabloid press, "Megxit" is complete.
---
The two have started their new life in the States, recently signing a deal with Spotify for their podcast to come out next year and launching their audio company, Archwell Audio. Moving across the pond, announcing a new podcast, it seems they've taken control of a new life. So now the question begs to be asked, what else is in store for the royal couple?
There's absolutely no reason, not even a shred of a rumor, to think the Sussexes are contemplating a move to the Lone Star State, or its capital city. But they wouldn't be the first to scrawl GTT (Gone To Texas) on their front door, hitch up the wagon and depart for greener pastures like multi-millionaire dollar podcast Joe Rogan recently did.

Here's why they should.
Money
Harry's blood may be blue, but his household runs on the green stuff, and it always seems like there's never enough—even for the rich.
Harry's net worth is an estimated $40 million and Meghan's at $5 million, according to a wealth tracking site. That may be so, but it's possible to be worth a lot on paper while also short on cash. Much of Harry's worth is tied up in royal trusts that payout over a period of many years.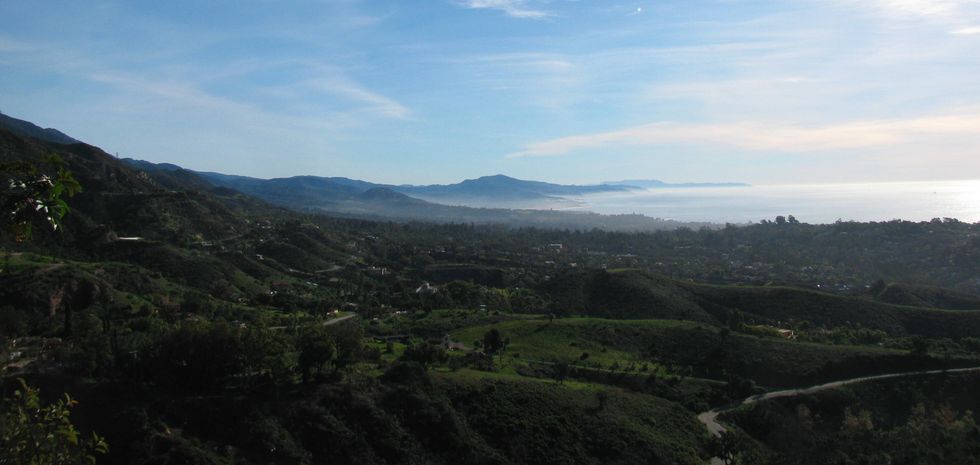 Montecito, California (CC)
Take real estate for example. Everyone knows about their $14.65 million home purchase in Montecito, California, a small town on the edge of Santa Barbara. It's a favorite of Hollywood types like Ellen, Oprah, Rob, Gwyneth, Katy, and George (Lucas).
But did you know the former royals took out a mortgage to buy the place? $9.5 million of borrowed money, reportedly. And the Daily Mail estimates the property may cost them over $4 million a year to maintain. Wow. You don't have to be a mathematician to figure out that their estimated combined $45 million isn't going to last long unless they come up with some sort of side hustle. Meghan used to make beer money doing calligraphy, but there aren't enough hours in the day to address $4 million worth of wedding invitations for wealthy brides who will pay for perfect penmanship.
Taxes
So they'll find Netflix deals and speaking engagements and other ways to make a buck, but making it is one thing and keeping it is another. That's where Texas shines. The state's zero personal income tax compares favorably with California's big-and-getting-bigger tax bite.
The Golden State's top rate is over 13%, and a cash-strapped state government is considering an extra "millionaires tax" and possibly a "wealth tax" on assets, in addition to possibly raising the base rate. The Sussexes, in a hypothetical $10 million income year, would pay a minimum of $1.3 million in taxes to California. In Texas, they'd pay nothing.
With $1.3 million in yearly savings, that's enough to finance regular private jet flights to visit friends in LA, with enough left over to establish a college fund for their son, Archie.
More Taxes
The bigger problem for the Prince is that if he becomes a California resident, the state may try to impose its high tax rates on all of his income, even income earned from his royal trusts in England. There's no hard-and-fast rule for determining residency, but a detailed analysis can be found here.
Enough of that. Let's get to the fun stuff.
Nicknames
California's not a nickname place. Sure, some people have names like Moonbeam and Dweezil but those are their actual names.
In Texas, lots of people go by acquired monikers, from the nickname-dispensing former President George W. Bush ("43" or "W") to beloved homeless Austinite, known simply as "Leslie," a wandering, cross-dressing activist.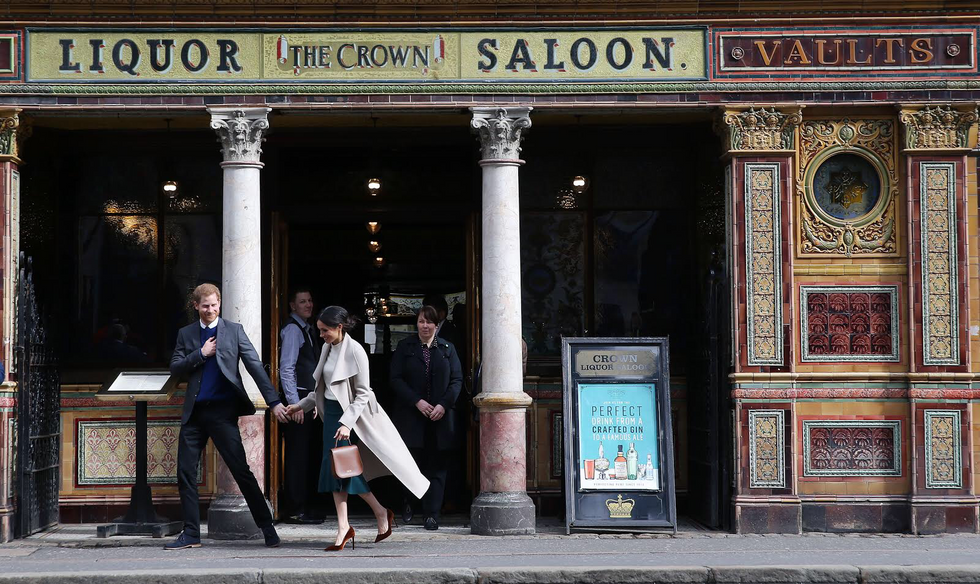 (CC)
Why does this matter for Meghan and Harry?
Because their names are not really Meghan and Harry.

Meghan's name is Rachel. Rachel Markle. Meghan is her middle name, which she utilized when she became an actress.
Prince Harry's name is more complex. He's known by various names in various capacities:
Henry Charles Albert David Mountbatten-Windsor (his given name)
The Duke of Sussex
His Royal Highness
The Earl of Dumbarton (in Scotland)
Baron Kilkeel (in Northern Ireland)
Captain Harry Wales (British Army)
History
History is on Meghan's side. Not the English kind, dating from 1066 and all that, but her history of good times and fitting in, in Texas. Check out her 2017 Austin airport arrival for the Suits 100th episode cast party.
MEGHAN MARKLE Out in Austin 06/10/2017 https://t.co/ulVAFW0J72 https://t.co/npTiKh0MPo

— Celebrities Pictures (@Celebrities Pictures)1497262925.0
Meghan is pitch-perfect Austin—stylishly torn jeans, sandals, casual white shirt, perfect movie star sunglasses, easy hairstyle and hat in hand. She could be on her way to the Four Seasons, the Oasis or Rainey Street in her attire. Joe Rogan and even Matthew McConaughey could learn some things from Meghan Markle, like how to look effortlessly casual while showcasing taste and style.

Sports and Outdoors
Harry follows the royal tradition of loving sports and the outdoors. If Netflix's "The Crown" is a credible source, even the Queen is nowhere happier than wandering the misty hills of her 50,000 acre Balmoral Estate in muddy "outdoor shoes," stalking deer and shooting grouse. There's talk that, to please Meghan, Harry has sold his guns and stopped hunting, an activity that's generally not accepted in California's coastal culture.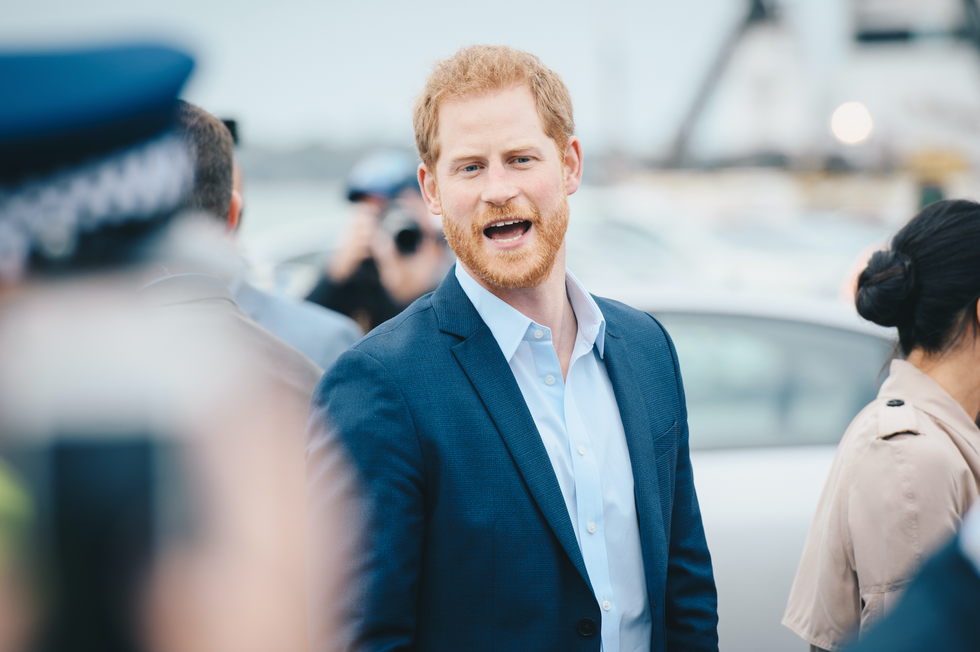 (Shutterstock)
But it may be hard for Harry to give up a sport he's pursued all his life. He's hunted throughout Britain, Europe, South America and Africa, and, like most of the royals, was a fox hunter until the sport was banned in England in 2005.
If Harry wants to pick up the sport again, he'll fit in perfectly in Texas, where hunting is a traditional activity. The Texas Hill Country, adjacent to Austin and San Antonio, is packed with hunting ranches offering native and exotic species. With the similarities between African and Texan terrains and climates, many African species can be seen throughout Texas, including endangered species that are bred and sold on exotic game ranches.
Weirdness
It's debatable whether Austin is really weird anymore. It's unique, with a culture of its own that's distinct from other cities, but how weird can things be in a land of $15 hamburgers and a median Central Austin home price of $625,000?
Still, weirdness is tolerated here and even embraced, perhaps as a treasured symbol of what was. A dying ember of our central civic archetype.

Prince Harry, Meghan and Archie, as perfect and utterly conventional as they appear, are definitely weird—walking away from a life of effortless privilege, universal fame, vast wealth and access to anyone or anything that interests them. They've left it all to wallow, although at the top levels, in an ordinary world where we have to figure out how to pay the bills, find friends and create meaning in our lives.
Tesla CEO Elon Musk announced a record-setting second quarter during an earnings call broadcasted from the Giga Texas construction site in Southeast Travis County on Monday.
The electric carmaker reported more than $1 billion in quarterly net income and the production of more than 200,000 vehicles for the first time despite challenges such as a global semiconductor shortage.
"It … seems that public sentiment towards electric vehicles is at an inflection point, and at this point, I think, almost everyone agrees electric vehicles are the only way forward," Musk said.
Despite rising consumer demand and adequate factory capacity, Tesla faces what Musk described as a "quite serious" global semiconductor shortage, which will determine the company's growth rate for the rest of the year.

With increased revenue and production, Tesla is investing in new factories, Chief Financial Officer Zachary Kirkhorn said. These include Giga Texas, the $1.1 billion manufacturing plant that broke ground last summer and is slated to open later this year.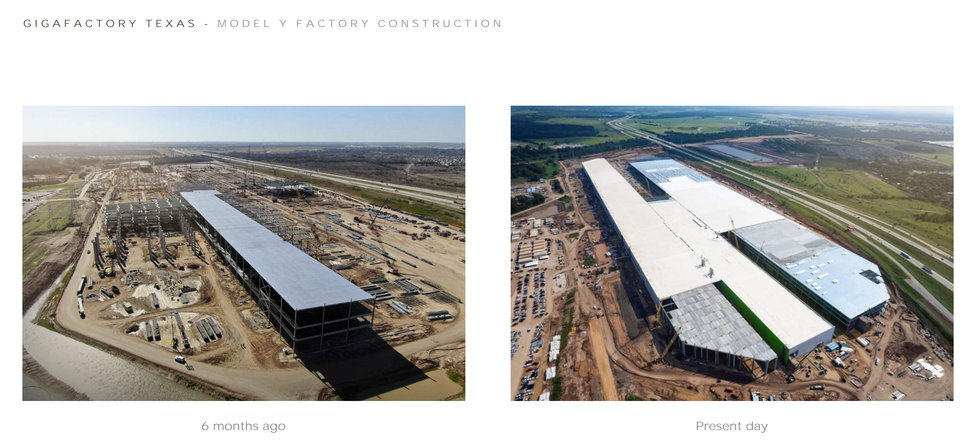 The Giga Texas factory in Southeast Travis County has rapidly increased in size since ground broke last August. (Tesla)
Musk commended the construction team for "incredible progress," transforming what was basically a vacant site into "a mostly complete large factory a year later."

I was at Giga Texas yesterday. Team is making excellent progress. Building will be almost a mile long when complete.
— Elon Musk (@elonmusk) July 25, 2021
Giga Texas will produce the highly anticipated Cybertruck, along with other models, but Musk said scaling its production will be difficult, especially given the supply chain delays caused by the pandemic. "It's going to move as fast as the slowest of its up to 10,000 unique parts," he said.

In other news, Musk said Monday's earnings call would likely be his last regular appearance, only jumping on future quarterly calls when big announcements warrant it.
Tesla Solar recently made news when it announced plans to build the nation's most sustainable residential community in Southeast Austin earlier this month. The newly built homes will feature Tesla solar roof tiles and Powerwall battery storage as well as electric vehicle charging stations.
The city of Austin released a shortlist of seven candidates for the police chief position left vacant when Brian Manley retired in March.
City Manager Spencer Cronk hopes to announce an appointment by the end of August, which will require City Council approval.
The finalists, chosen from a field of 46 applicants, include:
APD Interim Chief Joseph Chacon, who previously served as an assistant chief in the department for almost five years
Anne Kirkpatrick, former police chief in Oakland, California, who was fired last year after a federal monitor criticized her handling of a fatal 2018 police shooting of a homeless man
Dallas Police Department Assistant Chief Avery L. Moore, who is a 30-year veteran of the department
Atlanta Police Department Deputy Chief Celeste Murphy, who manages the department's community services division
Dekalb County Police Chief Mirtha V. Ramos, who previously served as division chief in the Miami-Dade Police Department
Wichita Police Department Chief Gordon Ramsay, who is a former president of the Minnesota Police Chief's Association as well as one of the first police chiefs of a major U.S. City to call George Floyd's death a murder, as reported by the Wichita Eagle
Los Angeles Police Department Deputy Chief Emada E. Tingirides, who is also commanding officer of the department's newly formed Community Safety Partnership Bureau, which serves L.A.'s underserved communities
The next police chief will be tasked with reimagining public safety after a tumultuous year that saw mass protests against police violence and racial injustice, a nearly year-long hiatus of police academy that exacerbates a years-long staffing shortage, Austin City Council's decision to cut APD's budget in August, rising violent crime rates in Austin and around the country, and new state laws that
financially penalize cities that cut police funding
.
City staff will interview the finalists in the coming weeks, with several community input opportunities to come, according to a Monday press release.
The city conducted a public survey in March and hosted community input meetings in April to learn more about what residents are looking for in their next police chief, which helped shape the selection criteria for the position.
"They want to see the Chief be reform-minded and transparent and have a track record of fostering community involvement and accountability," Cronk said in the release. "The candidates selected show these characteristics in various ways."
Days after Austin began once again recommending masks in public spaces, Austin ISD announced Monday that kindergarten through sixth-grade classes will have virtual options this fall.
The district will discuss the move in a special board meeting Monday evening starting at 5 p.m., while full details will be released Friday.
Teachers will not have to fret about the new option—no educators will have to juggle both virtual and in-person learning. Instead, certain teachers will specialize in virtual education, according to a press release.
The news comes after a recent spike in COVID cases in Travis County and across the nation. Children typically suffer fewer symptoms of COVID when contracted, but they are now catching the virus more often than their older counterparts without a vaccine available to them and as the more contagious Delta variant is quickly being spread.
While local health officials are recommending everyone wear masks, public school districts are unable to mandate masks due to an executive order issued by Gov. Greg Abbott in May.
Parents have expressed concern about classrooms with masks unenforceable and children under the age of 12 ineligible for a vaccine. Some have even said they would look for alternative schooling if AISD did not offer a virtual option for students.
The board meeting will be featured on AISD.TV and Facebook.com/AustinISD starting at 5 p.m. and will discuss more details on the virtual option.