Get connected with our daily update
The Oakwood Cemetery is said to have souls roaming around. (Steven Joyner/Austonia)
As Halloween makes us second guess if that cold spot was a ghost or simply the cool front, keep your guard up because there are supposed haunted grounds in the city.

---
Austin is largely free of widespread hauntings but that doesn't mean it doesn't have its fair share of phantoms if you know where to look. Here are some of Austin's most haunted burial grounds.
Oakwood Cemetery
Originally called the city cemetery, Oakwood Cemetery is Austin's oldest burial ground and has been standing since the 1850s. Though record-keeping isn't as robust from its early days, with over 40 acres of land and more than 25,000 people buried, Oakwood Cemetery is said to be the permanent home to some well-known Texans: U.S. Marshall and Texas Ranger John Barclay Armstrong who passed in 1913, Alamo survivor Susanna Dickinson who passed on in 1883, radio personality John Henry Faulk who was buried in 1990.
Oakwood Cemetery is also known for its fair share of hauntings—note that not all who lie there are resting in marked graves and some of the early marked graves, like 1897's "Little Brother" gravestone, are haunting in and of themselves.
So, why should you stay away from Oakwood Cemetery at night? You might run into the ghost of the first of the Servant Girl Annihilator's victims, 17-year-old Eula Phillips, who was murdered by her then-husband with an axe. Philips is said to wander the grounds lamenting her violent death with tears. Dickinson, who died at the age of 68, may also appear to you and is said to be the most visual of specters that roam the grounds.
Oakwood Cemetery is known for graverobbing—rumor has it that university professors used to steal bodies from unmarked graves to use as cadavers for their students—so you might encounter the souls who are still roaming the cemetery, looking for their bodies.
Shoal Creek Indian Massacre Site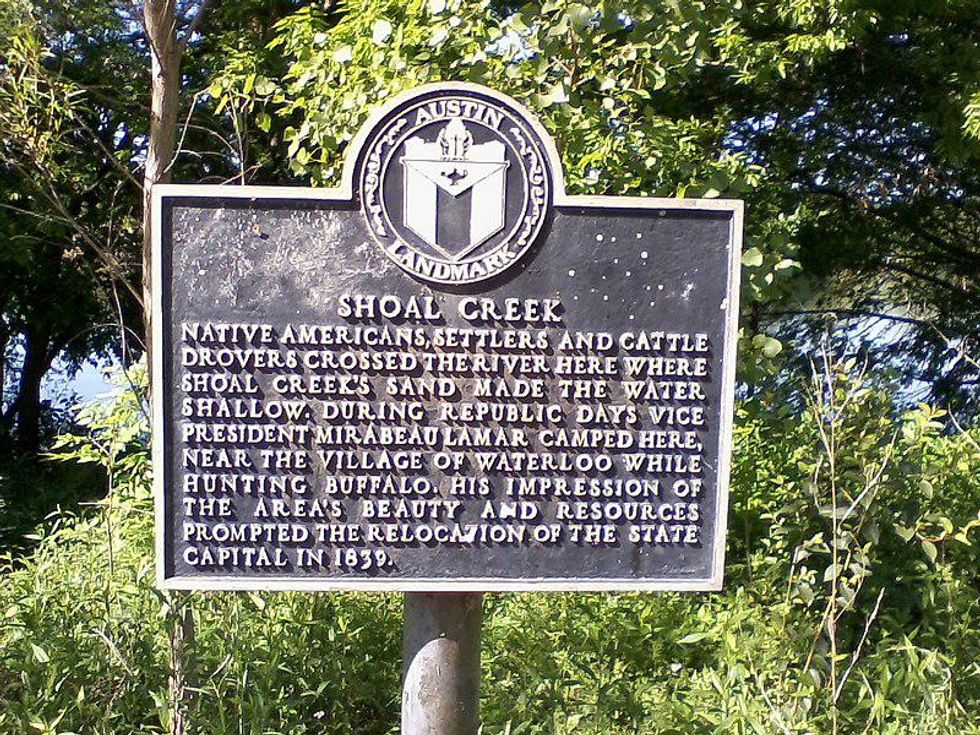 The historical marker is located at 24th Street at Shoal Creek. (austinghosts.com)
Shoal Creek, like nearly all of the United States, can be traced back thousands of years to 9,000 B.C. with Native American arrowheads. Settlers would camp along the mouth of the creek, including famous residents like the second president of the Republic of Texas Mirabeau Lamar, where it is said they engaged in a turf war with the Native Americans who resided right nearby. Those who weren't killed by Comanche warriors were killed by cholera and were buried along the creek. It is said that a mass grave, filled with victims of yellow fever, cholera and unexplained violence, lies beneath the creek.
Of the hauntings most commonly seen at Shoal Creek, watch out for cold spots in the middle of summer, vanishing orbs of light called "Marfa Lights," vanishing apparitions, unexplainable noises at night, sudden sickness and nightmares after visiting.
The Austin State Hospital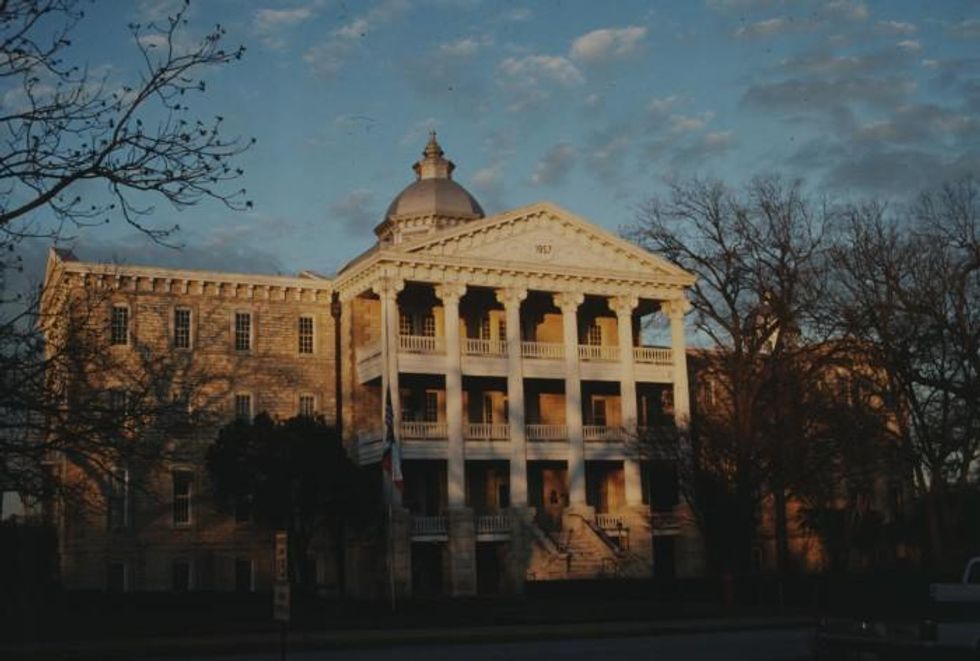 The Austin State Hospital is still operating. (Texas Historical Commission National Register Collection and the Portal to Texas History)
When the Austin State Hospital took in its first patients in 1861, it was meant to be a beacon of hope for the mentally ill to recover from the stressors of everyday life. On any given day, the hospital would treat and allegedly sometimes experiment on anywhere from 200-4,000 patients and after an unfortunate death, bodies that were not claimed were buried in the cemetery out back behind the hospital. When the cemetery inevitably filled up, bodies were exhumed and transferred to a burial ground just over two miles away. Though they say all the bodies were transferred, legend tells that some have been left on the still-operating hospital's grounds just six feet below.
The Austin State School and State School Farm Colony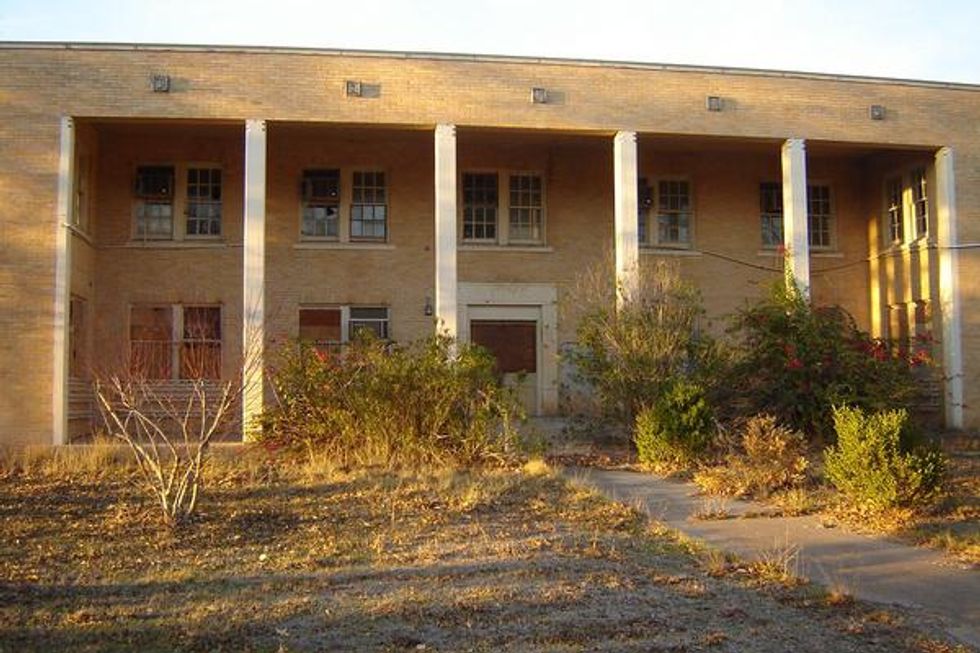 The Austin State School is now closed, many of its 68 buildings abandoned. (Andreanna Moya Photography/CC)
These two gender-segregated facilities were originally intended for mentally-troubled juvenile offenders, many of whom never left the grounds. On the school's 436 acres, 1,800 students were housed across 68 buildings and the campus also held farmland, a swimming pool and a cemetery. Children who were not claimed were buried on-site, where about 3,000 students are buried. The school was sued in the 1960s after changing its name to the Travis State School for inadequate living conditions and closed in the late 90s. Many buildings have been taken over by charter schools but some remain empty to this day.
Tucker Cemetery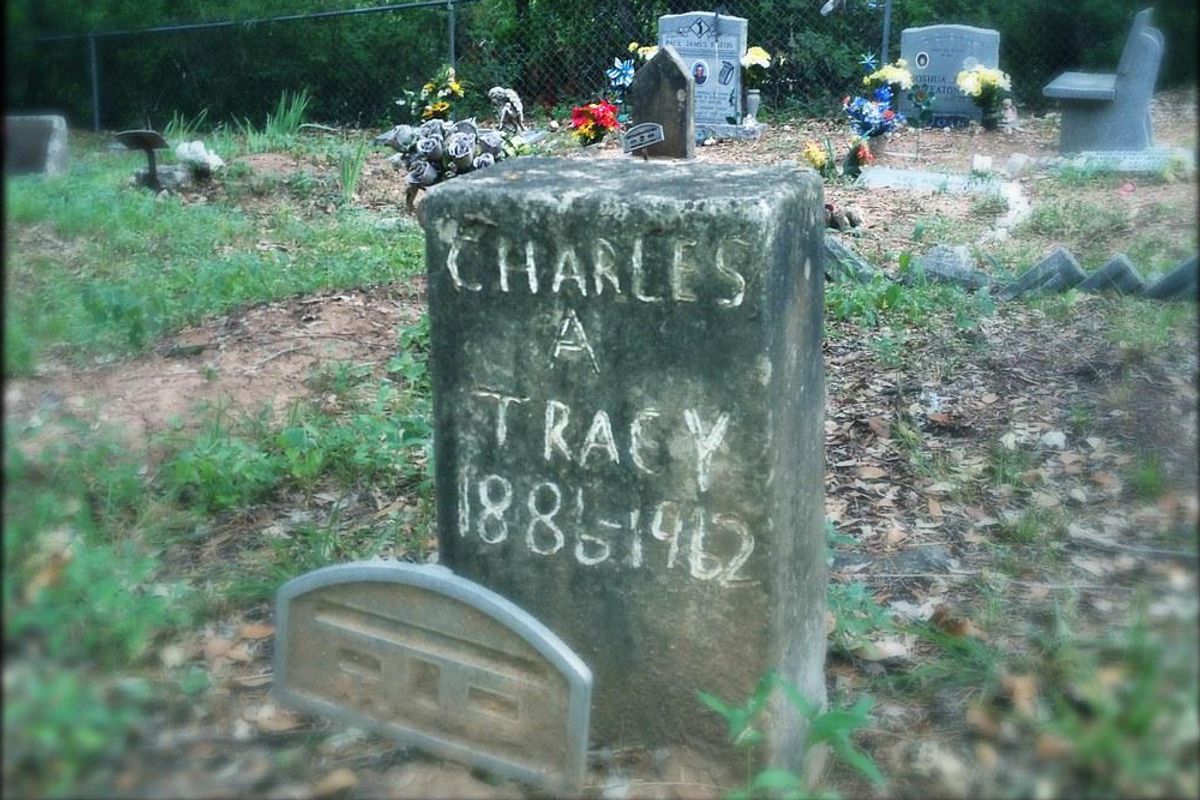 Tucker Cemetery's unique sight is its dozens of hand-written tombstones. (kissingtoast/CC)
Just outside the Barton Creek Greenbelt, Tucker Cemetery doesn't have many stories of haunts to its name other than anecdotes of car locks popping open on their own. However, what makes this cemetery freaky is its collection of tiny, hand-scrawled tombstones.
Keep Austin spoOoOoOoky!
Enjoying Austonia? Signup for our newsletter to get daily Austin news, straight to your morning inbox!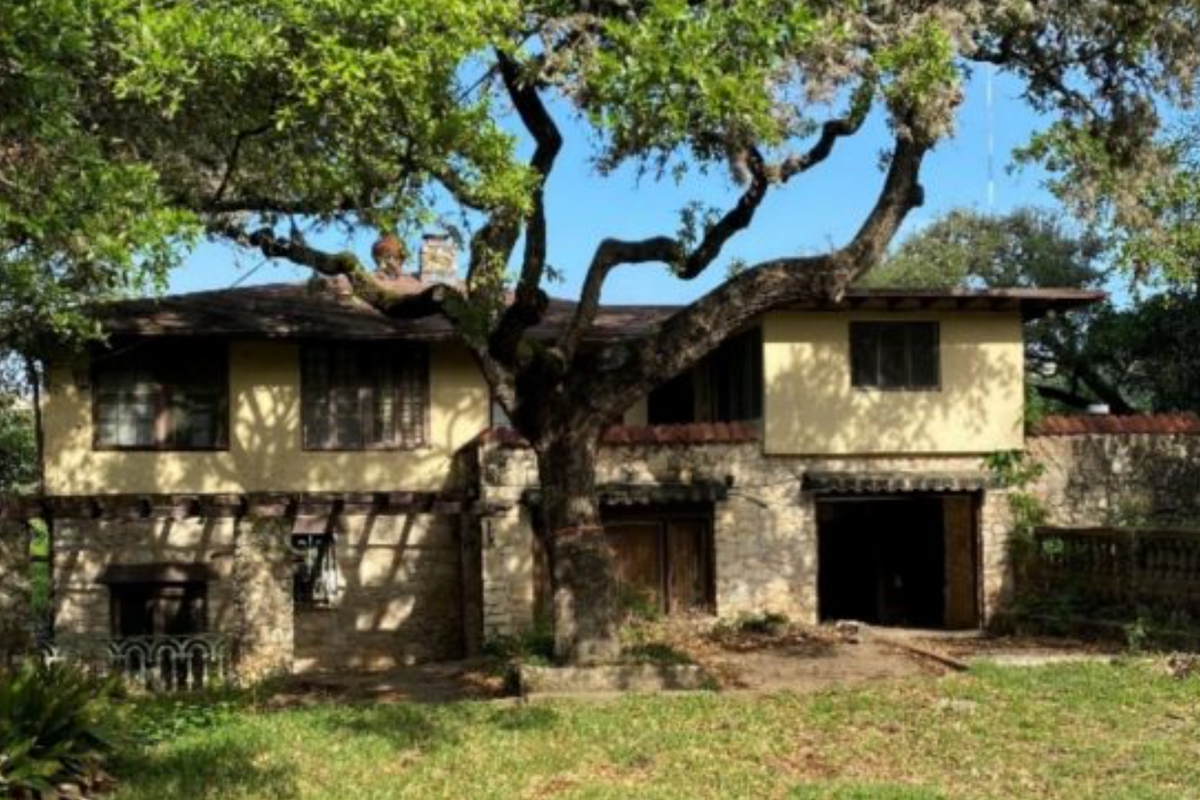 Austin Monitor
By Jonathan Lee
The Planning Commission was split Tuesday on whether to help save an eclectic lakefront estate from demolition by zoning it historic amid concerns over tax breaks and the likelihood that a previous owner participated in segregation as a business owner.
The property in question, known as the Delisle House, is located at 2002 Scenic Drive in Tarrytown. The main house, with Spanish and Modern influences, was built in 1923 by Raymond Delisle, an optician. A Gothic Revival accessory apartment was built in 1946. The current owner applied to demolish the structures in order to build a new home.'
Historic preservationists, for their part, overwhelmingly support historic zoning, which would preserve the buildings in perpetuity. The Historic Landmark Commission unanimously voted to initiate historic zoning in July, citing architectural significance, landscape features and association to historic figures. City staffers recommend historic zoning, calling both structures one-of-a-kind examples of vernacular architecture.
Tarrytown neighbors have also banded together to stop the demolition. Many have written letters, and a few spoke at the meeting. "How could anyone buy this property with the intent of destroying it?" Ila Falvey said. "I think it's an architectural treasure."
Michael Whellan, an attorney representing the property owner, said that the claims made by preservationists are shaky. The buildings are run down, he said, and have had substantial renovations. A structural engineer hired by the owner said any attempt at preservation would involve tearing down and rebuilding – an undertaking Whellan said would likely cost millions.
Whellan also argued that any historical significance derived from the property's association with Delisle and longtime owner C.H. Slator is dubious. "These men are not noted for any civic, philanthropic or historic impact," he said.
What's more, according to Whellan, Slator likely participated in segregation as the owner of the Tavern on North Lamar Boulevard between 1953 and 1960.
A city staffer, however, said she found no evidence to support the claim. "We would never landmark a property where a segregationist lived, or there was a racist person," Kimberly Collins with the Historic Preservation Office said.
Commissioner Awais Azhar couldn't support historic zoning in part due to lingering uncertainty about Slator. "Focusing on that factor is not here to disparage an individual or family. It is not about playing the race card. This is an important assertion for us to consider as Planning commissioners," Azhar said.
Commissioner Carmen Llanes Pulido said that allegations of racism should come as no surprise. "We're talking about white male property owners in the 1950s, in Austin, on the west side – and of course they were racist," she said. But she argued that allowing the house to be demolished based on these grounds does nothing to help people of color who have been harmed by racism and segregation.
The question of tax breaks was also controversial. Michael Gaudini, representing the property owner, said that the tax breaks associated with historic zoning would exacerbate inequality by shifting property tax burdens to less affluent communities. City staffers estimate that the property, appraised at $3.5 million, would get either a $8,500 or $16,107 property tax break annually, depending on whether a homestead exemption is applied.
Commissioner Grayson Cox preferred the commission focus not on tax breaks but on whether the structures merit preservation. "To me, nothing in the historic preservation criteria lists, is this person deserving of a tax break or not?"
Azhar, on the other hand, said he plans to propose a code amendment getting rid of city property tax breaks for historic properties.
The commission fell one vote short of recommending historic zoning, with six commissioners in support and three opposed. Azhar and commissioners Claire Hempel and Greg Anderson voted against.
The odds of City Council zoning over an owner's wishes are slim. Nine out of 11 members must vote in favor, and there have only been a handful of such cases over the past several decades.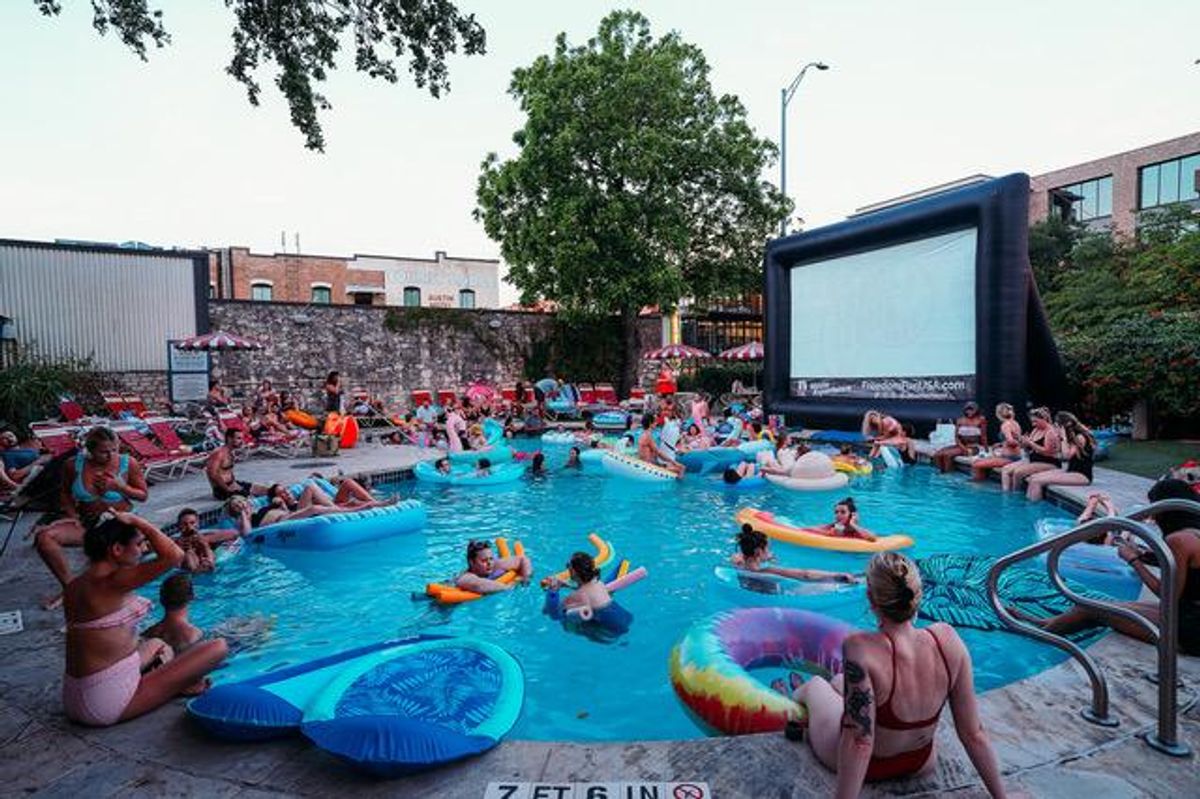 Austin Motel
What's new in Austin food & drink this week:
Nau's Enfield Drug closing after losing their lease. Did McGuire Moorman Lambert buy the building, with its vintage soda fountain?
Nixta Taqueria Chef Edgar Rico named to Time Magazine's Time 100 Next influencer list, after winning a James Beard Award earlier this year.
Question: From what BBQ joint did pescatarian Harry Styles order food this week?
Austin Motel is opening the pool and pool bar Wednesday nights in October for Freaky Floats.
Vincent's on the Lake closing due to "economic conditions and low water levels [at Lake Travis]."
Cenote has closed its Windsor Park location. The East Cesar Chavez location remains open.
The Steeping Room on N. Lamar has closed.
Local startup It's Skinnyscored new financing for its gluten-free pasta business.
P. Terry's opened a new location in Kyle, at 18940 IH-35.