Get connected with our daily update
The Oakwood Cemetery is said to have souls roaming around. (Steven Joyner/Austonia)
As Halloween makes us second guess if that cold spot was a ghost or simply the cool front, keep your guard up because there are supposed haunted grounds in the city.

---
Austin is largely free of widespread hauntings but that doesn't mean it doesn't have its fair share of phantoms if you know where to look. Here are some of Austin's most haunted burial grounds.
Oakwood Cemetery
Originally called the city cemetery, Oakwood Cemetery is Austin's oldest burial ground and has been standing since the 1850s. Though record-keeping isn't as robust from its early days, with over 40 acres of land and more than 25,000 people buried, Oakwood Cemetery is said to be the permanent home to some well-known Texans: U.S. Marshall and Texas Ranger John Barclay Armstrong who passed in 1913, Alamo survivor Susanna Dickinson who passed on in 1883, radio personality John Henry Faulk who was buried in 1990.
Oakwood Cemetery is also known for its fair share of hauntings—note that not all who lie there are resting in marked graves and some of the early marked graves, like 1897's "Little Brother" gravestone, are haunting in and of themselves.
So, why should you stay away from Oakwood Cemetery at night? You might run into the ghost of the first of the Servant Girl Annihilator's victims, 17-year-old Eula Phillips, who was murdered by her then-husband with an axe. Philips is said to wander the grounds lamenting her violent death with tears. Dickinson, who died at the age of 68, may also appear to you and is said to be the most visual of specters that roam the grounds.
Oakwood Cemetery is known for graverobbing—rumor has it that university professors used to steal bodies from unmarked graves to use as cadavers for their students—so you might encounter the souls who are still roaming the cemetery, looking for their bodies.
Shoal Creek Indian Massacre Site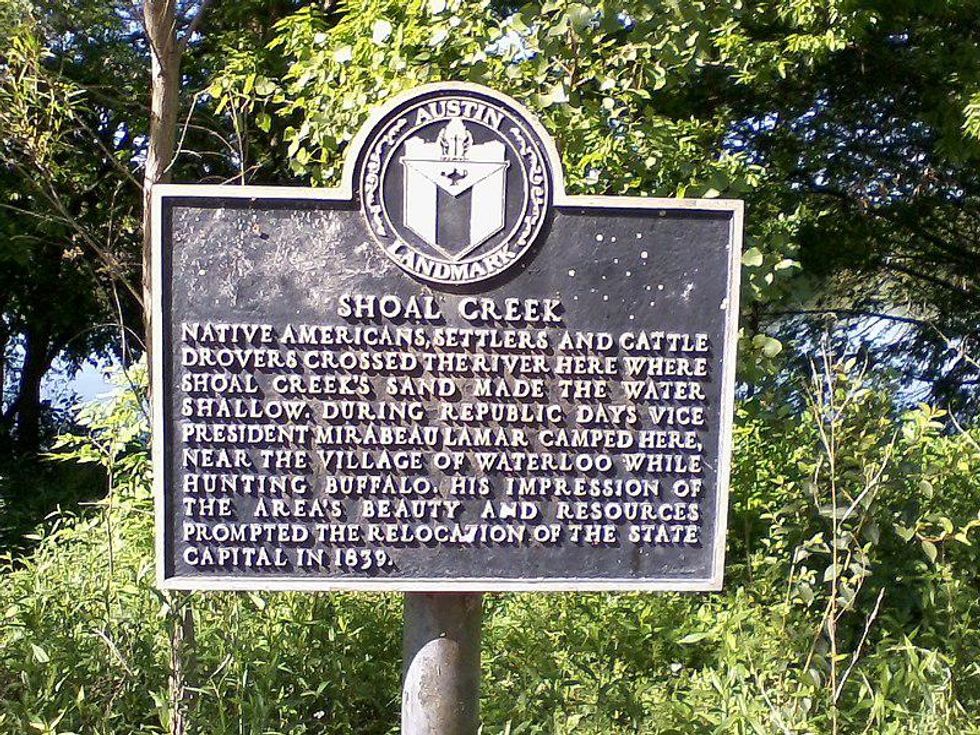 The historical marker is located at 24th Street at Shoal Creek. (austinghosts.com)
Shoal Creek, like nearly all of the United States, can be traced back thousands of years to 9,000 B.C. with Native American arrowheads. Settlers would camp along the mouth of the creek, including famous residents like the second president of the Republic of Texas Mirabeau Lamar, where it is said they engaged in a turf war with the Native Americans who resided right nearby. Those who weren't killed by Comanche warriors were killed by cholera and were buried along the creek. It is said that a mass grave, filled with victims of yellow fever, cholera and unexplained violence, lies beneath the creek.
Of the hauntings most commonly seen at Shoal Creek, watch out for cold spots in the middle of summer, vanishing orbs of light called "Marfa Lights," vanishing apparitions, unexplainable noises at night, sudden sickness and nightmares after visiting.
The Austin State Hospital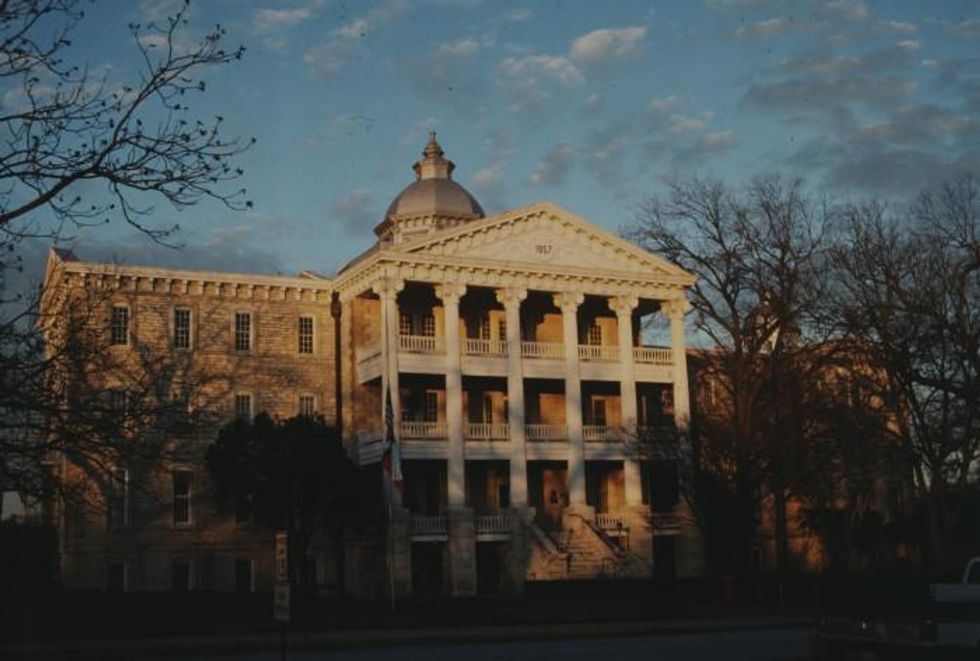 The Austin State Hospital is still operating. (Texas Historical Commission National Register Collection and the Portal to Texas History)
When the Austin State Hospital took in its first patients in 1861, it was meant to be a beacon of hope for the mentally ill to recover from the stressors of everyday life. On any given day, the hospital would treat and allegedly sometimes experiment on anywhere from 200-4,000 patients and after an unfortunate death, bodies that were not claimed were buried in the cemetery out back behind the hospital. When the cemetery inevitably filled up, bodies were exhumed and transferred to a burial ground just over two miles away. Though they say all the bodies were transferred, legend tells that some have been left on the still-operating hospital's grounds just six feet below.
The Austin State School and State School Farm Colony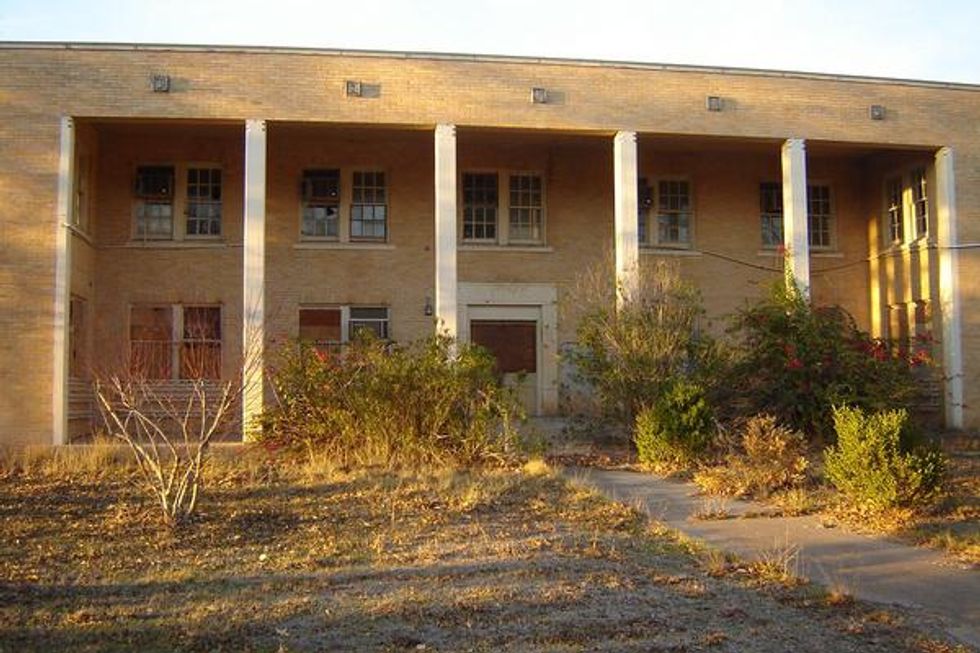 The Austin State School is now closed, many of its 68 buildings abandoned. (Andreanna Moya Photography/CC)
These two gender-segregated facilities were originally intended for mentally-troubled juvenile offenders, many of whom never left the grounds. On the school's 436 acres, 1,800 students were housed across 68 buildings and the campus also held farmland, a swimming pool and a cemetery. Children who were not claimed were buried on-site, where about 3,000 students are buried. The school was sued in the 1960s after changing its name to the Travis State School for inadequate living conditions and closed in the late 90s. Many buildings have been taken over by charter schools but some remain empty to this day.
Tucker Cemetery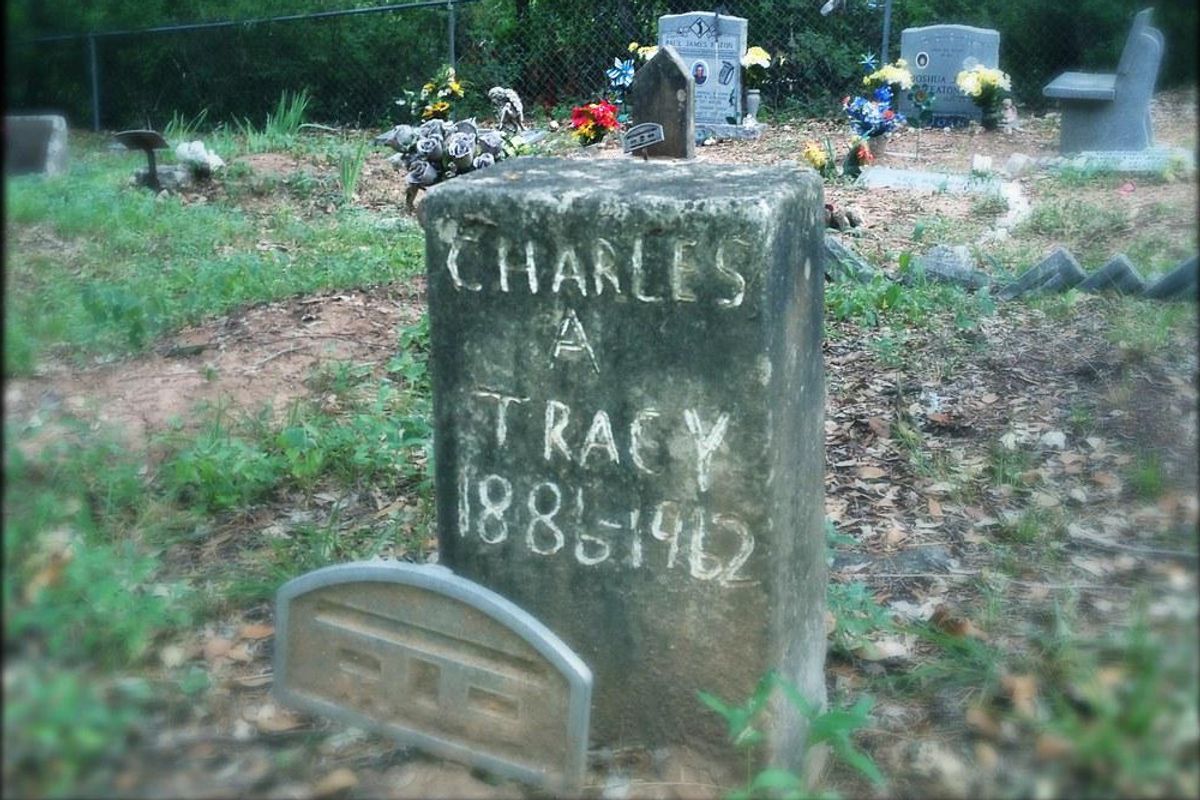 Tucker Cemetery's unique sight is its dozens of hand-written tombstones. (kissingtoast/CC)
Just outside the Barton Creek Greenbelt, Tucker Cemetery doesn't have many stories of haunts to its name other than anecdotes of car locks popping open on their own. However, what makes this cemetery freaky is its collection of tiny, hand-scrawled tombstones.
Keep Austin spoOoOoOoky!
Enjoying Austonia? Signup for our newsletter to get daily Austin news, straight to your morning inbox!
Akins Early College High School, 10701 S. 1st St., is on lockdown as district police investigate a report of an "armed subject," Austin ISD Police Chief Ashley Gonzalez tweeted at 10:11 a.m. Wednesday.
As of 11:56 a.m., the involved parties have been identified and located. Students and staff are safe, Gonzalez tweeted, and no shots have been fired as of 11:09 a.m.
Parents are asked to refrain from going to campus.
This post will be updated as more information becomes available.
The Taylor Police Department is investigating an apparent murder-suicide that left four people dead on Tuesday.
Officers responded to a call at around 1 p.m. for a welfare check at 616 Symes St. in Taylor, Texas, where the Taylor Fire Department helped force entry into the home since it was locked, police said. Once inside, officers found four dead bodies. The names of the victims have not been released as police continue to contact relatives, but officers revealed they consisted of a 45-year-old woman, a 20-year-old woman, an 18-year-old man and a 57-year-old man.
Police believe the deaths to be a murder-suicide and are investigating with the help of the Williamson County Sheriff's Office and the Texas Rangers.
Later that day, another murder was reported in Taylor, which police say is unrelated.
Police responded to a shooting at 2100 Whistling Way around 4 p.m. Tuesday. They said a family member found 33-year-old Jonathan Hitch with a gunshot wound to his head. It is being investigated as a suspicious death.
No matter how long you've been in Austin, Samuel Grey Horse has probably been here longer than you and the spirit of his indigenous ancestors walked the land far before anyone living did. Born and raised in the capital city in 1961, the city has grown and changed all around him.
You've probably seen or heard of Grey Horse before—he's been called the "Sixth Street Cowboy" due to his penchant for riding his horses through the city streets, dressing up as Santa Claus during the holidays and making national news back in 2011 when he received a DUI while riding his mule down Sixth Street.
"I remember when I could see the capital from anywhere," Grey Horse told Austonia during a visit to his East Austin ranch. "I never thought or imagined that I would see Austin like this."
Now, living with his three horses, mule and dogs in East Austin on "the road that time forgot," Grey Horse lives the "Native" lifestyle; he cares for his horses, tends to his garden, holds sacred prayer ceremonies, writes music, sings with legendary musicians and occasionally films with Richard Linklater, director of "Dazed and Confused."
Just as Austin changed over the years, so too did Grey Horse. On June 26, 2010, he was in an accident that he credits for changing his life. While riding a racing horse, Grey Horse's saddle came loose and dragged him underneath for 150 yards. By the time they had stopped, Grey Horse had 12 broken ribs, collapsed lungs, a broken neck, broken clavicle, cracked skull, broken wrist and went into a coma.
"I had all the things done to me but that's how the universe teaches you," Grey Horse said. "They said I would never ride a horse again or walk correctly, but no, I don't live in that world, because where I went to with my coma. I was living in another world, in the other world's illusion."
His road to recovery was long, arduous, miraculous and aided by his horses: Big Tex, Big Red and mule Mula, who have all been in his care for well over a decade. Grey Horse said they took care of his "energy" when he needed them most. Despite the pain that ensued from horses, his accident drew the cross-species family together.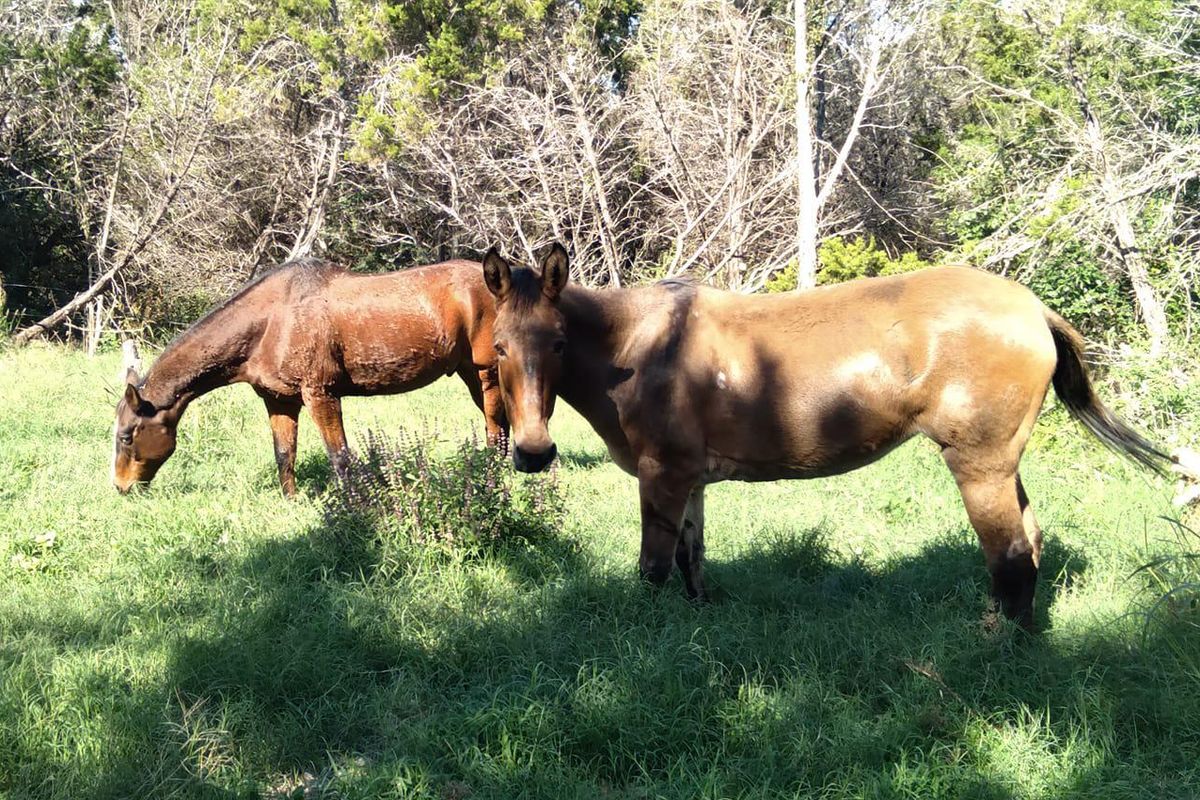 Big Red and Mula have been living with Grey Horse for 16 and 14 years, respectively. (Sam Grey Horse/Instagram)
"I ride them around town and share them with everybody because everything has a purpose," Grey Horse said. "You don't throw something away just because it's a little beat up. I was all beat up."
The winters are still painful for his joints but he powers through so he can bring joy to the people of Downtown Austin in his Santa Claus costume every year.

"I can't hurt because I'm Santa Claus, and I got to be Santa for the kids and everybody. I give them inspiration and energy, I make millions happy downtown," Grey Horse said. "I sing often with a cordless mic, my horses dance and they're happy. If I can make one person happy that makes a difference."
Though it was never his intention, a career in music found Grey Horse and it felt right due to his mother telling him as a child he would be a singer one day. Grey Horse recently returned from his tour with The Greyhounds and Sir Woman across Texas, Arkansas and Oklahoma.
(Laura Figi/Austonia)
His original song, "Crow Dog," is a tribute to his life and the people who have passed along their loving energy in it.

Show biz can't get enough of Grey Horse, who also models for Patagonia and Levi's; he taught Joe Jonas how to ride a horse for a video shoot. He is now working with a British filmmaker on a documentary, and was featured on episode 10 of Linklater's "That Animal Rescue Show."
"I sing with Grammy winners, which is very special to me, and I write songs about my life. Very magical stuff," Grey Horse said. "(The tour) was one of the best runs we've done for now—people are out and want to get out and the energy the guys bring is amazing."

You're certain to see Grey Horse around town if you spend some time near The Continental Club on South Congress or the Texas Capitol into the night. Until then, tok sha.
"There are no words for goodbye in my language, it's 'tok sha,'" Grey Horse said. "It means I'll see you again. I'll see you soon. I'll see you in the next life."