Get connected with our daily update
The Oakwood Cemetery is said to have souls roaming around. (Steven Joyner/Austonia)
As Halloween makes us second guess if that cold spot was a ghost or simply the cool front, keep your guard up because there are supposed haunted grounds in the city.

---
Austin is largely free of widespread hauntings but that doesn't mean it doesn't have its fair share of phantoms if you know where to look. Here are some of Austin's most haunted burial grounds.
Oakwood Cemetery
Originally called the city cemetery, Oakwood Cemetery is Austin's oldest burial ground and has been standing since the 1850s. Though record-keeping isn't as robust from its early days, with over 40 acres of land and more than 25,000 people buried, Oakwood Cemetery is said to be the permanent home to some well-known Texans: U.S. Marshall and Texas Ranger John Barclay Armstrong who passed in 1913, Alamo survivor Susanna Dickinson who passed on in 1883, radio personality John Henry Faulk who was buried in 1990.
Oakwood Cemetery is also known for its fair share of hauntings—note that not all who lie there are resting in marked graves and some of the early marked graves, like 1897's "Little Brother" gravestone, are haunting in and of themselves.
So, why should you stay away from Oakwood Cemetery at night? You might run into the ghost of the first of the Servant Girl Annihilator's victims, 17-year-old Eula Phillips, who was murdered by her then-husband with an axe. Philips is said to wander the grounds lamenting her violent death with tears. Dickinson, who died at the age of 68, may also appear to you and is said to be the most visual of specters that roam the grounds.
Oakwood Cemetery is known for graverobbing—rumor has it that university professors used to steal bodies from unmarked graves to use as cadavers for their students—so you might encounter the souls who are still roaming the cemetery, looking for their bodies.
Shoal Creek Indian Massacre Site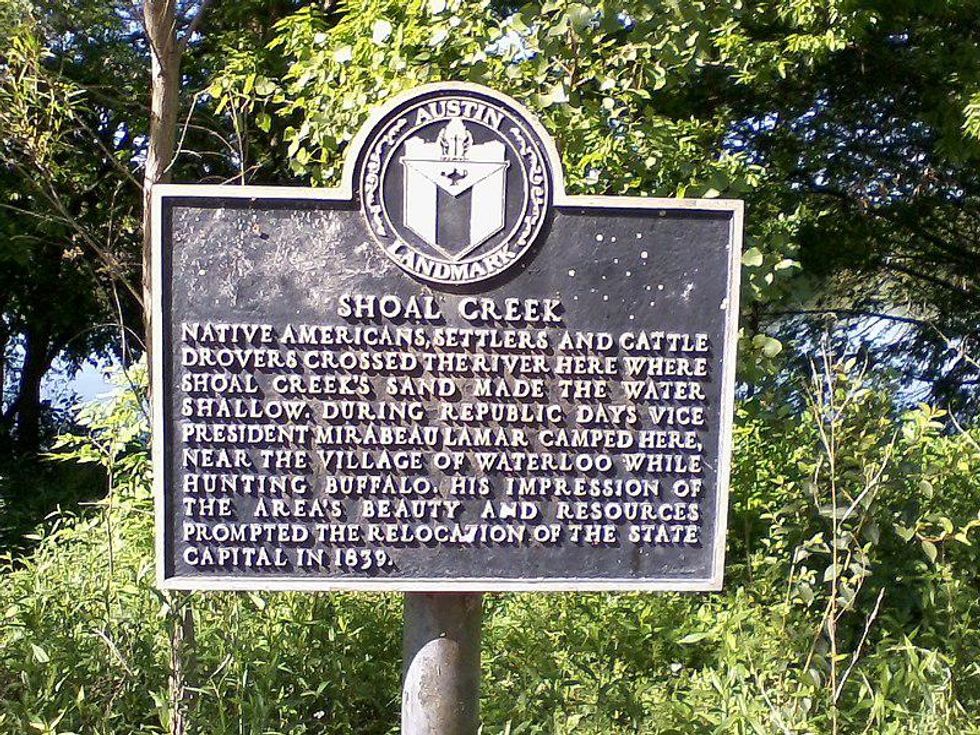 The historical marker is located at 24th Street at Shoal Creek. (austinghosts.com)
Shoal Creek, like nearly all of the United States, can be traced back thousands of years to 9,000 B.C. with Native American arrowheads. Settlers would camp along the mouth of the creek, including famous residents like the second president of the Republic of Texas Mirabeau Lamar, where it is said they engaged in a turf war with the Native Americans who resided right nearby. Those who weren't killed by Comanche warriors were killed by cholera and were buried along the creek. It is said that a mass grave, filled with victims of yellow fever, cholera and unexplained violence, lies beneath the creek.
Of the hauntings most commonly seen at Shoal Creek, watch out for cold spots in the middle of summer, vanishing orbs of light called "Marfa Lights," vanishing apparitions, unexplainable noises at night, sudden sickness and nightmares after visiting.
The Austin State Hospital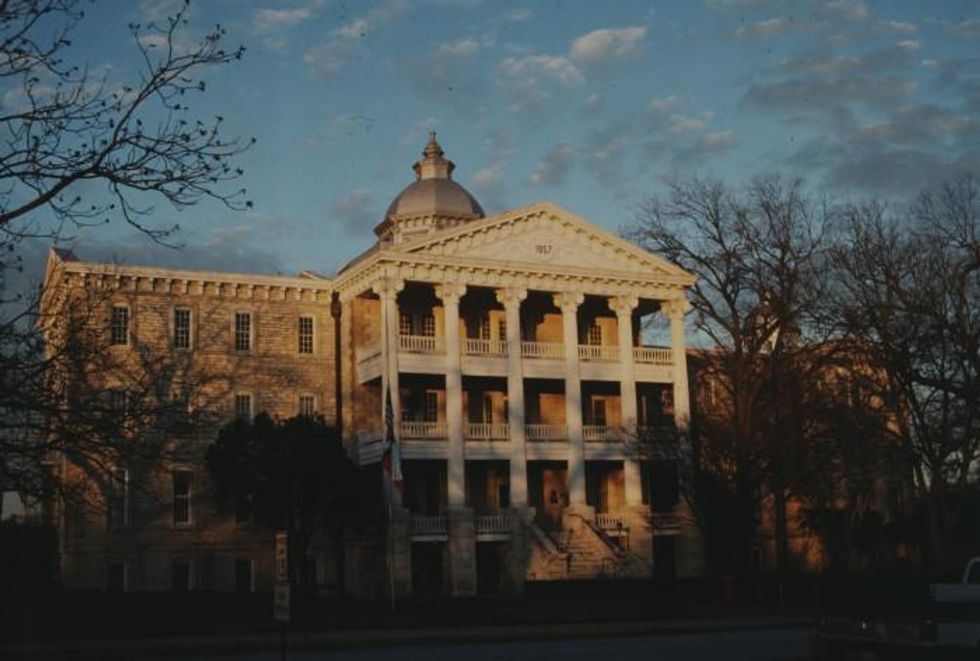 The Austin State Hospital is still operating. (Texas Historical Commission National Register Collection and the Portal to Texas History)
When the Austin State Hospital took in its first patients in 1861, it was meant to be a beacon of hope for the mentally ill to recover from the stressors of everyday life. On any given day, the hospital would treat and allegedly sometimes experiment on anywhere from 200-4,000 patients and after an unfortunate death, bodies that were not claimed were buried in the cemetery out back behind the hospital. When the cemetery inevitably filled up, bodies were exhumed and transferred to a burial ground just over two miles away. Though they say all the bodies were transferred, legend tells that some have been left on the still-operating hospital's grounds just six feet below.
The Austin State School and State School Farm Colony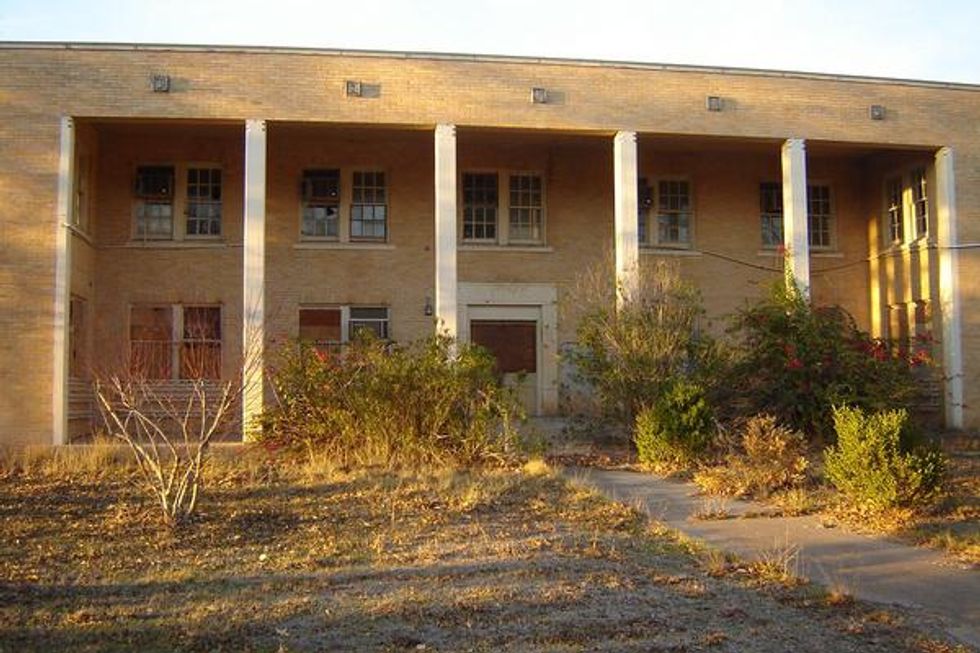 The Austin State School is now closed, many of its 68 buildings abandoned. (Andreanna Moya Photography/CC)
These two gender-segregated facilities were originally intended for mentally-troubled juvenile offenders, many of whom never left the grounds. On the school's 436 acres, 1,800 students were housed across 68 buildings and the campus also held farmland, a swimming pool and a cemetery. Children who were not claimed were buried on-site, where about 3,000 students are buried. The school was sued in the 1960s after changing its name to the Travis State School for inadequate living conditions and closed in the late 90s. Many buildings have been taken over by charter schools but some remain empty to this day.
Tucker Cemetery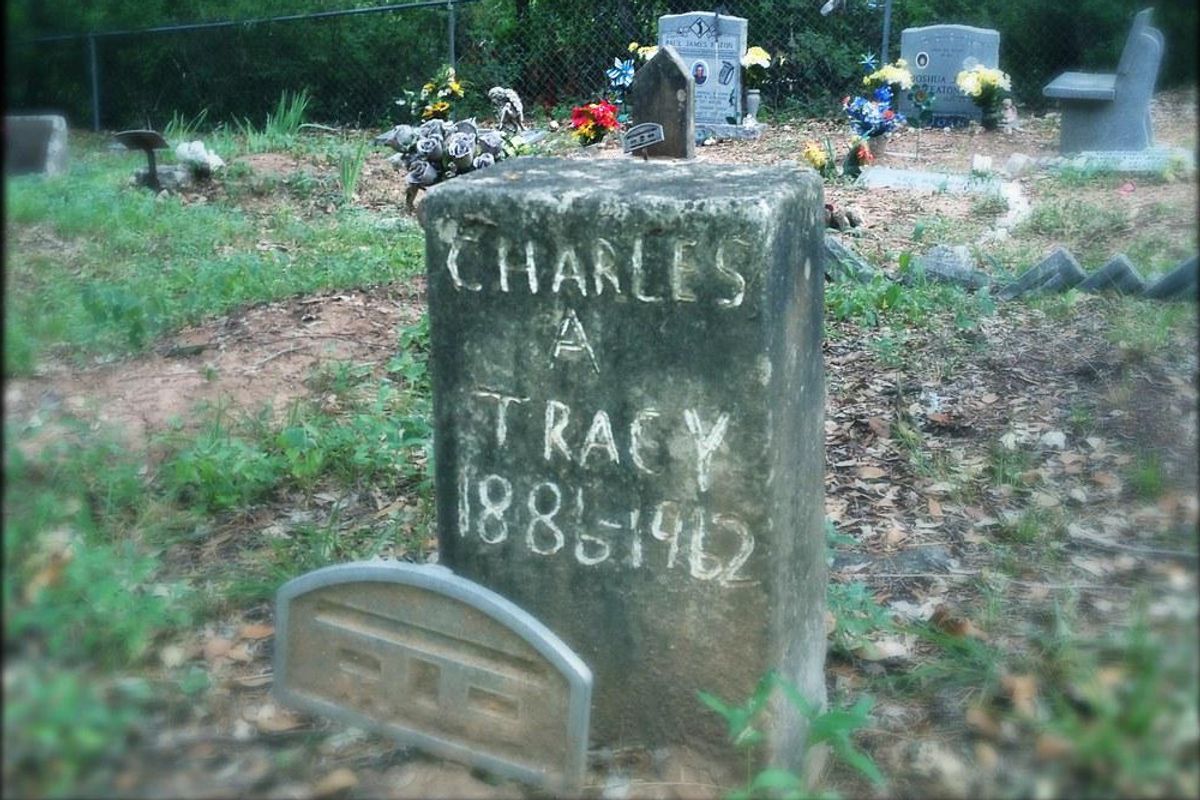 Tucker Cemetery's unique sight is its dozens of hand-written tombstones. (kissingtoast/CC)
Just outside the Barton Creek Greenbelt, Tucker Cemetery doesn't have many stories of haunts to its name other than anecdotes of car locks popping open on their own. However, what makes this cemetery freaky is its collection of tiny, hand-scrawled tombstones.
Keep Austin spoOoOoOoky!
Enjoying Austonia? Signup for our newsletter to get daily Austin news, straight to your morning inbox!
Tesla has officially moved its headquarters from Silicon Valley to its under-construction Gigafactory in southeast Travis County.
In October, CEO Elon Musk had announced plans to uproot the HQ from California during a company shareholder meeting. The company's filing with U.S. securities regulators on Wednesday locked down the move.
It's unclear whether the 10,000 employees in Palo Alto will be required to move. An analyst told the Associated Press that while many may be given the option of staying, up to 50% could make the move with some motivated by a lower cost of living in Austin.
"It's tough for people to afford houses, and people have to come in from far away… there's a limit to how big you can scale in the Bay Area," Musk had previously said. Regardless of the HQ move, the company plans to increase production at its California plant.
The HQ swap is the latest development on Giga Texas, the approximately 1,700-acre factory that Tesla received at least $14.7 million in tax breaks for. The factory is on track to start production of its Model Y vehicles by year's end.
Musk has hinted at making the move for some time. Last year, while California health officials were concerned with the spread of COVID-19, Tesla's push to reopen the factory in Fremont set off a spat. During an earnings call in April 2020, he'd described the state's health orders as "fascist." Recently, Musk relocated his own residence from Los Angeles to Texas, bringing almost each one of his companies along with him, including the Boring Company, Neuralink and his foundation.
At the cutting edge of tech, music and business are many successful leaders who not too long ago weren't old enough to drive or vote.
These wunderkinds were honored in Forbes' prestigious "30 under 30" lists, which highlights hundreds of top young entrepreneurs in categories from social media to science, in the 2022 rendition of the list on Wednesday. Some of the Class of '22 were as young as 14, while the average honoree was around 28 years old. Ten of these burgeoning business moguls were from Austin, which has seen such distinguished 30 under 30 alumni as former UT basketball player Kevin Durant get top spots on the 10-year-old list.
Here's a look at the 10 Austinites who made the cut:
Downtown may be recovering from the pandemic but the priorities residents want in their city center are changing, according to the City Pulse Survey done by design firm Gensler.
After studying 7,500 people in 15 global markets, including Austin, Gensler found that life in COVID has pushed city-dwellers to want more outdoor activities, social spaces and entertainment venues in bustling business districts.
Post-pandemic, the highest-rated downtown activities were shopping, visiting parks and just "hanging out." The need for more public spaces like parks jumped from sixth on the list to second this year.
Although globally people view downtown as a business district for task-based activities, across the U.S., downtown districts are viewed more as a vehicle for entertainment. This is especially true for Austinites, where people surveyed said they would rather see more entertainment and cultural venues than shopping or public transit downtown.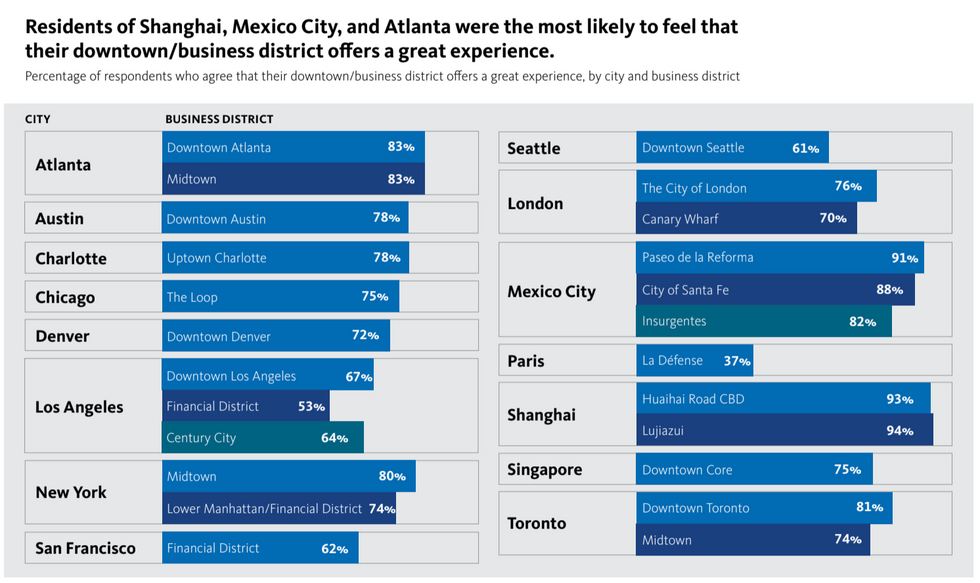 (Gensler)
For Melanie Gartman, a manager at construction software company Levelset who has been living in Austin for most of her life, the needs and wants of the average resident closely align with her own.
Austin clocked in second-most desirable downtown, tied with Charlotte, North Carolina. Like the 78% of Austinites in the survey, Gartman said she thinks Downtown Austin is hanging on to its lovable charm.
"Even now with fewer people out and about it's still very vibrant and lively. I feel like I saw life come back to downtown a lot sooner than I expected it to," Gartman said. "It's still holding on a bit that Austin vibe and with the high rises coming in, it's scary that we could lose that. I think it's holding on better than I would have expected, especially within the last two years of everything that happened."
As Austinites eased back into downtown, the first stop Gartman made was to go see music again. Since venues opened back up, Gartman and her loved ones have seen live music at their favorite venues: Moody Amphitheatre, Mohawk, The Parish and Empire Control Room.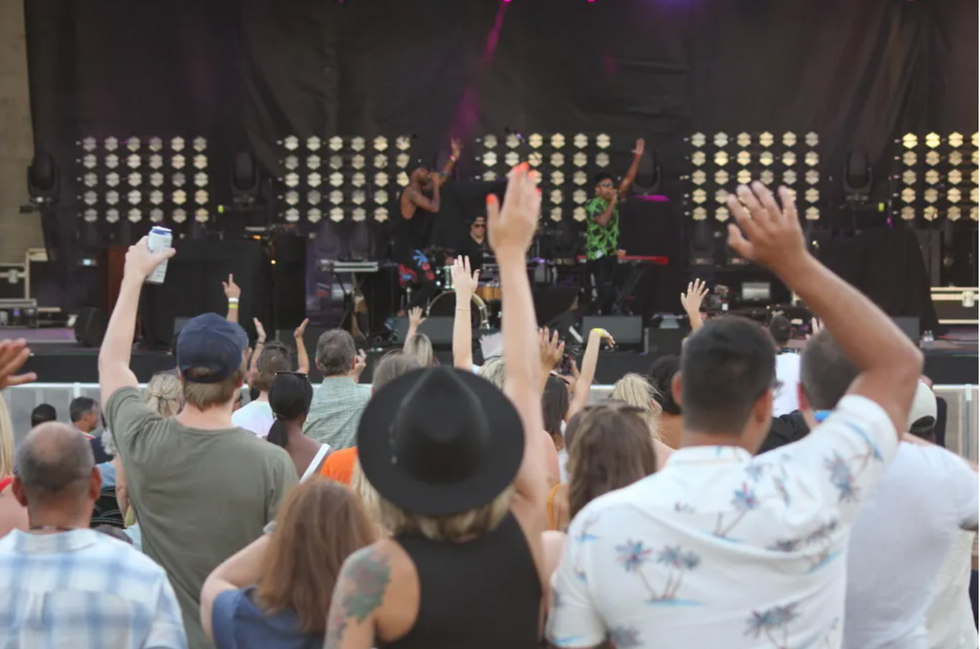 Blackillac opened for Gary Clark Jr. at the Moody Amphitheater's first show back in August. (Laura Figi/Austonia)
Entertainment is most important for Gartman's life in Austin—seeing Gary Clark Jr. in August brought normalcy back into her routine—and said our local downtown is the ideal out of other cities in Texas.
"I've always noticed that between Houston's downtown and Austin's, Houston's is so Monday to Friday, eight to five, maybe a post-work happy hour," Gartman said. "Growing up, downtown (Austin) was always the place to go. It has always been the hub and I think Austin is unique in that way."
Traffic in downtown areas is way down overall, even though concern over pandemic safety has taken a backseat. Shopping traffic has decreased by 28%, dining out and entertainment attendance dropped by 33% in the post-pandemic sphere.
Even though her office is located downtown, Gartman usually works from home. Her downtown visits tend to be for the purpose of entertainment and she said the lack of parking sometimes becomes problematic.
"I feel like all these high rises are taking over all the parking," Gartman said. "It used to be for go-to parking, I would just park under I-35. No big deal. But now, that's kind of scary, especially if you're by yourself. The party parking is a barrier to actually making it down there."
But with the rise of the hybrid work model, it's likely that the downtown sphere is going to change all across the U.S. For now, survey participants said they would like to see their downtown reduce traffic, add more green space, improve the cityscape and increase parking capacity as we shape the future of cities.