Austonia AM
100% Austin news, info, and entertainment, straight to your inbox at 6 a.m. every morning.
In five minutes, you're fully informed and ready to start another great day in our city.
Get connected with our daily update
(Sam Noble)
Charles Butt, the billionaire owner of the H-E-B grocery chain, has sent a letter to the Texas Supreme Court supporting mail-in voting and urging state and federal courts to be nonpartisan, a condition he said "today seems to be in jeopardy."
---
"It's always been my impression that the more people who vote, the stronger our democracy will be," Butt wrote.
The letter, which was sent Wednesday and circulated publicly today, came on the heels of an action by the Supreme Court to temporarily block Harris County Clerk Chris Hollins's effort to send mail-in ballot applications to all registered voters in his jurisdiction, which includes the city of Houston.
Oh wow: In a letter to the Texas Supreme Court, the head of @HEB Charles Butt appears to side with Harris County Cl… https://t.co/jY5U97Ggml

— Scott Braddock (@Scott Braddock)1599095382.0
The high court's ruling was in response to a lawsuit filed by the Harris County Republican Party. The court's ruling followed Texas Attorney General Ken Paxton's filing of a lawsuit last week in an attempt to halt the mailing out of mail-in ballot applications. Paxton is an elected Republican.
"My knowledge of the judicial world is not deep, but it seems to me that it is important for both state and federal courts to retain their nonpartisan reputation, which today seems to be in jeopardy," Butt wrote.
San Antonio-based H-E-B serves communities across Texas and through Mexico. The family-owned chain has more than 340 stories—including about 50 in Austin and the surrounding area. It employs more than 100,000 people and has annual sales exceeding $20 billion.
Unlike most states, Texas restricts mail-in voting eligibility to those who are over 65, have a disability, are out of town during an election or in jail. While the state requires voters to cite one of these excuses when applying for a mail-in ballot, the Texas Supreme Court recently ruled that election officials may not require proof of eligibility.
As the Nov. 3 general election approaches, a flurry of recent lawsuits—led by the state Democratic Party and voting rights organizations—has attempted to expand mail-in voting eligibility. Thus far, judges have ruled that under current state law fear alone of contracting the coronavirus does not make someone eligible for mail-in voting.
State GOP leaders, including Gov. Greg Abbott, oppose expanding eligibility, which they say will lead to voter fraud. Democrats argue that failing to let people vote by mail is tantamount to voter suppression.
In his letter, Butt, who is H-E-B's chairman and chief executive officer, mentioned the changes H-E-B has made to help customers feel safe while shopping during the pandemic, such as expanding curbside pick-up and home-delivery options.
"Based on our experience at H-E-B, many people, including those of all ages, are nervous about contracting the virus," he wrote. "By extension, in my opinion, many would be anxious about voting in person. Clerk Hollins has reasonably given these voters a chance to guard against perilous exposure in a manner consistent with this Court's opinion and the Election Code."
On the ground in Austin
Travis County has not gone to the extent of the Harris County clerk's action in sending mail-in ballot applications to all registered voters.
Travis County Clerk Dana DeBeauvoir said she has considered sending mail-in ballot applications to all registered voters over 65 but decided against doing so because political parties already do so.
"We chose to spend our money a little more wisely," she told Austonia.
But the county clerk's office has already received a record-breaking number of mail-in ballot applications for the Nov. 3 election, the vast majority—around 85%—of whom are 65 years or older.
As of Thursday afternoon, 52,000 voters had applied for a mail-in ballot, and DeBeauvoir anticipates as many as 100,000 voters will do so by the Oct. 23 deadline. In the 2016 general election, her office only sent out 27,000 mail-in ballots to approved applicants.
"It is most definitely COVID," she said of the increase. "People are afraid to come inside."
Given the turmoil at the U.S. Postal Service, DeBeauvoir recommends eligible voters who wish to vote by mail submit their applications as soon as they can.
Our office is receiving a high volume of ballot by mail applications and recommend sending in your application ASAP… https://t.co/ysq0BpcDPT

— Travis County Clerk (@Travis County Clerk)1599075405.0
"We've seen turnaround times from three days [and] I've seen it be 10 days," she said. "It's not consistent."
Local public health and elected officials have renewed their pleas that Austinites get vaccinated against COVID-19. But it's an uphill battle to convert the hesitant.
Although demand for the COVID vaccine has plummeted in recent months, the virus remains active, spreading more quickly thanks to the more contagious Delta variant and largely afflicting the unvaccinated, who account for 99.5% of COVID deaths in Texas since early February, according to the Texas Tribune.
But the vaccine-hesitant are unlikely to change their minds. Eighty percent of unvaccinated American adults said they probably or definitely will not receive the vaccine, and 64% said they have little to no confidence that the shots are effective against variants, including Delta, despite evidence to the contrary, according to a recent poll from the Associated Press-NORC Center for Public Affairs Research.
Understanding the unvaccinated

Jeffrey Tucker, an Austin-based writer for the right-leaning news outlet Real Clear Markets, declined to share his own vaccination status—calling the subject unseemly—but he is a vocal supporter of those who opt out. "It's a rational decision not to get vaccinated," he told Austonia.
Tucker cited various reasons why someone might be hesitant or opposed, including natural immunity after recovering from a case of COVID, relatively low risk because of one's age and concerns about long-term side effects of the vaccine. Although he acknowledged that the vaccine not only offers individual protection against COVID but also contributes to herd immunity, he argued that individual choice should be respected.
Tucker attributed the politicization of the pandemic to government policies that infringed on such choices, like lockdowns and school closures. He believes that the current backlash against unvaccinated individuals will only deepen their distrust in public health officials. "Things have gotten so intense, and the Biden administration has literally demonized and blamed the whole pandemic on the unvaccinated," he said.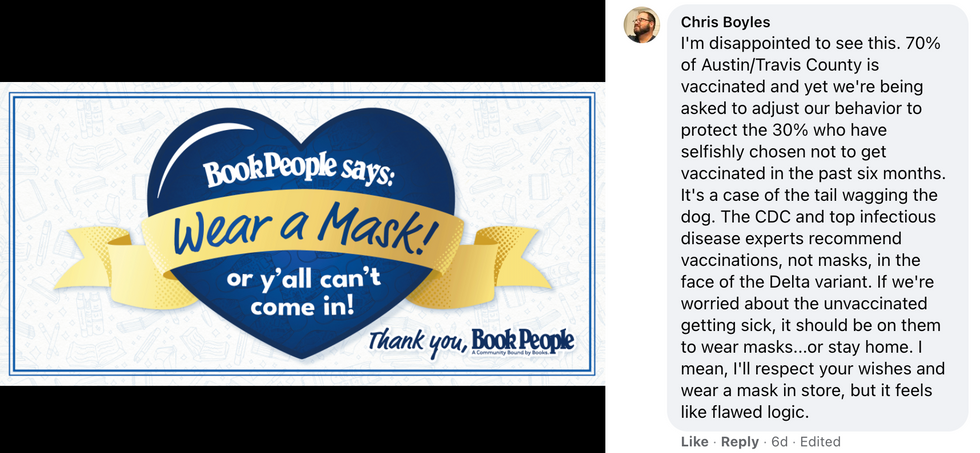 Some local businesses have recently reinstated mask mandates for customers, prompting some vaccinated Austinites to express frustration toward the unvaccinated. (BookPeople/Facebook)
The bright side
Travis County is outperforming Texas in terms of its vaccination rate, with nearly 63% of its population 12 and older fully vaccinated compared to around 52% statewide, according to the Department of State Health Services. But entrenched vaccine hesitancy means that Austin Public Health will likely struggle to reach its goal vaccination rate of 70% by Labor Day.
Still, all hope is not lost. The Central Texas Vaccine Collaborative, which organized 95 vaccine outreach events this month, saw the percentage of first-dose penetration increase 1.7%, on average, over the last two weeks, Travis County Fire Chief Ken Bailey said recently.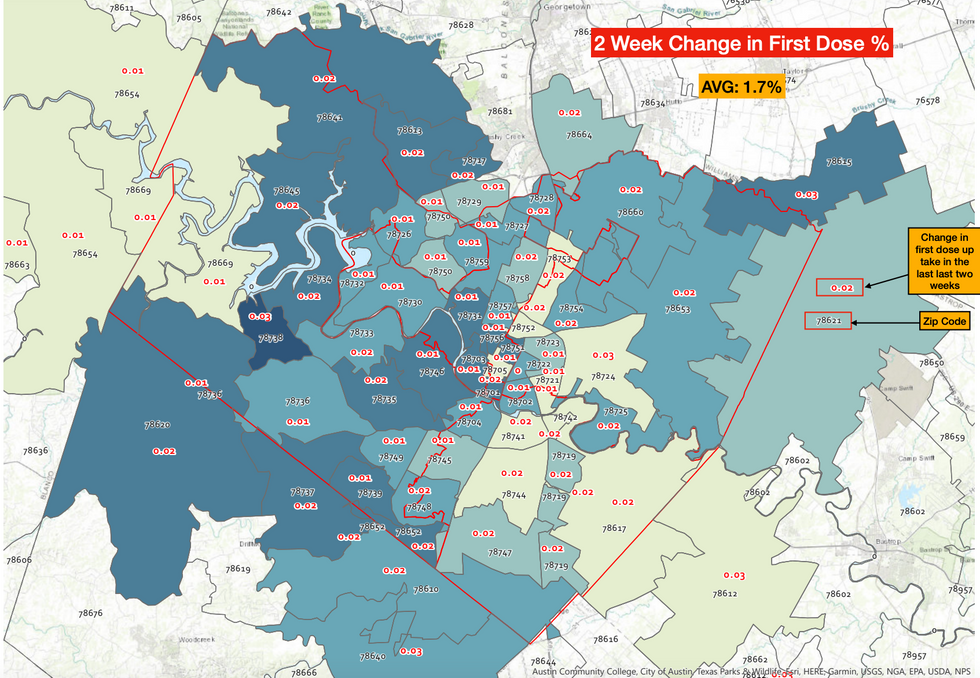 (Travis County Commissioners Court)
VaxTogether Austin, a volunteer organization that connects individuals to vaccine appointments, has also seen progress in recent weeks. When demand started to taper off in June, the organization shifted to more targeted outreach to communities with lower vaccination rates as well as vaccine education, offering Spanish and Arabic interpreters at clinics and debuting a peer-to-peer texting campaign to field questions about the vaccine ahead of such events.

"I think this kind of one-on-one work is really where it's at now," representative Katie Van Winkle said. "It's more time-intensive … but I think it's well worth it."
The recent shift to Stage 4 and discussion of the Delta variant may also boost vaccine demand. More than 70 people attended a VaxTogether Austin clinic at Covington Middle School in Southwest Austin on Monday of last week without appointments. "That's a clear increase in walk-up traffic over our July trends," Van Winkle wrote in a follow-up email.
Everyone wants to be in Austin—tech, celebs and now sports. At least that's what it looks like.
In the midst of a first season for Austin FC, the city's first major league professional sports team, the Buffalo Bills are reportedly looking at a possible move to Austin.
The news comes from ESPN's Seth Wickersham, who reports the NFL team is saying it is considering a move from New York to Austin, possibly to push public funding of its new $1.5 million stadium.

An ownership source tells me that Austin is a possible destination—or threat—as one of the "other cities elsewhere that desire an NFL franchise and would pay handsomely for it." https://t.co/zMf1oChO8K
— Seth Wickersham (@SethWickersham) August 1, 2021
Austin was without a major pro team until Austin FC came to town. While all eyes have been on Austin's "boomtown" status, the city isn't exactly expected to get an NFL team with two other major teams in the state—the Dallas Cowboys and Houston Texans.

Nevertheless, the governor and mayor responded to the rumor.
Editor's note: Addie Broyles is a longtime food writer, who wrote for the Austin American-Statesman for 13 years. This piece was published in her weekly newsletter, "The Feminist Kitchen," where she shares stories about parenthood, grief, ancestry, self healing and creativity. Check it out here.
You know Bruce McCandless' most famous moment, but you probably don't know his name.
McCandless is the astronaut who, in 1984, became the first untethered astronaut in space. He's the guy on those posters, mugs, shirts and everything else NASA could sell with the image of his "leisurely waltz with eternity," as his son calls it in his new book, "Wonders All Around: The Incredible True Story of Astronaut Bruce McCandless II and the First Untethered Flight in Space."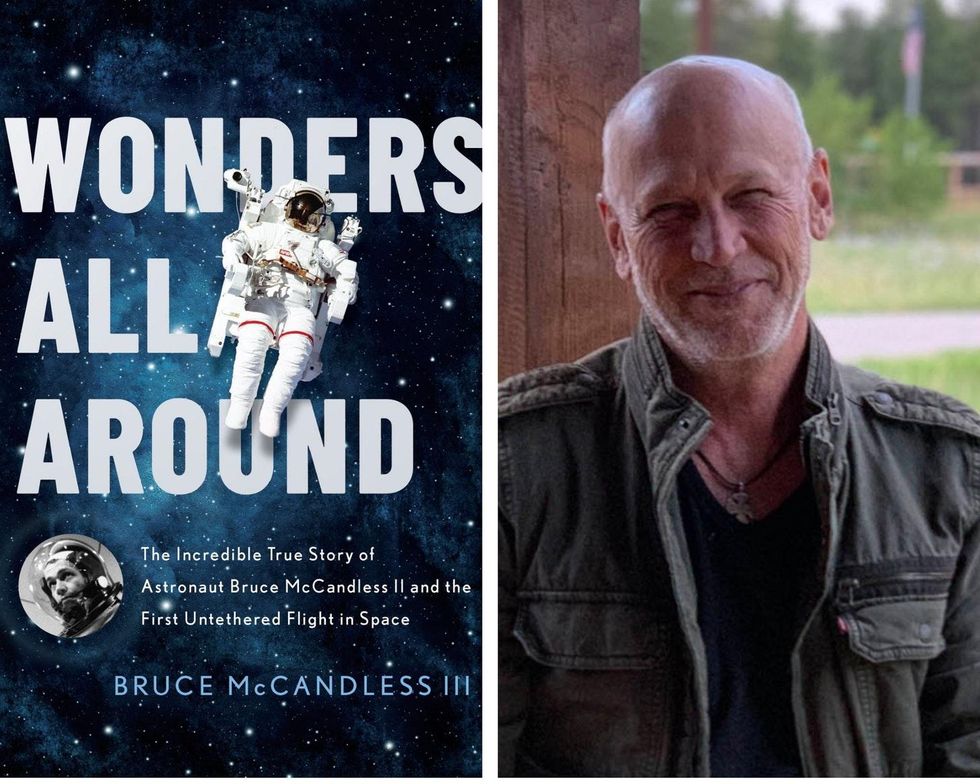 'Wonders All Around' is a new book by Austinite Bruce McCandless III about his dad, the astronaut Bruce McCandless II. (Bruce McCandless III)
I met McCandless III, who lives in Austin with his wife Pati, for a coffee a few months ago, thanks to the introduction from a mutual friend. As we talked about losing our dads, being writers and parents and living in Austin while still dealing with COVID, his dad's famous flight didn't come up, but the process of writing such an epic biography of a complex, only recently passed man was something worth unpacking over coffee.
I hadn't read the book yet, but over the next few weeks, I got to know the McCandless family in such a sweet way that I wanted to write a little about the book here to perhaps inspire you to seek out a copy of "Wonders All Around."
As much as this is a book about space, it's also a book about grief. And persistence. And stoicism. And masculinity and maternality.
The elder McCandless died in 2017, just a few years after losing his wife, Bernice, to cancer.
This passing of the torch from father to son left the younger McCandless inspired to take on this decades-long narrative. McCandless III sets the tone for the book with a memory of the family sitting around the dinner table at their home outside Johnson Space Center near Houston in the mid 1970s, when his dad, who joined NASA in 1966 at the age of 28, wasn't sure he'd ever actually make it to space.
"Our dinners were somber affairs. We ate around a rectangular Formica table in the breakfast nook. Tracy and I sat on benches padded with orange vinyl cushions. Mom and Dad occupied faux-Spanish style chairs with green felt upholstery. Despite the informal, Howard Johnson's-at-the-airport feel of the furnishings, there was a tension in the air that set in right around the time the frozen string beans started steaming. I had the feeling that my sister and I had forgotten to do something important, though I couldn't figure out what it was, or that judgment had been rendered on us and we'd been found guilty of … something — again, it was unclear what. Horseplay was prohibited. The TV and all sources of music or other frivolity were turned off, and singing was strictly forbidden. The only sound came from the aquarium pump. My father had a 100-gallon tank along the wall behind his chair. Sometimes the big plecostomus would attach itself by its mouth to the glass facing us, and I imagined it sucking all the oxygen out of the room."
Imagining what it must have been like to require oxygen to survive, not in outer space but in the living room with your family, sets up the story of the McCandless ancestors, including a guy who was killed by Wild Bill Hickok and the author's grandfather, who was an admiral in the U.S. Navy.
No pressure, Bruce.
It was fascinating to read about the 18 years that Bruce McCandless II worked for NASA before he finally had his first flight, which debuted the Manned Maneuvering Unit, a jet-fueled backpack that he and Ed Whitsett Jr. spent so many years developing. (That's the joystick-controlled machine he's wearing in that mind-bending poster that hung on millions of Americans' walls over the following decade.)
The author McCandless has the unenviable task of trying to put into words what that flight must have felt like. His dad flew 150 feet away from the shuttle Challenger, which would, of course, break into a million little pieces just a few years later.
When President Reagan called the shuttle to congratulate the astronauts that day in 1984, the command center set up a demonstration space walk to give the president a live view of McCandless through the shuttle window.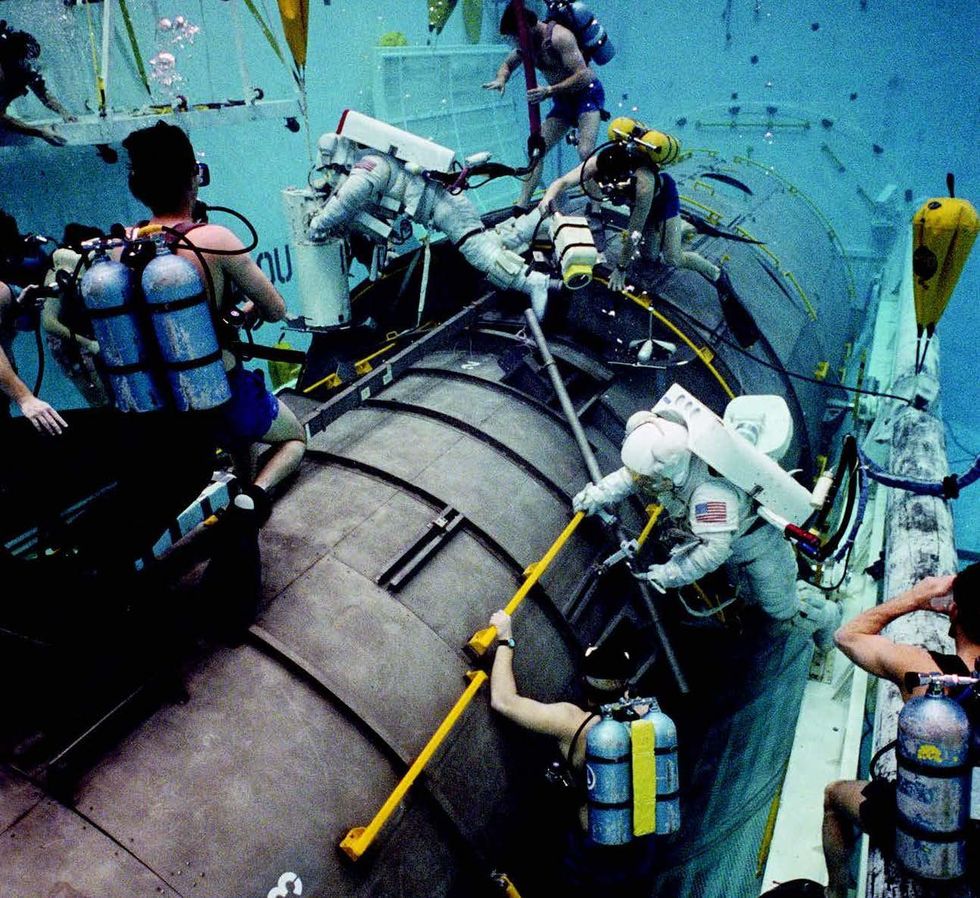 Bruce McCandless II, trains with Kathy Sullivan, right, in preparation to launch the Hubble Space Telescope. (NASA)
The only problem was, there wasn't much fuel left. McCandless went out anyway, trying to stay within 10-15 feet of the spacecraft. He got into position and turned off the unit to preserve propellant. After the president said a few words and the video switched off, McCandless turned on the unit and "looked for the closest piece of the orbiter, pointed at it, put the hand controller in +X (and) got a sort of sighing noise as it accelerated in that direction." He ran out of fuel just as he grabbed onto a rail on the orbiter. Hand over hand, he brought himself back to the donning station.
It's that kind of suspense that made this book so thrilling to read.
There's space tension like when McCandless is operating as CAPCOM, the only person talking to Neil Armstrong and Buzz Aldrin while they are walking on the surface of the moon, and his commander wants him to break protocol and call them back early, even though there are no signs of distress.
The book is also so touching. I cried while reading about the declining health of Bernice, who survived so many astronaut wife struggles over the years and at the end of her life remained a loving partner and mother.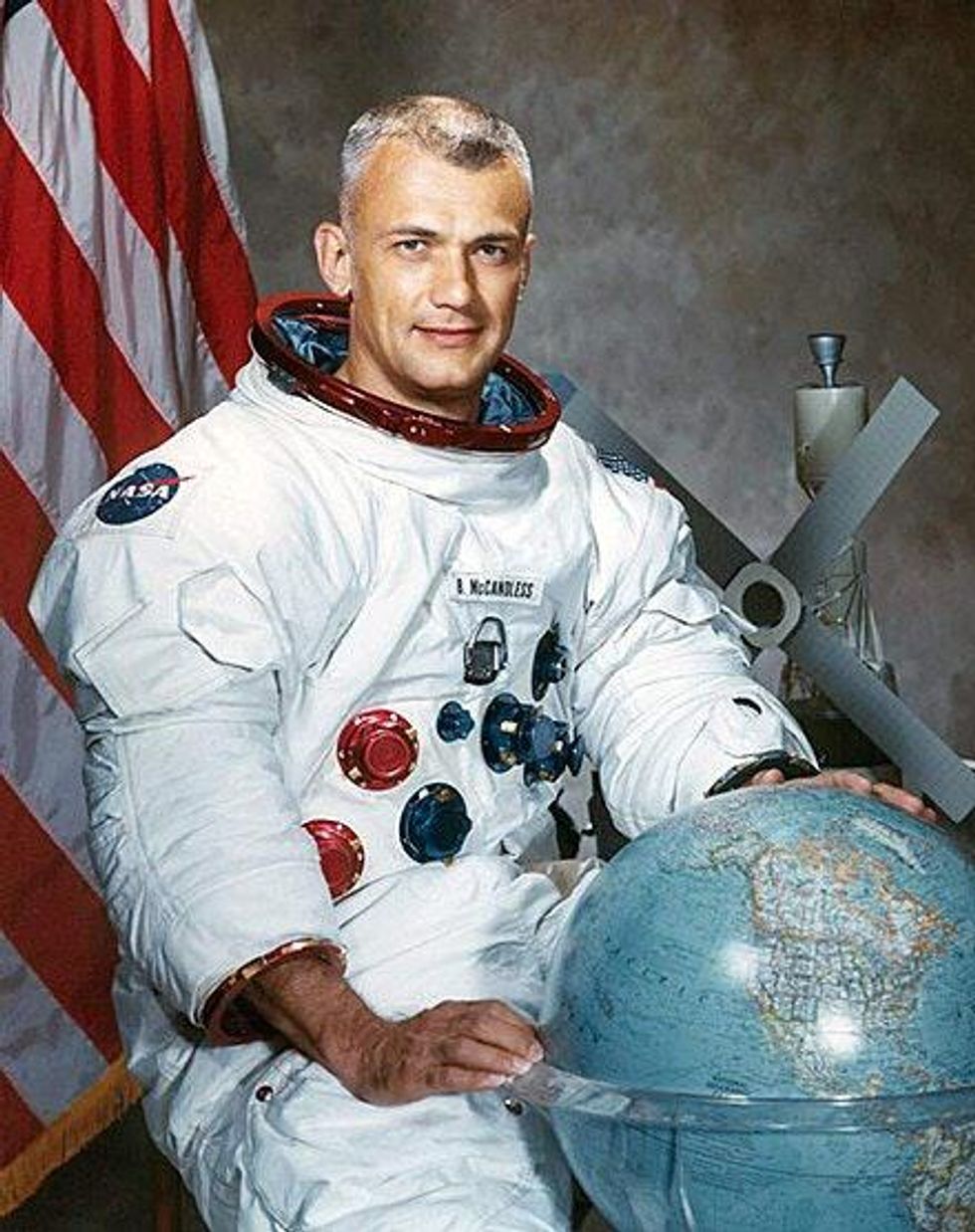 Bruce McCandless was a Navy pilot who was picked to join NASA in 1966. His first space flight wasn't until 1984. (NASA)
It's easy to forget that McCandless II had an entirely other memorable historic moment—launching the Hubble Space Telescope in 1990—and this one seems to have struck an even deeper chord with McCandless III.
The Hubble launch was McCandless' second and final flight. He was 52 and had worked at NASA for 24 years.
McCandless II spends the last chapters of the book making a compelling case that his dad's work to fix and update the Hubble are among the greatest achievements to science. He continued to work on Hubble for another two decades after retiring from NASA through his work at Lockheed Martin.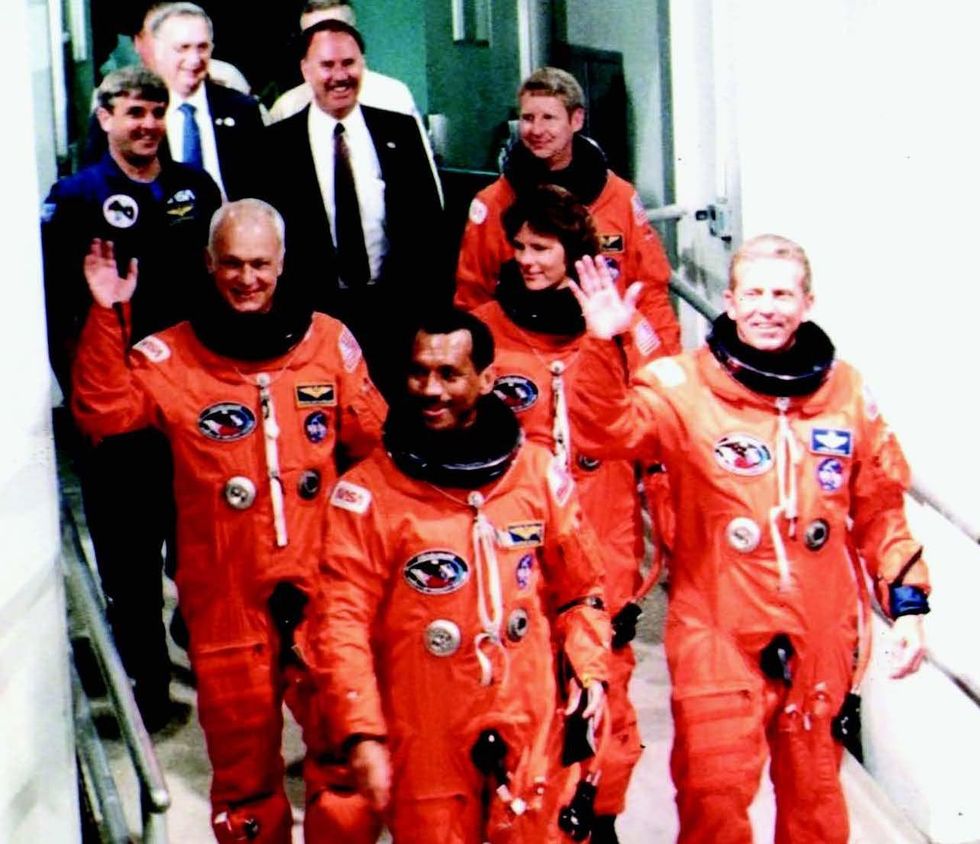 Bruce McCandless, left, and the flight crew that launched the Hubble Space Telescope in 1990. He was 52 years old. (NASA)
He was the "nuts, bolts, screws, and wires guy," the auto mechanic rather than the scientist, who kept the telescope going 340 miles above Earth for more than twice its life expectancy. The Hubble has been cited in more than 18,000 scientific papers and has revealed countless secrets and unsolved mysteries from around the universe and beyond.
"The size, shape, and sheer spectral weirdness of the images boggle the imagination and make prophets and dreamers of us all," McCandless writes toward the end of "Wonders All Around. "Some of us pay therapists to tell us we're important and unique. Then we check in with Hubble so the satellite can inform us just how galactically marginal we all are. The truth is somewhere in the middle."
What a beautiful reminder.