Get connected with our daily update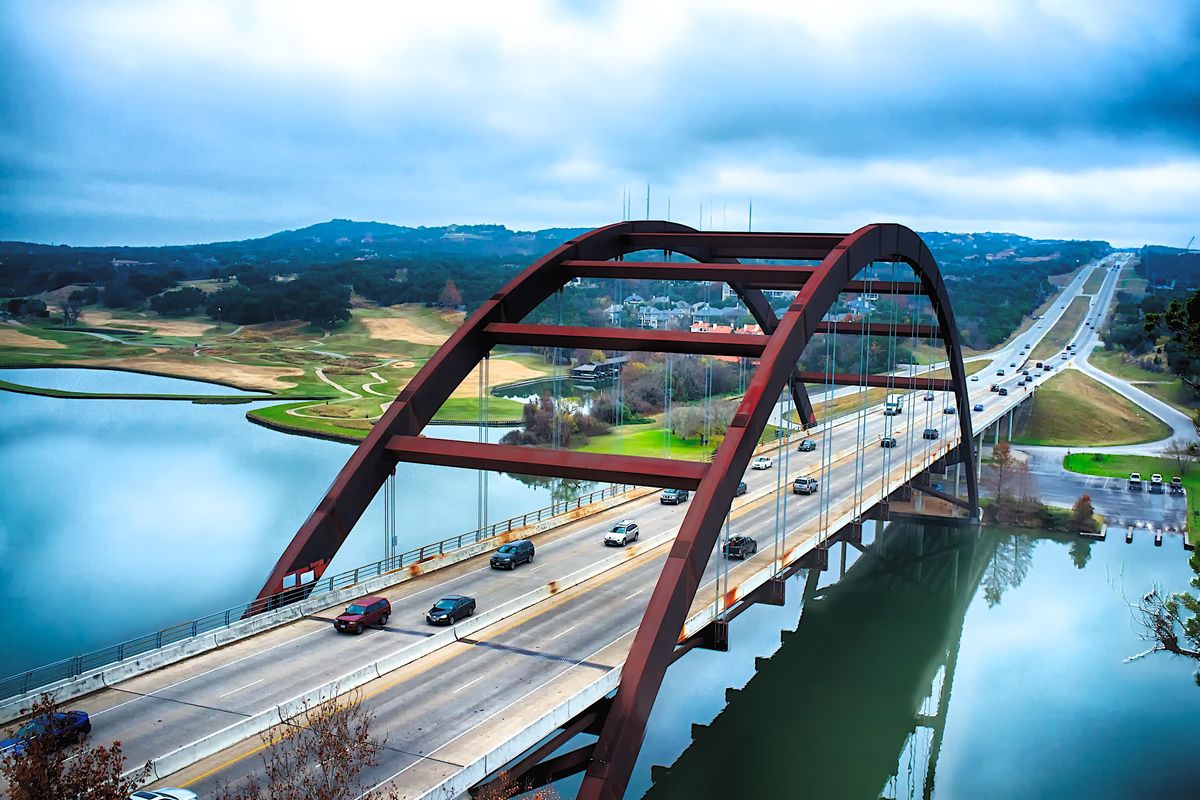 What would Austin be without its City Hall, Central Library or iconic 360 Bridge?
---
For 50 years, Austin developer Hensel Phelps has shaped Austin with city-focused landmark developments across the metro, gracing the top spot on Austin Business Journal's best general contracting list for years in a row.
In 1972, the company broke ground for the first time in Austin with the Town Lake, or Mopac Bridge project, connecting the developing areas of West Austin to the rest of the city.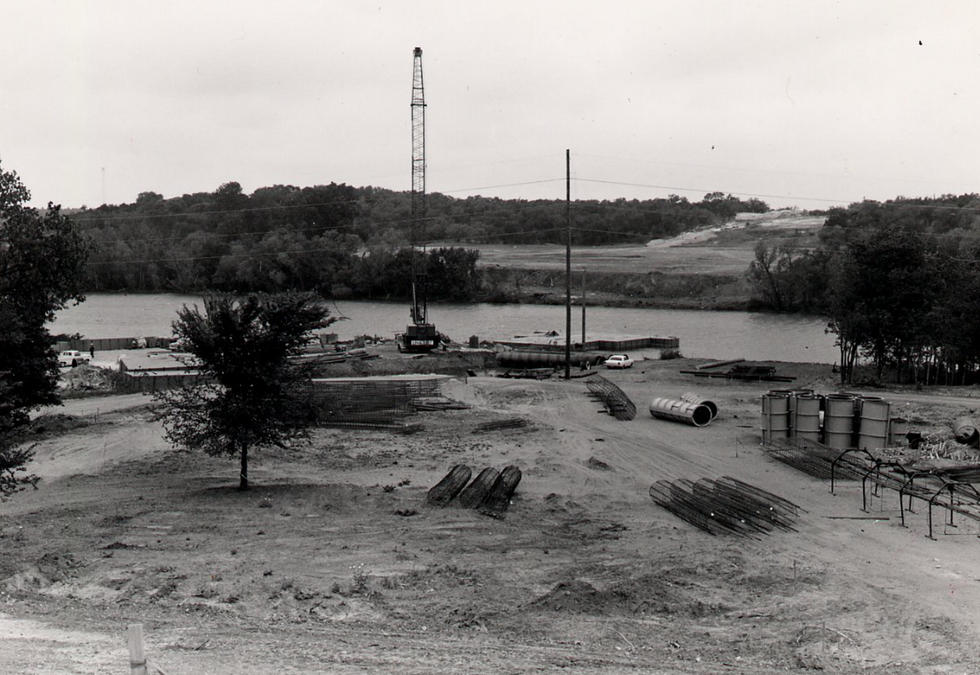 Hensel Phelps broke ground for its first project, the Mopac Bridge, in 1972. (Texas Freeway)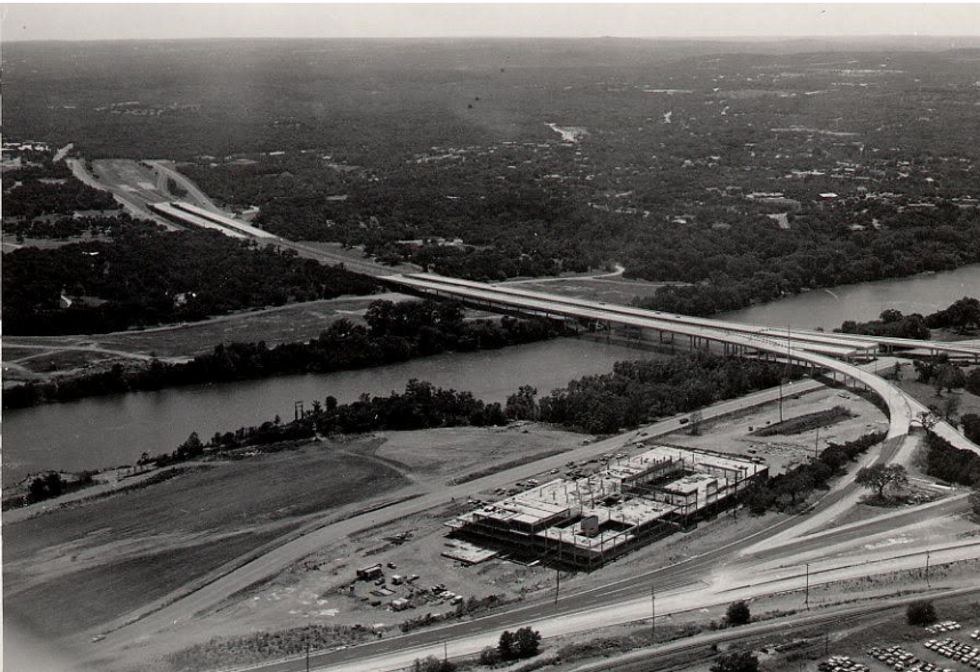 The Town Lake Bridge was one of eight available bridges in Austin at the time of construction. (Hensel Phelps)
Since then, it's headed several projects, including:
The Pennybacker (360) Bridge: After the Town Lake Bridge success, the company set out to build the world's second cable-supported bridge. Newcomers and native Austinites alike take to the nearby 360 Bridge Overlook Trail to see sunset views of the cliffside, copper-colored landmark.
Dell Diamond Baseball Stadium: Since it opened in 2000, the Round Rock Express, the metro's Triple-A- Minor League baseball team, has held countless games at this 85-acre, 11,000+ capacity stadium.
Samsung Fab 2 Chip Fabrication Facility: When Hensel Phelps helped Samsung with its second semiconductor project in the area in 2007, the grand opening ceremony was commemorated with the University of Texas Longhorn Band, UT Cheerleaders, pop singer LeAnn Rimes and a bald eagle to boot.
Austin Central Public Library: With six floors, a rooftop garden and plenty of window views of downtown, Austin's Central Library project quickly became a central hub for the city when it opened in 2017.
Darrell K. Royal-Memorial Stadium: The company has had a hand in all major expansions of the Texas Longhorns' longtime football stadium.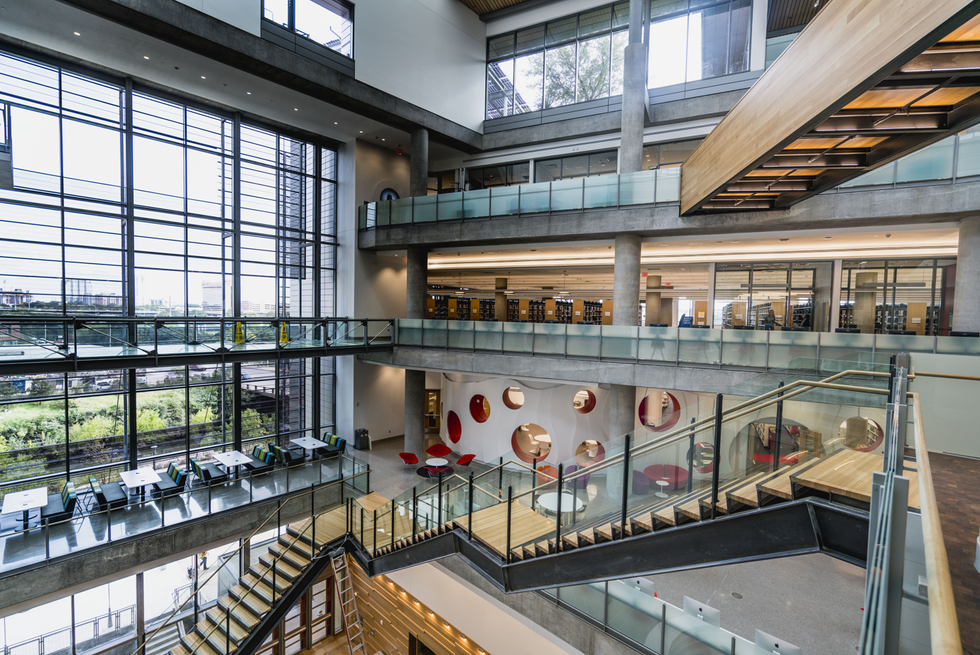 Austin's new Central Public Library first opened in 2017. (Hensel Phelps)
Through dozens of projects dotted throughout the region, Hensel Phelps' Southwest district manager and Vice President Brad Winans said the company's focus has always been the public sector.
"That's where we think we support and develop the city, from truly grassroots, truly local support and involvement in the community," Winans said. "Our job is to develop things that truly support the city, not specific to one business."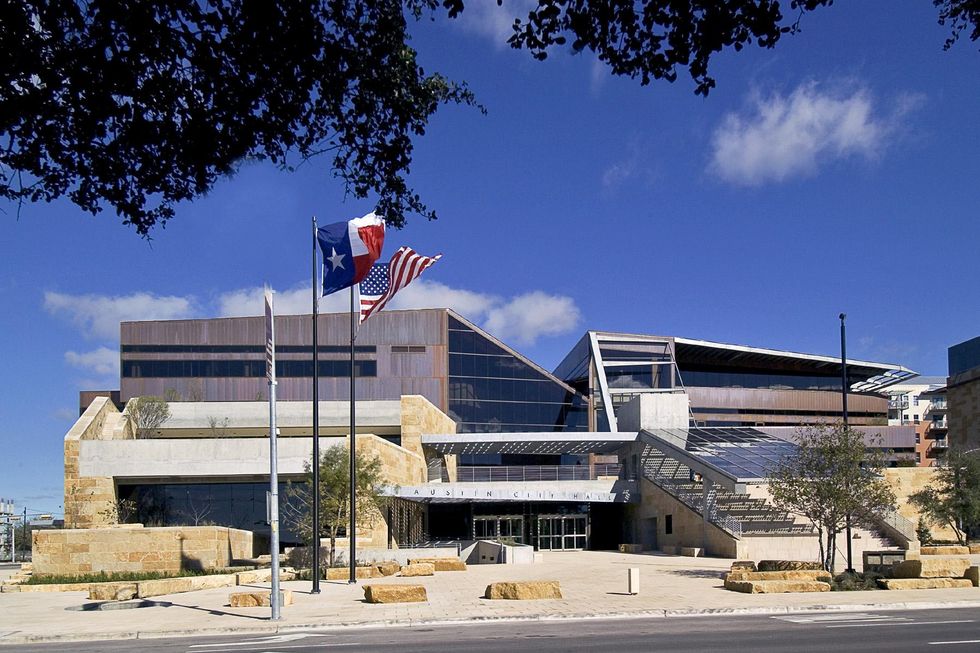 Austin's City Hall was constructed with native Texas limestone and built with sustainability in mind. (Hensel Phelps)
A University of Texas graduate and 30-year employee, Winans said that the company's 2004 City Hall project felt most impactful to the community. The building, built from both native limestone and recycled materials, embraced sustainability and high-tech qualities, including solar panels in its garage, while maintaining a classic Texan identity.
"It's a very hard industry to be a part of, but it's also very rewarding," Winans said. "For me, City Hall means a lot because the back in the day, we called it 'The Jewel,' and so it's great to be part of that."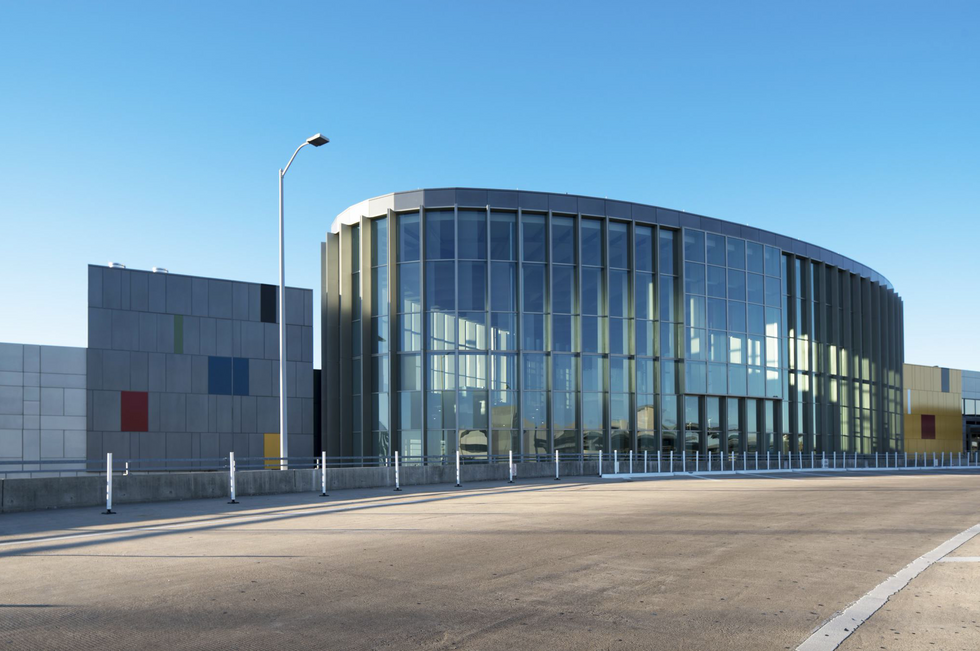 The company has constructed at Austin-Bergstrom International Airport in the past and will continue to help expand the airport. (Hensel Phelps)
With 50 years under its belt, Winans said the company will continue to work on the "endless" development opportunities coming to the city, from expansion of the rapidly-growing Austin-Bergstrom International Airport to projects in the tech sector.
"Everybody seems to want to come to Austin," Winans said. "It'd be nice if things did kind of spread out a little bit, but right now there's still a very eager push to develop in and around Central Texas and I think (Hensel Phelps) will be a major part of that."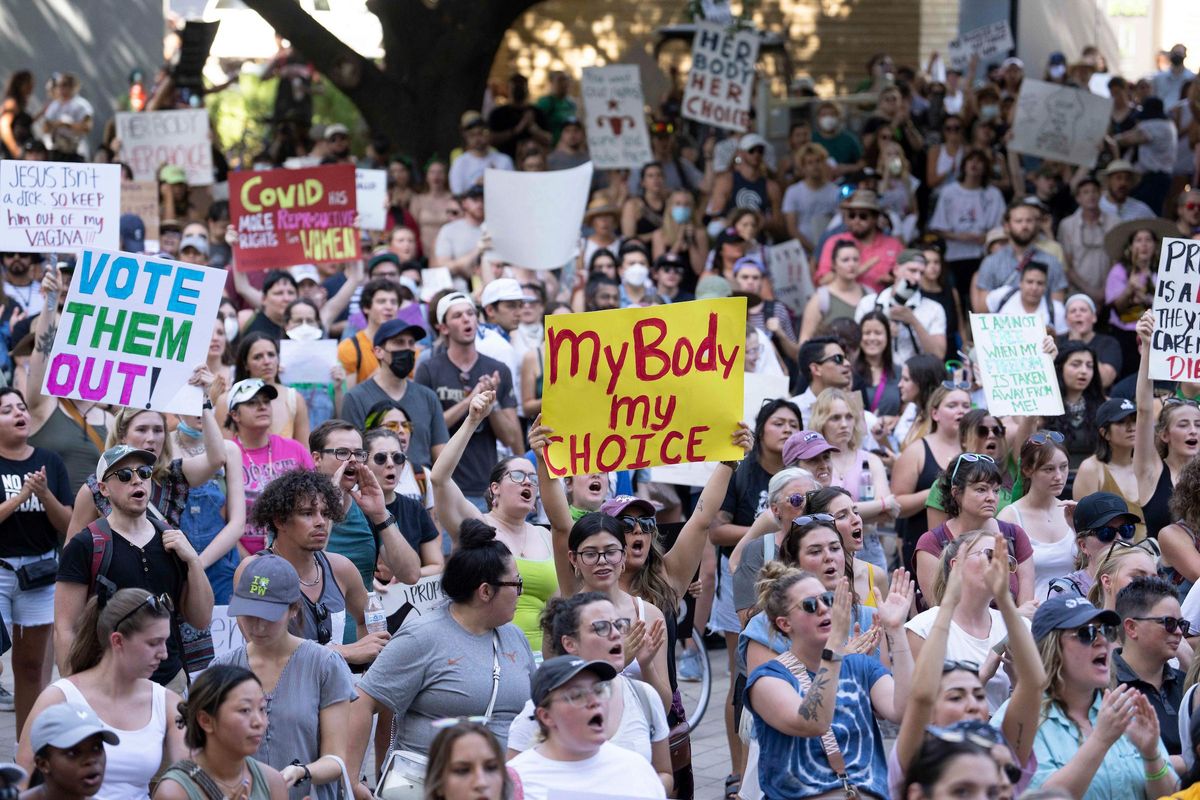 Hours following the U.S. Supreme Court's ruling to overturn Roe v. Wade, the landmark ruling that guaranteed a constitutional right to an abortion, on Friday, about 1,000 people gathered in Republic Square with signs calling for change.
The rally, organized by the group Rise Up 4 Abortion Rights Texas, started at the federal courthouse on Republic Square on Friday at 5 p.m. before the crowd marched to the Texas Capitol. More protests are expected to ensue over the weekend.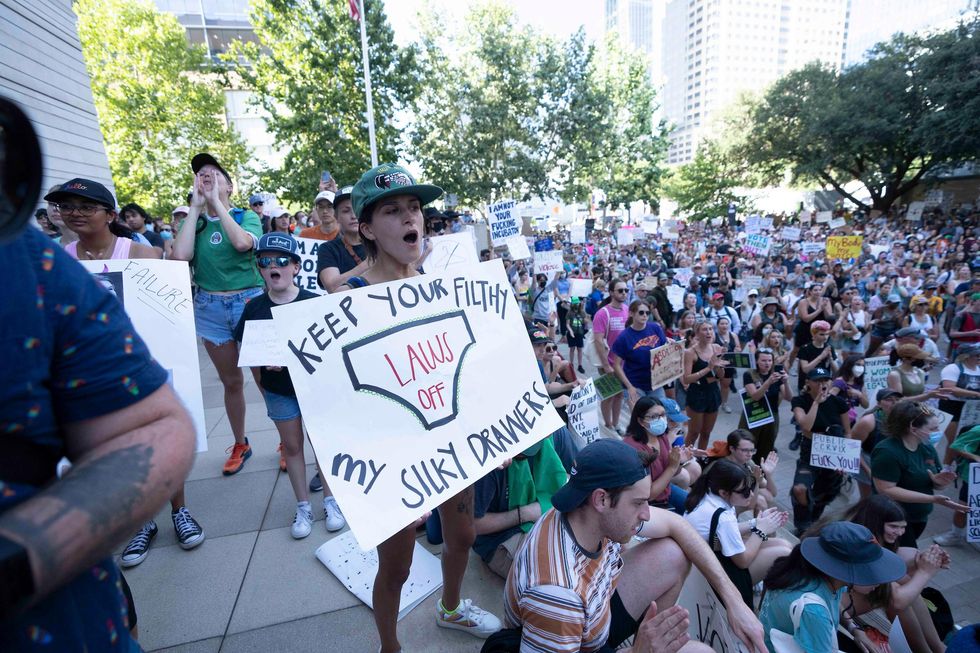 People showed up with all types of signs like Mindy Moffa holding up, "Keep your filthy laws off my silky drawers."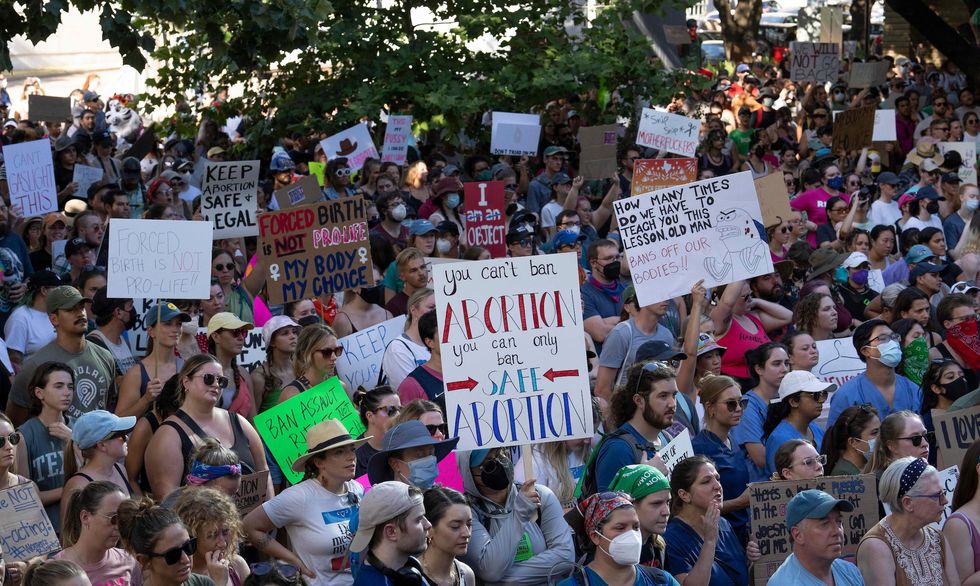 Austin joined cities across the country that saw protests for a women's right to an abortion after the ruling.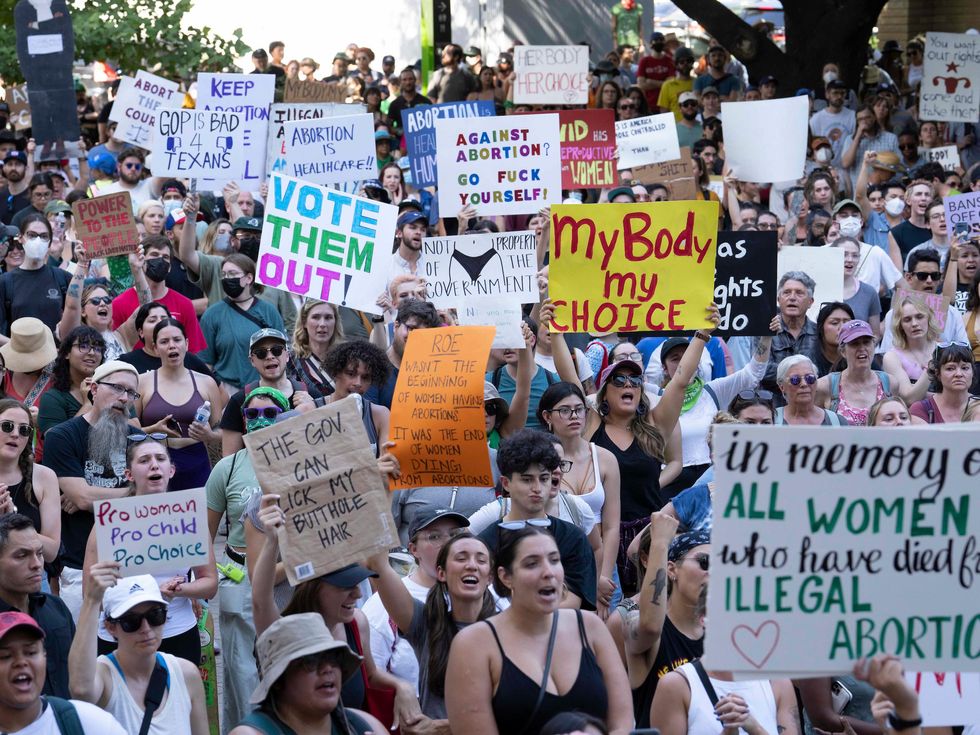 According to a recent UT poll, 78% of Texas voters support abortion access in most cases.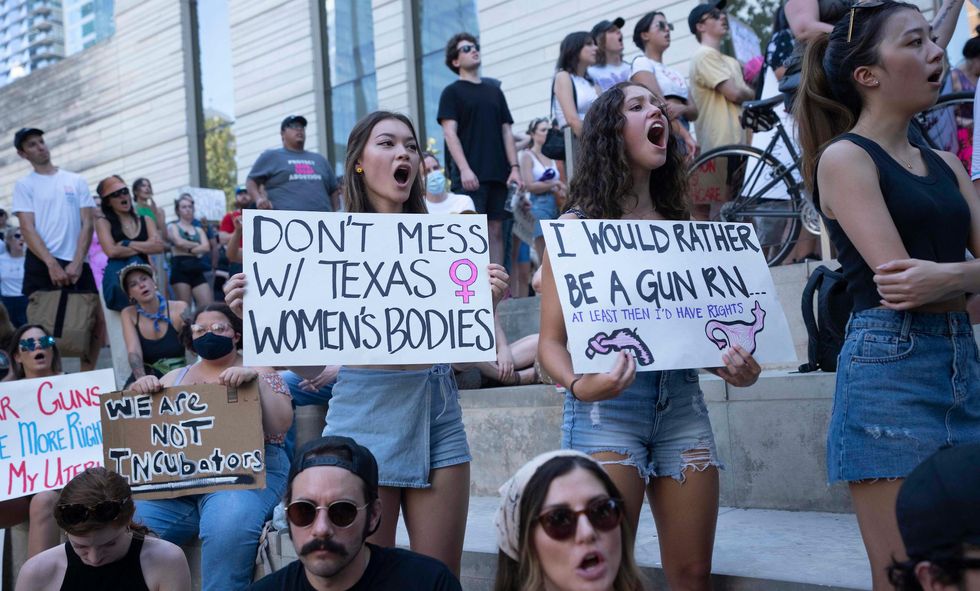 Sabrina Talghade and Sofia Pellegrini held up signs directed at Texas laws. A Texas trigger law will ban all abortions from the moment of fertilization, starting 30 days after the ruling. When state legislators passed the trigger law last summer, it also passed laws for more protection of firearms, including the right to open carry without a permit.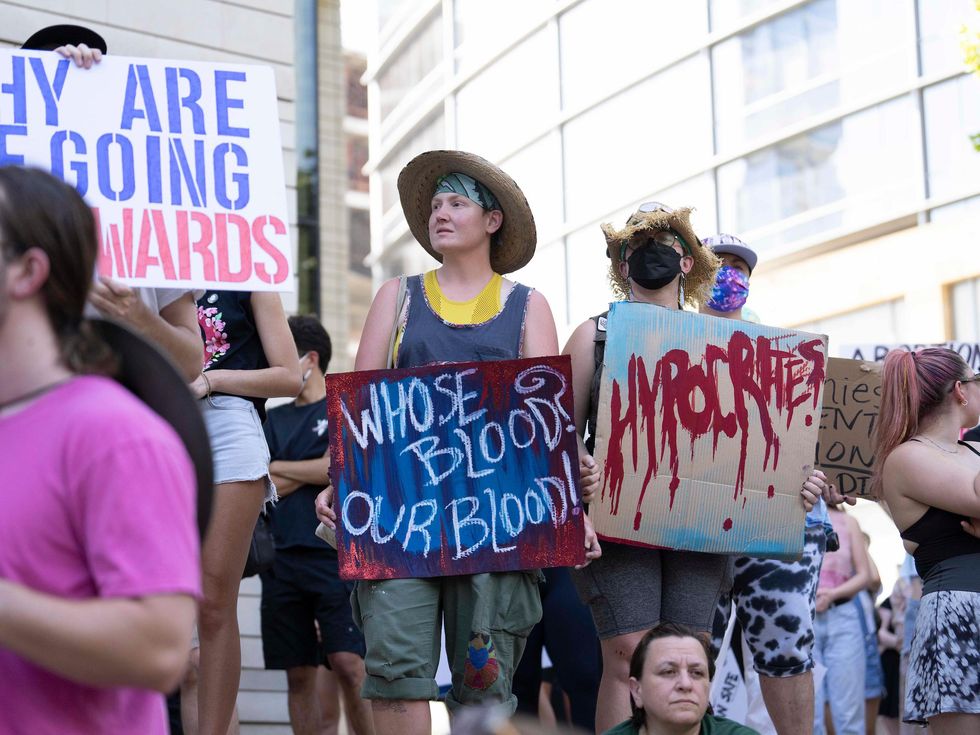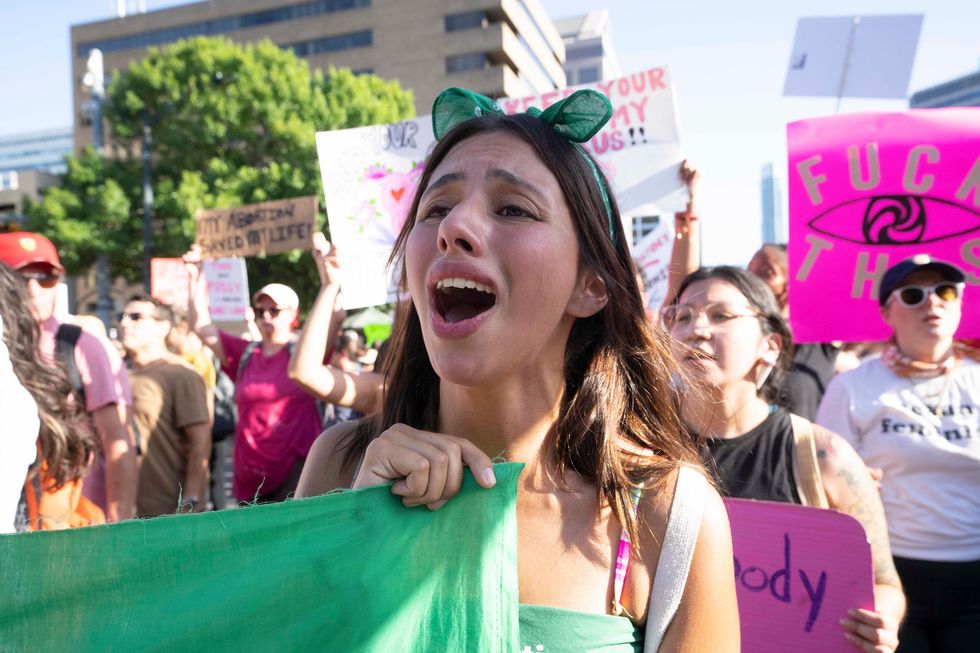 Lili Enthal of Austin yells as around 1,000 Texans marched to the Texas Capitol.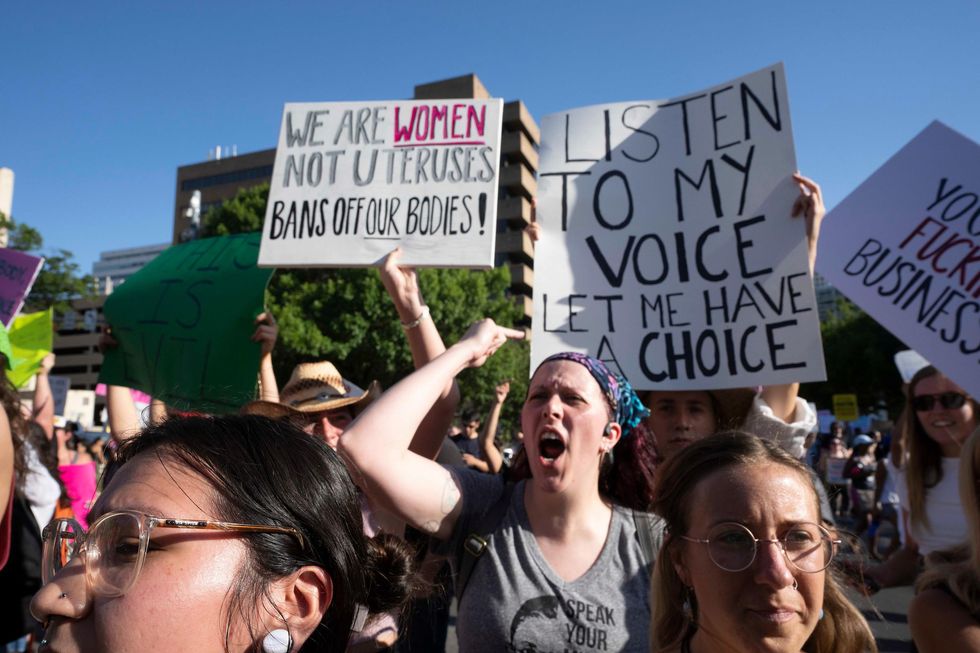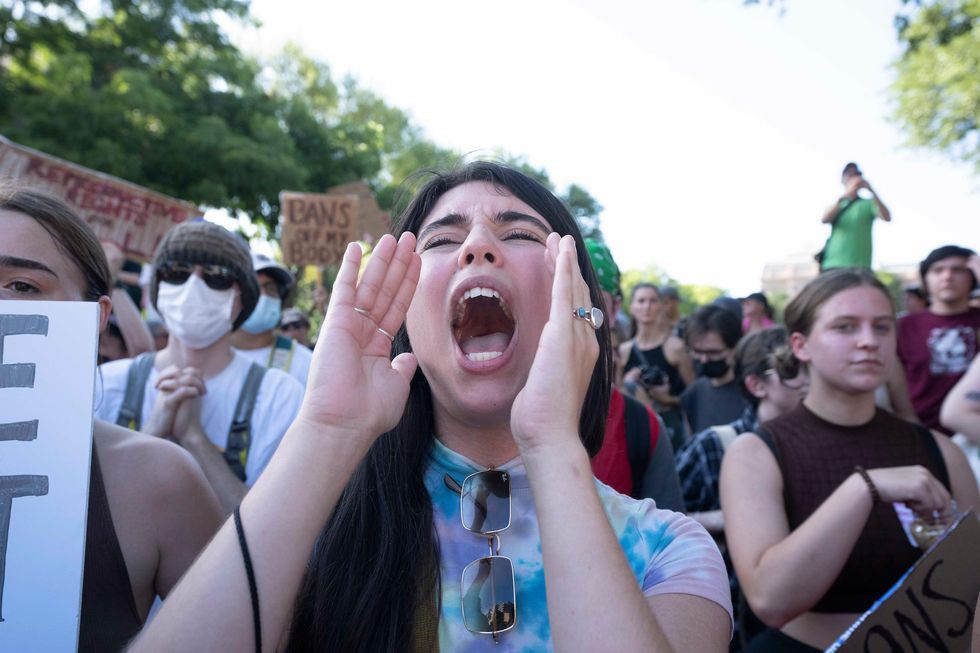 From the Texas Capitol, Zoe Webb lets her voice be heard against the Supreme Court ruling.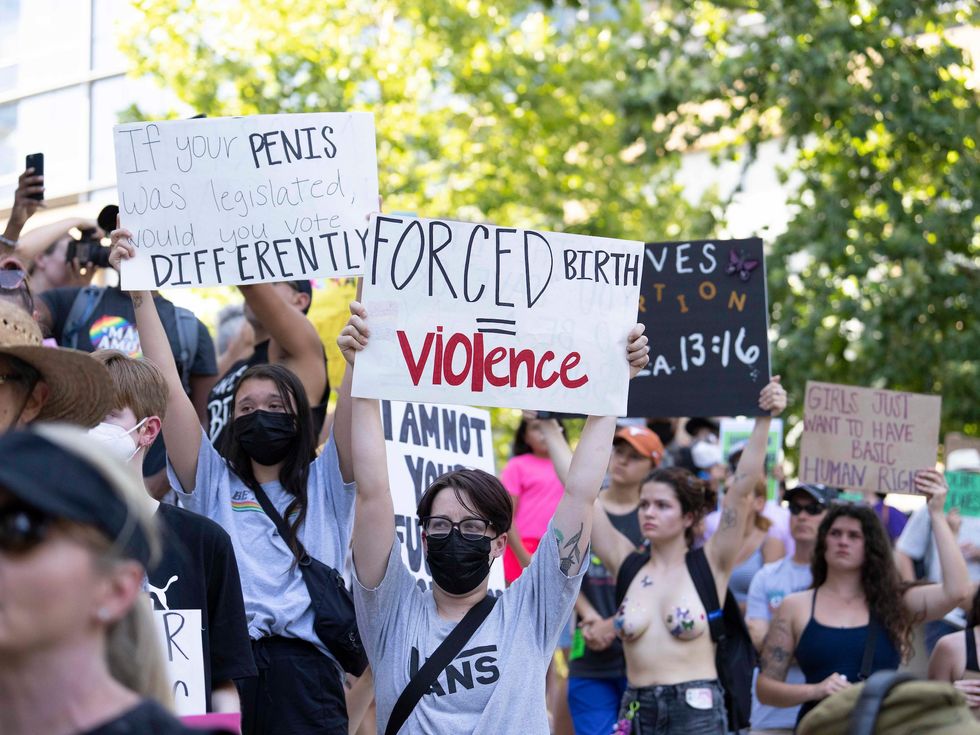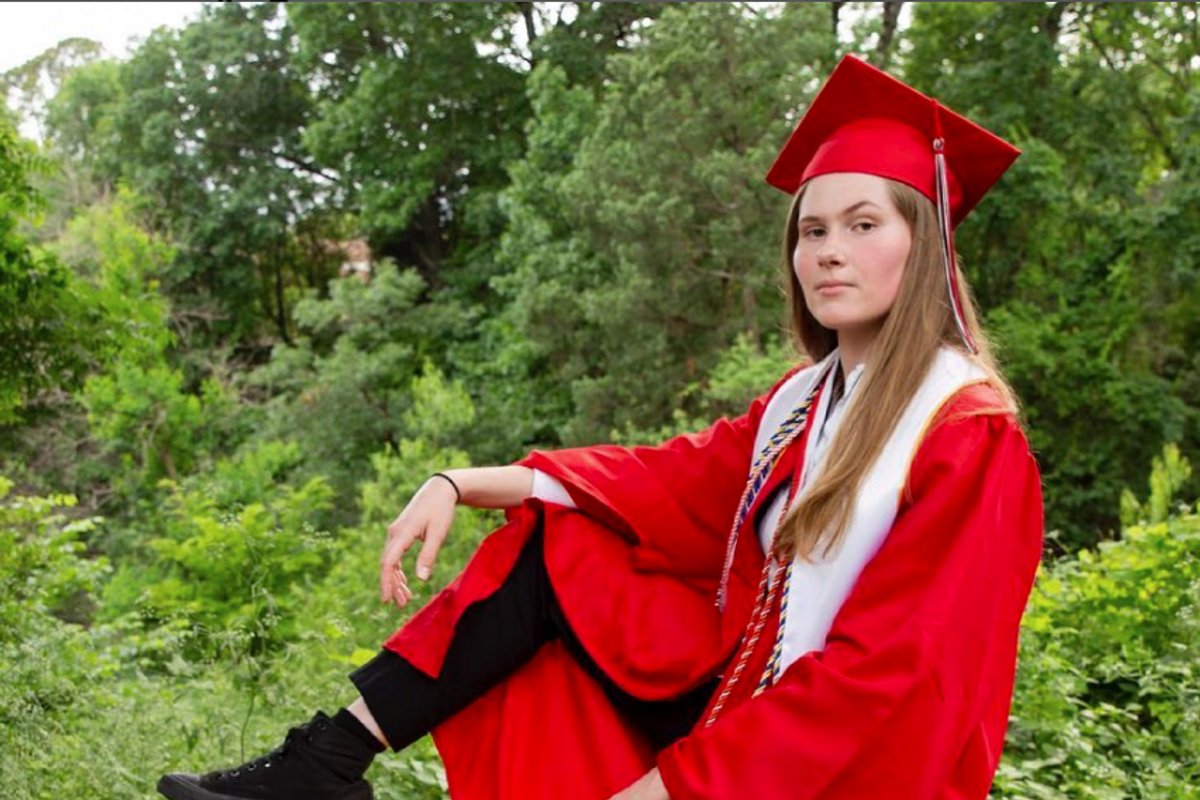 Paxton Smith's 2021 valedictory speech at Lake Highlands High School in Dallas wasn't the same speech she had previously shared with school administrators. She dropped the approved speech and made a case for women's reproductive rights after lawmakers passed the Texas "Heartbeat Bill."
Her advocacy made news on NPR, YouTubeTV and in The Guardian. Just over a year later, the "war on (women's) rights" she forewarned has come to a head as the U.S. Supreme Court voted Friday morning to overturn Roe v. Wade, ending constitutional protection for abortion access.
"It is up to the people to show up and show the courts and the politicians that we won't sit back and let this happen," Smith told Austonia Friday morning. "We will show up, we will fight back. Before, we were scared of them, now they should be scared of us."
Now a University of Texas sophomore and abortion rights activist, 19-year-old Smith said she wanted to give the same speech in the "the most public way possible" to reach "as many people as possible who don't agree that I deserve this right."
However, she says the response was "actually overwhelmingly positive" and supportive of her cause. According to a recent UT poll, 78% of Texas voters support abortion access in most cases.
The speech opened up further opportunities for activism: she advocated for reproductive rights at the International Forum on Human Rights in Geneva, interviewed with Variety magazine and spoke to tens of thousands at Austin's Bans Off Our Bodies protest at the Texas Capitol in May.
Smith also serves on the board of directors for the Women's Reproductive Rights Assistance Project, a national nonprofit organization that helps fund abortions or medication abortion—like Plan C pills—in all 50 states. Most recently, Smith has been attending protests in Washington, D.C. leading up to the ruling.
"This is land of the free. This is where you get to choose how you live your life," Smith said. "Overturning Roe v. Wade violates everything that we have come to believe about what it means to live in this country. I think a lot of people aren't willing to accept that this is a human right that is most likely just going to be gone for over half of the country within the next couple of weeks."
Bracing for the next steps, Smith gave some tips for supporters:
Find a protest to attend.

"I would say invite somebody to go to those protests with you, invite a couple of friends, invite people into the movement," Smith said.

Talk about the issue on social media—use the platform you have.

"Have these kinds of conversations where people can just talk about their fears and then find ways to go and advocate for yourself," Smith said.

Volunteer at a nonprofit near you.
"I feel like a lot of the reason things have gotten as bad as they have within the abortion rights world is that people are not making a scene, not protesting, not putting the effort into ensuring that the government doesn't take away this right," Smith said. "I want to emphasize that if you're not doing anything, don't expect the best scenario, expect the worst because that's the direction that we're going in."