Get connected with our daily update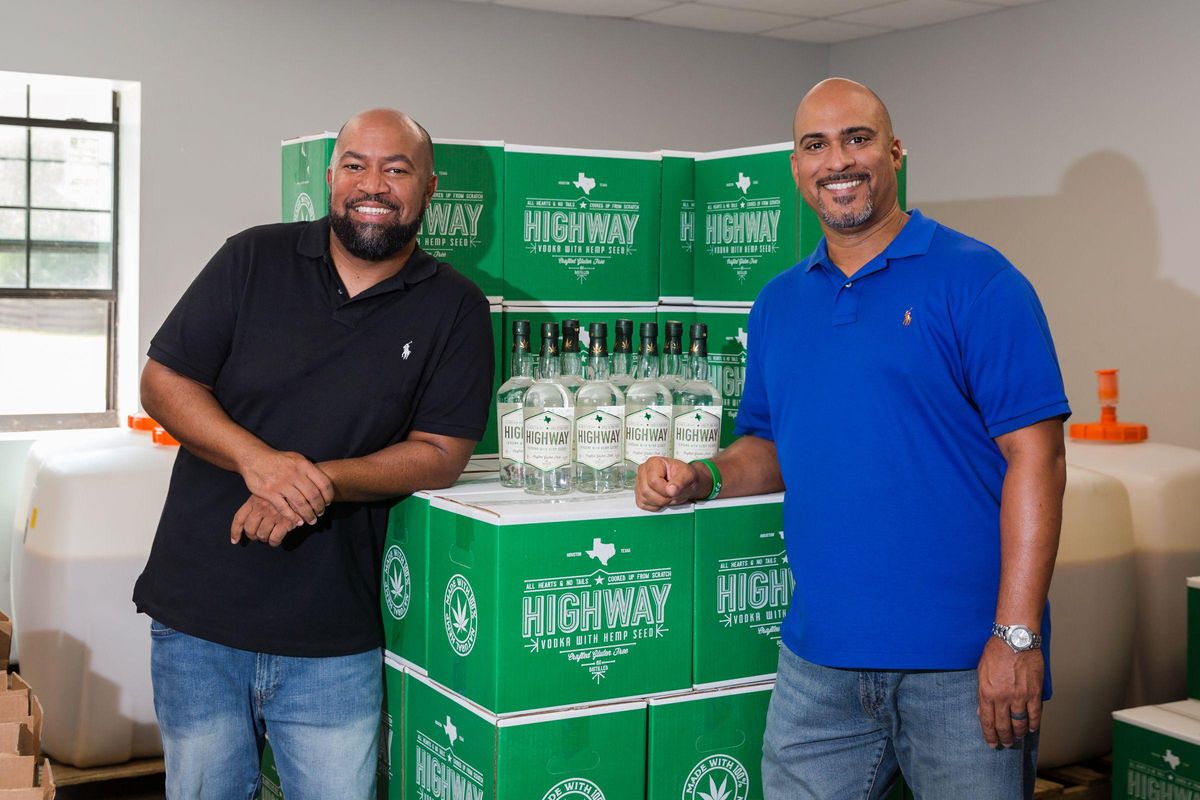 From humble origins in a horse barn to booming sales in three states, Texas' first hemp vodka distillery has become one of the fastest-growing Black distilleries in the U.S. in just a few years of business. Their latest stop? Austin, Texas.
---
Highway Vodka, founded by partners Ben Williams and Wendell Robbins III, is available for sale at over 25 retailers in Austin alongside cities across Texas, Georgia, Florida and California. The company, which is the first Black-owned distillery in the state of Texas, is almost growing too quickly—Williams said they're looking to slow down for a second before they spread too thin.
"We don't have any outside investors or anything like that, so I want to make sure I know what I'm doing," Williams said.
So why hemp? CBD is illegal to use in the distilling process, so the only effects the ingredient really adds to the mix is anti-inflammatory properties.
Hemp comes more into play in the distilling process itself. When experimenting with the ingredient in initial stages, Williams and Robbins discovered that hemp acts as a "super fuel" to the yeast as it converts sugar from its other main ingredient, corn, into alcohol (which also adds a slightly sweet taste.) The plant that helps make Mary Jane also "keeps the negative stuff down" by helping form an oily layer on top that protects the product from outside influence. The result, Williams said, is a smoother vodka that won't make the morning after drinking quite so bad.
"(Adding hemp) is not about flavor at all," Williams said. "I'm my own crash test dummy, so I know even if I overdid it the night before, I'm not getting that headache I might otherwise get."
Highway's journey started eight years ago in a horse barn in Houston when the two buddies decided to start experimenting with spirits as a hobby. After 9 years of trial and error and "a whole lot of drinking," the bustling business has seen an increase of 500% year-over-year.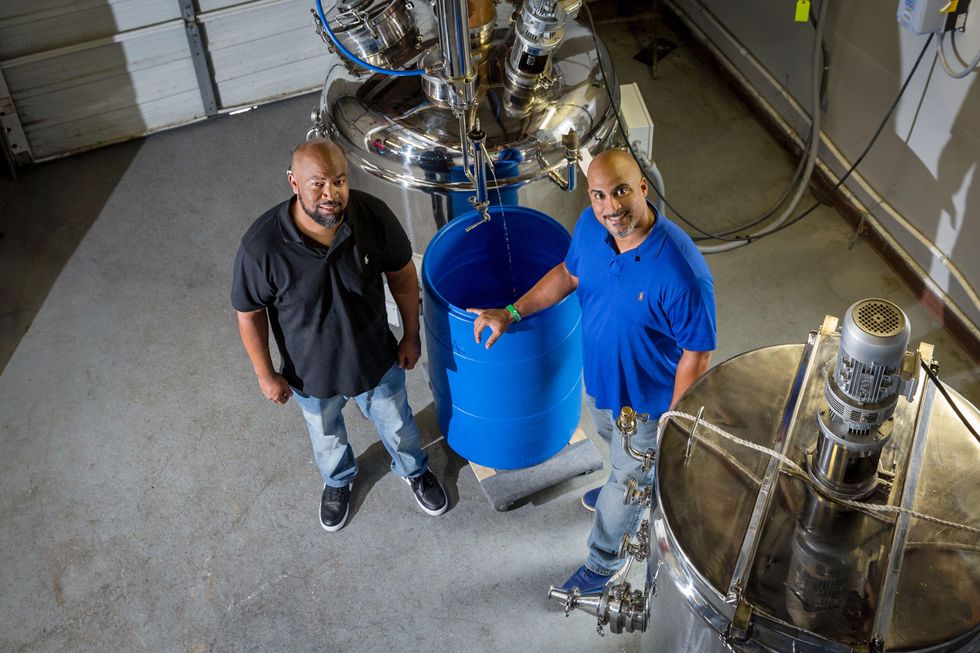 Williams and Robbins still operate within their original horse barn. (Highway Vodka)
Williams said it's no coincidence that the two love live music, drinking, and socializing at bars and restaurants; if the two were just in it for the money, he said the industry would "eat them alive."
"That's the biggest thing, to like what you're doing," Williams said. "Now I have a product that can play into all of these spaces that I enjoy."
When asked if he expected to see this kind of short-term growth, Williams simply said "no." Now that business is booming, however, Williams sees the company expanding nationwide in the next several years after they take a minute to regroup.
While Williams and Robbins are happy with their success, the most important thing is building a business that can be passed down the family. Robbins's daughter Codi Fuller has already started the legacy; at 26, she became the one of the only Black female distillers in the United States as she took the helm as Lead Distiller.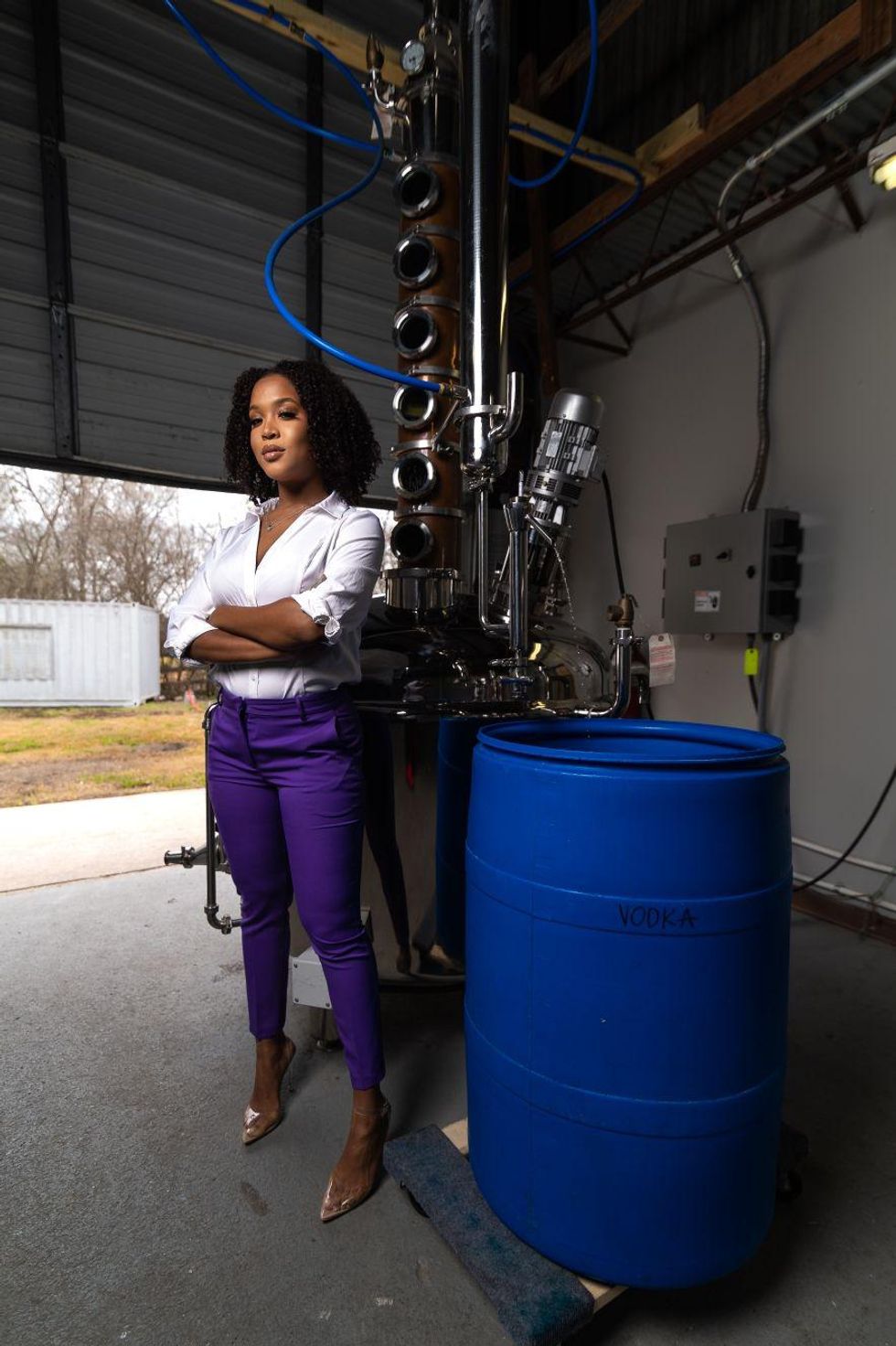 Robbins' daughter Codi Fuller is one of the only female Black distillers in the United States. (Highway Vodka)
Williams hopes his younger daughters will eventually follow suit.
"That's the dream," Williams said. "That's what you're building it for. I'm just hoping they don't go, 'Oh, that's dad's stuff' and think it's not cool."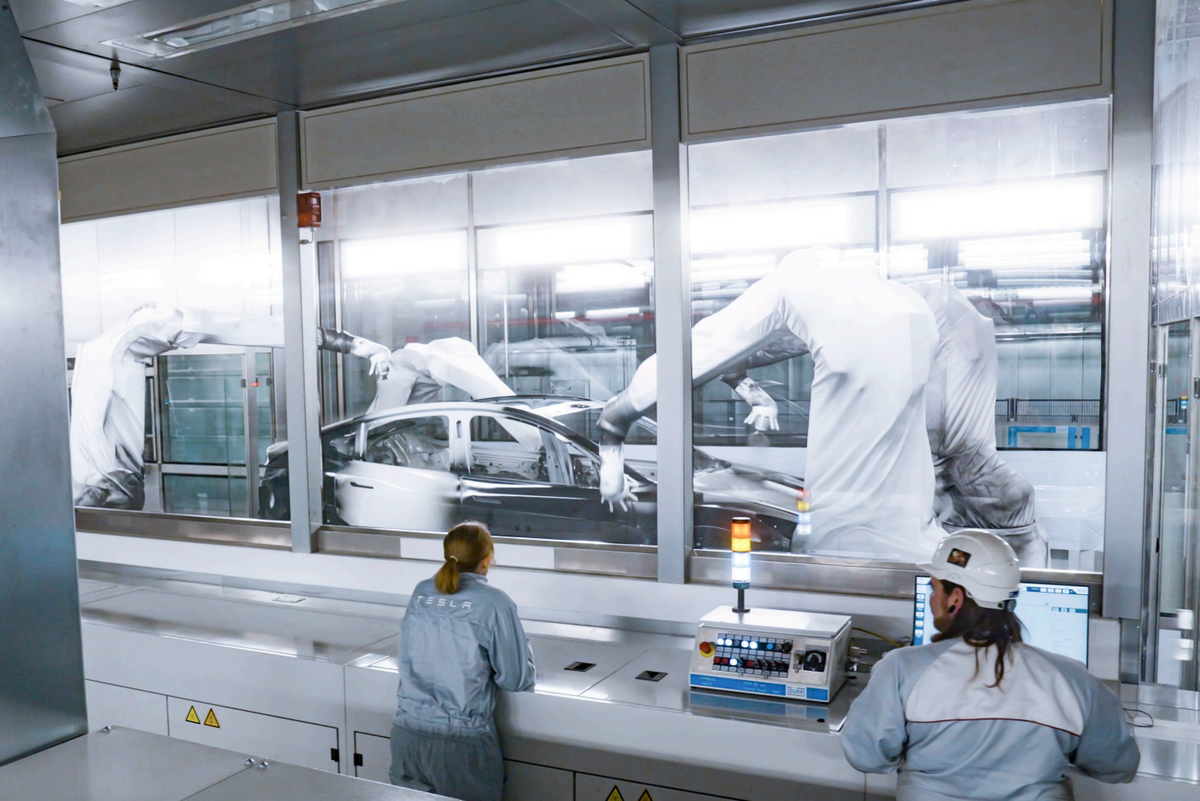 Someday, electric vehicles could go distances fit for road trips across Texas.
Researchers at the University of Texas at Austin, who have previously made strides in the lithium-ion battery industry, have developed a new electrode for such batteries that could draw greater power and allow faster charging.
So far, the research has looked at just a single type of battery electrode and is in its early stages. But it offers exciting potential as some buyers consider driving range an important factor when making the switch to an EV or picking one.
Tesla's Model Y being produced out of Giga Texas, for example, offers an estimated 330-mile range, which is lower than what many have become accustomed to in gas-powered vehicles.
So UT professor Guihua Yu, along with other researchers, had their findings on battery electrodes published in the Proceedings of the National Academy of Sciences.
"The unprecedented growth of electric vehicles during the past decade has played an indispensable role in paving the way for a carbon-neutral future," the researchers write.
That's why it's key to address a hitch with next-generation batteries, where restacking material can cause "significant bottlenecks" in charge transport, Yu says. Consequently, it can be difficult to achieve high energy and fast charging.
To tackle the sluggish reactions of electrodes, the team used thin two-dimensional materials as the building blocks and stacked them to create thickness. Then, they used a magnetic field to manipulate their orientations and put the materials in vertical alignment. In doing so, researchers essentially made a fast lane for ions to travel through the electrode.
They compared their results to a commercial electrode and a horizontally arranged one for experimental control purposes. In that comparison, they recharged the vertical thick electrode to 50% energy level in 30 minutes. The horizontal electrode took 2 hours and 30 minutes.
Zhengyu Ju, a graduate student in Yu's research group who is leading this project, said the team's electrode shows superior electrochemical performance.
In part, that's "thanks to the unique architecture we designed," Ju said. It ultimately allowed for high mechanical strength, high electrical conductivity and facilitated lithium-ion transport.
Going forward, the team aims to generalize their methodology of vertically organized electrode layers to apply it to different types of electrodes using other materials. They imagine if this technique becomes more widely adopted in industry, it may create future fast-charging, high-energy batteries to power EVs.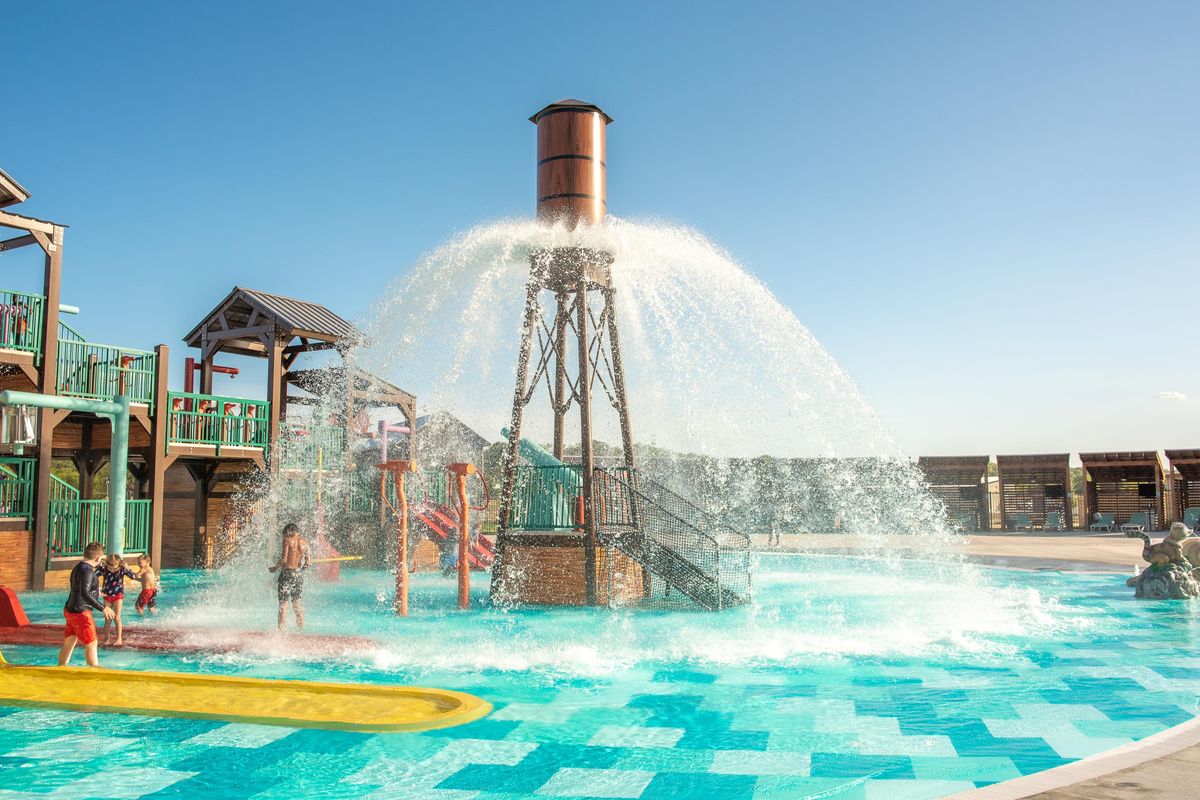 Camp Fimfo Waco
Camp Fimfo Waco, a brand new camping resort, is kicking off football and fall camping season in style! With top-notch amenities, premium accommodations, and 10 weekends of fall fun, there's no better place to have a fall camping getaway, especially if you're a Baylor football fan!
Fall promises to be a one-of-a-kind camping experience. From Sept. 16 to Nov. 24, weekends will be packed with fall-themed activities, including special Halloween weekends in October. Campers can enjoy activities like fall crafts, campground trick-or-treating, costume contests, site decorating, outdoor movie nights, and more!