Get connected with our daily update
(La Murga de Austin/Twitter)
"Alright, alright, alright, alright, Austin FC," the uniquely Austin chant with hints of McConaughey echoes proudly over a steady drumbeat just outside Austin FC's Q2 Stadium, where La Murga de Austin practices their songs every week in anticipation for the club to start its first-ever season.
---
La Murga, a brassy, drum-led band composed of Austin FC fans at every skill level, was made in the style of fan bands of the same name that follow various teams in Latin America. Formed in Argentina and now found in Colombia, Mexico and other countries, these murgas keep the party going for fans who view futbol games as an all-day celebration.
For a lot of fans in the Latino community, bringing soccer and its traditions to Austin makes the big city feel more unified and familiar. For some, it even feels "a little closer to home."

North Austin resident Ana Salazar said that soccer is a unifying sport that reminds her of time spent with her family in Mexico.
"Whenever I pass the Q2 Stadium, I immediately think of my family and the times we have gotten together to watch our team play," said Salazar, who grew up in a border town in South Texas. "When the home games start and the Latin community goes out to support, they will not only be celebrating our Austin team, but celebrating where we come from and sharing that culture with everyone there."
As of 2019, over 30% of the city's population is of Hispanic or Latino descent. With roots to South and Central America, these residents are no stranger to the global sport of futbol. Austin FC has already banded hundreds together in multicultural fan clubs.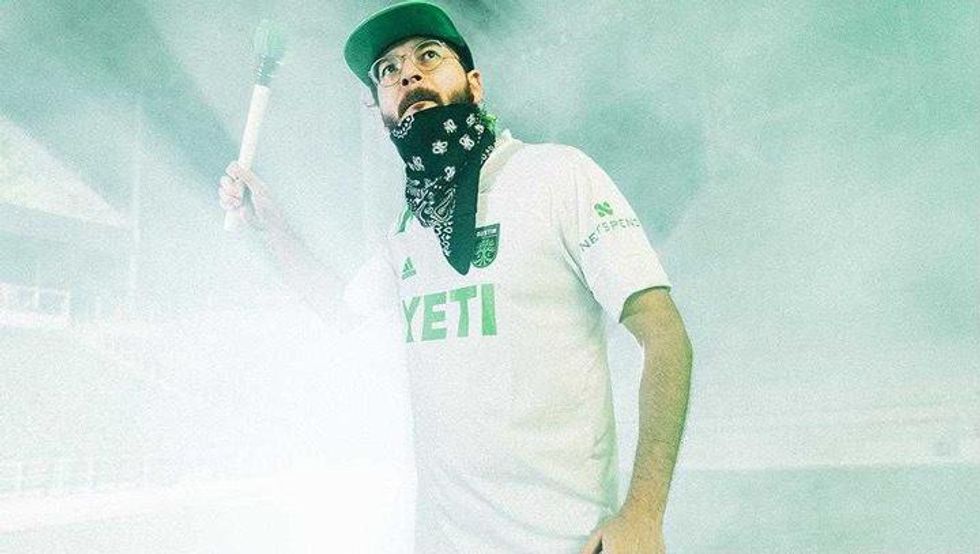 Rigo Rodriguez, a native of Mexico, said that Austin FC reminds him of his team back in Monterrey. (Rigo Rodriguez)
La Murga member Rigo Rodriguez, a native of Monterrey, Mexico, never could have imagined that Austin would have a team with hype like his home team Tigres when he moved to the city in 2013.
Every time he sees someone repping the Verde merch or when he practices classic stadium songs with his bandmates, he's brought closer to the all-day party that is present at each Tigres game.
"People live and breathe the sport, it's what people are looking forward to," Rodriguez said. "It's a way of living, and for me personally that's one of the reasons I was really interested in Austin FC. The last thing I expected was to end up staying in Austin and having a soccer team; it feels close to home."
Because of his passion for the sport, Rodriguez said he joined the fan club Austin Anthem to be a part of the wave of Austin FC hype that first hit the city a few years ago and later became Vice President of Los Verdes, another club of ATXFC supporters.
Rodriguez said that the band as well as Los Verdes have been working for years to make the best gameday experience possible for themselves and other fans.

"It was an opportunity for me to pick something up that's new in the city that I love and try to help create a culture from scratch," Rodriguez said. "A lot of people are born into a team or it already exists, so I wanted to kind of help be a part of what Austin FC is going to be in the city."
With an 11,000 person-and counting-waitlist for Austin FC season tickets and record-breaking sales on their first day, the club has received hype that many MLS teams can only dream of. A lot of this excitement comes from the Latino community. As early as summer 2018, the team adopted their signature "Verde" and black colors, used hashtags like #LISTOS, sent out news in Spanish and reached out to Hispanic-owned businesses and youth programs.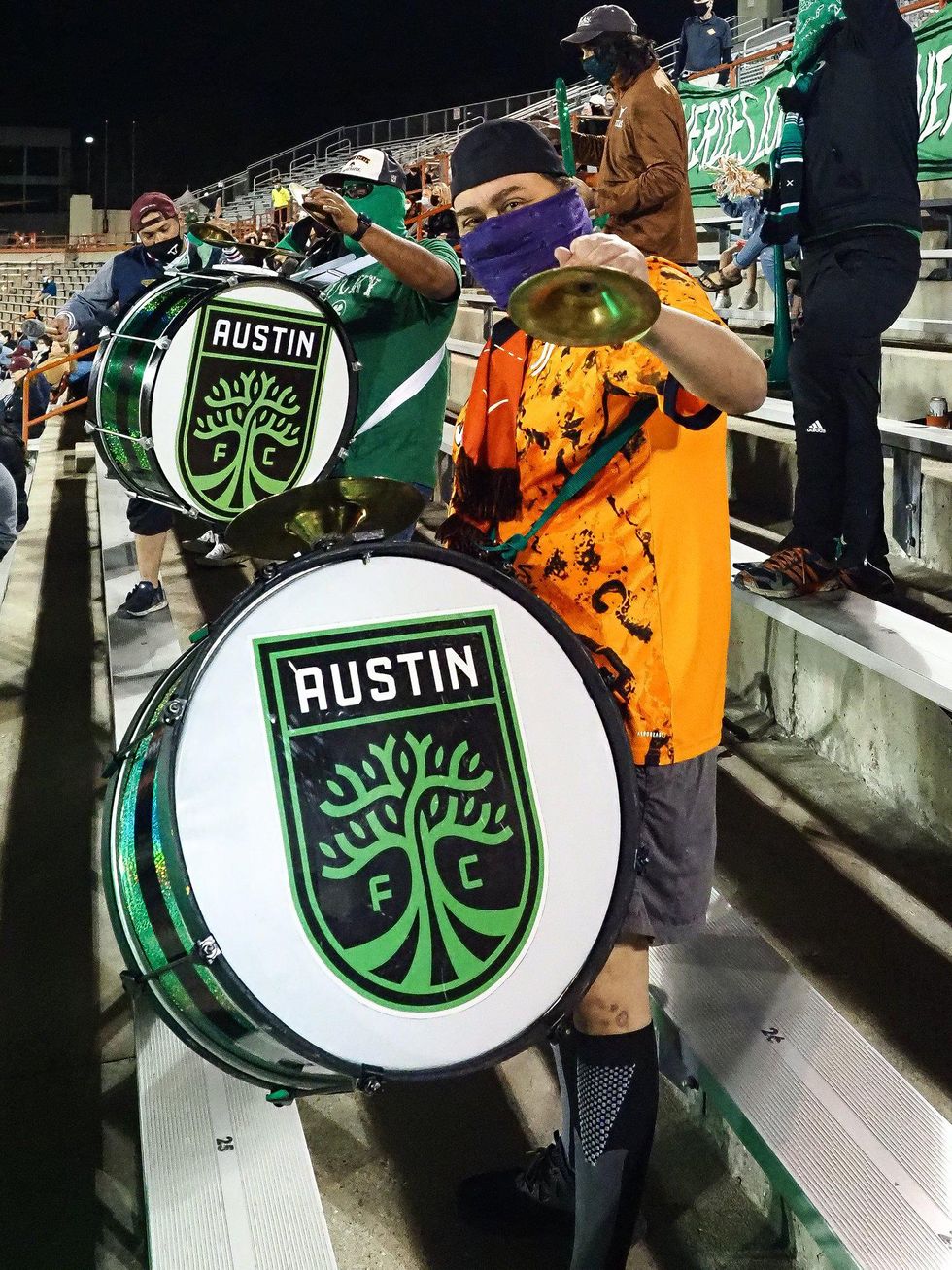 Jorge Chavez is a longtime member of Austin FC fan club Austin Anthem. (Alex Rubio)
Austin Anthem member Jorge Chavez said that the global sport came at the perfect time for the increasingly diverse city.
Chavez said that the team has long recognized the importance of their Latino supporters. Since many of the team's players are from Latin America, Chavez said that athletes and staff have made sure that their ties to the community run deep.
"A lot people here are from all these different places, and they might not have that much in common with each other, but now they do," Chavez said. "I think it's going to be attractive to whoever comes here and calls Austin their home."
As the season ramps up, La Murga and Austin FC supporters aren't just bringing futbol to Austin: they're blending Latino culture and soccer traditions with the city's roots in festivals, music and the sport itself.
"There's all this festival culture already in Austin, with lots of parades, street-style bands and live music, so it's not like we're taking something and making it completely new," Rodriguez said. "Since we have that pool of all kinds of people coming from different places, we're able to do all kinds of things."
Austin FC will play their first-ever game on Saturday, April 17 against LAFC in Los Angeles and won't be back until Saturday, June 19, where they will break in their brand-new stadium with a matchup against the San Jose Earthquakes. Until then, La Murga can be heard playing just outside the stadium every Tuesday night, while Austin Anthem will head to the fan base headquarters, Circle Brewing, every Wednesday.
Republic Square Park has turned into a Ford-themed fiesta for its Built to Connect pop-up experience, complete with test drives, off-roading and an inside look at the Tesla-rivaling electric vehicles that the motor vehicle company is planning to integrate over the next decade.
The outdoor driving event is free, open to the public and will stay in the park from now until Oct. 24, offering rides on Bronco Mountain, a 0-40 mph zip in the 2022 all-electric Ford F-150 Lightning and a chance to win an original Ford Bronco.
The event kicked off with a panel of speakers, including Austin Director of Transportation Rob Spillar, Ford General Manager Darren Palmer and engineering specialists discussing Ford's goals to make it so that 50% of the vehicles on the road are electric by 2030.
As an eco-conscious city, Spillar said that around 4,000 vehicles, or 22% of the Texas electric vehicle market, as well as over 15,000 plugins lie in Austin, meaning driving electric just got accessible.
"Austin, as you know, is a fast-growing modern city that is committed to protecting the long term health and viability of our communities and strategies that reduce greenhouse gases, mitigate the effects of climate change and improve the drone quality of life here in Central Texas for all of our residents," Spillar said.
And Ford's electric vehicles are putting up some steep competition for newly-Austin-based company Tesla. The new electric Mustang Mach-E and F-150 Lighting offer amenities that used to be exclusive to Musk's brand, such as the BlueCruise self-driving network. The cars also boast a 300-mile range on a single charge, assisted reverse technology and access to the biggest charging network outside of the home.
Plus, Ford's got affordability on its side. The F-150 Lightning starts at $39,974 and the Mustang Mach-E starts at $42,895, while the cheapest Tesla model, the Model 3, starts at $41,990 and averages 262 miles on a single charge.
Speaking of price, the numbers on the electric vehicles may look like a little more than you'd like to pay for your transport, but Palmer promises it will pay off. In addition to a $7,500 tax credit you can earn for your sustainability, you'll never have to buy a pricey tank of gas again.
"Personally, I have not found one customer ever, who would go back to gas so that says something," Palmer said. "I realized, at $51,000, that car outruns every childhood hero car I ever had."
Texas buyers: take note. The Ford Lightning can power your house for three to 10 days, just in case the statewide power grid fails. You can take it glamping with you, so you don't have to leave the comfort of modern life behind, and in a pinch, Palmer said he's even seen a wedding party powered by the truck.
Ford is investing $30 billion into the U.S. market to meet demand by 2025 and the new electric truck already has over 150,000 reservations.
"I think they're going to take off much faster than you expect—they're going to be extremely, extremely popular next year," Palmer said. "With the incentives that are available today, this is starting to become more mainstream and viable for more and more families. We couldn't have done that before, we didn't have the technology, or the technology at that price."
The event is ongoing through next weekend from 12-9 p.m. Monday-Friday and 9 a.m.- 8 p.m. Saturday and Sunday.
The Austin Police Department is searching for a man who is believed to be behind a series of robberies that is "sexual in nature and is escalating."
Three robbery cases that took place in North Austin within a 30-day period are being investigated by police, who report the victims all had similar descriptions for suspects in the case. The suspect is described as a 20-25-year-old Spanish-speaking Hispanic man, approximately 5'3, thin build, recently shaved with black hair. Police say he is known to typically wear athletic clothing and used a knife on each of the victims.
Here's a breakdown of the cases:
1. At 7:56 a.m. on Sept. 22 at the 1600 block of Rutland Drive, a woman was walking alone and returning from her child's school when a suspect walking by inappropriately touched her. The suspect then grabbed her by the arm, threatened her with a knife and demanded "her property."
2. At 8:10 a.m. on Oct. 11 at 1700 block of Colony Creek Drive, a woman was walking to her child's school when a man approached her with a knife and then demanded her personal items. The suspect then said he would return the items in return for sex.
3. At 11:03 a.m. on Oct. 13 at the 9300 block of Northgate Boulevard, a woman was with her child in the laundry room of an apartment complex when a man walked in performing a sexual act. The suspect demanded personal items from the victim, threatening to hurt the victim and take her child.
Police cautioned the public to walk without earbuds, stay alert and report suspicious activity to the police.