Get connected with our daily update
(La Murga de Austin/Twitter)
"Alright, alright, alright, alright, Austin FC," the uniquely Austin chant with hints of McConaughey echoes proudly over a steady drumbeat just outside Austin FC's Q2 Stadium, where La Murga de Austin practices their songs every week in anticipation for the club to start its first-ever season.
---
La Murga, a brassy, drum-led band composed of Austin FC fans at every skill level, was made in the style of fan bands of the same name that follow various teams in Latin America. Formed in Argentina and now found in Colombia, Mexico and other countries, these murgas keep the party going for fans who view futbol games as an all-day celebration.
For a lot of fans in the Latino community, bringing soccer and its traditions to Austin makes the big city feel more unified and familiar. For some, it even feels "a little closer to home."

North Austin resident Ana Salazar said that soccer is a unifying sport that reminds her of time spent with her family in Mexico.
"Whenever I pass the Q2 Stadium, I immediately think of my family and the times we have gotten together to watch our team play," said Salazar, who grew up in a border town in South Texas. "When the home games start and the Latin community goes out to support, they will not only be celebrating our Austin team, but celebrating where we come from and sharing that culture with everyone there."
As of 2019, over 30% of the city's population is of Hispanic or Latino descent. With roots to South and Central America, these residents are no stranger to the global sport of futbol. Austin FC has already banded hundreds together in multicultural fan clubs.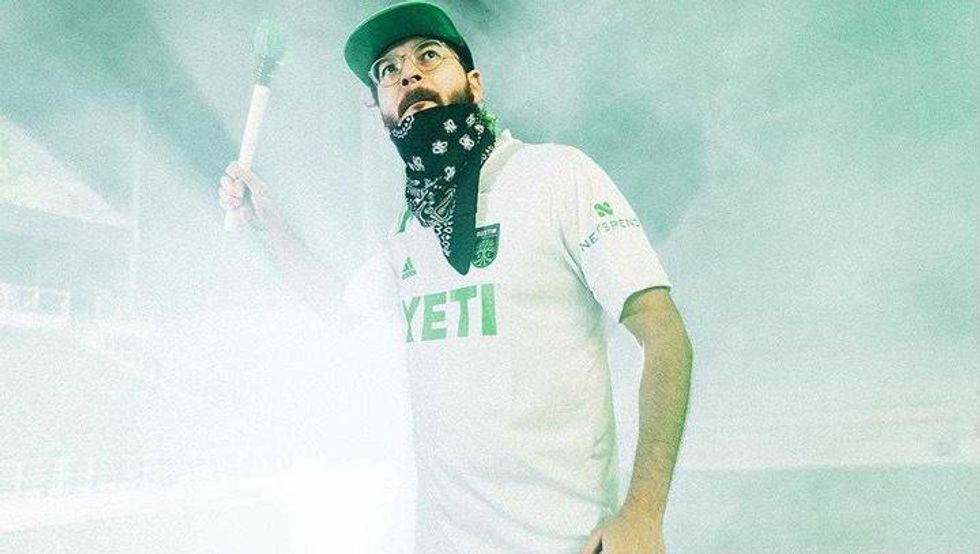 Rigo Rodriguez, a native of Mexico, said that Austin FC reminds him of his team back in Monterrey. (Rigo Rodriguez)
La Murga member Rigo Rodriguez, a native of Monterrey, Mexico, never could have imagined that Austin would have a team with hype like his home team Tigres when he moved to the city in 2013.
Every time he sees someone repping the Verde merch or when he practices classic stadium songs with his bandmates, he's brought closer to the all-day party that is present at each Tigres game.
"People live and breathe the sport, it's what people are looking forward to," Rodriguez said. "It's a way of living, and for me personally that's one of the reasons I was really interested in Austin FC. The last thing I expected was to end up staying in Austin and having a soccer team; it feels close to home."
Because of his passion for the sport, Rodriguez said he joined the fan club Austin Anthem to be a part of the wave of Austin FC hype that first hit the city a few years ago and later became Vice President of Los Verdes, another club of ATXFC supporters.
Rodriguez said that the band as well as Los Verdes have been working for years to make the best gameday experience possible for themselves and other fans.

"It was an opportunity for me to pick something up that's new in the city that I love and try to help create a culture from scratch," Rodriguez said. "A lot of people are born into a team or it already exists, so I wanted to kind of help be a part of what Austin FC is going to be in the city."
With an 11,000 person-and counting-waitlist for Austin FC season tickets and record-breaking sales on their first day, the club has received hype that many MLS teams can only dream of. A lot of this excitement comes from the Latino community. As early as summer 2018, the team adopted their signature "Verde" and black colors, used hashtags like #LISTOS, sent out news in Spanish and reached out to Hispanic-owned businesses and youth programs.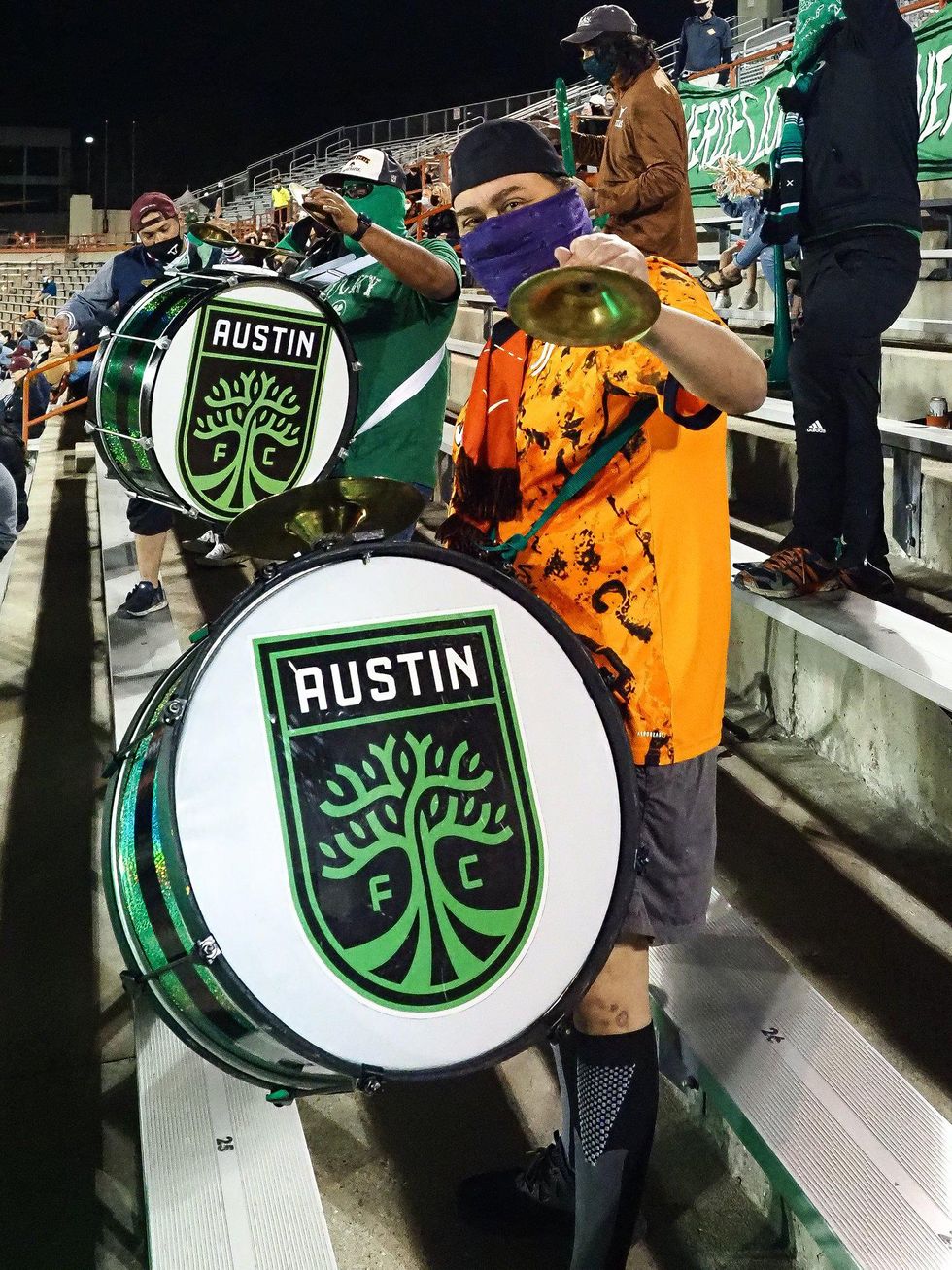 Jorge Chavez is a longtime member of Austin FC fan club Austin Anthem. (Alex Rubio)
Austin Anthem member Jorge Chavez said that the global sport came at the perfect time for the increasingly diverse city.
Chavez said that the team has long recognized the importance of their Latino supporters. Since many of the team's players are from Latin America, Chavez said that athletes and staff have made sure that their ties to the community run deep.
"A lot people here are from all these different places, and they might not have that much in common with each other, but now they do," Chavez said. "I think it's going to be attractive to whoever comes here and calls Austin their home."
As the season ramps up, La Murga and Austin FC supporters aren't just bringing futbol to Austin: they're blending Latino culture and soccer traditions with the city's roots in festivals, music and the sport itself.
"There's all this festival culture already in Austin, with lots of parades, street-style bands and live music, so it's not like we're taking something and making it completely new," Rodriguez said. "Since we have that pool of all kinds of people coming from different places, we're able to do all kinds of things."
Austin FC will play their first-ever game on Saturday, April 17 against LAFC in Los Angeles and won't be back until Saturday, June 19, where they will break in their brand-new stadium with a matchup against the San Jose Earthquakes. Until then, La Murga can be heard playing just outside the stadium every Tuesday night, while Austin Anthem will head to the fan base headquarters, Circle Brewing, every Wednesday.
An Austin-based firm that's established itself as one of the top Bitcoin miners in North America is set to go public.
On Thursday, the company, known as Core Scientific Inc., announced it's now trading on Nasdaq as $CORZ. The stock opened at $9.74 per share then peaked at $10.48. The company was assigned a $414 million market cap.
"As one of the largest publicly-traded blockchain infrastructure providers and digital asset miners in North America, we are focused on growing our capacity, defending and securing the blockchain ecosystem and building long-term shareholder value," CEO Mike Levitt said.
As reported by Yahoo News, investors approved a plan for a public debut through a $4.3 billion merger with special purpose acquisition company Power & Digital Infrastructure Acquisition Corp. The deal arrives as Austin sees its crypto scene soar, with increased activity in the NFT economy and groups pooling their money together through DAOs.
Core Scientific was established in 2017 and relocated its headquarters from Seattle to Austin last year. It has a site in Downtown Austin on 106 E. 6th St. and data centers in Georgia, Kentucky, North Carolina and North Dakota. More than 100 full-time employees are in the U.S., but it's unclear how many are in Austin.
Now, they say they are the biggest Bitcoin miners based on processing power, with claims that the combined mining capacity on the Bitcoin network exceeds that of competitors. And SEC filings from earlier this month show it's in the process of acquiring Blockcap, Inc., which moved to Austin last year.
The company describes itself as a leader in high-performance, carbon-neutral blockchain infrastructure in an industry that catches flak for its energy use.
Aside from mining, the company provides internet hosting services for other large-scale miners. In fact, it derives about half its revenue by helping big customers mine, a quality seen in what's often referred to as an "institutional-grade" miner.
Looking ahead, Core Scientific seems optimistic about the year ahead even as Bitcoin falls from its all-time high.
"We've worked hard to lay the groundwork that will enable us to achieve our 2022 projections," Levitt told Yahoo News. "Our objective is to be the best. Being the best means doing all that we can for our business, the industry in which we participate and for the Bitcoin network."
Watch some Cricket
When: 5:30-10 p.m. Saturday and Sunday
Where: The Crossover, 1717 Scottsdale Drive
What: Looking for a new sport to obsess over? Attend one of Sports Movement's indoor cricket matches.
Le Garage Sale
When: 11 a.m. Saturday and Sunday
Where: Palmer Events Center, 900 Barton Springs Rd.
What: Find over 100+ boutiques, brands and designers at Le Garage sale. Shop leisurewear, accessories, menswear, children's apparel, home decor and more. Tickets start at $10.
See a movie at the drive-in
When: 6:25-8:45 p.m., 9:15-10:50 p.m. Saturday
Where: The Globe Drive-In Theater, 8017 Cele Rd.
What: This weekend you can see Harry Potter and the Prisoner of Azkaban at 6:25 p.m. or you can see The Cabin in the Woods at 9:15 p.m. at the drive-in. Tickets cost $16 per car.
Museum of Ice Cream
When: 11:30 a.m Saturday and Sunday
Where: Museum of Ice Cream, 11410 Century Oaks Ter.
What: The Museum of Ice Cream is featuring 12 never-before-seen instillations celebrating the enjoyment of ice cream. View tickets here.
The Austin Flea
When: 12 p.m. Sunday
Where: Meanwhile Brewing, 3901 Promontory Point Dr.
What: Find handmade items, vintage wares, food and drink and more at The Austin Flea at Meanwhile Brewing. Vendors are handpicked for each show to guarantee a great selection of items to shop for.