Get connected with our daily update
(La Murga de Austin/Twitter)
"Alright, alright, alright, alright, Austin FC," the uniquely Austin chant with hints of McConaughey echoes proudly over a steady drumbeat just outside Austin FC's Q2 Stadium, where La Murga de Austin practices their songs every week in anticipation for the club to start its first-ever season.
---
La Murga, a brassy, drum-led band composed of Austin FC fans at every skill level, was made in the style of fan bands of the same name that follow various teams in Latin America. Formed in Argentina and now found in Colombia, Mexico and other countries, these murgas keep the party going for fans who view futbol games as an all-day celebration.
For a lot of fans in the Latino community, bringing soccer and its traditions to Austin makes the big city feel more unified and familiar. For some, it even feels "a little closer to home."

North Austin resident Ana Salazar said that soccer is a unifying sport that reminds her of time spent with her family in Mexico.
"Whenever I pass the Q2 Stadium, I immediately think of my family and the times we have gotten together to watch our team play," said Salazar, who grew up in a border town in South Texas. "When the home games start and the Latin community goes out to support, they will not only be celebrating our Austin team, but celebrating where we come from and sharing that culture with everyone there."
As of 2019, over 30% of the city's population is of Hispanic or Latino descent. With roots to South and Central America, these residents are no stranger to the global sport of futbol. Austin FC has already banded hundreds together in multicultural fan clubs.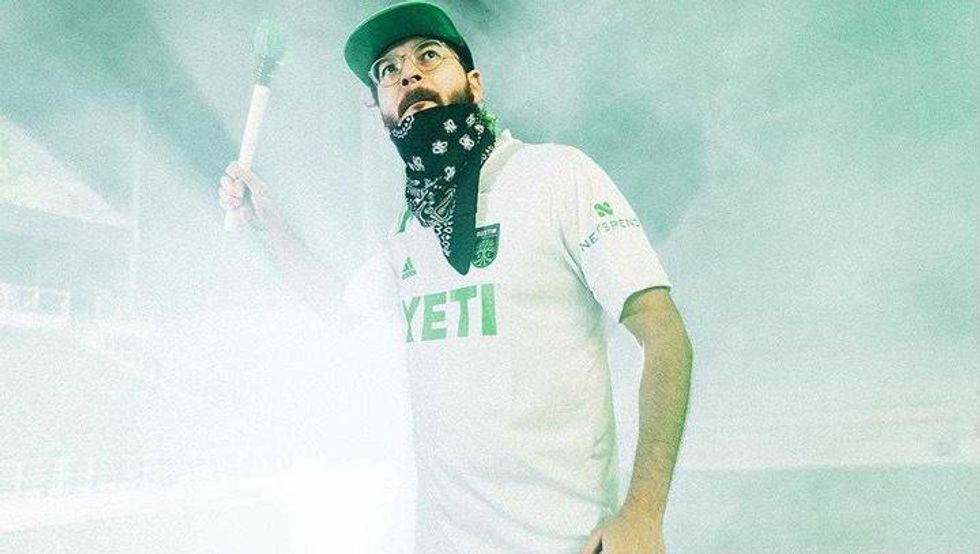 Rigo Rodriguez, a native of Mexico, said that Austin FC reminds him of his team back in Monterrey. (Rigo Rodriguez)
La Murga member Rigo Rodriguez, a native of Monterrey, Mexico, never could have imagined that Austin would have a team with hype like his home team Tigres when he moved to the city in 2013.
Every time he sees someone repping the Verde merch or when he practices classic stadium songs with his bandmates, he's brought closer to the all-day party that is present at each Tigres game.
"People live and breathe the sport, it's what people are looking forward to," Rodriguez said. "It's a way of living, and for me personally that's one of the reasons I was really interested in Austin FC. The last thing I expected was to end up staying in Austin and having a soccer team; it feels close to home."
Because of his passion for the sport, Rodriguez said he joined the fan club Austin Anthem to be a part of the wave of Austin FC hype that first hit the city a few years ago and later became Vice President of Los Verdes, another club of ATXFC supporters.
Rodriguez said that the band as well as Los Verdes have been working for years to make the best gameday experience possible for themselves and other fans.

"It was an opportunity for me to pick something up that's new in the city that I love and try to help create a culture from scratch," Rodriguez said. "A lot of people are born into a team or it already exists, so I wanted to kind of help be a part of what Austin FC is going to be in the city."
With an 11,000 person-and counting-waitlist for Austin FC season tickets and record-breaking sales on their first day, the club has received hype that many MLS teams can only dream of. A lot of this excitement comes from the Latino community. As early as summer 2018, the team adopted their signature "Verde" and black colors, used hashtags like #LISTOS, sent out news in Spanish and reached out to Hispanic-owned businesses and youth programs.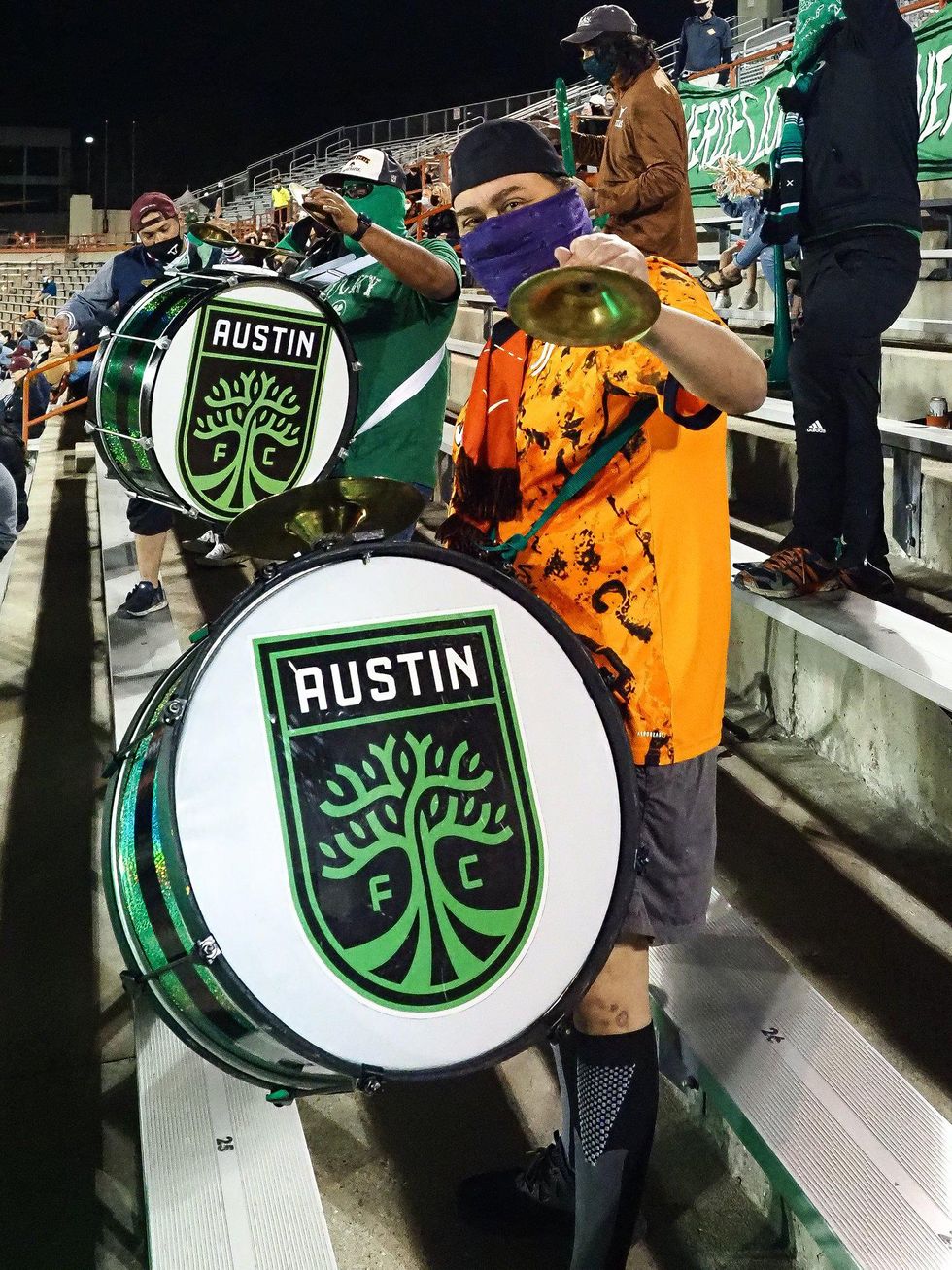 Jorge Chavez is a longtime member of Austin FC fan club Austin Anthem. (Alex Rubio)
Austin Anthem member Jorge Chavez said that the global sport came at the perfect time for the increasingly diverse city.
Chavez said that the team has long recognized the importance of their Latino supporters. Since many of the team's players are from Latin America, Chavez said that athletes and staff have made sure that their ties to the community run deep.
"A lot people here are from all these different places, and they might not have that much in common with each other, but now they do," Chavez said. "I think it's going to be attractive to whoever comes here and calls Austin their home."
As the season ramps up, La Murga and Austin FC supporters aren't just bringing futbol to Austin: they're blending Latino culture and soccer traditions with the city's roots in festivals, music and the sport itself.
"There's all this festival culture already in Austin, with lots of parades, street-style bands and live music, so it's not like we're taking something and making it completely new," Rodriguez said. "Since we have that pool of all kinds of people coming from different places, we're able to do all kinds of things."
Austin FC will play their first-ever game on Saturday, April 17 against LAFC in Los Angeles and won't be back until Saturday, June 19, where they will break in their brand-new stadium with a matchup against the San Jose Earthquakes. Until then, La Murga can be heard playing just outside the stadium every Tuesday night, while Austin Anthem will head to the fan base headquarters, Circle Brewing, every Wednesday.
Capital Metro has been awarded $750,000 from the Federal Transit Administration to go toward Project Connect's Orange Line, documents show.
The FTA announced the funding round on Thursday, which dispersed $11 million across 12 states and 20 projects. The money is meant to connect communities to affordable transit and housing through the FTA Pilot Program for Transit-Oriented Development planning.
CapMetro said the funds will go toward projects at eight stations spanning 6.5 miles on the South end of the Orange Line, which has a total of 22 stations. The full project stretches across the 20 miles from Southpark Meadows to Tech Ridge.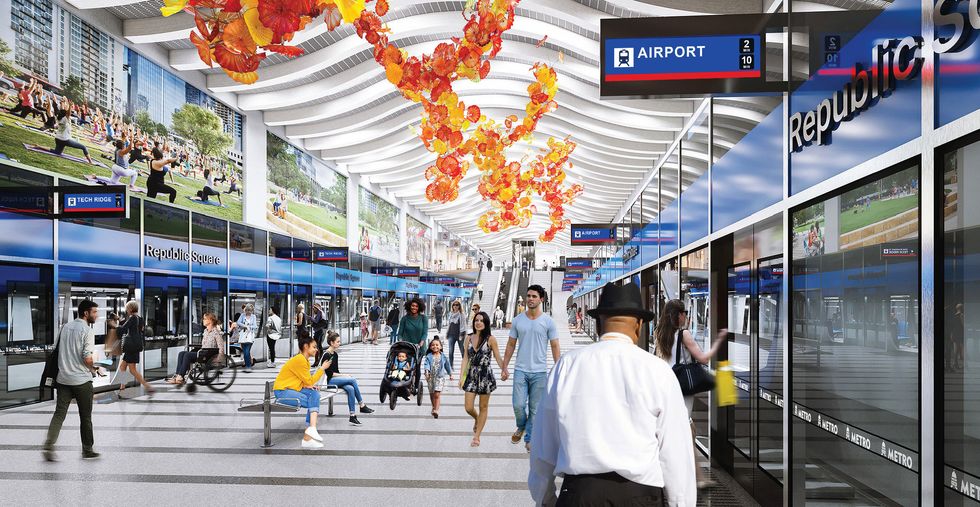 Republic Square station is along the Orange Line. (Project Connect rendering)
Once it's complete, which officials estimate will be in 2028, the Orange Line will reach the following stations:
Tech Ridge (Park & Ride)
North Lamar International District
Crestview
The Triangle
UT campus
Republic Square
Auditorium Shores
South Congress
Southpark Meadows (Park & Ride)
A $500 million mixed-use development spanning 1,400 acres is coming to Southeast Austin, near Tesla's headquarters at Giga Texas.
Plans for the development by Houston-based real estate firm Hines include 2,500 houses along with multi-family and townhomes, and commercial land. Hines is partnering with Trez Capital, Sumitomo Forestry and Texas-based Caravel Ventures.
The development, which is known as Mirador, will be located off the 130 Toll and Highway 71, which the developers say provides easy access to the Circuit of the Americas Formula 1 racetrack and other Austin attractions like restaurants, parks and live music venues.
Hines also boasts amenities like a 60-acre lake, over 600 acres of greenbelt, community parks, trails and a swimming pool.
"As Austin continues to grow into the tech epicenter of Texas, coupled with a supply-constrained market, the demand for new housing is at its highest," Dustin Davidson, managing director at Hines, said. "Mirador will be critical in providing more options for Austin's growing population and we are excited to work alongside our partners given they each provide a unique and valued perspective in single-family development."
The local housing market has been hot in recent years, with home sales accelerating earlier in the pandemic. In July 2021, the Austin metro area hit its pricing peak at $478,000. As Austonia previously reported, the area has been expected to see the Tesla effect, with the new workforce driving up demand for housing and other services.
The single-family houses are expected to be developed over the course of six years, in phases. Construction on the homes is expected to start this year and home sales will begin in 2023.