Get connected with our daily update
(La Murga de Austin/Twitter)
"Alright, alright, alright, alright, Austin FC," the uniquely Austin chant with hints of McConaughey echoes proudly over a steady drumbeat just outside Austin FC's Q2 Stadium, where La Murga de Austin practices their songs every week in anticipation for the club to start its first-ever season.
---
La Murga, a brassy, drum-led band composed of Austin FC fans at every skill level, was made in the style of fan bands of the same name that follow various teams in Latin America. Formed in Argentina and now found in Colombia, Mexico and other countries, these murgas keep the party going for fans who view futbol games as an all-day celebration.
For a lot of fans in the Latino community, bringing soccer and its traditions to Austin makes the big city feel more unified and familiar. For some, it even feels "a little closer to home."

North Austin resident Ana Salazar said that soccer is a unifying sport that reminds her of time spent with her family in Mexico.
"Whenever I pass the Q2 Stadium, I immediately think of my family and the times we have gotten together to watch our team play," said Salazar, who grew up in a border town in South Texas. "When the home games start and the Latin community goes out to support, they will not only be celebrating our Austin team, but celebrating where we come from and sharing that culture with everyone there."
As of 2019, over 30% of the city's population is of Hispanic or Latino descent. With roots to South and Central America, these residents are no stranger to the global sport of futbol. Austin FC has already banded hundreds together in multicultural fan clubs.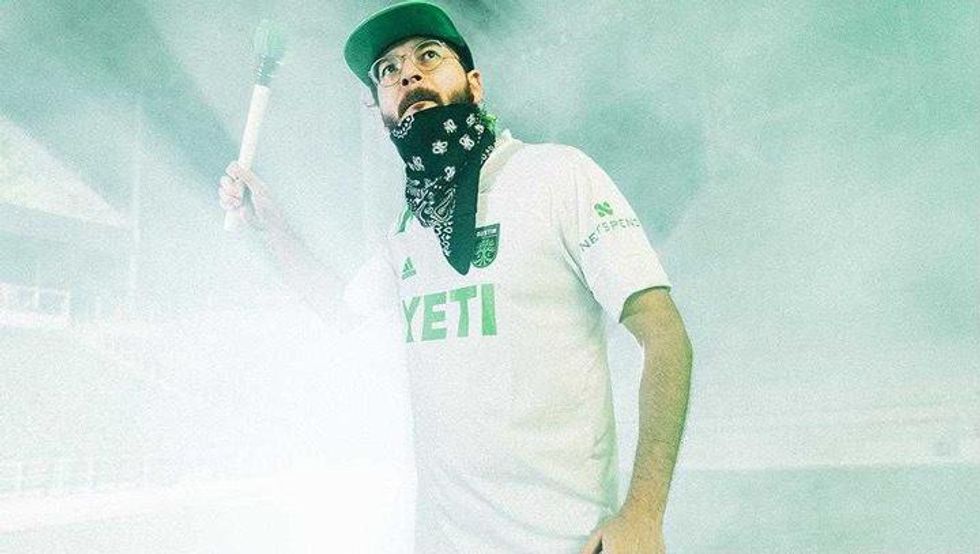 Rigo Rodriguez, a native of Mexico, said that Austin FC reminds him of his team back in Monterrey. (Rigo Rodriguez)
La Murga member Rigo Rodriguez, a native of Monterrey, Mexico, never could have imagined that Austin would have a team with hype like his home team Tigres when he moved to the city in 2013.
Every time he sees someone repping the Verde merch or when he practices classic stadium songs with his bandmates, he's brought closer to the all-day party that is present at each Tigres game.
"People live and breathe the sport, it's what people are looking forward to," Rodriguez said. "It's a way of living, and for me personally that's one of the reasons I was really interested in Austin FC. The last thing I expected was to end up staying in Austin and having a soccer team; it feels close to home."
Because of his passion for the sport, Rodriguez said he joined the fan club Austin Anthem to be a part of the wave of Austin FC hype that first hit the city a few years ago and later became Vice President of Los Verdes, another club of ATXFC supporters.
Rodriguez said that the band as well as Los Verdes have been working for years to make the best gameday experience possible for themselves and other fans.

"It was an opportunity for me to pick something up that's new in the city that I love and try to help create a culture from scratch," Rodriguez said. "A lot of people are born into a team or it already exists, so I wanted to kind of help be a part of what Austin FC is going to be in the city."
With an 11,000 person-and counting-waitlist for Austin FC season tickets and record-breaking sales on their first day, the club has received hype that many MLS teams can only dream of. A lot of this excitement comes from the Latino community. As early as summer 2018, the team adopted their signature "Verde" and black colors, used hashtags like #LISTOS, sent out news in Spanish and reached out to Hispanic-owned businesses and youth programs.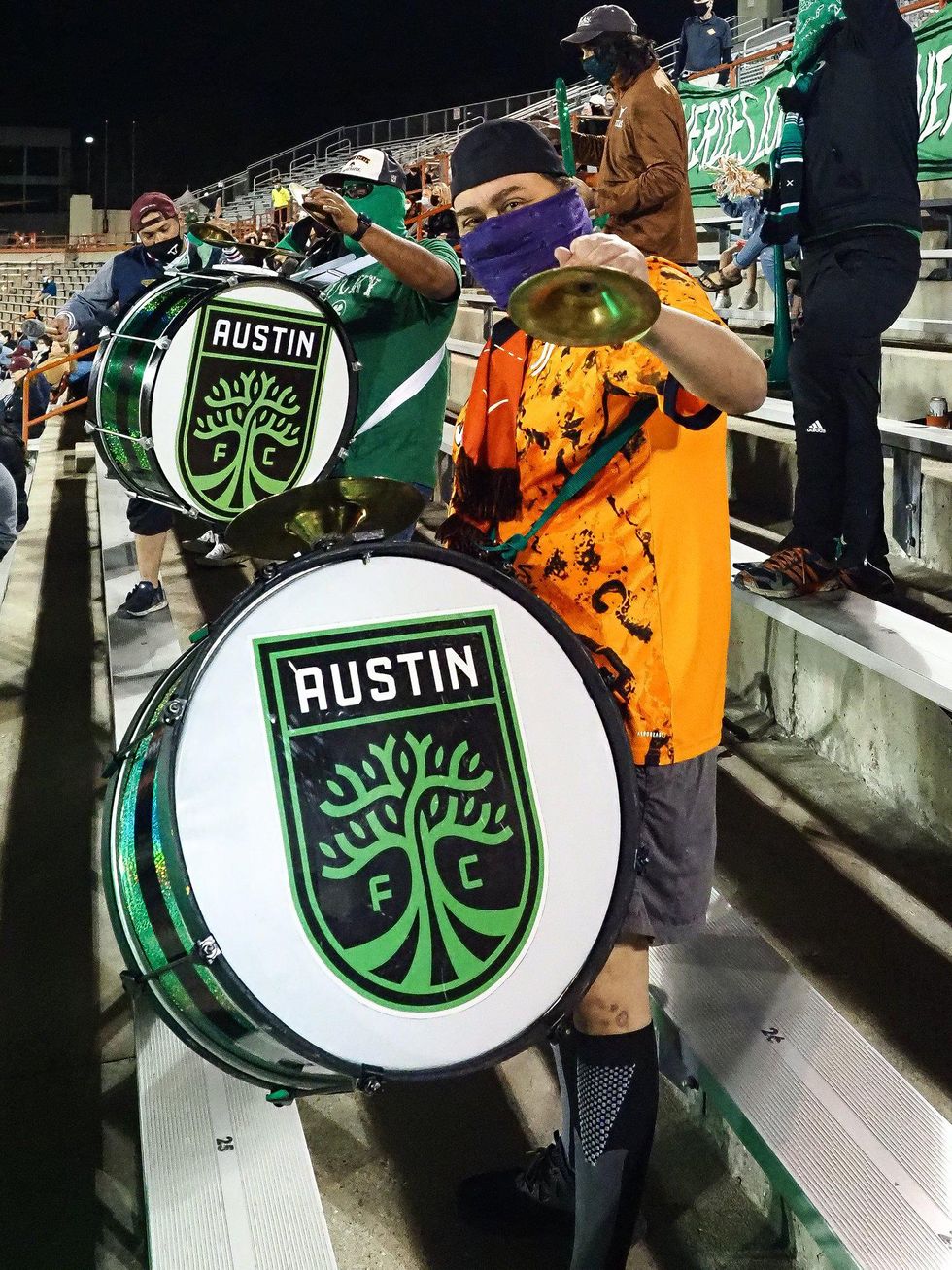 Jorge Chavez is a longtime member of Austin FC fan club Austin Anthem. (Alex Rubio)
Austin Anthem member Jorge Chavez said that the global sport came at the perfect time for the increasingly diverse city.
Chavez said that the team has long recognized the importance of their Latino supporters. Since many of the team's players are from Latin America, Chavez said that athletes and staff have made sure that their ties to the community run deep.
"A lot people here are from all these different places, and they might not have that much in common with each other, but now they do," Chavez said. "I think it's going to be attractive to whoever comes here and calls Austin their home."
As the season ramps up, La Murga and Austin FC supporters aren't just bringing futbol to Austin: they're blending Latino culture and soccer traditions with the city's roots in festivals, music and the sport itself.
"There's all this festival culture already in Austin, with lots of parades, street-style bands and live music, so it's not like we're taking something and making it completely new," Rodriguez said. "Since we have that pool of all kinds of people coming from different places, we're able to do all kinds of things."
Austin FC will play their first-ever game on Saturday, April 17 against LAFC in Los Angeles and won't be back until Saturday, June 19, where they will break in their brand-new stadium with a matchup against the San Jose Earthquakes. Until then, La Murga can be heard playing just outside the stadium every Tuesday night, while Austin Anthem will head to the fan base headquarters, Circle Brewing, every Wednesday.
It's official, jack-of-all-trades Matthew McConaughey is staying out of politics and not running for Texas governor.
In a video posted to social media on Sunday, the Academy award-winning actor set the record straight that he would not be running for governor after greatly considering so by listening and learning about Texas and U.S. politics.
"As a simple kid born in Uvalde, Texas, it never occurred to me that I would one day be considered for political leadership. It's an inspiring and humbling path to ponder," McConaughey said. "It is also a path I am choosing not to take at this moment."
Instead, McConaughey says he will continue to invest in entrepreneurs, businesses and foundations he believes are supporting people in different ways.
The announcement puts an end to the months of speculation that he could announce a bid for governor. While he's previously called politics a "bag of rats" and little indicated he was mulling a run as the Dec. 13 deadline to file was approaching, he still fared well among some voters.
The latest poll by the University of Texas and Dallas Morning News showed he would beat Gov. Greg Abbott by eight percentage points in a head-to-head matchup and would fare even better alone against former congressman Beto O'Rourke, with nearly 50% of respondents choosing McConaughey.
The primaries for the election will take place in March before the November 2022 election for governor. So far, O'Rourke is running as a Democrat against Michael Cooper, president of the Beaumont NAACP, and Deirdre Gilbert, an educator from the Houston area. On the other side, Gov. Greg Abbott is up against conservative commentator Chad Prather and former Texas GOP Chairman Allen West.
Released this month, "Being Texan" is the first of several Texas Monthly titles to come in the build-up to the magazine's upcoming 50th anniversary in 2023. It is divided into four sections: Identity & Culture, Town & Country, Arts & Entertainment and Food & Drink.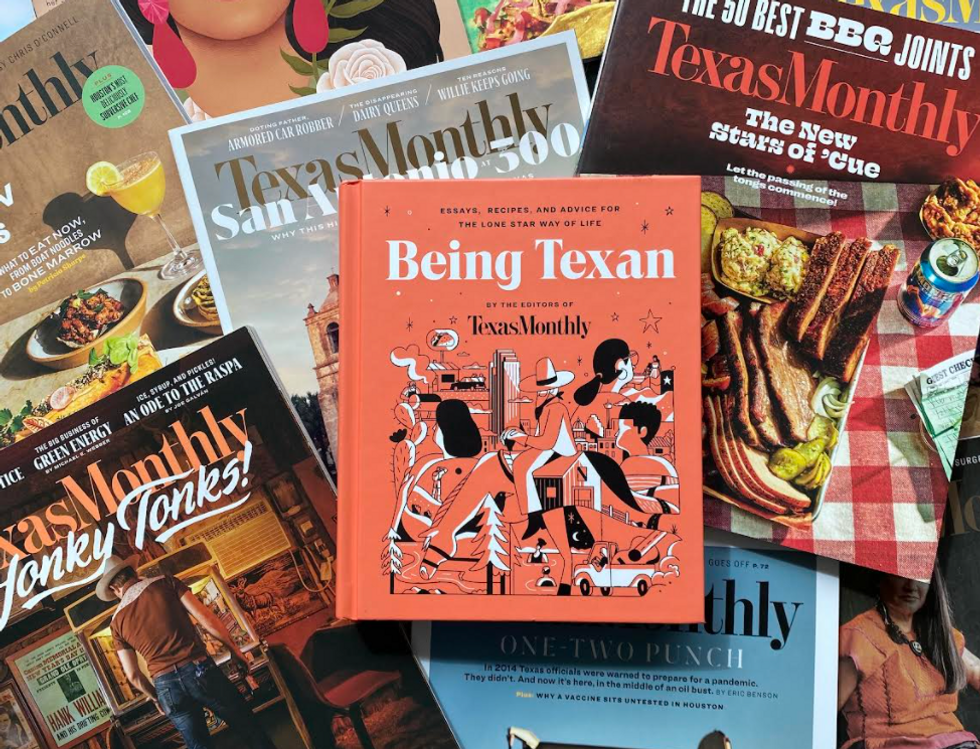 In the introduction, titled "What Does it Mean to Be Texan?," Texas Monthly editor Dan Goodgame addressed the eclectic aspirations of the book, writing: "Our modest goal was to craft a well-informed, thoughtful sampling of the best the state has to offer." To this humble end, forty-two editors were utilized to cover fifty-five topics, which tackle everything from the various dress codes that make up "Texas chic" to Selena's ongoing appeal.
The resulting richness is all over the map, running from Texas Monthly Senior Editor John Nova Lomax's frustration over the frequent mispronunciations of Texas cities ("From Amarila to Wad-a-loop") to Oscar Casares's bittersweet essay on Dia de Los Muertos in the time of COVID ("Souls of the Departed").
The book goes from silly to serious fast, and the pace might unseat some readers who would otherwise just enjoy the ride of pride that comes from being reminded that Texas gave the world Cheetos, Fritos, Doritos, Dr. Pepper, Liquid Paper and the microchip.
So, in a book that switches from the state's early instance on remaining a slave republic to a piece about collecting San Antonio ghost stories, it perhaps goes without saying that the essays on brisket and beer are the easiest to digest.
"Being Texan" does, in truth, contain some delicious and downright literary food writing.
Joe Galvan's "Ode to the Raspa," treats the summertime shaved ice staple as nothing less than a kind of edible ambassador of U.S. cuisine. "They serve as an important and necessary reminder of the fluctuating, imprecise words that American food inhabits," he writes like some semiotics professor, before waxing poetic on how raspas embody childhood innocence as well as "the humidity of a July evening that finds itself at the bottom of a Styrofoam cup."
But readers who are tempted to skim the section on "Strong Texas Women" or "The Evolution of Juneteenth" to get to Paula Forbes' warning not to skip the processed cheese when slow cooking queso, will have missed out on some deep insight into what it means to embrace all the appealing and uneasy aspects of the state.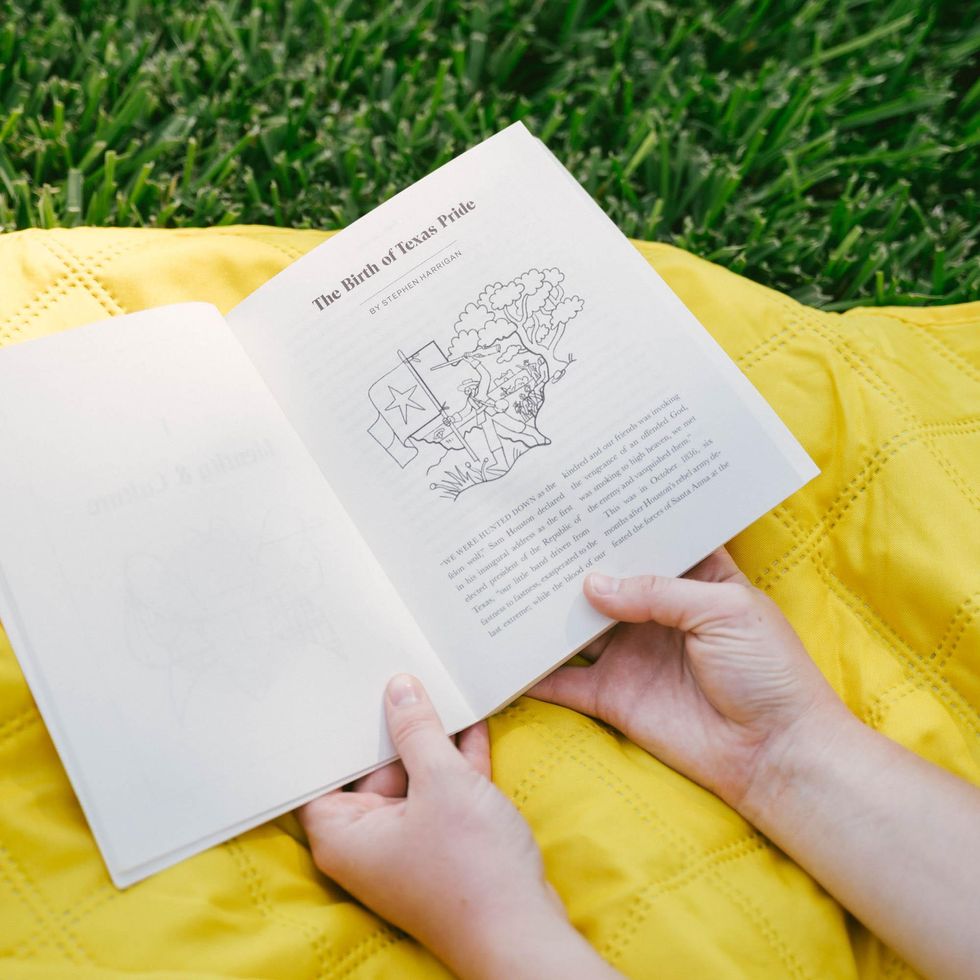 In "A Tale of Two High Schools," Dan Q. Dao, details how, as a Vietnamese kid growing up in Houston, he employed the tropes of Texas culture as a tool of survival. "Perhaps out of a sense of self-preservation, I became enamored with the gilded mythology of Texas, from the folklore of the Alamo to the twang of country music. I wore cowboy boots, showed up for Friday night football games, and rarely missed a rodeo," writes Dao, observing that: "Part of me believed that if I proclaimed my Texanness loudly enough, I would be spared the label of outsider."
The dilemma of the homegrown Texas outsider is artfully explored in Skip Hollandsworth's "Why McMurtry Matter,'' a meditation on the ironic popularity of Larry McMurtry, a writer who wrestled with his relationship to Texas--particularly the Hollywood myths and misconceptions that surrounded the state. Speaking about (to his mind) the perplexing success of "Lonesome Dove," McMurtry said: "All I had wanted to do was write a novel that demythologized the West. Instead, it became the chief source of western mythology. Some things you cannot explain."
There is much about Texas itself that seems hard to explain.
But David Courtney, a senior editor at Texas Monthly, does a good job of speculating on this rare amalgam of conservative pride and fearless experimentation that tends to run through the state, when he writes "Texans believe they possess something deep within themselves that sets them apart, and therefore they kind of do."
Despite the surface-level accessibility of a book that addresses the cultural significance of Neiman Marcus and the extreme brand loyalty to Whataburger, "Being Texan" offers rare input regarding Texas and its citizenry, as well as handy advice for breaking in a pair of cowboy boots.
In a city where live music is heralded above all else, Pete Monfre was surprised to find local musicians working for free that he quit the industry for 10 years in 2006.
Local musicians tended to be underpaid before COVID-19 sent the music industry reeling, but the fallout from the pandemic exasperated the existing problems. Musician and marketer Monfre knows—he's been behind that shaking tip jar, trying to turn a profit while doing what he loves. He's tackling the problem with a unique brand of live shows, which go against the grain, mix business with pleasure and help bring home the bacon.
The shows, called Stories from the Road, are an informal storytelling jam session at The Saxon Pub that encourages interaction between the artist and audience.
After a brief hiatus due to ongoing woes of the pandemic Stories from the Road came back to The Saxon Pub on Saturday. It was the first of 23 consecutive shows that didn't sell out, which Monfre attributes to the break of not having shows.
"We called it Stories from the Road—not a band, an experience," Monfre said. "We're not going to rehearse, we're not going to have a list, we're not going to prepare, every show is a one-off and you will never see it again."
His shows start early at 6 p.m., with a rotating group of musicians playing blues or Americana who need not rehearse. This time it featured Mark "Kaz" Kazanoff on saxophone and harmonica, bassist Mark Epstein, drummer Kevin Hall and Adam Pryor on Hammond Organ.
You'll probably end up spending a bit more than the typical show at the Saxon Pub, around $30 per person, but each show goes directly to supporting the artists that made it.
"Part of the mission was to advocate for fair wages for musicians and to help musicians understand their economic value," Monfre said. "Now I can afford to pay musicians a modest guarantee and we call that the Fair Play approach to live music."
Monfre moved to Austin as a young adult with the intention of "conquering the music industry" in 1981, which he told Austonia he did not do but did meet "a lot of interesting people." He left Austin to tour for a few years, then moved to Milwaukee, where he continued to play music.
After returning to Austin in 2006, Monfre discovered some musicians were playing shows for free.
"I'm playing in Chicago and Michigan and hardcore blues places, and we don't play for free," Monfre said. "So I actually quit for 10 years. There is no reason to play for free whatsoever if you just get the model right."
Having already tried to conquer the music industry once, Monfre took a business-forward approach the second time. The model also caters to what he believes is an underserved group: working professionals who want to meet like-minded individuals but also be home by 9 p.m.
Chief Technology Officer for Economic Transformation Technologies David Smith, who has been coming to other Monfre shows since they started in 2016, said he enjoys the improvisational nature of the shows because it reminds him of old Austin.
"The Stories from the Road get back to the root of what music is: the fact that you can sit and jam, make music with musicians because they understand music, and that's the soul of Austin," Smith said. "It really is a celebration of music."
Monfre said the informality is what makes his shows so popular—you'll hear the musicians ask the key for a song, take a request from the crowd, make a lighthearted jab at one another or create a song from scratch.
"They want to see the sausage being made, it's really funny I would have never thought it," Monfre said.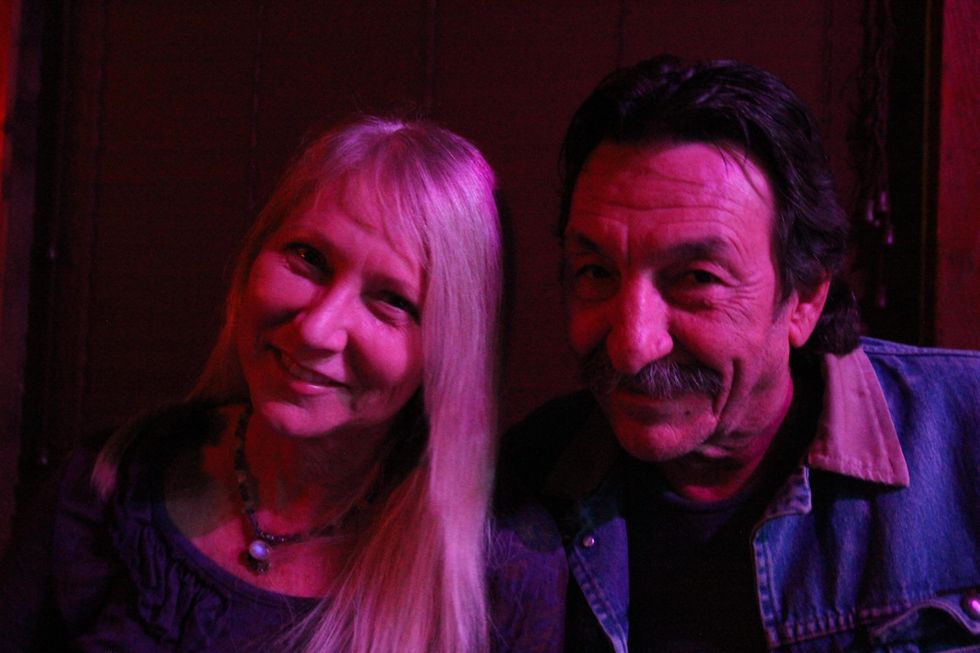 Price (right) said he was happy the show ended early so he could make it home to Lampasas. (Laura Figi/Austonia)
"I am knocked out. It just really didn't get any better than what we just had—this band was so good, the crowd was so good," Price said. "That's what Austin in the '60s and '70s was all about, just everybody throwing it together."
Stories from the Road is returning to The Saxon Pub stage on Dec. 18, with a completely new group of musicians. The show, like always, will start at 6 p.m.