Austonia AM
100% Austin news, info, and entertainment, straight to your inbox at 6 a.m. every morning.
In five minutes, you're fully informed and ready to start another great day in our city.
Get connected with our daily update
(Laura Figi/Austonia)
South Congress is undoubtedly an Austin icon, attracting tourists from all over the world and delighting even native Austinites with its weirdness and charm. While South Congress seems as if it has stood the test of time, the street's past is rife with squalor and change; today's South Congress is a far cry from what it was just 50 years ago.
---
In fact, South Congress is experiencing a bit of a resurgence right now. New Austinites might be surprised to find what this part of town used to be, but those that have lived in the city for decades still remember a very different South Congress experience.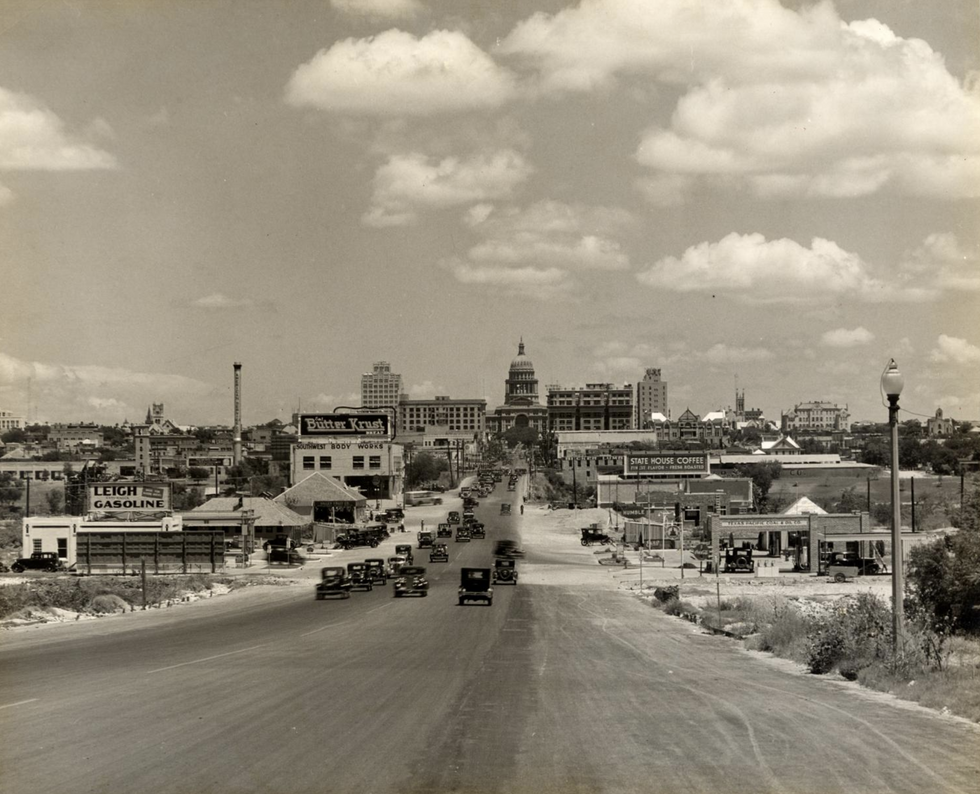 (Austin History Center/Austin Public Library)
South Congress used to be the main road to enter Austin from the south before I-35 was built. From the 1910s to the early 1940s, South Congress experienced a period of growth and development centered around businesses that catered to automobiles: hotels, restaurants and tourist destinations began to crowd the street.

After I-35 was built in the early 1950s, businesses started to gravitate to the newly-minted highway. From there, South Congress saw a period of decline, and by the 1960s the street was mostly shuttered.
With rent at an all-time low and empty buildings galore, the street became a hub for drugs and sex workers in the 1970s. However, the low cost of living also made it a hot spot for musicians and artists.
Randy Eckels, who has been selling handmade jewelry on South Congress since 1976, started living on South Congress in 1984, when he said the area was really worse for wear and sometimes dangerous.
"It was really rundown," Eckels said. "Rent was really, really cheap, but there were a lot of high-crime areas, an awful lot of prostitutes, so I kept a pretty low profile."
Eckels, who has spent time living in Oklahoma and even a ghost town in Colorado, said his time living on South Congress introduced him to a lot of great music via The Continental Club, which has been operating on the street since 1955.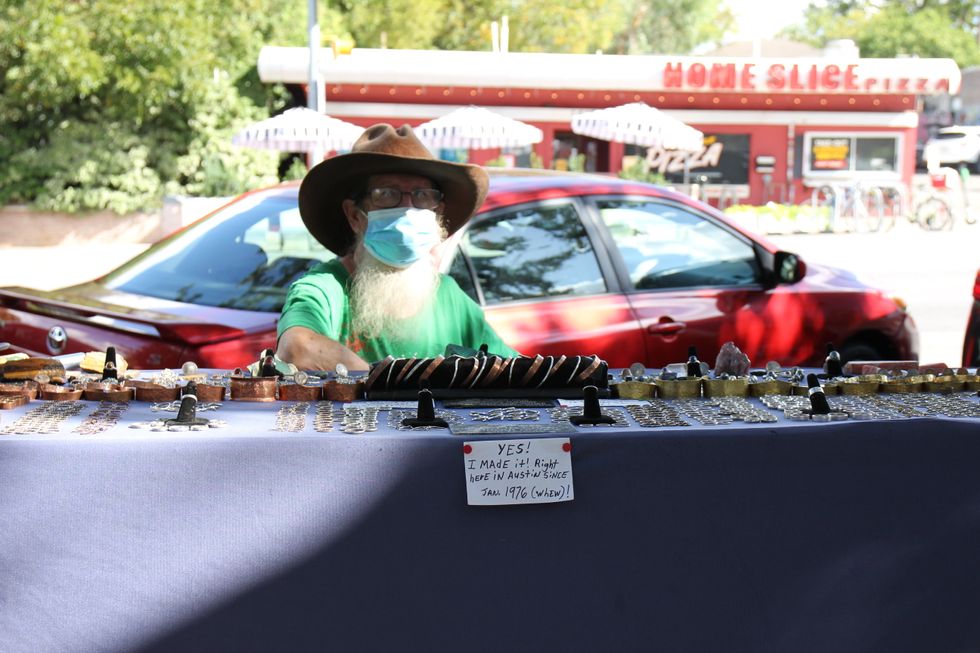 Randy Eckels has been selling his jewelry on SoCo for nearly 50 years.(Laura Figi/Austonia)
The area remained pretty seedy until the late 1990s, bleeding into the 2000s .
After quitting her Manhattan law job and moving back to Austin in 1994, native Austinite Liz Lambert took advantage of the low real estate prices when she bought the Hotel San José on the cheap. Even though she started running the hotel as a low-rent residential option, Lambert had bigger plans.
Lambert has since expanded her empire on South Congress. Now her Bunkhouse Group hospitality company covers Jo's Coffee, the Hotel Saint Cecilia, the Austin Motel and the Hotel Magdalena, which just opened, all on or near, South Congress.
Similarly, in 1995 Rob and Cathy Lippincott bought the building that would become Güero's Taco Bar, a South Congress Mexican food staple.
Ever since, the street has been in a period of growth.
Alan Barnett, owner of Prima Dora gift shop on 1912 S. Congress Avenue, has been living in the South Congress area for the last 20 years. Barnett, who is a native of south Texas, said he was drawn to Austin because it had a small town feel. South Congress offered the added benefit of feeling like its own little city.
"I live my life in this neighborhood. I go to the jazz club down the street. I go to eat at all these restaurants, and they know my name," Barnett said. "If you stay south of the river in this area, it feels like a little town."
When Barrett arrived on South Congress in 2000, it still had unsavory traits. He recalls seeing prostitutes every day and rent-by-the-hour motels.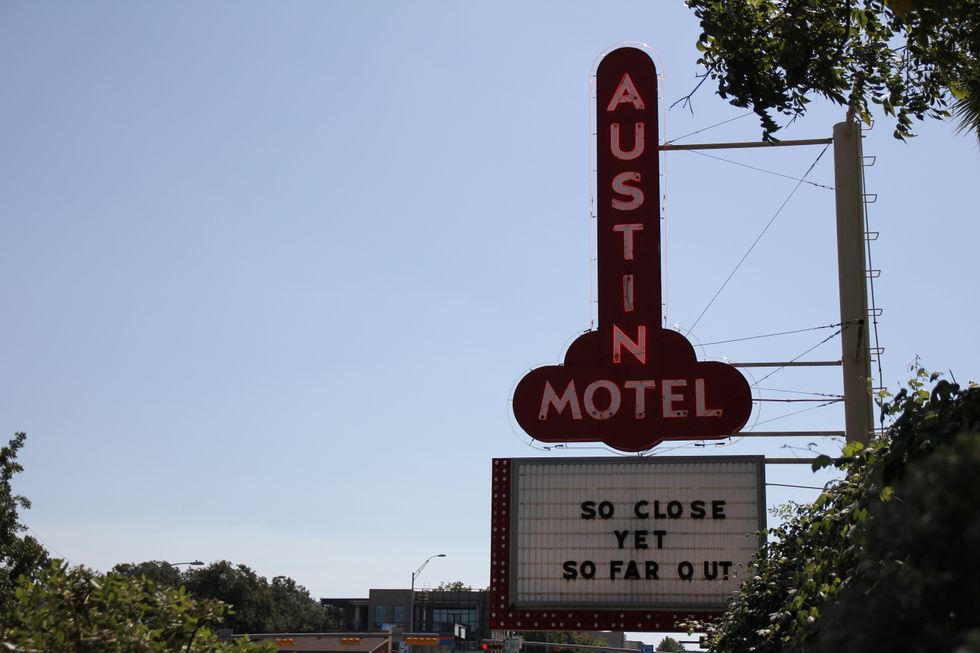 Austin Motel has been around since 1938 but did not rent rooms by the hour.(Laura Figi/Austonia)
Now that the area is more family friendly, Barnett said the area has been in a golden era of sorts for the past few years, but he does worry about the area losing its personality.
"Up until probably the last two or three years, it still maintained this kind of small town coolness that everyone moved here to find," Barnett said. "I think it's starting to change now. I'm sure there's bigger financial interests coming in because that's what they do—they find the place that's happening and cool. And then come in and change it."
South Congress is already missing some relics of the past: famous dance hall Armadillo World Headquarters was located just off South Congress and closed in 1980; longtime restaurant Night Hawk, also closed in 1980; and Sfanthor House of Wax Museum, which closed more recently, in 2016.
Eckles said South Congress just isn't what it used to be.
"I think the quality of life has gone down a great deal," he said. "It used to be really easy to live well here without a lot of money, and that's not true anymore."
Eckels used to live inside the building that would become Uncommon Objects. Uncommon Objects, as well as other former South Congress favorites like South Congress Massage and Turquoise Door II, have moved due to high rent costs. Now, it costs on average $1,500 monthly to rent an apartment on South Congress.
He is also worried many of the historic, defining businesses around Austin aren't going to make it due to COVID-19 regulations.
While many beloved Austin businesses, like Cap City Comedy, Threadgills and Barracuda, have closed down due to COVID-19, most South Congress businesses are hanging in there, in part due to the Paycheck Protection Program. Prominent businesses on South Congress like Hopdoddy Burger Bar, Birds Barbershop, Austin Motel, Home Slice Pizza and Güero's Taco Bar all received PPP loans.
South Congress has certainly changed in the past 50 years, but it has yet to lose its weirdness. Sheri Hope has been selling her art on South Congress for about two months. Hope moved to Austin from Houston because she had always been told Austin was where her art belonged.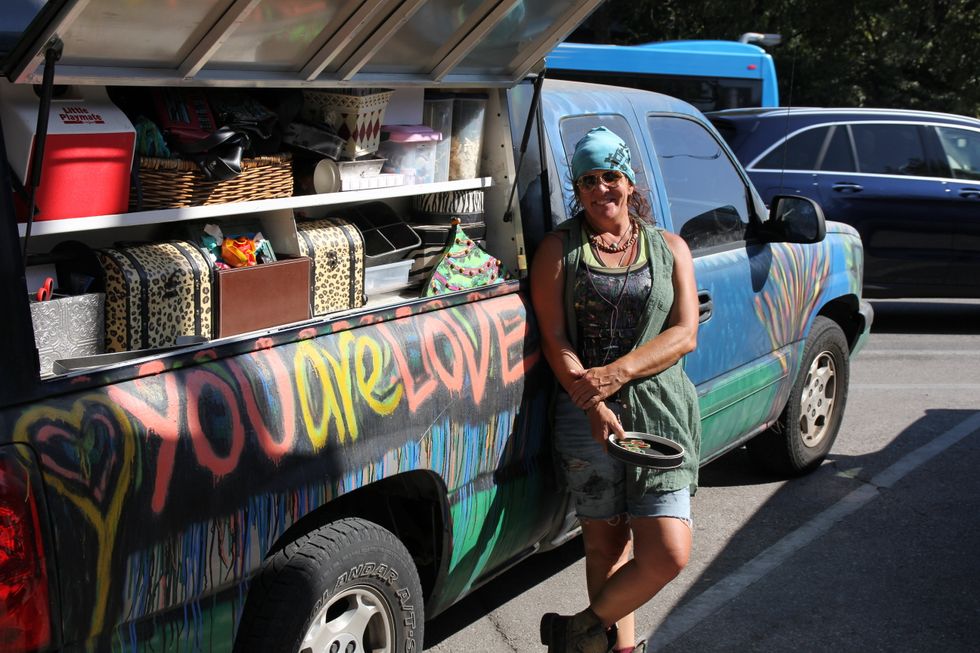 Artist Sheri Hope has been selling her art on SoCo since she moved to the city.(Laura Figi/Austonia)
"People have been very appreciative of my art and I think it's an acceptance thing," Hope said. "My art is very raw and real and people can relate to it."
Hope said she wasn't sure she was going to stay when she arrived, but after a few days, she felt like she had found a home in Austin and on South Congress.
"People are very accepting of differences here, it seems to me," Hope said. "I think their minds are a little bit more open to different possibilities."
Austin has been on the fast-track to growth for 10 years, according to Census data. (Stuart Seeger/CC)
Austin is on a rollercoaster that only goes up, according to the new U.S. Census Bureau data that says the city has been the fastest-growing large metropolitan area in the U.S. for a full 10 years.
The data, which was released on Tuesday, said the population between the five counties in the Austin metro area—Travis, Williamson, Hays, Bastrop and Caldwell—increased by 3% since 2019 and 34% since 2010.
Austin still isn't the largest metro area but it does have the fastest population growth compared to other U.S. metro areas with over a million people. In the past decade, the metro population has gone from around 1.7 million to 2.3 million people.

The huge increase in Travis County alone is enough to bring the city closer to the leagues of other big cities, jumping above San Francisco and San Jose, California and Jacksonville, Florida in the ranks of most populous.
An increase of more than half a million people in the metro area puts it as the 29th largest, an increase of one spot from last year.
However, in terms of just population growth compared to last July, Austin was beaten by a few other Texas cities: Dallas ranked first in the U.S. with an increase of 119,748 and Houston took third, gaining 91,078. Austin ranked fourth with a growth spurt of 67,197, averaging out to 184 new people per day including natural increase, or the difference caused by births and deaths.

Overall, Texas gained the most residents out of all other U.S. states.
With companies like Tesla, which has promised to hire 10,000 people at the new Gigafactory, Oracle, Samsung and Google putting down roots in Austin and Texas tax breaks and lack of personal income tax, it's no surprise companies and people are flocking to the Lone Star State.
We asked you what you wanted and you told us. More newsletter!
Austonia launched its new and improved newsletter today. You can expect:
100% Austin news, info and entertainment
Sent straight to your inbox at 6 a.m. every morning
In 5 minutes or less, you're fully informed and ready for a great day
Sign up here:
This week, Austin FC Head Coach Josh Wolff returns to a team that has his name plastered on their stadium walls.
Wolff, Sporting Kansas City's fourth-place all-time scorer, is returning home to Kansas City, but this time, he's the opponent as Austin FC looks to up their win streak to three straight games.
The MLS is abuzz with Austin FC's quick rise in the standings—predicted to just maybe crack the playoffs, the club is already ninth in Week 4's MLS Power Rankings and fourth in the West. The club is coming off of a breakout 3-1 win over the Colorado Rapids and a slower-paced, but still decisive, victory over Minnesota United FC.
It's only the start, however. The club is facing a few injuries, and Wolff predicts that clubs are going to try to crack the league's golden team. "We want to play a certain way and some teams want to destroy that," Wolff said.
Here's what to expect for Austin FC's fourth-ever match on the road this weekend.
What to expect
¡Bienvenido de nuevo, @alanpulido! :boom:#RSLvSKC | #SportingKC | #VamosKC pic.twitter.com/Y8BzfVsqKn

— Sporting Kansas City (@SportingKC) May 1, 2021
A founding MLS member, Sporting KC has been around since they were the Sporting KC Wizards in 1995. They're not having the greatest start, however. KC has given up five goals and scored three so far, most notably losing 3-1 to an on-fire Real Salt Lake on Saturday.
The lone goal they scored was a doozy, though. KC's Khiry Shelton sent a smooth cross along the ground to Gianluca Busio, who, in a clever move, faked out on the pass and let it keep rolling. Kansas' leading striker, Alan Pulido, was there to score his first goal, and the play was completed in a matter of seconds.
Austin FC clearly needs to dismantle the chemistry between Pulido and team. Busio, especially, has been trying to create looks for the club. Kansas City is lacking some bite in their defense, however, and it looks like their back end is sometimes hesitant to go after the ball. Good news for Austin.
Could Austin FC get insights from KC vet Matt Besler, who will most likely join Wolff as a hall of famer after 12 seasons with the club? Wolff says maybe.
"I certainly expect Matt to give us some information, an inside scoop," Wolff said.
If the pattern continues, ATX might see more roughing up of Cecilio Dominguez, who has been targeted after his two-goal breakthrough against Colorado. They can also expect Kansas City and other clubs to start pressing higher up the field, bringing in more physicality and disrupting the club's offensive structure.
However, their new strong midfield, headlined by Captain Alex Ring, and a chance at lucky goal No. 3 for Diego Fagundez could propel Austin FC forward if they continue to go full steam ahead.
Projected starting lineup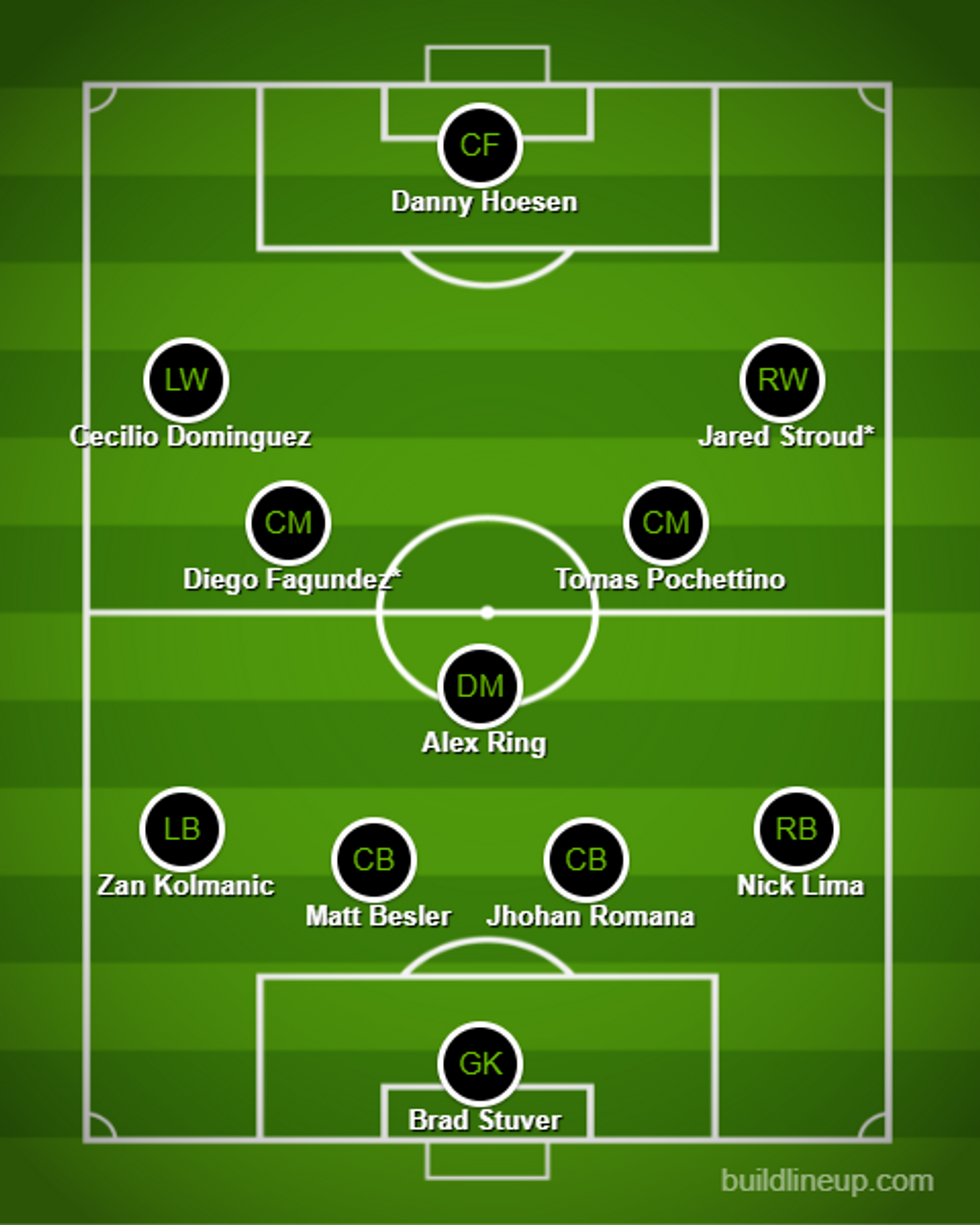 Why fix something that isn't broken? Austin FC finally found their stride in midfield with the Holy Trinity of Alex "ringleader" Ring, repeat goal-scorer Diego Fagundez and Designated Player Toto Pochettino. No hate to Daniel Pereira, however. He could easily start too, but it seems as though the 20-year-old will have to wait for that Fagundez fire to burn out before he sees the starting pitch again.
Same goes for right wing. It's a good thing when a team has multiple players who could be on the starting XI, and Rodney Redes is no exception. He stood out in preseason and against LAFC and very nearly scored against both the Rapids and Minnesota, but Jared Stroud is proving a great strategist at the front of the field. He provided the cross that led to Fagundez' goal, and he's threatened goal with a few shots of his own.
Other than that, we can probably expect more of the same. Matt Besler is going head-to-head against his former teammates, and Zan Kolmanic is adjusting to the MLS after former starting left back Ben Sweat tore his ACL two matches ago.
Austonia FC