Get connected with our daily update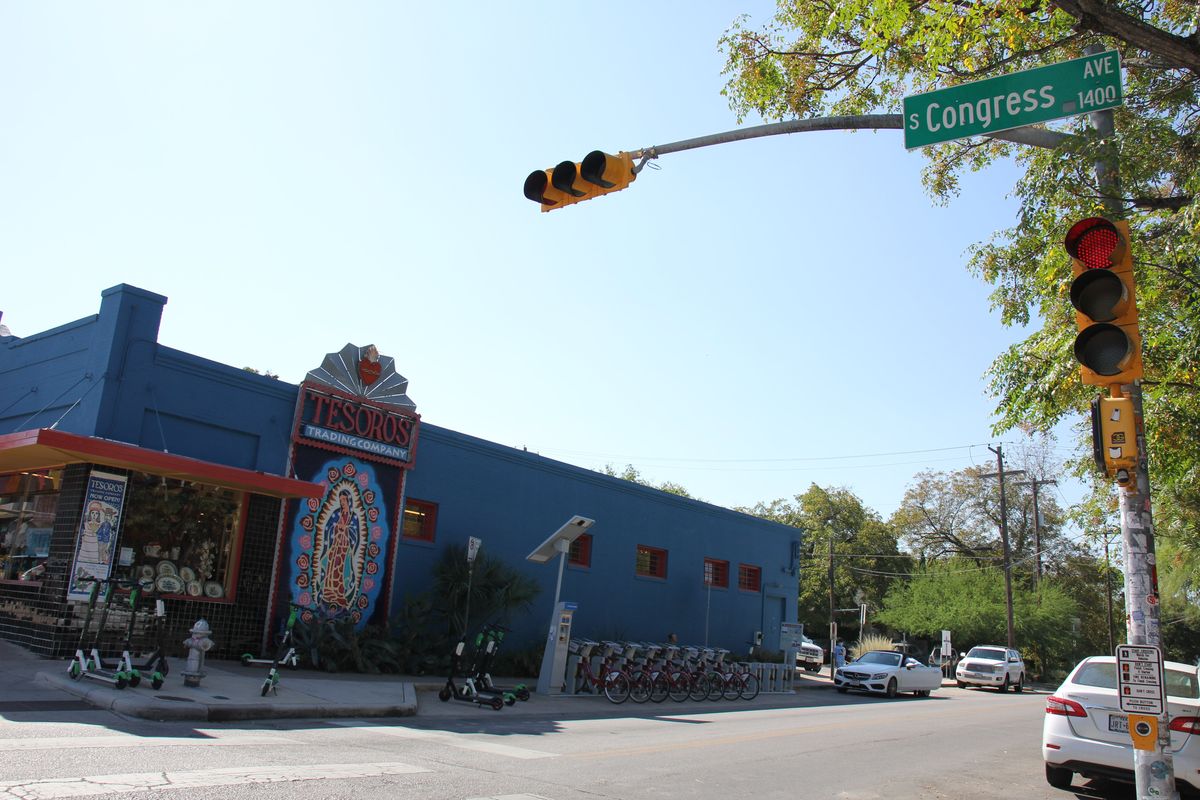 (Laura Figi/Austonia)
South Congress is undoubtedly an Austin icon, attracting tourists from all over the world and delighting even native Austinites with its weirdness and charm. While South Congress seems as if it has stood the test of time, the street's past is rife with squalor and change; today's South Congress is a far cry from what it was just 50 years ago.
---
In fact, South Congress is experiencing a bit of a resurgence right now. New Austinites might be surprised to find what this part of town used to be, but those that have lived in the city for decades still remember a very different South Congress experience.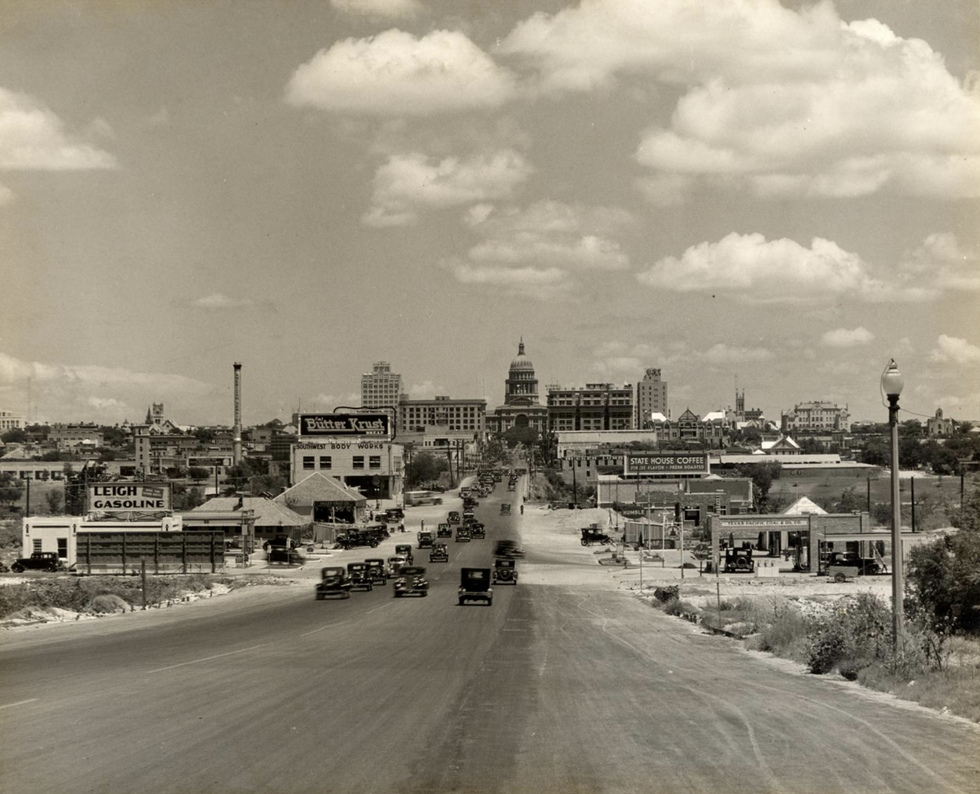 (Austin History Center/Austin Public Library)
South Congress used to be the main road to enter Austin from the south before I-35 was built. From the 1910s to the early 1940s, South Congress experienced a period of growth and development centered around businesses that catered to automobiles: hotels, restaurants and tourist destinations began to crowd the street.

After I-35 was built in the early 1950s, businesses started to gravitate to the newly-minted highway. From there, South Congress saw a period of decline, and by the 1960s the street was mostly shuttered.
With rent at an all-time low and empty buildings galore, the street became a hub for drugs and sex workers in the 1970s. However, the low cost of living also made it a hot spot for musicians and artists.
Randy Eckels, who has been selling handmade jewelry on South Congress since 1976, started living on South Congress in 1984, when he said the area was really worse for wear and sometimes dangerous.
"It was really rundown," Eckels said. "Rent was really, really cheap, but there were a lot of high-crime areas, an awful lot of prostitutes, so I kept a pretty low profile."
Eckels, who has spent time living in Oklahoma and even a ghost town in Colorado, said his time living on South Congress introduced him to a lot of great music via The Continental Club, which has been operating on the street since 1955.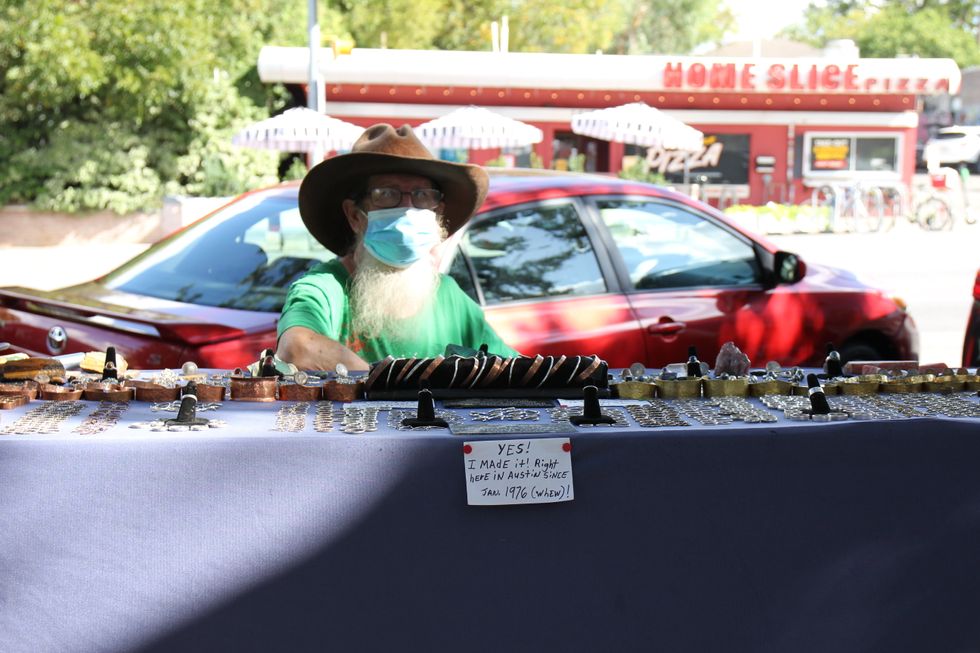 Randy Eckels has been selling his jewelry on SoCo for nearly 50 years.(Laura Figi/Austonia)
The area remained pretty seedy until the late 1990s, bleeding into the 2000s .
After quitting her Manhattan law job and moving back to Austin in 1994, native Austinite Liz Lambert took advantage of the low real estate prices when she bought the Hotel San José on the cheap. Even though she started running the hotel as a low-rent residential option, Lambert had bigger plans.
Lambert has since expanded her empire on South Congress. Now her Bunkhouse Group hospitality company covers Jo's Coffee, the Hotel Saint Cecilia, the Austin Motel and the Hotel Magdalena, which just opened, all on or near, South Congress.
Similarly, in 1995 Rob and Cathy Lippincott bought the building that would become Güero's Taco Bar, a South Congress Mexican food staple.
Ever since, the street has been in a period of growth.
Alan Barnett, owner of Prima Dora gift shop on 1912 S. Congress Avenue, has been living in the South Congress area for the last 20 years. Barnett, who is a native of south Texas, said he was drawn to Austin because it had a small town feel. South Congress offered the added benefit of feeling like its own little city.
"I live my life in this neighborhood. I go to the jazz club down the street. I go to eat at all these restaurants, and they know my name," Barnett said. "If you stay south of the river in this area, it feels like a little town."
When Barrett arrived on South Congress in 2000, it still had unsavory traits. He recalls seeing prostitutes every day and rent-by-the-hour motels.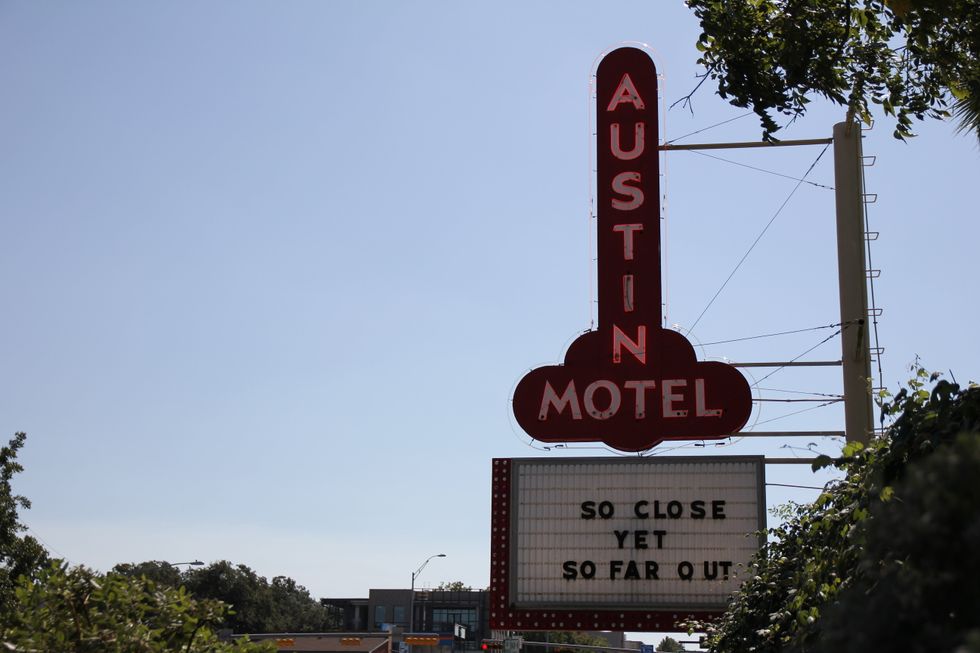 Austin Motel has been around since 1938 but did not rent rooms by the hour.(Laura Figi/Austonia)
Now that the area is more family friendly, Barnett said the area has been in a golden era of sorts for the past few years, but he does worry about the area losing its personality.
"Up until probably the last two or three years, it still maintained this kind of small town coolness that everyone moved here to find," Barnett said. "I think it's starting to change now. I'm sure there's bigger financial interests coming in because that's what they do—they find the place that's happening and cool. And then come in and change it."
South Congress is already missing some relics of the past: famous dance hall Armadillo World Headquarters was located just off South Congress and closed in 1980; longtime restaurant Night Hawk, also closed in 1980; and Sfanthor House of Wax Museum, which closed more recently, in 2016.
Eckles said South Congress just isn't what it used to be.
"I think the quality of life has gone down a great deal," he said. "It used to be really easy to live well here without a lot of money, and that's not true anymore."
Eckels used to live inside the building that would become Uncommon Objects. Uncommon Objects, as well as other former South Congress favorites like South Congress Massage and Turquoise Door II, have moved due to high rent costs. Now, it costs on average $1,500 monthly to rent an apartment on South Congress.
He is also worried many of the historic, defining businesses around Austin aren't going to make it due to COVID-19 regulations.
While many beloved Austin businesses, like Cap City Comedy, Threadgills and Barracuda, have closed down due to COVID-19, most South Congress businesses are hanging in there, in part due to the Paycheck Protection Program. Prominent businesses on South Congress like Hopdoddy Burger Bar, Birds Barbershop, Austin Motel, Home Slice Pizza and Güero's Taco Bar all received PPP loans.
South Congress has certainly changed in the past 50 years, but it has yet to lose its weirdness. Sheri Hope has been selling her art on South Congress for about two months. Hope moved to Austin from Houston because she had always been told Austin was where her art belonged.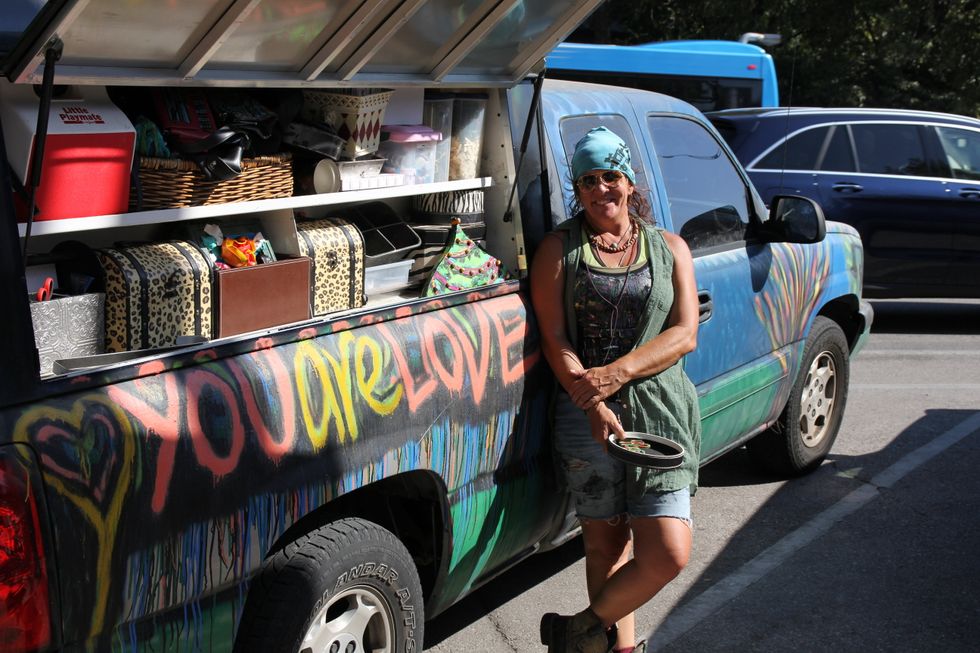 Artist Sheri Hope has been selling her art on SoCo since she moved to the city.(Laura Figi/Austonia)
"People have been very appreciative of my art and I think it's an acceptance thing," Hope said. "My art is very raw and real and people can relate to it."
Hope said she wasn't sure she was going to stay when she arrived, but after a few days, she felt like she had found a home in Austin and on South Congress.
"People are very accepting of differences here, it seems to me," Hope said. "I think their minds are a little bit more open to different possibilities."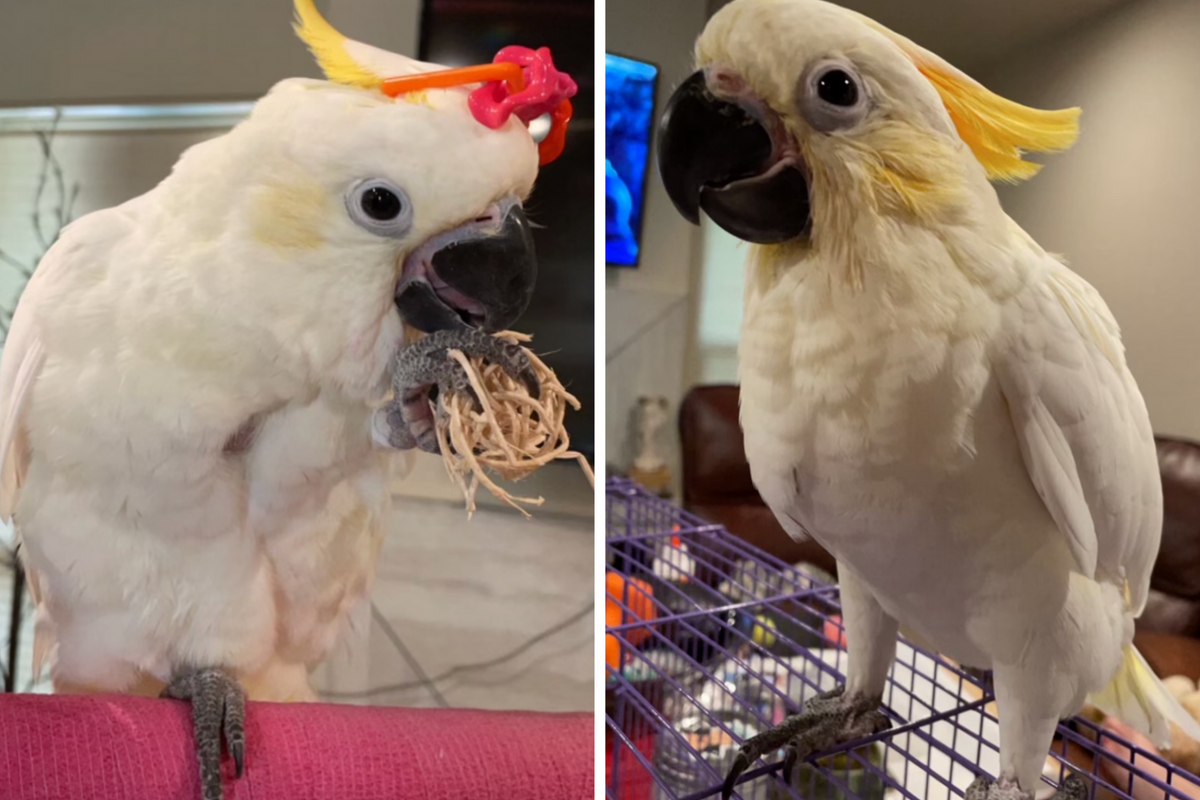 A big-money bird has been stolen from a northwest Austin pet store.
Kelsey Fernandez, the owner of a $6,000 sulphur and citron-crested cockatoo named Lemon Grab, said the emotional support animal was taken from the Gallery of Pets store, around closing time on Sunday.
"I've struggled with mental illness my entire life, and ever since I got him I've been doing so much better," Fernandez told Austonia.
The $6k cockatoo is young and will starve unless he is fed by hand, Fernandez said.
In a surveillance video, a man appears to have something under his shirt as he and two others exit the business around the same time the store believes that Lemon Grab was stolen.
Fernandez said a report has been filed with the Austin Police Department with an $1,000 reward for his return.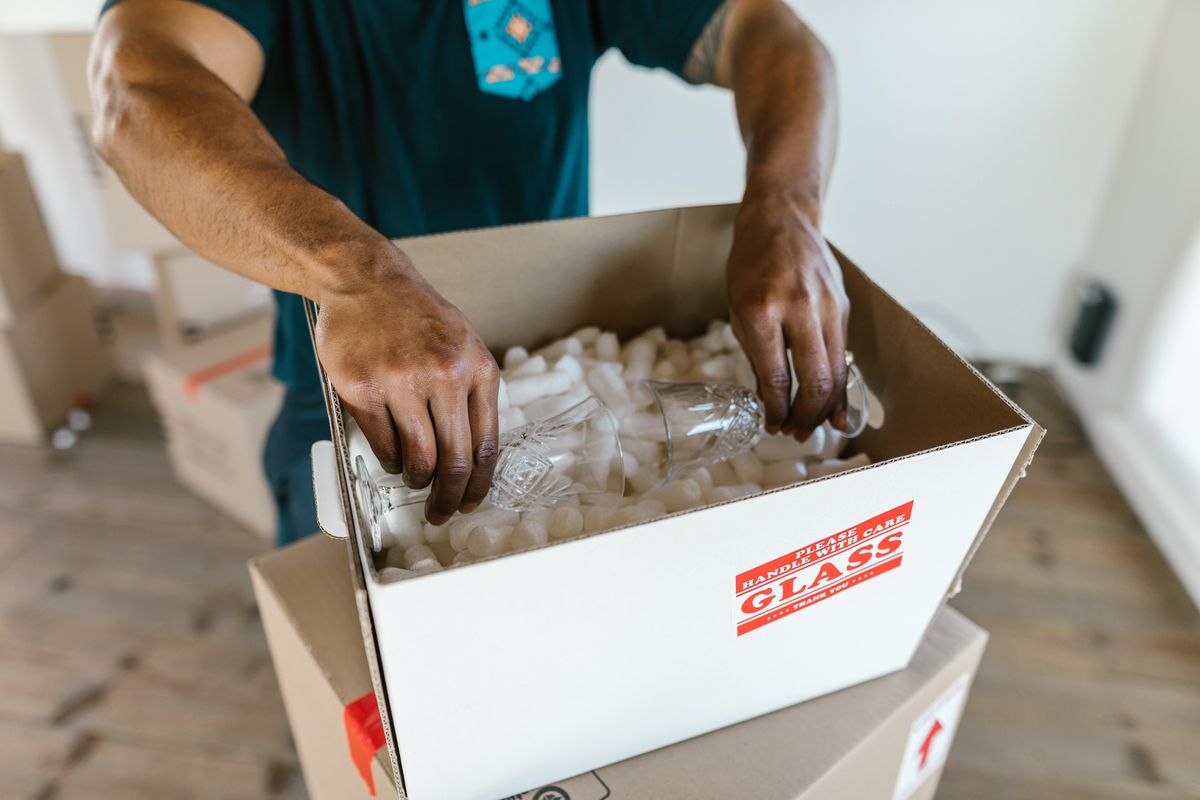 Introverts and personal space lovers may not want to make the move to Austin anytime soon: The Texas capital saw a bigger increase in one-bedroom rent prices than almost any other U.S. city in April, according to a Rent.com report.
Austin's one-bedroom rent has more than doubled—a 112% increase—from April 2021 to 2022, the report said. Only Oklahoma City saw a higher year-over-year increase with a 133% jump.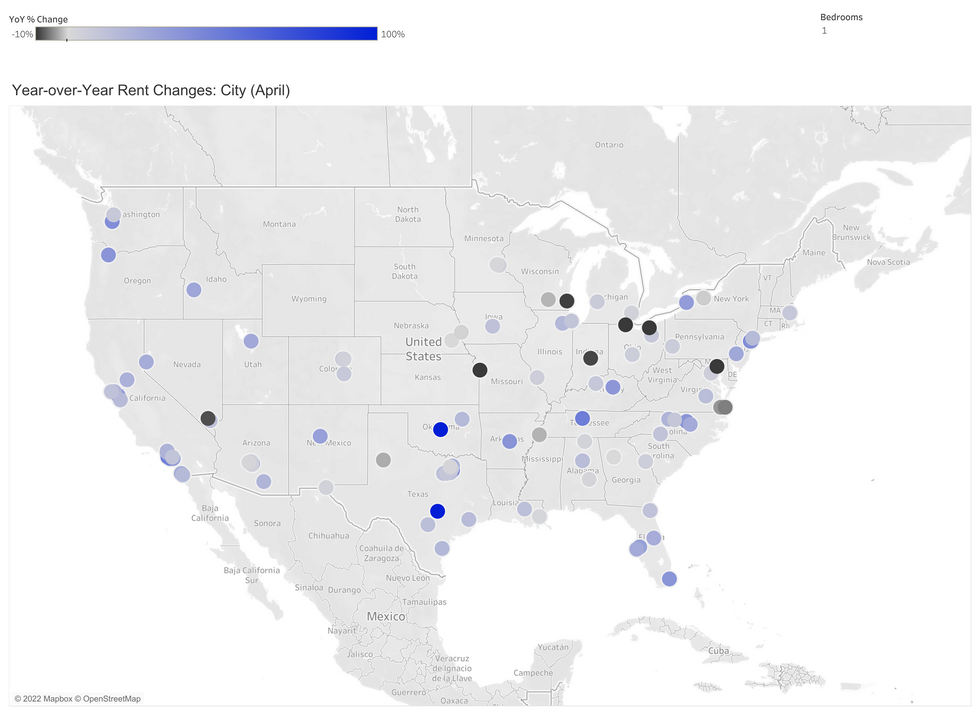 Austin also had the fourth-highest increase in two-bedroom rent, with a 50% increase in the past year. The city joined a nationwide trend where rents were up 8.3% year-over-year across the U.S, a trend exacerbated by a 6.2% increase in inflation in the same time period.
But "not everyone is experiencing inflation the same way," Redfin Deputy Chief Economist Taylor Marr said in the report, and a brunt of the load has gone to cities with more move-ins. While over 90% of state rental markets increased in the last year, that jump was seen most in Sun Belt states, including Texas, Arizona and Florida.
Even with breakneck increases in rent, however, Austin's rent prices still haven't cracked the top 10: the city's one-bedroom apartments are the 12th most expensive in the nation with an average price of $2,918. Meanwhile, its two-bedrooms fall behind Texas cities Frisco, Dallas and Plano and come out 34th on the list with a $2,302 average monthly rent.