Get connected with our daily update
The Oakwood Cemetery is said to have souls roaming around. (Steven Joyner/Austonia)
As Halloween makes us second guess if that cold spot was a ghost or simply the cool front, keep your guard up because there are supposed haunted grounds in the city.

Austin is largely free of widespread hauntings but that doesn't mean it doesn't have its fair share of phantoms if you know where to look. Here are some of Austin's most haunted burial grounds.
Oakwood Cemetery
Originally called the city cemetery, Oakwood Cemetery is Austin's oldest burial ground and has been standing since the 1850s. Though record-keeping isn't as robust from its early days, with over 40 acres of land and more than 25,000 people buried, Oakwood Cemetery is said to be the permanent home to some well-known Texans: U.S. Marshall and Texas Ranger John Barclay Armstrong who passed in 1913, Alamo survivor Susanna Dickinson who passed on in 1883, radio personality John Henry Faulk who was buried in 1990.
Oakwood Cemetery is also known for its fair share of hauntings—note that not all who lie there are resting in marked graves and some of the early marked graves, like 1897's "Little Brother" gravestone, are haunting in and of themselves.
So, why should you stay away from Oakwood Cemetery at night? You might run into the ghost of the first of the Servant Girl Annihilator's victims, 17-year-old Eula Phillips, who was murdered by her then-husband with an axe. Philips is said to wander the grounds lamenting her violent death with tears. Dickinson, who died at the age of 68, may also appear to you and is said to be the most visual of specters that roam the grounds.
Oakwood Cemetery is known for graverobbing—rumor has it that university professors used to steal bodies from unmarked graves to use as cadavers for their students—so you might encounter the souls who are still roaming the cemetery, looking for their bodies.
Shoal Creek Indian Massacre Site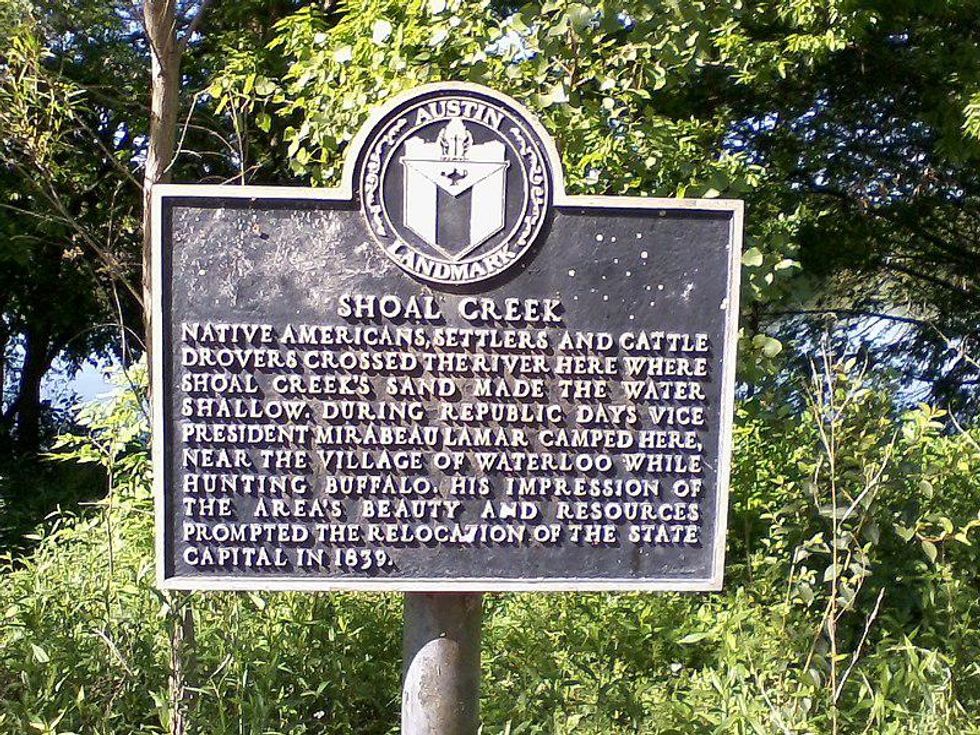 The historical marker is located at 24th Street at Shoal Creek. (austinghosts.com)
Shoal Creek, like nearly all of the United States, can be traced back thousands of years to 9,000 B.C. with Native American arrowheads. Settlers would camp along the mouth of the creek, including famous residents like the second president of the Republic of Texas Mirabeau Lamar, where it is said they engaged in a turf war with the Native Americans who resided right nearby. Those who weren't killed by Comanche warriors were killed by cholera and were buried along the creek. It is said that a mass grave, filled with victims of yellow fever, cholera and unexplained violence, lies beneath the creek.
Of the hauntings most commonly seen at Shoal Creek, watch out for cold spots in the middle of summer, vanishing orbs of light called "Marfa Lights," vanishing apparitions, unexplainable noises at night, sudden sickness and nightmares after visiting.
The Austin State Hospital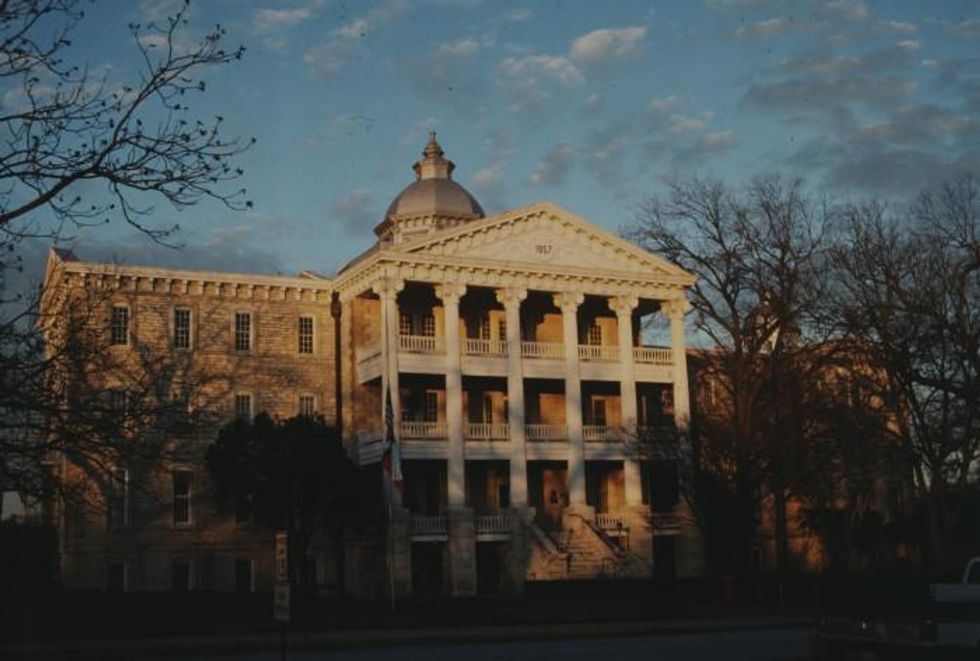 The Austin State Hospital is still operating. (Texas Historical Commission National Register Collection and the Portal to Texas History)
When the Austin State Hospital took in its first patients in 1861, it was meant to be a beacon of hope for the mentally ill to recover from the stressors of everyday life. On any given day, the hospital would treat and allegedly sometimes experiment on anywhere from 200-4,000 patients and after an unfortunate death, bodies that were not claimed were buried in the cemetery out back behind the hospital. When the cemetery inevitably filled up, bodies were exhumed and transferred to a burial ground just over two miles away. Though they say all the bodies were transferred, legend tells that some have been left on the still-operating hospital's grounds just six feet below.
The Austin State School and State School Farm Colony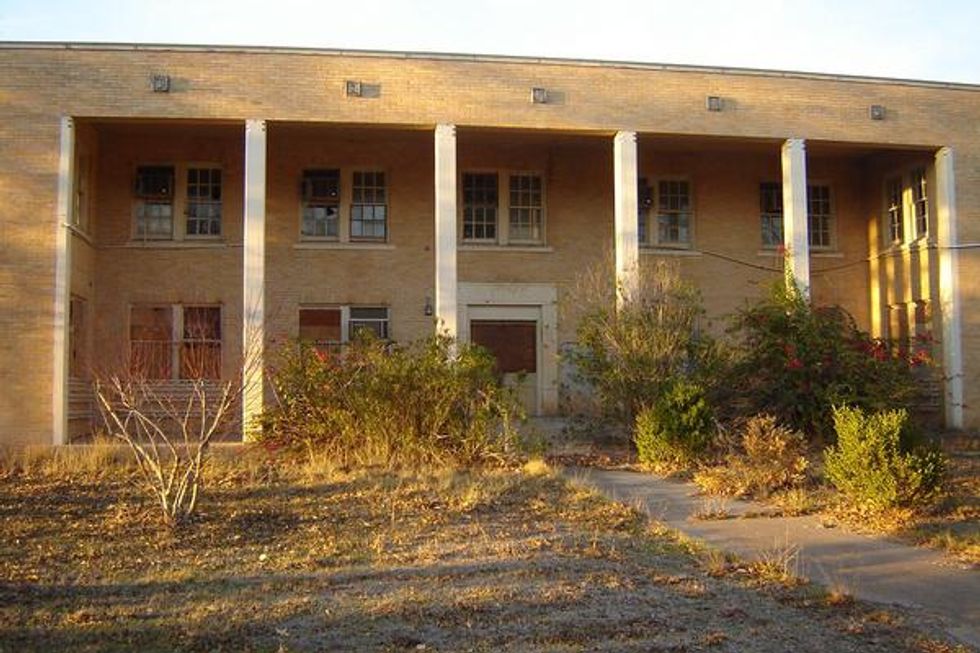 The Austin State School is now closed, many of its 68 buildings abandoned. (Andreanna Moya Photography/CC)
These two gender-segregated facilities were originally intended for mentally-troubled juvenile offenders, many of whom never left the grounds. On the school's 436 acres, 1,800 students were housed across 68 buildings and the campus also held farmland, a swimming pool and a cemetery. Children who were not claimed were buried on-site, where about 3,000 students are buried. The school was sued in the 1960s after changing its name to the Travis State School for inadequate living conditions and closed in the late 90s. Many buildings have been taken over by charter schools but some remain empty to this day.
Tucker Cemetery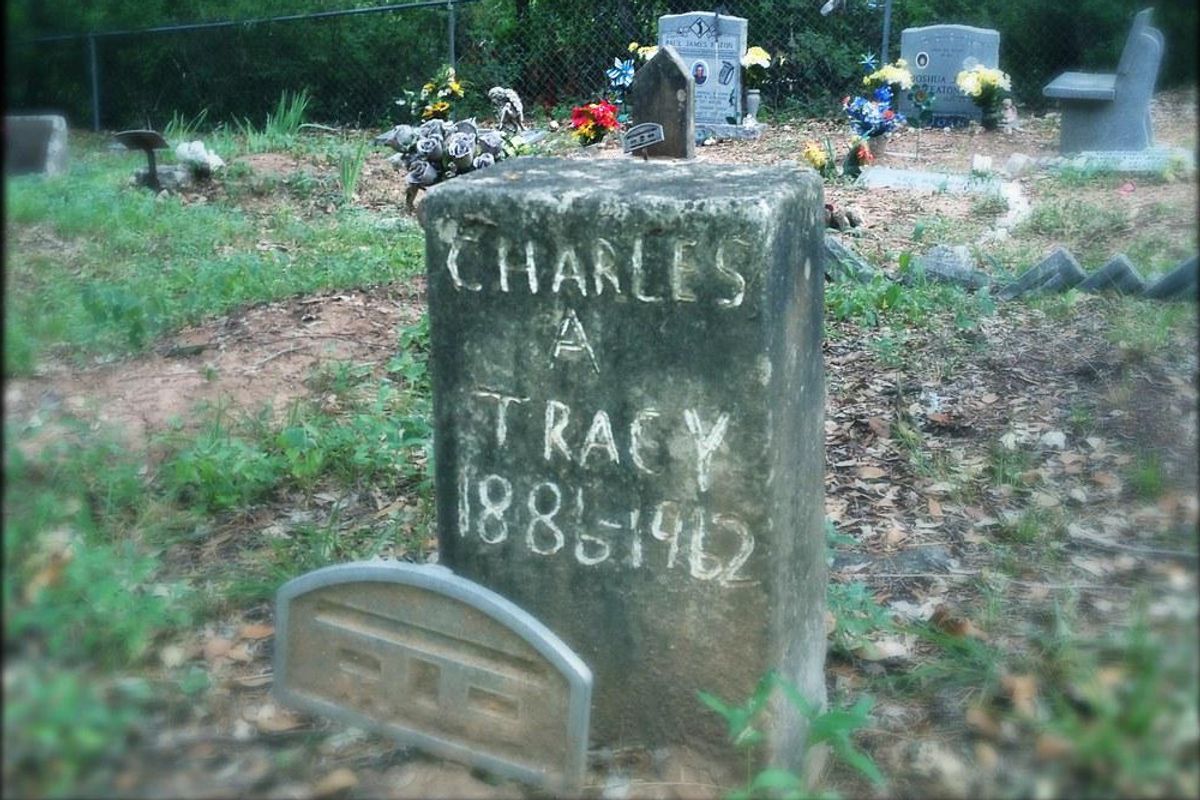 Tucker Cemetery's unique sight is its dozens of hand-written tombstones. (kissingtoast/CC)
Just outside the Barton Creek Greenbelt, Tucker Cemetery doesn't have many stories of haunts to its name other than anecdotes of car locks popping open on their own. However, what makes this cemetery freaky is its collection of tiny, hand-scrawled tombstones.
Keep Austin spoOoOoOoky!
Enjoying Austonia? Signup for our newsletter to get daily Austin news, straight to your morning inbox!
Austin's got some serious spook factor: The capital city boasts a slew of haunted digs to send a year-round shiver down your spine—including the most haunted spot in Texas.
Austin's Driskill Hotel topped Yelp Texas' Top 20 list of the most haunted spots, with the Driskell Bar clinching the No. 2 spot. Four other local properties made an appearance.
The list, released Tuesday, considered businesses in the restaurant, food, travel and arts categories with a large concentration of reviews mentioning relevant keywords like "haunted," "spooky," and "ghosts." It then ranked those spots using a number of factors including total volumes of reviews and ratings.
Here's how the city's creepy properties landed on the Lone Star State's list of frightful destinations:
No. 1 The Driskill Hotel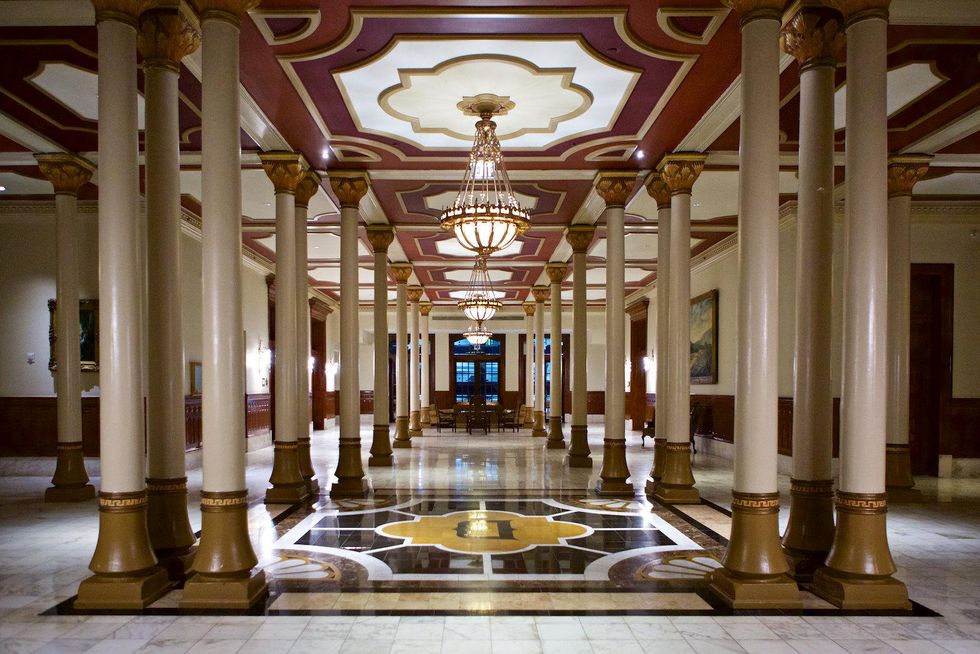 It may seem only fitting that the state's most haunted spot has a storied history. Determined to construct "the finest hotel south of St. Louis," Missourian cattleman Col. Jesse Driskell built the infamous Driskill Hotel in 1886. Located at 604 Brazos St., guests have long reported supernatural activity there, including alleged poltergeist sightings and encounters with the spirit of Driskell himself.
No. 2 The Driskill Bar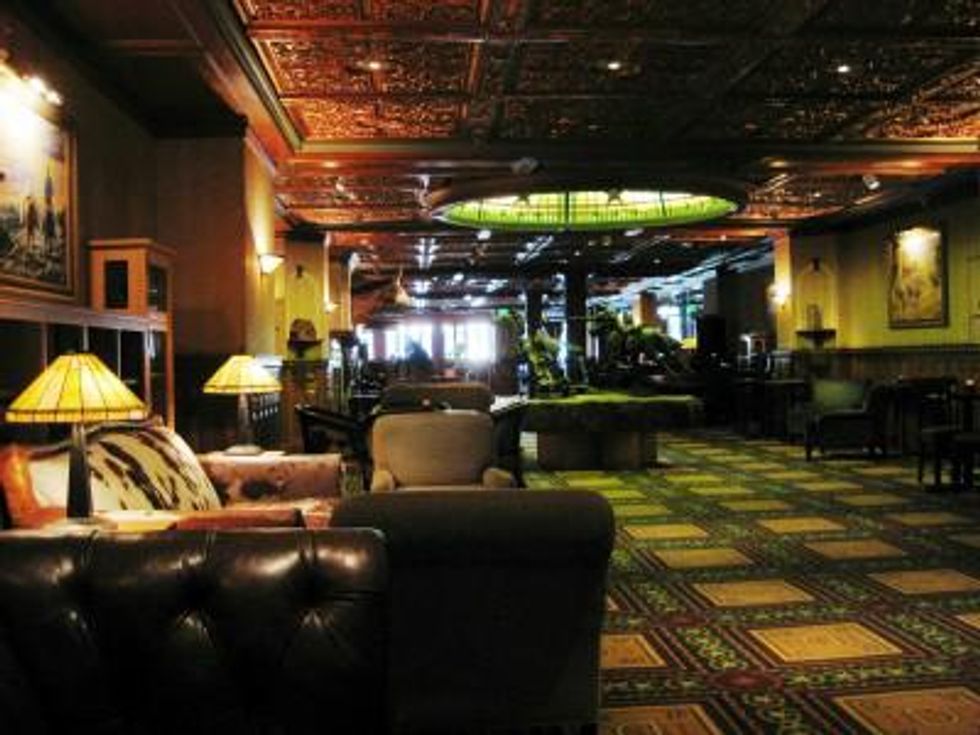 Long known as a power meeting spot for politicians, the Driskill Bar lies within the hotel itself. But it turns out the rich mahogany wood, plush chairs and live piano music aren't enough to mask the spook from its haunted hotel counterpart.
No. 3 Moonshine Patio Bar & Grill
This southern cocktail bar, located at 303 Red River St., began in 1852 as a trading goods store, before expanding with a saloon and domino parlor. In 2003, Moonshine Patio Bar & Grill opened its doors, though it evidently still has strong ties to the past (and spirit world)—it's said to be haunted by people killed in a flood in the early 1900s. It's been said customers dining in will feel tapping on their shoulders or air blowing on their neck.
No. 5 Clay Pit
The celebrated contemporary Indian restaurant, at 1601 Guadalupe St., is located within the historic Bertram Building, named after German immigrant Rudolph Bertram. The building's cellar is allegedly haunted by a murdered prostitute's spirit, and one Yelp reviewer recalls "a sudden dizziness, nauseousness hit me like a ton of bricks" when he entered the upstairs rooms previously inhabited by the Bertram family.
No. 13 1886 Cafe & Bakery
This quaint Victorian-style café's traditional Texas comfort foods may not be enough to keep the scary at bay. Just like the Driskill Bar, the 1886 Cafe & Bakery sits within the Driskill Hotel's haunted walls.
No. 15 The Tavern
At 922 W. 12th St., The Tavern used to operate as a secret brothel in the 1920s. When one politician was caught there, local legend says he murdered the head madam's daughter Emily in retribution. Her spirit is said to have stuck around, sending kitchen drawers flying open and switching TVs off in the dining room. According to Austin Monthly, a pair of shoes were found buried within the walls during renovation in 2006, which the bar then put on display as evidence of Emily's continued presence.
The full list
The Driskill, Austin
The Driskill Bar, Austin
Moonshine Patio Bar & Grill, Austin
Menger Hotel, San Antonio
Clay Pit, Austin
Miss Molly's Hotel, Fort Worth
Monteleone's, El Paso
The Emily Morgan Hotel, San Antonio
The Adolphus, Autograph Collection, Dallas
The Alamo, San Antonio
Jefferson Hotel, Jefferson
The Tremont House Hotel, Galveston
1886 Cafe & Bakery, Austin
St. Anthony, a Luxury Collection Hotel, San Antonio
The Tavern, Austin
Faust Brewing Company, New Braunfels
Faust Hotel, New Braunfels
The Esquire Tavern, San Antonio
The Crockett Hotel, San Antonio
VFW Post 76, San Antonio
The holidays are quickly approaching, and if you think it's just a little too early to begin your Christmas shopping, well think again.
Thanks to massive and widespread shortages in the global supply chain, among other factors, this year's gifts may be hard to find and slow to arrive.
"We're genuinely concerned about adequate stock to accommodate this upcoming holiday season. With last year being a bit of a bust for holiday celebrations, there's a massive amount of pent-up demand for the holidays this year and stock across the board won't be able to keep up anywhere," said Robby Pettinato, partner and buyer for Toy Joy, Yummi Joy, Wild About Music and Austin Rocks. "The toy aisles at Walmart and Target are incredibly empty, so I'm grateful we've had enough stock allocated to us by our vendors to have a great selection for now."
What IS happening with the global supply chain right now?
Due to a variety of factors, including the COVID-19 pandemic, an increase in online consumer purchases, shortages of cargo ships and shipping containers and a lack of available warehouse and retail workers, the global supply chain is incredibly unstable right now.
"From every step of the process, all the way from product inception, manufacturing, overseas shipping and delivery to our stores, everything is bottlenecked at each step," Pettinato said. "Where as historically most vendors would fulfill 95% of an order within a few days, we're looking at some vendors taking up to three months to process an order and only receiving about 40% of the order. This has made keeping our shelves stocked much more difficult."
How does this instability impact shoppers, both at local shops and big-box retailers?
Don't be surprised to see empty shelves, inconsistent product offerings and shipping delays across the board.
Jeanne Cooper, owner of C'est Chic boutique in Southwest Austin, said many of the items she's ordered for holiday sales are arriving "incomplete or not at all."
"One particular candle line, which used to ship the next day, is now taking weeks because the jars are made overseas," she said. "We've heard from several vendors that their merchandise is sitting on cargo containers at U.S. ports and there is a delay in getting the items to local warehouses. In addition, several vendors are adding surcharges to shipping charges because of their increased freight costs."
Pettinato said "sales have suffered" due to a lack of actual product in the store over the last year, which has, in turn, resulted in an increase in product costs.
"Because of labor and material shortages, manufacturing has increased in price. Similarly, a lack of shipping containers has caused absurd spikes in shipping costs overseas. One vendor told me that what was usually a $1,000 container now costs him $12,000 and is taking several months longer to ship," he said. "All of these costs are passed down at every level, and inevitably are passed down to us as a retailer. This means we have to increase our pricing as well so we can continue to do our best to pay our staff a living wage in an increasingly expensive city."
What should I expect when it comes to shipping?
On Oct. 3, the U.S. Postal Service temporarily raised shipping rates through Dec. 26 for "commercial and retail domestic competitive parcels." This rate increase is in response to anticipated heightened peak-season package and shipping demand, which in turn results in extra handling costs. UPS and FedEx also implemented rate increases in early October. USPS also implemented a similar rate adjustment in 2020.
USPS deadlines include Nov. 6 for APO/FPO/DPO USPS Retail Ground service; Dec. 9 for APO/FPO/DPO Priority Mail and First-Class Mail; Dec. 15 for USPS Retail Ground service; Dec. 17 for First-Class Mail service and First-Class packages; Dec. 18 for Priority Mail service; and Dec. 23 for Priority Mail Express service.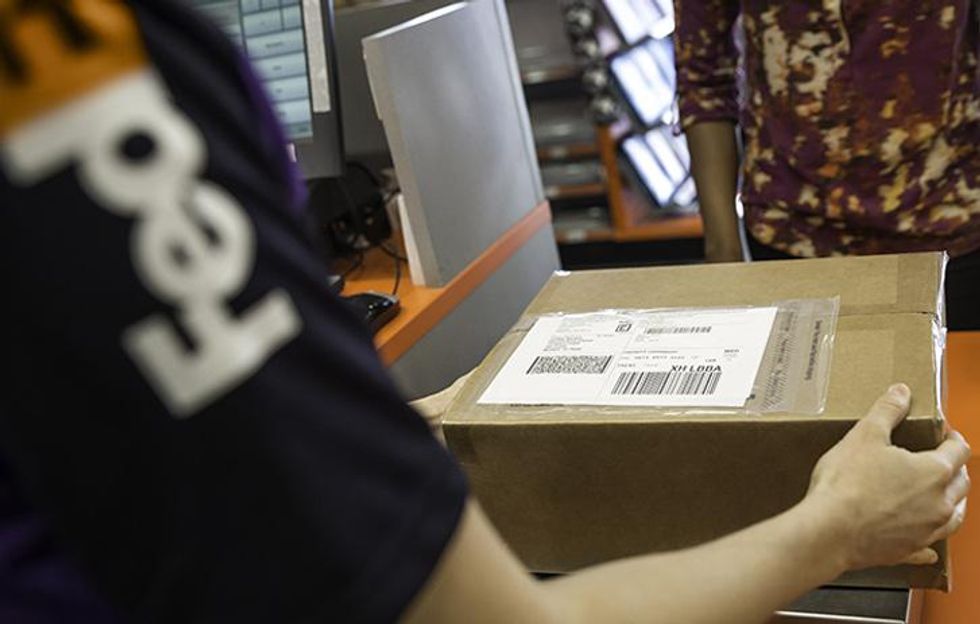 What tips do you have for getting the gifts I want?
Shop early. Like now. If you wait until you would typically be making holiday purchases, it will be too late. Also, if you see an item on the shelf, buy it. Even if you can find it online, there's no telling how long it will take to arrive at your doorstep. If you do make a purchase online, see if you can pick it up in-store to avoid shipping wait times.
Shop local. Support local businesses by shopping in person. You'll leave with products in hand and know that you're helping to support the local community.
Be flexible. If you can't find the exact item you're looking for, this year, it's worth compromising for something similar.
Be creative. In addition to stores like Target and Walmart, consider retailers such as Five Below, Kohl's and Macy's that might carry the same stock.
If you wait, expect to pay. Everything from retail costs to shipping costs will likely spike further the closer it gets to the holidays. If you're adamant about a certain item and you find it in stock, it might be worth paying for expedited shipping with tracking to ensure that it actually arrives.
What are this season's hot gifts, and how can I get them?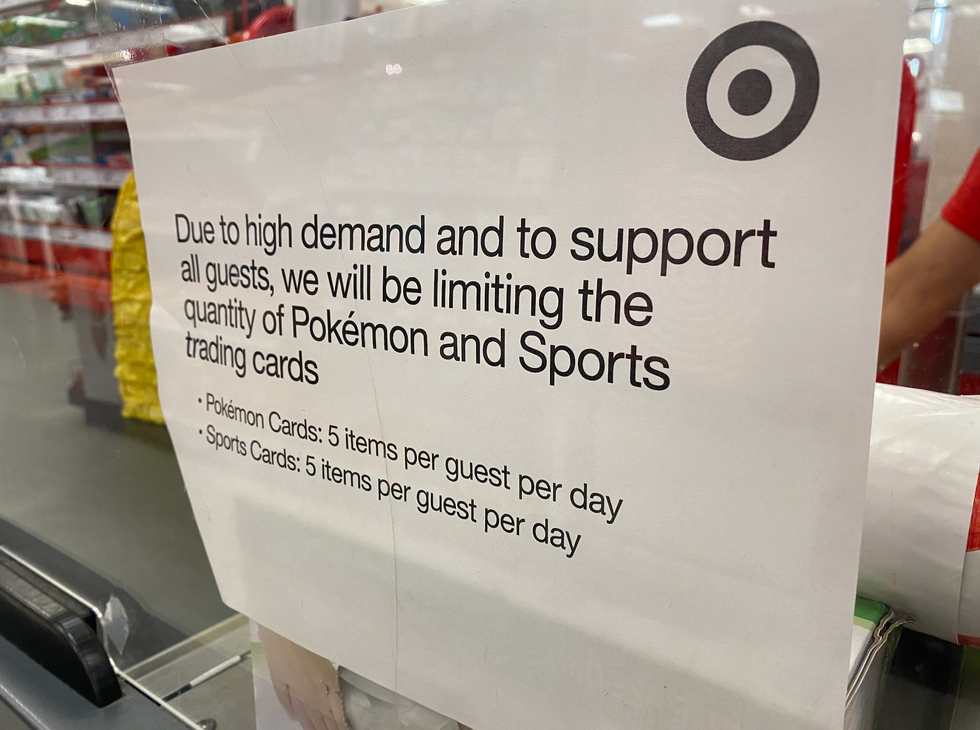 Gaming devices: The Sony PlayStation 5 and Microsoft Xbox remain among the hottest gaming devices for the 2021 holidays, and they're consistently difficult to find, particularly the PS5. Check sites such as Best Buy, GameStop, Target, Walmart and Amazon regularly for updates on restock efforts, or follow sites like Tom's Guide, which aggregate restocking information. You can also consider a somewhat easier-to-find option such as the Nintendo Switch, which has fairly wide availability at this point in time.
Apple products: In September, Apple introduced a suite of new products, including the iPhone 13, Apple Watch 7, iPad 9 and the iPad mini 6. More products could also be announced by the end of the year. While these products show availability online, it's ideal to purchase in store – either with Apple directly or with your cell carrier -- to avoid shipping delays. Both of Austin's Apple stores – Apple Barton Creek and Apple Domain NORTHSIDE – show product availability and accept shopping reservations.
Toys: Toys are another area that are expected to have limited availability and long shipping delays. As of right now, toys such as L.O.L. Surprise! O.M.G. Dolls, Star Wars "Mandalorian" items and Roblox- and Minecraft-themed items are showing as in stock at local stores. It's hard to say how long that will last, though. Also, you might start seeing limitations on some items, as seen with Pokemon and sports cards at Target.
From Your Site Articles
Related Articles Around the Web
Vehicle passes are now available for the 57th Trail of Lights, the annual holiday display that will once again be a drive-thru event this winter.
The monthlong event, held from Nov. 27-Dec. 31, will be held at Zilker Park as in previous years but will not allow walk-in tours as before 2020 due to COVID.
Trail of Lights Foundation President Rachel Green said that the organization had hoped to allow walk-ins but wanted to keep their "multi-generational audience" as safe as possible.
"The Foundation is committed to bringing another unforgettable Austin Trail of Lights to the community in 2021," Green said. "While we had hoped to have guests walking through the lights this year, we had to look at the current event guidelines, consult with key constituents, and make a definitive decision now."
Vehicle passes are available on the Trail of Lights website and include: a general admission pass, $30-$40 per vehicle, with designated access at the top of each hour starting at 7 p.m; Dash Passes, $65 per vehicle, which give early access at 5:45 p.m., holiday cookies and bottled water; and Premiere Night Passes, which will give a limited number of customers access to the first evening on Nov. 27, cookies, bottled water and a commemorative gift.
The event allows free passes for 50 nonprofit groups around the city through the Stars Program and certain families in the Austin Independent School District.
The event remains one of the top three events in Austin, according to its website, and features over 2 million twinkling lights on display throughout Zilker Park.