Get connected with our daily update
Karen Brooks Harper/Austonia.com
The clay-and-wire sculpture emerging on the folding table depicts a tree, pregnant with pollution, with oil spills, airborne toxins and a trash island floating in the ocean.
The hands making it are dark and stained, a bit scarred, but fast-moving and certain of their purpose.
---
They belong to an anxious and soft-spoken 33-year-old known on the streets as "Denver," who has been homeless in Austin since he was released from jail on a felony marijuana conviction eight years ago.
Each week, Denver finds some peace at an informal art workshop for the homeless that has emerged near a bus bench at the corner of 6th and Brazos.
Homeless artists' group brightens up 'Dark Side' of Austin's Sixth Street 
Karen Brooks Harper/Austonia
Denver, 33, sculpts a pregnant tree at the Dark Side of the Street Collective on Aug. 26, 2020 in Austin, Texas.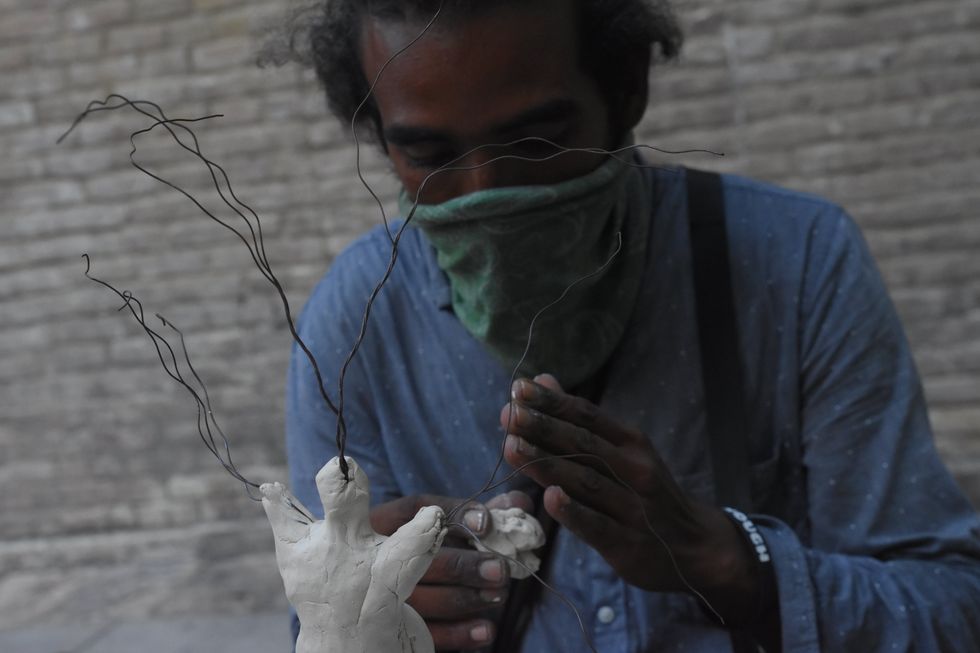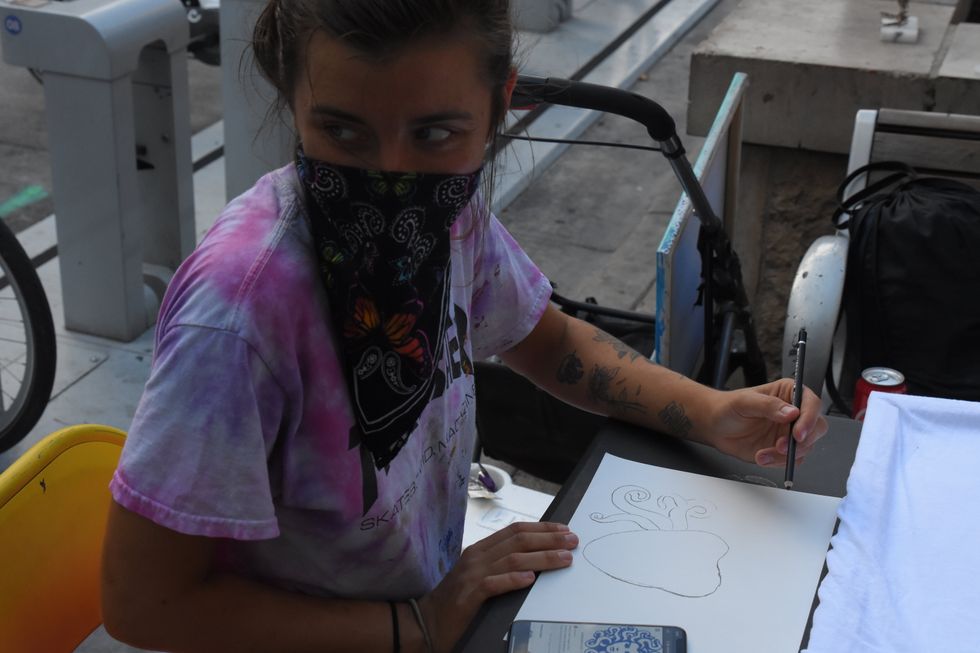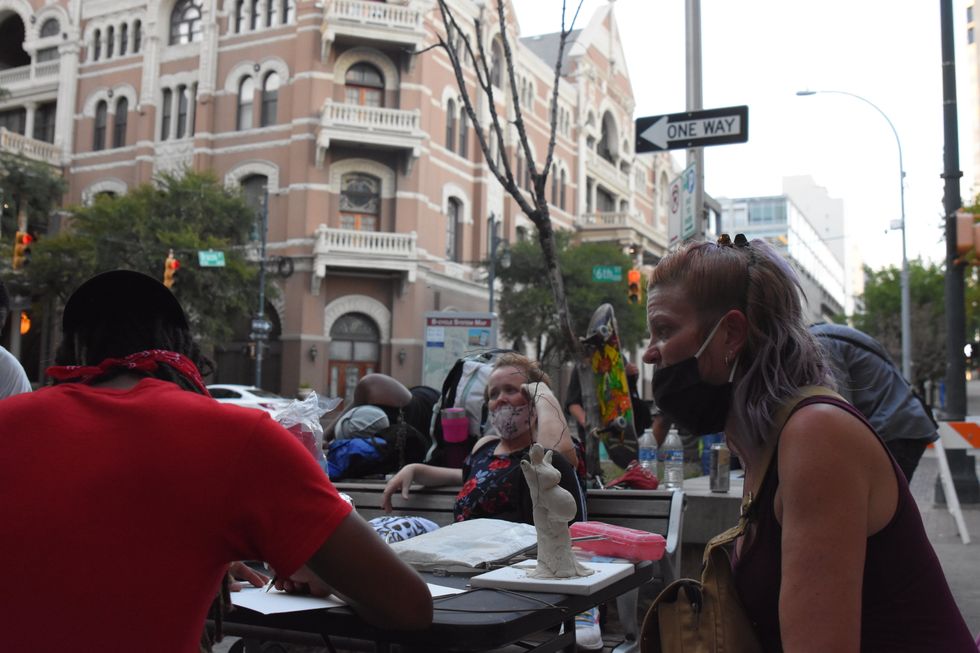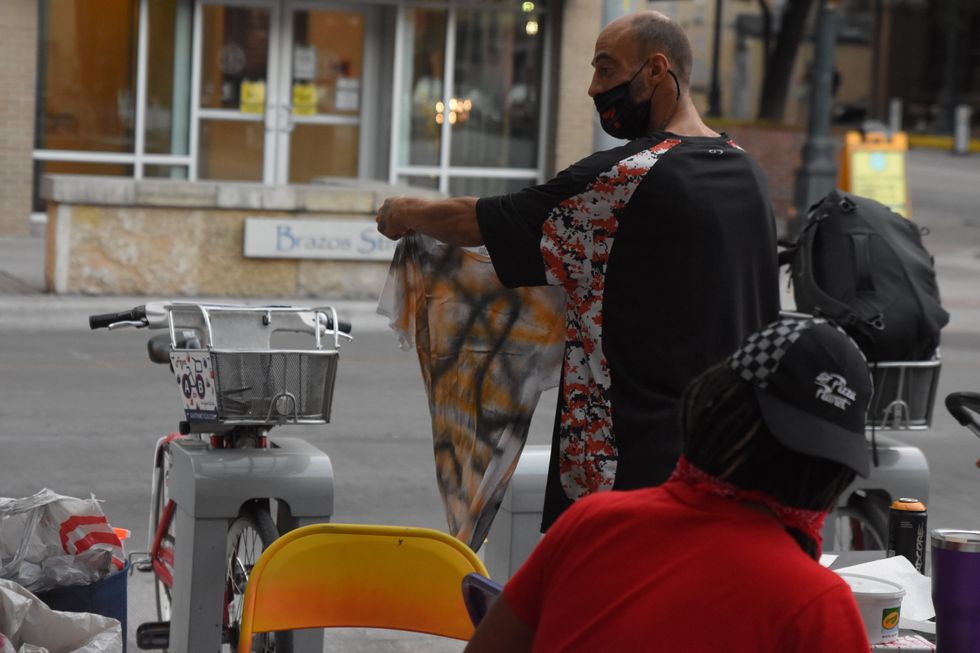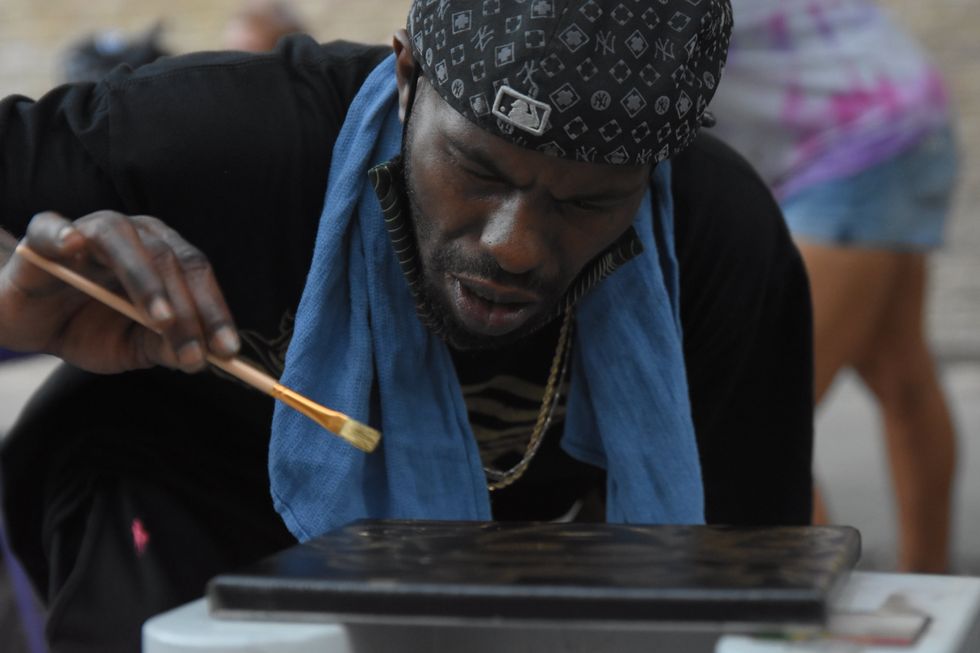 Across the street from the iconic Driskill Hotel, in front of a mural that says "Spread Kindness," the workshop is a world away from the hardscrabble life Denver leads under Austin's urban bridges.
He began sculpting, drawing, painting and writing about three years ago when he "built up too much anxiety and started to go manic."
The workshop has been dubbed the Dark Side of the Street Collective by founder Justine Decker, a 25-year-old street artist who arrived in Austin in April and who, until recently, lived in a room above a Sixth Street bar before moving to an apartment.
Decker, 25, is a prolific artist whose work includes colorful murals on the plywood boards covering Sixth Street bars.
Decker recently escaped the streets after spending 10 years with a heroin addiction that began in her adolescence in Florida. Now clean, she earns commissions for her mural art and drives for delivery companies to make ends meet.
She has an associate's degree from a college in Florida, which she attended on a scholarship and work-study program as a teen. Now she studies at an Austin art school, with funding from a student loan. Decker uses art supplies she buys with her own money and a few occasional donations for the group, operating for about seven weeks now.
"This helps me as much as it would help anybody else," she said. "Collaborating with people and other artists, and just remembering there's so much more to life than (using)."
On a recent Wednesday evening, the project that week was stenciling T-shirts. Will, a 35-year-old who spends much of his time on the streets, suggests a Medusa design.
"Sometimes a person can look at you, and the way they look at you, it turns you to stone, and you're just stuck for a minute," he said. "You know what that look means, and you're asking yourself why."
Decker sketches the pattern and shows Will how to trace it. Then they cut it out with an Exacto knife, put it on top of the T-shirt, and Will spray paints it black and gold.
He holds it up proudly."That's dope," he says with a grin.
He replicates it on a canvas. The design catches on, and two more people make Medusa shirts, too.
Decker's dream is to create a website with artist profiles to help sell their art, create P.O. boxes and bank accounts for them, and give them a way for their art to get them off the streets.
Denver is one of the group's most prolific and talented artists, Decker said. He has no birth certificate—he was born in Mexico with no birth certificate and taken in by a Rio Grande Valley family—so it's hard to find a job to pay for housing and a safe place to keep his art.
"That's one of the hugest problems I have right now, is protecting my intellectual property," he said. "I thought I wanted to live on the street the rest of my life, and now? No, I don't."
Expect some whiplash this week, Austinites: with an expected high of 103 degrees, Monday is predicted to be the hottest day of the year, but a midweek cold front is on the way to bring that first glimpse of fall.
Austin-Bergstrom International Airport could see its first 100-degree temperature this year on Monday as temperatures citywide are expected to exceed this year's record of 102 degrees.
After a typical summery Tuesday with highs in the mid-90s, Wednesday will welcome the first signs of fall as a cold front drops lows into the 50s.
Expect more wind and a chance of rain come Tuesday with a 40% chance of scattered storms. The cold front, which should last through Friday, will bring drier, crisper air that could cause fire hazards on Wednesday.
Highs will be in the upper 80s and lows in the 50s and lower 60s for the front's final two mornings.
Around 75 dogs died in a fire Saturday night at Ponderosa Pet Resort in Georgetown, according to the Georgetown Fire Department, leaving dozens of owners to mourn the losses of their furry companions.
The fire department arrived on the scene less than five minutes after 911 calls started flooding in at 10:56 p.m. At their arrival, they found flames and clouds of smoke, according to GFD Chief John Sullivan.
Twenty-five firefighters were on the scene, hoping to save as many lives as possible, initially trying to open some ventilation and control the smoke, though they were unable to save any dogs. Sullivan said his heart goes out to the families of the victims of the fire.
"I've been doing this for 29 years and this is the first incident that I've had where we've lost so many pets," Sullivan said. "I hate to use that term because, to me, a pet is a lot more than a pet—it is the closest friend. I wish I could convey my internal emotions adequately. I just wish I could go back in time to make it better."
Families of the fallen pets, who are believed to have died from smoke inhalation, have created a memorial outside the pet resort's fence complete with flowers, photos, notes and beloved toys of their friends.
No people were discovered at the scene—Ponderosa's boarding policies state that the staff feels that pets sleep better at night when no employees are there, so the pets are left unattended at night.
The fire department is still working to discover what caused the fire. Despite fire and smoke damage to the inside, the outer metal exterior survived the blaze. Based on the type of construction and occupancy type, the building was not required to have a sprinkler system.
"Quite frankly, I view my personal pet as probably my closest confidant, friend and the one that doesn't judge, so my heart just breaks," Sullivan said.
The fire claimed the lives of dog duo Bunny and Clyde, leaving owners and newlywed couple Don and Pam Richard devastated and angry KXAN reports, saying they wouldn't have left the dogs had they known they would be left unattended at night.
The Richard family is planning to petition the city of Georgetown, making it so that animals in professional care are never left unattended again.
After months of speculation, a new report says political personality Beto O'Rourke is mulling a run for Texas governor that he will announce later this year.
Sources tell Axios the former congressman is preparing his campaign for the 2022 election, where he will likely vie for the position against incumbent Gov. Greg Abbott. The only other candidate that has announced he will take on Abbott for governor is former Texas GOP Chairman Allen West—no Democrats have announced they are running as of yet.
"No decision has been made," Axios reports David Wysong, O'Rourke's former House chief of staff and a longtime adviser, said. "He has been making and receiving calls with people from all over the state."
A new poll from The Dallas Morning News and University of Texas at Tyler shows O'Rourke is narrowing the gap between himself and Abbott's prospects for governor. In the poll, 37% said they'd vote for O'Rourke over Abbott, while 42% said they'd vote for Abbott.
Abbott has been in the hot seat due to his handling of COVID-19 and the signing of landmark legislation into law, including new abortion and voting rights laws; 54% of poll respondents voted they think the state is headed in the "wrong direction." Still, Texas hasn't had a Democrat as governor since the 90s.
O'Rourke's people-focused approach to the 2018 Senator race, which he lost to Sen. Ted Cruz, gave him a widespread following and many hoped he'd throw his hat into the ring since he said he was considering it earlier this year.
"We hope that he's going to run," Gilberto Hinojosa, the state chair of the Democratic Party, told Axios. "We think he'll be our strongest candidate. We think he can beat Abbott because he's vulnerable."