Get connected with our daily update
Karen Brooks Harper/Austonia.com
The clay-and-wire sculpture emerging on the folding table depicts a tree, pregnant with pollution, with oil spills, airborne toxins and a trash island floating in the ocean.
The hands making it are dark and stained, a bit scarred, but fast-moving and certain of their purpose.
---
They belong to an anxious and soft-spoken 33-year-old known on the streets as "Denver," who has been homeless in Austin since he was released from jail on a felony marijuana conviction eight years ago.
Each week, Denver finds some peace at an informal art workshop for the homeless that has emerged near a bus bench at the corner of 6th and Brazos.
Homeless artists' group brightens up 'Dark Side' of Austin's Sixth Street 
Karen Brooks Harper/Austonia
Denver, 33, sculpts a pregnant tree at the Dark Side of the Street Collective on Aug. 26, 2020 in Austin, Texas.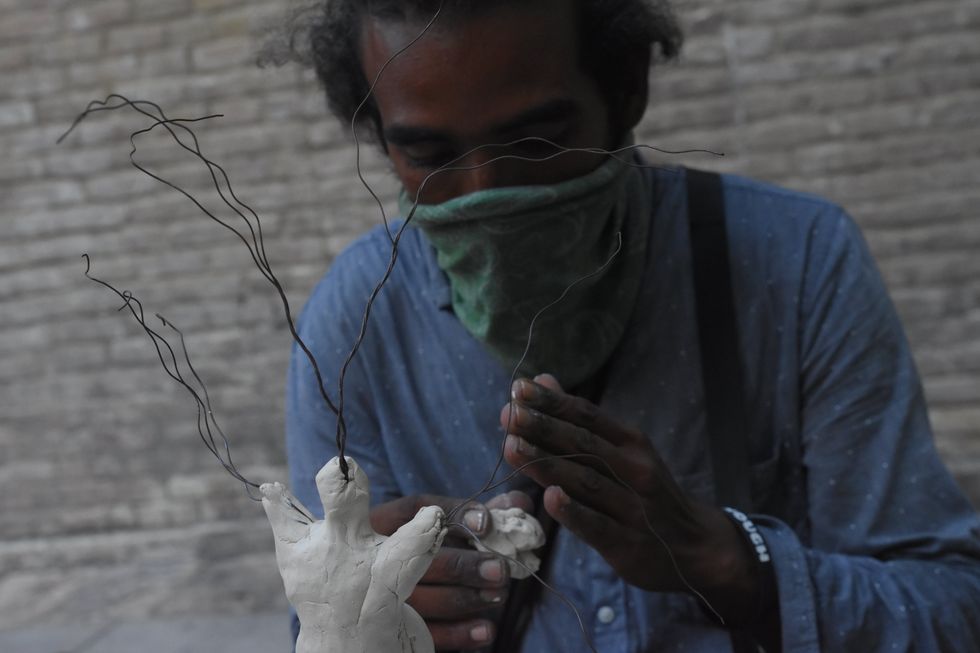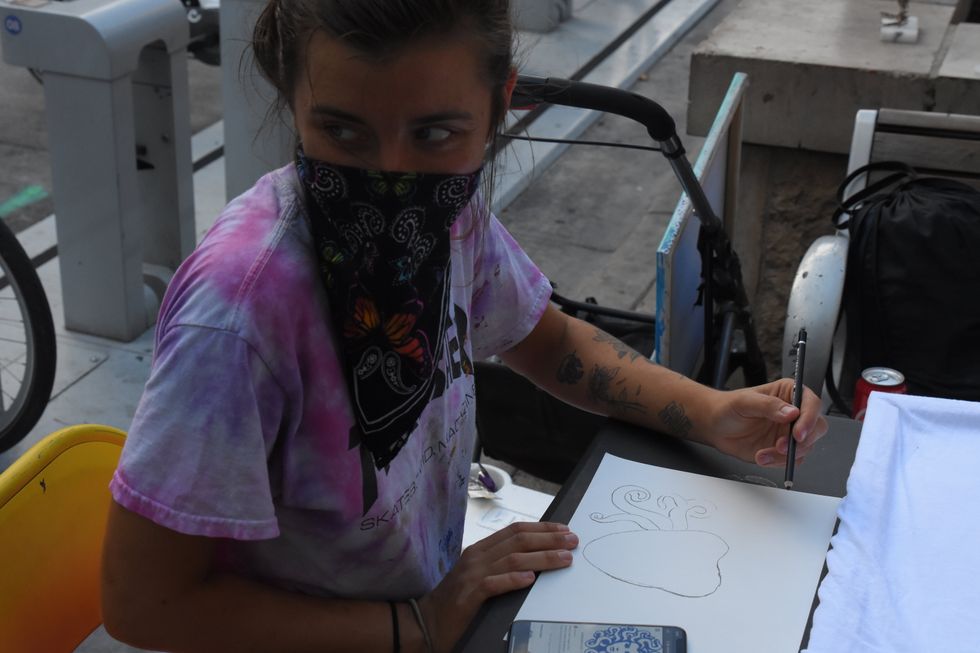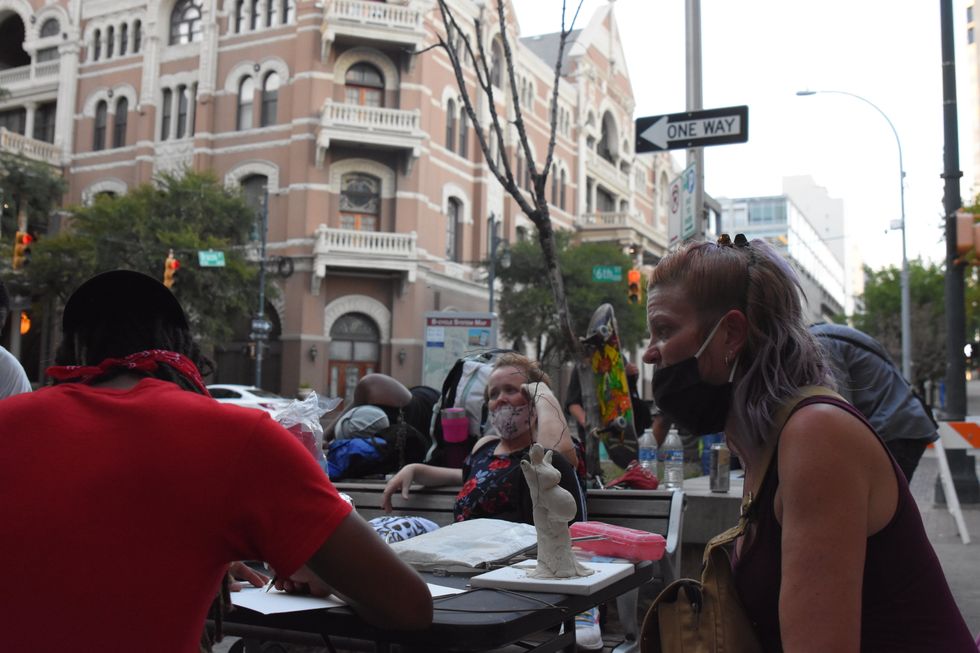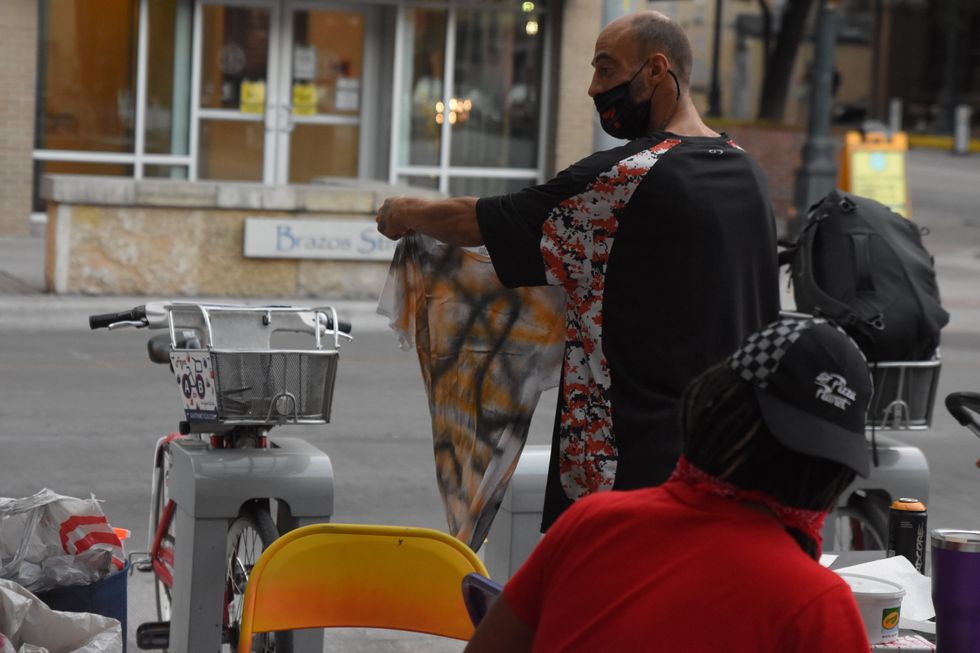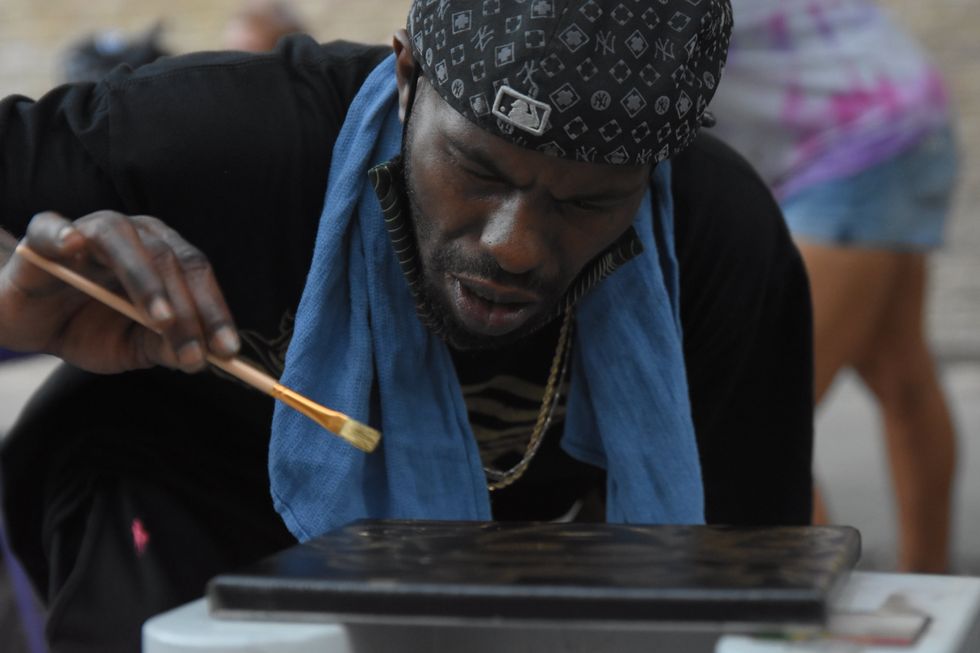 Across the street from the iconic Driskill Hotel, in front of a mural that says "Spread Kindness," the workshop is a world away from the hardscrabble life Denver leads under Austin's urban bridges.
He began sculpting, drawing, painting and writing about three years ago when he "built up too much anxiety and started to go manic."
The workshop has been dubbed the Dark Side of the Street Collective by founder Justine Decker, a 25-year-old street artist who arrived in Austin in April and who, until recently, lived in a room above a Sixth Street bar before moving to an apartment.
Decker, 25, is a prolific artist whose work includes colorful murals on the plywood boards covering Sixth Street bars.
Decker recently escaped the streets after spending 10 years with a heroin addiction that began in her adolescence in Florida. Now clean, she earns commissions for her mural art and drives for delivery companies to make ends meet.
She has an associate's degree from a college in Florida, which she attended on a scholarship and work-study program as a teen. Now she studies at an Austin art school, with funding from a student loan. Decker uses art supplies she buys with her own money and a few occasional donations for the group, operating for about seven weeks now.
"This helps me as much as it would help anybody else," she said. "Collaborating with people and other artists, and just remembering there's so much more to life than (using)."
On a recent Wednesday evening, the project that week was stenciling T-shirts. Will, a 35-year-old who spends much of his time on the streets, suggests a Medusa design.
"Sometimes a person can look at you, and the way they look at you, it turns you to stone, and you're just stuck for a minute," he said. "You know what that look means, and you're asking yourself why."
Decker sketches the pattern and shows Will how to trace it. Then they cut it out with an Exacto knife, put it on top of the T-shirt, and Will spray paints it black and gold.
He holds it up proudly."That's dope," he says with a grin.
He replicates it on a canvas. The design catches on, and two more people make Medusa shirts, too.
Decker's dream is to create a website with artist profiles to help sell their art, create P.O. boxes and bank accounts for them, and give them a way for their art to get them off the streets.
Denver is one of the group's most prolific and talented artists, Decker said. He has no birth certificate—he was born in Mexico with no birth certificate and taken in by a Rio Grande Valley family—so it's hard to find a job to pay for housing and a safe place to keep his art.
"That's one of the hugest problems I have right now, is protecting my intellectual property," he said. "I thought I wanted to live on the street the rest of my life, and now? No, I don't."
Austin seems to have passed its fourth COVID peak, but public health leaders are already monitoring a new omicron-related variant that was recently detected in Texas.
Just as quickly as it came, the omicron variant that shuttered schools, businesses and holiday gatherings is finally receding, Austin-Travis County Health Authority Desmar Walkes said Friday. According to a University of Texas COVID-19 Modeling Consortium projections, the variant's caseload peaked on Jan. 9 in the Austin-Round Rock area.
But Austin Public Health is already looking to the new variation of it, dubbed the BA. 2 omicron variant, as it spreads to 40 countries including the U.S. Similar to the original "BA.1" omicron strain, the new variety shares most of omicron's characteristics but has 20 key mutations from the original. Walkes said the variant has over 80 mutations and appears to be more transmissible than the original omicron strain, though vaccines appear to behave similarly in protecting residents from serious complications.
The variant has been found in dozens of countries and is surpassing case numbers for the BA.1 omicron strain in Denmark, though researchers have so far found no difference in hospitalizations between the two omicron variants. The World Health Organization classifies all omicron strains as "variants of concern" but hasn't specified between the two.
Chief epidemiologist Janet Pichette said that while BA.2 will act similarly to its parent variant, the strain's transmissibility could cause a new spike in the area.
"We're at a critical point right now," Pichette said. "This new variant has been identified in Texas with three cases in the Houston area, so odds are that it's circulating around us right now."
For now, Pichette said cases are on the "downhill slide," while ICU admissions are expected to peak in the first week of February. With a 100% household transmission rate so far, Walkes said it's more crucial than ever to vaccinate children over five and protect other vulnerable members of the community.
"This new variant spreads more quickly and because of that we're going to see an impact on the general population," Walkes said. "It's going to find the vulnerable, and in this case it's going to affect the unvaccinated and those who cannot get vaccinated."
Whether you became a home chef when the pandemic began or have always enjoyed crafting delicious meals, it's undeniable that no home is complete without a cozy kitchen.
Not only do these luxurious homes have enviable amenities like natural light, sky-high ceilings and land to grow into, they also boast extraordinary kitchens. These are not your mom's kitchens—we're talking wine fridges, Miele appliances and wet bars.
Take a peek at these five gems on the market now.
In the South Austin Parten community, this castle-like four-bedroom, three-and-a-half bathroom stunner puts you just minutes from Austin, Dripping Springs and other nearby communities. Stark white and black contrasting features give the interiors a clean look, while a large curving staircase serves as a centerpiece for the ground floor. The chef's kitchen is spacious, facing the living room and multiple windows, and immediately draws the eye. Upstairs you'll find a spa-style bathroom, game room with a wet bar and Hill Country Views.
This listing is held by
Adam Zell and Lexie Zell.
This hyper-modern, 3,300-square-foot Scandinavian-styled home is a paradise for natural light in Hyde Park. With four bedrooms and three-and-a-half bathrooms spread across one story, the home rests on concrete columns to protect from extreme climate conditions. Inside, you'll find crisp, clean trim in the open-plan kitchen with built-in luxury appliances and a walk-in pantry. Lofty 12-foot ceilings and gigantic windows set the tone, with a wet bar and second living room for entertaining. When you retire to the master bedroom, enjoy a warm bath in the soaking tub or enjoy the multi-output shower.
This listing is held by Austin Stowell.
In the heart of Westlake, this stacked three-story new build is a sprawling 4,483 square feet with five bedrooms and four-and-a-half bathrooms. The home is centrally located and full of natural light, especially on the open concept first floor, which includes the kitchen, casual dining space and living area. The third floor has a bedroom and loft, perfect for the at-home worker.
This listing is held by Jen Templeton and Cheryl Albanese.
This 3,539 square foot, three-bedroom, three-and-a-half bathroom Tarrytown townhouse is newly remodeled but still holds on to its vintage charm. Bright white cabinets, a green accented island and quartzite countertops in the kitchen give the space a cheery feeling. Entering on the second floor, you'll have to walk downstairs to get to the bedrooms, which include ensuite baths and walk-in showers. The third level bonus room is the perfect place for an at-home office.
This listing is held by
Cindy Fowler
.
​Just outside Austin in the sleepy town of Wimberley, the Backbone Ridge Ranch is one of the city's most "iconic and pristine" properties. On nearly 50 acres of land, the house takes you into nature without getting too far from nearby cities. With 4,369 square feet, six bedrooms and six-and-a-half bathrooms, floor-to-ceiling windows effortlessly light the entire space. You'll feel like a celebrity chef while cooking in the kitchen, even more so entertaining from the outdoor kitchen and living space. The 33,000-gallon quarried limestone pool is perfect for those hot Hill Country summers!
This listing is held by
Nicole Kessler.