Austonia AM
100% Austin news, info, and entertainment, straight to your inbox at 6 a.m. every morning.
In five minutes, you're fully informed and ready to start another great day in our city.
Get connected with our daily update
Karen Brooks Harper/Austonia.com
The clay-and-wire sculpture emerging on the folding table depicts a tree, pregnant with pollution, with oil spills, airborne toxins and a trash island floating in the ocean.
The hands making it are dark and stained, a bit scarred, but fast-moving and certain of their purpose.
---
They belong to an anxious and soft-spoken 33-year-old known on the streets as "Denver," who has been homeless in Austin since he was released from jail on a felony marijuana conviction eight years ago.
Each week, Denver finds some peace at an informal art workshop for the homeless that has emerged near a bus bench at the corner of 6th and Brazos.
Homeless artists' group brightens up 'Dark Side' of Austin's Sixth Street 
Karen Brooks Harper/Austonia
Denver, 33, sculpts a pregnant tree at the Dark Side of the Street Collective on Aug. 26, 2020 in Austin, Texas.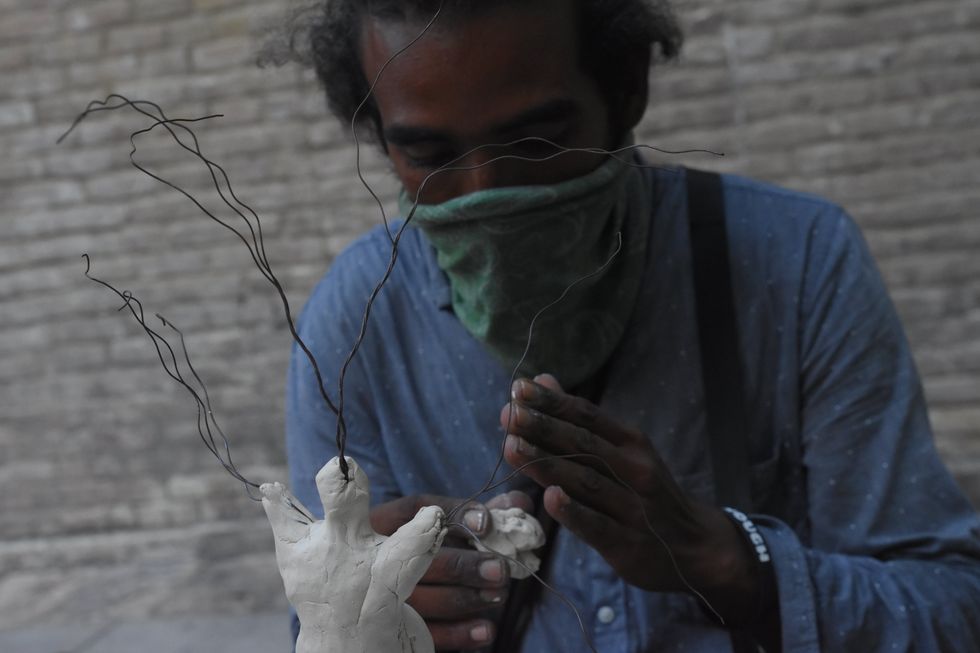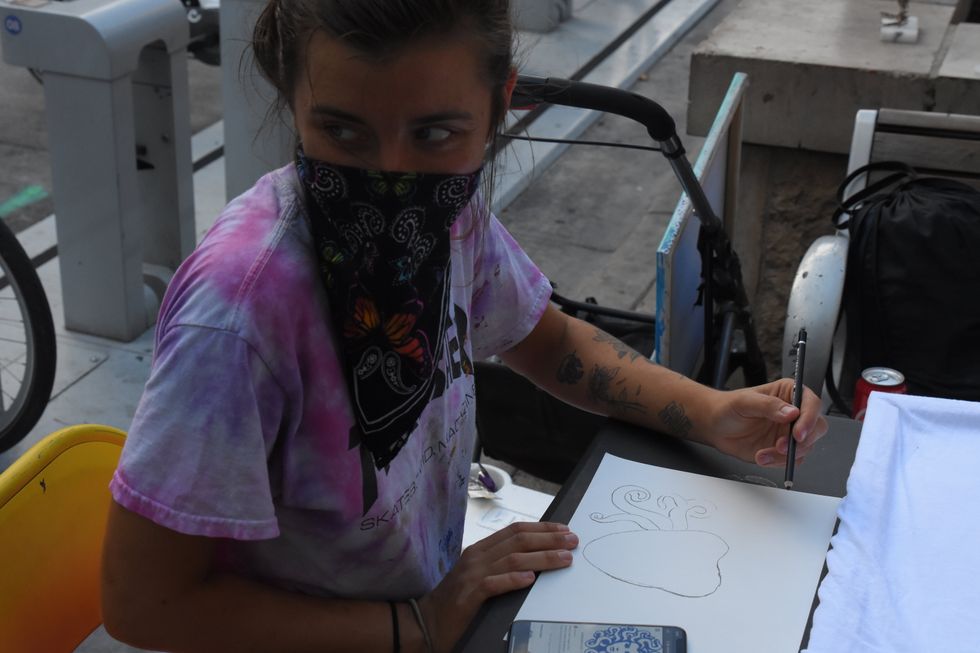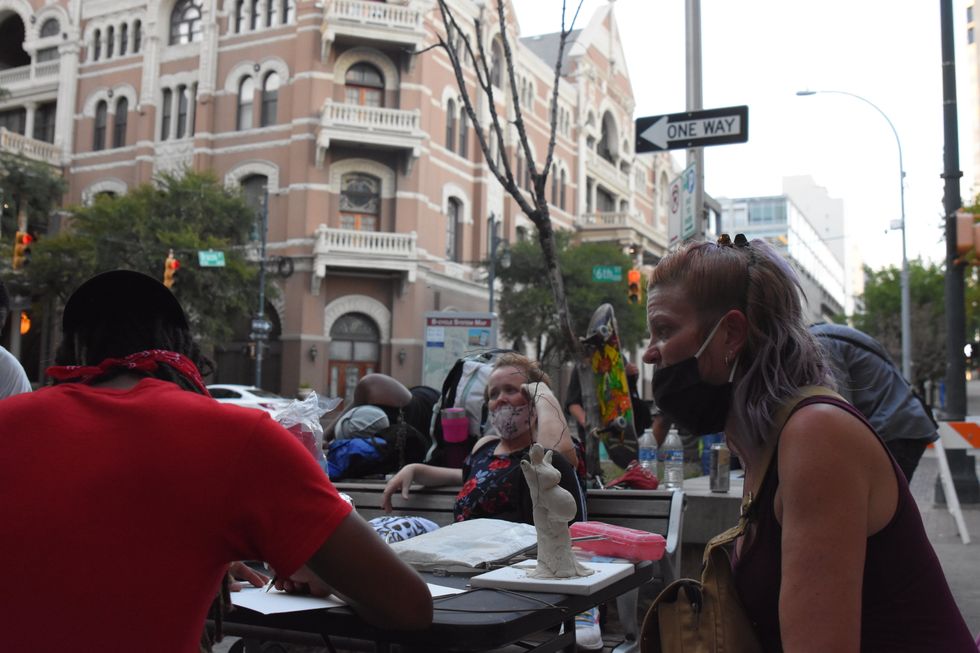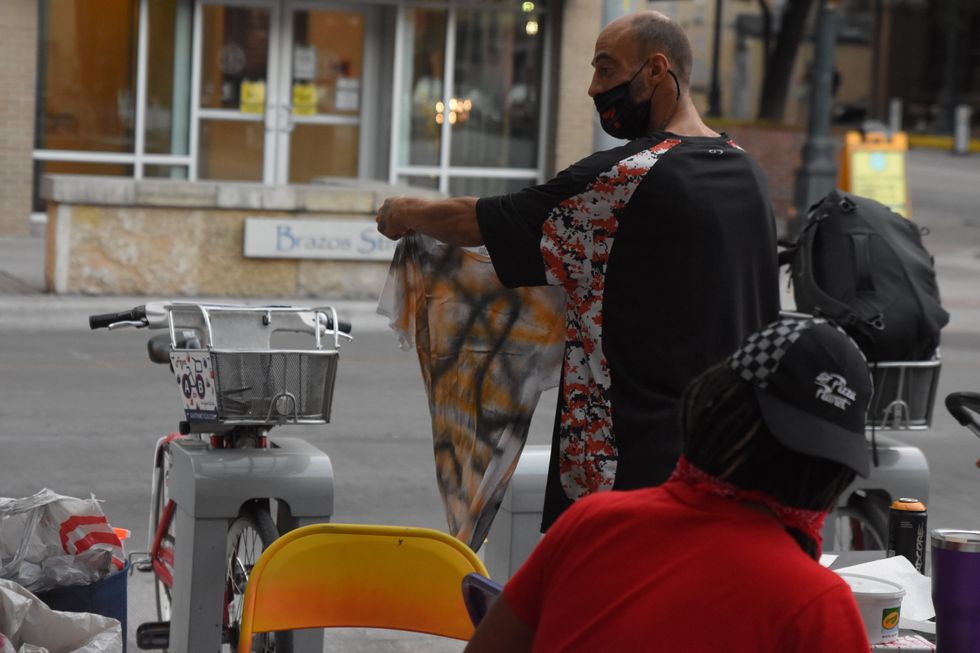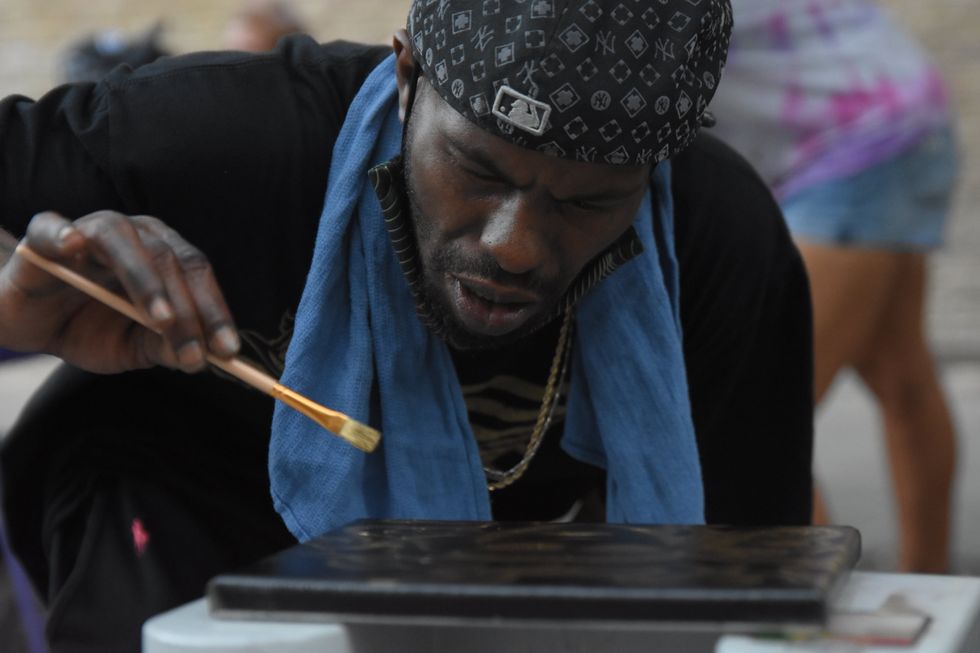 Across the street from the iconic Driskill Hotel, in front of a mural that says "Spread Kindness," the workshop is a world away from the hardscrabble life Denver leads under Austin's urban bridges.
He began sculpting, drawing, painting and writing about three years ago when he "built up too much anxiety and started to go manic."
The workshop has been dubbed the Dark Side of the Street Collective by founder Justine Decker, a 25-year-old street artist who arrived in Austin in April and who, until recently, lived in a room above a Sixth Street bar before moving to an apartment.
Decker, 25, is a prolific artist whose work includes colorful murals on the plywood boards covering Sixth Street bars.
Decker recently escaped the streets after spending 10 years with a heroin addiction that began in her adolescence in Florida. Now clean, she earns commissions for her mural art and drives for delivery companies to make ends meet.
She has an associate's degree from a college in Florida, which she attended on a scholarship and work-study program as a teen. Now she studies at an Austin art school, with funding from a student loan. Decker uses art supplies she buys with her own money and a few occasional donations for the group, operating for about seven weeks now.
"This helps me as much as it would help anybody else," she said. "Collaborating with people and other artists, and just remembering there's so much more to life than (using)."
On a recent Wednesday evening, the project that week was stenciling T-shirts. Will, a 35-year-old who spends much of his time on the streets, suggests a Medusa design.
"Sometimes a person can look at you, and the way they look at you, it turns you to stone, and you're just stuck for a minute," he said. "You know what that look means, and you're asking yourself why."
Decker sketches the pattern and shows Will how to trace it. Then they cut it out with an Exacto knife, put it on top of the T-shirt, and Will spray paints it black and gold.
He holds it up proudly."That's dope," he says with a grin.
He replicates it on a canvas. The design catches on, and two more people make Medusa shirts, too.
Decker's dream is to create a website with artist profiles to help sell their art, create P.O. boxes and bank accounts for them, and give them a way for their art to get them off the streets.
Denver is one of the group's most prolific and talented artists, Decker said. He has no birth certificate—he was born in Mexico with no birth certificate and taken in by a Rio Grande Valley family—so it's hard to find a job to pay for housing and a safe place to keep his art.
"That's one of the hugest problems I have right now, is protecting my intellectual property," he said. "I thought I wanted to live on the street the rest of my life, and now? No, I don't."
Austonia file photo. (Christa McWhirter/Austonia)
Police have arrested one of two suspects involved in a mass shooting at Austin's Sixth Street in the early morning hours on Saturday, leaving 14 people injured and two in critical condition.
The arrest was made by the Austin Police Department and the Lone Star Fugitive Task Force. One suspect is still at large.
Police started receiving 911 phone calls at 1:24 a.m about a man that fired shots into a large crowd, and responded to a chaotic scene on the 400 block of East Sixth Street. Detectives are surveying video footage captured by bystanders and cameras on the scene to identify the suspect.

The Austin Police Department has narrowed down their search to two male suspects and believes there was "some type of disturbance" between the two parties.
No deaths have been reported. Fourteen victims are receiving treatment in a hospital in stable condition with one treated in an emergency room; two are in critical condition.
According to Interim Police Chief Joseph Chacon, "almost all" of the victims are innocent bystanders but police have not ruled anyone out at this time.
Shooting on 6th Street Austin Texas 6-12-2021 (Aftermath) youtu.be
The shooting occurred on the weekend of the Republic of Texas Motorcycle Rally. With lots of people downtown, police say it was difficult to get EMS in and out of the scene. Police arrived while the scene was still an "active threat," officers "immediately began lifesaving measures" and drove six victims to the hospital in their squad cars, said Chacon, and four were transported in ambulances.
Chacon said that the incident is believed to be isolated, and they optimistic they will be successful in getting the two suspects into custody. Multiple departments, including APD, the FBI, Texas DPS and the ATF, are involved in the investigation.
Austin police are also requesting state troopers for patrol assistance in the coming days. Chacon stressed staffing issues are increasingly making responding to emergency calls "very hard."
"Overall, we remain a safe city," Chacon said. "Also keep in mind when you come downtown, you need to be safety conscious. Be vigilant of your environment and your surroundings."
Today marks the five-year anniversary of the Pulse nightclub shooting in which 49 were killed and 53 wounded in Orlando, Florida. Anyone with information on the shooting is asked to call 911 or 512-472-TIPS.

This story was updated at 2:47 p.m. to include new information and will be updated as more details are revealed.
From Your Site Articles
Related Articles Around the Web
Austin police are investigating a homicide in North Austin where a woman was shot and killed, just hours after a mass shooting in Downtown Austin hospitalized 14 people.
APD is working a suspicious death near the 1900 block of W Rundberg Ln. PIO is en route and will update with media staging location. PIO6
— Austin Police Department (@Austin_Police) June 12, 2021
Police originally responded to Ironhorse Flats Apartments, 1900 block of W. Rundberg Lane, at 3:20 p.m. when they found the woman with multiple gunshot wounds. She was transported to a local hospital, where she was pronounced dead at 4:07 p.m.

No one is in custody as of yet but police are speaking with potential witnesses. Officials said they believe this was an isolated incident with no danger to the public but said possible relation to the downtown shooting has not been specifically ruled out.
Officers could not provide a suspect description and the relationship to the victim is still unknown.
This is a developing story that will be updated as details become available.