Get connected with our daily update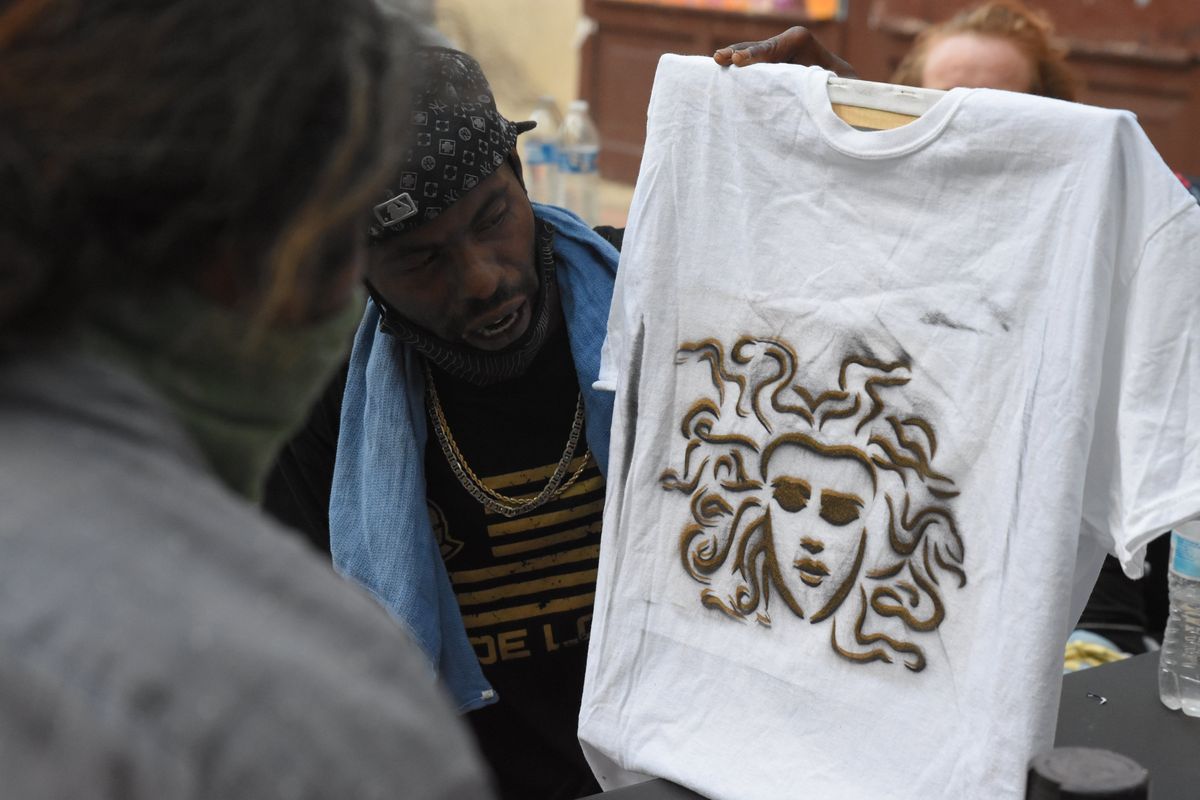 Karen Brooks Harper/Austonia.com
The clay-and-wire sculpture emerging on the folding table depicts a tree, pregnant with pollution, with oil spills, airborne toxins and a trash island floating in the ocean.
The hands making it are dark and stained, a bit scarred, but fast-moving and certain of their purpose.
---
They belong to an anxious and soft-spoken 33-year-old known on the streets as "Denver," who has been homeless in Austin since he was released from jail on a felony marijuana conviction eight years ago.
Each week, Denver finds some peace at an informal art workshop for the homeless that has emerged near a bus bench at the corner of 6th and Brazos.
Homeless artists' group brightens up 'Dark Side' of Austin's Sixth Street 
Karen Brooks Harper/Austonia
Denver, 33, sculpts a pregnant tree at the Dark Side of the Street Collective on Aug. 26, 2020 in Austin, Texas.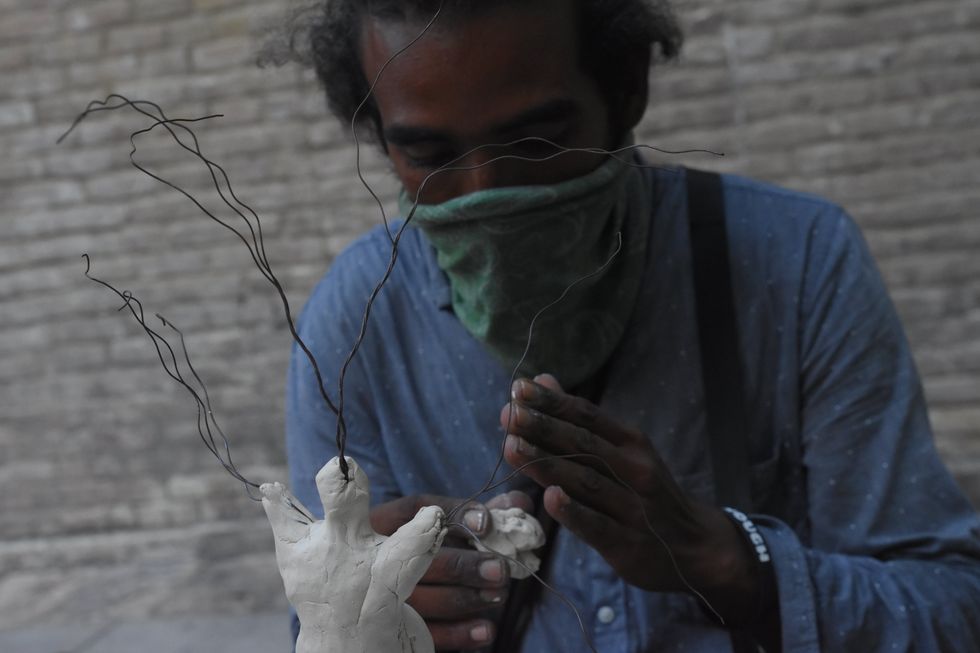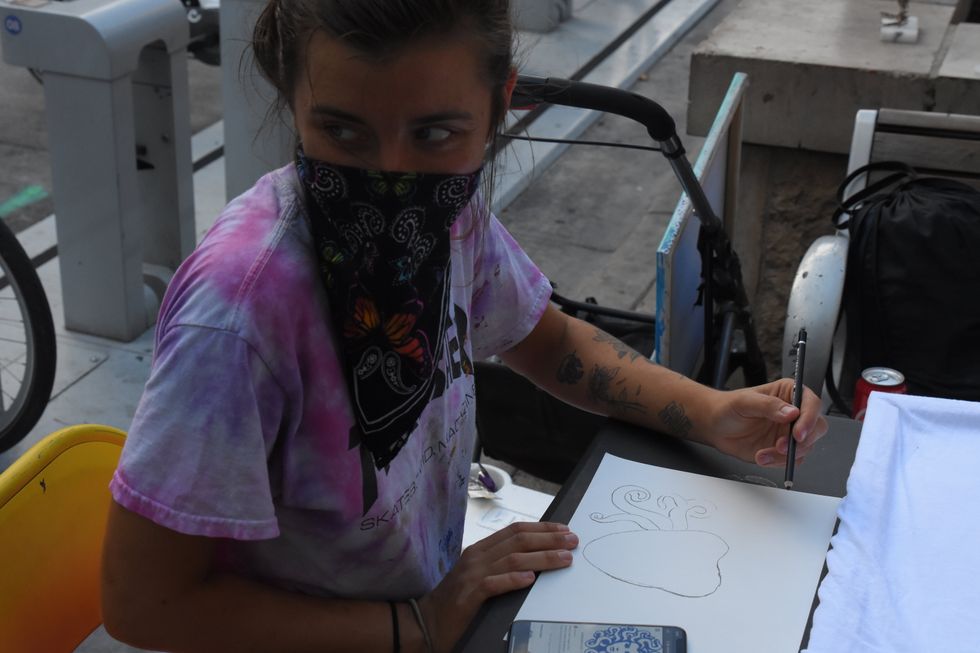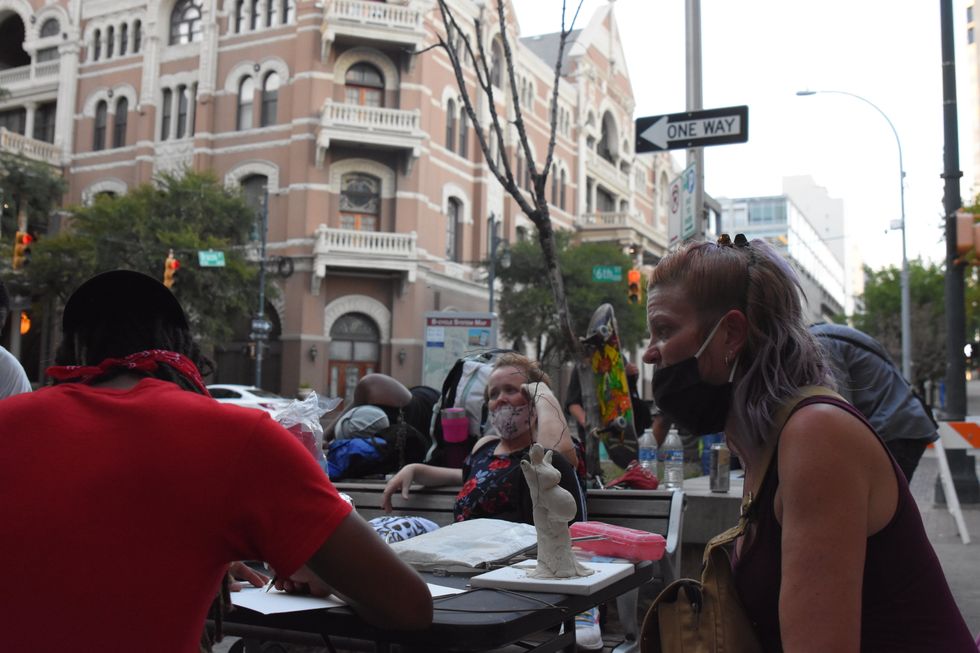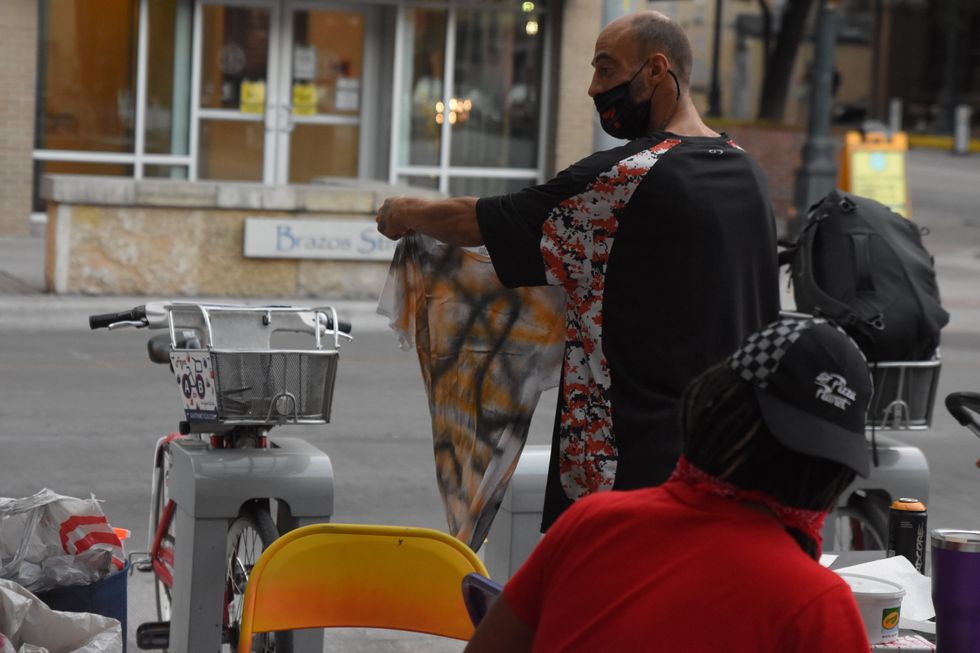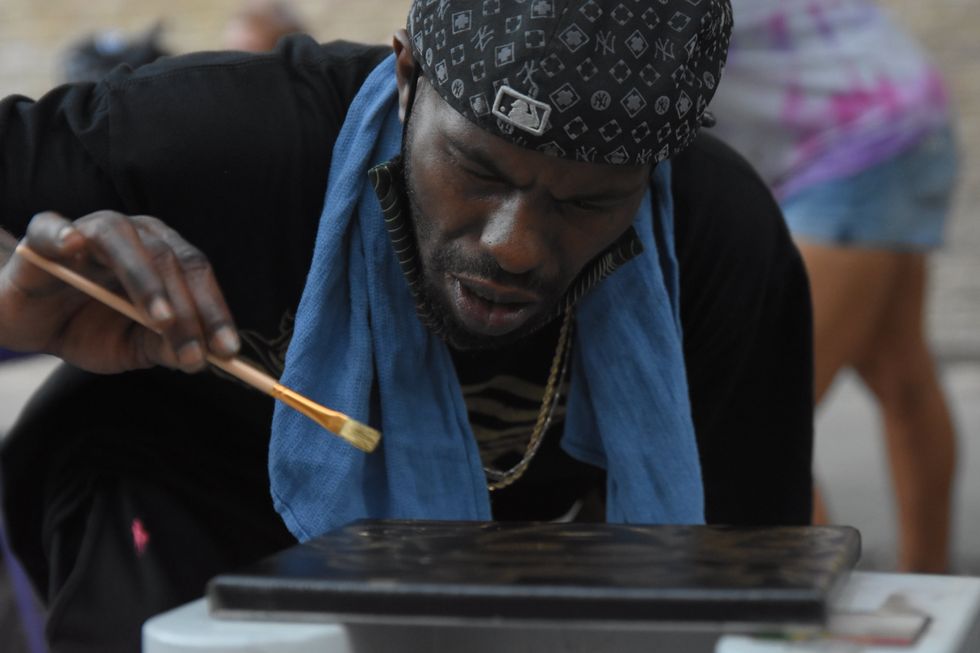 Across the street from the iconic Driskill Hotel, in front of a mural that says "Spread Kindness," the workshop is a world away from the hardscrabble life Denver leads under Austin's urban bridges.
He began sculpting, drawing, painting and writing about three years ago when he "built up too much anxiety and started to go manic."
The workshop has been dubbed the Dark Side of the Street Collective by founder Justine Decker, a 25-year-old street artist who arrived in Austin in April and who, until recently, lived in a room above a Sixth Street bar before moving to an apartment.
Decker, 25, is a prolific artist whose work includes colorful murals on the plywood boards covering Sixth Street bars.
Decker recently escaped the streets after spending 10 years with a heroin addiction that began in her adolescence in Florida. Now clean, she earns commissions for her mural art and drives for delivery companies to make ends meet.
She has an associate's degree from a college in Florida, which she attended on a scholarship and work-study program as a teen. Now she studies at an Austin art school, with funding from a student loan. Decker uses art supplies she buys with her own money and a few occasional donations for the group, operating for about seven weeks now.
"This helps me as much as it would help anybody else," she said. "Collaborating with people and other artists, and just remembering there's so much more to life than (using)."
On a recent Wednesday evening, the project that week was stenciling T-shirts. Will, a 35-year-old who spends much of his time on the streets, suggests a Medusa design.
"Sometimes a person can look at you, and the way they look at you, it turns you to stone, and you're just stuck for a minute," he said. "You know what that look means, and you're asking yourself why."
Decker sketches the pattern and shows Will how to trace it. Then they cut it out with an Exacto knife, put it on top of the T-shirt, and Will spray paints it black and gold.
He holds it up proudly."That's dope," he says with a grin.
He replicates it on a canvas. The design catches on, and two more people make Medusa shirts, too.
Decker's dream is to create a website with artist profiles to help sell their art, create P.O. boxes and bank accounts for them, and give them a way for their art to get them off the streets.
Denver is one of the group's most prolific and talented artists, Decker said. He has no birth certificate—he was born in Mexico with no birth certificate and taken in by a Rio Grande Valley family—so it's hard to find a job to pay for housing and a safe place to keep his art.
"That's one of the hugest problems I have right now, is protecting my intellectual property," he said. "I thought I wanted to live on the street the rest of my life, and now? No, I don't."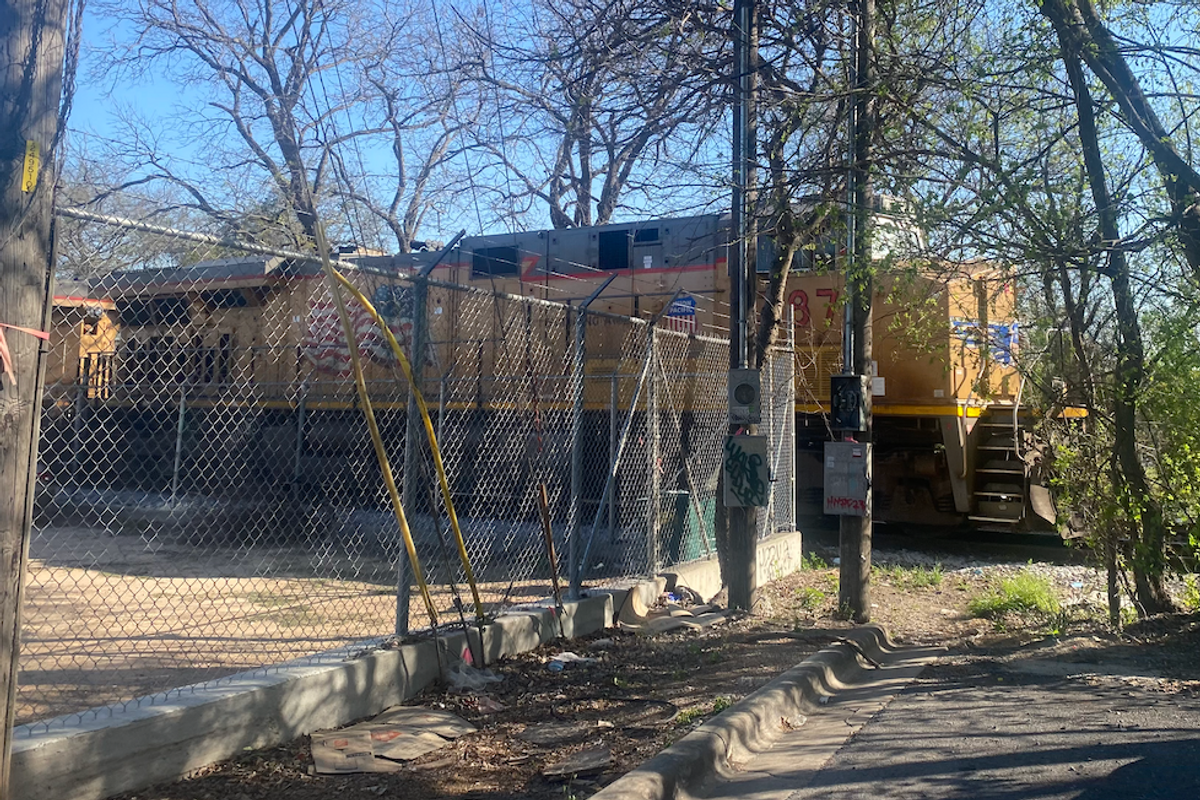 A Union Pacific cargo train hit a man in his 40s, killing him Thursday morning, Austin police said.
The train's driver called the police after the train hit the man at around 12:45 a.m. in the 300 block of Orchard Street, nearby Fifth Street and Lamar Boulevard.
Police have not released the identity of the man.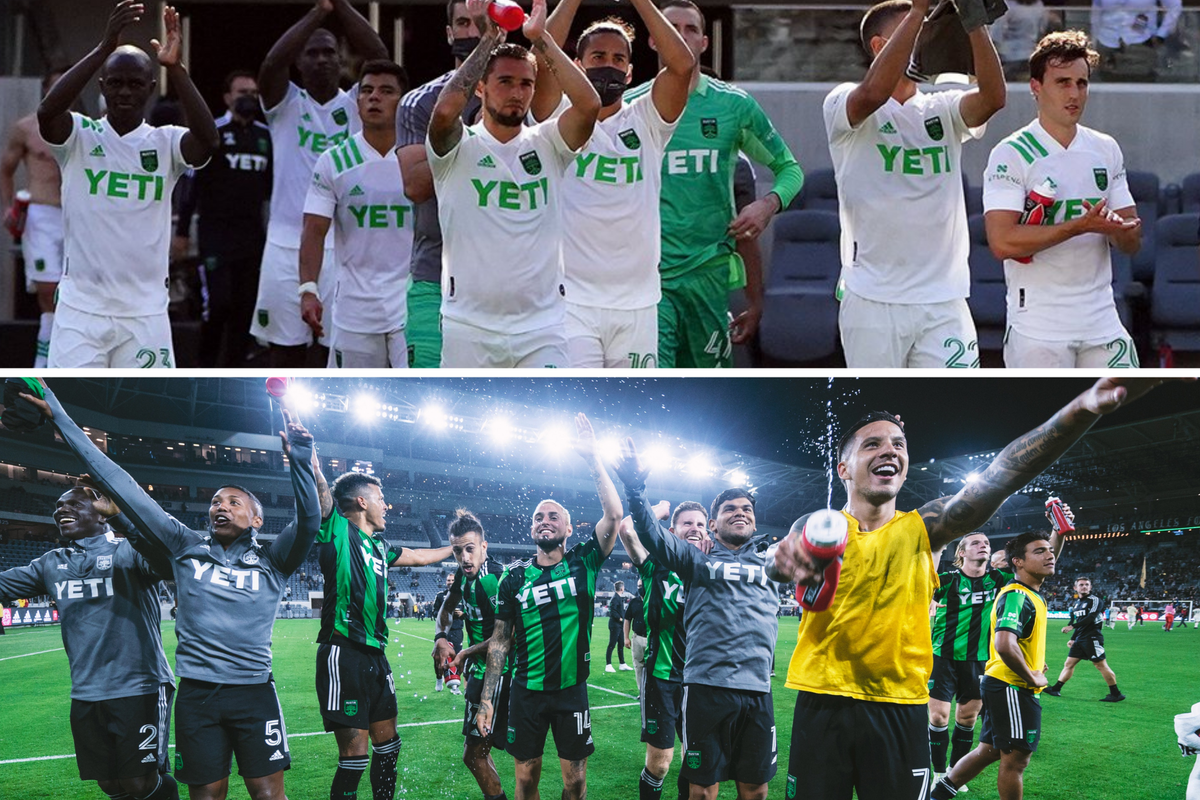 Over a year after they took the stage for the first time in Los Angeles, Austin FC returned to Banc of America Stadium to snatch the No. 1 spot from LAFC in a 2-1 statement win late Wednesday night.
Austin FC, which has flirted with the top spot in the MLS West this season, has now solidly reached the summit just a year after its second-to-last first season finish. The new top dogs are now 7-2-3 overall.
Here's a look at three highlights from the match: