Austonia AM
100% Austin news, info, and entertainment, straight to your inbox at 6 a.m. every morning.
In five minutes, you're fully informed and ready to start another great day in our city.
Get connected with our daily update
Nathan Ryan is the CEO of Austin-based consulting firm Blue Sky Partners, and a commissioner on Austin's Economic Prosperity Commission. As a commissioner, he contributes to strategy related to job creation and construction in the city. Views are his alone and do not reflect the views of Austonia.
Austin is in the middle of a years-long debate about homelessness. Right now, some are arguing that we should go back to the ban we had in place in early 2019 that made camping, sitting, lying and panhandling punishable by fine or jail. That response greatly oversimplifies the challenge we're dealing with.
---
Austin doesn't need a ban, it needs a plan.
Homelessness is at least four crises in one:
An economic crisis
A housing crisis
A mental health and/or substance abuse crisis
And a racial equity crisis
If we're going to meaningfully reduce homelessness, we need to acknowledge that it's not going to be as simple as reinstating a ban. We also deserve to know where we are in this process, which is why we're going to have to demand that Austin City Council put together a comprehensive plan with benchmarks and a timeline so progress can be reported on frequently.
That being said, I have some ideas.
Financial Security: According to a Federal Reserve report from 2018, nearly 40% of Americans wouldn't be able to cover a surprise $400 bill. Layoffs due to the COVID-19 pandemic have certainly made the economic situation more dire for many Americans and has likely pushed many to the brink of homelessness. To address this, Austin City Council should make direct cash assistance programs like 2020's Relief in a State of Emergency (RISE) Fund permanent. We should also look at how we can expand economic assistance related to utility bills through Austin Energy and Austin Water.
Housing: Austin is an incredible city, which is why more than 160 new people move here per day. In just the last year, the average cost of a home in Austin has gone up 14%, to $448,406. The reason housing prices are going up so drastically is simple: we don't have enough housing supply to meet demand. Because Texas is a property tax-based state, rising property values make it more likely that people will be pushed out of their homes—and the lack of supply means it's harder to house individuals experiencing homelessness. That's why Austin City Council should continue to invest in Permanent Supportive Housing like hotels and consider creating city-sanctioned encampments with wraparound support services. But on housing, the single most important thing Council could do is to finish the job they started with CodeNEXT to upzone Austin and allow all types of housing to be built all over the city. Upzoning Austin will allow our supply to keep up with demand.
Mental Health: According to Johns Hopkins, an estimated 26% of Americans over the age of 18 suffer from a diagnosable mental disorder. Depression and anxiety are most common, but things like bipolar disorder and schizophrenia are relatively common, too. Substance abuse often coexists alongside mental health issues, and both are exacerbated by economic stress, anxiety, and homelessness. Just last week, Austin announced that its 911 call script now includes mental health as a requested emergency service. That's an important start. But any plan to address homelessness needs to include more consistent access to mental health care and better case management as well. One big step Austin could take is to help each of Austin's many homeless service organizations develop a coordinated database so it's clear where the service gaps are so they can be met. We have too much data in too many different places.
Racial Equity: Lastly, Austin has a history of segregation and systemic racism that continues to rear its ugly head. This is true when it comes to homelessness, too: in Austin, even though Black Austinites represent 7.6% percent of our population, they represent more than one-third of our homeless population. As regards criminal justice, Black and brown Austinites are more likely to be stopped, searched and cited by law enforcement than white/Caucasian residents like me.
These crises compound—it's far too easy to see how one can lead to the other, or one slip up could cause someone to become unhoused. I can understand and empathize with public safety concerns on this issue. Everybody should feel safe and everybody should be safe in Austin, Texas.
But this is why it's so important that we don't simply knee-jerk react our way back to a policy that criminalizes homelessness.
Austin needs a comprehensive plan to address the economic, housing, mental health and racial equity crises that undergird this Gordian knot of a challenge. Putting that plan together is going to require City Council to make some unpopular decisions. It's also going to require that we, as residents of Austin, continue to be the compassionate and helpful people I know we are.
Austin City Council did not create this problem, but they hold the keys to fix it.
Read another opinion column: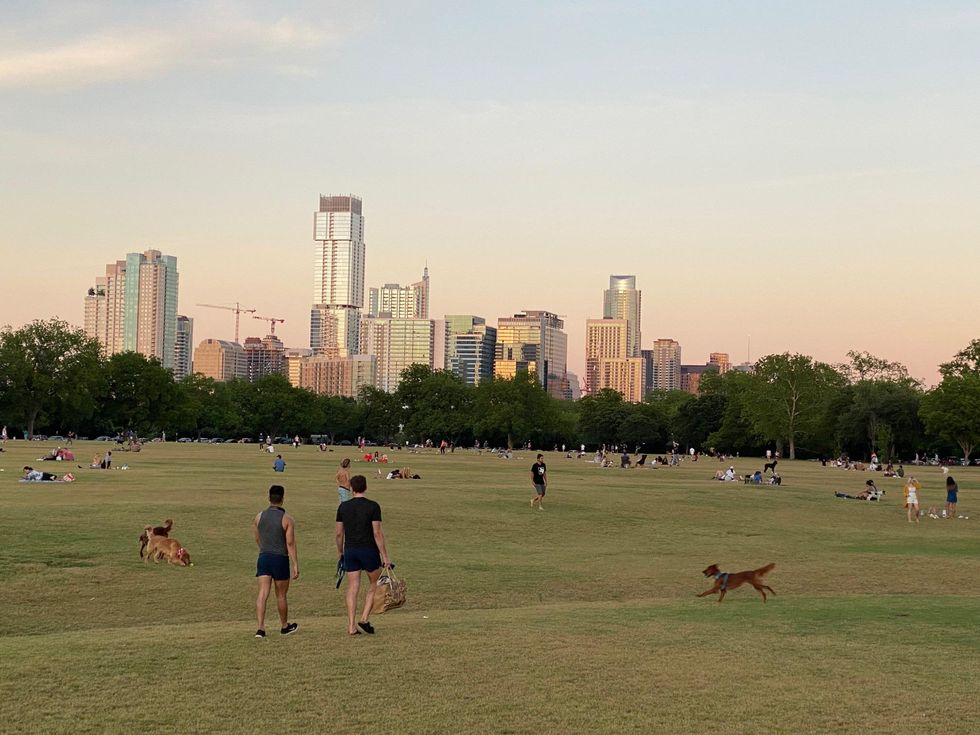 Another national op-ed discourages moving to Austin
Austonia file photo. (Christa McWhirter/Austonia)
Police have arrested one of two suspects involved in a mass shooting at Austin's Sixth Street in the early morning hours on Saturday, leaving 14 people injured and two in critical condition.
The arrest was made by the Austin Police Department and the Lone Star Fugitive Task Force. One suspect is still at large.
Police started receiving 911 phone calls at 1:24 a.m about a man that fired shots into a large crowd, and responded to a chaotic scene on the 400 block of East Sixth Street. Detectives are surveying video footage captured by bystanders and cameras on the scene to identify the suspect.

The Austin Police Department has narrowed down their search to two male suspects and believes there was "some type of disturbance" between the two parties.
No deaths have been reported. Fourteen victims are receiving treatment in a hospital in stable condition with one treated in an emergency room; two are in critical condition.
According to Interim Police Chief Joseph Chacon, "almost all" of the victims are innocent bystanders but police have not ruled anyone out at this time.
Shooting on 6th Street Austin Texas 6-12-2021 (Aftermath) youtu.be
The shooting occurred on the weekend of the Republic of Texas Motorcycle Rally. With lots of people downtown, police say it was difficult to get EMS in and out of the scene. Police arrived while the scene was still an "active threat," officers "immediately began lifesaving measures" and drove six victims to the hospital in their squad cars, said Chacon, and four were transported in ambulances.
Chacon said that the incident is believed to be isolated, and they optimistic they will be successful in getting the two suspects into custody. Multiple departments, including APD, the FBI, Texas DPS and the ATF, are involved in the investigation.
Austin police are also requesting state troopers for patrol assistance in the coming days. Chacon stressed staffing issues are increasingly making responding to emergency calls "very hard."
"Overall, we remain a safe city," Chacon said. "Also keep in mind when you come downtown, you need to be safety conscious. Be vigilant of your environment and your surroundings."
Today marks the five-year anniversary of the Pulse nightclub shooting in which 49 were killed and 53 wounded in Orlando, Florida. Anyone with information on the shooting is asked to call 911 or 512-472-TIPS.

This story was updated at 2:47 p.m. to include new information and will be updated as more details are revealed.
From Your Site Articles
Related Articles Around the Web
Austin police are investigating a homicide in North Austin where a woman was shot and killed, just hours after a mass shooting in Downtown Austin hospitalized 14 people.
APD is working a suspicious death near the 1900 block of W Rundberg Ln. PIO is en route and will update with media staging location. PIO6
— Austin Police Department (@Austin_Police) June 12, 2021
Police originally responded to Ironhorse Flats Apartments, 1900 block of W. Rundberg Lane, at 3:20 p.m. when they found the woman with multiple gunshot wounds. She was transported to a local hospital, where she was pronounced dead at 4:07 p.m.

No one is in custody as of yet but police are speaking with potential witnesses. Officials said they believe this was an isolated incident with no danger to the public but said possible relation to the downtown shooting has not been specifically ruled out.
Officers could not provide a suspect description and the relationship to the victim is still unknown.
This is a developing story that will be updated as details become available.