Get connected with our daily update
Nathan Ryan is the CEO of Austin-based consulting firm Blue Sky Partners, and a commissioner on Austin's Economic Prosperity Commission. As a commissioner, he contributes to strategy related to job creation and construction in the city. Views are his alone and do not reflect the views of Austonia.
Austin is in the middle of a years-long debate about homelessness. Right now, some are arguing that we should go back to the ban we had in place in early 2019 that made camping, sitting, lying and panhandling punishable by fine or jail. That response greatly oversimplifies the challenge we're dealing with.
---
Austin doesn't need a ban, it needs a plan.
Homelessness is at least four crises in one:
An economic crisis
A housing crisis
A mental health and/or substance abuse crisis
And a racial equity crisis
If we're going to meaningfully reduce homelessness, we need to acknowledge that it's not going to be as simple as reinstating a ban. We also deserve to know where we are in this process, which is why we're going to have to demand that Austin City Council put together a comprehensive plan with benchmarks and a timeline so progress can be reported on frequently.
That being said, I have some ideas.
Financial Security: According to a Federal Reserve report from 2018, nearly 40% of Americans wouldn't be able to cover a surprise $400 bill. Layoffs due to the COVID-19 pandemic have certainly made the economic situation more dire for many Americans and has likely pushed many to the brink of homelessness. To address this, Austin City Council should make direct cash assistance programs like 2020's Relief in a State of Emergency (RISE) Fund permanent. We should also look at how we can expand economic assistance related to utility bills through Austin Energy and Austin Water.
Housing: Austin is an incredible city, which is why more than 160 new people move here per day. In just the last year, the average cost of a home in Austin has gone up 14%, to $448,406. The reason housing prices are going up so drastically is simple: we don't have enough housing supply to meet demand. Because Texas is a property tax-based state, rising property values make it more likely that people will be pushed out of their homes—and the lack of supply means it's harder to house individuals experiencing homelessness. That's why Austin City Council should continue to invest in Permanent Supportive Housing like hotels and consider creating city-sanctioned encampments with wraparound support services. But on housing, the single most important thing Council could do is to finish the job they started with CodeNEXT to upzone Austin and allow all types of housing to be built all over the city. Upzoning Austin will allow our supply to keep up with demand.
Mental Health: According to Johns Hopkins, an estimated 26% of Americans over the age of 18 suffer from a diagnosable mental disorder. Depression and anxiety are most common, but things like bipolar disorder and schizophrenia are relatively common, too. Substance abuse often coexists alongside mental health issues, and both are exacerbated by economic stress, anxiety, and homelessness. Just last week, Austin announced that its 911 call script now includes mental health as a requested emergency service. That's an important start. But any plan to address homelessness needs to include more consistent access to mental health care and better case management as well. One big step Austin could take is to help each of Austin's many homeless service organizations develop a coordinated database so it's clear where the service gaps are so they can be met. We have too much data in too many different places.
Racial Equity: Lastly, Austin has a history of segregation and systemic racism that continues to rear its ugly head. This is true when it comes to homelessness, too: in Austin, even though Black Austinites represent 7.6% percent of our population, they represent more than one-third of our homeless population. As regards criminal justice, Black and brown Austinites are more likely to be stopped, searched and cited by law enforcement than white/Caucasian residents like me.
These crises compound—it's far too easy to see how one can lead to the other, or one slip up could cause someone to become unhoused. I can understand and empathize with public safety concerns on this issue. Everybody should feel safe and everybody should be safe in Austin, Texas.
But this is why it's so important that we don't simply knee-jerk react our way back to a policy that criminalizes homelessness.
Austin needs a comprehensive plan to address the economic, housing, mental health and racial equity crises that undergird this Gordian knot of a challenge. Putting that plan together is going to require City Council to make some unpopular decisions. It's also going to require that we, as residents of Austin, continue to be the compassionate and helpful people I know we are.
Austin City Council did not create this problem, but they hold the keys to fix it.
Read another opinion column: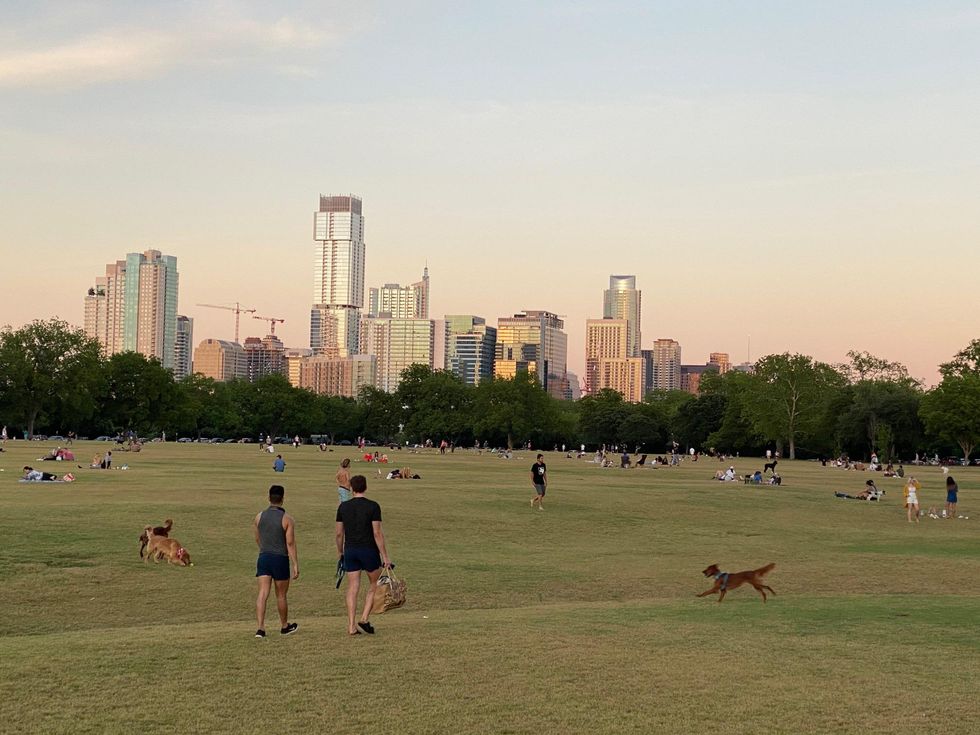 Another national op-ed discourages moving to Austin
After months of speculation, a new report says political personality Beto O'Rourke is mulling a run for Texas governor that he will announce later this year.
Sources tell Axios the former congressman is preparing his campaign for the 2022 election, where he will likely vie for the position against incumbent Gov. Greg Abbott. The only other candidate that has announced he will take on Abbott for governor is former Texas GOP Chairman Allen West—no Democrats have announced they are running as of yet.
"No decision has been made," Axios reports David Wysong, O'Rourke's former House chief of staff and a longtime adviser, said. "He has been making and receiving calls with people from all over the state."
A new poll from The Dallas Morning News and University of Texas at Tyler shows O'Rourke is narrowing the gap between himself and Abbott's prospects for governor. In the poll, 37% said they'd vote for O'Rourke over Abbott, while 42% said they'd vote for Abbott.
Abbott has been in the hot seat due to his handling of COVID-19 and the signing of landmark legislation into law, including new abortion and voting rights laws; 54% of poll respondents voted they think the state is headed in the "wrong direction." Still, Texas hasn't had a Democrat as governor since the 90s.
O'Rourke's people-focused approach to the 2018 Senator race, which he lost to Sen. Ted Cruz, gave him a widespread following and many hoped he'd throw his hat into the ring since he said he was considering it earlier this year.
"We hope that he's going to run," Gilberto Hinojosa, the state chair of the Democratic Party, told Axios. "We think he'll be our strongest candidate. We think he can beat Abbott because he's vulnerable."
Austin rapper Jordi Esparza may not have won the 2021 Red Bull Batalla, the world's largest Spanish freestyle rap competition, but for a spirited two rounds, the 22-year old Mexican native looked like he had every right to.
On Saturday evening in Los Angeles, the event itself looked like Cobra Kai meets Star Search with graphics adding a very Batman Beyond aesthetic. Over a dozen rappers hoping to represent the U.S. in the international round of the competition took to the stage with in-your-face jabs at accents, sexual orientation and odors, among other things.
This was Esparza's second rodeo; he had placed third at the 2020 National Finals, automatically securing him a spot this year.
However, things were different this year. He was not nervous about the contest. Unlike in 2020, when he made his Red Bull Batalla debut, the anxiety of the event led him to "feeling so bad."
Affecting a casual calm, the locally-based landscaper said he just felt "so relaxed, so happy" and primarily wanted to "enjoy everything."
Choosing his first-round opponent, Esparza, whose stage name is Jordi, elected to go against LA-based Boss.
Esparza freestyled an attack on his opponent's weight and cholo style of dress.
Boss—bracketing his Latin freestyle with English appeals to the crowd—mocked Jordi's lack of education, made fun of how clean Jordi's shoes looked and suggested that Jordi just came back from a Footlocker.
That first round went to Jordi.
But his next opponent Eckonn would prove to be his undoing.
Eckonn compared Jordi to Hannah Montana, while Jordi soulfully explained that he had learned from the best.
Esparza's verbal dexterity is matched by a rattling rhythm and a game face that is as mawkish as it is mockish. The overall effect is that of an underdog with bite.
Eckonn beat Esparza in that round with the overall championship going to Palm Beach-based rapper Reverse.
However, Esparza was just happy to be there. He recently told Austonia going to the finals again was a dream come true—a pinnacle that he said he won't know how to top.
With his nimble jabs and sneaky prowess, honed from pop culture and the swagger of a young working man hungry to be more, Jordi Esparza is just getting started.