Austonia AM
100% Austin news, info, and entertainment, straight to your inbox at 6 a.m. every morning.
In five minutes, you're fully informed and ready to start another great day in our city.
Get connected with our daily update
Austin voters will decide whether to reinstate a ban on sitting, lying, camping and panhandling in certain areas of the city this Saturday. If Proposition B does not pass, there is a possibility that Texas lawmakers will enact a statewide ban, largely in response to policy changes here in Austin.
Since the City Council overturned the ban in 2019, after a successful advocacy campaign, which argued criminalizing homelessness was inhumane and ineffective, the homeless population has grown locally, both in size and visibility. This is in keeping with slight increases across the state in the last few years, Texas Homeless Network President and CEO Eric Samuels told Austonia.
---
"We know that people are living behind our greenbelts, people are living in encampments," he said. "Now those people are just more visible, and I think that has caused a lot of the public in Austin to think that homelessness has exploded, when in reality it hasn't. It's just their recognition of homelessness has exploded."
So how does Austin's homeless population compare to that of other major cities in Texas?
Using data from the point-in-time count, an annual census of local homeless populations, the National Alliance to End Homelessness estimates that the Austin-Travis County region has a rate of around 18 homeless people per 10,000. This is about triple the rate in the greater Houston region and double the state rate. The rate in the Dallas region is 12.5. In the San Antonio-Bexar County area, it's 14.5.
Although the Austin area has a higher rate of homelessness than other big Texas cities, its homeless population has declined significantly in the last decade or so. Between 2007 and 2019, the region's total homeless population decreased by nearly 60%, according to NAEH. The rate in Austin is also notably lower than that of New York (47 per 10,000), California (38 per 10,000) and other states.

These rates are calculated using point-in-time count data. The PIT count is an annual census conducted in January and required of communities that receive federal funding to address homelessness. Because winter weather can vary widely in Texas and the nature of the count, which is conducted by volunteers and intended to be a snapshot, the data can fluctuate. "It's just not a representative sample of the year," Samuels said.
For example, in Austin, the 2020 PIT count found a nearly 45% increase in the local unsheltered homeless population compared to the 2019 count. The Ending Community Homelessness Coalition, a local nonprofit that conducts the count, attributed the change to a 39% increase in volunteers.
Overall, the homeless population grew by around 11% between the 2019 and 2020 counts, according to ECHO. The homeless populations in the Houston region, San Antonio-Bexar County and the state also increased, between 2% and 5%, according to their respective PIT counts and Texas Homeless Network data. Only the Dallas region saw a slight decline, of around 1.4%, during that period.
What's behind this trend? When a Giddings police officer dropped a homeless man off at the Austin Resource for the Homeless earlier this month, it enforced to some Austinites that the city is attracting homeless people in search of social services or lax regulations. "Statistically speaking, that's all bunk," Samuels said. Nearly two-thirds of homeless Austinites first experienced homelessness here, according to the 2020 PIT count.

The single biggest culprit, Samuels said, is rising housing costs. Median rent in the state of Texas increased by more than 21% between 2010 and 2019, according to the U.S. Census Bureau. In the city of Austin, it increased nearly 30% during that same period. In Dallas, it grew by around 25%; in Houston and San Antonio, at around the same rate as the state.
Although there are person factors that contribute to homelessness, including untreated mental illness and substance use, Samuels argued that the systemic reasons—including increasingly unaffordable housing—are more salient. "What's really focused on by the majority of people are the personal, quote, failures rather than the systemic failures because it's much easier to blame the personal than it is to blame the system," he said.

The sun is out, and thousands of Austin FC fans will be as well as Austin FC goes to Kansas to play Sporting Kansas City at 6:30 p.m. on Sunday.
There's plenty of pub partners to choose from, but here's a few watch parties to help you get in on the action.
Ingredients:
1 1/2 oz of hibiscus-infused Tito's Handmade Vodka
2 oz sparkling water
1 oz fresh lime juice
3/4 oz simple syrup
1 tsp allspice dram
Directions: Add infused Tito's Handmade Vodka, lime juice, and simple syrup to a shaker with ice. Shake and strain into a glass over fresh ice. Top with sparkling water, and garnish with a lime slice. Enjoy!
After Austin voters decisively passed Proposition B, City Council is revisiting the idea of sanctioned encampments: places where homeless residents can camp free from the threat of citation, fines or arrest—and where those will go in the city.
Prop B, which will reinstate city bans on sitting, lying, camping and panhandling in certain areas of central Austin starting Tuesday, passed with nearly 58% of the vote in the May 1 election. Council then voted unanimously on Thursday to direct the city manager to develop a plan and budget for temporary sanctioned encampments, including 10 possible sites, one in each council district, by next week.
Council Member Kathie Tovo, who sponsored the resolution, said such sites are critical with the city's emergency shelters and Camp Esperanza, a state-run campsite off of Hwy. 183 near Montopolis, at capacity. "When individuals in encampments ask where they should go, we need to have places to suggest," she said Thursday.
The concerns

The resolution approved Thursday directs city staff to assess all other funding sources before considering those earmarked for affordable housing. Council directed city staff to identify possible city-owned properties that could serve as sanctioned encampments. The dataset below shows properties owned by the city.
Matthew Mollica, executive director of the Ending Community Homelessness Coalition, said it is critical that public works funding is used; if housing dollars are reallocated toward sanctioned encampments, it could worsen the city's homeless problem by defunding the one proven solution. "Creating sanctioned encampments… is a public space management strategy," he said. "It is very clearly not a strategy to end homelessness in our community."

Homelessness experts and city staff say sanctioned encampments are problematic for many reasons: they are expensive to maintain, challenging to manage and hard to close, even when intended to be temporary.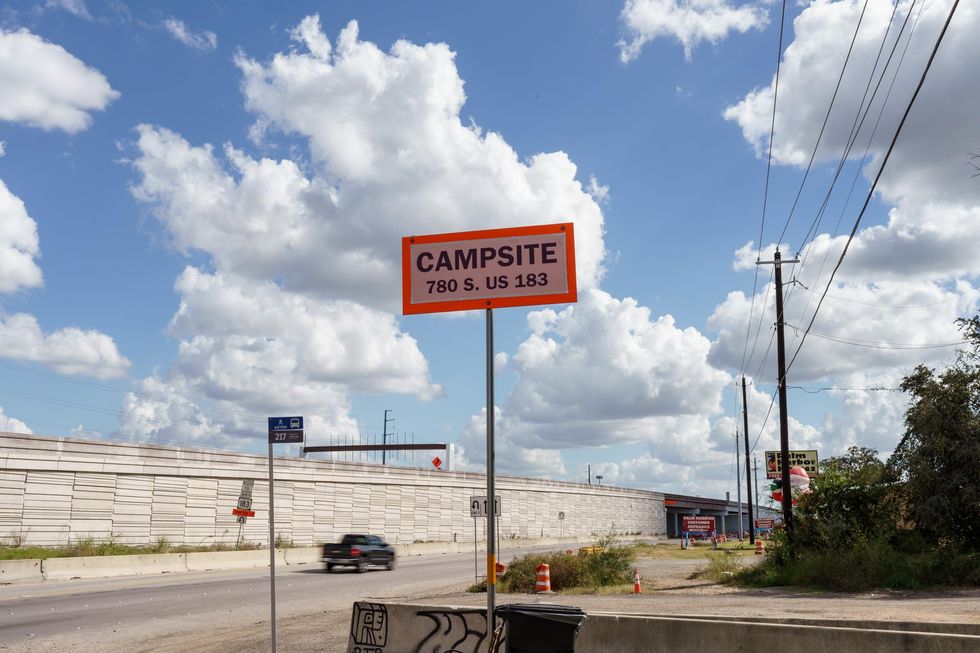 Camp Esperanza, the state-sanctioned homeless camp in Southeast Austin, opened in late 2019 and is home to approximate 150 people. (Jordan Vonderhaar)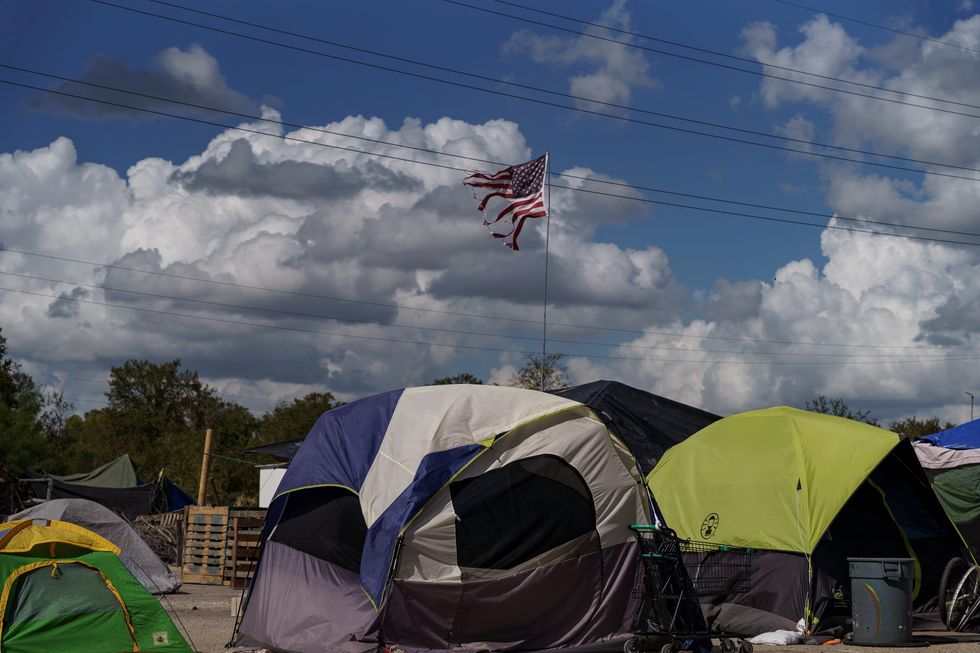 The Other Ones Foundation, a local nonprofit, operates the camp, providing work opportunities, case management, hygiene and laundry facilities, and a community shelter, among other services. (Jordan Vonderhaar)
In 2019, city staff declined to make recommendations for sanctioned encampments despite being directed by council to do so, citing 2018 guidance from the U.S. Interagency Council on Homelessness. "Neither authorized encampments nor parking areas provide housing for people experiencing homelessness," staff wrote in a memo. "Rather, each option detracts from the staff resources assigned to addressing this moral imperative."
Barbara Poppe, a nationally recognized homelessness policy consultant who has advised the city of Austin, said it is inefficient for cities to provide support services at sanctioned encampments when they could focus on housing efforts. She added that it is also unlikely the city will be able to establish enough sanctioned campsites to serve every homeless person, meaning that some will remain in violation of the ban.
The mandate

Despite these concerns, council is moving forward with two policies they previously abandoned: the camping ban and sanctioned encampments.
Cleo Petricek, co-founder of Save Austin Now, the local political action committee that spearheaded Prop B, is glad the city is moving forward with sanctioned encampments, which she feels are necessary in addition to ongoing efforts to provide housing support. "Regardless of the long-term strategies, it's long-term," she said. "We are in a humanitarian crisis right now."
Petricek points to the state-run campsite as a successful model and said the city's sanctioned encampments should be in industrial areas, far from schools, parks and residential neighborhoods. "It is undeniable that these (camps) will have an impact on surrounding areas," she said, citing recent fires and other crime. "We have to expect these worst-case scenarios."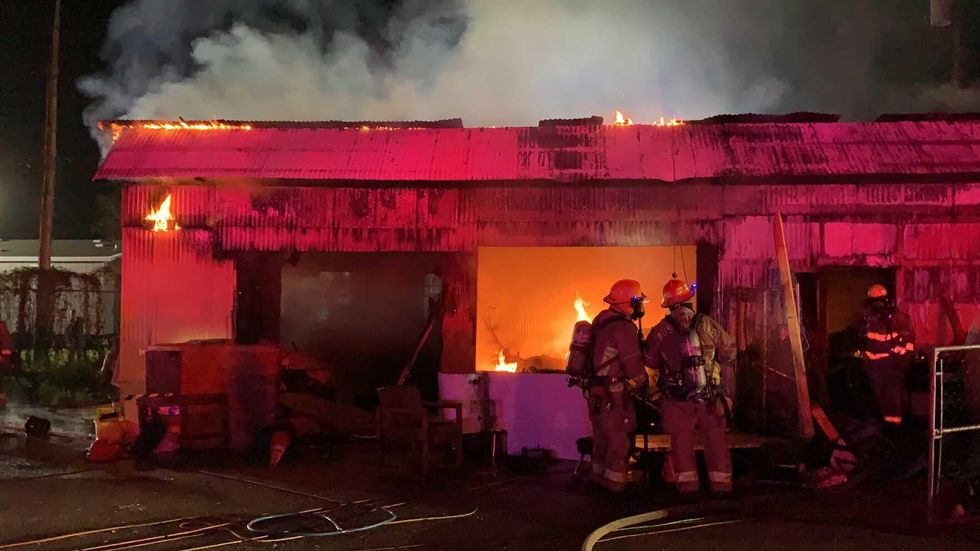 A fire broke out at the state-sanctioned homeless camp in Southeast Austin on April 2. (Austin Fire Info/Twitter)
Homeless services providers argue this approach is inhumane and leaves homeless people isolated from resources. They also warn that, wherever the sanctioned encampments are located, they are likely to prompt pushback. Petricek, a local Democratic advocate, successfully organized a petition in opposition to a proposed homeless shelter in South Austin, near her home, in 2019. The city's recent hotel purchases, for conversion into homeless housing, also prompted protests.

As Austin police and other city departments begin enforcing the camping ban on Tuesday, homeless advocates say the homeless are left without a clear, legal option: "There is no place for them to go," Mollica said.