Get connected with our daily update
Austin voters will decide whether to reinstate a ban on sitting, lying, camping and panhandling in certain areas of the city this Saturday. If Proposition B does not pass, there is a possibility that Texas lawmakers will enact a statewide ban, largely in response to policy changes here in Austin.
Since the City Council overturned the ban in 2019, after a successful advocacy campaign, which argued criminalizing homelessness was inhumane and ineffective, the homeless population has grown locally, both in size and visibility. This is in keeping with slight increases across the state in the last few years, Texas Homeless Network President and CEO Eric Samuels told Austonia.
---
"We know that people are living behind our greenbelts, people are living in encampments," he said. "Now those people are just more visible, and I think that has caused a lot of the public in Austin to think that homelessness has exploded, when in reality it hasn't. It's just their recognition of homelessness has exploded."
So how does Austin's homeless population compare to that of other major cities in Texas?
Using data from the point-in-time count, an annual census of local homeless populations, the National Alliance to End Homelessness estimates that the Austin-Travis County region has a rate of around 18 homeless people per 10,000. This is about triple the rate in the greater Houston region and double the state rate. The rate in the Dallas region is 12.5. In the San Antonio-Bexar County area, it's 14.5.
Although the Austin area has a higher rate of homelessness than other big Texas cities, its homeless population has declined significantly in the last decade or so. Between 2007 and 2019, the region's total homeless population decreased by nearly 60%, according to NAEH. The rate in Austin is also notably lower than that of New York (47 per 10,000), California (38 per 10,000) and other states.

These rates are calculated using point-in-time count data. The PIT count is an annual census conducted in January and required of communities that receive federal funding to address homelessness. Because winter weather can vary widely in Texas and the nature of the count, which is conducted by volunteers and intended to be a snapshot, the data can fluctuate. "It's just not a representative sample of the year," Samuels said.
For example, in Austin, the 2020 PIT count found a nearly 45% increase in the local unsheltered homeless population compared to the 2019 count. The Ending Community Homelessness Coalition, a local nonprofit that conducts the count, attributed the change to a 39% increase in volunteers.
Overall, the homeless population grew by around 11% between the 2019 and 2020 counts, according to ECHO. The homeless populations in the Houston region, San Antonio-Bexar County and the state also increased, between 2% and 5%, according to their respective PIT counts and Texas Homeless Network data. Only the Dallas region saw a slight decline, of around 1.4%, during that period.
What's behind this trend? When a Giddings police officer dropped a homeless man off at the Austin Resource for the Homeless earlier this month, it enforced to some Austinites that the city is attracting homeless people in search of social services or lax regulations. "Statistically speaking, that's all bunk," Samuels said. Nearly two-thirds of homeless Austinites first experienced homelessness here, according to the 2020 PIT count.

The single biggest culprit, Samuels said, is rising housing costs. Median rent in the state of Texas increased by more than 21% between 2010 and 2019, according to the U.S. Census Bureau. In the city of Austin, it increased nearly 30% during that same period. In Dallas, it grew by around 25%; in Houston and San Antonio, at around the same rate as the state.
Although there are person factors that contribute to homelessness, including untreated mental illness and substance use, Samuels argued that the systemic reasons—including increasingly unaffordable housing—are more salient. "What's really focused on by the majority of people are the personal, quote, failures rather than the systemic failures because it's much easier to blame the personal than it is to blame the system," he said.

Akins Early College High School, 10701 S. 1st St., is on lockdown as district police investigate a report of an "armed subject," Austin ISD Police Chief Ashley Gonzalez tweeted at 10:11 a.m. Wednesday.
Students and staff are safe, Gonzalez tweeted. Parents are asked to refrain from going to campus.
This post will be updated as more information becomes available.
The Taylor Police Department is investigating an apparent murder-suicide that left four people dead on Tuesday.
Officers responded to a call at around 1 p.m. for a welfare check at 616 Symes St. in Taylor, Texas, where the Taylor Fire Department helped force entry into the home since it was locked, police said. Once inside, officers found four dead bodies. The names of the victims have not been released as police continue to contact relatives, but officers revealed they consisted of a 45-year-old woman, a 20-year-old woman, an 18-year-old man and a 57-year-old man.
Police believe the deaths to be a murder-suicide and are investigating with the help of the Williamson County Sheriff's Office and the Texas Rangers.
Later that day, another murder was reported in Taylor, which police say is unrelated.
Police responded to a shooting at 2100 Whistling Way around 4 p.m. Tuesday. They said a family member found 33-year-old Jonathan Hitch with a gunshot wound to his head. It is being investigated as a suspicious death.
No matter how long you've been in Austin, Samuel Grey Horse has probably been here longer than you and the spirit of his indigenous ancestors walked the land far before anyone living did. Born and raised in the capital city in 1961, the city has grown and changed all around him.
You've probably seen or heard of Grey Horse before—he's been called the "Sixth Street Cowboy" due to his penchant for riding his horses through the city streets, dressing up as Santa Claus during the holidays and making national news back in 2011 when he received a DUI while riding his mule down Sixth Street.
"I remember when I could see the capital from anywhere," Grey Horse told Austonia during a visit to his East Austin ranch. "I never thought or imagined that I would see Austin like this."
Now, living with his three horses, mule and dogs in East Austin on "the road that time forgot," Grey Horse lives the "Native" lifestyle; he cares for his horses, tends to his garden, holds sacred prayer ceremonies, writes music, sings with legendary musicians and occasionally films with Richard Linklater, director of "Dazed and Confused."
Just as Austin changed over the years, so too did Grey Horse. On June 26, 2010, he was in an accident that he credits for changing his life. While riding a racing horse, Grey Horse's saddle came loose and dragged him underneath for 150 yards. By the time they had stopped, Grey Horse had 12 broken ribs, collapsed lungs, a broken neck, broken clavicle, cracked skull, broken wrist and went into a coma.
"I had all the things done to me but that's how the universe teaches you," Grey Horse said. "They said I would never ride a horse again or walk correctly, but no, I don't live in that world, because where I went to with my coma. I was living in another world, in the other world's illusion."
His road to recovery was long, arduous, miraculous and aided by his horses: Big Tex, Big Red and mule Mula, who have all been in his care for well over a decade. Grey Horse said they took care of his "energy" when he needed them most. Despite the pain that ensued from horses, his accident drew the cross-species family together.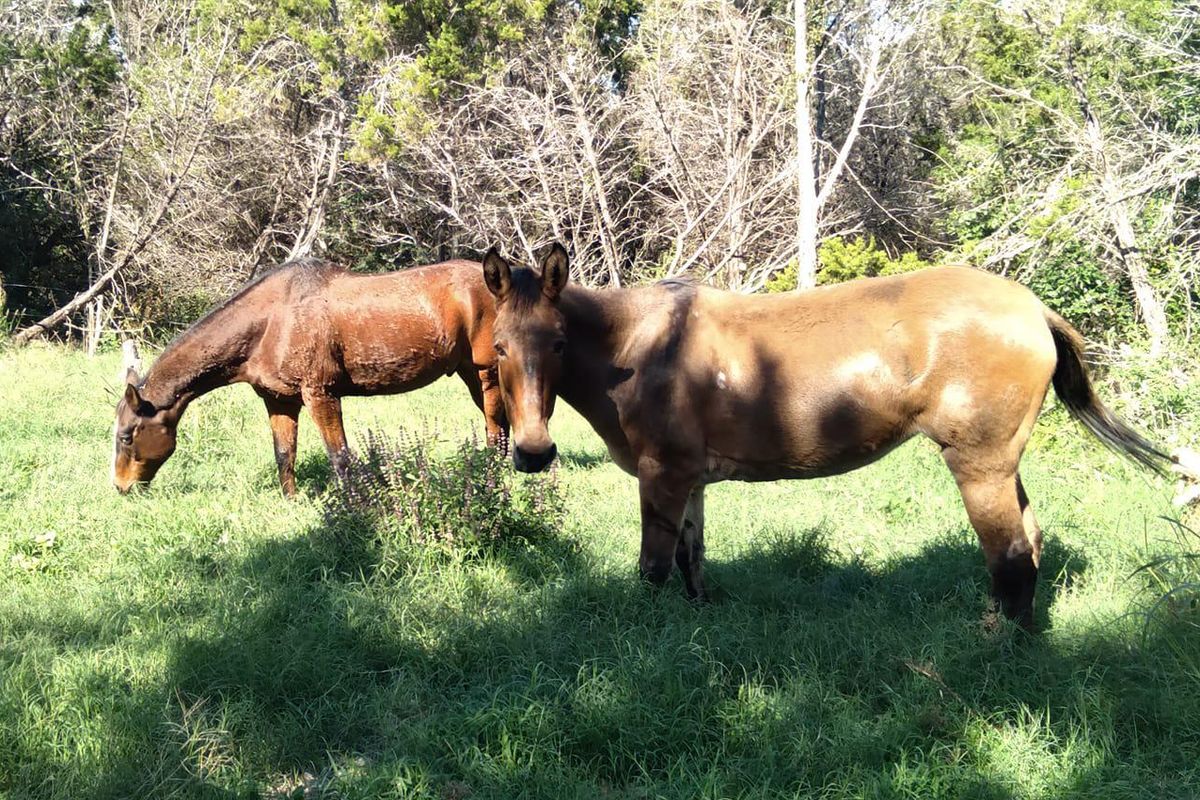 Big Red and Mula have been living with Grey Horse for 16 and 14 years, respectively. (Sam Grey Horse/Instagram)
"I ride them around town and share them with everybody because everything has a purpose," Grey Horse said. "You don't throw something away just because it's a little beat up. I was all beat up."
The winters are still painful for his joints but he powers through so he can bring joy to the people of Downtown Austin in his Santa Claus costume every year.

"I can't hurt because I'm Santa Claus, and I got to be Santa for the kids and everybody. I give them inspiration and energy, I make millions happy downtown," Grey Horse said. "I sing often with a cordless mic, my horses dance and they're happy. If I can make one person happy that makes a difference."
Though it was never his intention, a career in music found Grey Horse and it felt right due to his mother telling him as a child he would be a singer one day. Grey Horse recently returned from his tour with The Greyhounds and Sir Woman across Texas, Arkansas and Oklahoma.
(Laura Figi/Austonia)
His original song, "Crow Dog," is a tribute to his life and the people who have passed along their loving energy in it.

Show biz can't get enough of Grey Horse, who also models for Patagonia and Levi's; he taught Joe Jonas how to ride a horse for a video shoot. He is now working with a British filmmaker on a documentary, and was featured on episode 10 of Linklater's "That Animal Rescue Show."
"I sing with Grammy winners, which is very special to me, and I write songs about my life. Very magical stuff," Grey Horse said. "(The tour) was one of the best runs we've done for now—people are out and want to get out and the energy the guys bring is amazing."

You're certain to see Grey Horse around town if you spend some time near The Continental Club on South Congress or the Texas Capitol into the night. Until then, tok sha.
"There are no words for goodbye in my language, it's 'tok sha,'" Grey Horse said. "It means I'll see you again. I'll see you soon. I'll see you in the next life."