Get connected with our daily update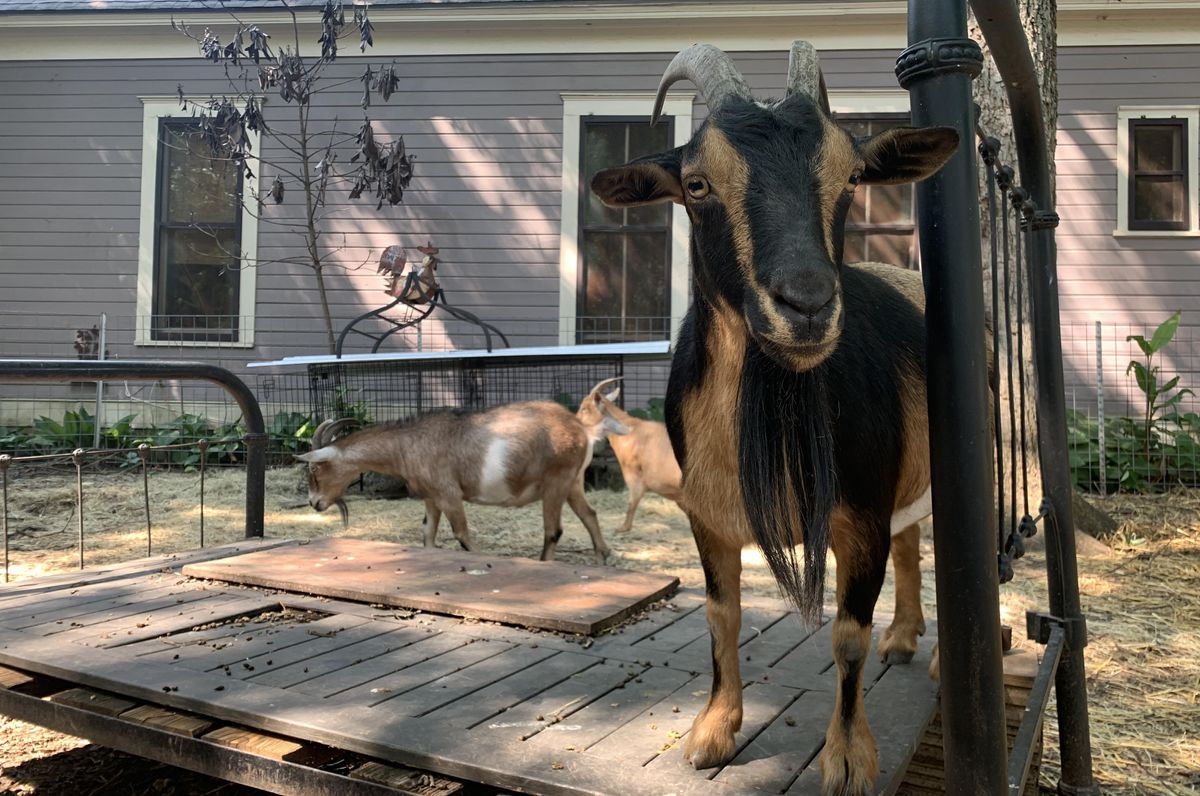 Retirees. Dog walkers. Preschoolers. Joggers. They all stop at the corner of 41st Street and Avenue G in Hyde Park to marvel at the side-yard mini farm, home to 12 nameless chickens and three goats: Clementine, Rosebud and Billy Budd.
---
The neighborhood attraction has only grown more popular since the start of the pandemic when daily walks became one of the few acceptable social activities—and a cherished part of many people's routines.
"I do think it has been significant to people's lives," said Don York, 63, owner of the historic home with his wife Diane. "They weren't going to church anymore. They weren't going out to eat with their friends... So it really did become a place of community."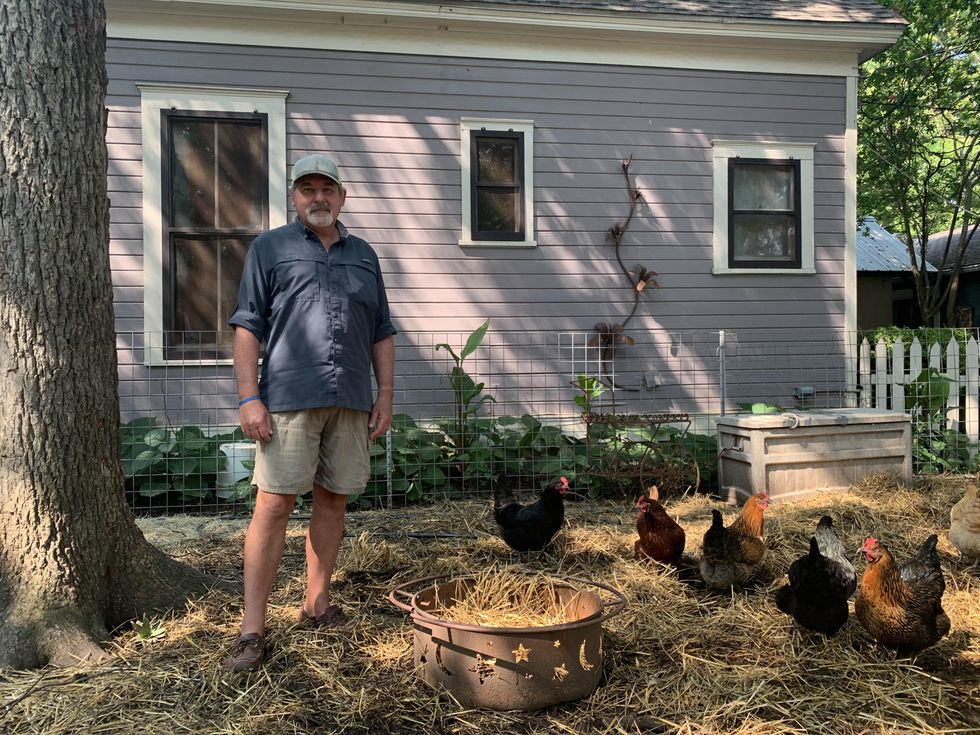 Don York and his wife, Diane, used to walk by their current home and hope to live there one day. (Emma Freer)
Dream home

The Yorks landed in Hyde Park after considering other options, including Tarrytown, Travis Heights and Dripping Springs. "Before Diane and I married, I was just driving around through neighborhoods trying to decide where we wanted to spend the rest of our lives," Don said. "Hyde Park just had the best feel."
While renting a honeymoon cottage at the corner of 40th Street and Avenue H, the couple would scope out the property. "We would walk by this house in the evening and say, 'Man, we would love to live there,'" Don said. "When they put up the for sale sign, we had a contract on it in 24 hours."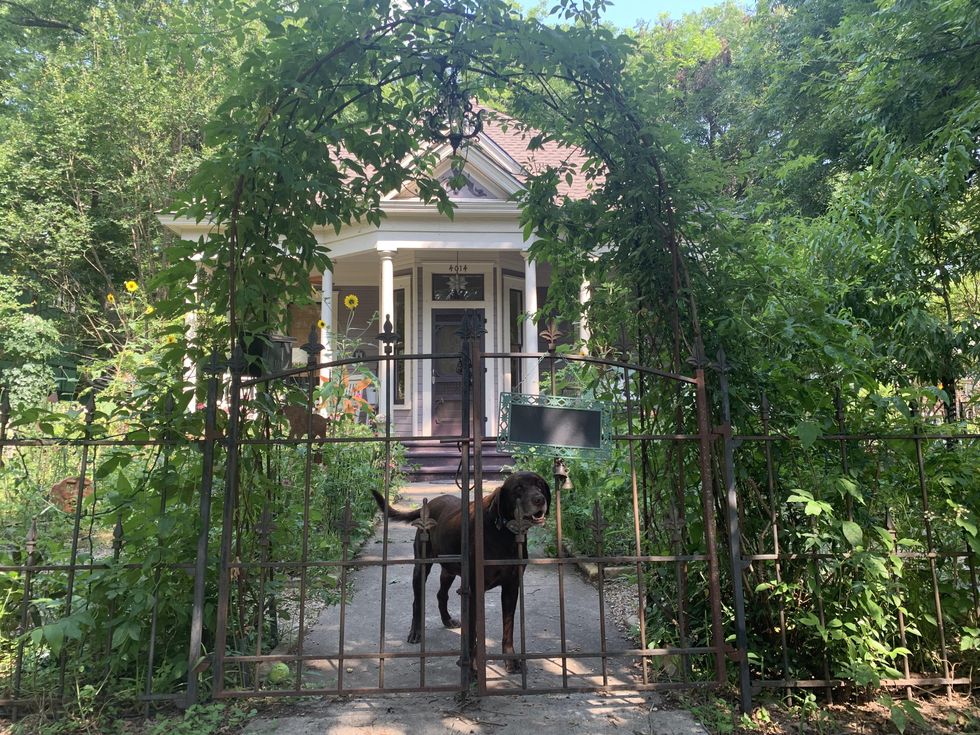 Jack the brown lab stands at the gate of the corner property. (Emma Freer)
They purchased the purple house for $150,000 in 1991 and soon welcomed their older son, whose middle name—Gray—pays homage to the former owner.

There's something of a naming tradition. The Zimmerli-Rosenquist house was built in 1903 and has changed owners approximately 17 times, according to the Hyde Park Neighborhood Association. The first owner, Ida Zimmerli, was a Swiss immigrant and dressmaker who sold it to Helena Rosenquist, a Swedish immigrant who lived there with her husband and their five children.

The home's history is part of its appeal. "One of the things I really like about the house is the tall ceilings, with the ceiling fans and the transoms," Don said. "Because, you know, back in 1903 people didn't have air conditioning."
In addition to good airflow, the house is surrounded by yard space on all sides and features an octagonal porch, which is currently home to at least three nests: robins, sparrows and wasps.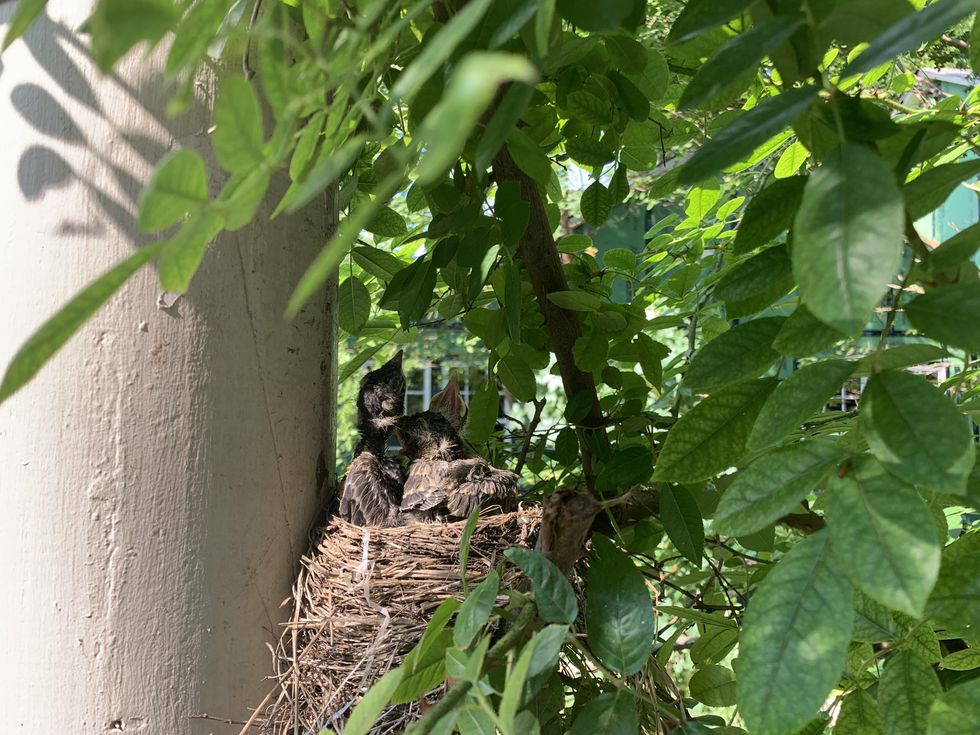 Robin chicks await their next meal. Their nest is hidden in one of the many corners of the Yorks' octagonal porch. (Emma Freer)
'A labor of love'

The mini-farm, which Don calls "a labor of love," began around 13 years ago, when the Yorks' older son was a student at McCallum High School. Don can't quite remember whether it was an environmental science or urban farming class that did it, but he knows his son came home one day wanting to get some chickens. With Diane's approval, Don transformed the kids' abandoned A-frame swing set into a coop and brought home the first eight birds.
Students from the nearby Hyde Park Montessori and Children's Discovery Center schools started visiting each day, around mid-morning. "After we had the chickens for a few years, I was sitting there thinking, 'Aren't you little kids tired of counting chickens?'" Don said. "So I just thought, 'Let's throw some miniature goats in the mix.' And that changed the course of history."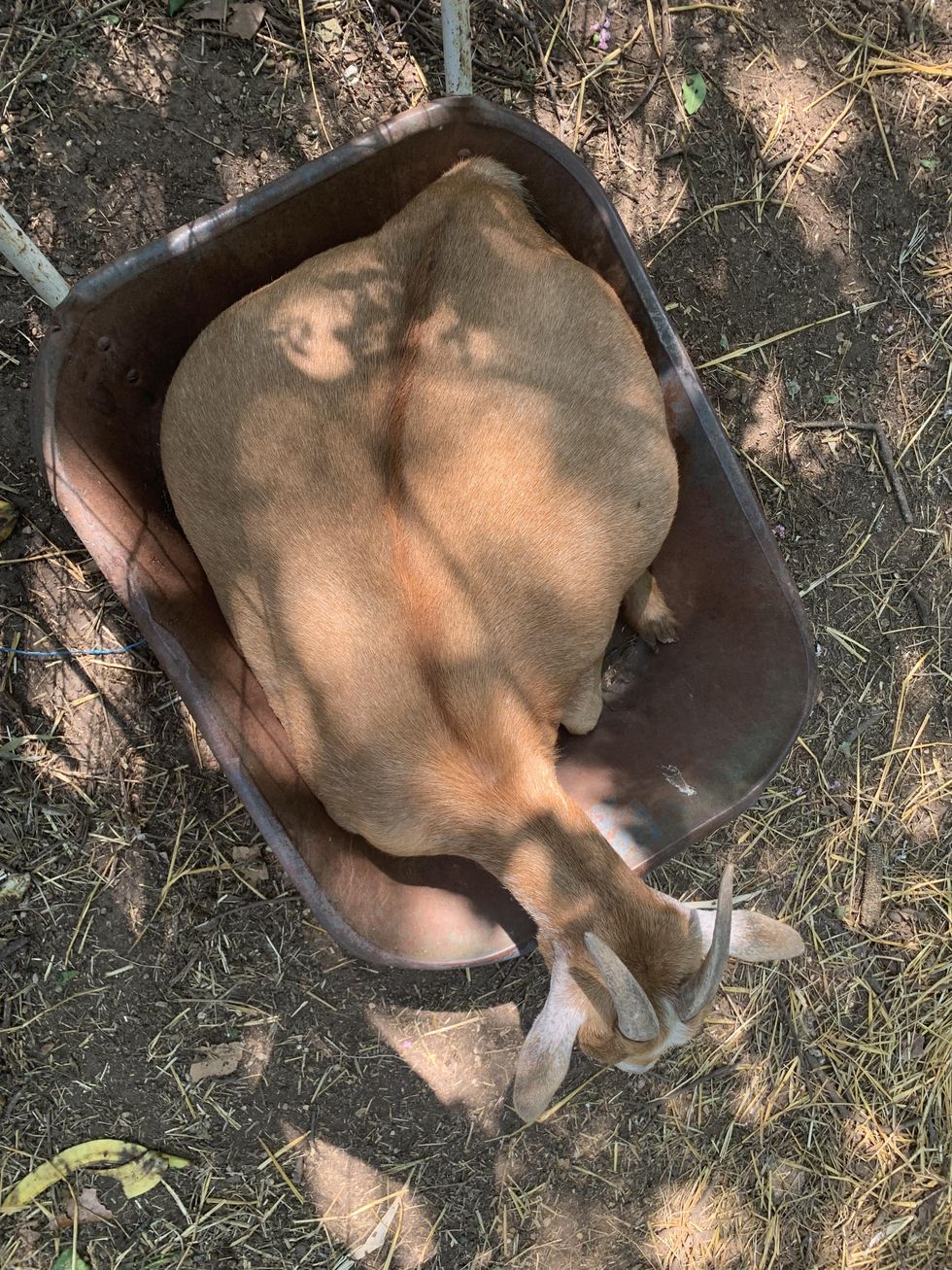 Rosebud moved to the mini farm around Christmastime and is named for the movie Citizen Kane. (Emma Freer)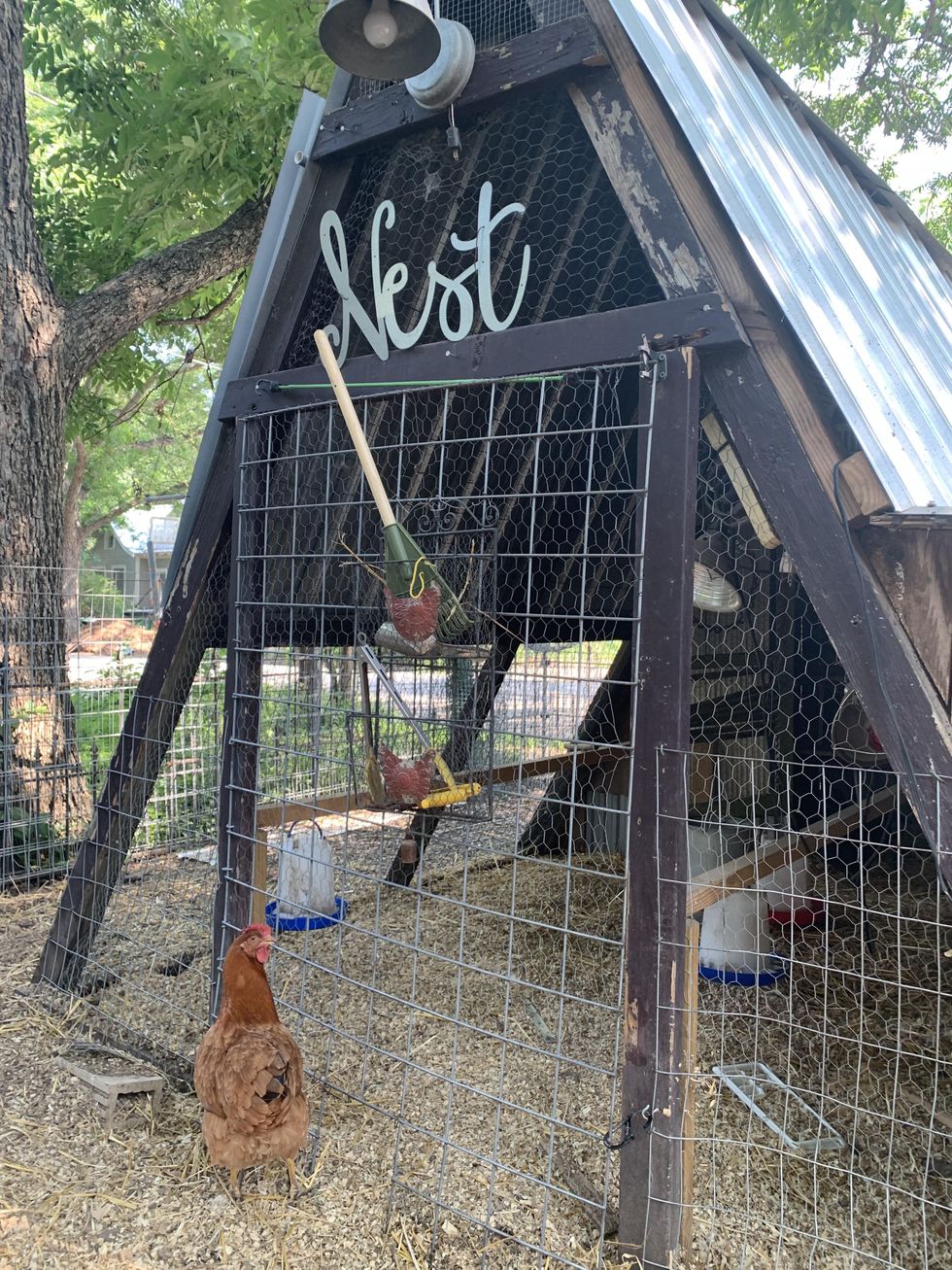 The chicken coop was repurposed from an old A-frame swing set. (Emma Freer)
The Yorks brought home Clementine and her twin sister, who died shortly after. Because goats are social animals, they soon welcomed Rosebud, who, unbeknownst to them, was pregnant. She gave birth to Billy Budd, named for a Herman Melville novella, in front of an audience of Montessori students.
Although Hyde Park has changed since the Yorks moved in—there are more BMWs than beat-up old Volvos, Don said—their routine has remained largely the same. Diane feeds the animals and mucks their enclosure. Don handles media inquiries and maintenance, such as adding a higher fence when the goats started escaping. He also collects eggs each day. There's a small basket hanging on the fence, where passersby can swap $5 for a carton.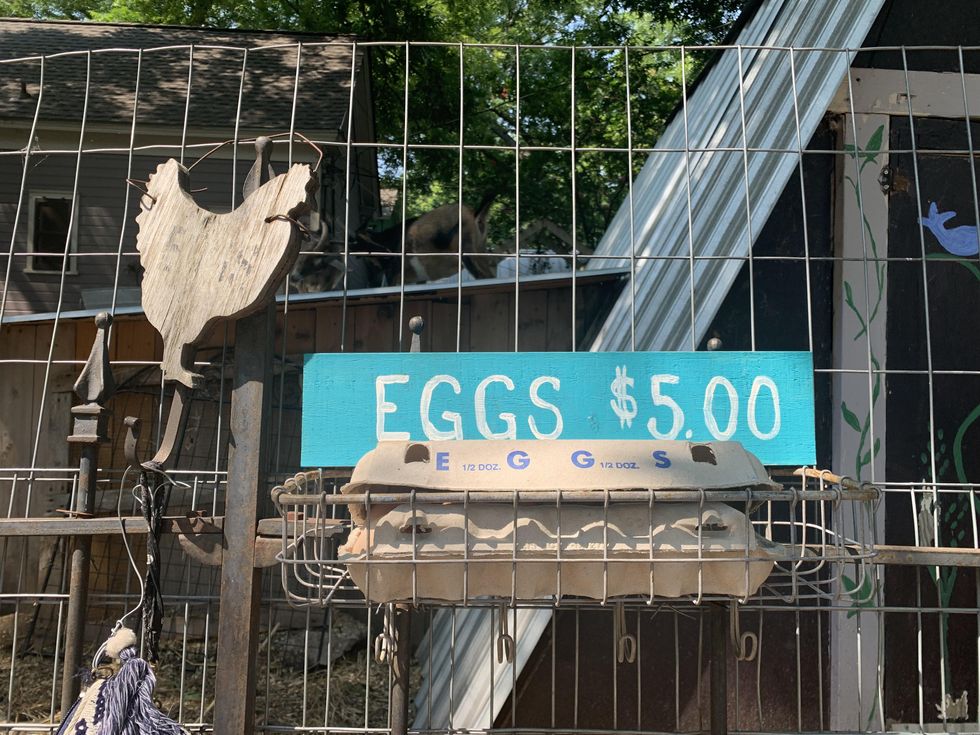 Lucky passersby will find fresh eggs, which Don typically sets out in the early evenings. There is a small coin purse for payment. (Emma Freer)
During the pandemic, the mini-farm was a natural gathering place, where neighbors could chat at a safe distance, with an obvious icebreaker. Don, an attorney, would sometimes have to change rooms while attending virtual hearings to get some quiet. But he welcomes the visitors, who continue to flock to the yard. "COVID really did ratchet it up," he said. "Hordes of people, every day."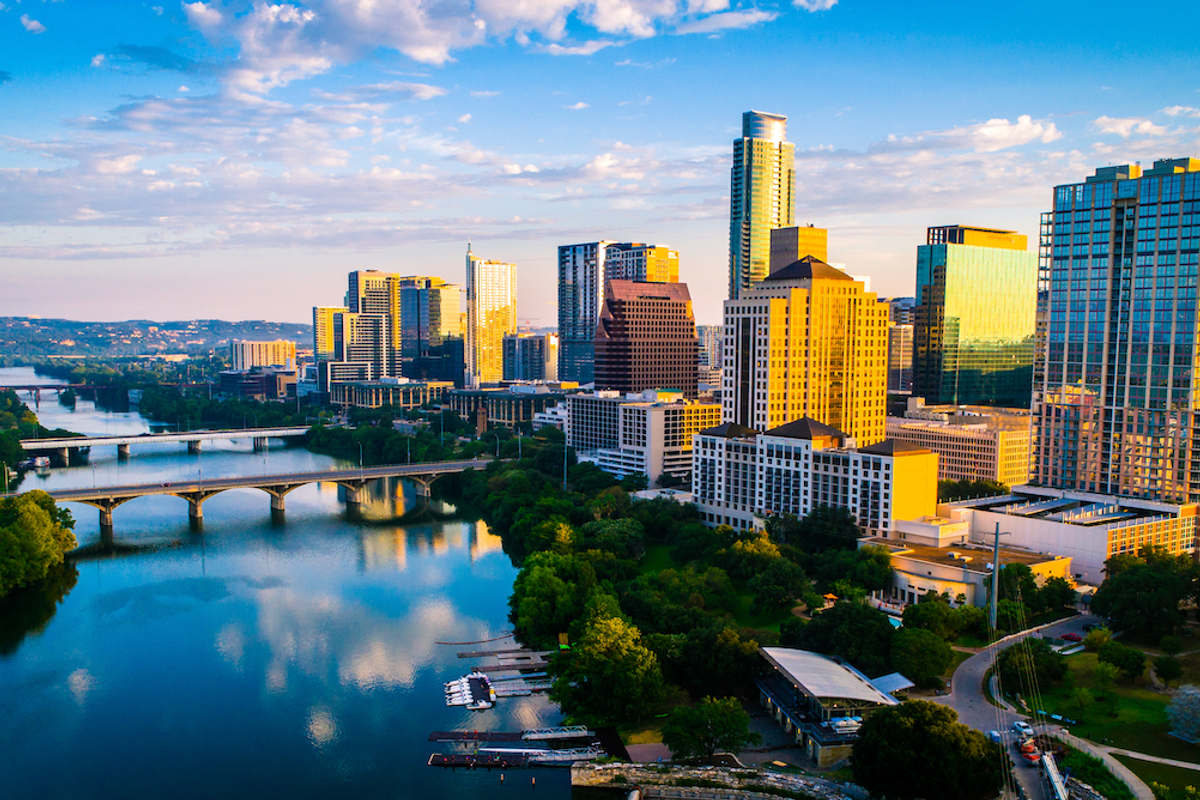 For years Austin has been one of the top 5 places to live in the U.S., according to an annual ranking from U.S. News and World Report. But this year, Austin dropped out of the top 10.
The publication ranked Austin at No. 13, down from No. 5 last year, No. 3 in 2020 and No. 1 in 2017, 2018 and 2019. Cities ranking in the top this year were No. 1 Huntsville, Alabama, No. 2 Colorado Springs and No. 3 Green Bay, Wisconsin.
So why did it rank lower this year?
The hot housing market is part of the reason. The report states "Austin offers a lower value than similarly sized metro areas when you compare housing costs to median household income."
Still, Austin was the highest-ranked Texas city on the list. Adding to its desirability are its live music capital roots and the growing tech scene. The next Texas area on the list was Dallas-Fort Worth coming in at No. 32.
U.S. News says it analyzed 150 metro areas in the U.S. to make the list based on the quality of life, the job market, the value of living there and people's desire to live there.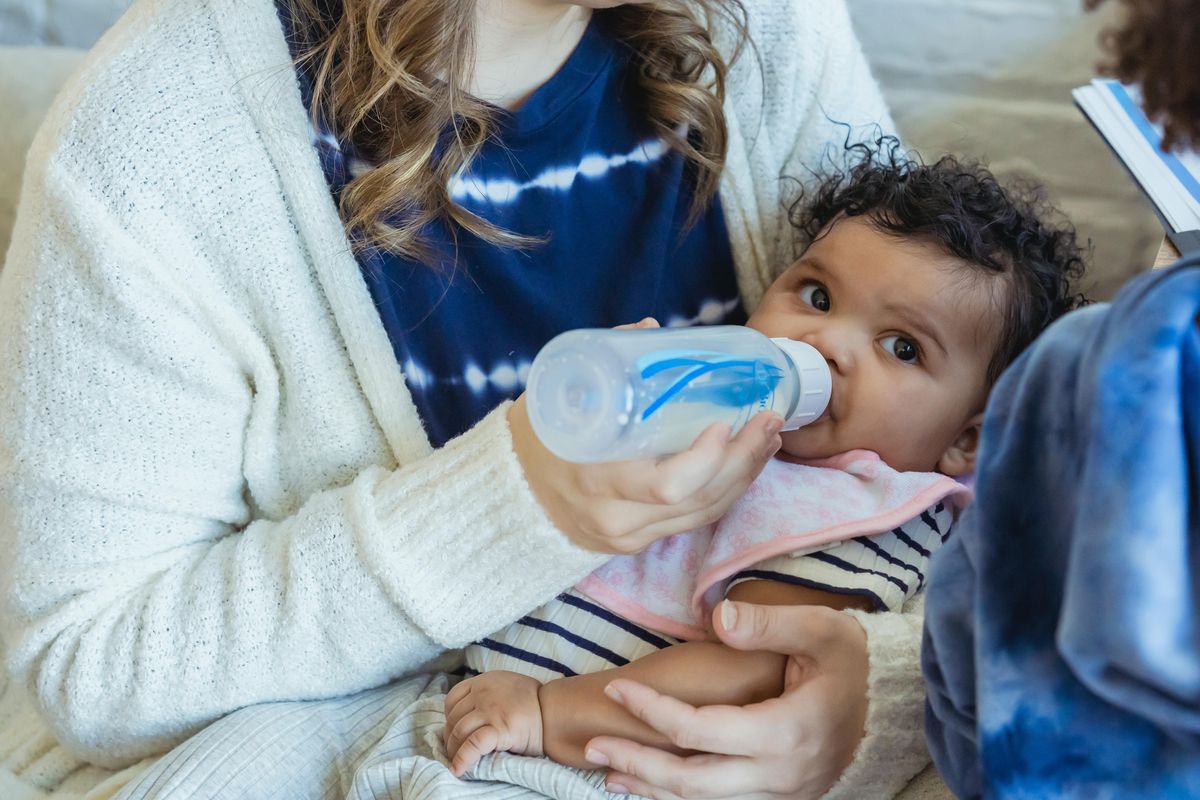 Austin parents and grocery store shelves are feeling the effects of a nationwide baby formula shortage.
Caused mostly by a February recall due to contamination issues, followed by the Abbott Nutrition factory closure in Michigan, the shortage has left Austin shelves barren. However, earlier this week, U.S. officials announced a plan with the facility to restart production.
In the meantime, local parents in crisis have turned toward the Mother's Milk Bank to keep their babies fed.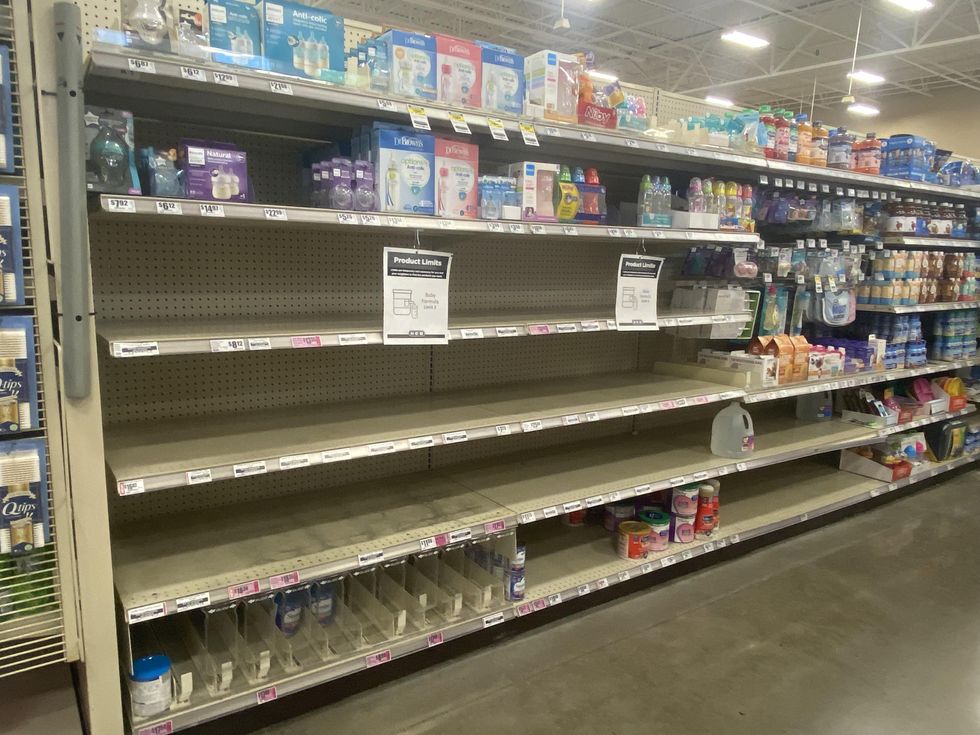 HEB on East 7th has been picked clean of formula and is limiting purchases. (Laura Figi/Austonia)
The milk bank—which takes donations from lactating mothers and dispenses milk to babies in the NICU—has been helping feed upwards of 30 families in need as the formula supply tightens.

According to the bank's executive director Kim Updegrove, Mother's Milk Bank has seen an uptick in calls from parents with healthy babies in need of help since the shortage began.
"We aren't used to hearing from families with healthy infants," Updegrove said. "They're typically very upset, angry, frustrated, sobbing—it's scary to not be able to feed your infants. So in the past few weeks, those calls have been significantly increasing."
Mothers are only able to donate if they are within a year postpartum, so Updegrove said they are constantly bringing on and retiring donors. While donors had been on a 30% decline leftover from 2021 when the shortage began, Updegrove said the shortage has led to mass community interest and more than 90 prospective donors in just the past few days.
"We and other milk banks are experiencing significant interest from the community—becoming milk donors and helping to turn around this crisis," Updegrove said. "Every infant needs to be fed, every one of us can relate to that need, and we need to make sure as a community that it happens."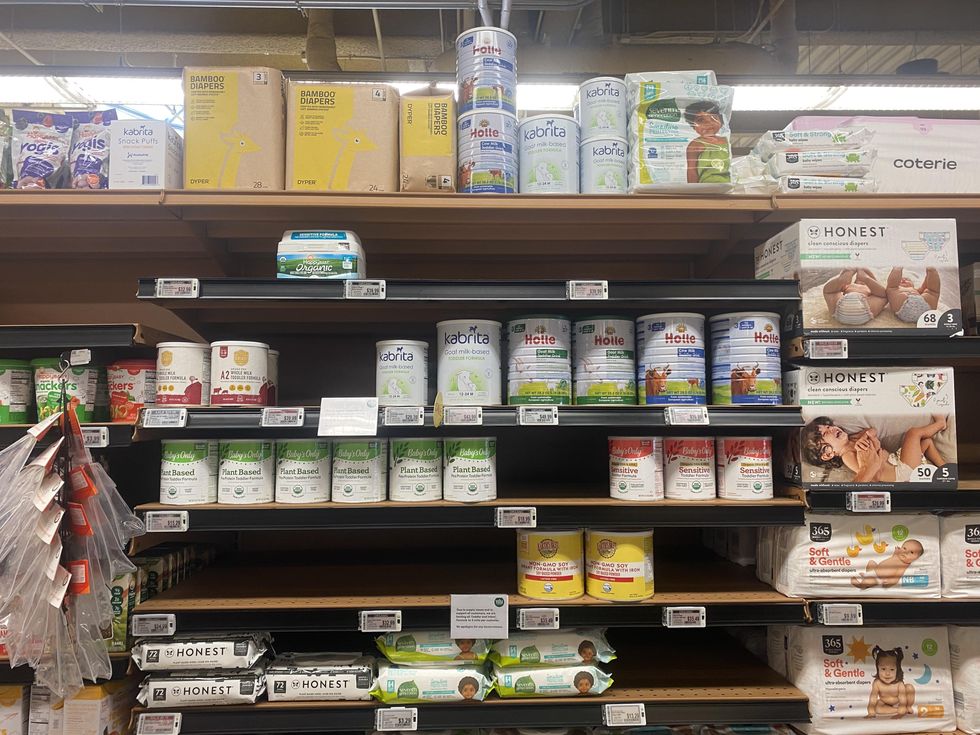 Whole Foods downtown was also cleaned out of typical formula. (Laura Figi/Austonia)
While you may still be able to find formula at places like Whole Foods—which currently has goat milk, soy and plant-based formula in stock—Updegrove said it might not be what a baby needs.
Updegrove said it is best to buy types that say "infant formula," as they are FDA approved and will provide the nutrients, vitamins and minerals a baby needs. Plant-based, homemade, non-cow's milk or diluting formula may not provide the same nutritional value.

As the community navigates the shortage, Updegrove said the most important way to help out is to not panic buy or stockpile.
"This is a crisis for families," Updegrove said. "This is the time for the community to gather together and figure out what everyone can do to help families with young infants."