Get connected with our daily update
Retirees. Dog walkers. Preschoolers. Joggers. They all stop at the corner of 41st Street and Avenue G in Hyde Park to marvel at the side-yard mini farm, home to 12 nameless chickens and three goats: Clementine, Rosebud and Billy Budd.
---
The neighborhood attraction has only grown more popular since the start of the pandemic when daily walks became one of the few acceptable social activities—and a cherished part of many people's routines.
"I do think it has been significant to people's lives," said Don York, 63, owner of the historic home with his wife Diane. "They weren't going to church anymore. They weren't going out to eat with their friends... So it really did become a place of community."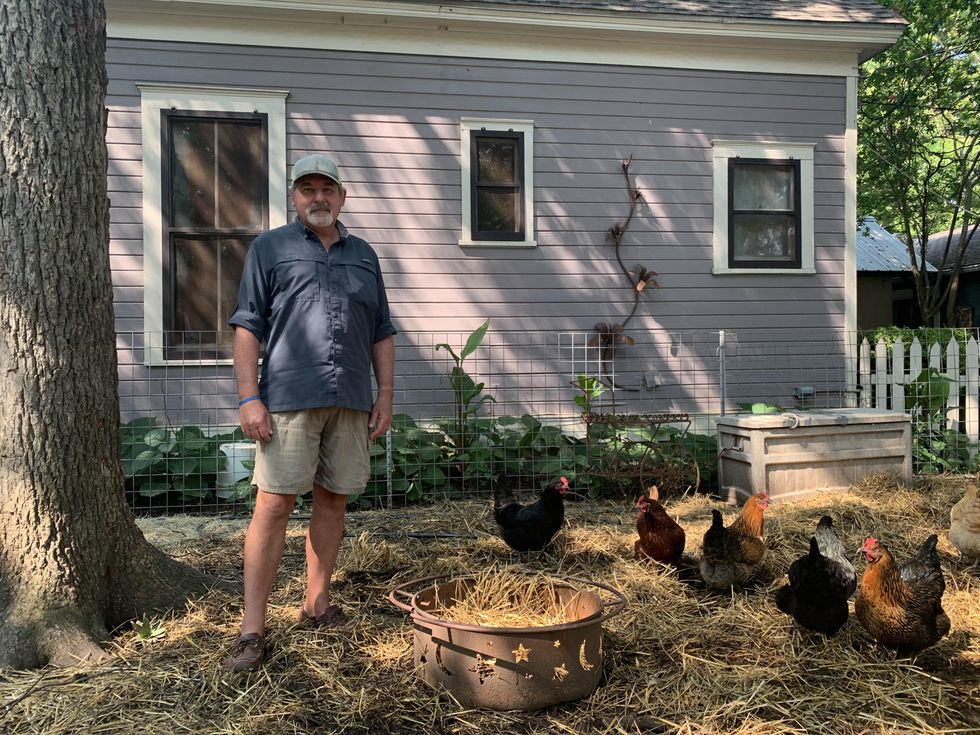 Don York and his wife, Diane, used to walk by their current home and hope to live there one day. (Emma Freer)
Dream home

The Yorks landed in Hyde Park after considering other options, including Tarrytown, Travis Heights and Dripping Springs. "Before Diane and I married, I was just driving around through neighborhoods trying to decide where we wanted to spend the rest of our lives," Don said. "Hyde Park just had the best feel."
While renting a honeymoon cottage at the corner of 40th Street and Avenue H, the couple would scope out the property. "We would walk by this house in the evening and say, 'Man, we would love to live there,'" Don said. "When they put up the for sale sign, we had a contract on it in 24 hours."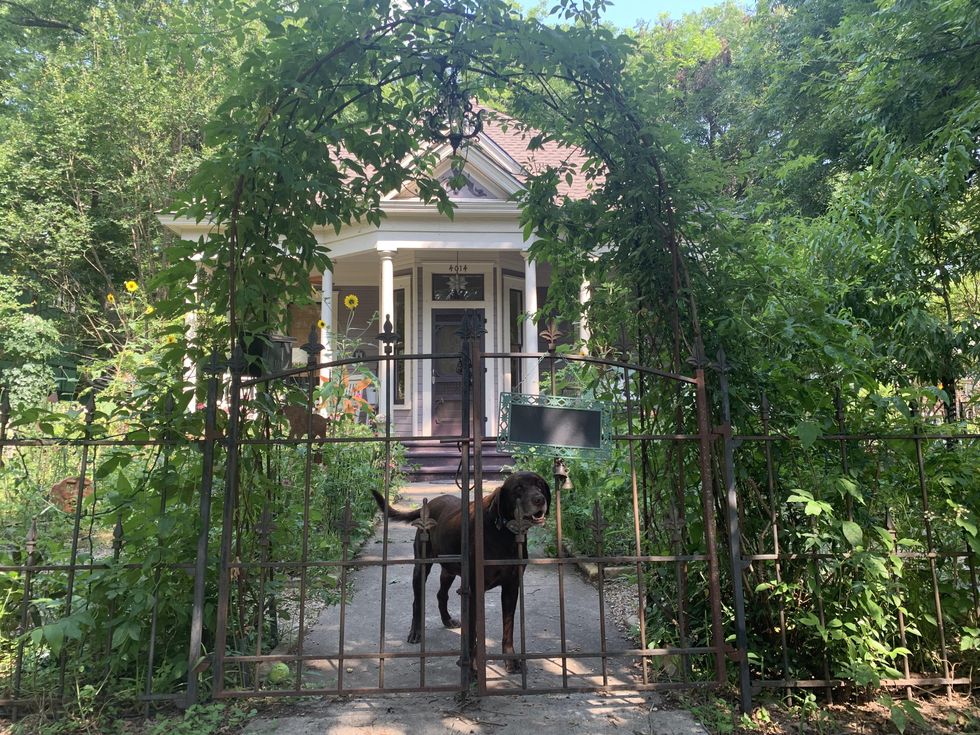 Jack the brown lab stands at the gate of the corner property. (Emma Freer)
They purchased the purple house for $150,000 in 1991 and soon welcomed their older son, whose middle name—Gray—pays homage to the former owner.

There's something of a naming tradition. The Zimmerli-Rosenquist house was built in 1903 and has changed owners approximately 17 times, according to the Hyde Park Neighborhood Association. The first owner, Ida Zimmerli, was a Swiss immigrant and dressmaker who sold it to Helena Rosenquist, a Swedish immigrant who lived there with her husband and their five children.

The home's history is part of its appeal. "One of the things I really like about the house is the tall ceilings, with the ceiling fans and the transoms," Don said. "Because, you know, back in 1903 people didn't have air conditioning."
In addition to good airflow, the house is surrounded by yard space on all sides and features an octagonal porch, which is currently home to at least three nests: robins, sparrows and wasps.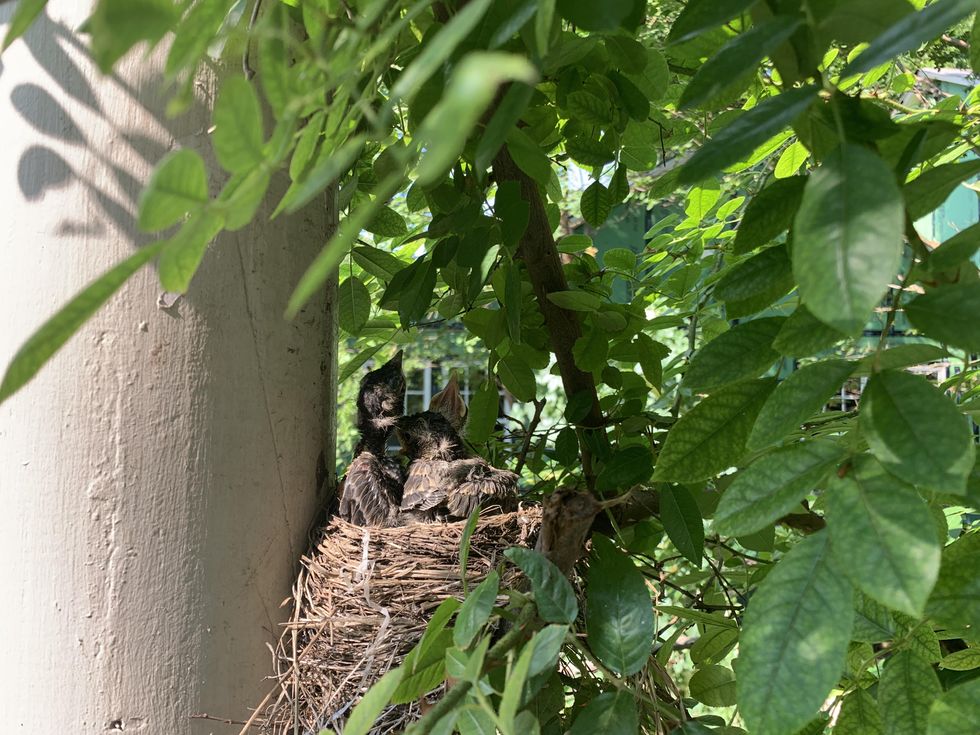 Robin chicks await their next meal. Their nest is hidden in one of the many corners of the Yorks' octagonal porch. (Emma Freer)
'A labor of love'

The mini-farm, which Don calls "a labor of love," began around 13 years ago, when the Yorks' older son was a student at McCallum High School. Don can't quite remember whether it was an environmental science or urban farming class that did it, but he knows his son came home one day wanting to get some chickens. With Diane's approval, Don transformed the kids' abandoned A-frame swing set into a coop and brought home the first eight birds.
Students from the nearby Hyde Park Montessori and Children's Discovery Center schools started visiting each day, around mid-morning. "After we had the chickens for a few years, I was sitting there thinking, 'Aren't you little kids tired of counting chickens?'" Don said. "So I just thought, 'Let's throw some miniature goats in the mix.' And that changed the course of history."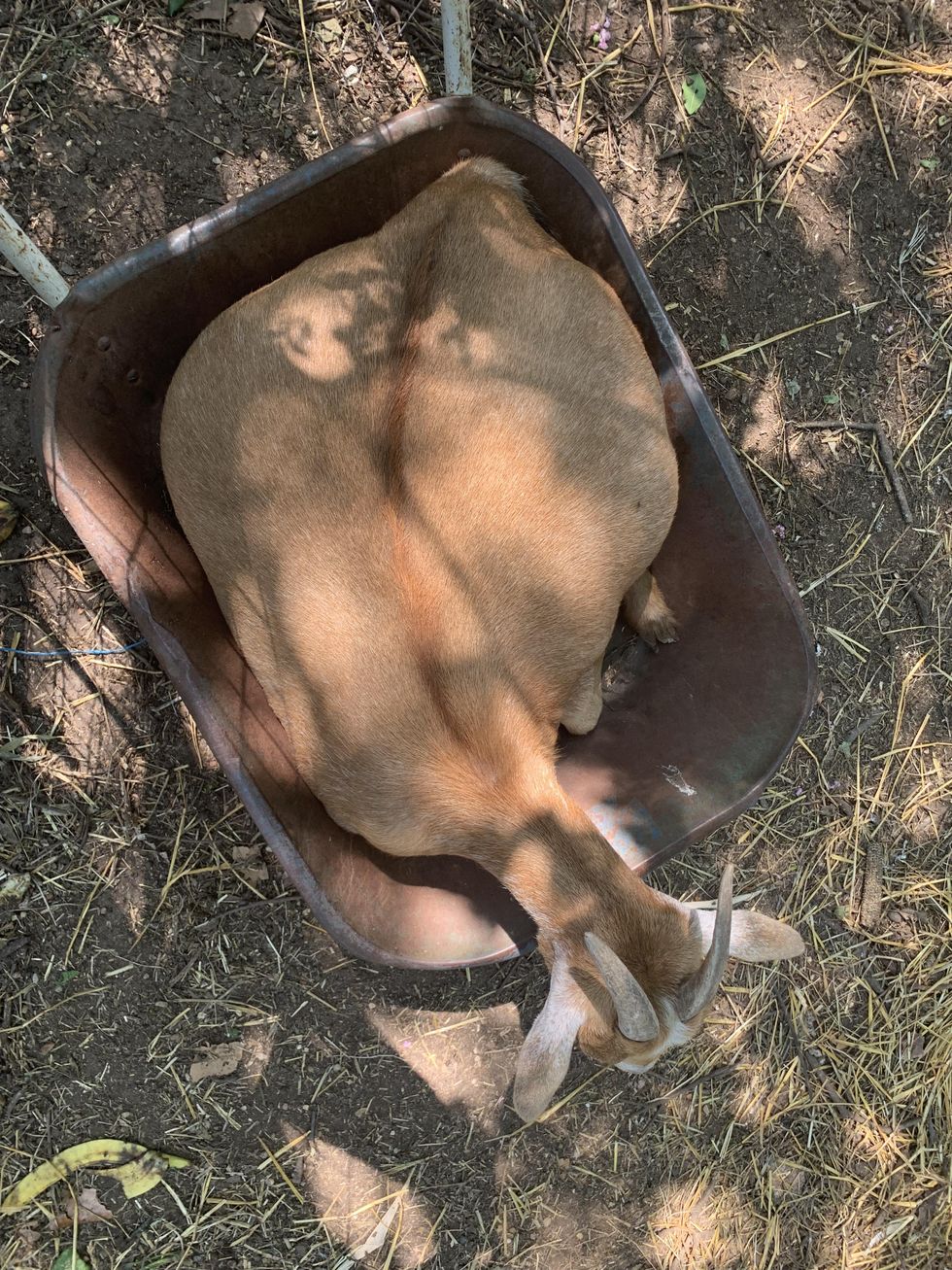 Rosebud moved to the mini farm around Christmastime and is named for the movie Citizen Kane. (Emma Freer)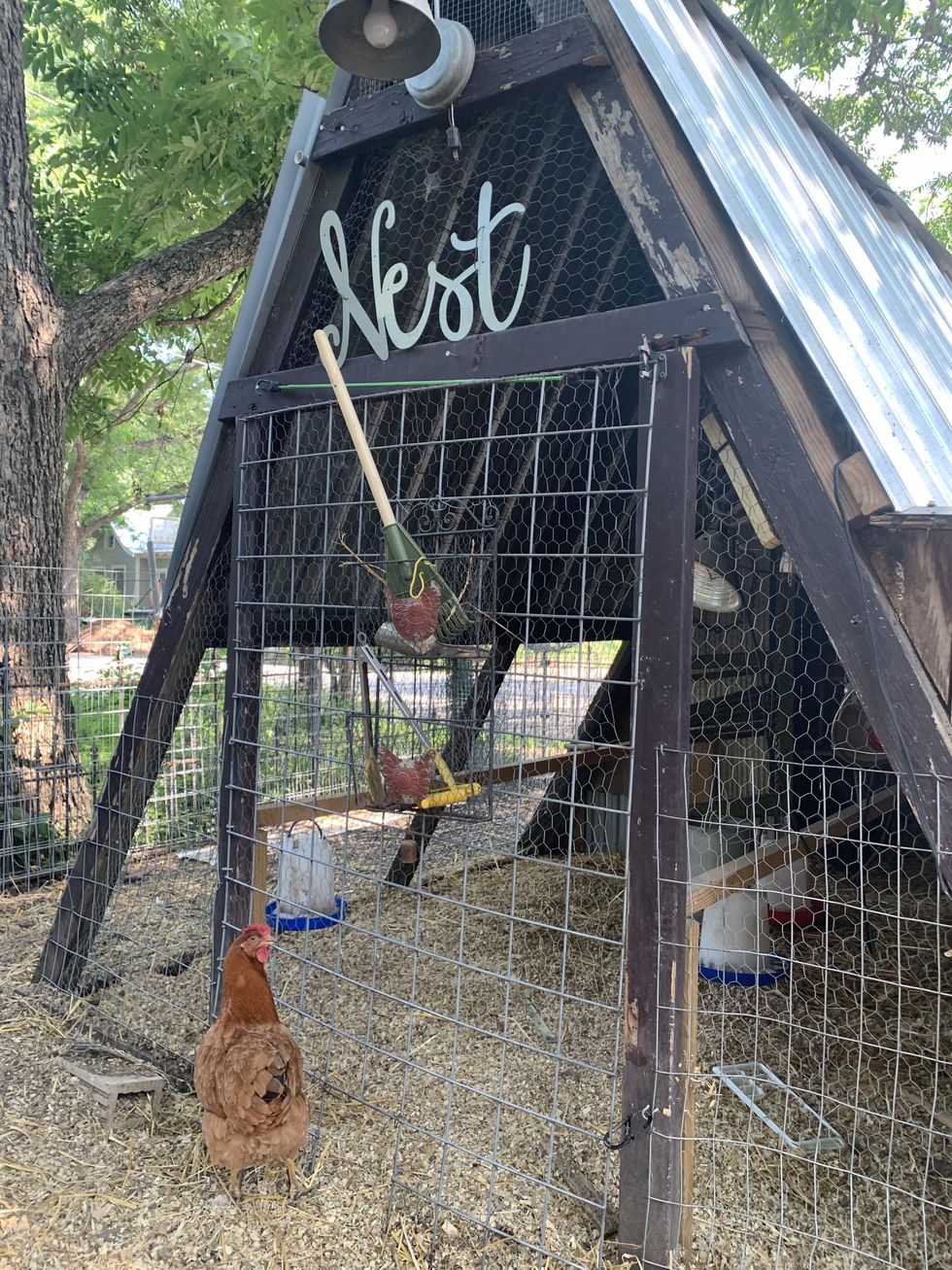 The chicken coop was repurposed from an old A-frame swing set. (Emma Freer)
The Yorks brought home Clementine and her twin sister, who died shortly after. Because goats are social animals, they soon welcomed Rosebud, who, unbeknownst to them, was pregnant. She gave birth to Billy Budd, named for a Herman Melville novella, in front of an audience of Montessori students.
Although Hyde Park has changed since the Yorks moved in—there are more BMWs than beat-up old Volvos, Don said—their routine has remained largely the same. Diane feeds the animals and mucks their enclosure. Don handles media inquiries and maintenance, such as adding a higher fence when the goats started escaping. He also collects eggs each day. There's a small basket hanging on the fence, where passersby can swap $5 for a carton.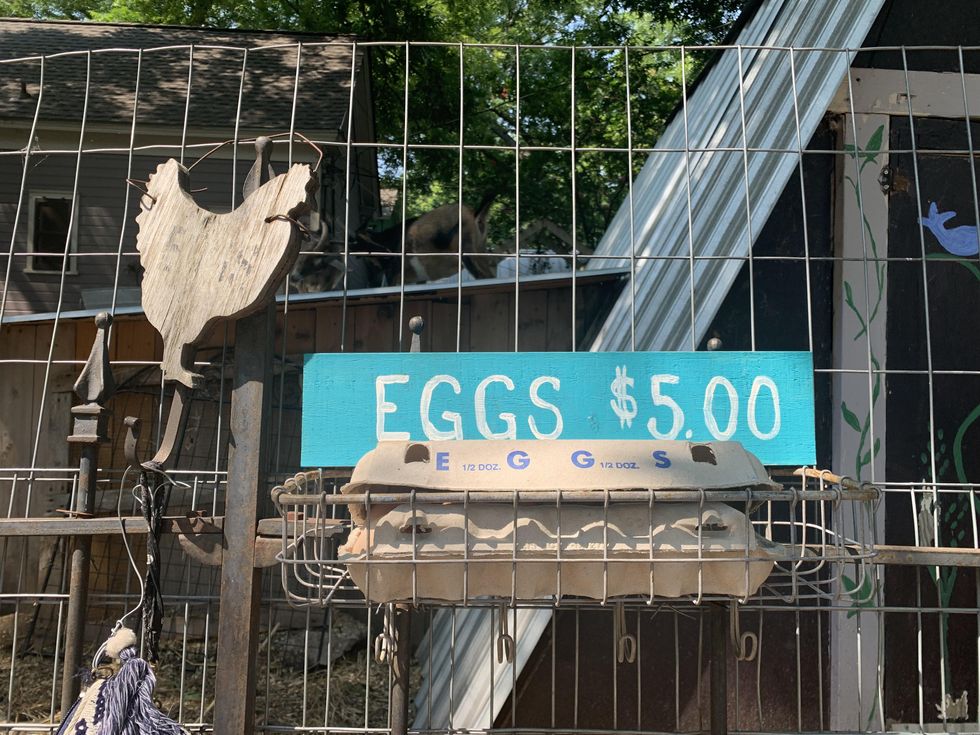 Lucky passersby will find fresh eggs, which Don typically sets out in the early evenings. There is a small coin purse for payment. (Emma Freer)
During the pandemic, the mini-farm was a natural gathering place, where neighbors could chat at a safe distance, with an obvious icebreaker. Don, an attorney, would sometimes have to change rooms while attending virtual hearings to get some quiet. But he welcomes the visitors, who continue to flock to the yard. "COVID really did ratchet it up," he said. "Hordes of people, every day."

Austin's Delta 8 industry has been turned on its head after Texas health officials clarified that the cannabinoid is on the state list of illegal substances, though it was previously believed to be legal by most retailers, consumers and manufacturers.
House Bill 1325, which was signed in June 2019 by Gov. Greg Abbott, and the Farm Bill, signed into law by former President Donald Trump in 2018, legalized any hemp product containing less than .3% THC. The same bills were thought to have made Delta 8 legal, though the Texas Department of State Health Services added a notice on its website saying it was still a controlled substance as of Friday, Oct. 15.
Both the federal and state governments keep separate lists on what is considered a controlled substance. Marijuana is considered Schedule I, a category reserved for substances with "no currently accepted medical use and a high potential for abuse," both statewide and federally.
Austin-based CBD retailer Grassroots Harvest CEO Kemal Whyte, like many CBD shop retailers, was blindsided by the announcement. Many small businesses rely on Delta 8 for their sales—Green Herbal Care CBD said about 90% of its sales come from Delta 8—and Whyte said he is frustrated by the inconsistencies in the drug scheduling system.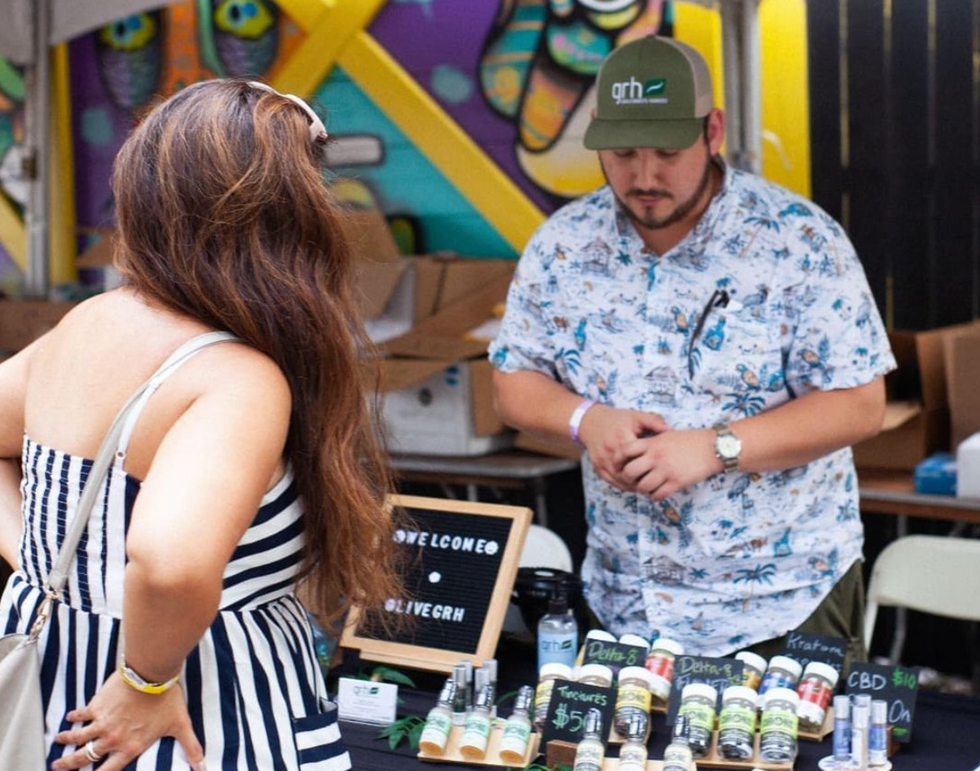 (Grassroots Harvest/Instagram)
Since 87% of Texans support the legalization of marijuana, at least for medical use, per a recent poll, Whyte said he wonders who this legislation is for.
"It's gonna have a massive impact on small businesses—there's just no way around it," Whyte said. "The reality is, we don't want to push out anything bad for our customers, we want this to benefit our customers and to help them. If we can make money while doing it, that's the American dream. What are we doing, whose benefit is this for?"
Delta 8 surged in popularity after the perceived legalization—consumers enjoyed its lower psychotropic potency, decreased anxiety while using it and the peace of mind as a legal way to get high. So in order to protect their products and livelihoods, both Grassroots Harvest and Austin-based manufacturer Hometown Heroes are taking legal action.
Whyte said Grassroots Harvest is suing DSHS, saying their action is creating negative effects in the market. Meanwhile, a Hometown Heroes spokesperson said the company is in the process of filing a temporary restraining order that would pause the ban on Delta-8 in the state of Texas.
Threats against Delta 8 are not new—DSHS lost a lawsuit trying to make "smokable hemp products" illegal last year and Texas lawmakers had been considering a bill that would make Delta 8 illegal, though it was dropped after the clarification was made.
Hometown Heroes released a formal statement in response to the DSHS rule.
"I need to be clear—we love Texas, we're just choosing to fight for the will of the people in regards to cannabis in Texas," Hometown Hero CEO Lukas Gilkey said in a statement. "(Texas DSHS) are using backhanded ways to create legislation and go against the will of the people."
Whyte laments the fact that it would be easier legally to "open up a strip club that also sells guns," and said he can't post customer testimonials that mention the benefits of Delta 8 without getting hit with a cease and desist from the Food and Drug Administration. Whyte said he isn't opposed to regulation—far from it—he just wants to see it go through the correct channels.
"The fact that they're stunting our ability to communicate with our clients that want to learn about this, you're preventing us from communicating with them and teaching them, or spreading information that we know," Whyte said. "I think that that in and of itself opens up a lot of questions."
Grassroots Harvest still has Delta 8 products on its shelves for the time being but for how long, Whyte doesn't know.
Austin Public Health and other clinics around Austin are now providing booster shots for all three vaccines, including Pfizer, Moderna and Johnson & Johnson, to fully vaccinated individuals after both Pfizer and J & J were approved by the CDC on Wednesday.
APH and Austin clinics, which were already administering the approved Pfizer booster, will begin distributing shots as soon as Friday.
Those who received the second dose of the Pfizer and Moderna vaccine more than six months ago are elligble to receive a booster if they are over 65 or if they are over 18 and:
Live in a long-term care environment
Have underlying medical conditions
Work or live in high-risk settings, such as schools, hospitals or correctional facilities
Those who took the Johnson & Johnson shot are eligible if they are over 18 and received their dose over two months ago.
Austin-Travis County Health Authority Dr. Desmar Walkes said in a media Q&A Friday that APH is encouraging boosters just as much as they have urged residents to get their first and second doses.
"Boosters are incredibly important to keeping our community protected and hospitalizations low," Walkes said. "If we can stay on top of our vaccinations, we provide protections for our most vulnerable and make it that much harder for COVID to spread in our community."
Eligible residents are free to choose the same booster as their first doses or "mix and match," per the CDC announcement.
Those looking for another dose can simply bring their vaccination card to APH centers or the dozens of Walgreens and CVS locations in the metro, which began administering doses Friday.
Additional updated guidance from the CDC allows for all eligible individuals to choose which vaccine they receive as a "mix-and-match" booster dose. It is advised to remember to bring your CDC COVID-19 Vaccination Card showing the original doses with you when going for booster shots.