Get connected with our daily update
Austin-based ICON, developer behind the city's first 3D-printed homes, is taking its construction technologies to space once more with a 3D-printed habitat known as the Mars Dune Alpha.
---
In a press release, the company announced it was awarded a subcontract through Jacobs supporting NASA Space Technology Mission Directorate Friday to build the 1,700 square-foot structure. Made by the very same technology that brings the 3D houses to life, the habitat is meant to simulate a "realistic Mars habitat."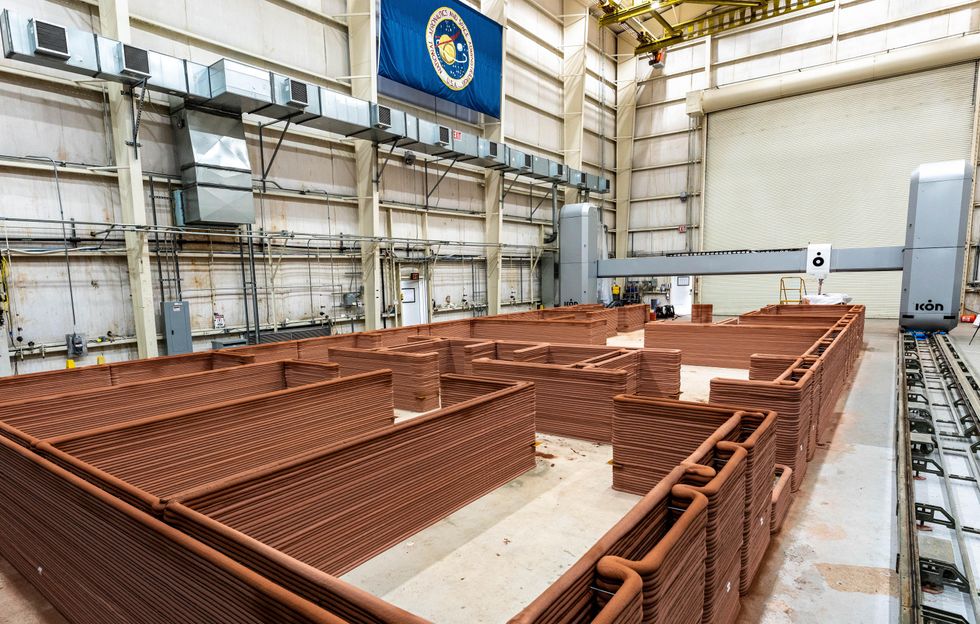 Mars Dune Alpha is being made with ICON's Vulcan construction system—the same it uses to 3D print houses. (ICON)
Designed by architecture firm BIG-Bjarke Ingels Group, Mars Dune Alpha is part of NASA's The Crew Health and Performance Exploration Analog study, which is a sequence of three one-year Mars surface mission simulations that will take place at the NASA Johnson Space Center in Houston starting in fall 2022.

While this structure is a simulation, it could be the future for building on Mars using additive construction technology, which is the entire process of building a structure from materials produced on-site, as sending building materials on multiple flights would be too costly.
(ICON)
CHAPEA will assess NASA's space food system, physical and behavioral health of participants and performance outcomes for future long-duration and exploration-class missions on Mars.

"This is the highest-fidelity simulated habitat ever constructed by humans," ICON co-founder and CEO Jason Ballard said. "Mars Dune Alpha is intended to serve a very specific purpose—to prepare humans to live on another planet. We wanted to develop the most faithful analog possible to aid in humanity's dream to expand into the stars."
ICON's version of life on Mars will look somewhat like a sci-fi movie—the rectangular, utilitarian structure is designed with four private crew quarters adjacent to the facilities and crop growing areas on one end, work and medical stations on the other, divided by living quarters.
ICON says the structure will include a mixture of fixed and movable furniture, an arched ceiling to avoid spatial monotony, as well as customizable lighting, temperatures and sound control to promote a healthy circadian rhythm and suit the crew's daily needs.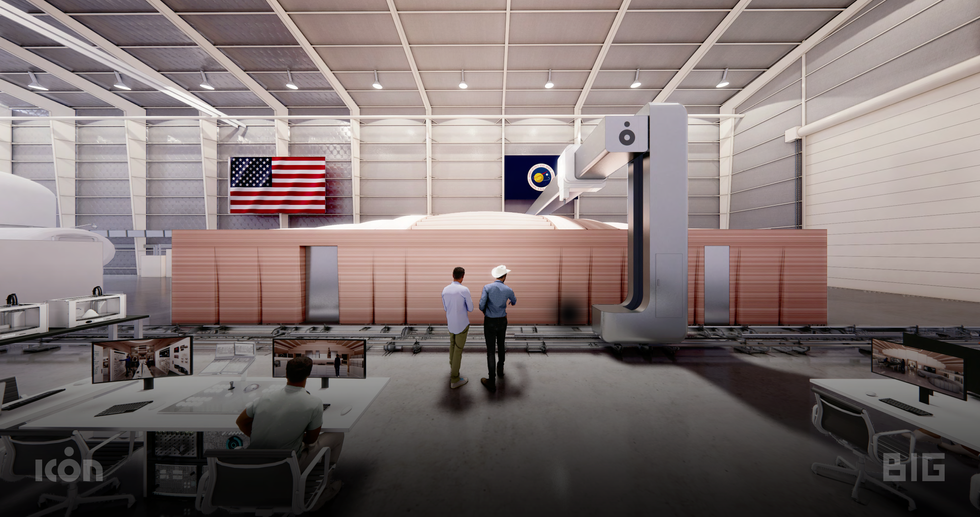 A concept of the structure, which will remain on Earth... for now. (ICON)
This isn't the startup's first rodeo with NASA, in March it announced it was teaming up with the space agency and members of its Artemis Generation to create a 3-D-printed rocket landing pad made of materials found on the moon and the company is working with NASA on "Project Olympus," research on a space-based construction system to support future exploration of the moon.
NASA begins recruitment for the one-year Mars mission analog study today and will accept applications until mid-September.

After months of speculation, a new report says political personality Beto O'Rourke is mulling a run for Texas governor that he will announce later this year.
Sources tell Axios the former congressman is preparing his campaign for the 2022 election, where he will likely vie for the position against incumbent Gov. Greg Abbott. The only other candidate that has announced he will take on Abbott for governor is former Texas GOP Chairman Allen West—no Democrats have announced they are running as of yet.
"No decision has been made," Axios reports David Wysong, O'Rourke's former House chief of staff and a longtime adviser, said. "He has been making and receiving calls with people from all over the state."
A new poll from The Dallas Morning News and University of Texas at Tyler shows O'Rourke is narrowing the gap between himself and Abbott's prospects for governor. In the poll, 37% said they'd vote for O'Rourke over Abbott, while 42% said they'd vote for Abbott.
Abbott has been in the hot seat due to his handling of COVID-19 and the signing of landmark legislation into law, including new abortion and voting rights laws; 54% of poll respondents voted they think the state is headed in the "wrong direction." Still, Texas hasn't had a Democrat as governor since the 90s.
O'Rourke's people-focused approach to the 2018 Senator race, which he lost to Sen. Ted Cruz, gave him a widespread following and many hoped he'd throw his hat into the ring since he said he was considering it earlier this year.
"We hope that he's going to run," Gilberto Hinojosa, the state chair of the Democratic Party, told Axios. "We think he'll be our strongest candidate. We think he can beat Abbott because he's vulnerable."
Austin rapper Jordi Esparza may not have won the 2021 Red Bull Batalla, the world's largest Spanish freestyle rap competition, but for a spirited two rounds, the 22-year old Mexican native looked like he had every right to.
On Saturday evening in Los Angeles, the event itself looked like Cobra Kai meets Star Search with graphics adding a very Batman Beyond aesthetic. Over a dozen rappers hoping to represent the U.S. in the international round of the competition took to the stage with in-your-face jabs at accents, sexual orientation and odors, among other things.
This was Esparza's second rodeo; he had placed third at the 2020 National Finals, automatically securing him a spot this year.
However, things were different this year. He was not nervous about the contest. Unlike in 2020, when he made his Red Bull Batalla debut, the anxiety of the event led him to "feeling so bad."
Affecting a casual calm, the locally-based landscaper said he just felt "so relaxed, so happy" and primarily wanted to "enjoy everything."
Choosing his first-round opponent, Esparza, whose stage name is Jordi, elected to go against LA-based Boss.
Esparza freestyled an attack on his opponent's weight and cholo style of dress.
Boss—bracketing his Latin freestyle with English appeals to the crowd—mocked Jordi's lack of education, made fun of how clean Jordi's shoes looked and suggested that Jordi just came back from a Footlocker.
That first round went to Jordi.
But his next opponent Eckonn would prove to be his undoing.
Eckonn compared Jordi to Hannah Montana, while Jordi soulfully explained that he had learned from the best.
Esparza's verbal dexterity is matched by a rattling rhythm and a game face that is as mawkish as it is mockish. The overall effect is that of an underdog with bite.
Eckonn beat Esparza in that round with the overall championship going to Palm Beach-based rapper Reverse.
However, Esparza was just happy to be there. He recently told Austonia going to the finals again was a dream come true—a pinnacle that he said he won't know how to top.
With his nimble jabs and sneaky prowess, honed from pop culture and the swagger of a young working man hungry to be more, Jordi Esparza is just getting started.