Never miss a story
Sign up for our free daily morning email...
...and afternoon text update
Get connected with our daily update
(YouTube)
icon·o·clast | \ ī-ˈkä-nə-ˌklast \
Definition: a person who attacks settled beliefs or institutions
When podcaster and comedian Joe Rogan landed his self-styled "Texas podcast spaceship" in Austin this month, he brought with him a host of political and personal complexities that made some wonder if the former Ultimate Fighting Championship commentator would fit into Austin's reputation as a city of far-left social justice warriors.
---
"Joe Rogan is going to ruin Austin," one local Twitter user wrote.
Said another: "Your platform could help save this city."
What his "platform" is, however, is anyone's guess—which is part of the draw for The Joe Rogan Experience, consistently ranking in the top podcasts in the U.S. and considered (and now proven) so valuable that Spotify recently paid $100 million for the exclusive rights to it.
"I think his kind of podcast is the type that's succeeding because it is unpredictable and because it doesn't fall into boxes—and because it can appeal to both sides," said Travis County Republican Party Chairman Matt Mackowiak, an occasional listener. "He'll say things you agree with, he'll say things you don't agree with, but most importantly, he'll say things that make you think. And that's really what podcasts should be about. Most people, if they're seeking out these kinds of podcast episodes, are doing it because they want to learn something, they want to be challenged. That's certainly how I feel."
Rogan's uncensored style and lack of self-editing has also drawn fire from a contingent of Spotify employees who say they want more accountability from the shoot-from-the-hip commentator.
The employees want to exclude some past episodes with conservative guests (several, including interviews with Alex Jones and Milo Yiannopoulos, have yet to be moved to the new platform) and say they will strike if they are not given editorial control over the episodes. They also want trigger warnings and corrections. A trigger warning is a statement at the start of a piece of commentary that alerts a reader or listener of potentially distressing material. So far, Spotify CEO Daniel Ek has defended Rogan.
Says he can't vote Biden over Trump
Taken as a whole, his guest lineup screams "right-wing"—but one would not use that term to describe a man who supports a woman's right to choose abortion and who supported Bernie Sanders in the Democratic presidential primary.
Yet President Donald Trump supports a movement among his fans to have Rogan moderate a debate between him and Democratic nominee Joe Biden after two weeks ago when Rogan said he would host the event if he could. Trump's reaction comes with no surprise at all, given Rogan's current stance that Biden is in mental decline and unfit for the White House.
Rogan posted to Instagram late Wednesday that the country doesn't need him to moderate, "you need @johnmccarthymma," referencing the former pro-Mixed Martial Arts referee John McCarthy.
"He's a very, very interesting guy," Mackowiak said. "I know the left doesn't like some of the things he's said regarding LGBTQ stuff, but I really don't have any issue with him, and I don't really care about someone's ideologic views. If they want to come to Austin and bring jobs and bring investment and those kinds of things, we should be welcoming people like that."

And if someone is going to come to liberal Austin and purchase a $14.4 million mansion, then extol the virtues of marijuana while criticizing BLM protests and telling anti-California Texans to "bro, calm down," it may as well be Rogan—a man with as many contradictions as Austin itself.
"Honestly, politically, I think he fits right in with Austin," said local journeyman electrician Ryan Pollock, a listener and a liberal union organizer for IBEW Local 520 who has also done work with the Austin chapter of the Democratic Socialists of America.
"I know Austin votes blue," Pollock said, "but it's way more complicated than that. People have this idea that Austin is more liberal, but I feel like it's more libertarian. And maybe some people have leftist views on things, but then they're anti-abortion or something. They're all over the place."
"All over the place" is a fitting description for Rogan—both politically, and personally.
Mixed martial arts fanatic, TV and podcast personality, actor, husband, parent, college dropout, elk hunter, interviewer, comedian, voter, self-styled "psychedelic adventurer" (read: says he gets high, along with his guests, for many of his shows), right-wing, liberal, libertarian, centrist. Rogan is all those things.
Rogan, 53, recently tweeted that his "inner b----" almost made him skip his daily workout. Around the same time, he apologized for erroneously blaming arsonists for the Oregon wildfires on his show.
Wrote William Cook of The Guardian: Rogan is "like an idealistic hippy stuck inside the body of a testosterone-pumped US marine."
"His politics are interesting," Mackowiak said. "He's not really conservative, he's not really liberal. He's kind of an iconoclast."
Rogan is in favor of same-sex marriage rights but repeatedly makes contradicting comments on transgender issues like "they should be allowed to live as they want" in one podcast—but in another, calling it a "social contagion."
On Sept. 11, he said Caitlyn Jenner may have become transgender after living with the "crazy b------" in the Kardashian household. It earned him a "transphobic a--hole" label from Jenner and strong criticism from the Human Rights Campaign. In a 2019 podcast with comedian and friend Joey Diaz, Rogan said "it only matters to me when it comes to sports."
He wants to legalize marijuana, and in May pointed out a local Austin TV story that said such a move could help Texas during the pandemic.
Experts say marijuana legalization could alleviate Texas economic losses from shutdown https://t.co/yD3Bu8QLzC

— Joe Rogan (@Joe Rogan)1590562975.0
On the other side of the spectrum, he calls out what he says is liberal Hollywood hypocrisy on gun control, having once said that "this country has a mental health problem disguised as a gun problem."
Pollock said that while people who study politics and work in that space are annoyed by a lack of consistency, Rogan is actually like most people in that regard.
"His politics are really incoherent, but so are most Americans' politics," Pollock said. "They don't think about politics all day, like somebody like me. I think about this stuff constantly."
Rogan's opinions often trickle out in three-hour conversations over a blunt, not 30-minute ear-assaulting diatribes, and come not from years of research and activism but from his gut.
The Jenner comment, for example, came during a conversation with Special Forces operator and retired UFC fighter Tim Kennedy in mid-September.
What Rogan is not—and nor does he pretend to be—is a politician, a pundit, a journalist, an expert, nor an activist. Though his guests, who have included political lightning rods like Sanders and conservative media personality Andy Ngo, might suggest otherwise.
The fact that his political and journalistic credentials are nil gives heartburn to media types who want him to hold his guests' feet to the fire, Anderson Cooper-style. It also annoys people on the left who refuse to come onto his show because they think he gives too much pandering air-time to right-wing, fascist-adjacent guests.
"What he does is what any other decent interviewer does—he has good guests on, and he lets them talk, and they really show who they are in the conversations that he has," Pollock said. "Regardless of Joe Rogan himself and what he has to say. So I tend to tune in when he's got interesting guests on."
The road to Austin
A New Jersey native who was raised in Massachusetts, California and Florida, Rogan wasn't a political type growing up. He was into martial arts, competing as a youngster and eventually teaching after dropping out of the University of Massachusetts.
He later found comedy, and his career wound through wildly popular standup specials, a stint hosting Fear Factor, a little acting, and time as a UFC commentator.
The Joe Rogan Experience is rooted in 2003 after Rogan noticed video editor Brian Redban's work with fellow comedian Doug Stanhope.
Redban was hired to film everything Rogan did, on and off stage, for his YouTube channel. Redban realized that fans were clamoring for more content and, after live streams and interactive events on justin.tv, in chatrooms and on Twitter, the first episode aired on Christmas Eve 2009 on Ustream. It was formally named the Joe Rogan Experience (yes, inspired by the Jimi Hendrix Experience) the following summer.
A decade later, in early 2020, Forbes released its first highest-earning podcaster list with Rogan sitting at the No. 1 spot, reportedly pulling in $30 million from his various ventures.
His most popular episode, with Elon Musk in 2018, has more than 36 million views on YouTube. Other episodes regularly garner several million each week.
Since 2012, the podcast has been run out of a studio in Woodland Hills, Los Angeles, but Rogan, saying he was tired of the cost of living and other aspects of living in California, so he moved the studio to Austin this summer and debuted the Texas-based podcast in early September.
Other than the usual unrest over his content, criticisms of his new, bright red, glowing studio and worries that Spotify would censor his shows, the reaction to his move by his listeners and many locals has been largely positive.

"I think it's great that he's here," said Mackowiak, whose politics are nowhere near Rogan's on several topics. "He's obviously bringing a pretty big operation. He's going to be bringing guests to Austin for these interviews, which is going to create opportunities to do a lot of things with some of these people who come to town."
Chuckled Pollock: "My wife is irritated."
In a recent episode with Texas comedian Ron White, an Austin native, the two discussed how Austin is, in White's words, "a liberal stronghold in the middle of a very Republican state" with Republicans still "running the state" from Dallas and Houston.
"That's what keeps it from going haywire, right?" Rogan responded. "That's what keeps it from going straight-up Portland."
Pollock says he'd like to see Austin City Councilman Greg Casar—who is gaining national attention for his stances on police funding and other issues—show up on Rogan's show.
It is, no doubt, a self-fulfilling prophecy when leftists decline to come on Rogan's show and then complain that he never gets leftists on his show. It is also, Pollock said, a "massive mistake" to avoid a man with tens of millions of listeners, no matter what his personal politics might be.
"He got backlash for it, but Bernie made the right call," he said referring to when Sanders was a guest on the podcast last year.
Rogan sightings are already popping up on social media, adding his face to the star power already here—like Sandra Bullock and Lance Armstrong and Dan Rather and Matthew McConaughey—and offering a glimpse into what Austin might experience with Joe Rogan as its newest resident.
And what Rogan might experience in his new hometown.
A few days ago, a listener posted on social media that he saw Rogan driving his "cool, noisy little car," a white Porsche, along Lady Bird Lake at sunset.
"Well I just had my first Joe Rogan sighting in Austin," another local Twitter user wrote on Sept. 27. "This ranks below the time I saw (pre-scandal) Lance Armstrong running around Town Lake but above the time I saw Elijah Wood ripping cigs on 6th St during SXSW… It appears that $100 million from Spotify doesn't make you any better at deciding which color Nalgene bottle you want from REI."
More on Joe Rogan: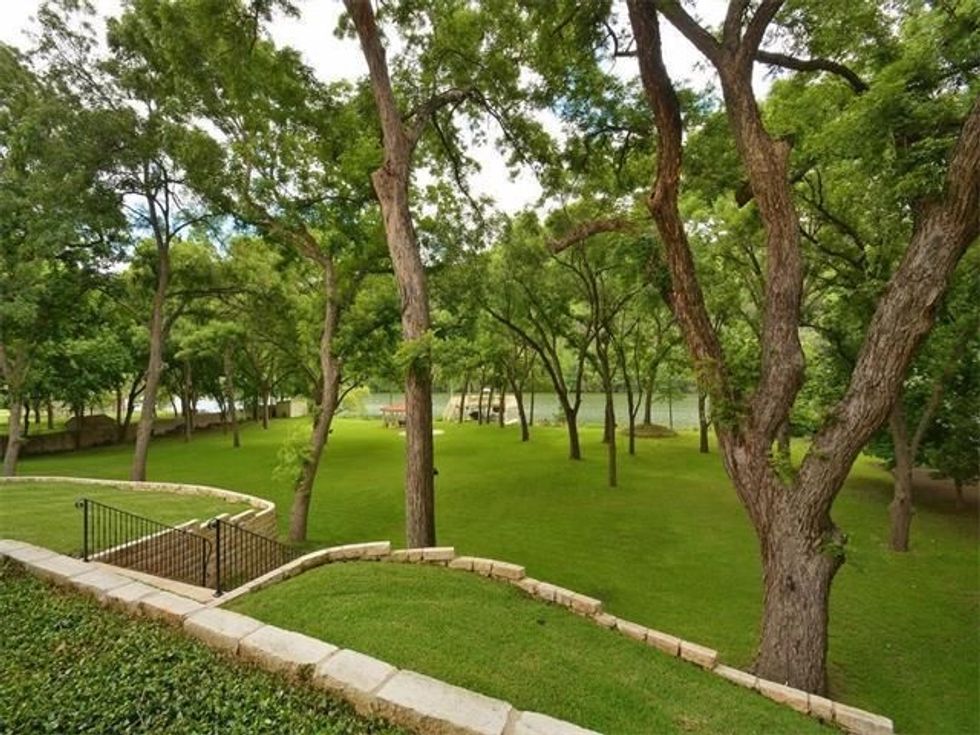 Joe Rogan's new home is a plush $14 million oasis on Lake Austin
(Laura Figi/Austonia)
Austin FC's opening match at LAFC has already gotten plenty of buzz, and not just because the team will be playing its first-ever match. The opener will also see two famous fans pitted against each other: Will Ferrell and Matthew McConaughey.
Since he joined the club as a part-time owner in 2019, McConaughey hasn't been quiet about going Verde. The Austin icon has been a hypeman for the team on the Jimmy Kimmel show, spoken with MLS Commissioner Don Garber at SXSW and is vocal about the club on Twitter.
On Tuesday, McConaughey talked all things Austin FC from what appeared to be an Airstream.
"We've been talking about this," McConaughey said. "We've been building this brick by brick. We understand it's Verde, it's listos, but now it's live."
"I just got some chills saying that," McConaughey added.
This weekend will put the club to the test for the first time against LAFC, which also happens to be part-owned by a big Hollywood name. Comedian and actor Will Ferrell will be on the other side of the pitch come Saturday, and he's ready to start a rivalry.
After talking to McConaughey about both teams, Ferrell told Spectrum News he's excited to watch his team play the so-called "Austin Cacti" this season.
"I can only hope for a rivalry," Ferrell said. "I think Austin is going to be a fantastic market for a brand new soccer team, and I can't wait to be there when LAFC plays the 'Austin Cactuses.'"
Now with five days to go, McConaughey said that he and Ferrell had been having a "war with words" over the match and are planning on placing bets before game time.
It's not the first time the two have found themselves on opposing sides of a sport. Back in 2018, Ferrell made his way to Austin to see USC football duke it out with the Longhorns (psst,—UT won.)
McConaughey and Austin FC are hoping to see yet another loss for Ferrell as they head to their first game on Saturday, but the match will be quite the challenge.
The MLS set the opening schedule for more than fame; the newly-formed Austin FC has been one of the most talked-about teams this preseason, and LAFC is projected at No. 2 in the league's power rankings. Austin FC currently sits at No. 21.
Head Coach Josh Wolff has said LAFC has one of the best offenses in the league.
"LAFC has one of the best attacking teams in the league," Wolff said. "They will punish you. They've never been shy of putting up goals, and again, I expect them to be one of the best teams in the league this year."
The club has lived up to Wolff's words: in just their second season of existence, LAFC took first in the Western Conference and were Supporters' Shield winners in 2019.
Austin FC will need to hold off LAFC captain Carlos Vela, a versatile winger/attacking midfielder who won the Most Valuable Player title in 2019, as well as high-scoring forward Diego Rossi.
Meanwhile, LAFC will face challenges in DP Cecilio Dominguez and midfielder Alex Ring, the former NYCFC "ringleader" who has worn the captain's armband already for his newest team. Forward Rodney Redes may or not be playing Saturday due to a "ding" on his knee, but if he does, he'll be a force to be reckoned with as well.
Austin FC's inaugural match will be nationally broadcast on FOX and FOX Deportes and will be featured on Alt 97.5 FM.
Starting Monday, Austin voters will decide whether to reinstate a ban on sitting, lying and camping in certain areas of the city. Proposition B is one of eight proposed city code or charter amendments on the May 1 ballot, but it is perhaps the most contentious.
Spearheaded by the political action committee Save Austin Now, Prop B is a direct response to City Council's 2019 decision to overturn a 23-year-old ban on such activities. This is the second time the group has tried to get the issue on the ballot since the first petition was ruled invalid by the county clerk for duplicate signatures and other issues last year. Homeless advocates campaigned against the ban, arguing that it criminalized homelessness and led to citations and tickets that prevented homeless people from accessing housing, employment and other resources. Since then, the city's homeless population has grown in size and visibility.

SAN, advocates and council members generally agree that the situation is untenable, but they disagree about the ban's merit. Austinites who are directly impacted—including people who live near camps, downtown business owners and homeless residents—feel similarly embattled, telling Austonia that, regardless of how they plan to vote, not enough is being done to house the homeless.
Word on the street
Lisa Novak bought a condo in the East Riverside neighborhood in 2013, drawn in by its affordability and Guerrero Park. She attributes the increase in camping along the Riverside Drive median to council's decision to repeal the ban. "It turned into open season," she said.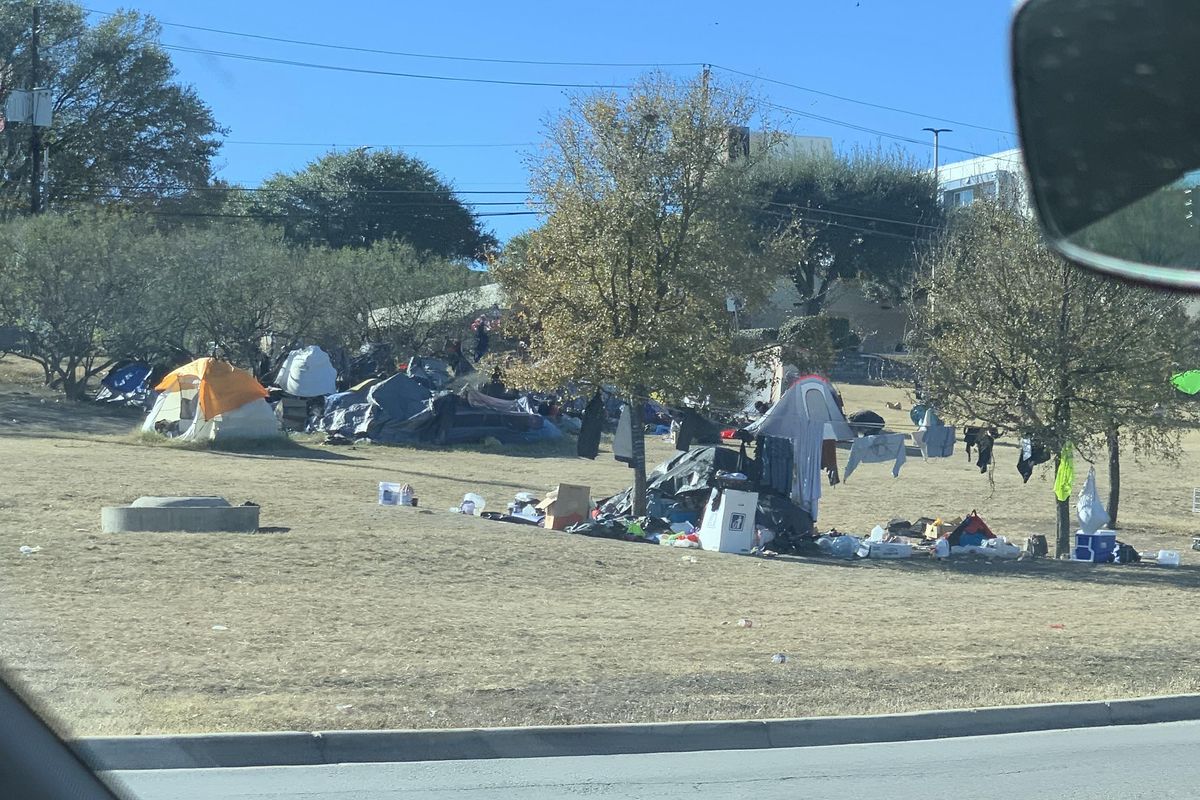 Lisa Novak took this photo of campers along the Riverside Drive median, near where she lives. (Lisa Novak)
Novak worries about the recent spate of fires and how camps affect area business owners and incoming tourists. After her husband witnessed a violent exchange between two panhandlers, the couple stopped walking to their neighborhood H-E-B. She will vote for Prop B and disagrees with advocates who say it criminalizes homelessness. "I'm sorry, but as a member of society there are certain rules and regulations," she said.

Kevin Ludlow's Windsor Park home sits right behind a long-time homeless camp along Little Tannehill Branch Creek. He estimates he has spent hundreds of hours talking to city staff, council members, nonprofits and police about trash and safety concerns.
Ludlow is undecided on Prop B. He thinks a ban will address these issues, but he also feels police could be more responsive to reports of theft, vandalism and other crimes without penalizing campers who are otherwise law-abiding. "There's no winning hand, and I feel it's by design," he said.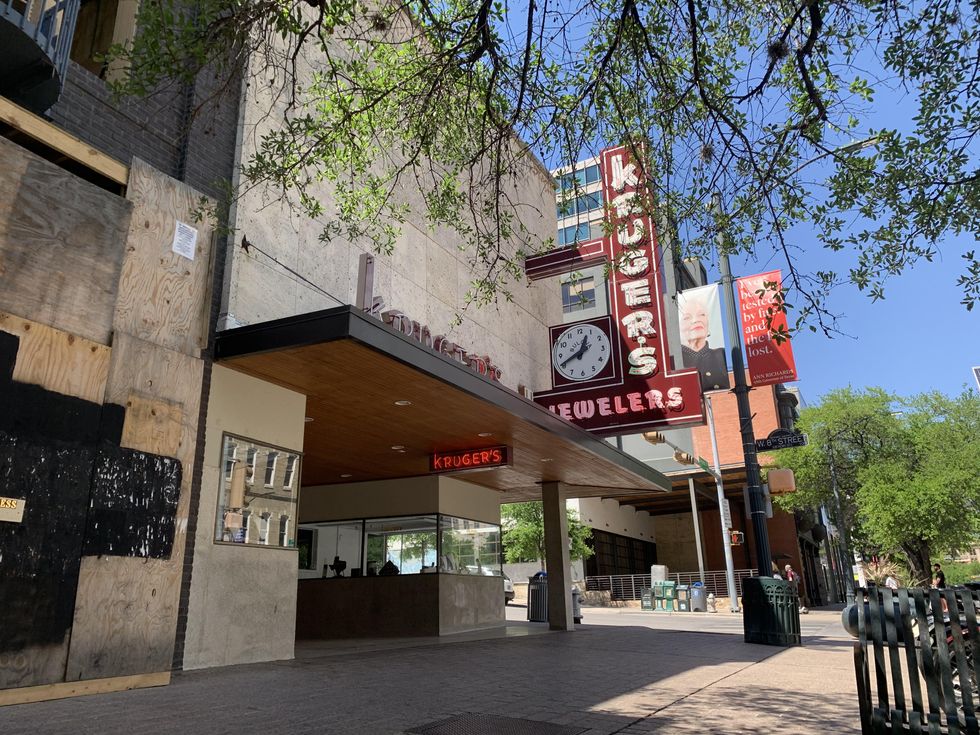 Longtime Downtown business Kruger's Diamond Jewelers often has homeless residents camping outside the entryway. (Emma Freer)
David Kruger, fourth-generation owner of Kruger's Diamond Jewelers on Congress Avenue, is similarly ambivalent. Although homeless residents often camp out in his entryway, his issue is with city leadership, whom he feels are incapable of developing solutions. "I'm probably going to vote in favor of it, I guess, but I'd feel better if there was another item that addressed the problem," he said, comparing Prop B to trying to put toothpaste back in the tube.
Christopher Carr, a member of the Austin Homeless Advisory Committee who has been intermittently homeless since graduating from the University of Texas at Austin in the 1990s, is more decisive. A poet who loves opera and has bipolar disorder, he camps near the intersection of 15th and San Antonio streets. When the ban was in effect, he was often harassed by police he says. "You felt like you might have a few seconds before the cops showed up (if you sat down on a sidewalk)," he said.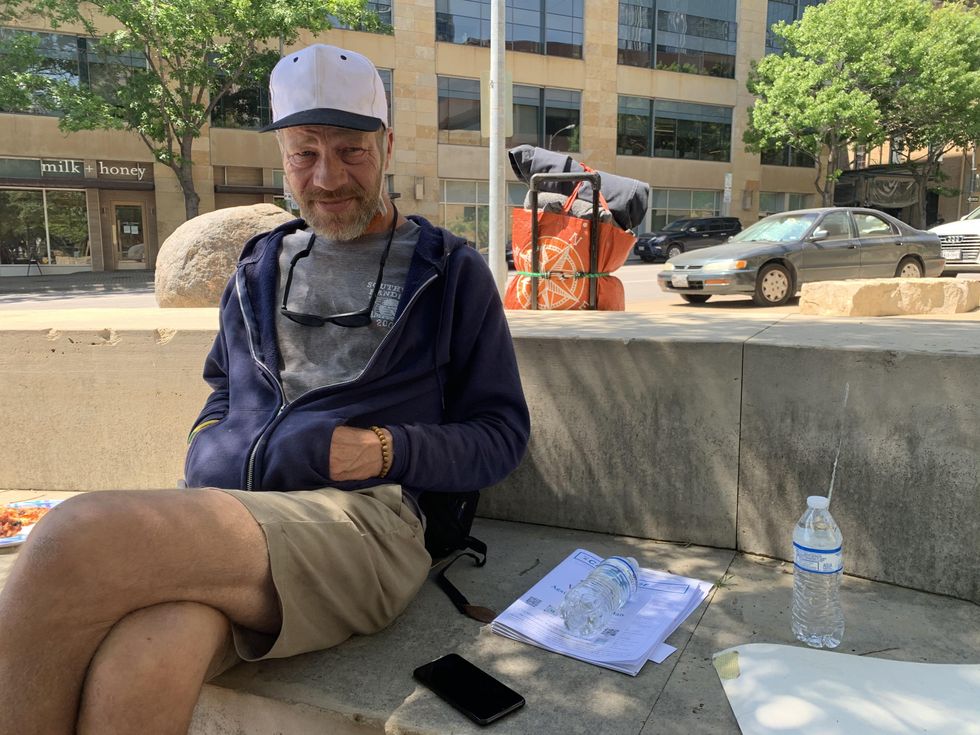 Christopher Carr attends a meeting of the Challenger Street Newspaper, for which he is a contributor and distributor, outside of City Hall on Sunday. (Emma Freer)
Since the ban was lifted, Carr feels Austin's housed residents have turned against the homeless: "If you don't like seeing all these tents everywhere, why don't you not like the country where this level of indigency exists?"

A stopgap measure
Save Austin Now argues that repealing the ban has adversely impacted public safety, residents and businesses and left homeless people to live in unsafe conditions. Ken Casaday, president of the Austin Police Association and SAN board member, added that the council vote left residents out of the process. "For me, the big issue is 'let the citizens vote,'" he said. "If the citizens vote down Prop B, we'll live with it."
But the May 1 election is likely not the end of this debate. Texas lawmakers are considering a statewide ban on public camping in a clear rebuke of local policy.
Chris Harris, director of Texas Appleseed's Criminal Justice Project and an activist who helped overturn the ban in 2019, argued that the decision has made homelessness more visible, leading to greater investment by the city and nonprofits. "No matter what happens with Prop B or with these bills at the Legislature, our community can't forget about this issue," he said. "We decriminalized homelessness not because we saw it as a solution to homelessness but because we thought it was (an issue of) right-or-wrong."
(Counse/CC)
University of Texas students can expect a "near normal" fall semester this year.
The plan, sent to the Daily Texan via email from communications manager for the Office of the Executive Vice President and Provost Kathleen Harrison, is to hold 91.7% of classes in person, 4.2% of classes in a hybrid format and the remaining 3.1% of classes will stay online.
The announcement is a stark increase from last fall, during which over 60% of classes were online, 24% were hybrid and only 16% were in-person. President Jay Hartzell said last month he expects the upcoming semester to look more similar to fall 2019 than fall 2020.
The new schedule is not set in stone—Harrison said UT will continue to monitor the COVID-19 situation on campus and that safety of the community is a top priority.
"The University's decisions are based on the latest data and information available," Harrison said. "If conditions change, we will continue to keep the safety of our community a top priority and adjust as needed."