Austonia AM
100% Austin news, info, and entertainment, straight to your inbox at 6 a.m. every morning.
In five minutes, you're fully informed and ready to start another great day in our city.
Get connected with our daily update
(TechCrunch/CC)
COVID-19 is still raging on, reaching the Texas House earlier this week, but Austin's tech sector is booming.
Here are some of Austin's most breaking stories, broken down into bite-size pieces, so you can be informed quickly.
---
Austin Convention Center receives first patients: The Austin Convention Center's alternate care site opened its doors on Tuesday and received its first three patients on Thursday. Following the surge resulting from holiday gatherings, hospital admissions for the virus have been on a steady incline, which puts other emergency patients at risk. With up to 200 spare beds to relieve hospital ICUs, Austin Public Health hopes the site will help control the overwhelming surge.
Bumble files to go public: Austin-based matchmaker app is ready to get on the market—the stock market, that is. Bumble filed its registration statement with the U.S. Securities and Exchange Commission on Friday, estimating that the initial public offering could raise $100 million, and could hit the stock market as early as this year. Though it hasn't released the number of shares it plans to sell or the price range, keep an eye out for the ticker "BMBL" on the NASDAQ.
Chencho Flores dies after COVID-19 complications: Lifelong Austinite and multi-talented musician Chencho Flores said a final goodbye to his home city on Jan. 10 after suffering COVID-19 complications. The 91-year-old began playing music around the community in the 1940s, picking up guitar, accordion and eventually becoming known for his singing and MC abilities. He stayed active in the community with Conjunto Los Pinkys up until his death.
COVID-19 in the House: State Rep. Joe Deshotel, D-Beaumont, tested positive for COVID-19 three days after the Texas lawmakers called this year into session, he told the Texas Tribune. Deshotel had received a test six days before he tested positive and said he had "no idea" how he contracted it, though he is now in quarantine. The news came the day after House members gathered for the start of 2021 session, which will not require members to get tested before they enter the chamber. Upon hearing the news, some House members, including Democrats Erin Zwiener and Michelle Beckley, said they would quarantine according to CDC guidelines.
Digital Realty goes east: Joining an ever-growing list of companies making Austin home base, Digital Realty announced Thursday that it would be packing up and moving its HQ from San Francisco to Austin. Austin has become a choice destination for business owners with Oracle and Tesla both announcing their move to the city last year. Digital Realty already has Texas roots: an office in downtown Dallas and more than 30 data centers around Texas. The company did not announce when they would make it to Texas but they maintain they will keep a strong presence in San Francisco.
After a long, long year without live music, Austin has waited patiently for a return that has finally come. Festivals are planning returns and even venues that adhered strictly to safety protocols during the pandemic are feeling safe enough to gather again in person.
Starting in just a few short days, you can finally enjoy what makes Austin, well, Austin again. Here are a few of the live shows to look forward to.
Remember to jump on those tickets–Austinites have been missing their live music!
We asked you what you wanted and you told us. More newsletter!
Austonia launched its new and improved newsletter today. You can expect:
100% Austin news, info and entertainment
Sent straight to your inbox at 6 a.m. every morning
In 5 minutes or less, you're fully informed and ready for a great day
Sign up here:
For Marco Silvestrini, gelato takes him back to his childhood when he and neighborhood kids in a small Italian town would end their day at the local gelato shop. It was part of what made some of the best memories for him.
He's since been offering that same experience for the past seven years with his artisanal gelato shop, Dolce Neve, in Austin, alongside his sister and her husband.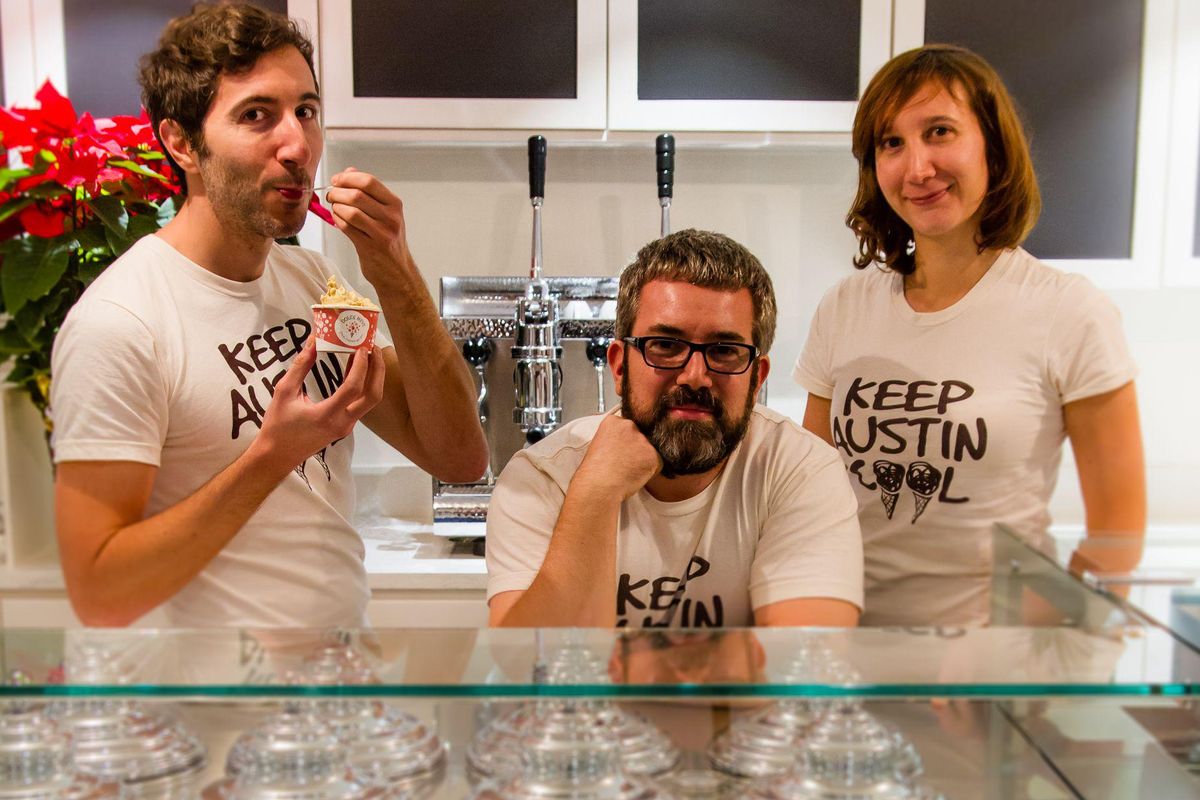 Leo Ferrarese, Marco and Franscesa Silvestrini run Dolce Neve. (Dolce Neve)
While gelato always played a big role in Silvestrini's life, it wasn't in his plans to take on a business with his favorite treat. After a few years in New York working as a management consultant, he felt he was missing out on something. "I decided to take a step back and started thinking, what could... I do to make society better and happier, even just for a moment," Silvestrini said.
He thought back to his childhood and the role gelato played in it and wanted to offer the same experience to Americans.
Once he had the product idea down, it came down to location. Growing up among farmers in a small community in Central Italy, Silvestrini knew he wanted a slower pace of living than New York, so he asked around. The answer he got: "Austin." The only thing he knew about what would become his future home was it had a Formula 1 track.
But after visiting once, he felt a great sense of community he didn't feel in The Empire State. "I felt it was not just a good place for a concept like mine, but also a good place to live because at the end of the day, you cannot just think about your business," he said.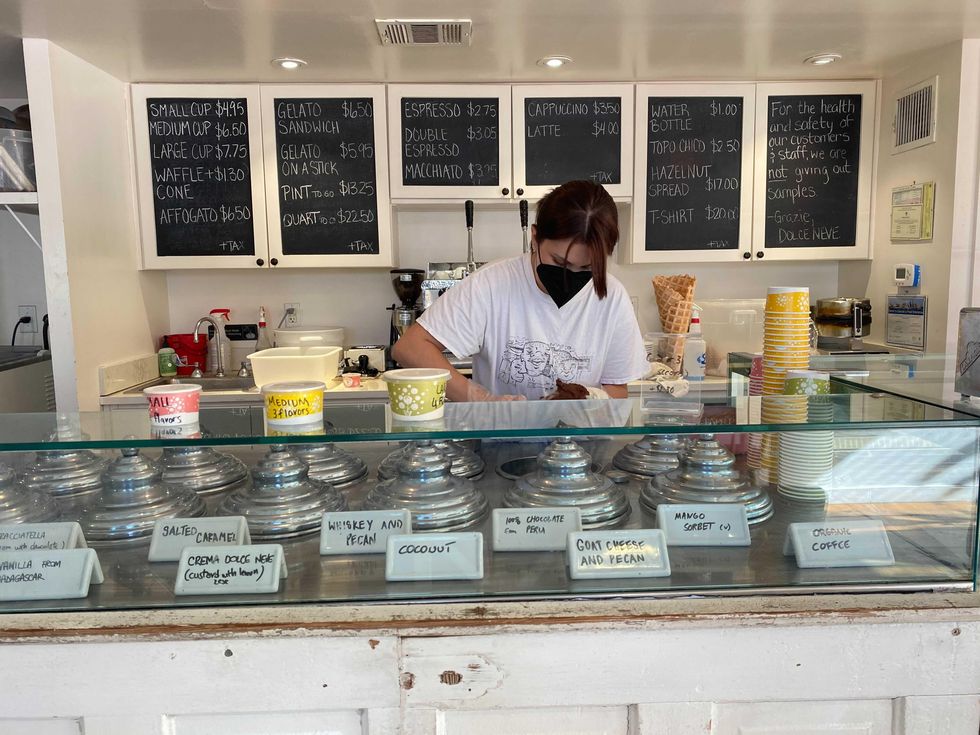 "Dolce Neve" translates to "sweet snow." The shops offers 12-18 flavors at a time. (Dolce Neve)
Similarly, his sister Francesca Silvestrini was experiencing the same feelings while studying for her Ph.D. in Ohio before teaming up with Silvestrini. She went back to Italy to be properly trained in making gelato while Silvestrini focused on the business plan. They brought Leo Ferrarese, her husband, onboard and opened their first shop on South First Street in January 2014. The rest is history.
On the menu, you'll find various traditional and innovative flavors that rotate out. Some of the staples include chocolate, 100% vanilla from Madagascar and salted caramel. Other rotating or seasonal flavors include whiskey and pecan, organic cantaloupe sorbet, goat cheese and pecan, almond custard and tiramisu. They've created over 300 flavors together in the span of the business.
So what's next for the shop? Lately, Silvestrini has been thinking a lot about that. With two locations in Austin, one in Houston—he's just not sure if expanding more is the right move. Maintaining a quality product and good service is of utmost importance that he's not willing to sacrifice.
"In order to be happy, it's not about making money, it's about being an integral part of the community," Silvestrini said. "There have been so many cases in which I think what I did today really made a difference in somebody's life."