Get connected with our daily update
One of Austin's own was named among the top kids of 2020, according to TIME magazine. We've compiled the latest news headlines around Austin to help catch you up on this story and other breaking news around the city.
Here is what we have shared so far this week:
---
Dec. 4: Austin teen is one of TIME's best this year and 4 more headlines you might've missed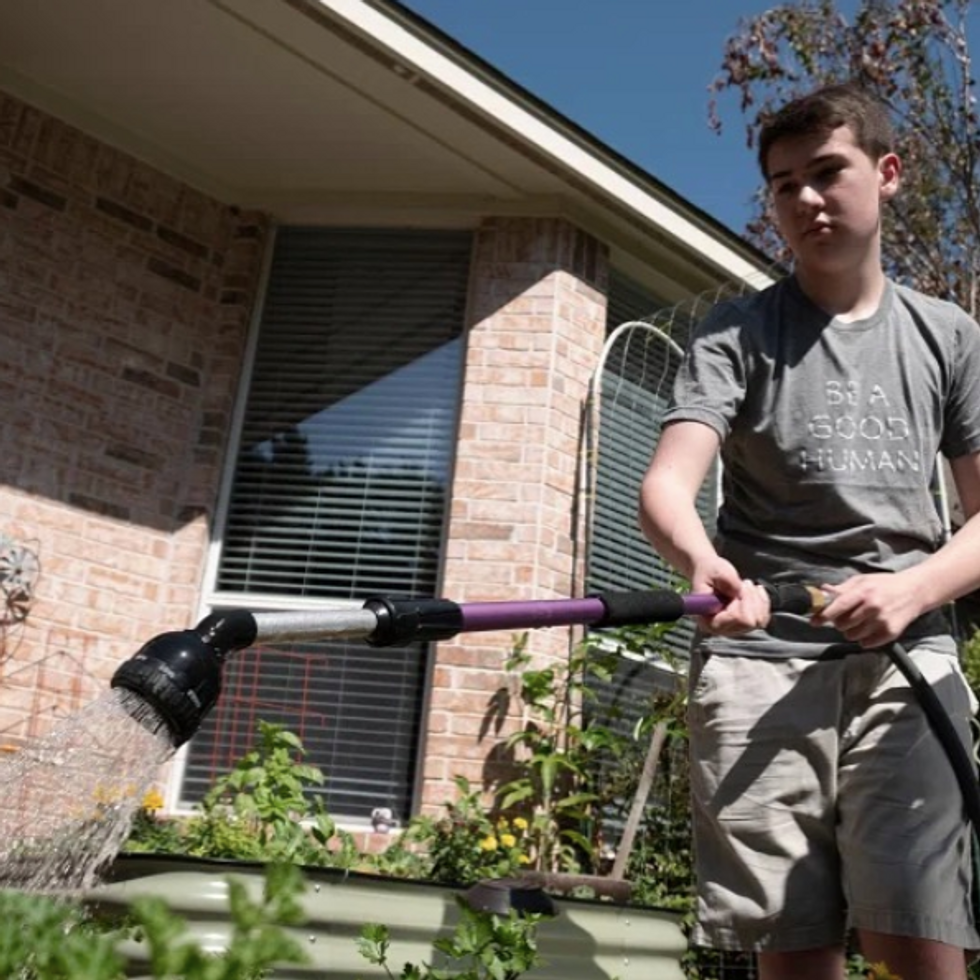 16-year-old Austinite Ian McKenna was named a finalist for TIME magazine's Kid of the Year honor.
1. Best kid in Austin: For the first time, TIME magazine awarded its first Kid of the Year, and Austin's own Ian McKenna was among the five finalists for the honor. The 16-year-old gardener was recognized for helping curb youth hunger with produce he grew himself.
2. Tourists might save music venues: Austin is dishing out $15 million in emergency relief money to "iconic" Austin music venues, pulling from hotel tax dollars typically used to fund the convention center. This is the first time the city has deemed it legal under state law to use tourism hotel taxes for this purpose, potentially setting a new precedent, Community Impact reports.
3. State troopers in the city: The state wants to take over law enforcement efforts from Lady Bird Lake to 32nd Street and from I-35 to North Lamar Boulevard—and possibly to MoPac, according to The Texas Tribune. That means state troopers would patrol the streets instead of city and school cops under a proposal touted this week by Gov. Greg Abbott.
4. Utah monolith doesn't stand alone: After a viral frenzy over a mysterious monolith appearing and disappearing in the Utah desert, Austin Community College is getting involved in the fun. KXAN reports that ACC's welding department built a metal triangular column similar to the one magically showing up across the globe.
5. Whole lot of office space: Whole Foods Market is building a second downtown office building next to its 15-story West Sixth Street tower, which was constructed in 2017. The new building, slated for completion by the end of 2021, will be shorter than the original. TOWERS reports this news helps explain the unique architectural choices of the original development.
Dec. 3: This South Austin strip mall is getting a major facelift and 4 more headlines you might've missed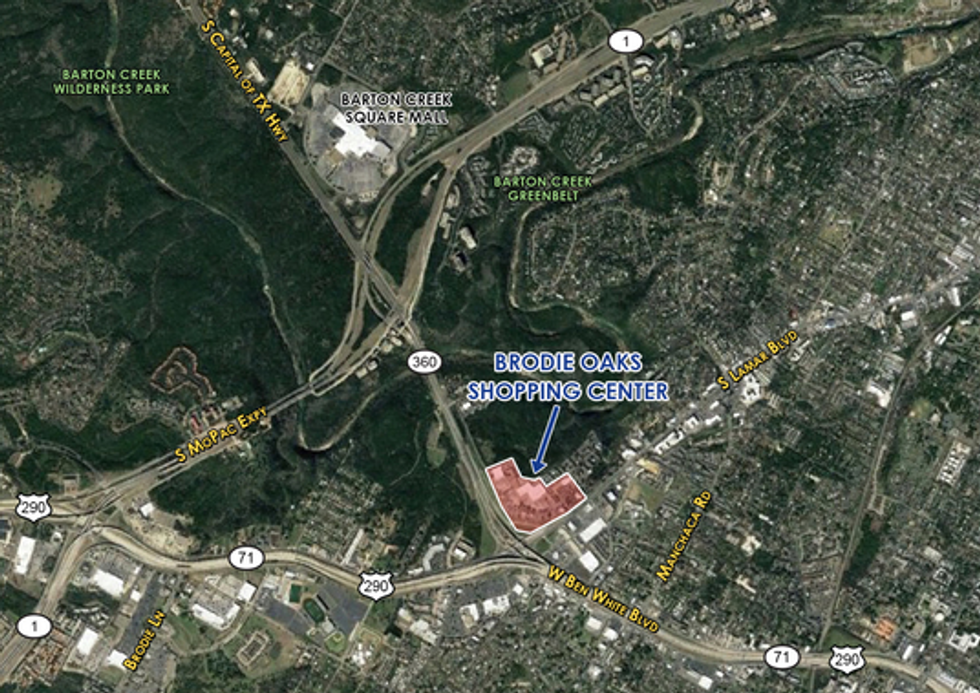 Brodie Oaks Shopping Center at South Lamar Boulevard and Loop 360 will be revamped into a 3 million-square-foot mixed-use development by late 2022 or 2023.
(Barshop & Oles)
1. Major South Austin project announced: Brodie Oaks Shopping Center at South Lamar Boulevard and Loop 360 will soon become a mixed-use development with more than 3 million square feet of newly developed residences, retail and restaurants—and one-third of the project includes office space, too. The development will be the size of two Barton Creek Square Malls, according to the Austin American-Statesman, and it won't be ready until late 2022 or 2023.
2. Tax bills behind schedule: Wondering why you haven't been hit by a Travis County tax bill yet? KVUE learned that most people haven't received their 2020 tax statement because the county waited to see how November's election might impact the city's tax rate. Keep in mind that property valuations were frozen last year, so the tax impact could be less severe in 2020—check here if you cannot wait for the mail to see the damage.
3. Slice of Sundance here in Austin: Austin Film Society will host a satellite location of the 2021 Sundance Film Festival, which is going virtual this year. Austin Chronicle reports the prestigious movie festival, normally held in Utah, is tapping independent theaters around the country to decentralize the event next year, with AFS hosting "social distant screenings" to festival-goers.
4. Pennybacker bridge jumper speaks: FOX 7 talked to the 21-year-old South Austin man who jumped off Pennybacker Bridge in a recent viral video. Naturally, he doesn't regret it and gained about 1,000 extra YouTube followers out of the whole deal—as well as a fractured skull, brain bleeding and emergency surgery.
5. Final call for COVID relief: The city is accepting applicants for its emergency relief funding, which still has more than $4 million leftover for Austin residents who lost income during the pandemic. The city told Austonia in mid-October that less than $1 million had been distributed so far due to low demand. Qualifications have since been updated to enable more access to the relief money, with nearly $8.5 million now distributed to needy residents.
Dec. 2: Mayor Adler called out for Cabo trip and 4 more headlines you might've missed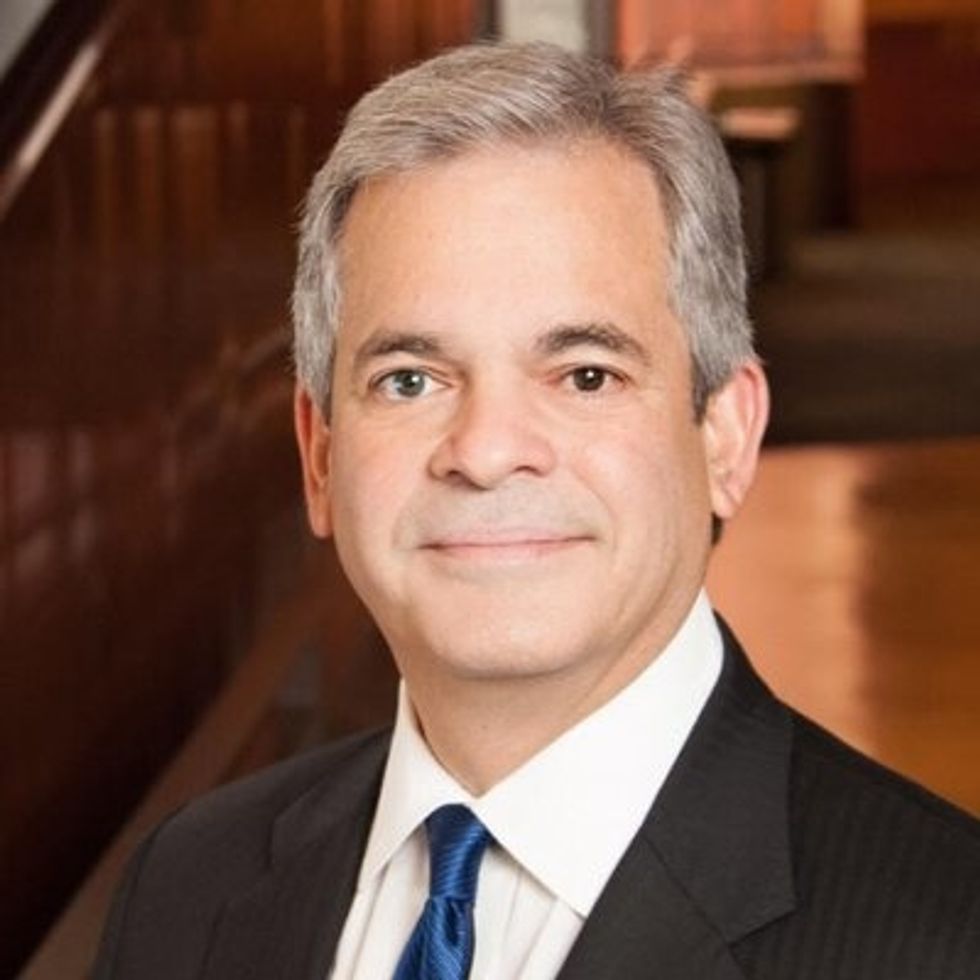 1. Mayor Adler doesn't lead by example: While COVID-19 cases spiked in early November following the Halloween weekend, Mayor Steve Adler urged Austinites to "stay at home." As it turns out, his message was broadcast from Mexico where Adler traveled after his daughter's wedding ceremony in Austin. Austin American-Statesman reporter Tony Plohetski reports that health officials urged gatherings to be limited to no more than 10 people at the time, yet the wedding hosted about 20 guests who were "probably not" wearing masks the entire time, Adler admits.
2. 11 APD officers disciplined: Confrontations with police in late May resulted in several protestors getting injured by pepper spray, bean bags and foam bullets. Now KVUE has counted 11 police officers that have been punished for their actions during those protests—including a cop accused of calling a protestor "that gay dude." KXAN reports that multiple lawsuits have also been filed by protestors against APD, and Police Chief Brian Manley updated use-of-force policies following the protests.
3. Unemployed? Receive a $100 relief gift card: If you're a musician or worked in the hospitality industry, you likely qualify for a $100 H-E-B gift card from the Red River Cultural District. The business group of mostly music venue owners has distributed $155,000 so far this year in COVID-19 relief money, according to Austin360, and this fourth round of support includes $45,000 for unemployed music industry and service workers.
4. Road rage is rampant: Local officials think road rage is a greater issue locally than the 14 combined cases reported so far this year. FOX 7 talked to traffic patrollers who are concerned that COVID-19 and holiday stress could add to the road rage shooting in southeast Austin last week.
5. New mental health hospital: Austin State Hospital is being rebuilt in Austin's Triangle neighborhood as part of a $305 million, 380,000-square-foot project. The area for the 80-acre campus has been cleared, KVUE reports, putting the 240-bed mental health hospital on track to open by June 2023.
Terry Black's Barbecue is journeying outside of the smoked meats sphere and into the hospitality sector, announcing plans to open "Friday Mountain," a resort-style vineyard near Driftwood.
According to a report from the Austin Business Journal, Friday Mountain will be located on 64 acres at 150 Concord Circle, featuring a boutique hotel with 22 rooms, a 14-acre vineyard and a 20,000-square-foot underground wine facility, a spa, event space, all-day café and high-end restaurant. Construction is poised to start in the next month.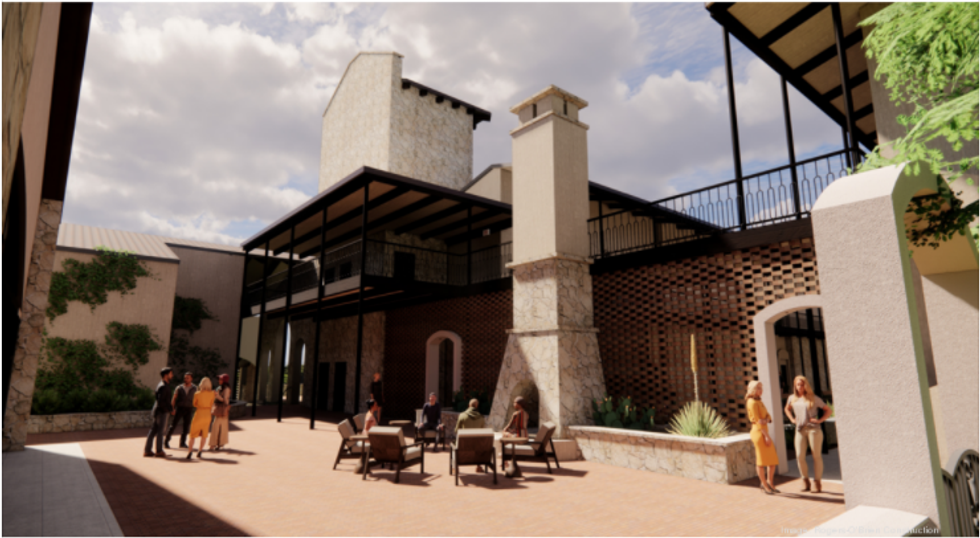 The courtyard outside of the event space will echo Hill Country architecture. (Rogers-O'Brien Construction)
Co-owner Mark Black said he expects construction to last about 10 months, hoping for opening early next year, and would hire around 140 employees: 60 full-time and 80 part-time.
The new project has long been in the works for the restaurateurs—including Mark's twin brother Mike and sister Christina—who come from the same lineage as those behind Lockhart's Black's BBQ but separated the business due to a falling out within the family.
Friday Mountain was originally planned to be a wedding venue but issues arising about noise, traffic and environmental concerns led the Dripping Springs City Council to ask for updated plans.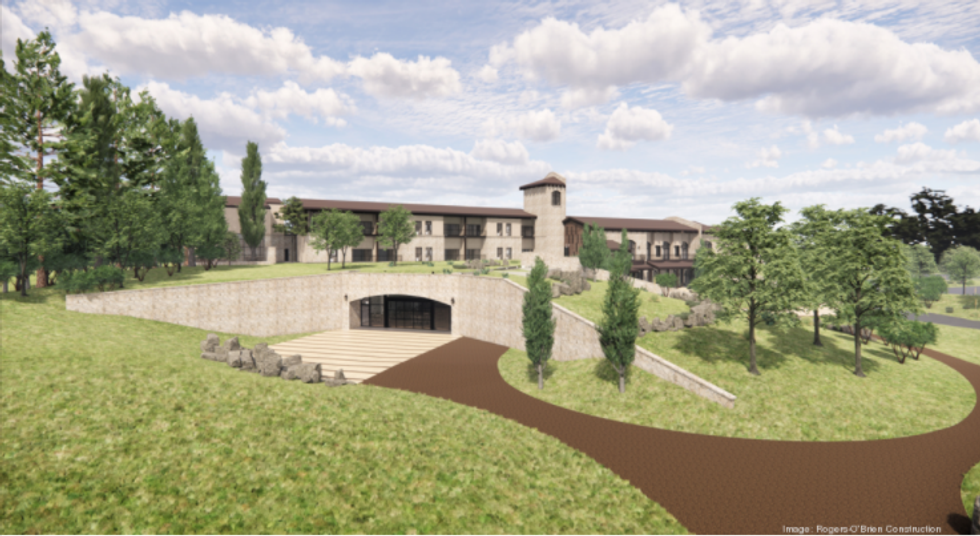 A rendering of the entrance to the planned underground wine cave. (Rogers-O'Brien Construction)
In the new plans, which have since been submitted, Black said he heard the neighborhood's concerns and is focusing on working with the right contractors to avoid issues. Black said he knows not everyone will be on board with the venue but that it will provide a little something for everyone.
To bring the concept to life, Black is partnering with engineers at Kimley-Horn and Associates Inc., architects at Lawrence Group, and Rogers-O'Brien Construction Co. Ltd. as the general contractor.
As for the vineyard, Black has partnered with Salt Lick Cellars to have wine aged and ready to drink wine upon opening and will hand off wine making operations to enthusiast Phil Price.
According to a Texas Department of Licensing and Regulation filing, the project will cost an estimated $20 million to be completed in January 2023.
From Your Site Articles
Related Articles Around the Web
The Texas French Bread Bakery, located on 2900 Rio Grande Street, has been completely destroyed after a fire erupted on Monday night.
The Austin Fire Department responded to the fire just before 11 p.m., where they arrived to see flames coming from the roof of the bakery. Firefighters fought the fire for about an hour before the roof collapsed.
While no one was injured in the fire, firefighters say the historic building was completely totaled.
AFD determined that the fire was accidental and caused by mechanical failure. AFD said the damages amounted to $1.6 million total: $1.1 million in structural damage and $500,000 in damage to the contents of the bakery.

This year, Texas French Bread will celebrate 40 years of business. Before the bakery occupied the building, it was the Rome Inn, a music venue that hosted 1970s artists like Stevie Ray Vaughan.