Get connected with our daily update
One of Austin's own was named among the top kids of 2020, according to TIME magazine. We've compiled the latest news headlines around Austin to help catch you up on this story and other breaking news around the city.
Here is what we have shared so far this week:
---
Dec. 4: Austin teen is one of TIME's best this year and 4 more headlines you might've missed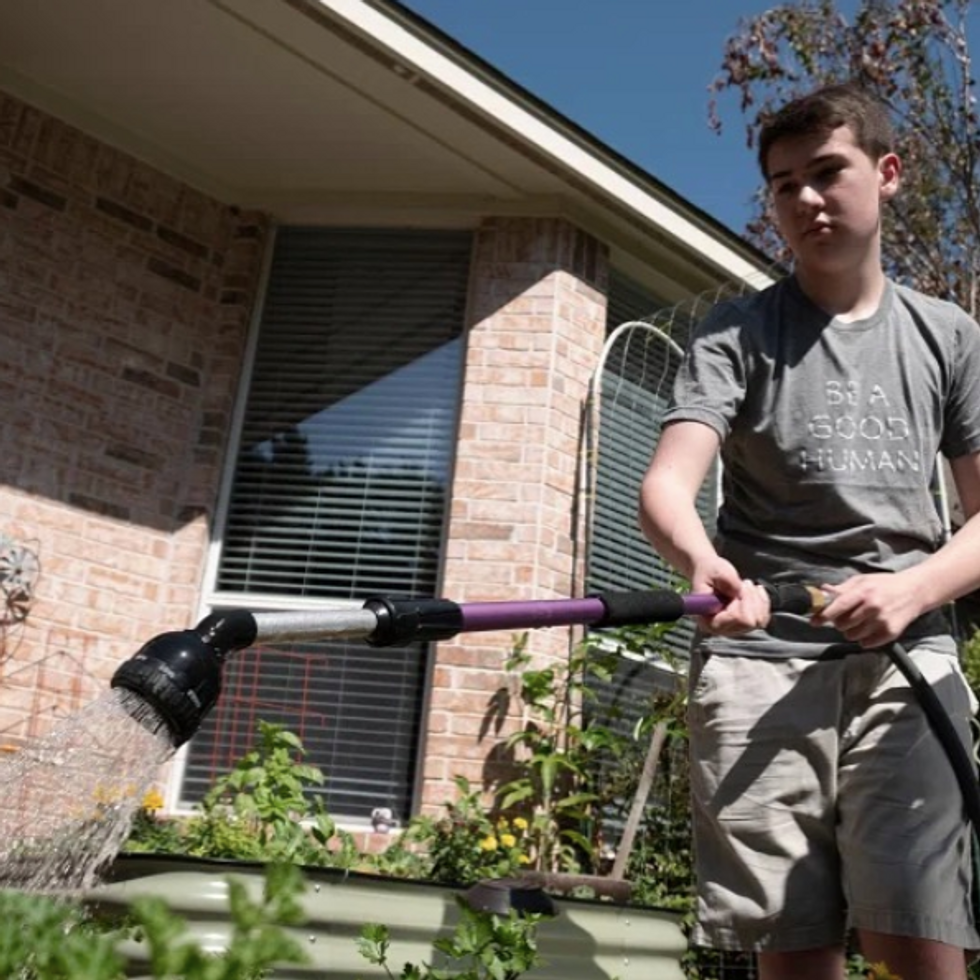 16-year-old Austinite Ian McKenna was named a finalist for TIME magazine's Kid of the Year honor.
1. Best kid in Austin: For the first time, TIME magazine awarded its first Kid of the Year, and Austin's own Ian McKenna was among the five finalists for the honor. The 16-year-old gardener was recognized for helping curb youth hunger with produce he grew himself.
2. Tourists might save music venues: Austin is dishing out $15 million in emergency relief money to "iconic" Austin music venues, pulling from hotel tax dollars typically used to fund the convention center. This is the first time the city has deemed it legal under state law to use tourism hotel taxes for this purpose, potentially setting a new precedent, Community Impact reports.
3. State troopers in the city: The state wants to take over law enforcement efforts from Lady Bird Lake to 32nd Street and from I-35 to North Lamar Boulevard—and possibly to MoPac, according to The Texas Tribune. That means state troopers would patrol the streets instead of city and school cops under a proposal touted this week by Gov. Greg Abbott.
4. Utah monolith doesn't stand alone: After a viral frenzy over a mysterious monolith appearing and disappearing in the Utah desert, Austin Community College is getting involved in the fun. KXAN reports that ACC's welding department built a metal triangular column similar to the one magically showing up across the globe.
5. Whole lot of office space: Whole Foods Market is building a second downtown office building next to its 15-story West Sixth Street tower, which was constructed in 2017. The new building, slated for completion by the end of 2021, will be shorter than the original. TOWERS reports this news helps explain the unique architectural choices of the original development.
Dec. 3: This South Austin strip mall is getting a major facelift and 4 more headlines you might've missed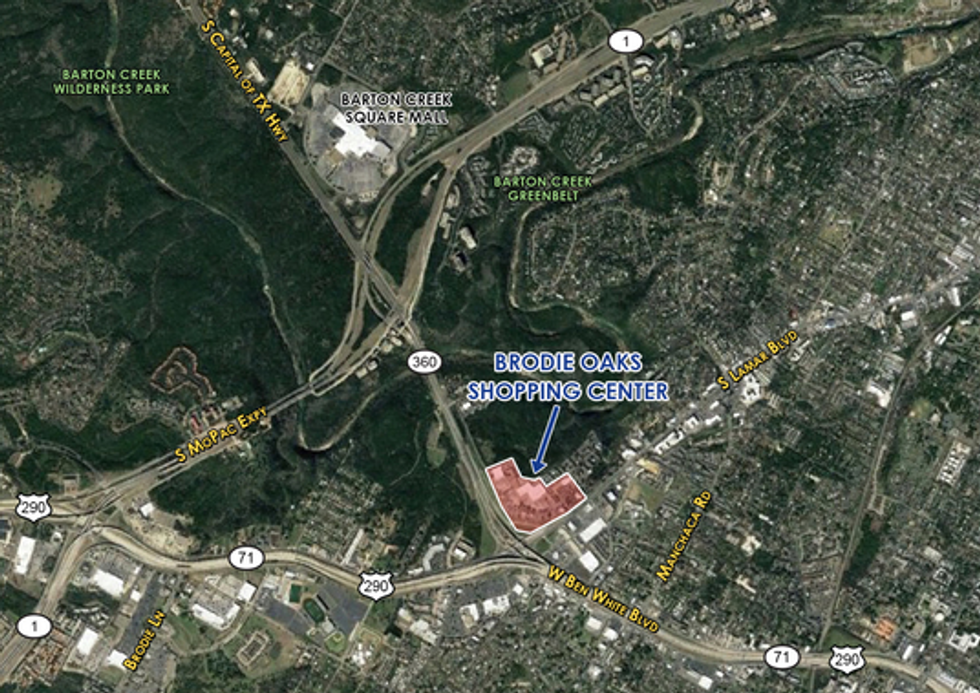 Brodie Oaks Shopping Center at South Lamar Boulevard and Loop 360 will be revamped into a 3 million-square-foot mixed-use development by late 2022 or 2023.
(Barshop & Oles)
1. Major South Austin project announced: Brodie Oaks Shopping Center at South Lamar Boulevard and Loop 360 will soon become a mixed-use development with more than 3 million square feet of newly developed residences, retail and restaurants—and one-third of the project includes office space, too. The development will be the size of two Barton Creek Square Malls, according to the Austin American-Statesman, and it won't be ready until late 2022 or 2023.
2. Tax bills behind schedule: Wondering why you haven't been hit by a Travis County tax bill yet? KVUE learned that most people haven't received their 2020 tax statement because the county waited to see how November's election might impact the city's tax rate. Keep in mind that property valuations were frozen last year, so the tax impact could be less severe in 2020—check here if you cannot wait for the mail to see the damage.
3. Slice of Sundance here in Austin: Austin Film Society will host a satellite location of the 2021 Sundance Film Festival, which is going virtual this year. Austin Chronicle reports the prestigious movie festival, normally held in Utah, is tapping independent theaters around the country to decentralize the event next year, with AFS hosting "social distant screenings" to festival-goers.
4. Pennybacker bridge jumper speaks: FOX 7 talked to the 21-year-old South Austin man who jumped off Pennybacker Bridge in a recent viral video. Naturally, he doesn't regret it and gained about 1,000 extra YouTube followers out of the whole deal—as well as a fractured skull, brain bleeding and emergency surgery.
5. Final call for COVID relief: The city is accepting applicants for its emergency relief funding, which still has more than $4 million leftover for Austin residents who lost income during the pandemic. The city told Austonia in mid-October that less than $1 million had been distributed so far due to low demand. Qualifications have since been updated to enable more access to the relief money, with nearly $8.5 million now distributed to needy residents.
Dec. 2: Mayor Adler called out for Cabo trip and 4 more headlines you might've missed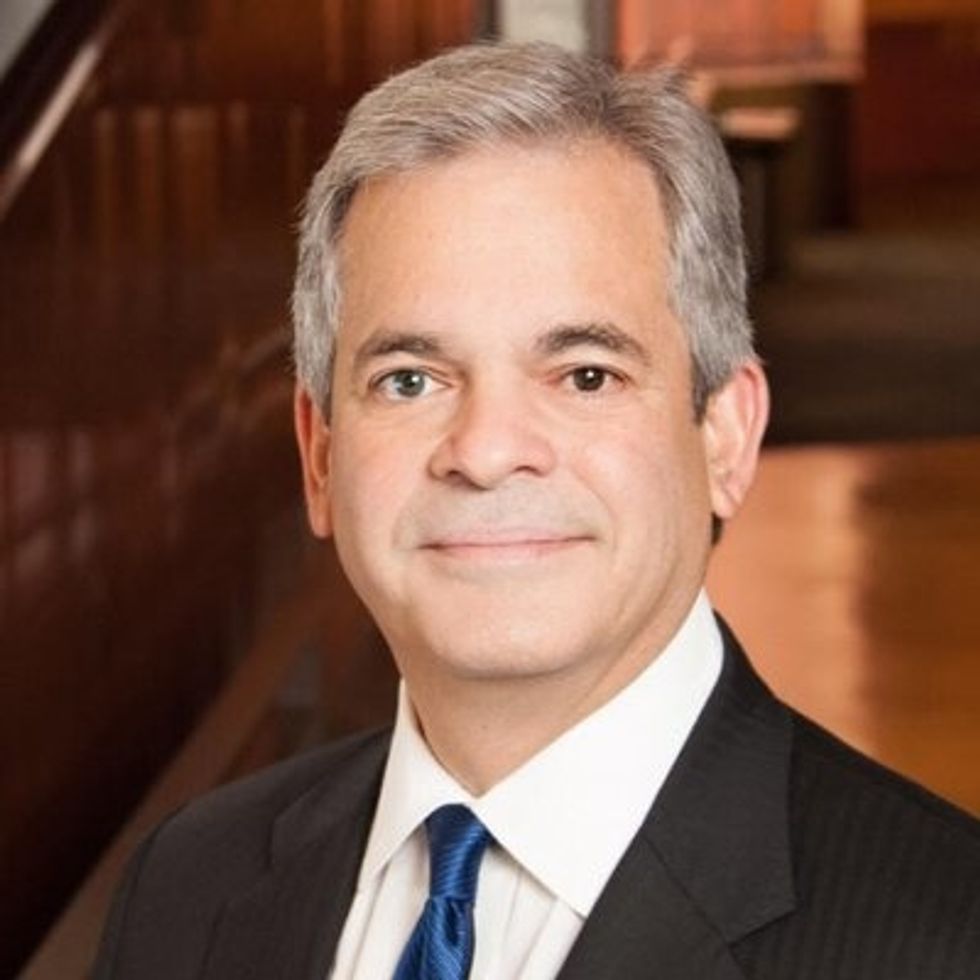 1. Mayor Adler doesn't lead by example: While COVID-19 cases spiked in early November following the Halloween weekend, Mayor Steve Adler urged Austinites to "stay at home." As it turns out, his message was broadcast from Mexico where Adler traveled after his daughter's wedding ceremony in Austin. Austin American-Statesman reporter Tony Plohetski reports that health officials urged gatherings to be limited to no more than 10 people at the time, yet the wedding hosted about 20 guests who were "probably not" wearing masks the entire time, Adler admits.
2. 11 APD officers disciplined: Confrontations with police in late May resulted in several protestors getting injured by pepper spray, bean bags and foam bullets. Now KVUE has counted 11 police officers that have been punished for their actions during those protests—including a cop accused of calling a protestor "that gay dude." KXAN reports that multiple lawsuits have also been filed by protestors against APD, and Police Chief Brian Manley updated use-of-force policies following the protests.
3. Unemployed? Receive a $100 relief gift card: If you're a musician or worked in the hospitality industry, you likely qualify for a $100 H-E-B gift card from the Red River Cultural District. The business group of mostly music venue owners has distributed $155,000 so far this year in COVID-19 relief money, according to Austin360, and this fourth round of support includes $45,000 for unemployed music industry and service workers.
4. Road rage is rampant: Local officials think road rage is a greater issue locally than the 14 combined cases reported so far this year. FOX 7 talked to traffic patrollers who are concerned that COVID-19 and holiday stress could add to the road rage shooting in southeast Austin last week.
5. New mental health hospital: Austin State Hospital is being rebuilt in Austin's Triangle neighborhood as part of a $305 million, 380,000-square-foot project. The area for the 80-acre campus has been cleared, KVUE reports, putting the 240-bed mental health hospital on track to open by June 2023.
Just weeks after music fest Austin City Limits, Austin will be host to another global event as the Circuit of the Americas hosts Formula 1's United States Grand Prix race for the first time since the onset of the pandemic.
The weekend-long fest will have events stretching from Friday, Oct. 29 through Sunday, Oct. 31 for North America's premier Formula 1 race.
With three days of races, parades and more, it can be hard to know what to expect for an event that COTA chairman Bobby Epstein said would be "the biggest event on the planet this year."
Don't miss a beat: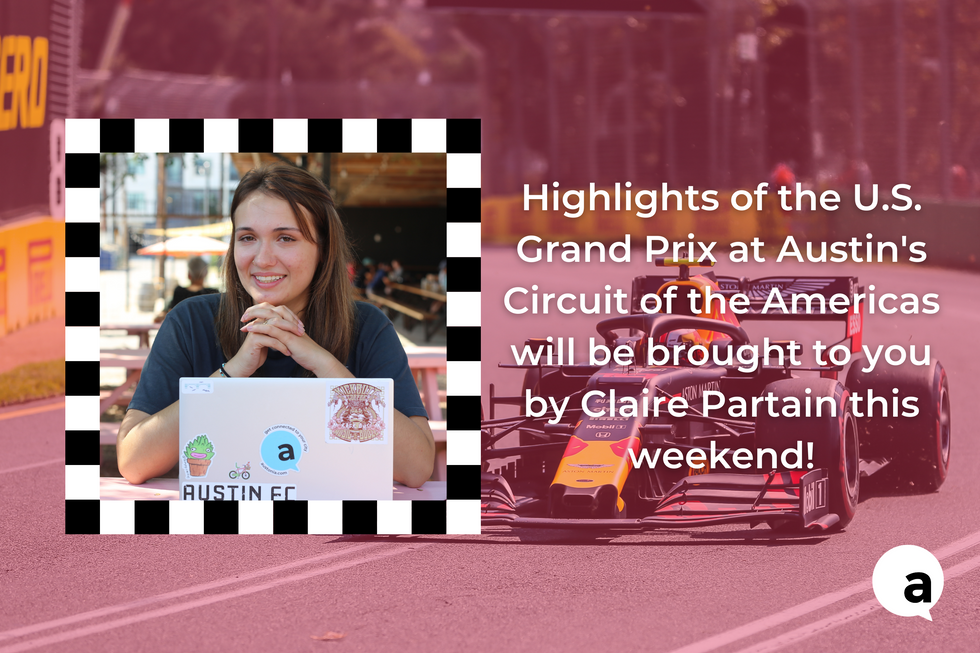 But have no fear. Here's Austonia's complete guide to make sure your trip to the U.S. Grand Prix is out of this world:
What to bring
This is why you shouldn't have a hot mic in COTA Twitter HQ. #USGP pic.twitter.com/9PhcKAVJEe

— Circuit of The Americas (@COTA) October 25, 2018
While some may have bought tickets just for the big race, others are planning for a three-day fest of constant outdoor activity. For the foreigners and out-of-towners, October weather in Austin may not be quite what you expect—many joke that a Texas "fall" is near-nonexistent. Check the weather often to see what's in store.
Our prediction is that shorts or flowy pants/skirts, a short-sleeve shirt and a light jacket may suffice. If it looks like rain is on the horizon, don't forget a poncho and/or small umbrella as there isn't much coverage from the elements once you're there.
Regardless of weather, it's a safe bet to bring sunscreen, sunglasses, a hat and some bug spray as well. Other not-so-typical items to pack in your bag—which should be smaller than 12x12x20 inches—include earplugs for the big race, binoculars and your phone camera to capture those Ferraris at full-speed.
Depending on your seats, don't forget a folding chair, and to pack a sealed plastic water bottle if you can—it's the only type of food or drink that's permitted on the property.
Keep all tents/canopies, coolers and large umbrellas at home. Check out more on what not to bring here.
Make sure you've got your tickets and you're all set!
Parking
trying to get from your parking spot to your seat 15 minutes before the race starts pic.twitter.com/2ly2DDcUVU

— Circuit of The Americas (@COTA) February 8, 2021
COTA's notorious parking can be a doozy—F1 1 fan Kevin Andrew said he's spent two and a half hours in line for the venue's sprawling paved and grass lots.
If you're of the impatient sort, it may be smart to look for some early-bird treatment even before gates open at 7 a.m. Friday, 8 a.m. Saturday and 6:25 a.m. Sunday. Show up well before your first desired event starts, especially on Sunday.
Three-day tickets are already sold out (although you can find some from resellers), while one-day tickets start at $60. Click here to book a one-day ticket.
For those looking to beat the crowd and keep some change, shuttles will pick up from five locations around the city for $15 a day. An additional Park-N-Ride lot, Lot Q, will also allow guests to drop their cars off and take the shuttle to COTA. Click here for shuttle information.
Additional transportation amenities include a drop-off spot for limos, taxis and rideshare apps. Bicyclists will have access to showers in the GEICO Premium RV Lot.
Food, music and more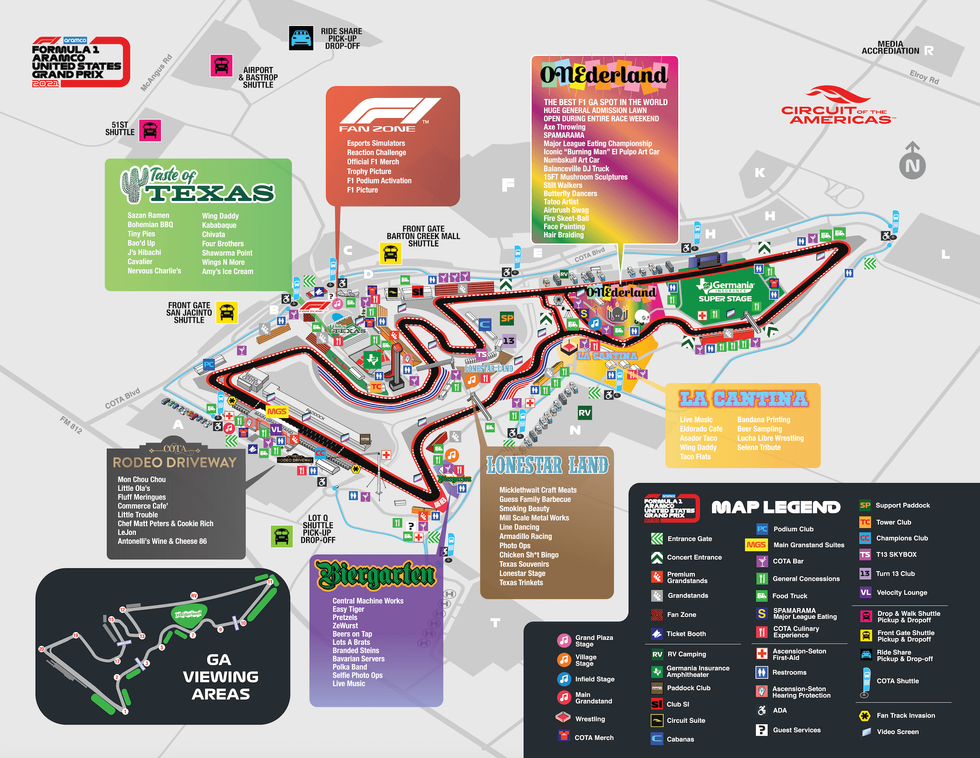 COTA will become a "World Fair"-esque fest full of local eats, live music and out-of-the-ordinary activities as part of the U.S. Grand Prix. (Circuit of the Americas)
Once you've entered those gates, the actual event will be a lot to take in. Anywhere from 300-350K people are expected to attend the big race, and fans are more excited than ever after nearly two years with no F1 in North America.
But just as fun as the big race—at least for more casual viewers—are the many attractions leading up to it.
Some highlights include performances from Twenty One Pilots and Billy Joel on Friday and Saturday, respectively, two races for the all-women's racing championship W Series and junior championship FIA Formula 4, NASCAR demos and a driver's parade on Sunday just before the race.

This is also a chance for Austin to entertain guests from far and wide—like a "World's Fair," as Andrews put it—and COTA will ensure that Austin remains on the map.
The "Live Music Capital of the World" will earn its rep with over 20 concerts across multiple stages on Saturday and Sunday. Highlights include Kool and the Gang and 15 Austin ensembles including The Ghost Wolves, Mobley and three-time Best of Austin winner DJ Chorizo Funk.
That Austin flair is well-represented in cuisine as well—expect over 30 dining options including local favorites Bao'd Up, Easy Tiger, Amy's Ice Cream and Tiny Pies scattered across the grounds. Check out the Taste of Texas section for local eats, the Biergarten for Bavarian beer, food and polka dancing, Lone Star Land for Austin's classic Chicken Shit Bingo and line dancing, and La Cantina for some Tex-Mex and a Selena tribute.
Still not satisfied? COTA's Onederland claims to host the best F1 General Admission lawn in the world and is packed with more than just amusement park rides. Expect the annual SPAMARAMA (yes, a Spam-themed festival,) axe throwing, the Major League Eating Championship and plenty of performers on stilts. Don't forget to ink a COTA-themed tattoo with an on-site tattoo artist as well.
Formula 1—a breakdown
Hamilton and Perez served up a treat with this mini battle 🍿#TurkishGP 🇹🇷 #F1 pic.twitter.com/jOTcurRWue

— Formula 1 (@F1) October 10, 2021
New to Formula 1? You're not alone—the sport has exploded in popularity in North America after gaining recognition from Netflix series "Drive To Survive." With a new track set to open in Miami, that growth will only continue.
Here's what you need to know to get caught up:
Formula 1 vehicles are arguably the fastest road-racing cars in the world. The open-wheeled single-seaters can reach top speeds around 215 miles per hour and all adhere to a "formula" set by the Fédération Internationale de l'Automobile.
Formula 1 is the top formula racing league in the world and consists of 20 drivers across 10 teams who compete in venues across North and South America, Central Asia and its native continent, Europe. F1 has existed in some form for over 70 years and features races on closed city streets as well as purpose-built racetracks like COTA.
The league is massively popular in Europe but has seen intermittent success in North America. The U.S. Grand Prix was first held in 1908 and flip-flopped across 10 different locales for 49 appearances over the next century, last spending seven years in Indianapolis from 2000-2007 before making a home in Austin in 2012.
This U.S. Grand Prix will be its 50th race and will be the 17th race of the season.
The Big Race—Hamilton v. Verstappen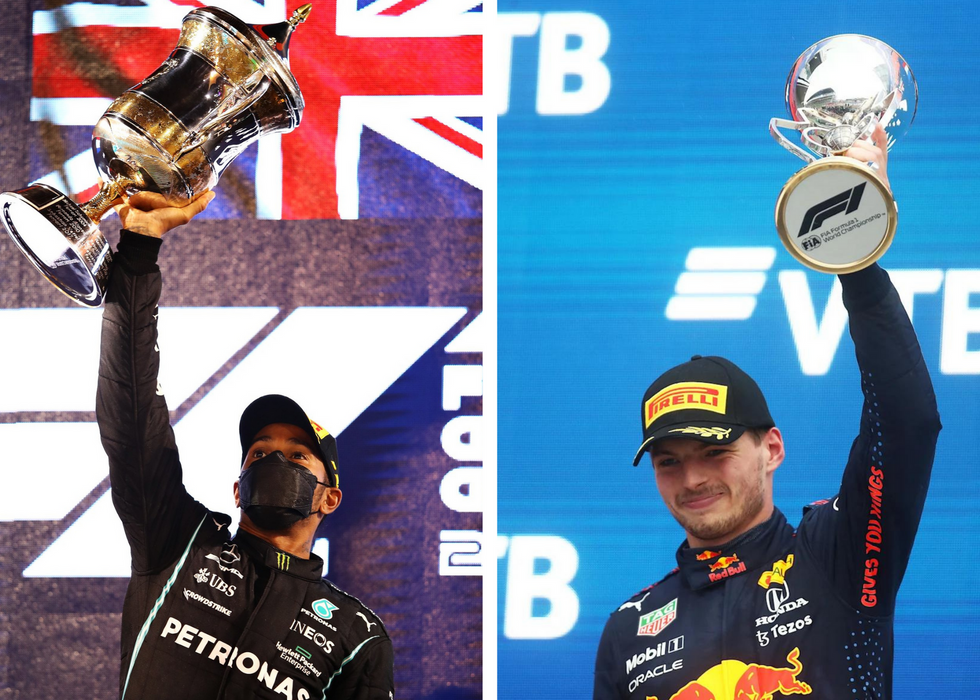 Defending champion Lewis Hamilton is in for some stiff competition from a young Max Verstappen as they fight for the F1 Championship. (Mercedes-AFG Petronas F1 Team/Twitter) (Red Bull Racing/Twitter)
The league's 20 drivers have crisscrossed across the map through the season, adapting to locales across four continents with vastly different terrains. But one factor has remained constant—standouts Lewis Hamilton and Max Verstappen have rarely left the leaderboard.
Just six points differentiate the two-star drivers with over a dozen races in—a margin low enough that the true winner may not be evident until the very end. With 262.5 points, Dutchman Verstappen holds the slight lead over Great Britain's Hamilton and both have over 1.5X the points of the next runner-up, Hamilton's teammate Valtteri Bottas.
Hamilton and Bottas make up Team Mercedes, the No.1 team in the league, while Verstappen and fifth-place Sergio Perez constitute second-place team Red Bull Racing Honda.
The evenly matched team, evenly-matched cars and neck-and-neck standings have brought forth a fan-fueled rivalry that F1 hasn't seen for quite some time.
This U.S. Grand Prix, much like the rest of the season, will be a testament of old vs. new. A 36-year-old Hamilton has taken home seven F1 championships, including a four-year dominance in the sport from 2017-2020, and has won on U.S. turf at COTA five times. Meanwhile, the 24-year-old Verstappen was once the youngest F1 driver and youngest Grand Prix race winner ever and has since finished third for two consecutive years.
The heated rivalry has culminated in three dangerous crashes throughout the season, including one at the Italian Grand Prix Sept. 13. Grand Prix Drivers' Association chairman Alex Wurz said it is "very likely" that they will again.
That next crash site may or may not be at COTA, but the U.S. Grand Prix will still see the two titans clash once more as the season nears its end. Expect either or both to end at the top of the leaderboard, and make sure to bring up either name to a committed fan if you're looking for some sideline banter.
Other racers to look out for include Bottas as a likely third-place contender and some mid-race fun from Perez and fourth-place rival Lando Norris.
For a full weekend schedule click here. Happy COTA days!
With two weeks of rest, a dream team lineup and nearly 20 scoring attempts in the match, Austin FC could have come away with a three-match home win streak against Minnesota United on Saturday.
Instead, missed opportunities and an equally boisterous opponent forced Austin to leave Q2 with a 1-0 loss to Minnesota.
Austin FC brought what appeared to be their strongest lineup to date to the pitch after their two-week break, including breakout stars Sebastian Driussi and Moussa Djitte. But even with dozens of shots between the two teams, the home team couldn't find their footing in the back-and-forth match.
After landing a brace in the team's 2-1 win against Real Salt Lake, Austin's Cecilio Dominguez struck first in the match with a shot on goal in the eighth minute of play. The scoring attempt opened the floodgates—in just three minutes, teammates Moussa Djitte and Sebastian Driussi would follow suit with their own looks at goal.
Just seconds later, Minnesota bounced back with a shot that forced Austin keeper Brad Stuver to jump for his first save, but a bad sendoff from the Verde and Black left Stuver unable to block another as the Loons' Franco Fragapone scored from close range in the 16th minute.
Despite a wide array of scoring attempts—from Djitte's blocked high-fliers to Tomas Pochettino's many near misses—Minnesota would stay on top for the remainder of the match.
A few flops from Minnesota, including a poorly-acted fall from the Loons' Emmanuel Arriaga (which was unrewarded and resulted in an Arriaga yellow card) and a controversial foul given to Moussa Djitte as he nearly made a solo drive to goal added to Austin's woes.
The Verde and Black's final attempt came as Austin center back Julio Cascante placed a close-range header in the final seconds of regulation, but the home team was unable to capitalize on their many attempts.
Both teams shared over 30 shots in the match, with Austin making eight shots on target. Austin FC held over 65% possession and received 12 fouls to Minnesota's nine.
It could soon be impossible for Austin FC to reach the playoffs, but Verde fans still have two chances to catch their team at home. Austin's first season will wrap up with five final matches, including a 4 p.m. Sunday game against the Houston Dynamo on October 24 and an 8 p.m. Wednesday match against Sporting KC on Nov. 4.
Here's a live blog of the match:
80' Austin makes first subs
80' | First couple #AustinFC substitutions on the night.

➡️ McKinze Gaines
⬅️ Diego Fagundez

➡️ Jon Gallagher
⬅️ Moussa Djitté pic.twitter.com/yVXyPr97Gn

— Austin FC (@AustinFC) October 17, 2021
With just over 10 minutes left in regulation ,Austin FC made some late-game subs, swapping Diego Fagundez for Austinite McKinze Gaines and Sebastian Driussi for forward Jon Gallagher. Both have a history of clutch performances for the team: Gaines scored just 10 minutes in to his first match of the game back in September, while Gallagher was Austin's first scorer at Q2 Stadium.
It's looking more like a draw at best for Austin as the time continues to tick down on the match.
61' Djitte loses chance after controversial call
In the 61st minute of a less-cohesive half for Austin, Moussa Djitte found himself alone near the goal with a good chance at making the home team's first goal. But referees had another ideas, making another controversial call on the Senegalese striker.
Refs stopped Djitte's menacing drive after Minnesota's Michael Boxall appeared to flop in a run-in with the striker, curbing Djitte's attempt to boos from the crowd. It's Djitte's second foul of the night and the team's ninth foul in the match. Both clubs host a yellow card, with center back Julio Cascante holding the home team's sole warning call. Minnesota's Emmanuel Reynoso holds the away team's yellow after an obvious flop that left him rolling on the ground for minutes, waiting on a call.
Blown whistles for both sides have slowed the match's tempo and left both clubs reeling as Austin looks for its first goal.
At the half: Austin still can't finish
45' still left to play. pic.twitter.com/39J1XnvvOc

— Austin FC (@AustinFC) October 17, 2021
With minutes-long shooting sprees and more shots on goal than Minnesota, Austin could easily have the lead in the match. But each crowd-raising attempt has still been slightly skewed as the home team ends the half with nothing on the board.
In just 45 minutes, both Austin and Minnesota have reached the double-digits in scoring attempts, but Minnesota's ability to infiltrate Austin's penalty box has given them the leg up in the match. The Loons have sometimes found themselves nearly alone alarmingly close to goal, and they've capitalized on their chances with a 16thb minute goal by Franco Fragapane.
Austin FC, however, has not. The club has seen close calls from Dominguez and Driussi, headers from Djitte and near-misses from Tomas Pochettino, but missed opportunities and a few strokes of bad luck have left them scoreless. The team will need to shake their age-old scoring issues if they hope to get back into tonight's game.
16' Minnesota nabs 1-0 lead
Fragapane at the back post!@MNUFC go up 1-0 on @AustinFC. pic.twitter.com/u5LxVgMhAU

— Major League Soccer (@MLS) October 17, 2021
Austin may have struck first, but Minnesota won the first points on the board as Franco Fragapane got one past keeper Brad Stuver from a close range in the 16th minute to make it 1-0. The Loons tested Stuver just as Austin did Miller, making two anxiety-inducing shots before Fragapane struck gold.
This goalie-vs.-goalie match has already seen three shots on goal from each team and a relatively quiet midfield as each team dukes it out in the box.
11' Austin tests Minnesota first
.@SebadriussiOk 😅 pic.twitter.com/SUdpNklgMF

— Austin FC (@AustinFC) October 17, 2021
Austin FC has taken no time to threaten goal. In a three-minute span, the home team has racked up three shots, two of which are on goal, as the ball bounces between Austin attackers but can't quite find the net.
Dominguez strikes first as he looks to find his third goal in three matches in the eights minute, but Minnesota's Tyler Miller fights back with a clutch save. Djitte then tests Miller just seconds later, while Driussi takes a final shot from farther back that just misses the top left corner.
Austin's Fagundez and Pochettino were the playmakers of the three-minute shooting spree, but the club still came out scoreless. Minnesota soon rebounded with a shot of their own that was blocked by keeper Brad Stuver.
Starting lineup
Rested and ready to be back on the pitch for #ATXvMIN. 💪#AustinFC x @YETICoolers pic.twitter.com/oHzypiVtqK

— Austin FC (@AustinFC) October 17, 2021
This may be Austin FC's most popular lineup— even the crankiest fans are commending the strong starting XI on Twitter. Tonight's starters are the same as in their win against Salt Lake.
New standouts Moussa Djitte and Sebastian Driussi are in alongside double-scorer Cecilio Dominguez up front, while fan favorite Diego Fagundez, Captain Alex Ring and Designated Player Tomas Pochettino take the midfield.
With Matt Besler still out on concussion protocol, Zan Kolmanic, Jhohan Romana and Julio Cascante take the back along with Hector Jimenez, who is in for right back Nick Lima. As (almost) always, Brad Stuver holds it down in goal.
An Austin-based program manager for Apple Maps and one of two leaders for the #AppleToo activist movement said she has been fired after a suspension.
According to the New York Times, Janneke Parrish said she was put on suspension for several days while the company investigated her activities before she was fired by a human resources employee via phone call on Thursday.
Parrish was under investigation for allegedly leaking a recording of an Apple staff meeting to the media, which she said she didn't do.
The report said the company told Parrish, who is 30, that she was being fired for having deleted files off her company-issued phone and computer before handing them in for examination. Parrish said the files she deleted contained her personal and financial information.
Among the files she deleted were the Robinhood app, which she said was to keep Apple from seeing "how much money I lost investing in GameStop," the Pokemon Go app and screenshots of programming bugs she was fixing.
Parrish said she believes Apple was retaliating against her efforts in organizing #AppleToo, a group of employees working to expose the company's "culture of secrecy" that has been "faced disproportionately by our Black, Indigenous, and other colleagues from minoritized racial, gender and historically marginalized groups of people."
Parrish had been publishing weekly accounts of workplace problems that had been shared anonymously with her from other employees, though she did not verify employment on all of them. The accounts she received were in the hundreds, so Parrish said she was hopeful her termination would lead to some justice within the company.
Employees at tech giants have been more outspoken than usual in recent months—with former Facebook data scientist Frances Haugen speaking out against her former employer—and Parrish said the company's desire to keep under wraps has eroded trust by discouraging employees to come forward with issues like harassment or wage disparity.
Apple spokesman Josh Rosenstock commented on the matter: "We are and have always been deeply committed to creating and maintaining a positive and inclusive workplace. We take all concerns seriously and we thoroughly investigate whenever a concern is raised and, out of respect for the privacy of any individuals involved, we do not discuss specific employee matters."
Additionally, the email detailing her termination, which was obtained by the New York Times, said Apple had determined that Parrish "engaged in conduct in violation of Apple policies including, but not limited to, interfering with an investigation by deleting files on your company provided equipment after being specifically instructed not to do so."