Austonia AM
100% Austin news, info, and entertainment, straight to your inbox at 6 a.m. every morning.
In five minutes, you're fully informed and ready to start another great day in our city.
Get connected with our daily update
Black Austinites are overrepresented among confirmed COVID-19 cases, related hospitalizations and deaths relative to their share of the local population. Recently released demographic data shows that hey are also disproportionately represented among COVID-19 vaccine recipients—but in this case, they account for less than their share of the population.
---
"The health disparities basically come down to racism, unfortunately," said Dr. Jeff Hutchinson, a board member of the Austin Black Physicians Association, citing unequal access to health care and increased exposure to pollutants among people of color.
The supply chain
Almost since the pandemic began, communities of color have been more severely impacted than the general population. Black residents, who make up 7.6% of the city of Austin's population, account for 10% of COVID deaths in Travis County and 11.6% of COVID-related hospitalizations in the five-county Austin metro, according to data from Austin Public Health.
Community leaders and local elected officials, concerned about inequities, pushed for demographic data on who was receiving the COVID-19 vaccine. When APH debuted a new dashboard on Monday with this information, it seemed to validate them: only 4% of APH vaccine recipients have been Black.
Many factors contribute to these disparities.
First, there is not enough vaccine to meet demand. "We have very limited resources," said Dr. Kazique Prince, interim executive director of the Central Texas Collective for Racial Equity. "When you have limited resources, the people who tend to get them are more advantaged."

Second, vaccine providers have been largely concentrated on Austin's west side, even though the most affected ZIP codes are on or straddle the east side. The advent of the hub provider system, which has designated Austin Public Health as a major local provider, has helped address this disparity in recent weeks. But another concern is that most providers, hubs included, rely on online registration systems, which may be inaccessible to Austinites without personal computers or the spare time to spend refreshing a webpage in the hopes of securing an appointment.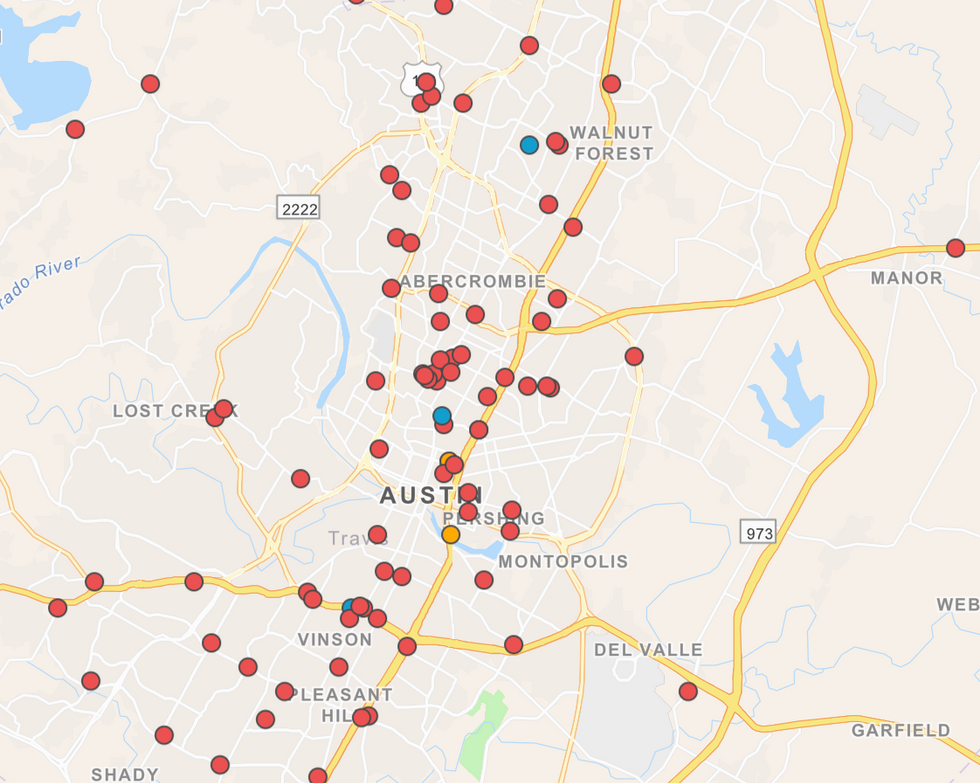 (Texas Department of State Health Services)
In response, local Black elected officials including Austin City Council Member Natasha Harper-Madison and Travis County Commissioner Jeff Travillion demanded changes to the local vaccine rollout, including pop-up distribution events at community centers, such as fire stations and schools. "We will not tolerate a hands-off vaccine strategy that ends the pandemic quickly for the privileged while letting it linger indefinitely among our most marginalized constituents," they said in a statement last month.
Dr. Dennis Andrulis, senior research scientist at the Texas Health Institute and an associate professor at the University of Texas School of Public Health, said such a strategy could help counterbalance the prevalence of providers in other parts of town—and would help make inroads with the vulnerable communities most at risk due to the pandemic. "Trust is a critical, critical element of whatever success we're going to have," Andrulis said.
Building such partnerships now is critical to ensure these disparities don't plague the rest of the distribution process. "As this rollout of the vaccine increases and we do get a higher volume of vaccines available, we need to have this infrastructure in place," Prince said.
Clear messaging
A third challenge is effective communication.
Local public health officials are contending with language barriers, conspiracy theorists and mixed messages. For example, state health officials expanded access to the second-tier priority group—which includes the elderly and individuals with a chronic medical condition—before they had enough supply to vaccinate the top-tier group.
More recently, Dallas County officials had to discard a distribution plan that prioritized communities of color after the state threatened to reduce the local health department's weekly allocation. APH officials had initially said it would prioritize communities of color in its own distribution efforts, but the department's latest eligibility flowchart heeds closely to the state's recommended priority groups: long-term care facility workers and residents, designated essential caregivers, people 65 years of age and older, and those with a medical condition.
"We as a region are fighting this fight with one hand tied behind our back," Prince said.
Black Americans also report higher rates of vaccine hesitancy, according to a recent survey by the Pew Research Center, which makes effective communication even more important.
Although there is a long history of medical racism, including the Tuskegee syphilis study, Black people may be skeptical of the COVID-19 vaccine because of their own personal experiences with the medical profession. "Black people in general … feel that the care that they get is not always the same that other people get," Hutchinson said, pointing to racial disparities in pain management and COVID treatment.
One way to address these concerns is to acknowledge them. "We in the health care community have to learn to listen to what people's concerns are before jumping in and telling them that they're wrong," he added.
Another change
Despite the myriad challenges, Andrulis and Prince expressed hope that an equitable rollout is possible.
"My feeling is you've got an administration now that will address the spectrum of need on vaccine uptake," Andrulis. "I think it's time to reinvigorate efforts. I don't think it's too late."
Prince is confident that APH officials and other local leaders are up to the task—and that in tackling it they may also make inroads in addressing health disparities that long predate the pandemic.
"That's my hope," he said.
After a week at the Stage 4 threshold, local health officials have officially made the shift to Stage 4, according to their risk-based guidelines.
At this stage, all residents—including those who are vaccinated—are recommended to wear masks at all times while indoors, and unvaccinated individuals are asked not to gather at all and only to make essential trips.
This is the first time since February of this year Travis County reached Stage 4; local health officials announced the shift to Stage 3 last week. Since July 4, the seven-day moving average for hospitalizations has increased by over 203% from 63 to 202 hospitalizations, according to Austin Public Health data. There were 39 new hospitalizations alone on Thursday.
Earlier this week, University of Texas researchers projected the city could see a 92% drop in hospitalizations if residents comply with Stage 4 recommendations.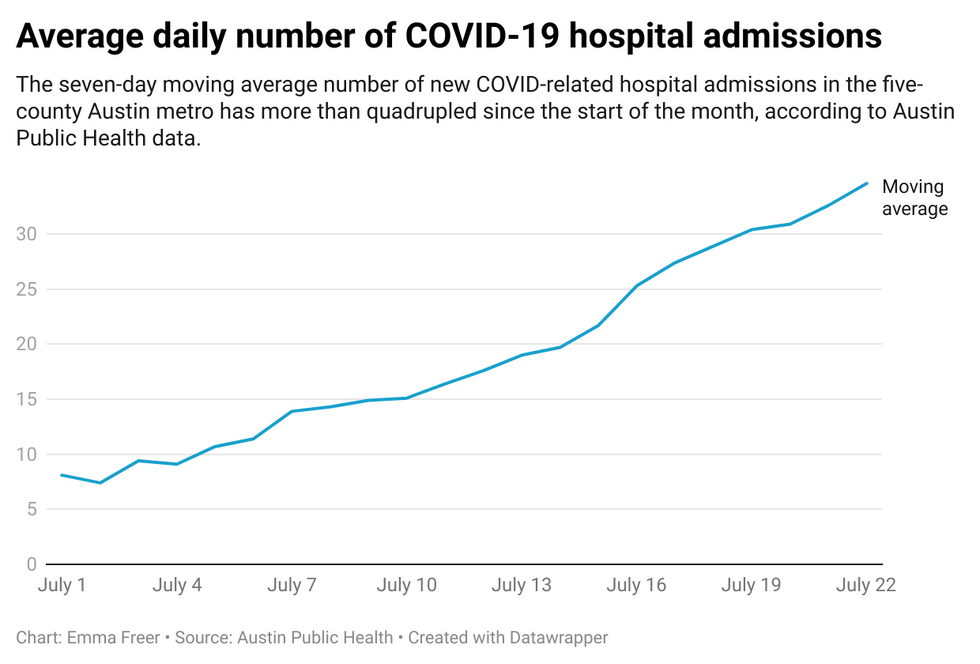 Ahead of the official announcement, health officials were asking all residents to mask up as if in Stage 4. Independent businesses, such as Waterloo Records and Book People, have adopted officials' recommendations and asked patrons to wear a mask once more. APH expects with the official shift, others will follow suit. As for bars, they say people should wear masks. APH said its recommendations will not affect large events, such as Austin FC games, from operating.
The recommendation is not legally enforceable due to Gov. Greg Abbott's executive order prohibiting mask mandates in May—which he recently said he wouldn't reverse.
The Delta variant—which is now responsible for most new COVID cases, according to the CDC—has been of particular concern to health officials, as it is more contagious and produces more severe symptoms. There have been four confirmed Delta variant cases in Travis County, but officials say there is likely more that have gone undetected due to testing delays.

The number of COVID patients in area ICUs have increased nearly 242% from 24 people on July 4 to 82 people on Thursday, APH reports. With nearly all of hospitalized patients proven to be unvaccinated, APH is asking residents to get vaccinated to prevent the spread.
The county has yet to reach its goal vaccination rate of 70%—the threshold for herd immunity—and currently sits at 62% of the population over the age of 12 fully vaccinated.
"Each of us has a personal choice to make: Will we do our part to stop disease transmission by getting vaccinated and taking the necessary precautions to protect ourselves and others, or will we be part of its continued spread?" Austin-Travis County Health Authority Dr. Desmar Walkes said Friday.
For info on how to get vaccinated, click here.
Lucky buyers got to "own a piece of Austin history"—for a price tag of up to $80,000—after Austin City Limits sold 20 separate sections of the original backdrop from the historic television series in an online auction.
The piece, which depicts Austin's ever-growing skyline and includes landmarks including the University of Texas and the Texas Capitol, was sold to 20 separate buyers for over $265,000.
While some less visually appealing panels of twinkling Austin lights sold for as low as $1,500, the panel depicting the Capitol sold for over $80,000. Similarly, the glowing University of Texas tower panel sold for $45,050.
Austin PBS sold the pieces as part of a farewell to Studio 6A, where the original set for ACL's television program was shot. Icons including Willie Nelson and Loretta Lynn have played in front of the backdrop for years since it was instituted in 1982. The panel was put out of use in 2010.
Bidding began on Monday and ended Friday morning at 10 a.m. All proceeds went to Austin PBS and will be used to help the production company move locations in 2022.
The panel may be sold, but it will see one last hurrah as famed country artist Gargth Brooks takes the stage on July 20-21 for another fundraiser to help with move out expenses.