Austonia AM
100% Austin news, info, and entertainment, straight to your inbox at 6 a.m. every morning.
In five minutes, you're fully informed and ready to start another great day in our city.
Get connected with our daily update
Black Austinites are overrepresented among confirmed COVID-19 cases, related hospitalizations and deaths relative to their share of the local population. Recently released demographic data shows that hey are also disproportionately represented among COVID-19 vaccine recipients—but in this case, they account for less than their share of the population.
---
"The health disparities basically come down to racism, unfortunately," said Dr. Jeff Hutchinson, a board member of the Austin Black Physicians Association, citing unequal access to health care and increased exposure to pollutants among people of color.
The supply chain
Almost since the pandemic began, communities of color have been more severely impacted than the general population. Black residents, who make up 7.6% of the city of Austin's population, account for 10% of COVID deaths in Travis County and 11.6% of COVID-related hospitalizations in the five-county Austin metro, according to data from Austin Public Health.
Community leaders and local elected officials, concerned about inequities, pushed for demographic data on who was receiving the COVID-19 vaccine. When APH debuted a new dashboard on Monday with this information, it seemed to validate them: only 4% of APH vaccine recipients have been Black.
Many factors contribute to these disparities.
First, there is not enough vaccine to meet demand. "We have very limited resources," said Dr. Kazique Prince, interim executive director of the Central Texas Collective for Racial Equity. "When you have limited resources, the people who tend to get them are more advantaged."

Second, vaccine providers have been largely concentrated on Austin's west side, even though the most affected ZIP codes are on or straddle the east side. The advent of the hub provider system, which has designated Austin Public Health as a major local provider, has helped address this disparity in recent weeks. But another concern is that most providers, hubs included, rely on online registration systems, which may be inaccessible to Austinites without personal computers or the spare time to spend refreshing a webpage in the hopes of securing an appointment.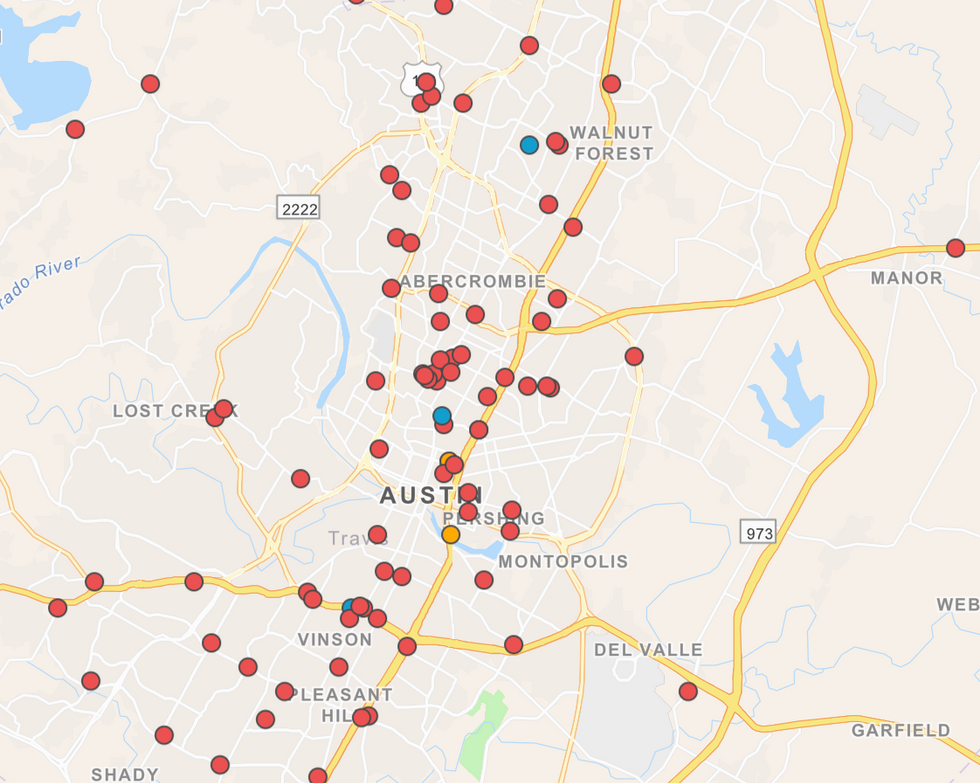 (Texas Department of State Health Services)
In response, local Black elected officials including Austin City Council Member Natasha Harper-Madison and Travis County Commissioner Jeff Travillion demanded changes to the local vaccine rollout, including pop-up distribution events at community centers, such as fire stations and schools. "We will not tolerate a hands-off vaccine strategy that ends the pandemic quickly for the privileged while letting it linger indefinitely among our most marginalized constituents," they said in a statement last month.
Dr. Dennis Andrulis, senior research scientist at the Texas Health Institute and an associate professor at the University of Texas School of Public Health, said such a strategy could help counterbalance the prevalence of providers in other parts of town—and would help make inroads with the vulnerable communities most at risk due to the pandemic. "Trust is a critical, critical element of whatever success we're going to have," Andrulis said.
Building such partnerships now is critical to ensure these disparities don't plague the rest of the distribution process. "As this rollout of the vaccine increases and we do get a higher volume of vaccines available, we need to have this infrastructure in place," Prince said.
Clear messaging
A third challenge is effective communication.
Local public health officials are contending with language barriers, conspiracy theorists and mixed messages. For example, state health officials expanded access to the second-tier priority group—which includes the elderly and individuals with a chronic medical condition—before they had enough supply to vaccinate the top-tier group.
More recently, Dallas County officials had to discard a distribution plan that prioritized communities of color after the state threatened to reduce the local health department's weekly allocation. APH officials had initially said it would prioritize communities of color in its own distribution efforts, but the department's latest eligibility flowchart heeds closely to the state's recommended priority groups: long-term care facility workers and residents, designated essential caregivers, people 65 years of age and older, and those with a medical condition.
"We as a region are fighting this fight with one hand tied behind our back," Prince said.
Black Americans also report higher rates of vaccine hesitancy, according to a recent survey by the Pew Research Center, which makes effective communication even more important.
Although there is a long history of medical racism, including the Tuskegee syphilis study, Black people may be skeptical of the COVID-19 vaccine because of their own personal experiences with the medical profession. "Black people in general … feel that the care that they get is not always the same that other people get," Hutchinson said, pointing to racial disparities in pain management and COVID treatment.
One way to address these concerns is to acknowledge them. "We in the health care community have to learn to listen to what people's concerns are before jumping in and telling them that they're wrong," he added.
Another change
Despite the myriad challenges, Andrulis and Prince expressed hope that an equitable rollout is possible.
"My feeling is you've got an administration now that will address the spectrum of need on vaccine uptake," Andrulis. "I think it's time to reinvigorate efforts. I don't think it's too late."
Prince is confident that APH officials and other local leaders are up to the task—and that in tackling it they may also make inroads in addressing health disparities that long predate the pandemic.
"That's my hope," he said.
Austin police are investigating a homicide in North Austin where a woman was shot and killed, just hours after a mass shooting in Downtown Austin hospitalized 14 people.
APD is working a suspicious death near the 1900 block of W Rundberg Ln. PIO is en route and will update with media staging location. PIO6
— Austin Police Department (@Austin_Police) June 12, 2021
Police originally responded to Ironhorse Flats Apartments, 1900 block of W. Rundberg Lane, at 3:20 p.m. when they found the woman with multiple gunshot wounds. She was transported to a local hospital, where she was pronounced dead at 4:07 p.m.

No one is in custody as of yet but police are speaking with potential witnesses. Officials said they believe this was an isolated incident with no danger to the public but said possible relation to the downtown shooting has not been specifically ruled out.
Officers could not provide a suspect description and the relationship to the victim is still unknown.
This is a developing story that will be updated as details become available.
Austonia file photo. (Christa McWhirter/Austonia)
Police have arrested one of two suspects involved in a mass shooting at Austin's Sixth Street in the early morning hours on Saturday, leaving 14 people injured and two in critical condition.
The arrest was made by the Austin Police Department and the Lone Star Fugitive Task Force. One suspect is still at large.
Police started receiving 911 phone calls at 1:24 a.m about a man that fired shots into a large crowd, and responded to a chaotic scene on the 400 block of East Sixth Street. Detectives are surveying video footage captured by bystanders and cameras on the scene to identify the suspect.

The Austin Police Department has narrowed down their search to two male suspects and believes there was "some type of disturbance" between the two parties.
No deaths have been reported. Fourteen victims are receiving treatment in a hospital in stable condition with one treated in an emergency room; two are in critical condition.
According to Interim Police Chief Joseph Chacon, "almost all" of the victims are innocent bystanders but police have not ruled anyone out at this time.
Shooting on 6th Street Austin Texas 6-12-2021 (Aftermath) youtu.be
The shooting occurred on the weekend of the Republic of Texas Motorcycle Rally. With lots of people downtown, police say it was difficult to get EMS in and out of the scene. Police arrived while the scene was still an "active threat," officers "immediately began lifesaving measures" and drove six victims to the hospital in their squad cars, said Chacon, and four were transported in ambulances.
Chacon said that the incident is believed to be isolated, and they optimistic they will be successful in getting the two suspects into custody. Multiple departments, including APD, the FBI, Texas DPS and the ATF, are involved in the investigation.
Austin police are also requesting state troopers for patrol assistance in the coming days. Chacon stressed staffing issues are increasingly making responding to emergency calls "very hard."
"Overall, we remain a safe city," Chacon said. "Also keep in mind when you come downtown, you need to be safety conscious. Be vigilant of your environment and your surroundings."
Today marks the five-year anniversary of the Pulse nightclub shooting in which 49 were killed and 53 wounded in Orlando, Florida. Anyone with information on the shooting is asked to call 911 or 512-472-TIPS.

This story was updated at 2:47 p.m. to include new information and will be updated as more details are revealed.
From Your Site Articles
Related Articles Around the Web
As violent crime ticks up in Austin and the city experienced the latest mass shooting on Sixth Street Saturday morning, Austinites voiced their thoughts on social media.
The shooting sent 14 bystanders to the hospital—two in critical condition. One suspect has been caught, while another remains at large.
The incident has gained national attention, including a statement from the White House:
"This morning, Austin has become just the latest American community to wake up ravaged by an act of senseless gun violence," White House spokesperson Ike Hajinazarian said. "While we pray for the shooting's victims and their families — and thank first responders for their quick, heroic work — we must not lose sight of what this tragedy again makes clear: it's long past time for the Senate to pass meaningful gun reform and allow Texans—and all Americans—to enjoy a night out without the fear of another night of gun violence."
Gov. Greg Abbott shared a statement on Twitter thanking police and inviting Austinites to join wife Cecelia and "I in prayer for those who were injured," prompting backlash from hundreds of followers, largely surrounding the upcoming bill that will allow unlicensed open carry.
Though the bill has yet to be signed into law, Abbott has said he will sign the bill despite objections from law enforcement groups.
Prominent Austin City Council Member Gregorio Casar also commented on the incident, calling to "double down" on efforts to reduce violence. Several people responded, placing blame on Casar for writing the plan to defund the police.
While investigators are confident that they will catch the other suspect, Interim Police Chief Joseph Chacon said that with low staff levels, responding to violent calls is getting increasingly difficult. Police said they believe Austin is still a "safe city," though residents should remain alert and exercise caution while visiting downtown.

As Sixth Street is usually one of the busiest entertainment districts, it is usually highly policed. Still, some Austinites said they were afraid themselves, having been to the street themselves.
The We Are Blood community blood center is asking for donations to replenish its supply after using blood and platelet donations to treat patients involved in the shooting. Austin police are also asking for anyone with information to call 911 or 512-472-TIPS.