Get connected with our daily update
Still pending a special events permit from the city of Austin, Austinites are buzzing with excitement and less than worried that Austin City Limits Festival 2021 won't return.
With only three more weekends until the iconic music festival, headlines have circulated speculating a cancelation for the festival, especially after Pecan Street Festival and Bat Fest were denied their permit. Every year ACL is required to obtain a special events permit since it operates on city grounds.
This year's events application—with more than 2,500 outdoor attendees—requires that event organizers take precautions against COVID-19 and submit a safety plan beforehand. The precautions include acquiring a negative test from all attendees, regardless of vaccination—a rule ACL has yet to update in its own policy. ACL's health policy still reads that those who are fully vaccinated may show proof of full COVID-19 vaccination instead of proof of negative test.
However, ACL began setting up in Zilker park this week and shipping out wristbands.
Rio Grande Valley native and five-year Austin resident Maggie Palacios struggled to get her weekend one ticket but she said seeing crews setting up has made her confident that the show will go on.
Palacios' first concert was Vance Joy at ACL 2017, so she has a soft spot for both the park and the festival.
"I was definitely in that queue, trying to get a ticket for a while. It was really stressful and I was really excited once I got it," Palacios said. "It's definitely comforting to see something normal like ACL go on. It's also just really exciting to be able to experience something again."
According to Austin Center for Events Public Information and Marketing Program Manager Sara Henry, ACL didn't get approved for its permit until Sept. 26 in 2019. The office hasn't made a concrete decision yet so speculation may be fueled by suspense.
"It is not unusual for special events permits to be approved a few days before an event begins," Henry told Austonia. "As always, Austin Center for Events, which includes Austin Public Health, are working closely with event organizers to help them navigate the evolving requirements for COVID-19 health and safety during events."
After a hard year-and-a-half on the food service industry, ACL businesses are betting their chips that they'll be able to serve the crowd this year.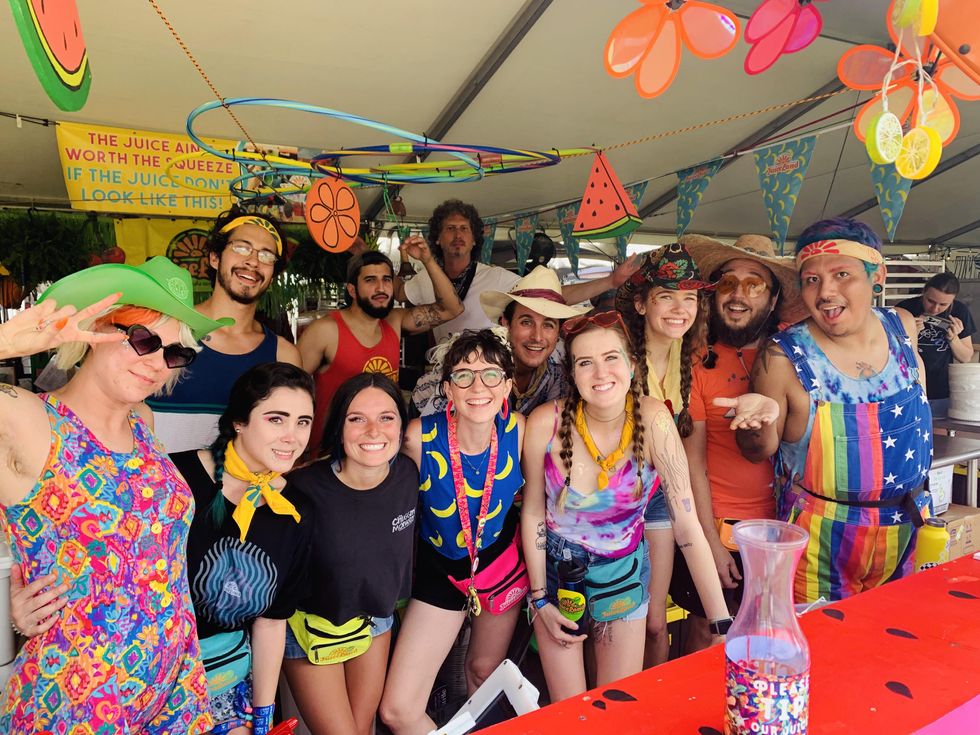 The Juiceland booth has been an ACL staple for the past consecutive nine years—this year they are upgrading to two separate booths and bringing back the blue raspberry lemonade. (Juiceland)
With not one but two Juiceland booths coming to ACL this year, CEO and 20-year ACL attendee Matt Shook said he and his team have been waiting for the festival with bated breath after more than a year of playing it safe.
"There are a lot more Juicelanders hoping that the festival happens this year than ever before," Shook told Austonia. "We see a lot of old friends and old fans of the brand that come to Austin maybe once a year just for ACL, so it's sort of a homecoming. It's a really good time and everybody looks forward to it."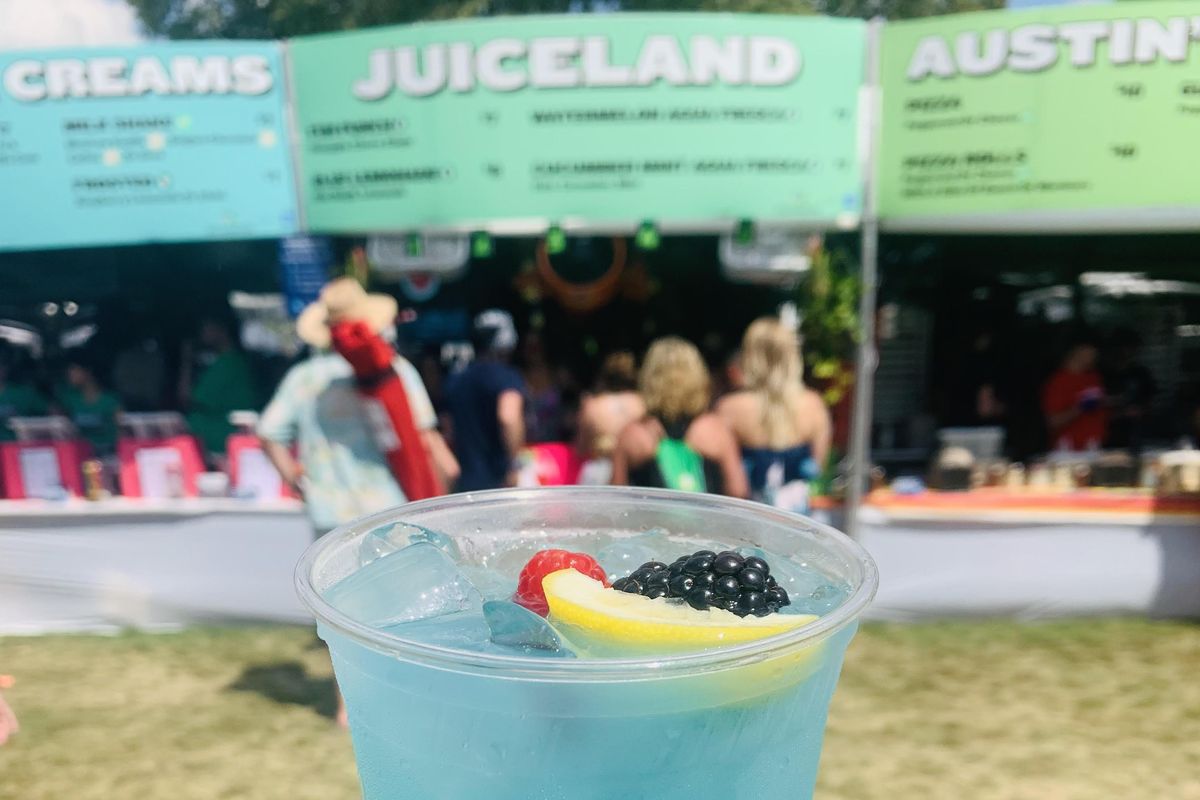 Juiceland will have double the staff at the festival this year. (Juiceland)
APH officials said on Friday morning that for the time being, they are working with organizers to make sure the festival can go on safely. However, APH Interim Health Director Adrienne Stirrup said circumstances could change at the drop of a hat.
"You can go to bed on a Friday night thinking that we're on this smooth trajectory to Stage 4 and wake up on a Monday to find out that something happened over the weekend, and those projections say that it's going to take us a little bit longer," Stirrup said.
No matter what happens, Shook said he and his Juiceland family will try to see the silver lining while looking forward to ACL 2022.
"If Zilker Park is open for people to play in it for a month more than usual, which would be the case, that's a pretty good thing," Shook said. "You got to be more safe than you are sorry. So, if the powers that be decide that the festival is canceled, we'll just roll with the punches and make lemonade out of lemons."
You know what they say, good things come to those who wait.

Elon Musk is holding true to his promise to make space tourism accessible. The world's first all-civilian space mission made history yesterday evening when SpaceX launched the Inspiration4 crew into orbit at NASA's Kennedy Space Center in Merritt Island, Florida.
In a spacecraft fashioned from a used Crew Dragon capsule and Falcon 9 rocket, the Inspiration4 crew will remain in space for three days, where they will perform medical experiments, before touching back down to the Atlantic Ocean on Sept. 18.
The spacecraft lifted off around 7 p.m. Wednesday.
The team was quick to share the wonder with a video of the blue planet from the ship's cupola window.

Who's on the crew?

Jared Isaacman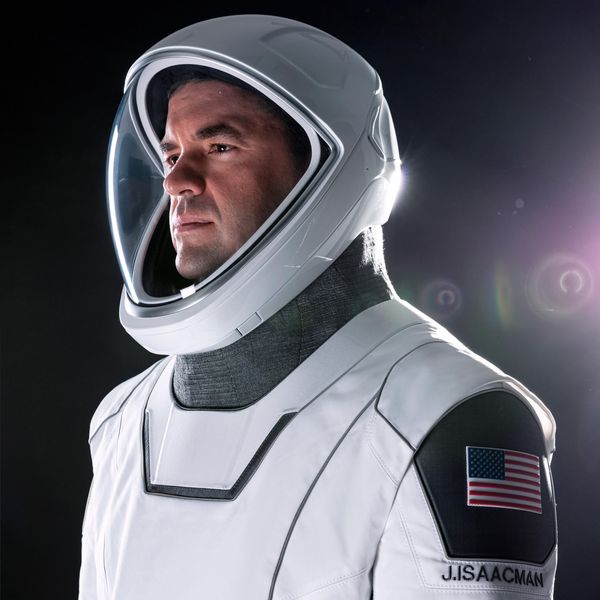 Serving as the mission commander, Isaacman is a tech entrepreneur and the founder and CEO of Shift4 Payments. The billionaire financed the trip.
Sian Proctor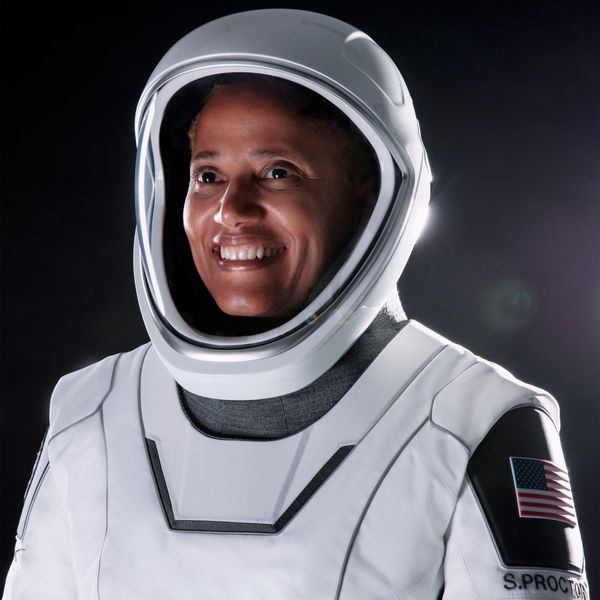 A geoscientist, science communicator and actress, Proctor is the mission's pilot.
Hayley Arceneaux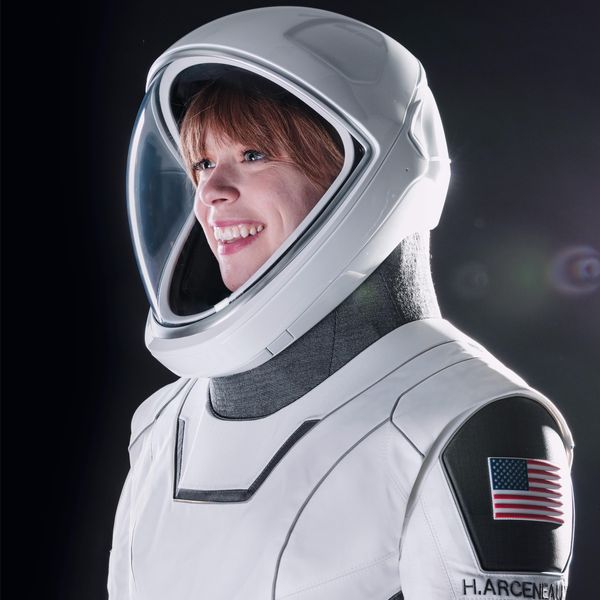 Bone cancer survivor, physician assistant for St. Jude's and now the youngest American to make it to space at 29, Arceneaux is the chief medical officer.
Chris Sembroski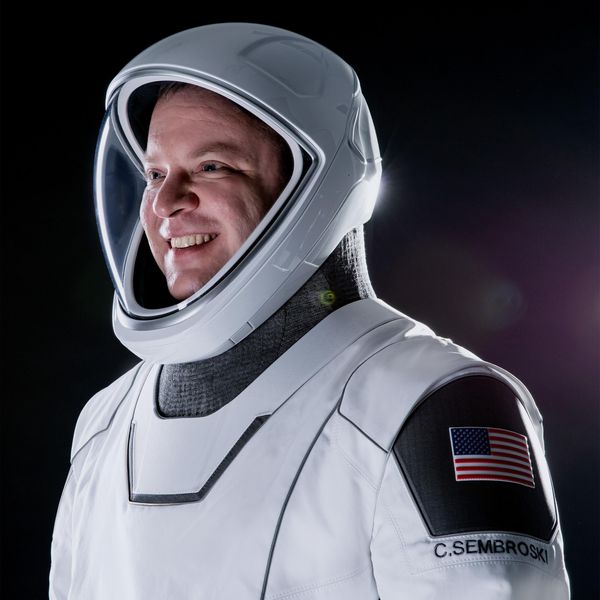 The team's mission specialist, Sembroski is a data engineer and an Air Force Veteran.
While drawing from experiences from professional crews prior, the four members of Inspiration4 will be tested for balance and perception both before and after to compare the tests, a common practice for professional astronauts.
Data about the crew's "movement, sleep, heart rate and rhythm, blood oxygen saturation, cabin noise and light intensity" will be monitored while they're in space, according to a release, and will continue to be monitored even after they land. Since fewer than 600 people have been to space before, this data is scare and highly valuable to SpaceX and others who wish to plunge deeper into the vastness of the cosmos.
SpaceX President Gwynne Shotwell said she is proud to be "paving the way for a future where space is more accessible" in a statement.
"We are so proud that they entrusted us to fly them," Shotwell said. "On behalf of all SpaceX employees, I want to thank the crew and their families for allowing us to be a part of their historic mission."
Just in time for the weather to cool down in perpetually hot Austin, National Hispanic Heritage Month is kicking off today through Oct. 15 and this city has some women to thank.
With more than 33% of the city identifying as Hispanic, the contributions of Austin's Hispanic community are innumerable and present in the everyday lives of residents. So, in celebration of Costa Rica, Nicaragua, El Salvador, Honduras, Guatemala, Mexico and Chile, here are some of Austin's Hispanic women you should know of.
Want to become an influencer, a business-savvy marketer and content creator while doing what you love?
For Austinite AvaGG and thousands of others, that dream unexpectedly became reality as they dove into the ever-evolving world of Twitch, a video game streaming platform. Ava now only goes by her gaming name after facing safety issues.
Ava's original goal was simple: Make money and connections while playing her favorite games, including Apex Legends, Magic the Gathering and Animal Crossing, on Twitch.
Now a 10-year streaming veteran with over 450,000 Twitch subscribers and well over 200,000 followers across Instagram and Twitter, Ava said the industry has changed exponentially in ways she never expected. As a longtime Texan who joined Twitch when it was around a year old, Ava's watched the industry transform—for better or for worse—from a hobby to a more than full-time job.
"You are a content creator, you're an influencer," Ava said. "It's hard because you still just think of yourself as a person who's just playing video games, and you also have to come to the realization that you have a platform that people do follow."
Through subscriptions and tips, sponsorships with national brands and a grueling streaming schedule that can well surpass the typical 40-hour workweek, Ava has been able to skip the office lifestyle, become friends with notable people and travel the world.
But it wasn't always this easy—for years, Ava said the job was just enough to pay the bills.
Through years of growth and a boost in the COVID-19 pandemic, Ava and over 8 million other Twitch streamers have gained the ability to diversify their business ventures and profit from large sponsorships. By 2020, 26.5 million viewers were logging into the streaming site daily, and over 8 million streamers were on the site in July 2021. Twitch gods like Ninja, who broke all-time streaming records in 2019 as he played Fortnite with rapper Drake, have made big-money sponsorships with brands like Adidas and Ubereats.
That growth has been especially evident in Austin. Streamers Lululuvely (1.1 million Twitch followers), TeaWrex (265,000 followers) and Nokokopuffs (265,000 followers) are just a few Austinites who have cashed in on the site.
The city's web of influencers has only grown more tight-knit—Ava, for instance, has friends that range from fellow streamers to prominent local food blogger Jane Ko, otherwise known as Koko—and many streamers decided to make the move to Austin to hang out with their virtual friends.
"I think it just started because, like, one or two people moved here, and then once a couple of them moved here, then everyone else followed," Ava said. "I convinced so many friends from like the (Grand Theft Auto game) World to move here... You game together with them for years so you want to hang out."
Ava said it's nice to have friends that understand her unique employment status. But it's also hard to strike a work-life balance in a world where your every move could be monetized.
"It's the entertainment business, right?" Ava said. "If you're not doing something, then someone else is going to. It's a harsh world."
Some cracks are beginning to show in the fledgling gaming world. Gaming addictions are now making headlines, with Austin online gambling streamer TrainwrecksTV (195,00 subscribers) recently coming forward about his own addiction. Ava's dealt with stalking, misogyny and racism, though she's managed to turn incidents into teaching moments for her followers. At 30, she's even seen premature effects on her health—from back pain to mental health issues from staying inside.

But the nature of gaming still stands true. Due to its inclusivity and widespread interest, she believes Twitch streaming and E-sports industries will soon become more popular than sports.
"I feel like it's going to explode," Ava said. "Because that's what's cool about gaming is, you know, for as noninclusive as people try to make it, it can be very inclusive, right? It's women, and men, young and old. I'm going to be 80 years old, probably still paying attention to Twitch."