(Laura Figi/Austonia)
Austin's 3D-printed homes hit the market Tuesday morning—a development of four community-forward homes snuggly tucked in East Austin.
---
Created by Austin-based construction technology company ICON and Kansas City developer 3Strands, two of the homes in the community sold within a week a few months back. Now the other two homes, which went live Tuesday for $765,000, are complete and the companies expect they will go quickly.
Co-founder and CEO of developer 3Strand Gary O'Dell said they could have sold the homes, each with four bedrooms and four bathrooms, several months ago but held out so the public would get a chance to see the finished product. "If we sold them by real estate metrics, that's good, but to be able to tell the story about what ICON can do, I think is really important," O'Dell said. "We've had lots of people really interested in the project."
The first floor of the energy-efficient homes is made with a concrete-based material called "lavacrete," which is made to withstand fire, wind, floods and be longer lasting than traditional building materials. The second story is made traditionally, with metal siding and a metal roof.

The home's interior finishes were inspired by the Texas landscape and brought to life by Austin-based designer Claire Zinnecker with earthy tiles, natural woods and warm colors to juxtapose with the metal finishes.
All four homes are set facing inward with open porches and expansive windows on the houses, which Senior Project Manager for ICON Conner Jenkins told Austonia was intentional because it fosters community.
"It is a little more unique and it does lean into what it means to provide healthy communities—not just a place to live but a place to share life together," Jenkins said. "As our community trends toward maybe not wanting to do that, it's nice to live in a community that maybe forces that because you almost never regret becoming friends with your neighbors."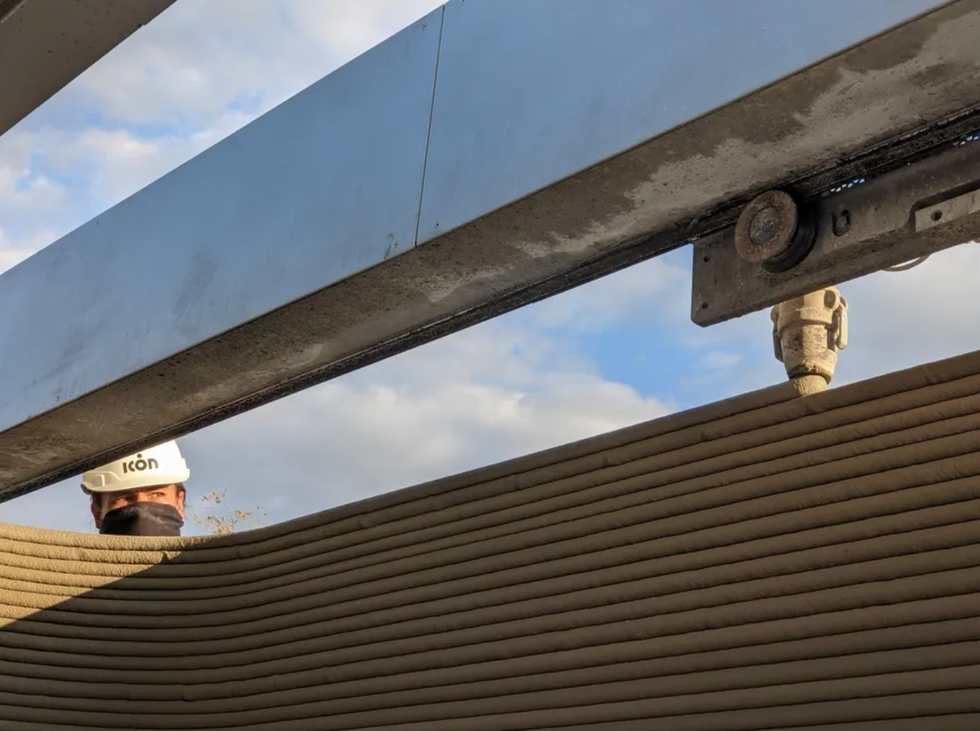 (Regan Morton Photography)
A major part of ICON's mission is to alleviate some of the housing pressure Austin is facing in its red hot housing market, Jenkins said. Each of the units was printed in about a week's time from slab to the top of the wall, which replaces a few construction steps and makes ICON homes lightning fast to build.
Managing Austin's housing shortage is no easy task with no easy solution, but Jenkins said ICON is ready to throw itself into the ring. "For such a systemic issue, you need deeply ingrained, paradigm-shifting solutions, which is what we're working on," Jenkins said. "It's difficult, it takes a lot of effort, a lot of energy, a lot of innovation, and we're ready to tackle that."
ICON is not stopping at 3D printing homes—the company has already built homes in Mexico, is dabbling in space exploration with its Mars Dune Alpha and working with the Texas Military Department for 3D-printed training barracks. The company isn't ready to reveal where or when more 3D-printed homes are coming to Austin and the rest of the U.S.

"We have a lot of exciting projects ongoing," Jenkins said. "We feel a connection with Austin so we're doing a lot of things here. We have and are currently building in other cities and we don't plan on slowing that down anytime soon."