Get connected with our daily update
It has been exactly a year since Texas State University student Jason Landry went missing on his drive home from San Marcos to the Houston area, crashing his car and leaving all of his personal belongings behind.
---
Search parties have covered tens of thousands of acres near where his car was found in Luling ever since, to no avail. After more than 1,336 miles covered and 2,600 hours spent on the case, the Caldwell County Sheriff's Office and Texas Search and Rescue said they still had no concrete answers.
A timeline of events leading up to today:
​Dec. 13, 2020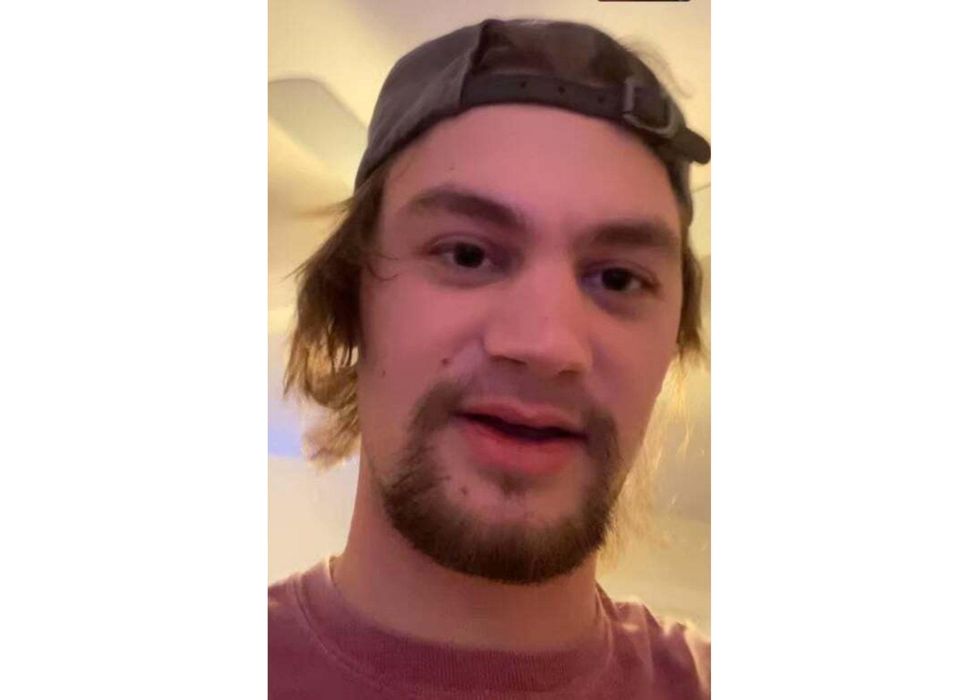 The missing Texas State student has since been featured on the 'True Crime' podcast.
Using Landry's phone and computer data, investigators have concluded that he left his San Marcos apartment to head toward Missouri City, Texas around 10:55 p.m. and made it to Caldwell County around 11:07 p.m. Landry continued south and entered Luling at 11:24 p.m.

Shortly after entering Luling, Landry stopped using his Waze navigation app at the intersection of Hackberry and Austin streets to open up Snapchat. It's believed that Landry continued straight at the intersection, however, his digital footprint stops there.
Landry's Nissan Altima was discovered, totaled, on far-off Salt Flat Road with his wallet, phone and personal belongings inside. The keys were still in the ignition, headlights still on, while a trail of items was found around 900 feet away: a backpack containing his laptop, gaming equipment and a small amount of marijuana; toiletries, a baseball cap, a container with his dead betta fish, a wristwatch and the clothes off Landry's back despite the freezing temperatures.
Landry was nowhere to be found.
​Dec. 14, 2020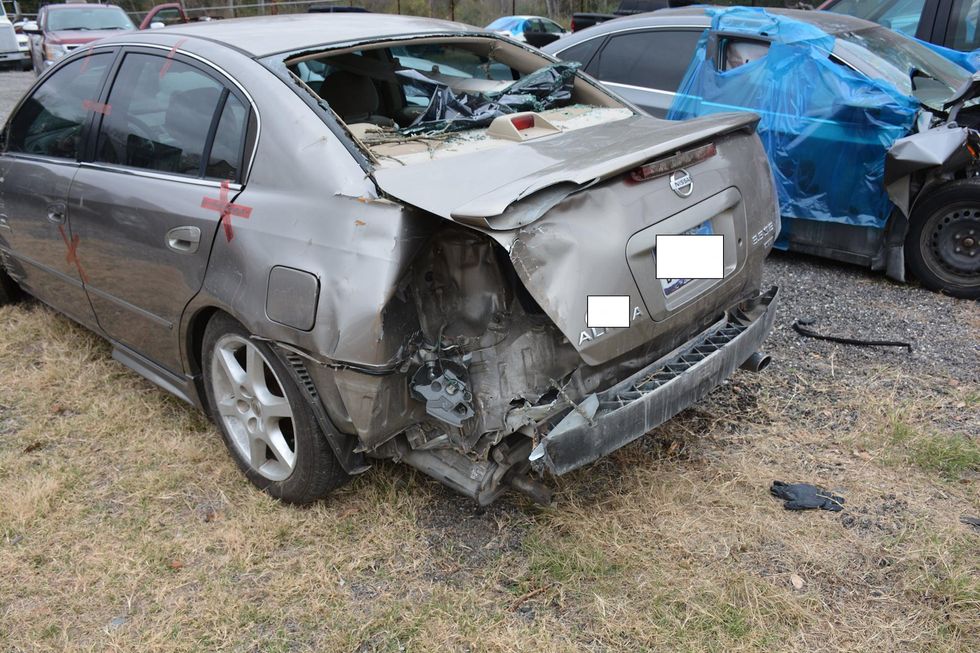 Wood was found embedded in Landry's car, leading investigators to believe he crashed into a tree.
(Caldwell County Sheriff's Office)
The 21-year-old's father, Kent Landry awoke to a call at 2 a.m. to hear about the wreck and his son's disappearance. The father rushed to the scene, finding his son's signature Spongebob socks and a few bloody articles of clothing strewn across the road.

Searches began that day and continued for nine days straight.
​Dec. 17, 2020
Four days into the search party, Landry's parents began to grow increasingly worried about his safety, telling local outlets that some had asked if their son could possibly be in hiding out of fear of admitting he had wrecked the car.

"I can't imagine that would be true," Kent said. "If it is true, don't worry about that. The car is just a stupid car. We love you. Call someone. Call the police. Come home. We just want you home."
​Dec. 20, 2020
Southminster Presbyterian Church in Missouri City held a prayer vigil for the missing student a week after he was reported missing.

​Jan. 29, 2021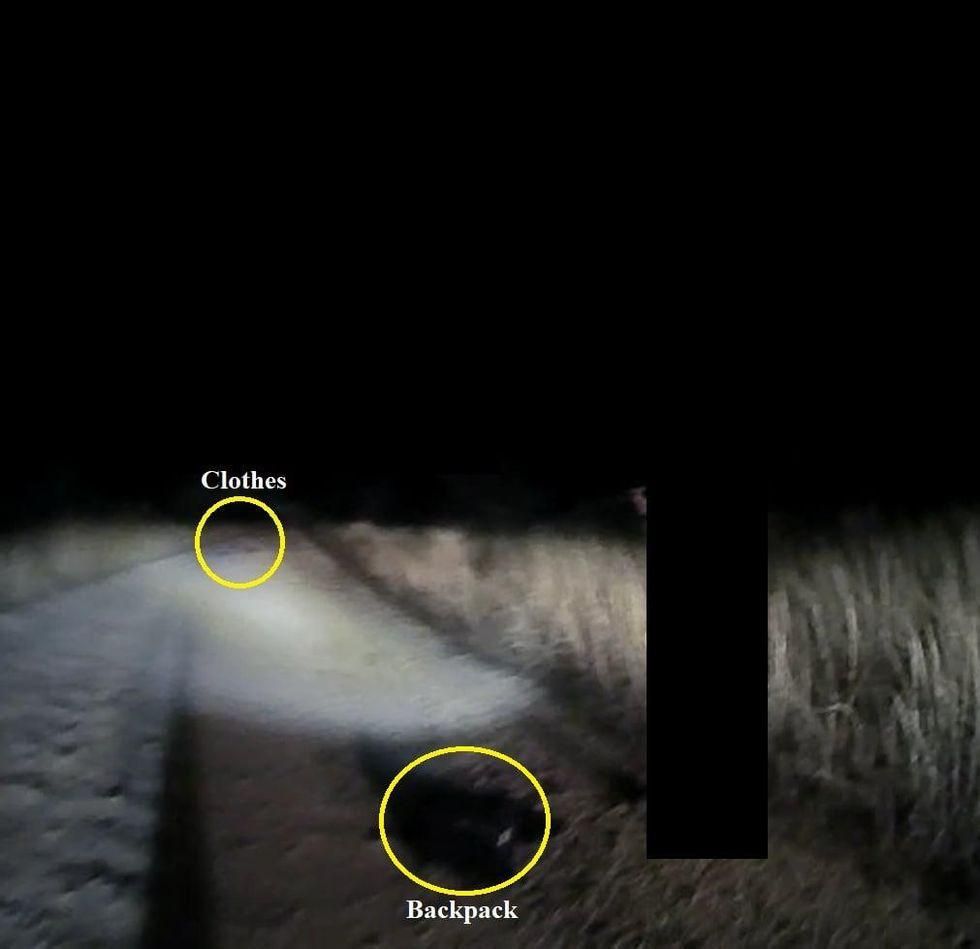 Landry's backpack and clothes were found around 900 feet from his crashed car. (Caldwell County Sheriff's Office)
Investigators obtain data from Landry's cell phone and other devices, as well as release photos and new details from the scene.

​Feb. 25, 2021
Texas Search and Rescue, or TEXSAR, begins a three-day search with more than 100 volunteers covering 31,680 acres and dedicated aerial views.
With an hour gap between losing signal and Landry's car being found, plus no sign of foul play, Kent tells Dateline NBC that "anything is a possibility."
​May 17, 2021
Almost six months after his disappearance, the Landry family announced they were offering a $10,000 reward to anyone who could provide info leading to an answer. The family posted the announcement on Facebook with a message:

"This offer requires that the information provided by the claimant is the direct and proximate cause of the location and return of Jason Landry. The information must be specific, adequate, timely and actually used by law enforcement, search agencies or other appropriate entities to find and return Jason to his family. The successful claimant must provide sufficient and clear written details that enable search and law enforcement teams to locate and return Jason."
​Oct. 11, 2021
Six searches and 31,000 acres later, investigators and Texas State Criminology researcher Dr. Kim Rossmo worked together to create a drone imaging program that can detect anomalies and isolate color variations to aid in the search.

Investigators said they were using the program to isolate the color white to find bones after non-human bones were found in a previous search. Researchers were able to find 86 points of interest.
​Oct. 16, 2021
The most recent search took 50 volunteers, TEXSAR and the Caldwell County Sheriff's Office back to Salt Flat Road to investigate the points of interest from the program. Flooding and thick brush in the area made it difficult to find signs of Landry.

​Nov. 16, 2021
Kent spoke with podcast host Tyler Feller to give an update on the case nearly a year later. In addition to sharing his heartache over fear of his youngest son's safety, Kent shared a few new details.

According to Kent, only one photo was taken of the wrecked car that evening and it was found on Landry's phone, making him question whether or not law enforcement has done its due diligence.
Kent also mentioned that the Caldwell County Sheriff's Office did not grant the investigation a geofence warrant, which would identify "cellphones (that) were active in the immediate area of Jason's disappearance" to "help the PIs to identify potential suspects and witnesses."
Additionally, private investigator and former FBI agent Abel Pena of Project Absentia said they have reason to believe Landry was not alone at the time of his disappearance and a geofence warrant would open a "trove of information." In response, a Change.org petition was started to gather 15,000 signatures in hopes of getting the warrant granted.
Dec. 13, 2021
On the anniversary of the tragic event, FOX reported that the Caldwell County District Attorney and the Senior Counsel for the Texas Attorney General's Cold Case and Missing Persons Unit will meet to discuss the case next month.
Investigators are still accepting any information that could lead to locating Landry. If you have any information that could be of use, contact Caldwell County Sheriff's Office Captain Jeff Ferry at (512) 398-6777 ext. 4504 or Jeff.Ferry@co.caldwell.tx.us.
A theory that's been swirling around lately is that the web as we know it is on its way out and something called Web3 will take over.
It's hard to know what Web3 is without first understanding the original versions. The first web is the 90s Internet where people had their own random websites that didn't link together, making it decentralized. In Web2, we saw the rise of Google, Facebook and other major players who configured standard ways for people to share and receive information.
Ethereum co-founder Gavin Wood and other blockchain developers say a decentralized version of the Internet, Web3, is on the way. Web3 can be thought of as synonymous with cryptocurrency, meaning it is based on the blockchain. Platforms and apps built on Web3 won't be owned by a central gatekeeper, but rather by users. Those in the Austin crypto community believe to see a growing presence of Web3 in Austin.
Pujaa Rajan, an engineer at financial software company Stripe and adviser for startups, describes herself as a "digital nomad." She has traveled all over from Hawaii to New York and San Francisco, looking for the crypto community in each place.

Having been in Austin for the past month, Rajan organized a Web3 meetup this week at Cosmic Coffee + Beer Garden in South Austin open to folks working in crypto or the crypto-curious. About 30 people showed up. "Compared to a lot of other cities that I went to, it is a lot more open and community-oriented here, which is what Web3 is all about," she said.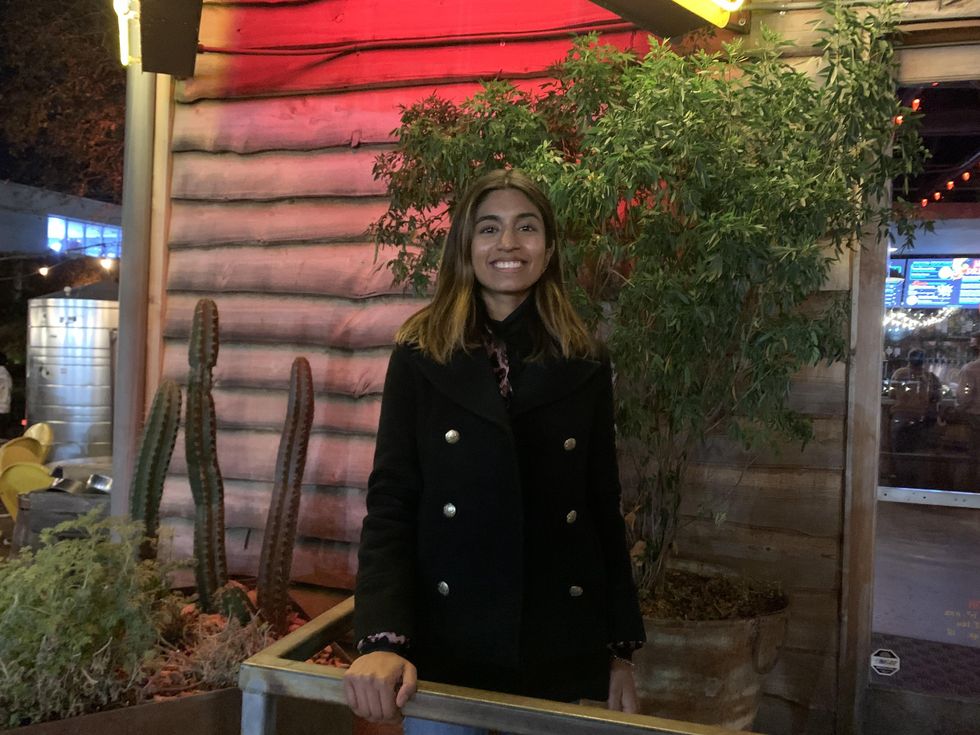 Pujaa Rajan, an engineer at financial software company Stripe, organized a Web3 meetup in Austin during a visit. (Andrea Guzman/Austonia)
ATX DAO member Roberto Talamas, who stopped by the event, talked about the crypto group's expansion. Web3, in Talamas' view, expands on the previous versions which allowed people to read, then read and write. Now, he says, people can read, write and own. To Talamas, blockchain technology has powered that ownership aspect, and it can be utilized through groups like a DAO, a group that pools together capital and goes on to make investments or take on blockchain-based projects.
"The ecosystem of work with (Web3) companies here in Austin is still relatively small," Talamas said. "And that's one of those things that we're trying to deal with at ATX DAO is to do all the advocacy work needed to make Austin the best Web3 city."
Part of that community, however, has gotten a bad rep for being "crypto bros." Rajan acknowledged that Web3 involves both finance and technology, which are fields women have historically been excluded from. But, she says the decentralization aspect creates a clean slate and a new means to form groups. "I feel like we can kind of take back the power or create a world for ourselves," Rajan said.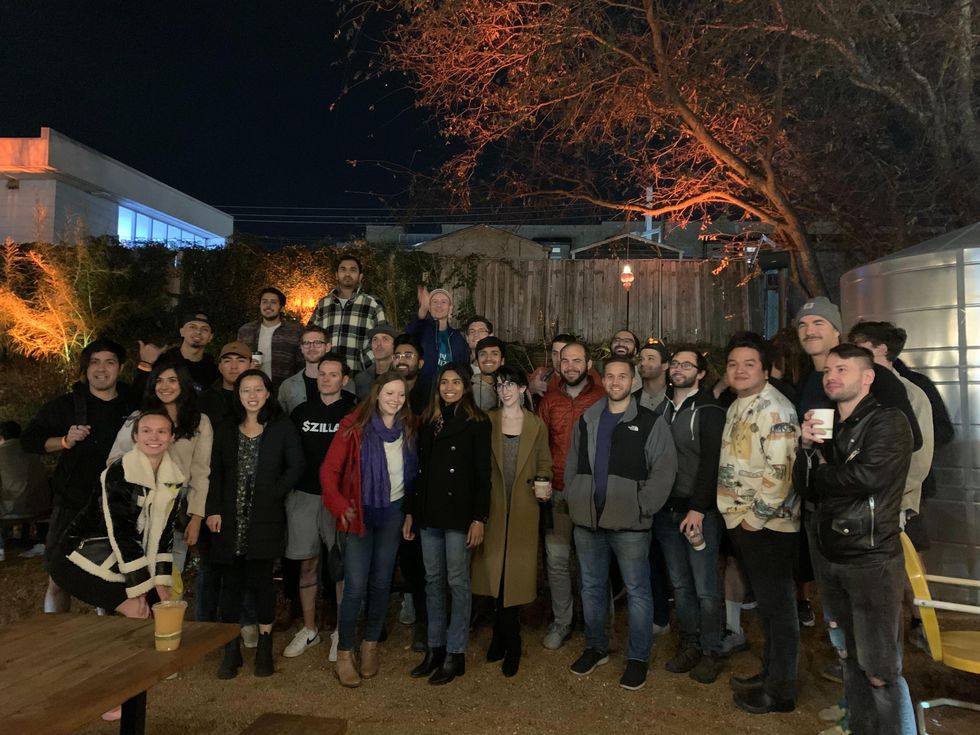 The meetup at Cosmic brought together crypto users to talk about the prospects of Web3. (Andrea Guzmán/Austonia)
Meetup attendee Jonathan Hillis also talked about the idea that Web3 creates an opportunity to start over and how this could be something that grows in Austin. Born and raised in the capital city, Hills has left his Bay Area Web2 Instacart job behind to live in a cabin outside Dripping Springs last year. He and his wife, along with a group of internet friends formed a DAO called Cabin, and he's now writing on the Web3 version of Medium, known as Mirror.
When it comes to the state of Web3, four cities stand out. "The dam broke in Covid," Hillis said. "Everybody no longer had to live in the Bay Area for tech."
San Francisco is still rooted in Web2 traits with Big Tech and software as a service venture. New York is financial technology. Miami is another major player. But with Austin, Hillis sees a lot of potential.
"Austin is great at being a place for independent online creators of many types—musicians, but also artists," Hillis said. "What excites me about Web3 is the opportunities for putting creators at more of the center of the value capture."
Once a bargain-hunter's paradise, Austin's reputation as a cheaper California seems to be dissipating. But does money have more value in Austin when compared to other U.S. metros?
For Carson Stanch, who moved to Austin from Brooklyn, New York, to be near family, Austin's lower cost of living was just an added bonus. According to the latest data from the U.S. Bureau of Economic Analysis, a $100 bill is worth $98.20 in Austin when compared to the national average in 2020, while it's worth just $84.53 in New York.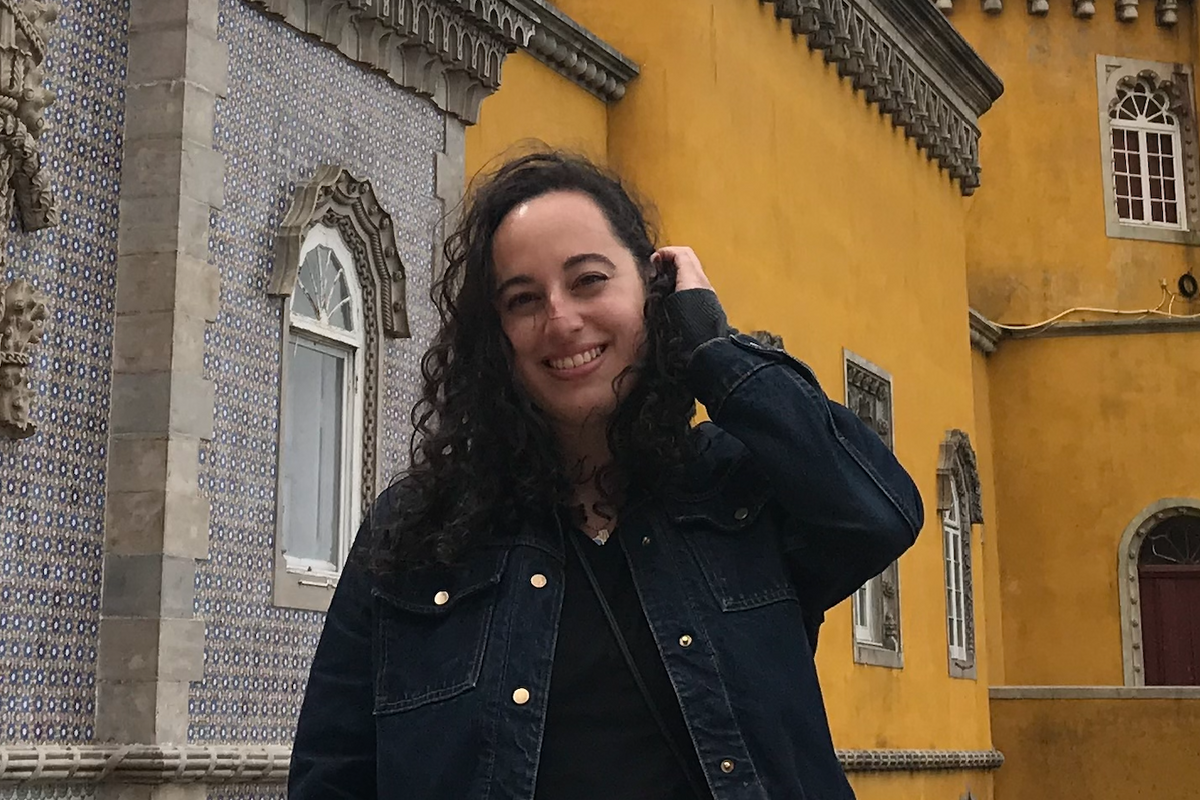 Houston native Carson Stanch moved from Brooklyn, New York to Austin just before the pandemic. (Carson Stanch)
Stanch soon realized she was a trendsetter—or perhaps a fortune teller—as the pandemic hit a few months after her move. No longer willing to spend extra money on their more expensive apartments, Stanch said many of her friends and other New Yorkers left the city amid COVID lockdowns.
"It's so expensive to live there (and) all of the reasons why you live in New York, you couldn't really do anymore," Stanch said.
Garrett Watson, a senior policy analyst with the Tax Foundation who wrote a 2018 report on the value of $100 in U.S. metros, told Austonia the report factors in the costs of goods and services with residents' incomes and compares them to the national average. The result is price parity, a number that varies drastically across the country—for instance, a $100 bill won't get you near as far in Austin as it would in more rural parts of the Hill Country.
While a Ben Franklin note was worth $4 more in New York in 2020 when compared to 2018, a $100 bill decreased by $1.60 in value in Austin. Austin's cost of living also saw the 12th-highest increase among U.S. metros from the 2010 to 2020 census.
And as the pandemic's nationwide housing boom gained extra momentum in Austin, peaking at a median home price of $575,000 in June 2021, Watson said the value of $100 could have dropped even further.
"There's just been a chronic hunger for building houses on the coasts and in certain cities in the heartland," Watson said. "Especially this year, we're seeing more and more discussion about that in Austin, and so that is a big, big factor."
Price parity bleeds into other factors as well—in San Francisco, where the value of $100 sits at $82.63, residents are nearly 18% poorer than their higher incomes suggest. But with higher incomes than the U.S. average, they may find themselves more flush with cash when moving to a cheaper city like Austin.
Many out-of-towners have used that extra change to make housing offers much higher than the asking price, Redfin chief economist Daryl Fairweather told Fox7 Austin.
"All those migrants are bringing with them high-paying jobs who are used to much more expensive housing and they're willing to pull out all the stops to win these homes and move to Austin," Fairweather said.
But Austin is catching up to those traditional hotspots: the area was predicted to be the most expensive metro outside of the Golden State by the end of 2021.
In just two years, Stanch said she's seen some signs.
"I feel like I look around certain areas of Austin (and) they do feel more similar to downtown Brooklyn," Stanch said. "Some businesses I see might tend to cater to folks who have a little more income."
I cannot believe there's a Hermès (an Hermès?) store opening around the corner from where I live. Oy vey. The scrappy, cheap, charmingly dusty locals-only South Congress of yore is receding into the past so very quickly. 😭 pic.twitter.com/sUHxI4pX8F
— Cari Marshall (@CariMarshallTX) August 3, 2021
So why not move to, say, Florence, Alabama, where money is almost 20% more valuable?
Watson said the difference comes down to the value of amenities—something the study can't track.
"Part of the value in New York City is all the amenities that you're near, the value of Broadway, the value of being able to get food delivered to your door," Watson said. "So that may be reflected in people's willingness to pay higher prices... there's a lot of really great reasons why people may want to be in Austin from an identity perspective that you can't get in other parts of Texas."
In Austin, tech salaries rose 5% from 2020-2021 as big-name corporations like Oracle and Tesla—alongside Tesla's billionaire owner Elon Musk—flocked to the nation's new "boomtown." With an ever-increasing job market, eclectic culture and reputation as one of the world's best cities for move-ins, Austin's appeal might still offset its price.
But for Stanch and many others, there may still come a time when price wins over location.
"If I was to the point where homebuying was more important than being near friends and family, then I would move to get the home," Stanch said. "I think that's kind of part of my plan."