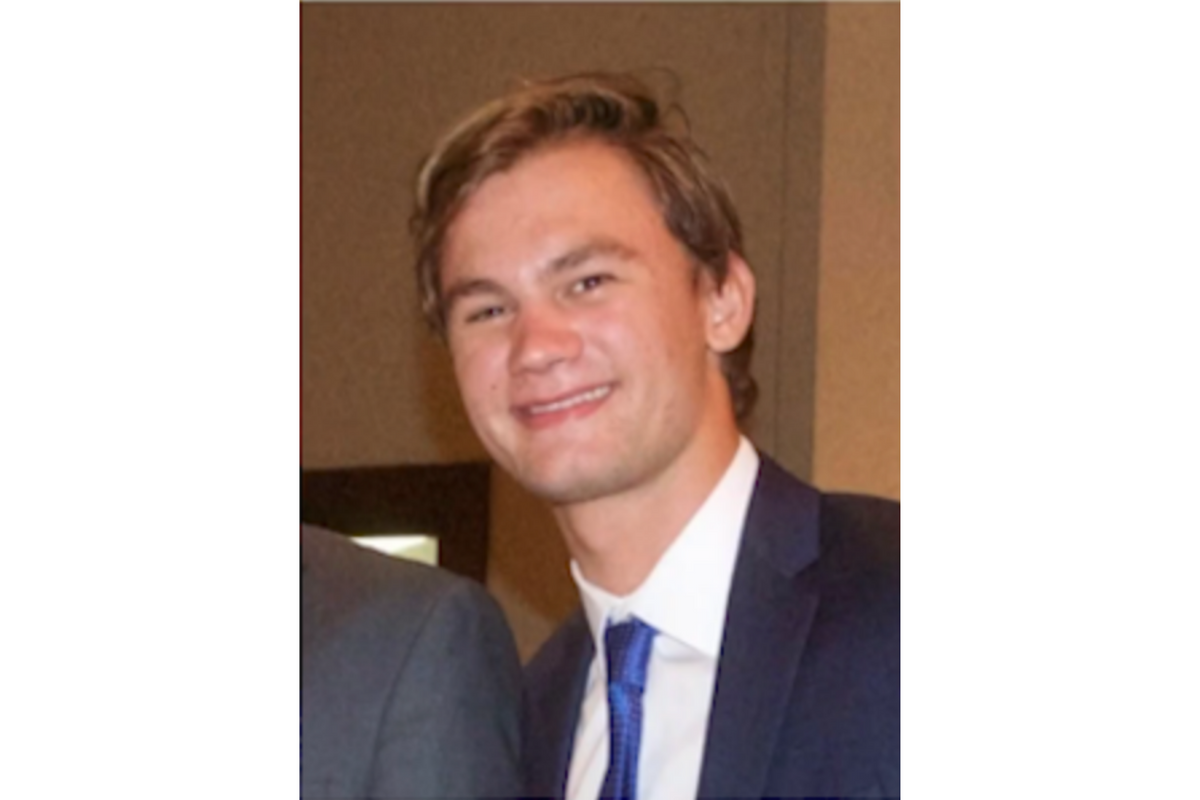 It has been exactly a year since Texas State University student Jason Landry went missing on his drive home from San Marcos to the Houston area, crashing his car and leaving all of his personal belongings behind.
---
Search parties have covered tens of thousands of acres near where his car was found in Luling ever since, to no avail. After more than 1,336 miles covered and 2,600 hours spent on the case, the Caldwell County Sheriff's Office and Texas Search and Rescue said they still had no concrete answers.
A timeline of events leading up to today:
​Dec. 13, 2020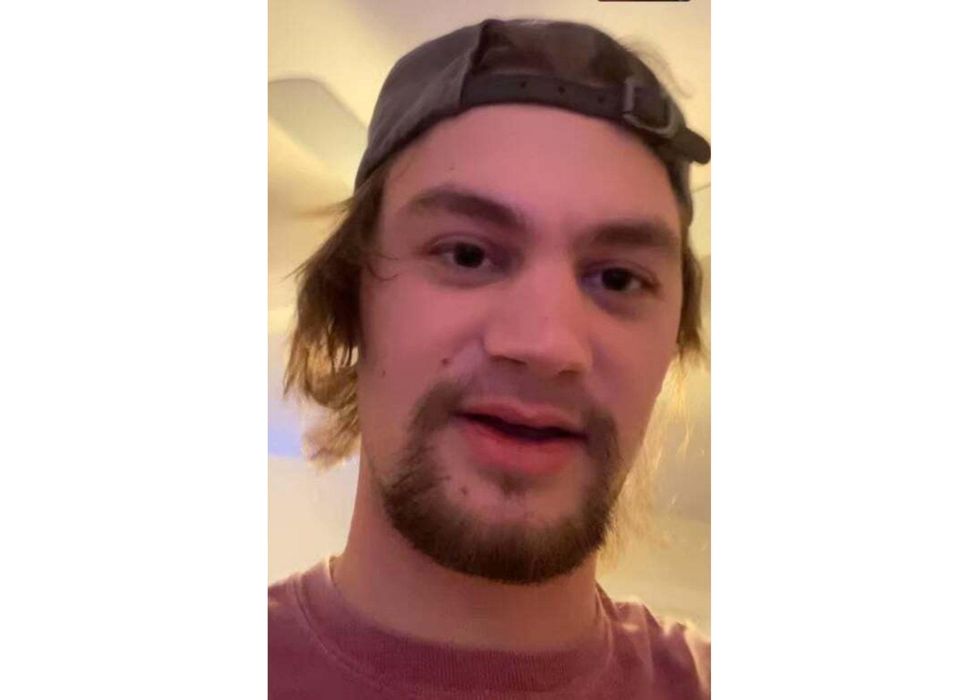 The missing Texas State student has since been featured on the 'True Crime' podcast.
Using Landry's phone and computer data, investigators have concluded that he left his San Marcos apartment to head toward Missouri City, Texas around 10:55 p.m. and made it to Caldwell County around 11:07 p.m. Landry continued south and entered Luling at 11:24 p.m.

Shortly after entering Luling, Landry stopped using his Waze navigation app at the intersection of Hackberry and Austin streets to open up Snapchat. It's believed that Landry continued straight at the intersection, however, his digital footprint stops there.
Landry's Nissan Altima was discovered, totaled, on far-off Salt Flat Road with his wallet, phone and personal belongings inside. The keys were still in the ignition, headlights still on, while a trail of items was found around 900 feet away: a backpack containing his laptop, gaming equipment and a small amount of marijuana; toiletries, a baseball cap, a container with his dead betta fish, a wristwatch and the clothes off Landry's back despite the freezing temperatures.
Landry was nowhere to be found.
​Dec. 14, 2020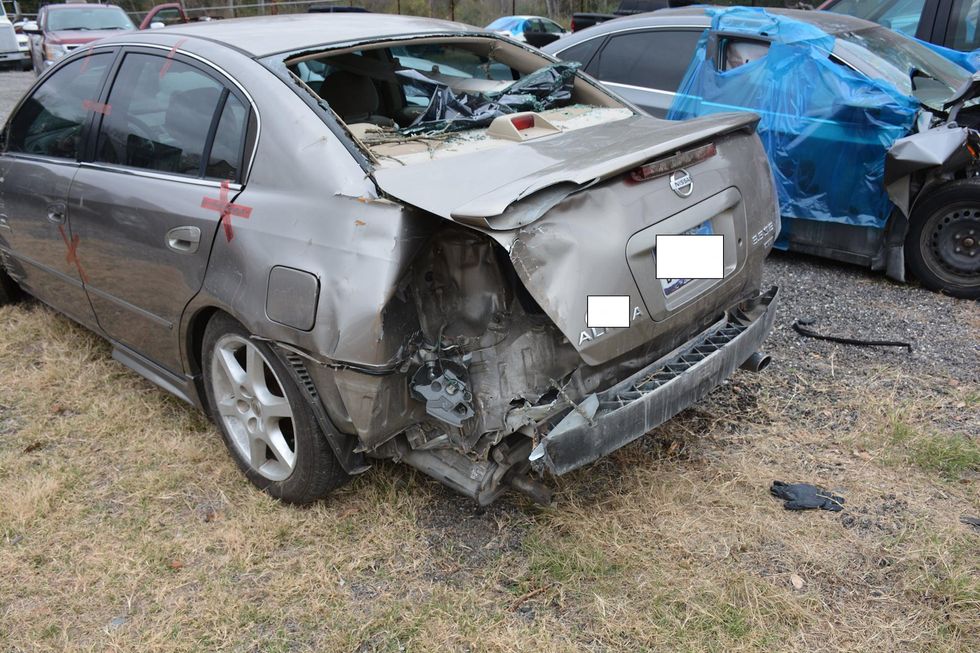 Wood was found embedded in Landry's car, leading investigators to believe he crashed into a tree.
(Caldwell County Sheriff's Office)
The 21-year-old's father, Kent Landry awoke to a call at 2 a.m. to hear about the wreck and his son's disappearance. The father rushed to the scene, finding his son's signature Spongebob socks and a few bloody articles of clothing strewn across the road.

Searches began that day and continued for nine days straight.
​Dec. 17, 2020
Four days into the search party, Landry's parents began to grow increasingly worried about his safety, telling local outlets that some had asked if their son could possibly be in hiding out of fear of admitting he had wrecked the car.

"I can't imagine that would be true," Kent said. "If it is true, don't worry about that. The car is just a stupid car. We love you. Call someone. Call the police. Come home. We just want you home."
​Dec. 20, 2020
Southminster Presbyterian Church in Missouri City held a prayer vigil for the missing student a week after he was reported missing.

​Jan. 29, 2021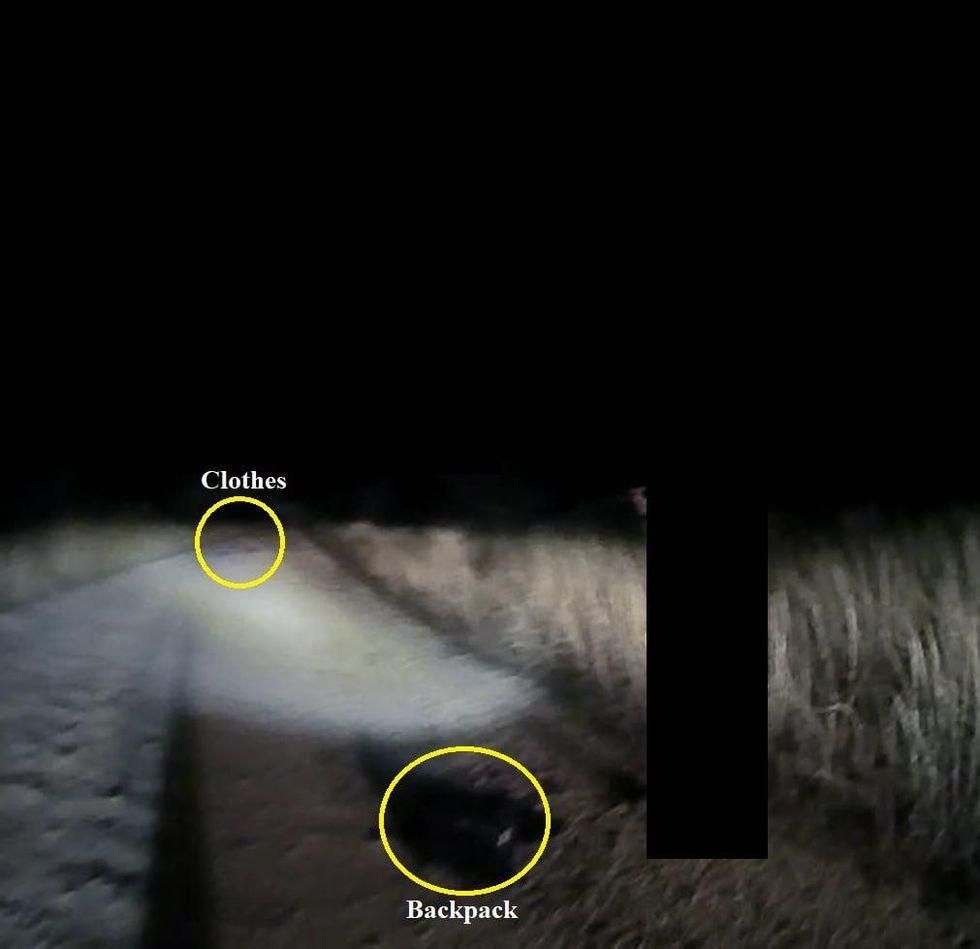 Landry's backpack and clothes were found around 900 feet from his crashed car. (Caldwell County Sheriff's Office)
Investigators obtain data from Landry's cell phone and other devices, as well as release photos and new details from the scene.

​Feb. 25, 2021
Texas Search and Rescue, or TEXSAR, begins a three-day search with more than 100 volunteers covering 31,680 acres and dedicated aerial views.
With an hour gap between losing signal and Landry's car being found, plus no sign of foul play, Kent tells Dateline NBC that "anything is a possibility."
​May 17, 2021
Almost six months after his disappearance, the Landry family announced they were offering a $10,000 reward to anyone who could provide info leading to an answer. The family posted the announcement on Facebook with a message:

"This offer requires that the information provided by the claimant is the direct and proximate cause of the location and return of Jason Landry. The information must be specific, adequate, timely and actually used by law enforcement, search agencies or other appropriate entities to find and return Jason to his family. The successful claimant must provide sufficient and clear written details that enable search and law enforcement teams to locate and return Jason."
​Oct. 11, 2021
Six searches and 31,000 acres later, investigators and Texas State Criminology researcher Dr. Kim Rossmo worked together to create a drone imaging program that can detect anomalies and isolate color variations to aid in the search.

Investigators said they were using the program to isolate the color white to find bones after non-human bones were found in a previous search. Researchers were able to find 86 points of interest.
​Oct. 16, 2021
The most recent search took 50 volunteers, TEXSAR and the Caldwell County Sheriff's Office back to Salt Flat Road to investigate the points of interest from the program. Flooding and thick brush in the area made it difficult to find signs of Landry.

​Nov. 16, 2021
Kent spoke with podcast host Tyler Feller to give an update on the case nearly a year later. In addition to sharing his heartache over fear of his youngest son's safety, Kent shared a few new details.

According to Kent, only one photo was taken of the wrecked car that evening and it was found on Landry's phone, making him question whether or not law enforcement has done its due diligence.
Kent also mentioned that the Caldwell County Sheriff's Office did not grant the investigation a geofence warrant, which would identify "cellphones (that) were active in the immediate area of Jason's disappearance" to "help the PIs to identify potential suspects and witnesses."
Additionally, private investigator and former FBI agent Abel Pena of Project Absentia said they have reason to believe Landry was not alone at the time of his disappearance and a geofence warrant would open a "trove of information." In response, a Change.org petition was started to gather 15,000 signatures in hopes of getting the warrant granted.
Dec. 13, 2021
On the anniversary of the tragic event, FOX reported that the Caldwell County District Attorney and the Senior Counsel for the Texas Attorney General's Cold Case and Missing Persons Unit will meet to discuss the case next month.
Investigators are still accepting any information that could lead to locating Landry. If you have any information that could be of use, contact Caldwell County Sheriff's Office Captain Jeff Ferry at (512) 398-6777 ext. 4504 or Jeff.Ferry@co.caldwell.tx.us.