Austonia AM
100% Austin news, info, and entertainment, straight to your inbox at 6 a.m. every morning.
In five minutes, you're fully informed and ready to start another great day in our city.
Get connected with our daily update
(Michael Stravato/The Texas Tribune)

Democratic nominee Joe Biden has clinched enough states to win the 270 electoral votes needed to become president, The Associated Press declared on Saturday, a day after Decision Desk HQ also called the race for Biden. His victory was cemented after Pennsylvania was called for the two-term former vice president under Barack Obama.
---
Various news outlets report that Biden is also ahead of President Donald Trump in Georgia and Arizona, two states that voted in Trump's favor in 2016. (Georgia's secretary of state says the state is headed to a recount.) With several states still counting ballots, Biden leads Trump by about 4 million votes nationwide as of Saturday morning.
Trump has refused to concede. Shortly after Decision Desk HQ called the election in Biden's favor Friday morning, Matt Morgan, the Trump 2020 campaign general counsel, released a statement claiming the election is "not over."
"The false projection of Joe Biden as the winner is based on results in four states that are far from final," Morgan said in a statement, referring to Georgia, Arizona, Nevada and Pennsylvania.
Trump's campaign filed legal challenges to contest the election results in three battleground states. Judges in two of those cases — in Michigan and Georgia — tossed out the lawsuits because the campaign failed to provide evidence that laws were broken. A federal judge also denied the campaign's request to stop counting votes in Philadelphia, but ordered election officials to expand the number of people allowed in the room. The president's campaign seeks to intervene in another pending Pennsylvania case stemming from mail-in ballots received after Election Day but before Friday's deadline.
The Nevada Republican Party also asked the Department of Justice to investigate its baseless allegation that thousands of nonresidents cast ballots in the state. A DOJ official is reviewing the claim, USA Today reports.
Biden, meanwhile, projected confidence throughout the week. On Twitter, he said he and his campaign "continue to feel very good" and urged his supporters to stay calm. Friday night as his margins expanded in Georgia, Pennsylvania and Nevada, he and his running mate, Sen. Kamala Harris of California, spoke to supporters in Wilmington, Del. Biden stopped short of declaring victory but said: "We're going to win this race."
A Biden win would be historic: Not only did Biden break the record for the most number of votes cast for any presidential candidate, but if Democrats take the White House, Harris would be the first woman and first person of color to become vice president.
Decision Desk and The Associated Press called the election for Trump days after Trump prematurely — and falsely — declared victory in the election. On Thursday night, as polls showed the gap in vote totals narrowing in Georgia and Pennsylvania, the president spoke in the White House briefing room, saying "it's amazing how those mail-in ballots are so one-sided" in favor of Democrats. (His statement came after the president spent months discouraging Republican voters from voting by mail, with the exception of Florida, and baselessly sowing doubt about the validity of those votes. Trump won Florida in both 2016 and 2020.)
Trump, who won Texas on Tuesday by roughly 6 points after winning by 9 in 2016, also railed against pre-election polls, saying they amounted to voter suppression — without explanation or proof.
And he doubled down on calls to end vote counting in states where the vote count at the time showed him in the lead while encouraging election officials to continue where he trailed Biden.
After speaking Thursday, Trump left the briefing room without taking questions. His claims followed a similar speech early Wednesday morning. In that speech, held inside the historic East Room of the White House, Trump falsely claimed victory in states in which millions of ballots had not yet been counted. He proceeded to allege without any evidence that Democrats are stealing the election by continuing to count votes already cast and threatened to ask the Supreme Court to intervene.
After a long, long year without live music, Austin has waited patiently for a return that has finally come. Festivals are planning returns and even venues that adhered strictly to safety protocols during the pandemic are feeling safe enough to gather again in person.
Starting in just a few short days, you can finally enjoy what makes Austin, well, Austin again. Here are a few of the live shows to look forward to.
Remember to jump on those tickets–Austinites have been missing their live music!
We asked you what you wanted and you told us. More newsletter!
Austonia launched its new and improved newsletter today. You can expect:
100% Austin news, info and entertainment
Sent straight to your inbox at 6 a.m. every morning
In 5 minutes or less, you're fully informed and ready for a great day
Sign up here:
For Marco Silvestrini, gelato takes him back to his childhood when he and neighborhood kids in a small Italian town would end their day at the local gelato shop. It was part of what made some of the best memories for him.
He's since been offering that same experience for the past seven years with his artisanal gelato shop, Dolce Neve, in Austin, alongside his sister and her husband.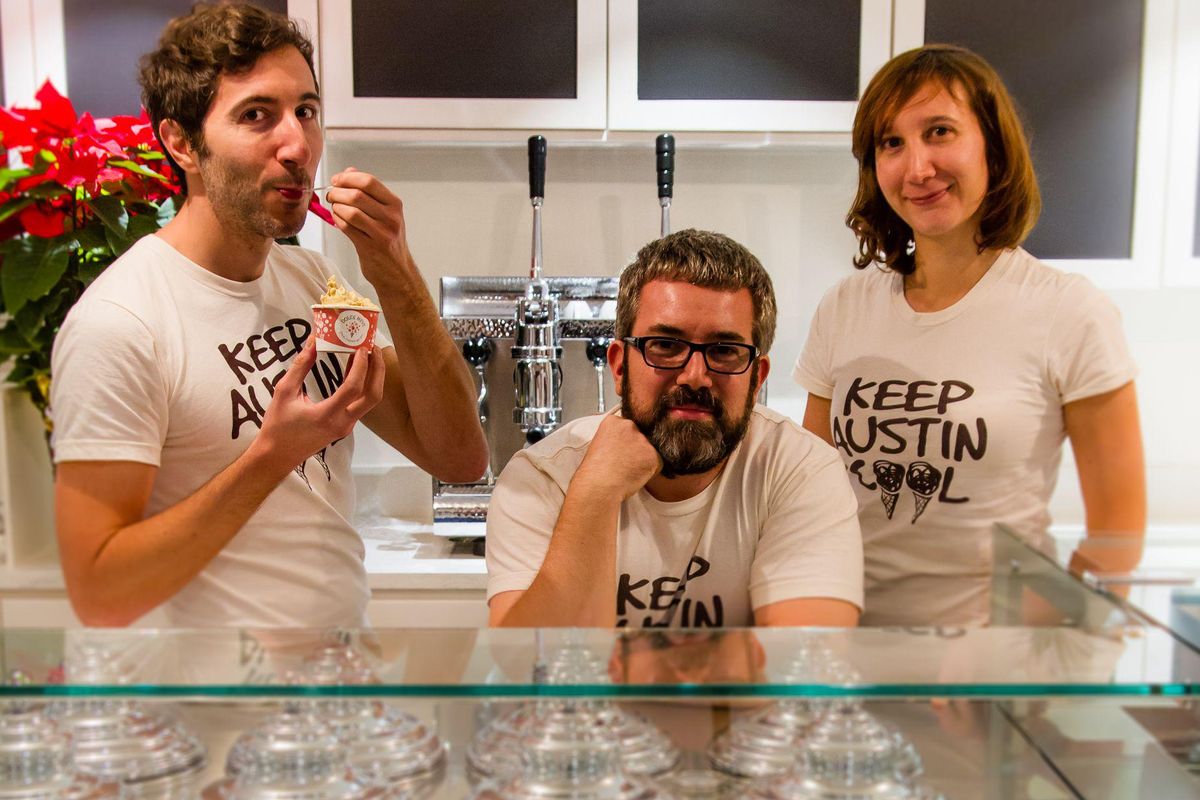 Leo Ferrarese, Marco and Franscesa Silvestrini run Dolce Neve. (Dolce Neve)
While gelato always played a big role in Silvestrini's life, it wasn't in his plans to take on a business with his favorite treat. After a few years in New York working as a management consultant, he felt he was missing out on something. "I decided to take a step back and started thinking, what could... I do to make society better and happier, even just for a moment," Silvestrini said.
He thought back to his childhood and the role gelato played in it and wanted to offer the same experience to Americans.
Once he had the product idea down, it came down to location. Growing up among farmers in a small community in Central Italy, Silvestrini knew he wanted a slower pace of living than New York, so he asked around. The answer he got: "Austin." The only thing he knew about what would become his future home was it had a Formula 1 track.
But after visiting once, he felt a great sense of community he didn't feel in The Empire State. "I felt it was not just a good place for a concept like mine, but also a good place to live because at the end of the day, you cannot just think about your business," he said.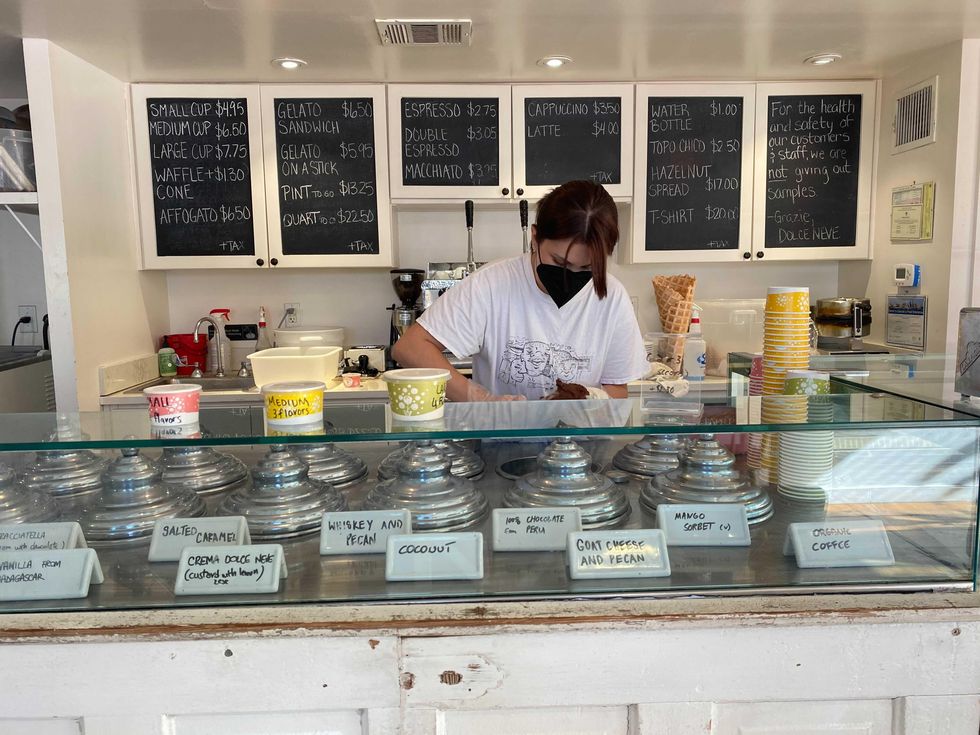 "Dolce Neve" translates to "sweet snow." The shops offers 12-18 flavors at a time. (Dolce Neve)
Similarly, his sister Francesca Silvestrini was experiencing the same feelings while studying for her Ph.D. in Ohio before teaming up with Silvestrini. She went back to Italy to be properly trained in making gelato while Silvestrini focused on the business plan. They brought Leo Ferrarese, her husband, onboard and opened their first shop on South First Street in January 2014. The rest is history.
On the menu, you'll find various traditional and innovative flavors that rotate out. Some of the staples include chocolate, 100% vanilla from Madagascar and salted caramel. Other rotating or seasonal flavors include whiskey and pecan, organic cantaloupe sorbet, goat cheese and pecan, almond custard and tiramisu. They've created over 300 flavors together in the span of the business.
So what's next for the shop? Lately, Silvestrini has been thinking a lot about that. With two locations in Austin, one in Houston—he's just not sure if expanding more is the right move. Maintaining a quality product and good service is of utmost importance that he's not willing to sacrifice.
"In order to be happy, it's not about making money, it's about being an integral part of the community," Silvestrini said. "There have been so many cases in which I think what I did today really made a difference in somebody's life."