Get connected with our daily update
(Michael Stravato/The Texas Tribune)

Democratic nominee Joe Biden has clinched enough states to win the 270 electoral votes needed to become president, The Associated Press declared on Saturday, a day after Decision Desk HQ also called the race for Biden. His victory was cemented after Pennsylvania was called for the two-term former vice president under Barack Obama.
---
Various news outlets report that Biden is also ahead of President Donald Trump in Georgia and Arizona, two states that voted in Trump's favor in 2016. (Georgia's secretary of state says the state is headed to a recount.) With several states still counting ballots, Biden leads Trump by about 4 million votes nationwide as of Saturday morning.
Trump has refused to concede. Shortly after Decision Desk HQ called the election in Biden's favor Friday morning, Matt Morgan, the Trump 2020 campaign general counsel, released a statement claiming the election is "not over."
"The false projection of Joe Biden as the winner is based on results in four states that are far from final," Morgan said in a statement, referring to Georgia, Arizona, Nevada and Pennsylvania.
Trump's campaign filed legal challenges to contest the election results in three battleground states. Judges in two of those cases — in Michigan and Georgia — tossed out the lawsuits because the campaign failed to provide evidence that laws were broken. A federal judge also denied the campaign's request to stop counting votes in Philadelphia, but ordered election officials to expand the number of people allowed in the room. The president's campaign seeks to intervene in another pending Pennsylvania case stemming from mail-in ballots received after Election Day but before Friday's deadline.
The Nevada Republican Party also asked the Department of Justice to investigate its baseless allegation that thousands of nonresidents cast ballots in the state. A DOJ official is reviewing the claim, USA Today reports.
Biden, meanwhile, projected confidence throughout the week. On Twitter, he said he and his campaign "continue to feel very good" and urged his supporters to stay calm. Friday night as his margins expanded in Georgia, Pennsylvania and Nevada, he and his running mate, Sen. Kamala Harris of California, spoke to supporters in Wilmington, Del. Biden stopped short of declaring victory but said: "We're going to win this race."
A Biden win would be historic: Not only did Biden break the record for the most number of votes cast for any presidential candidate, but if Democrats take the White House, Harris would be the first woman and first person of color to become vice president.
Decision Desk and The Associated Press called the election for Trump days after Trump prematurely — and falsely — declared victory in the election. On Thursday night, as polls showed the gap in vote totals narrowing in Georgia and Pennsylvania, the president spoke in the White House briefing room, saying "it's amazing how those mail-in ballots are so one-sided" in favor of Democrats. (His statement came after the president spent months discouraging Republican voters from voting by mail, with the exception of Florida, and baselessly sowing doubt about the validity of those votes. Trump won Florida in both 2016 and 2020.)
Trump, who won Texas on Tuesday by roughly 6 points after winning by 9 in 2016, also railed against pre-election polls, saying they amounted to voter suppression — without explanation or proof.
And he doubled down on calls to end vote counting in states where the vote count at the time showed him in the lead while encouraging election officials to continue where he trailed Biden.
After speaking Thursday, Trump left the briefing room without taking questions. His claims followed a similar speech early Wednesday morning. In that speech, held inside the historic East Room of the White House, Trump falsely claimed victory in states in which millions of ballots had not yet been counted. He proceeded to allege without any evidence that Democrats are stealing the election by continuing to count votes already cast and threatened to ask the Supreme Court to intervene.
The Texas French Bread Bakery, located on 2900 Rio Grande Street, has been completely destroyed after a fire erupted on Monday night.
The Austin Fire Department responded to the fire just before 11 p.m., where they arrived to see flames coming from the roof of the bakery. Firefighters fought the fire for about an hour before the roof collapsed.
While no one was injured in the fire, firefighters say the historic building was completely totaled.
AFD determined that the fire was accidental and caused by mechanical failure. AFD said the damages amounted to $1.6 million total: $1.1 million in structural damage and $500,000 in damage to the contents of the bakery.

This year, Texas French Bread will celebrate 40 years of business. Before the bakery occupied the building, it was the Rome Inn, a music venue that hosted 1970s artists like Stevie Ray Vaughan.
Austin's first major league team is ready to extend its reach with a new collaborative sports complex The Pitch, an Austin FC destination packed with local food, beverages and Verde fervor is set to open in Northeast Austin in February.
The Pitch, a collaboration between Austin FC and Karlin Real Estate, among other entities, will be located in the 50-acre Parmer Pond District, which already hosts the club's practice facility St. David's Performance Center.
Dubbed a "true destination" for both soccer fans and the community, The Pitch will consist of multilevel shipping containers designed by Mark Odom Studio that will carve out into a 1,200-seat stadium complete with a soccer pitch made of turf, food and beverage options and a five-acre "Parmer Pond" featuring jogging trails.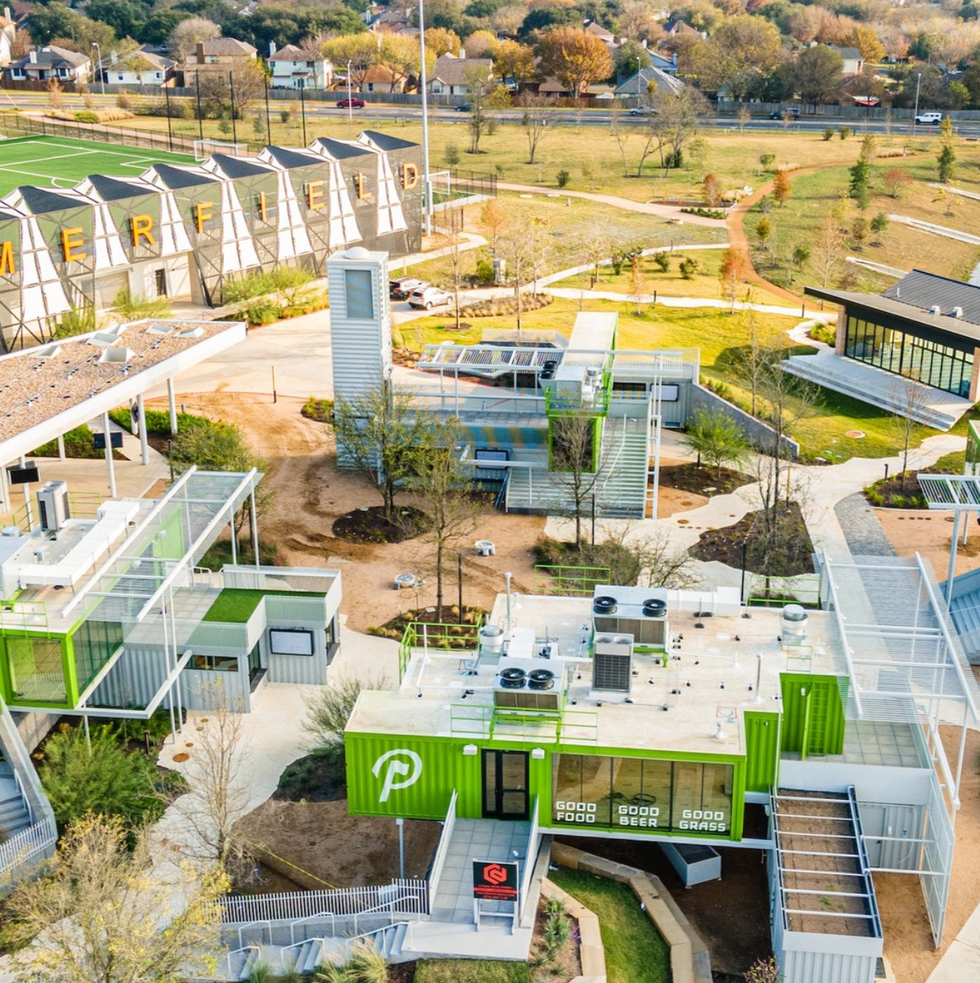 Made from multilevel shipping containers, The Pitch will include food and a 1,200-seat soccer pitch made from artificial turf. (The Pitch)
"The launch of Karlin's new food and entertainment experience will greatly enhance the Parmer development while perfectly complimenting St. David's Performance Center," Austin FC founder Anthony Precourt said. "The Pitch... will offer a strong variety of food options and gathering spaces for guests who will utilize St. David's Performance Center and Parmer Field for a variety of events."
The Pitch project lead Dave Greeley, who helped come up with the concept, is a former president of Austin FC parent company, Two Oak Ventures.
"The vision behind The Pitch at the Parmer Pond District is to be a first-of-its-kind sports, dining and entertainment destination," said Dave Greeley, The Pitch project lead and Team Orbis president. "This will be an unmatched experience for Parmer Austin tenants, Austin FC and club supporters, and the community."
With its proximity to the practice center, the venture hopes to contribute to the growing "soccer city" of Austin during Austin FC matches and youth games with the Austin FC Academy hosted at the St. David's Performance Center.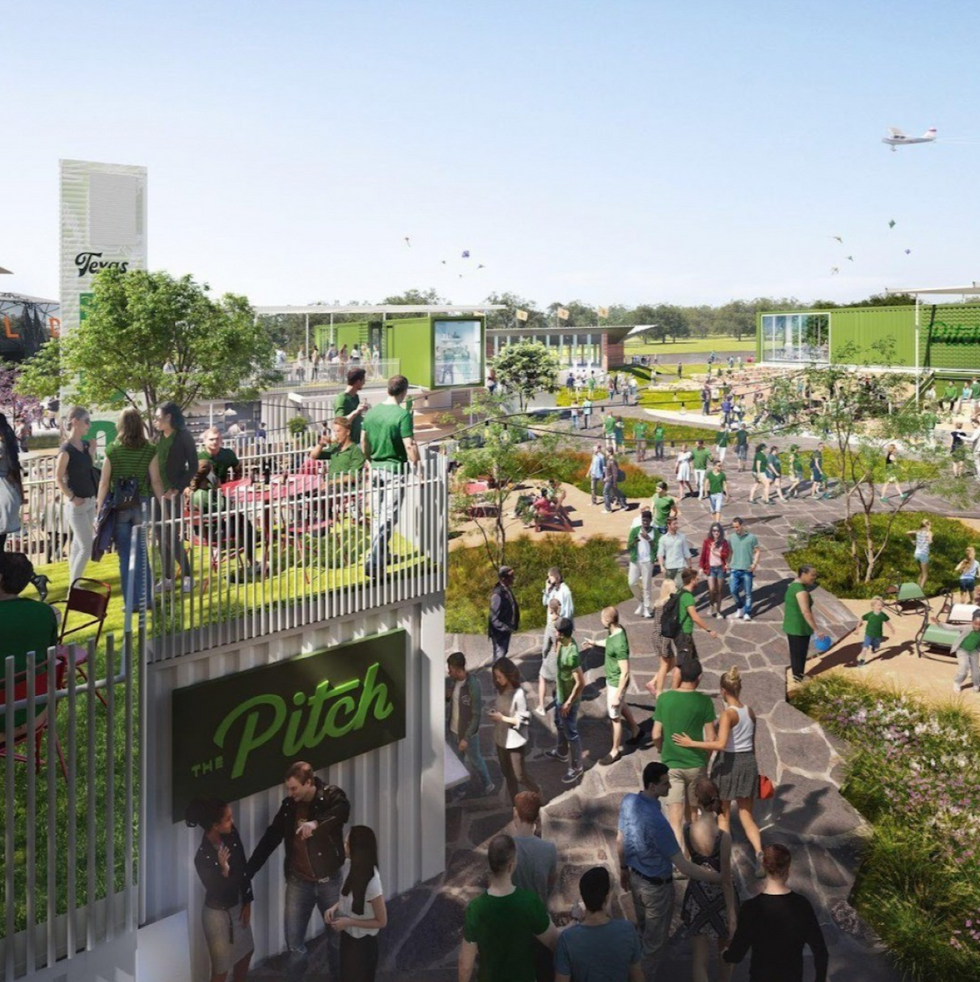 The Pitch hopes to converge both community and club interests with Austin FC. (The Pitch)
In addition to the soccer pitch, stadium and pond, The Pitch will provide a foody experience made by the creative team behind Austin staples like Fareground and Easy Tiger. The complex will offer local bites including:
Ranger Burger, which offers beers and burgers made from highly-coveted Wagyu beef direct from Ranger Cattle in East Austin
Ga Roti, which merges flavors from Northern Vietnam with the culinary techniques of France to create a unique rotisserie chicken joint
Taco Flats, a local taco chain serving Mexico City-style tacos, micheladas and more
Sand Bar, which fulfills its namesake with beauty cocktails, local beers and a sand volleyball court
Coffee Club, a coffee shop and bakery
Corner Kick Bar, the soccer-focused main bar of The Pitch complete with "tunes, TVs and (a) beer garden"
The Pitch will squeeze between St. David's Performance Center and Parmer Pond alongside the southern edge of Parmer Austin, a Karlin Real Estate venture that will eventually include multifamily housing, corporate office space and an aerospace and defense center.