Never miss a story
Sign up for our free daily morning email...
...and afternoon text update
Get connected with our daily update
(Realtor.com)
Austin-based podcast host Joe Rogan, recently called
one of the most influential media personalities in the country,
paid at least $14.4 million for the luxury lake house he's now living in on Lake Austin, according to local real estate sources and
a report by Variety magazine.
---
It is, reportedly, "one of the biggest transactions in the area's history," and rumors among real estate professionals put the sale price closer to $28 million.
Rogan's name isn't on the property tax rolls yet, but the house was sold at an undisclosed price—reported at $14.4 million but rumored up to $28 million in real-estate circles. Texas is a non-disclosure state and even appraisers aren't allowed to know selling prices. Variety reports Rogan's purchase was off market.
Rogan has one of the world's most popular podcasts. His audio-and video-podcast "The Joe Rogan Experience" draws in an estimated 200 million monthly listens and views. It is unclear if Rogan is broadcasting his podcast from his new property. He first teased his new Texas studio in August on social media.
He recently moved to Austin, where he now runs his podcast under a new, $100-million licensing deal with Spotify. His frequent episodes feature various guests—including, recently, former boxing champion Mike Tyson, Texas comic Ron White and pop singer Miley Cyrus—and cover an array of topics.
With more than 11,000 square feet on nearly four tree-lined acres, the house sits near the lake, a grassy backyard leading to the water's edge, a sundeck over the water, boat slips with a party deck, an expansive lawn and giant circle drive with detached garages.
From Variety:
"Several years ago, the stately main structure sported a distinctly early-2000s faux-Mediterranean flare that was popular amongst the well-heeled suburban Hill Country crowds back in the day. However, the property's previous owners — architectural designer Benjamin Wood and his philanthropic wife Theresa Castellano-Wood — recently gave the whole place an extensive makeover and it now boasts a much sleeker, Texas-inspired modern farmhouse look with just a dash of Mediterranean influence still shining through....
"Out back, there's a sprawling grassy backyard for Rogan's dog, Marshall Mae, to frolic to his heart's content. The recent renovation added a large saltwater pool to the property, and there's a solarium plus lots of covered patio space to lazily chat with friends, safe from the oppressive heat of the Texas sun. And, of course, the estate also features the obligatory party deck — a must-have for any moneyed river rat living along the lake — and two boat slips."
More on Joe Rogan: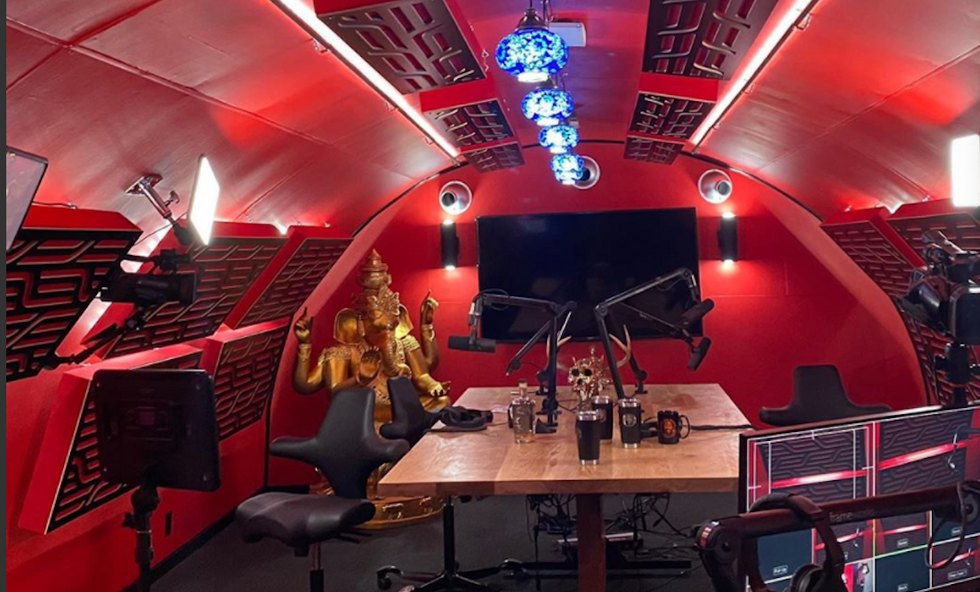 Meet the two names from Austin behind the transformation of the new Joe Rogan podcast studio
After two years of no in-person events, Austin festival South by Southwest has agreed to give 50% of ownership to P-MRC, a Los Angeles company that controls publishing operations for Rolling Stone and Billboard.
The media venture was founded in 2020 and is part-owned by Jay Penske, racer Roger Penske's son and head of Penske Racing and Penske Media.
The move comes after the COVID-19 pandemic left the festival with two years worth of hemorrhaging funds. SXSW organizers were left scrambling for solutions in March 2020 when the city of Austin canceled the festival at the onset of the pandemic. One-third of the festival's 175 year-round employees were laid off, and the festival ran a shortened virtual event in 2021.
SXSW CEO and co-founder Roland Swenson said in a statement that the company is grateful to get aid when they need it most and that they are now looking to the future.
"It has been an incredibly tough period for small businesses, SXSW included," Swenson said. "When Jay Penske approached us with an interest in becoming a partner, it was a true lifeline for us. Both of our companies share a passion for producing high-quality content that helps shape modern culture, so this feels like a natural alliance."
Both of Austin's big-name festivals are now in the hands of out-of-town buyers. In 2014, homegrown festival Austin City Limits was bought in part by LiveNation, who took 51% ownership in Austin live promoter C3 Presents.
While SXSW was still online-only this year, it was aided in part by big-name guests such as Matthew McConaughey, Willie Nelson, Chance the Rapper and Bill Hader.
The fest has captured the essence of Austin arts and culture for 34 years, and it doesn't plan on stopping now. With P-MRC by its side, SXSW said it plans on keeping its unique identity but expanding operations as it prepares for an in-person celebration next spring.
"Since 1987, SXSW has been the world's premier festival centered at the convergence of tech, media, film, and music," Penske said. "Today SXSW continues to be one of the most recognized brands for empowering creative talent and bringing together the brightest creators of our time. As part of this significant investment, we plan to build upon SXSW's incredible foundation while extending the platform further digitally and assisting Roland and his incredible team to bring their vision to even greater heights."
With their future restored, SXSW's newest slogan rings truer than ever: "See you next year at SXSW!"
Stephen Broderick is now in police custody for a suspected domestic violence incident that killed three in northwest Austin on Sunday.

After initially being called an active shooting incident, joint local law enforcement and more than 75 FBI agents proceeded with an almost day-long manhunt with three helicopters and on-ground teams for former Travis County deputy Broderick. Police captured him after a 911 caller reported a suspicious man walking along U.S. 290, where he was taken into custody.
Police believe the victims, who have been identified as two Hispanic women and one Black man, knew their assailant. A child was involved but is now safely in police custody. Two of the victims have been identified as former and current Elgin ISD students: Alyssa Broderick and Willie Simmons III.
The school district released a statement offering its condolences to the families. Alyssa was enrolled until October 2020 and played on the basketball team. Simmons was a senior at Elgin High School where he was captain of the football team and had been recruited to play football at the University of North Texas.
Travis County Sheriff Sally Hernandez released the following statement on the incident: "I'm truly heartbroken that a former Travis County Sheriff's Office Deputy is the suspect in such a horrific incident. TCSO is standing by to provide any, and all assistance we can to the families of the victims in their time of need. I'm proud of the integrity and professionalism shown by the men and women of TCSO, APD and other law enforcement agencies, who worked tirelessly throughout the night to locate Stephen Broderick. I'm especially grateful to the vigilant citizen who called 911 after seeing Broderick, and to the Manor PD officers and TCSO deputies who took him into custody this morning."
During a press briefing at 4:45 p.m. on Sunday, Interim Police Chief Joe Chacon said law enforcement was on the scene for several hours investigating the incident with 41-year-old Broderick.
"We're very sorry that obviously this has happened and we continue to try and locate this individual, we are transitioning from a search in this area to a fugitive search and those efforts will continue until this person is located," Chacon said. "I don't want anyone to think that we're packing up and going home. We're going to continue to look for this individual because he continues to pose a threat to this community."
This story has been updated at 8 a.m. Monday to include the latest information.

From Your Site Articles
Related Articles Around the Web
(Hard Rock Stadium)
Formula 1 is returning to Florida for the first time since 1959, announcing that the brand-new Miami Grand Prix will join the calendar in 2022 and Austin will no longer be the only F1 race in the U.S.
Held at the Hard Rock Stadium complex in Miami Gardens, this will be the first race in the Sunshine State in 62 years. With a new track setup, F1 will loop the stadium, home of the NFL's Miami Dolphins.
The new 3.36 mile circuit has 19 corners, three straights and potential for three DRS zones, with expected top speeds of 198 mph.

Now with two races in the U.S., F1 President Stefano Domenicali said they will avoid having back-to-back events by keeping the Miami Grand Prix separate from the U.S. Grand Prix, which is held at Austin's Circuit of the Americas.
The date of the race has yet to be confirmed, though Domenicali said he expects the first race in a 10-year deal to take place in the second quarter of 2022. Austin's race will take place on Oct. 24 this year.
"The USA is a key growth market for us, and we are greatly encouraged by our growing reach in the U.S. which will be further supported by this exciting second race," Domenicali said.
Miami will mark the 11th race location in the U.S. since the Championship began in 1950: Circuit of The Americas in Austin; Dallas, Texas; Indianapolis, Indiana; Sebring, Florida; Riverside, California; Watkins Glen, New York; Long Beach, California; Las Vegas, Nevada; Detroit, Michigan and Phoenix, Arizona. COTA was first opened in 2012.
Domenicali said F1 will be working with the FIA and the Hard Rock Stadium to leave a lasting impact on the community: discounted tickets for residents, a program to support local businesses and a STEM education program through F1 in schools.