Get connected with our daily update
(Realtor.com)
Austin-based podcast host Joe Rogan, recently called
one of the most influential media personalities in the country,
paid at least $14.4 million for the luxury lake house he's now living in on Lake Austin, according to local real estate sources and
a report by Variety magazine.
---
It is, reportedly, "one of the biggest transactions in the area's history," and rumors among real estate professionals put the sale price closer to $28 million.
Rogan's name isn't on the property tax rolls yet, but the house was sold at an undisclosed price—reported at $14.4 million but rumored up to $28 million in real-estate circles. Texas is a non-disclosure state and even appraisers aren't allowed to know selling prices. Variety reports Rogan's purchase was off market.
Rogan has one of the world's most popular podcasts. His audio-and video-podcast "The Joe Rogan Experience" draws in an estimated 200 million monthly listens and views. It is unclear if Rogan is broadcasting his podcast from his new property. He first teased his new Texas studio in August on social media.
He recently moved to Austin, where he now runs his podcast under a new, $100-million licensing deal with Spotify. His frequent episodes feature various guests—including, recently, former boxing champion Mike Tyson, Texas comic Ron White and pop singer Miley Cyrus—and cover an array of topics.
With more than 11,000 square feet on nearly four tree-lined acres, the house sits near the lake, a grassy backyard leading to the water's edge, a sundeck over the water, boat slips with a party deck, an expansive lawn and giant circle drive with detached garages.
From Variety:
"Several years ago, the stately main structure sported a distinctly early-2000s faux-Mediterranean flare that was popular amongst the well-heeled suburban Hill Country crowds back in the day. However, the property's previous owners — architectural designer Benjamin Wood and his philanthropic wife Theresa Castellano-Wood — recently gave the whole place an extensive makeover and it now boasts a much sleeker, Texas-inspired modern farmhouse look with just a dash of Mediterranean influence still shining through....
"Out back, there's a sprawling grassy backyard for Rogan's dog, Marshall Mae, to frolic to his heart's content. The recent renovation added a large saltwater pool to the property, and there's a solarium plus lots of covered patio space to lazily chat with friends, safe from the oppressive heat of the Texas sun. And, of course, the estate also features the obligatory party deck — a must-have for any moneyed river rat living along the lake — and two boat slips."
More on Joe Rogan: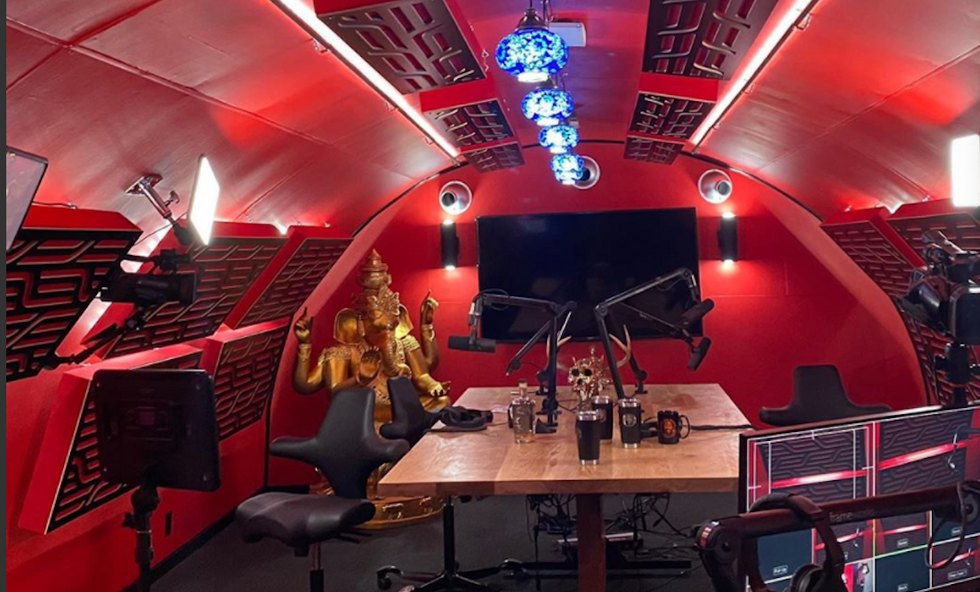 Meet the two names from Austin behind the transformation of the new Joe Rogan podcast studio
After months of speculation, a new report says political personality Beto O'Rourke is mulling a run for Texas governor that he will announce later this year.
Sources tell Axios the former congressman is preparing his campaign for the 2022 election, where he will likely vie for the position against incumbent Gov. Greg Abbott. The only other candidate that has announced he will take on Abbott for governor is former Texas GOP Chairman Allen West—no Democrats have announced they are running as of yet.
"No decision has been made," Axios reports David Wysong, O'Rourke's former House chief of staff and a longtime adviser, said. "He has been making and receiving calls with people from all over the state."
A new poll from The Dallas Morning News and University of Texas at Tyler shows O'Rourke is narrowing the gap between himself and Abbott's prospects for governor. In the poll, 37% said they'd vote for O'Rourke over Abbott, while 42% said they'd vote for Abbott.
Abbott has been in the hot seat due to his handling of COVID-19 and the signing of landmark legislation into law, including new abortion and voting rights laws; 54% of poll respondents voted they think the state is headed in the "wrong direction." Still, Texas hasn't had a Democrat as governor since the 90s.
O'Rourke's people-focused approach to the 2018 Senator race, which he lost to Sen. Ted Cruz, gave him a widespread following and many hoped he'd throw his hat into the ring since he said he was considering it earlier this year.
"We hope that he's going to run," Gilberto Hinojosa, the state chair of the Democratic Party, told Axios. "We think he'll be our strongest candidate. We think he can beat Abbott because he's vulnerable."
Austin rapper Jordi Esparza may not have won the 2021 Red Bull Batalla, the world's largest Spanish freestyle rap competition, but for a spirited two rounds, the 22-year old Mexican native looked like he had every right to.
On Saturday evening in Los Angeles, the event itself looked like Cobra Kai meets Star Search with graphics adding a very Batman Beyond aesthetic. Over a dozen rappers hoping to represent the U.S. in the international round of the competition took to the stage with in-your-face jabs at accents, sexual orientation and odors, among other things.
This was Esparza's second rodeo; he had placed third at the 2020 National Finals, automatically securing him a spot this year.
However, things were different this year. He was not nervous about the contest. Unlike in 2020, when he made his Red Bull Batalla debut, the anxiety of the event led him to "feeling so bad."
Affecting a casual calm, the locally-based landscaper said he just felt "so relaxed, so happy" and primarily wanted to "enjoy everything."
Choosing his first-round opponent, Esparza, whose stage name is Jordi, elected to go against LA-based Boss.
Esparza freestyled an attack on his opponent's weight and cholo style of dress.
Boss—bracketing his Latin freestyle with English appeals to the crowd—mocked Jordi's lack of education, made fun of how clean Jordi's shoes looked and suggested that Jordi just came back from a Footlocker.
That first round went to Jordi.
But his next opponent Eckonn would prove to be his undoing.
Eckonn compared Jordi to Hannah Montana, while Jordi soulfully explained that he had learned from the best.
Esparza's verbal dexterity is matched by a rattling rhythm and a game face that is as mawkish as it is mockish. The overall effect is that of an underdog with bite.
Eckonn beat Esparza in that round with the overall championship going to Palm Beach-based rapper Reverse.
However, Esparza was just happy to be there. He recently told Austonia going to the finals again was a dream come true—a pinnacle that he said he won't know how to top.
With his nimble jabs and sneaky prowess, honed from pop culture and the swagger of a young working man hungry to be more, Jordi Esparza is just getting started.