Get connected with our daily update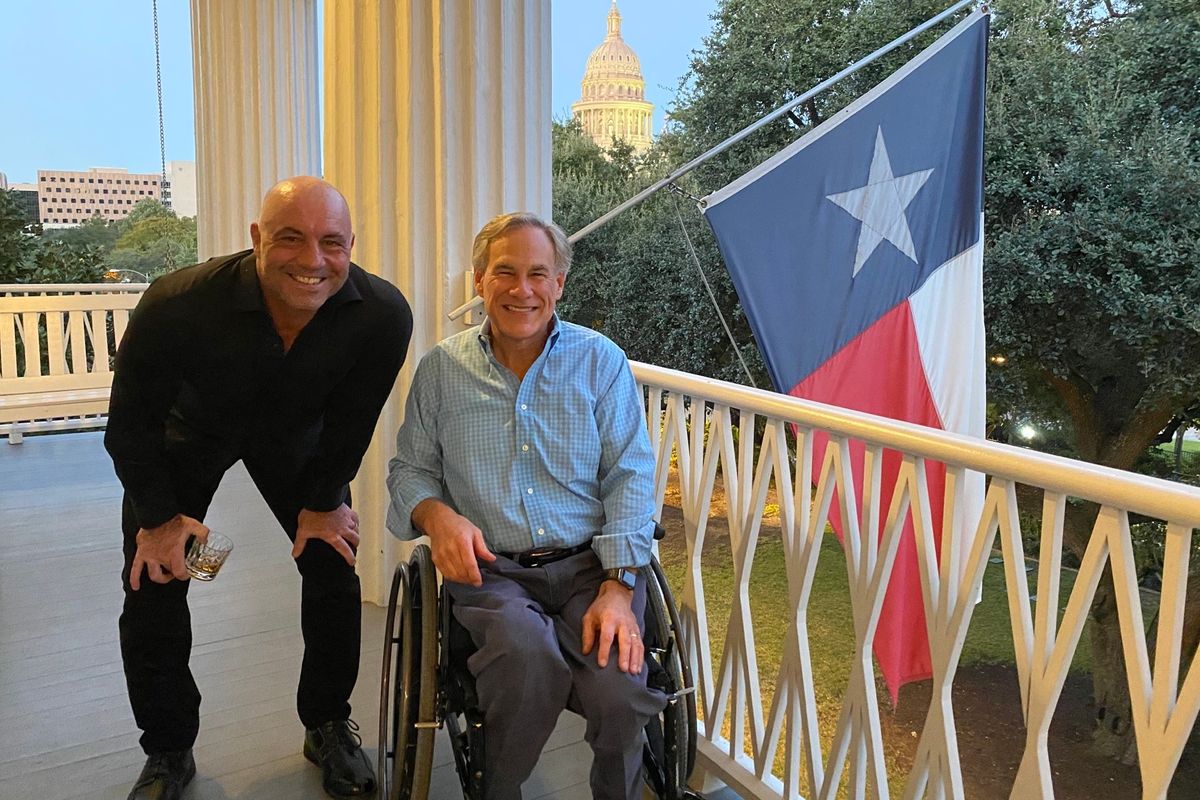 (Greg Abbott/Twitter)
Joe Rogan made news when he moved his home base from California to Austin back in July, and the brand-new resident has certainly made his presence known in the Texas capital since.
---
Rogan, who is best-known for hosting the multimillion dollar "Joe Rogan Experience" podcast, was pictured visiting Texas Gov. Greg Abbott in his home Thursday.
Abbott welcomed Rogan with a tweet, saying the new Texan "fits right in."
Joe Rogan now lives in Texas. Tonight he visited the Governor's Mansion. He may be a new resident but you can t… https://t.co/iWrm2IYgi2

— Greg Abbott (@Greg Abbott) 1604631739.0
Rogan, who flies out different guests for his podcast, has featured several Austin celebrities since moving, including Academy Award winner Matthew McConaughey and conspiracy theorist Alex Jones.
The podcaster recently canceled a host of planned podcasts due to one of his producers contracting COVID-19. The show's schedule has since resumed.

Only one question remains: Why have the rest of us never been invited?
@GregAbbott_TX @joerogan Dude, I've lived here my whole life and never gotten an invite. Joe's here like, what, a week?

— BigOleWang (@BigOleWang) 1604631790.0
More on Joe Rogan:
Austin's newest superstar resident, podcaster Joe Rogan, is a complicated, pot smoking, elk hunting, fight fan who wants everyone to just 'calm down'
At least six people died in separate incidents over the weekend, according to police.
The incidents:
Austin-Travis County EMS responded to 12 motorcycle incidents, involving 14 people, as the Republic of Texas Motorcycle Rally was held in Bastrop over the weekend. Three died at the scene, eight were taken to the hospital with one in critical condition.
Austin police officers shot and killed a man who was wielding a knife in North Austin at noon Sunday. A police officer stopped to check on a man who was in a disabled vehicle on E. Koenig Lane; the man had a knife and was described as "quite irate" and "erratic." Officers said the man shouted to "just shoot me" before advancing toward the officers. After using a less-lethal firearm, two other officers fired their guns and shot the man. The man was declared dead at 1:09 p.m. after he was taken to the hospital.
A woman's body was found in a vehicle at 5 p.m. Sunday in a parking lot at the West Riverside Splash Pad at Auditorium Shores. Austin police are investigating it as a suspicious death and have not released further information.
One has been confirmed dead and three were taken to the hospital after a shooting at 7:20 p.m. Sunday in Northwest Austin. Williamson County Sheriff's Office said a verbal altercation resulted in shots being fired in the 12600 block of Oro Valley Trail.
The deadly weekend comes on the anniversary of the Sixth Street shooting that killed 1 and injured over a dozen last year.
Inside Austin is a new series from Austonia that highlights all walks of life in Austin. You can see and share this series on TikTok, Instagram and Twitter.
Rebecca Phillips, a longtime northwest Austin resident, has been following pageantry for years. At 51 years old, she's stepping into the world of glitz and glamour as she was crowned Mrs. Heart of Texas Plus America in March and will be competing in the national competition next month.
When she's not practicing her best walk, Phillips works in marketing for a major tech firm in Austin. In the Mrs. Plus America pageant, she is able to represent a platform. Her personal platform is "robots and rhinestones," where she focuses on empowering young women in STEM.
"My road to pageantry is just a comma, not a period... My platform will live on well beyond if I decide to stop doing pageantry," Phillips told Austonia.