Get connected with our daily update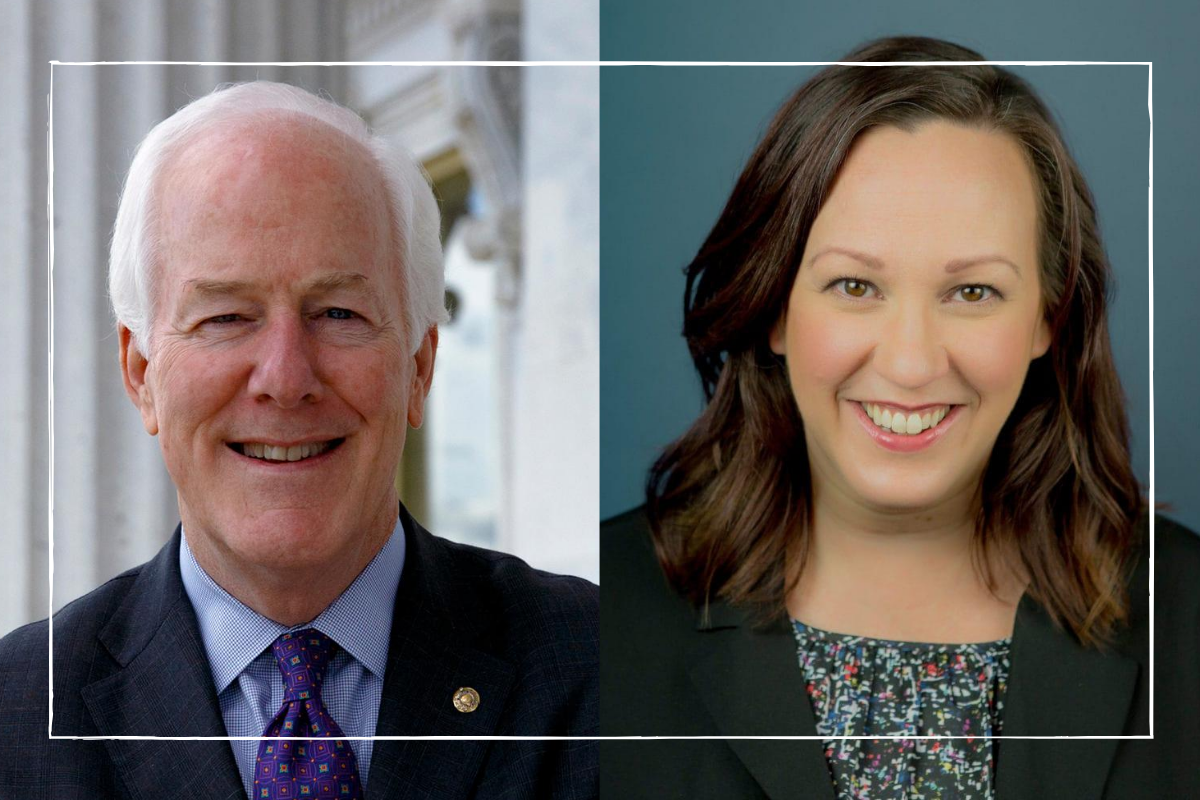 (U.S. Senate, MJ for Texas)
When decorated combat veteran, Round Rock mom and self-described "badass" MJ Hegar and three-term Republican incumbent U.S. Sen. John Cornyn face off this November, the candidates will not only contend with each other but also the pandemic, President Donald Trump's reelection campaign and a news cycle that threatens to overshadow their race.
---
Hegar, whose only political experience is a failed run against U.S. Rep. John Carter in 2018, narrowly won the Democratic nomination for the Texas Senate seat in a runoff election against state Sen. Royce West in July.
This cost her campaign time and money. It now has around $1 million, compared to Cornyn's $14 million, and just a few months to get Hegar in front of voters—virtually—until the election.
Cornyn's campaign is confident, based on statements to the press, about his chances against "Hollywood Hegar," whom he has described as Elizabeth Warren on a motorcycle.
"She has less than four months to introduce herself to voters outside the Austin media market who've never heard of her," his campaign wrote in a July 15 press release.
Austonia reached out to Cornyn's senate and campaign offices multiple times for comment but did not receive a response.
Recent polls show Cornyn leading by one to 15 points, but Democrats believe the Senate race is winnable for many reasons: High turnout among Democratic voters in the July runoff election, Trump's flagging approval rating and a $1 million investment by the Democratic Senatorial Campaign Committee.
MJ for Texas Deputy Communications Director Jake Lewis also pointed to a June poll in which more than a quarter of Texas voters were unable to answer whether they approve or disapprove of Cornyn.
"For a senior senator who's been in office for almost 20 years in the Senate, plus before that in Texas state government, his unknown numbers are really showing how failed of a leader he is," Lewis said.
Jim Henson, a professor of government and director of the Texas Politics Project at the University of Texas at Austin, said Cornyn is considered the favorite in this race—but it's not a lock. "Certainly, this is shaping up to be a tough year for Republicans in Texas," he told Austonia.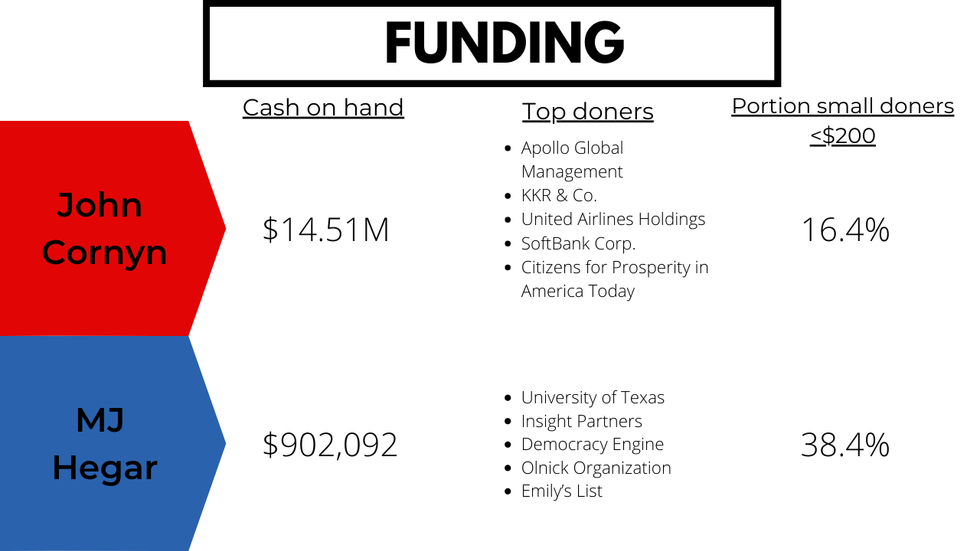 (Sources: Federal Election Commission, Vote Smart)
The pandemic
Whoever wins this race will be responsible for helping usher Texas and the country out of the COVID-19 crisis.
For Henson, it's unclear how this will affect turnout. "You're kind of balancing two things," he said. "Will it drive down turnout, or will it also increase … people's interest in voting because they think the stakes are very high?"
Texas Democrats were heartened to see wide participation in the July primary runoff election—more than double the amount of voters who turned out in 2018—despite the pandemic.
"We look at that and see a level of enthusiasm and willingness to participate on the Democratic side that we haven't seen in Texas in literally decades," Texas Democrats Cornyn War Room spokesperson Billy Begala told Austonia. "We fully expected turnout to be suppressed."
Hegar's camp also believes her experience working as a program manager for Seton Healthcare Family, as well as her support for the Affordable Care Act, will resonate with voters.
"Every sector of the economy, every Texas is being affected by this pandemic," Lewis said. "But that is also making people more aware of the choice they have come November: Who is going to lead getting out of this mess?"
Cornyn's pandemic-response strategy is unclear. Last month, he was criticized for questioning whether children could catch and spread COVID-19. And on July 25, a weekly $600 unemployment benefit expired in Texas, leaving more than 1.6 million jobless residents in need of relief. While a spokesperson for Cornyn's office told the Texas Tribune that the senator supports extending unemployment assistance, the Senate recessed last week until mid-September without voting to approve a new relief package.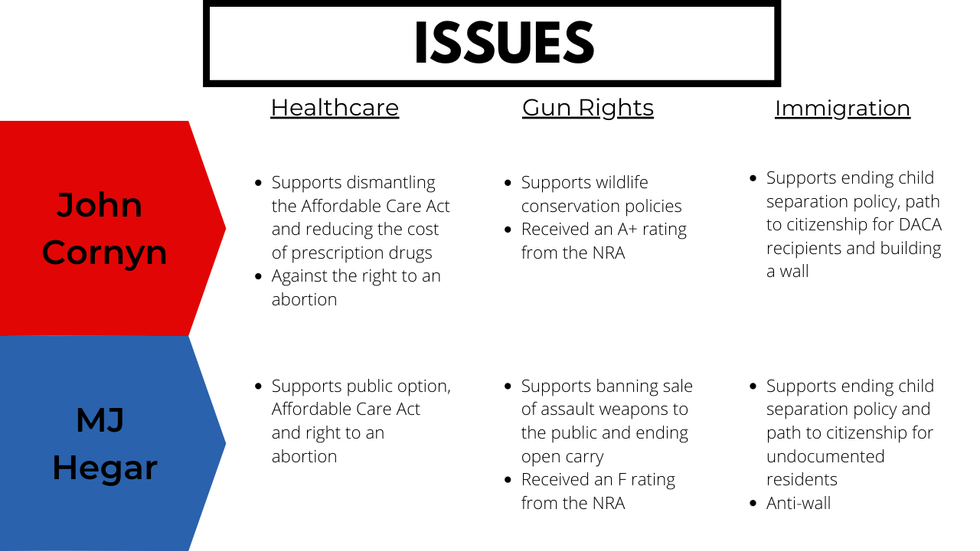 (Sources: John Cornyn for Senate, MJ for Texas, U.S. Senate)
The president
Despite the pandemic and other critical policy issues, Henson said the November election will, "above all," be about Trump.
Republicans believe that the re-election effort will bolster candidates such as Cornyn.
"Beto O'Rourke lost in 2018. MJ Hegar will lose in 2020," RNC Regional Communications Director Samantha Cotten said in a statement to Austonia. "Democrats' dream of turning Texas blue will be shattered once again and it is little wonder as to why considering Democrats are actively campaigning on destroying the Second Amendment, the energy industry, and our cities by defunding our police."
But others see Cornyn's association with the president as a stress point.
"The president has had, in strictly political terms, a not particularly good year and is an erratic standard bearer," Henson said. "So if you are a Republican candidate in Texas, and your fate is hitched to the president's, it's a very anxiety-ridden ride."
Hegar also stands to benefit from the ground gained by Beto O'Rourke in his race against U.S. Sen. Ted Cruz in 2018. Although O'Rourke lost, the margin was much smaller than past races would have suggested, Henson said, and Democrats won other seats in the Texas Legislature and U.S. House. Since then, Democrats have also seen higher rates of voter registration than Republicans.
This is all evidence to support the notion that this race is competitive, Henson said, but Hegar still faces an uphill climb.
"There's a lot of other information in this political environment that it makes it hard for her to get her name and any messages she might have out," he said.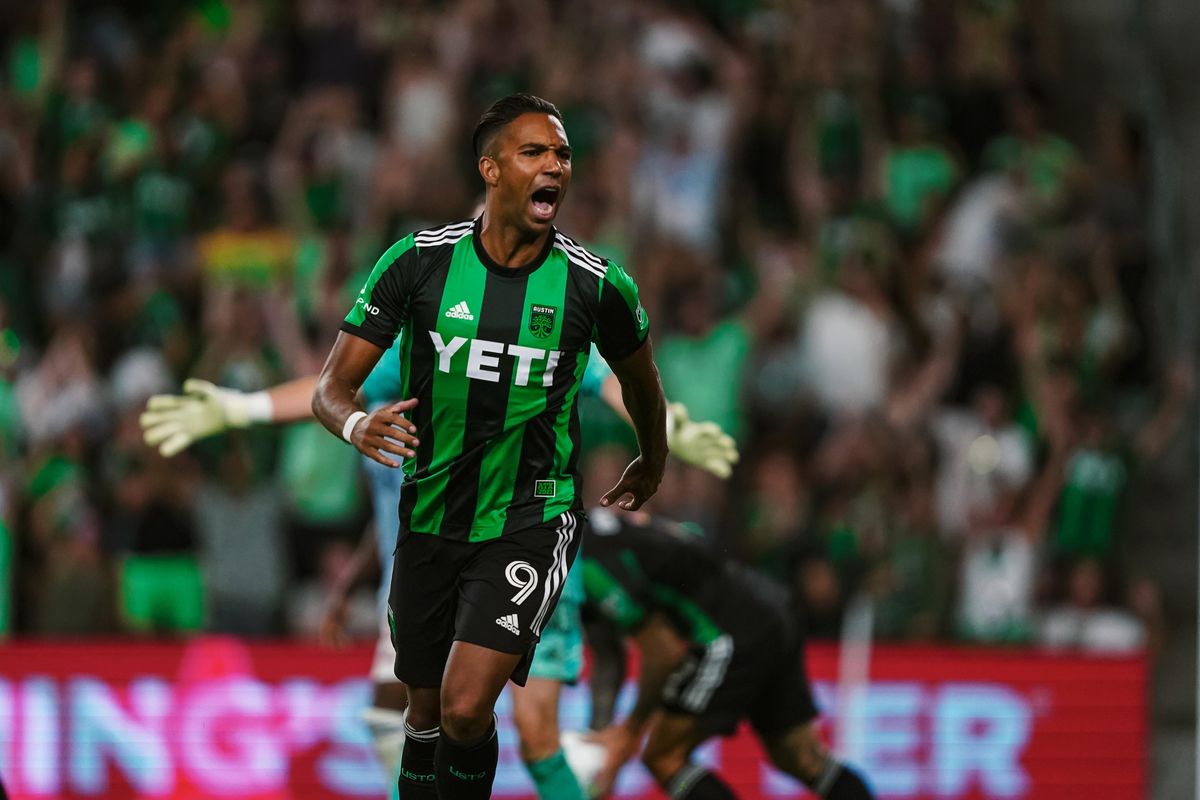 Despite a 2-0 deficit, there was a pot of gold for Austin FC after all as it celebrated its annual Pride Night with rainbows and a 2-2 comeback draw to FC Dallas Saturday night.
After three FC Dallas losses last season, the Dallas derby draw marks the first time Austin FC has tied against its Copa Texas rival. Austin continues to edge over FC Dallas as it sits at 3rd in the MLS West.
Here are the biggest takeaways from the match:
A somber start
¡Ya Basta! Enough! End Gun Violence. #uvaldestrong

📷 @arubiophotospic.twitter.com/3PiVdTPtik

— Los Verdes (@LosVerdesATX) June 26, 2022
Decked out in colorful hues for LBGTQ+ Pride, Verde fans started the match on a somber note as they held up banners to take a stand against gun violence before the match.
As the national anthem began, fans held up banners with the names of each child that was killed in the Uvalde school shooting and a plea to "end gun violence."
The supporters' section was also dotted with Pride flags and a "Bans off Our Bodies" banner in protest of the Supreme Court's decision to overturn Roe v. Wade.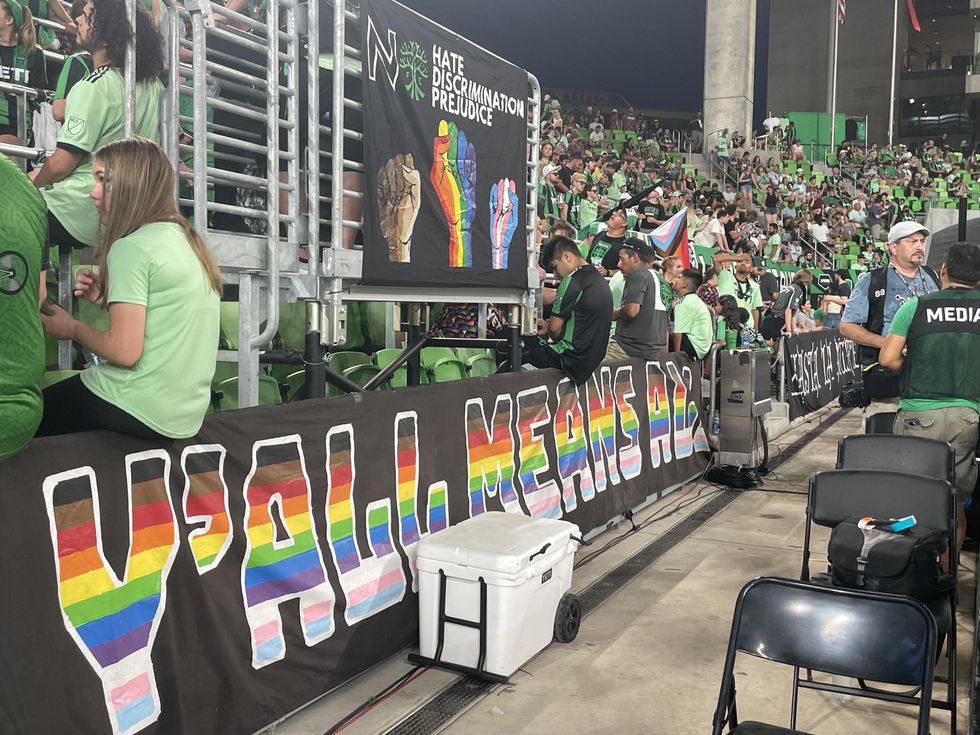 (Claire Partain/Austonia)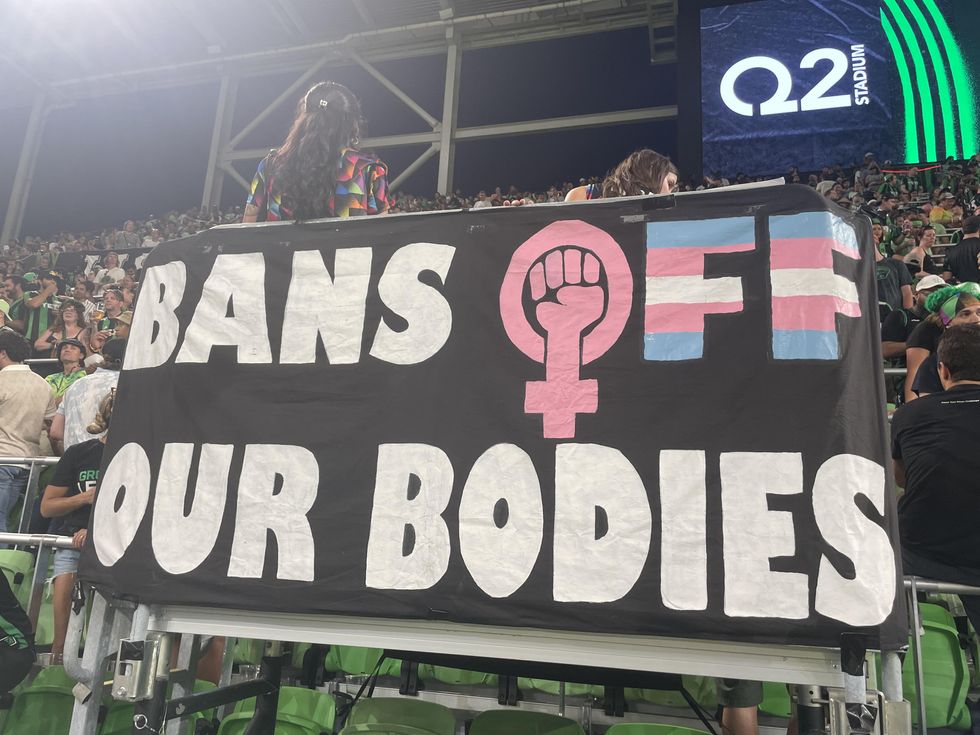 (Claire Partain/Austonia)
FC Dallas earns a 2-0 lead
Paul Arriola is there to put it away and put @FCDallas ahead! pic.twitter.com/Z4AMmM6lp3

— Major League Soccer (@MLS) June 26, 2022
That sober tone continued onto the pitch. With midfielder Daniel Pereira's absence due to a red card, the Verde and Black lost two goals to FC Dallas by the 70th minute of play.
FC Dallas played it sneaky for the first half of the match, giving Austin FC plenty of room to hold possession as it waited to strike on a Verde error. That mentality proved dangerous for Austin as Dallas' Paul Arriola took advantage of Brad Stuver's deflection to score the first goal of the night in the 57th minute of play.
Dallas struck once more as Brandon Servant pushed past the Verde line to score the second goal of the match.
Austin FC strikes back
Sebastián Driussi pulls one back!#AustinFC are still in this one. 👀 pic.twitter.com/Yoi0x768jb

— Major League Soccer (@MLS) June 26, 2022
But energy quickly returned to Austin's favor thanks to Designated Player Sebastian Driussi, who scooted past several FC Dallas defenders alongside Moussa Djitte to snag an unlikely first goal for Austin.
A full Verde comeback
Late drama in this Texas Derby!@AustinFC ties it up, Danny Hoesen with the diving header. 😱 pic.twitter.com/Jk2f4fIEXG

— Major League Soccer (@MLS) June 26, 2022
Austin's subs proved deadly as momentum returned to the home team toward the end of the match. A well-placed cross from Nick Lima—and a diving header from a fresh-legged Danny Hoesen—helped the team secure the draw with a second Verde goal in the 84th minute of play.
Hoesen, who was Austin's first starting striker last season, has now scored two goals with the team after a yearlong injury stuck him on the bench.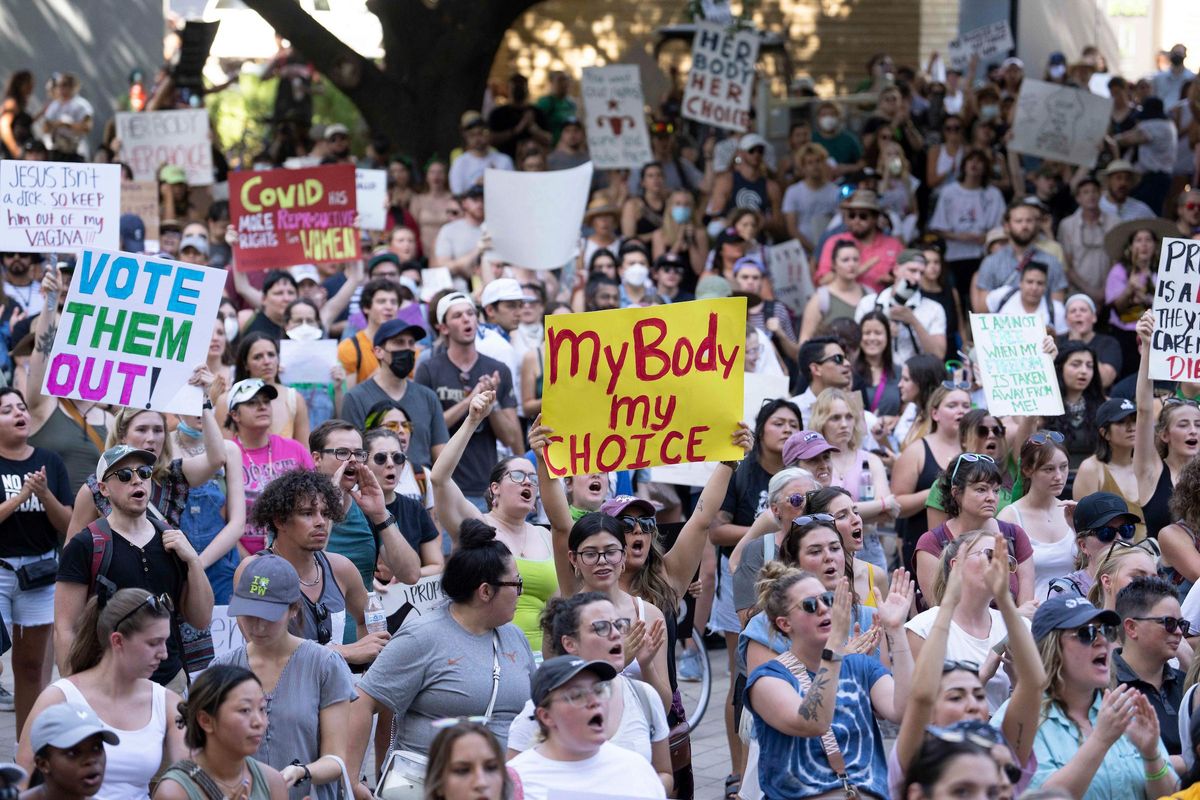 Hours following the U.S. Supreme Court's ruling to overturn Roe v. Wade, the landmark ruling that guaranteed a constitutional right to an abortion, on Friday, about 1,000 people gathered in Republic Square with signs calling for change.
The rally, organized by the group Rise Up 4 Abortion Rights Texas, started at the federal courthouse on Republic Square on Friday at 5 p.m. before the crowd marched to the Texas Capitol. More protests are expected to ensue over the weekend.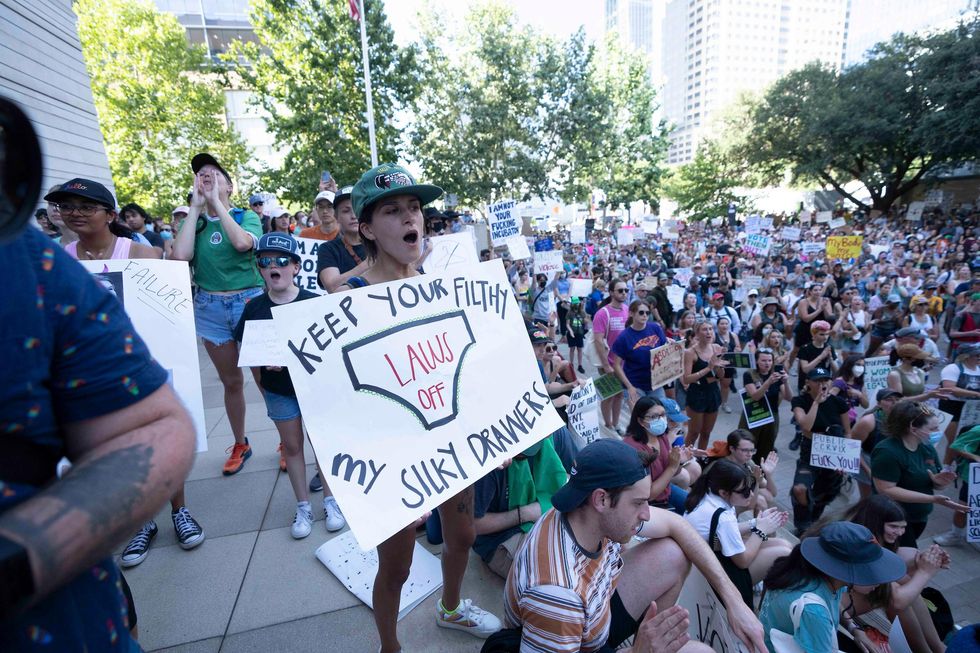 People showed up with all types of signs like Mindy Moffa holding up, "Keep your filthy laws off my silky drawers."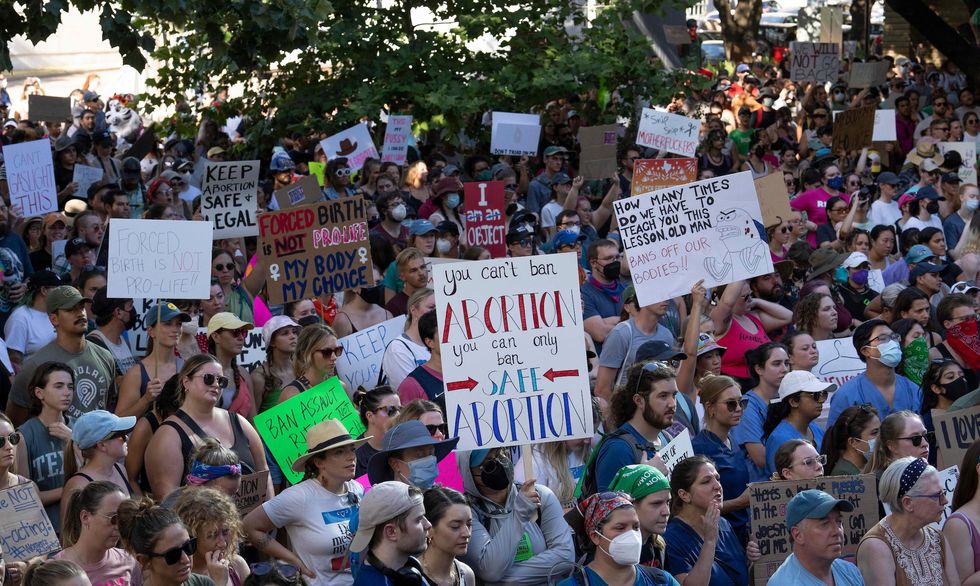 Austin joined cities across the country that saw protests for a women's right to an abortion after the ruling.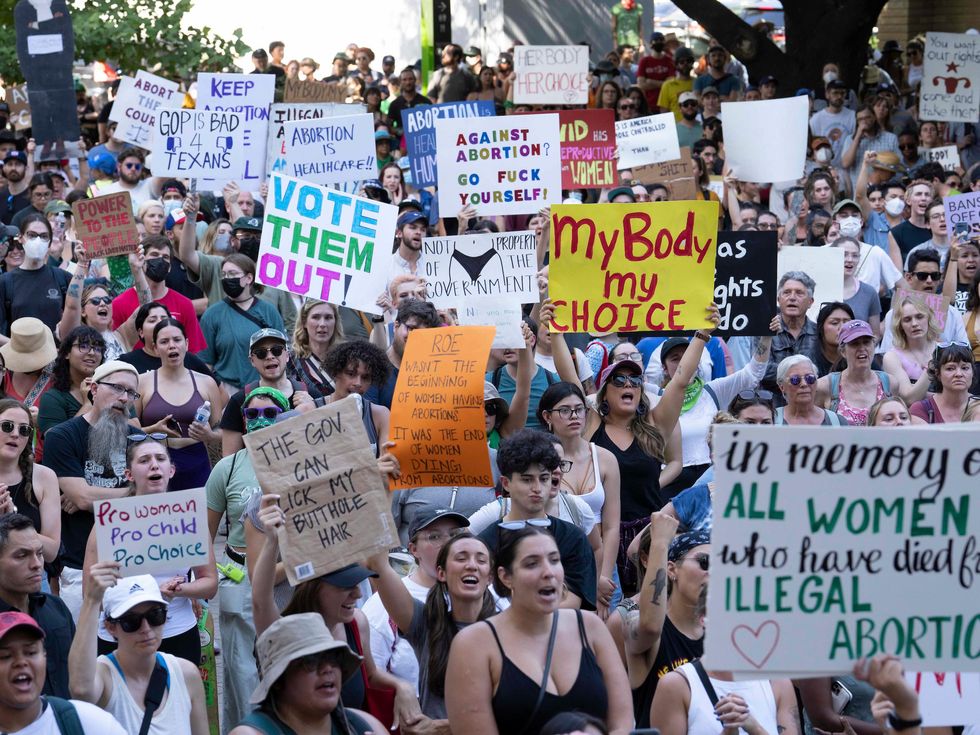 According to a recent UT poll, 78% of Texas voters support abortion access in most cases.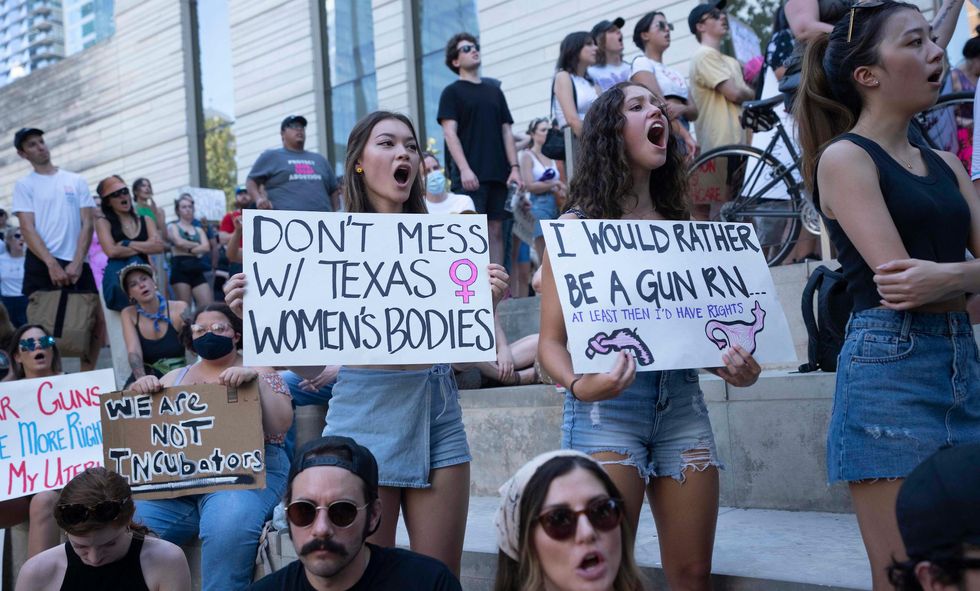 Sabrina Talghade and Sofia Pellegrini held up signs directed at Texas laws. A Texas trigger law will ban all abortions from the moment of fertilization, starting 30 days after the ruling. When state legislators passed the trigger law last summer, it also passed laws for more protection of firearms, including the right to open carry without a permit.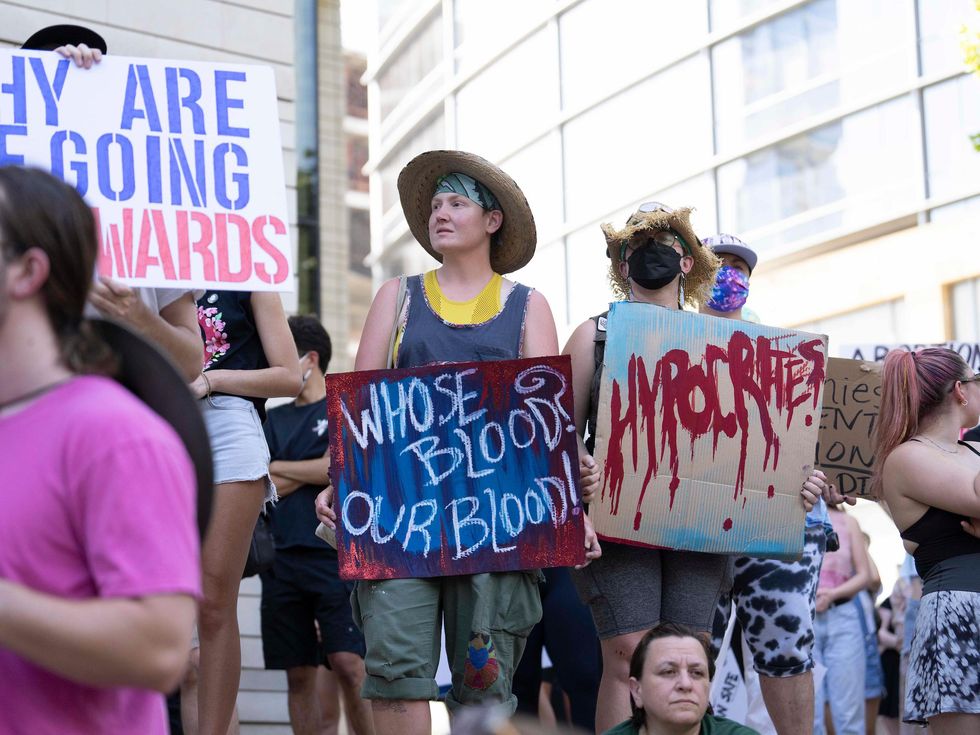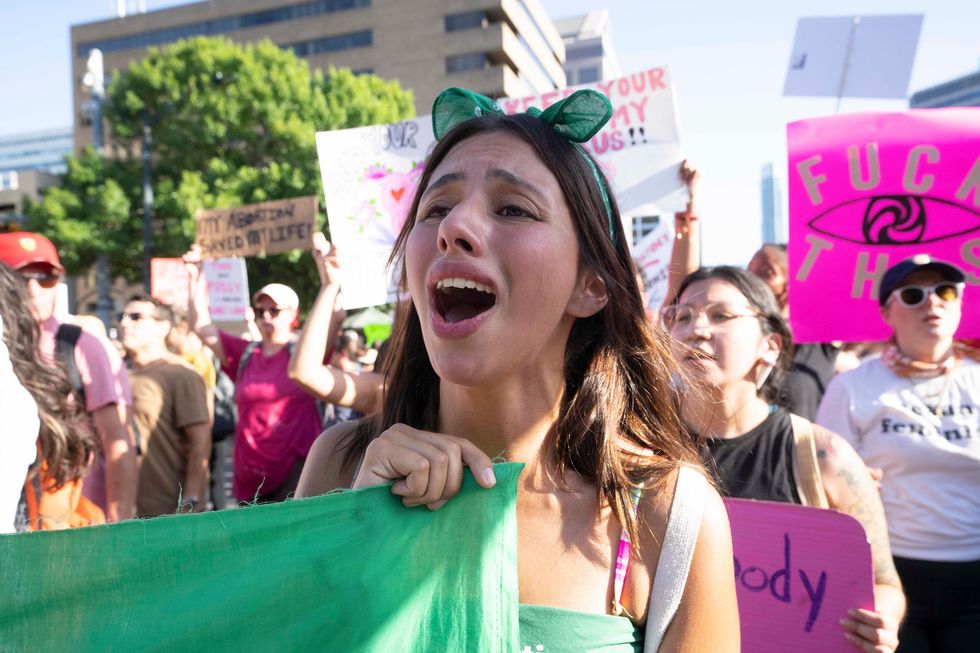 Lili Enthal of Austin yells as around 1,000 Texans marched to the Texas Capitol.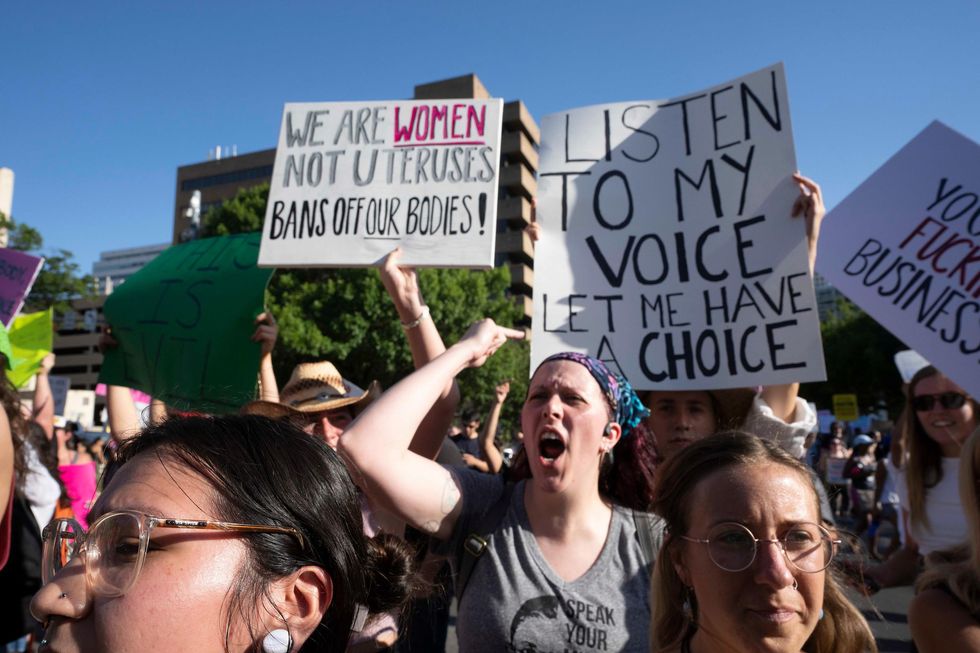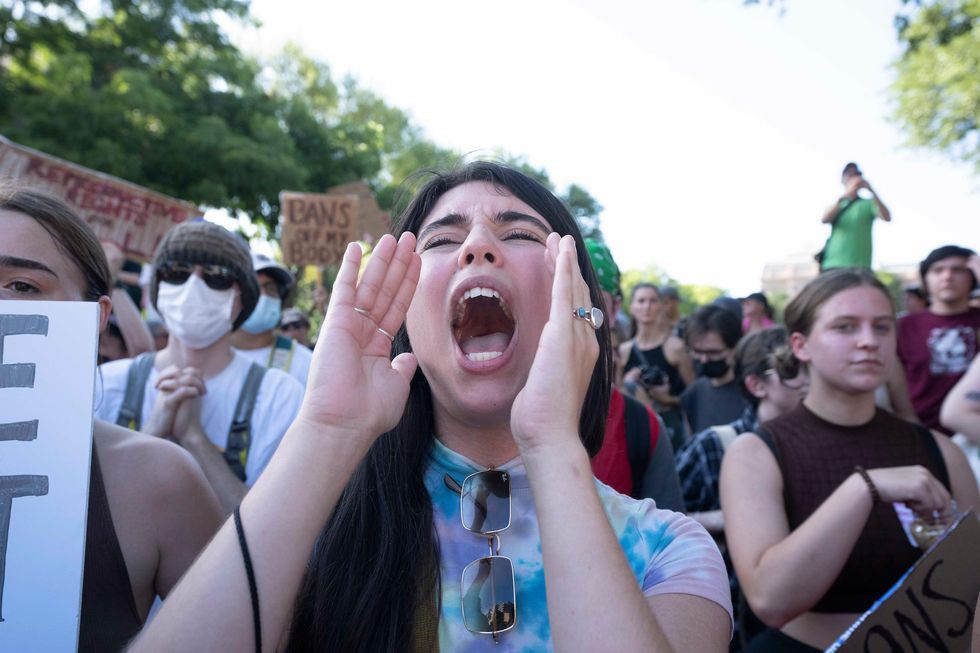 From the Texas Capitol, Zoe Webb lets her voice be heard against the Supreme Court ruling.