Get connected with our daily update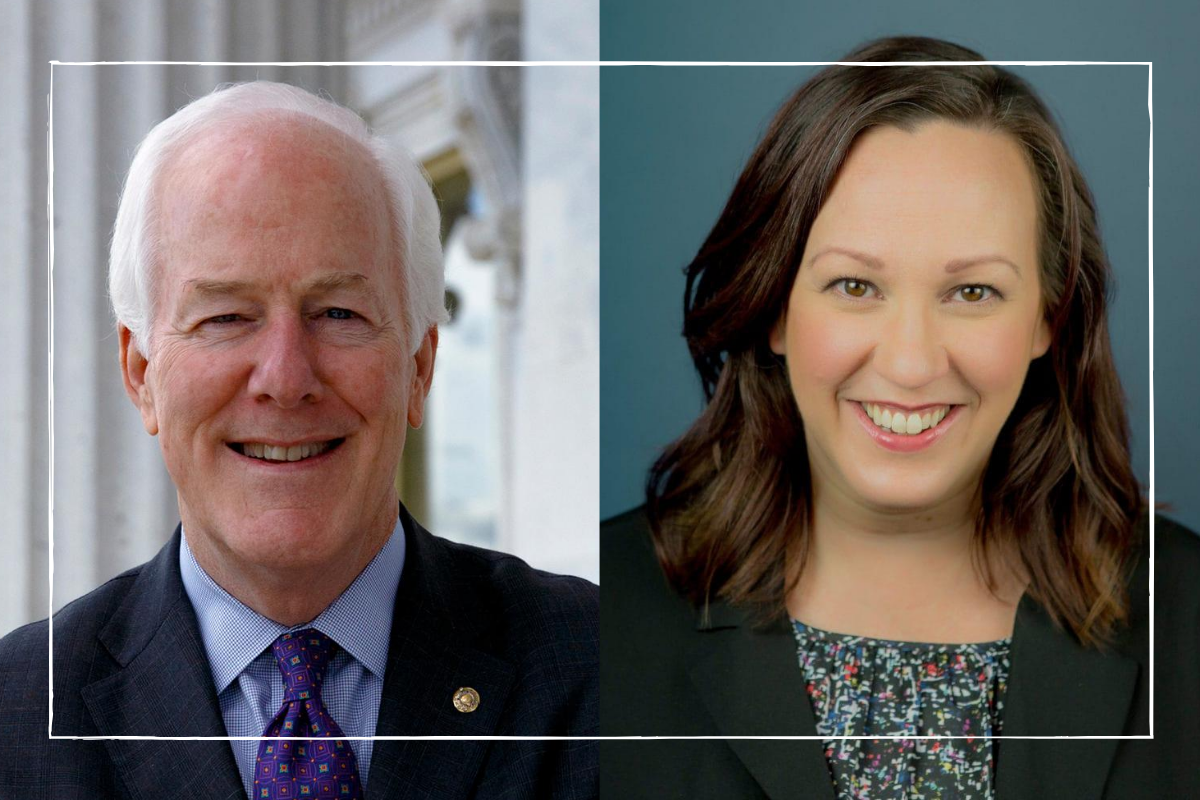 (U.S. Senate, MJ for Texas)
When decorated combat veteran, Round Rock mom and self-described "badass" MJ Hegar and three-term Republican incumbent U.S. Sen. John Cornyn face off this November, the candidates will not only contend with each other but also the pandemic, President Donald Trump's reelection campaign and a news cycle that threatens to overshadow their race.
---
Hegar, whose only political experience is a failed run against U.S. Rep. John Carter in 2018, narrowly won the Democratic nomination for the Texas Senate seat in a runoff election against state Sen. Royce West in July.
This cost her campaign time and money. It now has around $1 million, compared to Cornyn's $14 million, and just a few months to get Hegar in front of voters—virtually—until the election.
Cornyn's campaign is confident, based on statements to the press, about his chances against "Hollywood Hegar," whom he has described as Elizabeth Warren on a motorcycle.
"She has less than four months to introduce herself to voters outside the Austin media market who've never heard of her," his campaign wrote in a July 15 press release.
Austonia reached out to Cornyn's senate and campaign offices multiple times for comment but did not receive a response.
Recent polls show Cornyn leading by one to 15 points, but Democrats believe the Senate race is winnable for many reasons: High turnout among Democratic voters in the July runoff election, Trump's flagging approval rating and a $1 million investment by the Democratic Senatorial Campaign Committee.
MJ for Texas Deputy Communications Director Jake Lewis also pointed to a June poll in which more than a quarter of Texas voters were unable to answer whether they approve or disapprove of Cornyn.
"For a senior senator who's been in office for almost 20 years in the Senate, plus before that in Texas state government, his unknown numbers are really showing how failed of a leader he is," Lewis said.
Jim Henson, a professor of government and director of the Texas Politics Project at the University of Texas at Austin, said Cornyn is considered the favorite in this race—but it's not a lock. "Certainly, this is shaping up to be a tough year for Republicans in Texas," he told Austonia.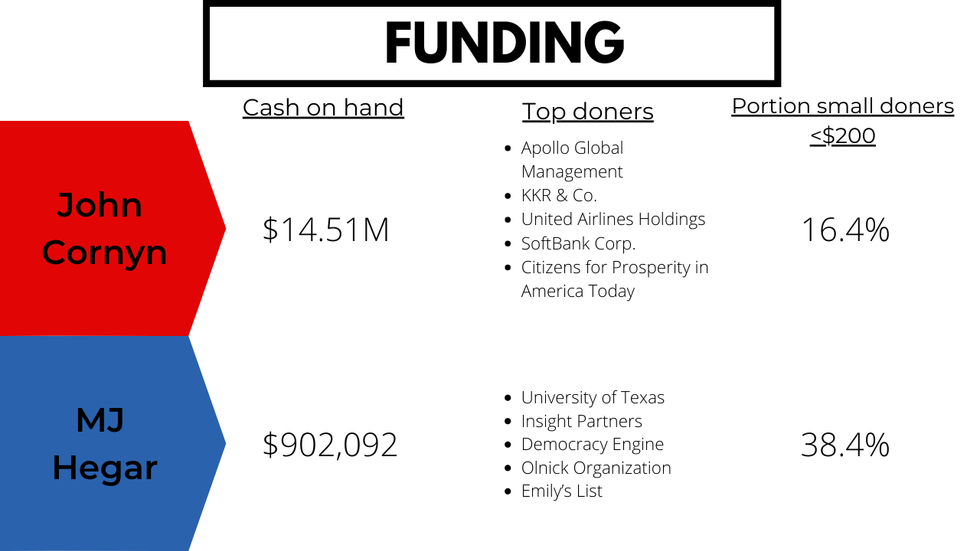 (Sources: Federal Election Commission, Vote Smart)
The pandemic
Whoever wins this race will be responsible for helping usher Texas and the country out of the COVID-19 crisis.
For Henson, it's unclear how this will affect turnout. "You're kind of balancing two things," he said. "Will it drive down turnout, or will it also increase … people's interest in voting because they think the stakes are very high?"
Texas Democrats were heartened to see wide participation in the July primary runoff election—more than double the amount of voters who turned out in 2018—despite the pandemic.
"We look at that and see a level of enthusiasm and willingness to participate on the Democratic side that we haven't seen in Texas in literally decades," Texas Democrats Cornyn War Room spokesperson Billy Begala told Austonia. "We fully expected turnout to be suppressed."
Hegar's camp also believes her experience working as a program manager for Seton Healthcare Family, as well as her support for the Affordable Care Act, will resonate with voters.
"Every sector of the economy, every Texas is being affected by this pandemic," Lewis said. "But that is also making people more aware of the choice they have come November: Who is going to lead getting out of this mess?"
Cornyn's pandemic-response strategy is unclear. Last month, he was criticized for questioning whether children could catch and spread COVID-19. And on July 25, a weekly $600 unemployment benefit expired in Texas, leaving more than 1.6 million jobless residents in need of relief. While a spokesperson for Cornyn's office told the Texas Tribune that the senator supports extending unemployment assistance, the Senate recessed last week until mid-September without voting to approve a new relief package.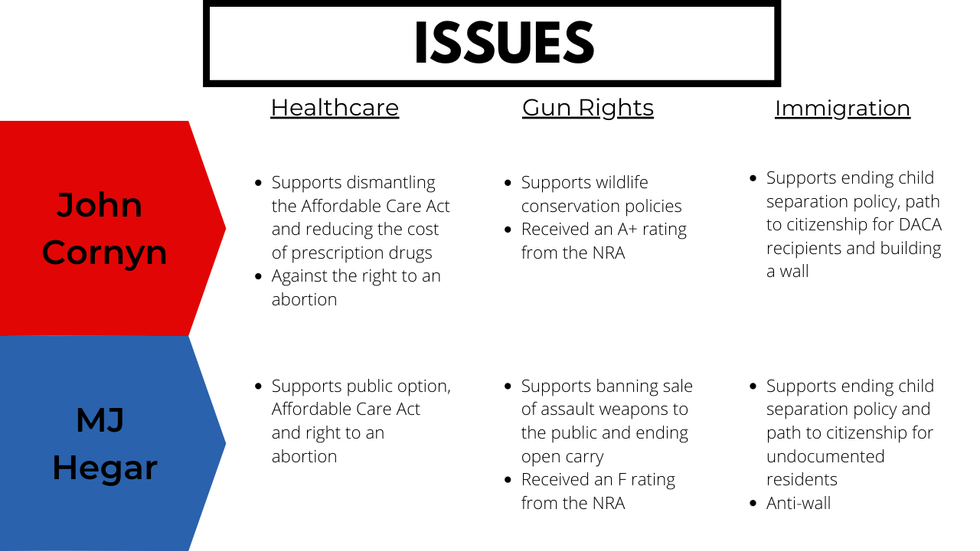 (Sources: John Cornyn for Senate, MJ for Texas, U.S. Senate)
The president
Despite the pandemic and other critical policy issues, Henson said the November election will, "above all," be about Trump.
Republicans believe that the re-election effort will bolster candidates such as Cornyn.
"Beto O'Rourke lost in 2018. MJ Hegar will lose in 2020," RNC Regional Communications Director Samantha Cotten said in a statement to Austonia. "Democrats' dream of turning Texas blue will be shattered once again and it is little wonder as to why considering Democrats are actively campaigning on destroying the Second Amendment, the energy industry, and our cities by defunding our police."
But others see Cornyn's association with the president as a stress point.
"The president has had, in strictly political terms, a not particularly good year and is an erratic standard bearer," Henson said. "So if you are a Republican candidate in Texas, and your fate is hitched to the president's, it's a very anxiety-ridden ride."
Hegar also stands to benefit from the ground gained by Beto O'Rourke in his race against U.S. Sen. Ted Cruz in 2018. Although O'Rourke lost, the margin was much smaller than past races would have suggested, Henson said, and Democrats won other seats in the Texas Legislature and U.S. House. Since then, Democrats have also seen higher rates of voter registration than Republicans.
This is all evidence to support the notion that this race is competitive, Henson said, but Hegar still faces an uphill climb.
"There's a lot of other information in this political environment that it makes it hard for her to get her name and any messages she might have out," he said.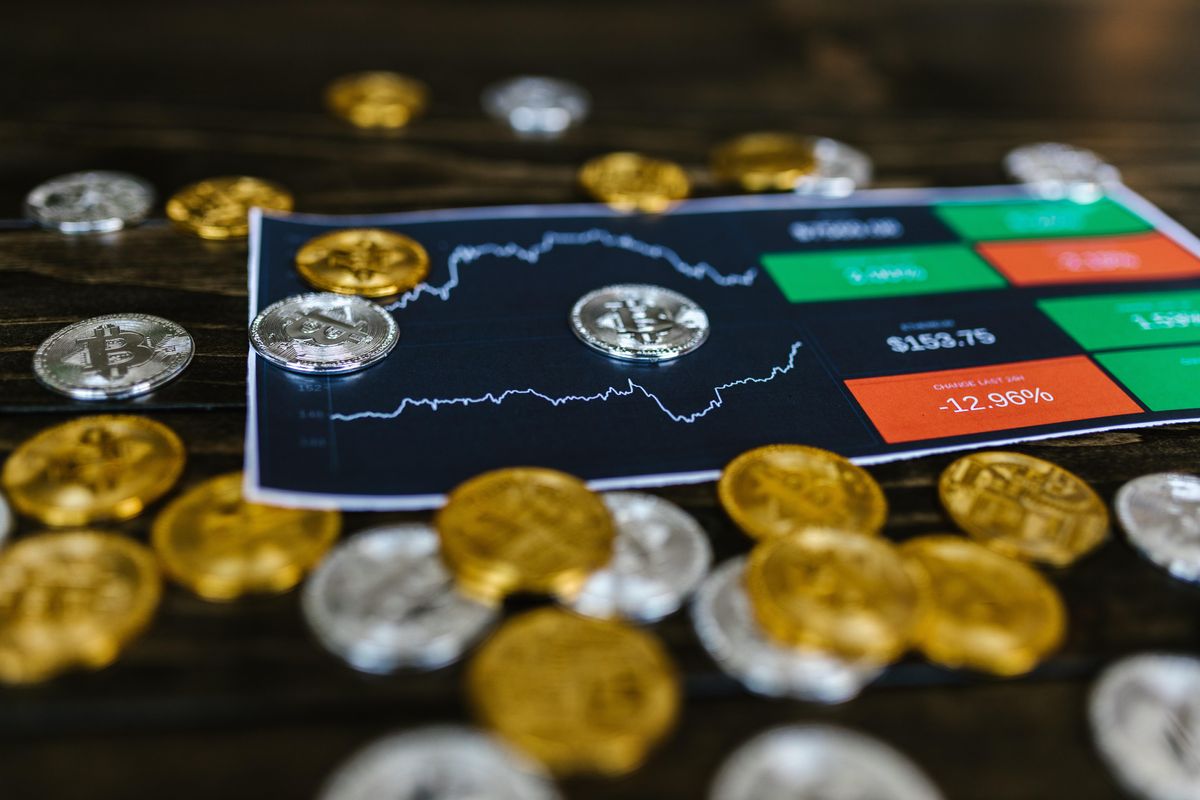 Lately, the crypto market is looking shaky.
The price of bitcoin fell by more than half from its high, the digital currency luna crashed to $0 and a type of so-called stablecoin TerraUSD has been described as dead.
Reporting from the LA Times notes that experts seeing a correlation between traditional markets and the cryptocurrency market is high right now, with plunges in one being followed by a plunge in the other. On Wednesday, stocks had their worst day in more than two years with the Dow Jones Industrial Average falling 1,164 points.
Crypto's volatility has long been questioned, especially after SXSW this year was filled with Web3 enthusiasts and displays.
With 8% of Texans owning Bitcoin and many others involved in the local crypto and Web3 scene, what are they feeling amid the crash?
In a written comment to Austonia, ATX DAO said a positive with the downturn is that "most of the speculative moneygrab type projects get washed out of the market, and the quality projects that deliver real value remain and gather more attention."
The group went on to say it could work to their advantage as they carry out their latest project: a mural at Native Hostel that will have an NFT version. They'll use sales toward donations to HOPE Outdoor Gallery, a local nonprofit that supports artists and creatives.
Meanwhile, Yagub Rahimov, a founder of an Austin-based Web3 company explains that they aren't really impacted by the crash.
Since the company known as Tested Web functions as a Web3 online reputation marketplace, it is utilizing blockchain technology without tokenizing.
"We are a share to earn marketplace. That means that any activity that users have on tested web.com, we will be rewarding," Rahimov said. "Those rewards are coming in the form of rewards points. And every quarter they can opt in to receive either a gift card or a check. We are not issuing any cryptocurrency. That's one of the important elements that I believe we got it right that way."
With recent developments at Tested Web, Rahimov says he "couldn't be happier." After struggling to find tech talent in early spring, he's had a hiring spree in the last 10 days and received a $1 million grant and partnership with Silent Notary, a blockchain-powered validation provider.
But his recent business success aside, Rahimov is noticing what's happening in the markets and predicts that the correlation between the crypto market and traditional one will be broken.
"The way Bitcoin was introduced back in 2009, it was as a reply or response to the 2008 market crash," Rahimov said. "And it really feels like we are in 2007, 2008, actually, early, early days of the market crash. And if it becomes that way, very likely that the winner is going to be those of decentralized parties."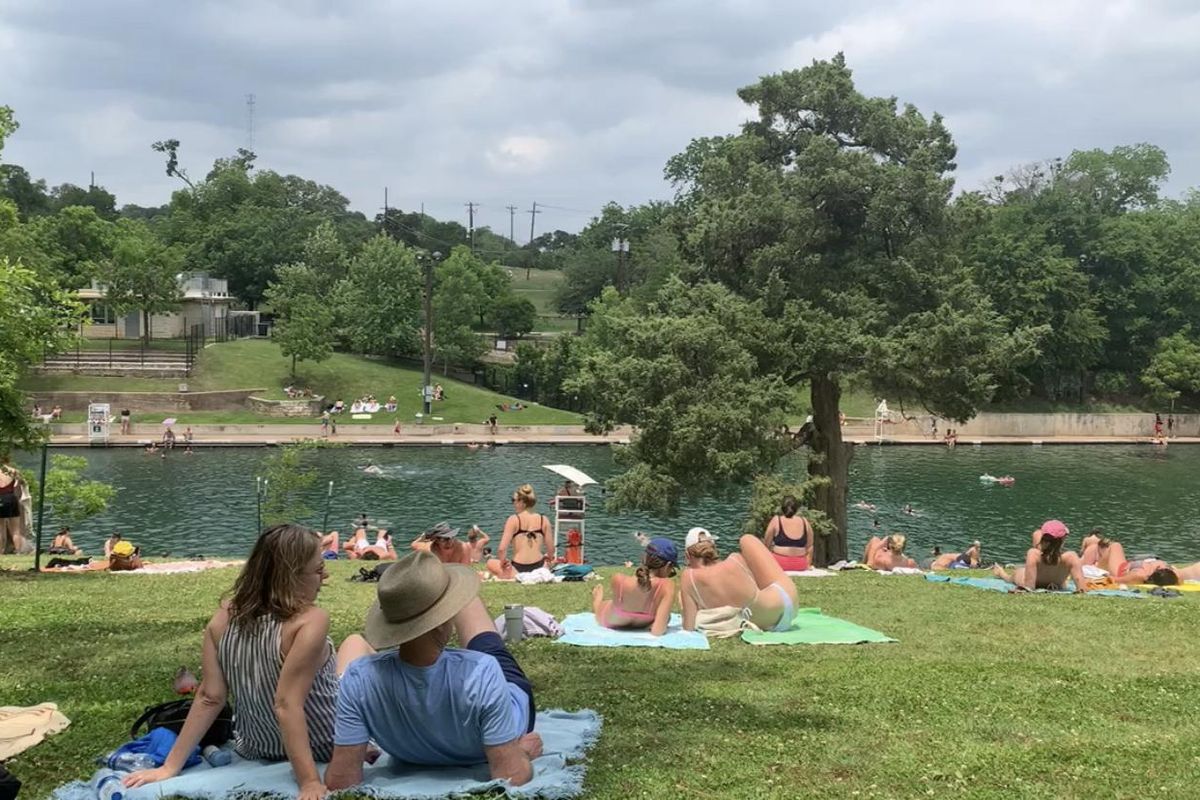 Barton Springs Pool is on a condensed schedule while the city tries to fill out its lifeguard roster.
The popular pool is currently closed on Mondays, Wednesdays and Thursdays while it navigates a lifeguard shortage. The city is offering bonuses to new applicants who can start by early June.
Austin Parks and Recreation Assistant Director Jodi Jay said there are 207 lifeguards ready to work and 100 incoming but the department needs 750 to be fully staffed.
Zoom out: The pandemic has had a lasting impact on hiring—in 2019, the city was able to hire 850 lifeguards. The Aquatic Department has been unable to match those numbers since it reopened training classes in spring of 2021.
Why it matters: The city needs at least 400 lifeguards, plus 30 with open water certification, to open pools on a modified schedule by June 4. Without hitting that mark, some facilities could limit hours or close.
The job pays between $16-19 an hour, anyone over 15 can get certified and there are bonuses on the table:
$500 bonus if you get certified and start working by June 6.
$500 bonus if you work through August 14.
$250 bonus if you get advanced certification.
Austin Parks and Rec's Aquatic Division serves 45 public aquatic facilities—including Barton Springs pool and a number of regional pools.
Find the full list here.