Get connected with our daily update
This story was updated Monday to include that the vaccine received official approval by the FDA this weekend.
The Food and Drug Administration approved the single-shot Johnson & Johnson vaccine that is to be shipped out this month, increasing the number of vaccines available.
In a virtual meeting on Friday, the FDA Vaccines and Related Biological Products Advisory Committee unanimously approved of the U.S.'s third available COVID-19 vaccine, which was officially approved on Saturday. Federal officials say 4 million doses will go out nationally this week, with an expected 20 million doses to be available by the end of March. The Texas Department of State Health Services has said it expects to receive about 200,000 doses, but has not released a timeline of when doses will be shipped and available.
---
How was the vaccine passed?
Johnson & Johnson proposed their single-shot COVID-19 vaccine for emergency use authorization to the FDA earlier this month. On Thursday, the department said they found the vaccine to be safe and effective after conducting a clinical trial.
When tested on 44,000 people around the world, the vaccine was found to be around 66% effective against moderate to severe symptoms 28 days after vaccination. The vaccine's efficacy was highest, at 72%, in the U.S., while it was found to be lower in countries such as South Africa where more infectious strains are prevalent.
Most notably, none of the clinical trial participants died from COVID-19 at least 28 days after the shot. The vaccine also appears to drastically cut down hospitalizations to the disease and showed 86% efficacy against severe reactions.
What makes this vaccine different than the others?
While the two existing vaccines, Pfizer and Moderna, are more effective—around 95%—the Johnson & Johnson candidate has three significant advantages.
First, the vaccine is infinitely easier to store and ship. When the winter storm hit Texas, power outages wiped out about 1,000 Pfizer and Moderna vaccines in the state, which are required to be refrigerated. The Johnson and Johnson vaccine, however, requires no refrigeration. It also takes up significantly less space because it only requires one dosage instead of two, meaning the same amount of doses can be allocated to twice as many people.
Second, because it is a single-shot vaccine, it will also speed up the painfully slow vaccination process that currently exists.
On Friday, Austin-Travis County Alternate Health Authority Dr. Jason Pickett said that the vaccine's adaptability and ease of use will make it vital to fighting the virus.
"With Johnson & Johnson vaccine, one of the advantages is it does not require the same specific handling that the Moderna and Pfizer vaccines do," Pickett said. "Its availability, the fact that you can get one shot only, the fact that it can tolerate a better temperature range and get out to providers that wouldn't be able to handle the other vaccines as easily, makes this a very effective tool in fighting the pandemic."
Finally, the vaccine has proven to be mostly effective against new strains of the disease. When tested against the South African strain, the vaccine still had 64% efficacy at preventing moderate to severe effects from the disease. Moderna and Pfizer were conducted before these more infection strains were widely spread.
What does this mean for Austin and the rest of Texas?
As Joe Biden meets with Gov. Greg Abbott in Houston to talk winter storm damages and the vaccine rollout, a shipment of 1.5 million vaccine doses are being brought to the state for next week. Abbott said that Texas will see vaccine shipments "increase dramatically" in the coming days.
According to Abbott, the state has allocated 8,000 doses to a new "Save Our Seniors" program, which is dedicated to bringing homebound seniors vaccine doses. However, with the single-shot Johnson & Johnson vaccine pending approval on Friday, Abbott said they could have up to four times their original number brought to senior residents.
Abbott said that most of the Johnson & Johnson vaccines will be targeted toward senior residents. The state of Texas has given around 40% of seniors 65 and older at least one dose of the vaccine, and they hope to jump to 50% by the end of the week.
In late January, Austin-Travis County Interim Health Authority Dr. Mark Escott said that the vaccine will be available at any neighborhood pharmacy or medical office.
"In terms of vaccines it is a winner, and there are lots of benefits to this vaccine in terms of the public health response," Escott said. "The fact that it's a single dose makes it feasible for every clinic, every pharmacy, every doctor's office to have supplies so that folks can go to the places they normally get their vaccines to obtain this."
Terry Black's Barbecue is journeying outside of the smoked meats sphere and into the hospitality sector, announcing plans to open "Friday Mountain," a resort-style vineyard near Driftwood.
According to a report from the Austin Business Journal, Friday Mountain will be located on 64 acres at 150 Concord Circle, featuring a boutique hotel with 22 rooms, a 14-acre vineyard and a 20,000-square-foot underground wine facility, a spa, event space, all-day café and high-end restaurant. Construction is poised to start in the next month.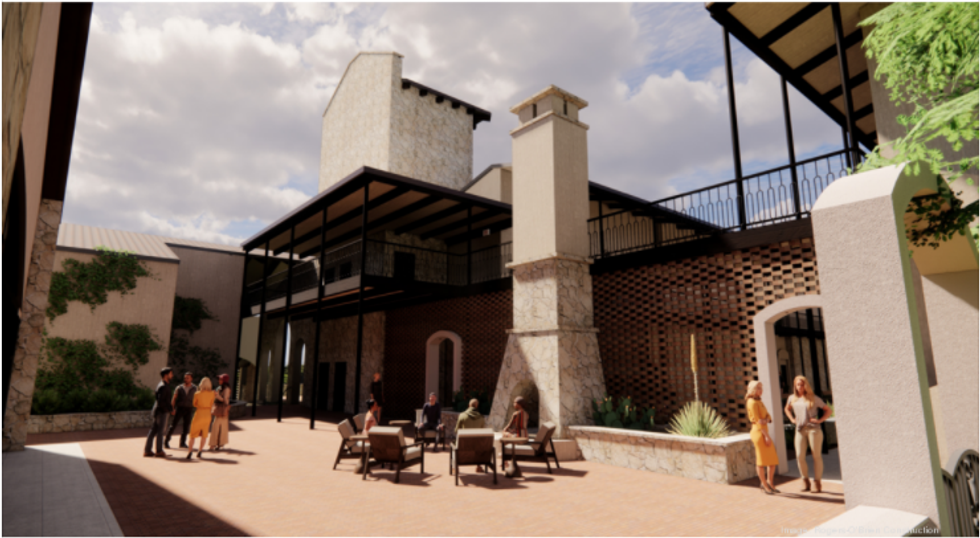 The courtyard outside of the event space will echo Hill Country architecture. (Rogers-O'Brien Construction)
Co-owner Mark Black said he expects construction to last about 10 months, hoping for opening early next year, and would hire around 140 employees: 60 full-time and 80 part-time.
The new project has long been in the works for the restaurateurs—including Mark's twin brother Mike and sister Christina—who come from the same lineage as those behind Lockhart's Black's BBQ but separated the business due to a falling out within the family.
Friday Mountain was originally planned to be a wedding venue but issues arising about noise, traffic and environmental concerns led the Dripping Springs City Council to ask for updated plans.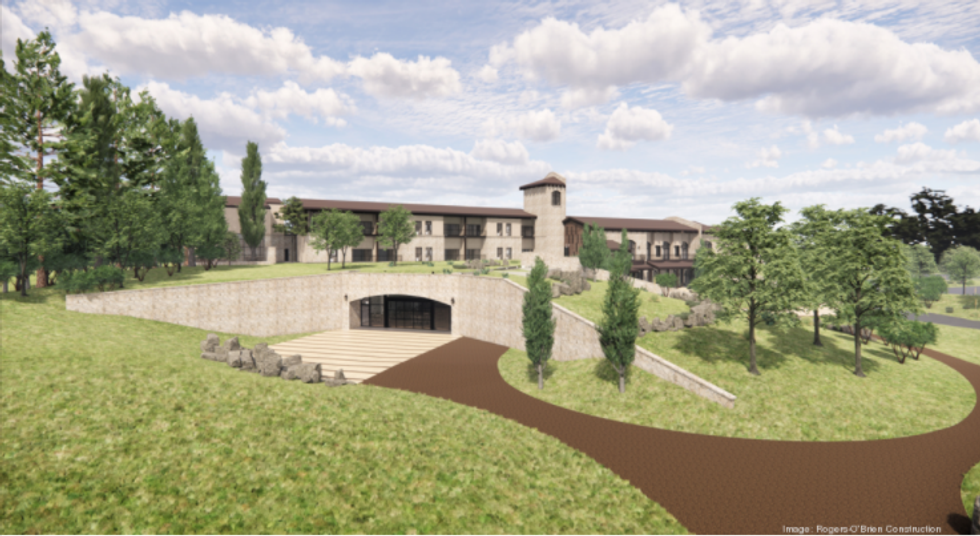 A rendering of the entrance to the planned underground wine cave. (Rogers-O'Brien Construction)
In the new plans, which have since been submitted, Black said he heard the neighborhood's concerns and is focusing on working with the right contractors to avoid issues. Black said he knows not everyone will be on board with the venue but that it will provide a little something for everyone.
To bring the concept to life, Black is partnering with engineers at Kimley-Horn and Associates Inc., architects at Lawrence Group, and Rogers-O'Brien Construction Co. Ltd. as the general contractor.
As for the vineyard, Black has partnered with Salt Lick Cellars to have wine aged and ready to drink wine upon opening and will hand off wine making operations to enthusiast Phil Price.
According to a Texas Department of Licensing and Regulation filing, the project will cost an estimated $20 million to be completed in January 2023.
From Your Site Articles
Related Articles Around the Web
The Texas French Bread Bakery, located on 2900 Rio Grande Street, has been completely destroyed after a fire erupted on Monday night.
The Austin Fire Department responded to the fire just before 11 p.m., where they arrived to see flames coming from the roof of the bakery. Firefighters fought the fire for about an hour before the roof collapsed.
While no one was injured in the fire, firefighters say the historic building was completely totaled.
AFD determined that the fire was accidental and caused by mechanical failure. AFD said the damages amounted to $1.6 million total: $1.1 million in structural damage and $500,000 in damage to the contents of the bakery.

This year, Texas French Bread will celebrate 40 years of business. Before the bakery occupied the building, it was the Rome Inn, a music venue that hosted 1970s artists like Stevie Ray Vaughan.